You know what truly excites us? Adventures waiting to be discovered. These underrated treasures lie in the northern mountain cities of Thailand. Introducing Chiang Mai, Chiang Rai, and Pai. Here, you can find affordable shopping, bars full of laid-back adventure seekers and unbeatable natural scenery. There's more: stunning ancient temples, large underground caves and tons of gorgeous sunsets over mountaintops! Are you ready?
We've compiled all the best things to do in Chiang Rai, Chiang Mai, and Pai in this 5-day itinerary. If you're planning to go, you're in for a real treat!
Day 1 — Chiang Rai: Explore Thailand's culture and history
Start off your epic five-day journey at Chiang Rai. It's a great launch pad with an interesting combination of culture, laid-back vibes and stunning nature.
1. Go camera-crazy at Wat Rong Khun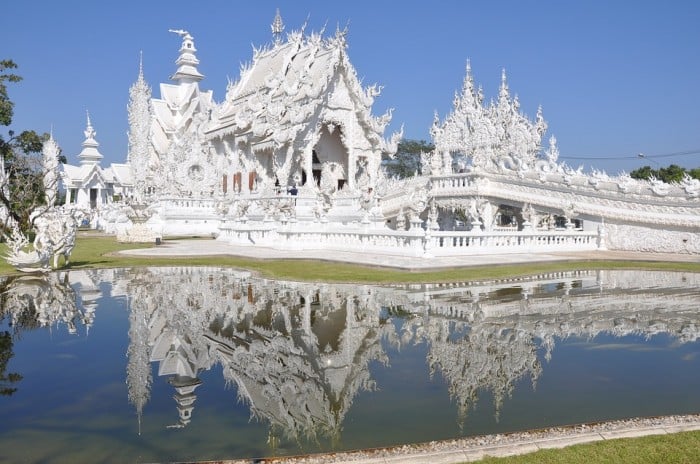 Image credit: hs1oaf
Begin your exploration of Chiang Rai in one of Thailand's most famous gems. Wat Rong Khun looks like a temple…but it's not. It is, in fact, an unconventional contemporary ART exhibit! You will randomly spot superheroes and Hollywood motifs related to popular movies like Terminator and Harry Potter. The building is free to enter and the artist-creator made it as an offering to Lord Buddha. The whole compound comprises various other buildings with the same design, so grab your cameras and snap away!
2. Travel to the edge of Thailand to The Golden Triangle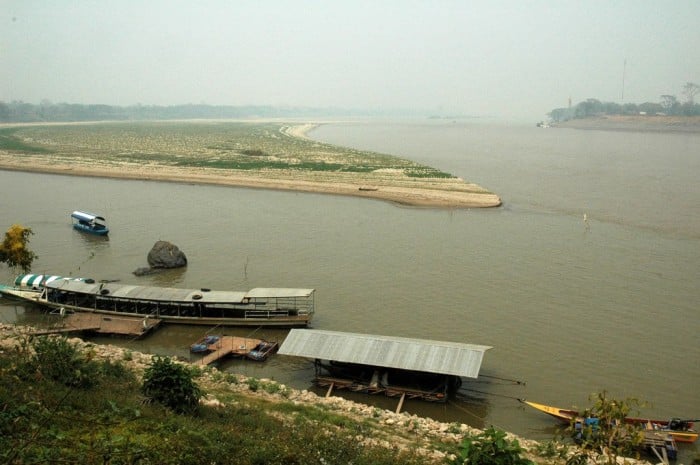 Image credit: Nathan Hughes Hamilton
After enjoying the contemporary "temple", it's time for some real history. Catch a blue songthaew from Mae Sai or Chiang Saen to The Golden Triangle, or a minibus from the Chiang Rai Bus Terminal. This is where Laos, Myanmar and Thailand meet, separated by a natural river where the famous Mekong river meets the Ruak river. You can even take a small boat ride to Laos here without needing a visa!
When you're done splashing about, learn more about the history of The Golden Triangle at The House of Opium. This innocuous river point used to be a hotspot for growing and trading opium! This is surprisingly one of the best museums in Thailand. You will find old drug paraphernalia, records of exchanges with the CIA and even a real mini opium plantation growing inside. Admission costs 150–200 baht and all proceeds go to charity.
3. Experience Thai Royalty at Her Majesty's Royal Villa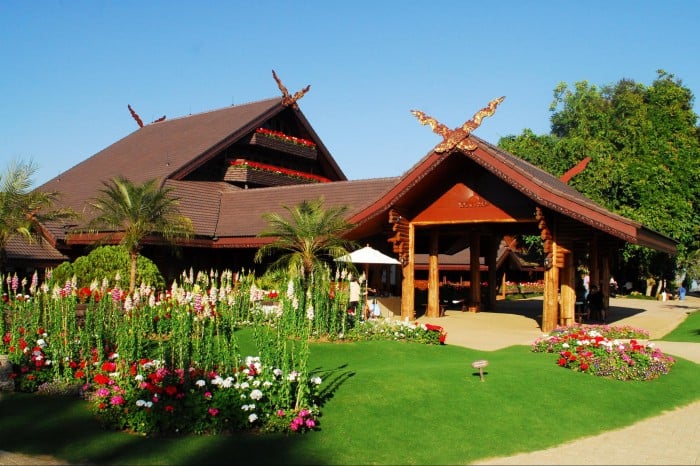 Image credit: Thanate Tan
Now it should be mid-day and rather hot. Escape from the heat and visit Doi Tung Royal Villa, the former residence of the mother of the present king (also known as the princess mother). It is perched high on a mountain named Doi Tung on the Thai highlands and next to The Golden Triangle. This villa used to be her summer residence and has since been converted into a museum. You can tour the elaborate villa that was made almost entirely out of wood. It is much more impressive and beautiful on the inside, and is complete with a free audio tour that explains her life and her collections.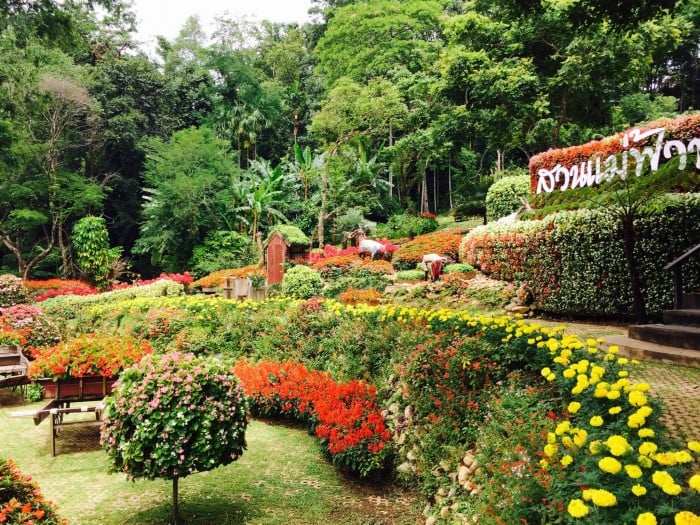 After that educational tour, it's time to take a stroll. Right below the princess mother's villa is an exquisite botanic garden. Called the Mae Fah Luang Gardens, it features a series of cascading blooms of flowers.
4. Visit a sacred Buddhist shrine at the peak of Doi Tung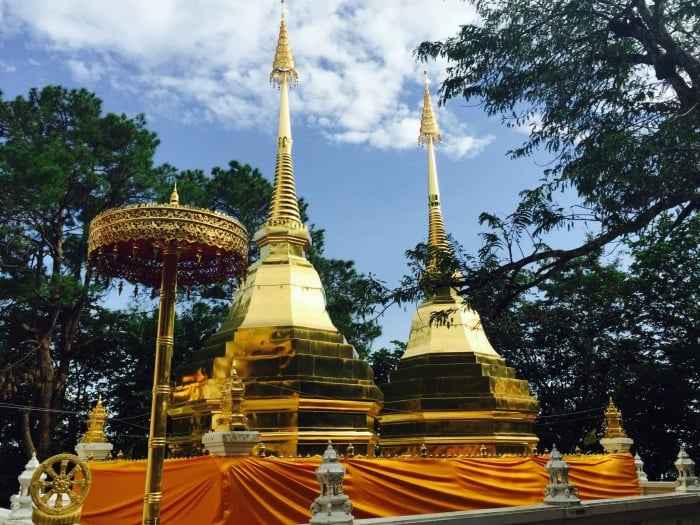 Get right up to the top of Doi Tung at 1,300 metres above sea level. There sits a hilltop Buddhist shrine built in 911 AD called Wat Phra That Doi Tung. The small shrine is brilliant gold and shines incredibly under sunlight. It is believed to house the left collar bones of Buddha amidst its twin pagodas. Regardless of whether this is true or not, its historic value is worthy of respect.
5. Drop by the hill-tribe villages Akha and Lahu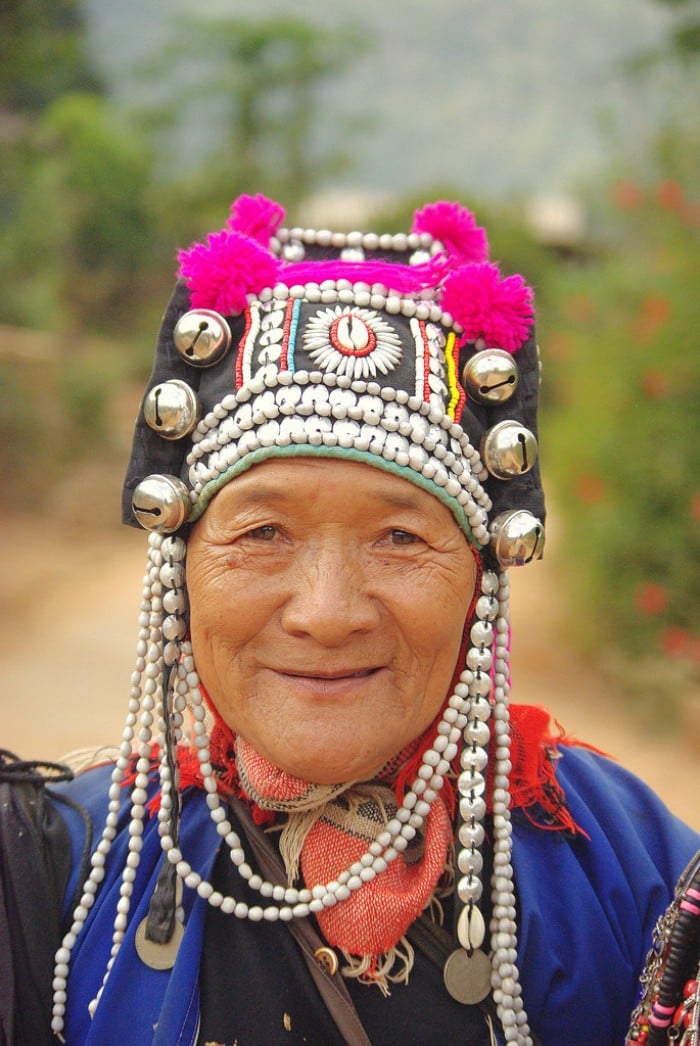 Image credit: Adam Baker
On your way down the mountain, you will pass by ethnic villages. There are two separate ones named Akha and Lahu. These are open to visitors and you can take pictures! Their tradition is still well and alive, and they handcraft many unique items such as textiles and silver jewellery.  You can do a bit of ethical shopping here as all proceeds go back to funding their community and keeping the dying culture alive.
6. Unwind at Chiang Rai's Night Bazaar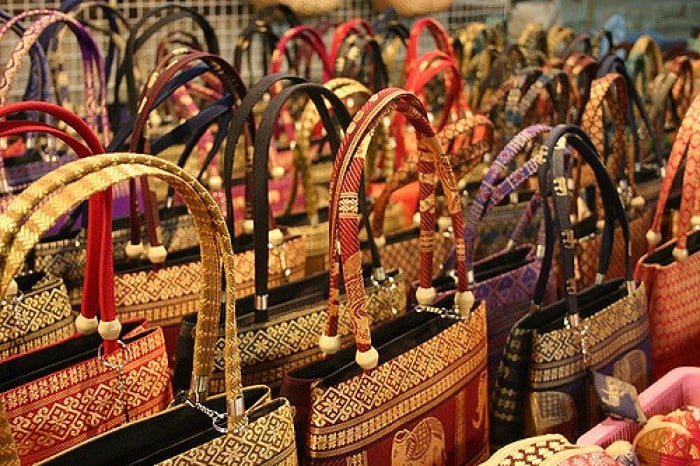 Image credit: Nicolai Bangsgaard
Finally, it's time to head back to the city. Visit Chiang Rai's Bazaar, which is walkable from the city centre and super a great place for dinner. This night market offers many interesting, handwoven items made by the various surrounding hill tribes. There are even live performances that you can watch whilst eating. Make sure you buy what catches your eye because many of these items cannot be found in other areas of Thailand! You will find colourful woven bracelets, embroidered bags, and wood-carved bowls and statues. The prices are great and considering the effort put in, totally worth it.
Where to stay in Chiang Rai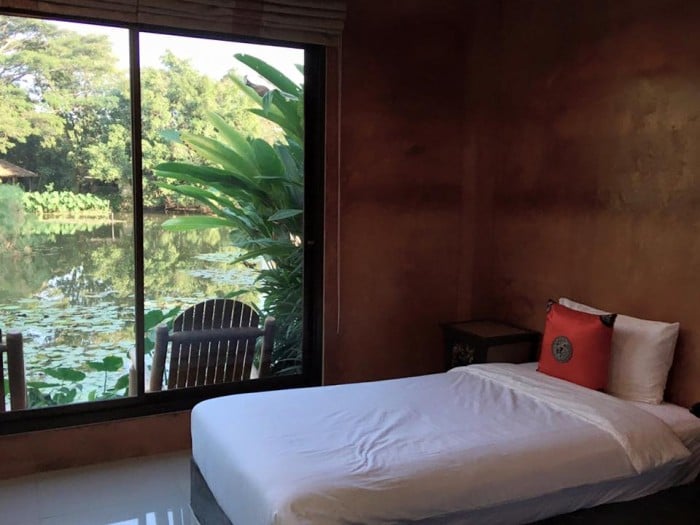 Image credit: Arunwan Theekoonsub
Where to stay: There are a number of resorts in Chiang Rai which are definitely bang for the buck. Check out Saikaew Resort where you can stay in a cosy cottage right next to a serene river. The owner is super friendly and the resort is only a five-minute drive to the city centre. It is clean, spacious, and opens up to a balcony that is right by the lakeside.
Getting from Chiang Rai to Chiang Mai
To get from Chiang Rai to Chiang Mai, you can take the comfortable and convenient bus run by Green VIP. They run frequently and you can find bus timings here. Purchase your ticket in advance to ensure you have a seat for the three hour journey. Depending on which class you buy (ranging from normal to VIP), the fares vary from 100 to 260 baht .
Day 2 — Chiang Mai: Go Temple-hopping
1. Peek into ancient life at Wat Umong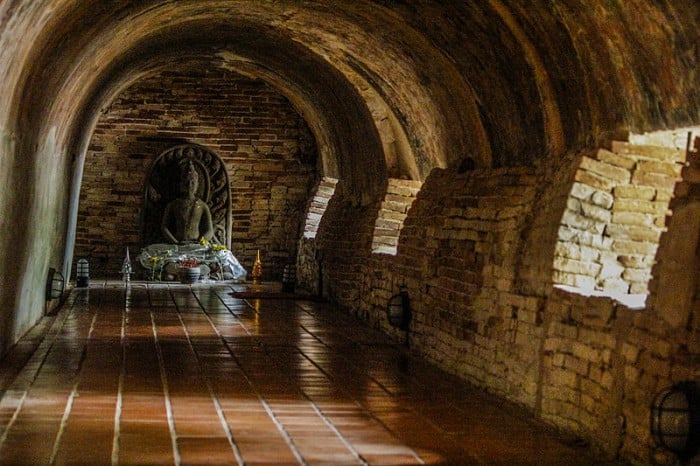 Image credit: Piyapong Sayduang
It's time to go wat-hopping! Some of Thailand's most ancient and grand temples are in the north. Start with Wat Umong, the closest to Chiang Mai. Wat Umong was built in the 15th century. It's an entire complex of tunnels that branches into chambers. Residential monks live there and you can see them going about their daily lives. You may even join them for a meditation class! Deer roam about occasionally and there are small lakes where turtles and fishes can be fed.
2. Take a breather at Wat Pha Lat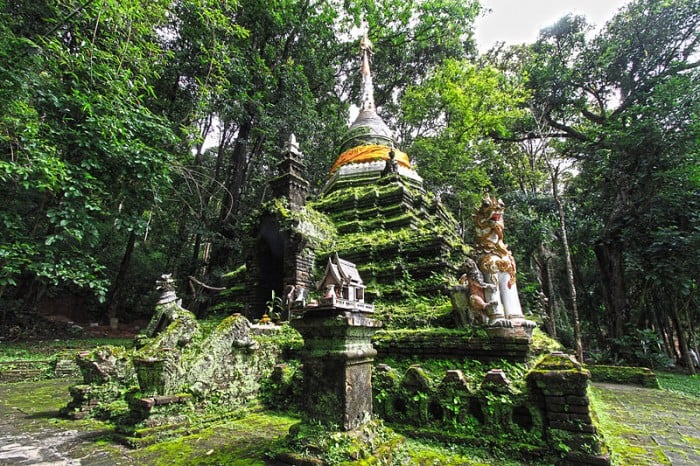 Image credit: Kornpoj
Image credit: Jobrestful
Next, start working your way up another mountain — Doi Suthep! On your way there, visit a secret hidden temple named Wat Pha Lat. Meaning "Monastery at the Sloping Rock", it sits in the forest and can be accessed by the monk's trail. This jungle temple is not well-known and hence has much fewer visitors compared to more popular temples. The structures are covered lush greenery and the atmosphere is tranquil and mesmerising. Without stalls or shops (or crowds!), it a breath of fresh air. Most of the trail is shaded and silent which makes for a refreshing walk.
3. Be amazed by Wat Phra That Doi Suthep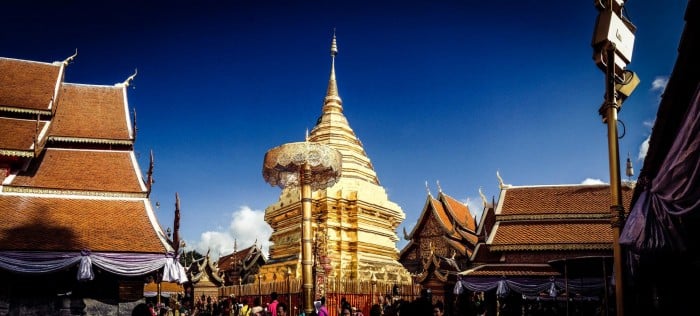 Image credit: Beam Borwonputtikun
The star of wats is Wat Phra That Doi Suthep. The majestic beauty sits atop Doi Suthep and is considered sacred by locals. You will see many Buddhists circumambulating the stupas in a show of respect. The entire compound comprises several monuments that are assembled harmoniously. Check out the golden "fortune-telling" elephant! First, think of a wish and then use your last finger to lift the elephant. Then make the wish again and lift it once more. If you can lift it on the second try, that means your wish will be realised. If not, your wish won't come true!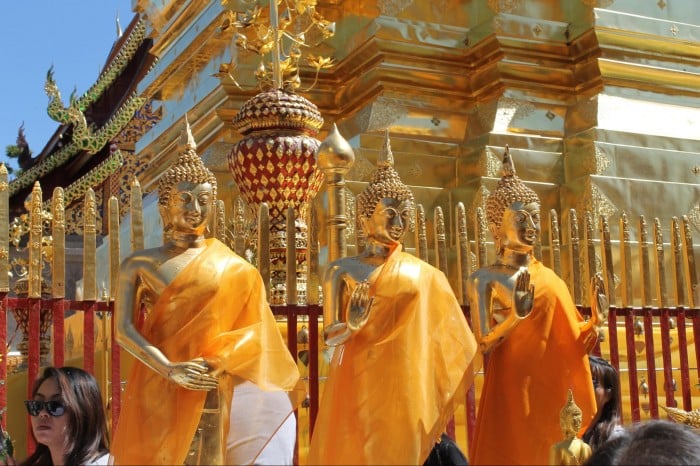 Image credit: Connie Ma
Fortune-telling aside, you WILL want to take plenty of photos and OOTDs at this temple. You can also donate money to many different temples and monasteries through donation boxes there.
4. Wind down at Wat Chedi Luang
End off by visiting three temples at one go: Wat Chedi Luang, Wat Ho Tham and Wat Sukmin, though nowadays these are collectively referred to as Wat Chedi Luang. These ancient Lanna-style structures were partially destroyed in an earthquake in the 1500s and have since been reconstructed.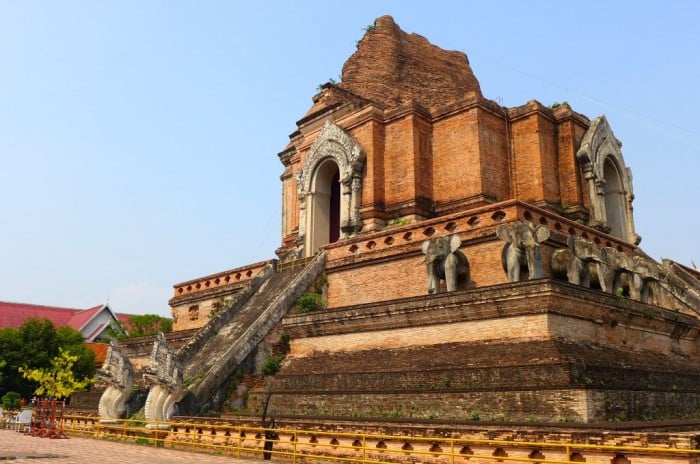 Image credit: Madeleine Deaton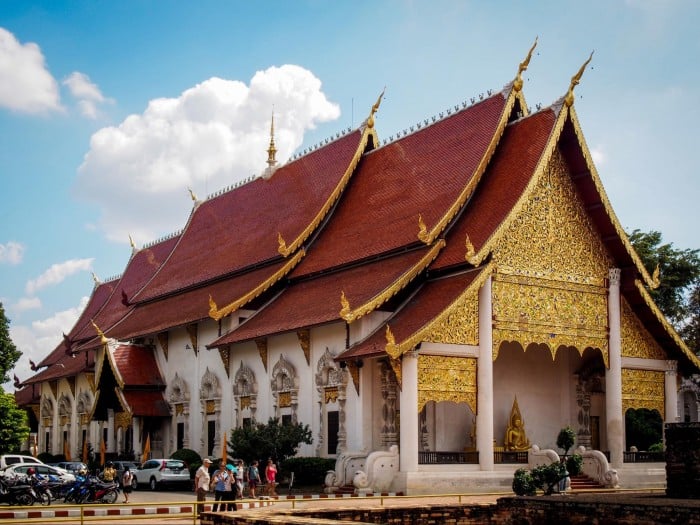 Image credit: Maxim B.
Day 3 — Chiang Mai: Get your adventurous adrenaline rush
It's your third day in Thailand now and time to conquer some thrills! We recommend the following four different options: hiking Thailand's tallest mountain, ziplining, water rafting or hiking through caves.
1. Hike up Doi Inthanon, Thailand's highest mountain (Option A)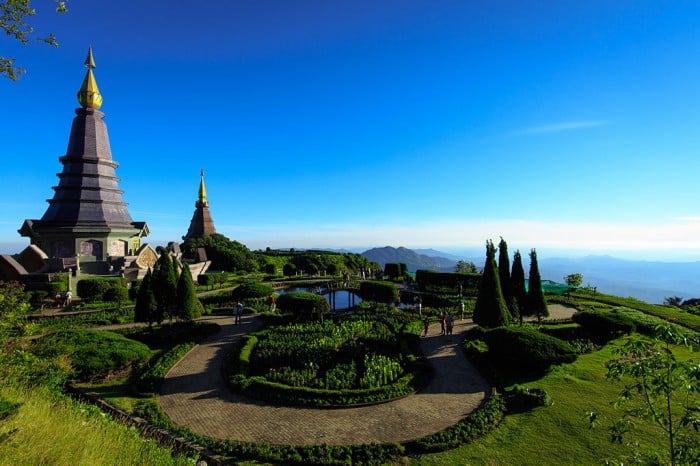 Image credit: Lester Mathias Andersson
After a whole day of peaceful reflection at temples, it's now time for some action. Climb the "Roof of Thailand", Doi Inthanon, and get to Thailand's highest peak at 2565 metres above sea level. The scenery is verdant, the air is cool, and right on the peak are two chedis (stupas). Choose from four trails and start early in the morning, or just grab a car/motorbike if you want to skip straight to the peak. The drive up is also very scenic and the panoramic view on top will take your breath away. Make sure you take full advantage of the 360 degree view with a photo or video!
2. Fly through jungles (Option B)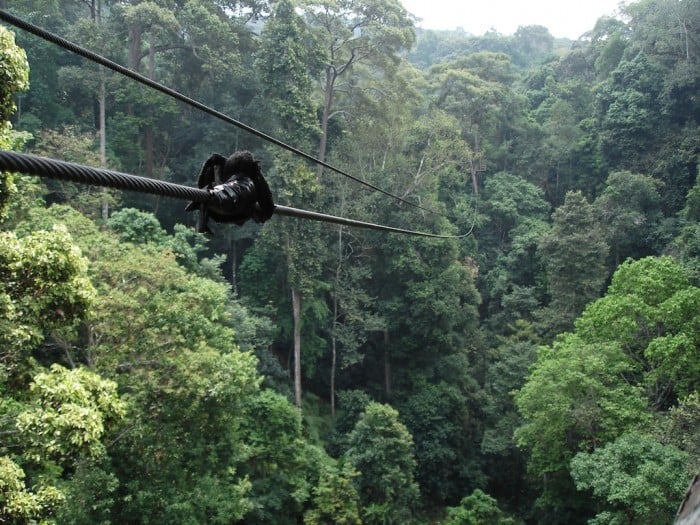 Image credit: Bcow
Are you scared of heights? You better not be if you're going to do the Jungle Flight! Several companies in Chiang Mai offer you the chance to get up close and personal with the 1500-year-old tropical rainforests of Chiang Mai. Soar through thick canopies which roof the wild jungles and spot the animals on the forest floor. There are different types of ziplining packages to choose from depending on your age and scare-level. The price is about 2000 baht onwards.
3. Go water rafting at the Mae Taeng River (Option C)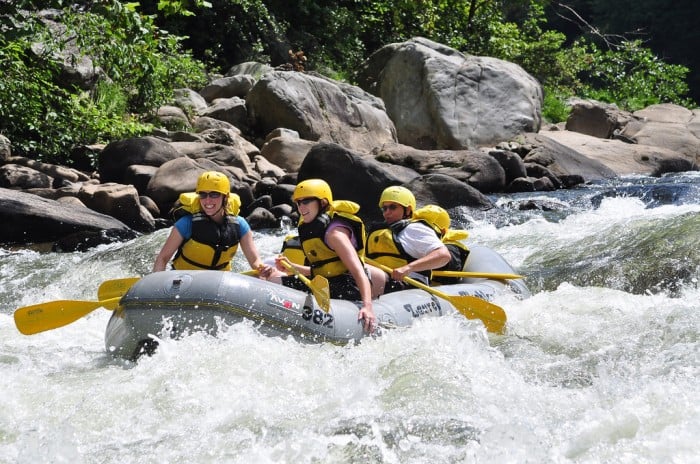 Image credit: Make Lemons
If you like water sports, take advantage of Thailand's wild rivers instead! The most popular river rafting route is Mae Taeng River as it takes you through some of Chiang Mai's best scenery. A typical trip takes about two hours. The river guides are knowledgeable and will explain about local flowers and plants as you pass by them. There will be Class II and Class IV rapids for exciting bumps and long stretches of serene nature while floating through rainforests.
4. Traverse Chiang Dao Cave (Option D)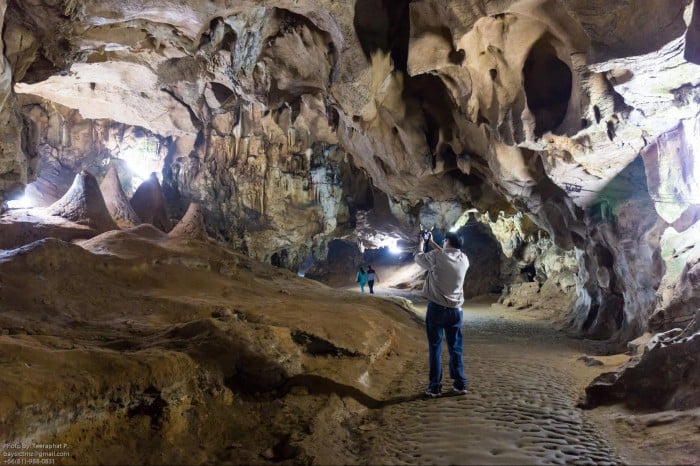 Image credit: Tam P
Chiang Dao Cave has some of the most outstanding stalactites and stalagmites in Thailand. The cave is situated in Chiang Dao National Park and is 12km long. Bring along flashlights and you can wander around the cave by yourself. If you prefer, you can hire a guide for 100 baht to walk you through the unlit chambers. Do tip the guide an additional 100 baht as this is customary!
Day 4 — Chiang Mai: Pamper yourself and shop
1. Rejuvenate at a spa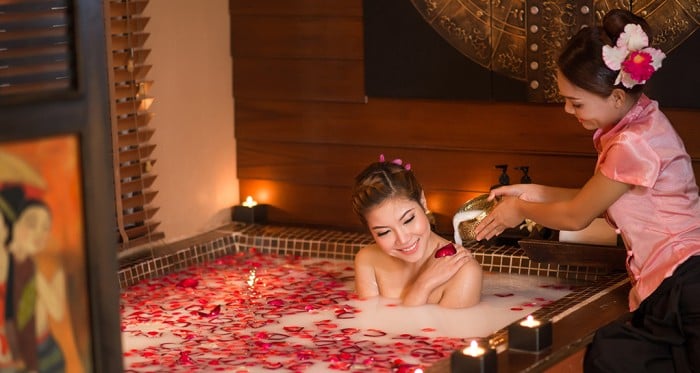 Image credit: Cheeva Spa
Start your day with a real treat! Hundreds of spas and wellness centres pepper the streets of Chiang Mai. If you want a premium massage without the premium price tag, we recommend Green Bamboo. It is a traditional Thai spa and looks rather plain on the outside. However, the atmosphere is enticingly relaxing and they offer high-quality oil massages, body scrubs and facials.
If you want to truly pamper yourself then go for Cheeva Spa. This spa is gorgeous, clean, and the staff are very professional. The massages are refreshing and it feels like they push your body's tension out of you. They put fresh flowers in the baths and even give you dessert and tea after your session. Both spas provide two- to four-hour sessions, allowing you to spend your afternoon relaxing away.
Green Bamboo
Address: 4/2 Hussadisawee Rd, Sriphoom, Chiang Mai 50200, Thailand
Telephone: +6653-405129
Cheeva Spa
Address: 4/2 Hussadisawee Rd, Sriphoom, Chiang Mai 50200, Thailand
Telephone: +6653-405129
2. Get silly pictures at Chiang Mai's 3D Art Museum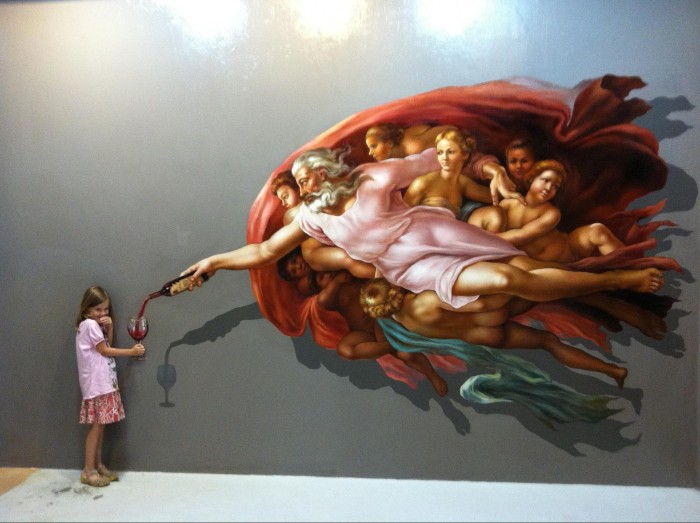 Image credit: Kevin Shorter
Not ready to get sticky right after your spa treatment? Stay indoors and have some fun at the Art in Paradise, Chiang Mai's 3D Art Museum. It's one of those interactive art galleries where you can pose with three-dimensional art works. Admission costs 400 baht.
3. Shop at the Saturday Walking Street or Sunday Walking Street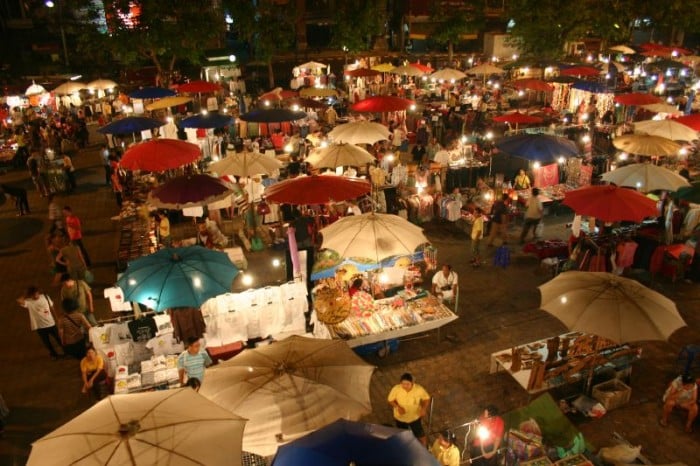 Image credit: Nicolai Bangsgaard
Now that the weather is cool, it's time to shop. Chiang Mai's biggest night markets are the Saturday and Sunday Walking Street. If you are not here on the weekends, you can check out the equally popular Chiang Mai Night Bazaar which is open everyday. The items here are more mass-market when compared to Chiang Rai or Pai (which we will cover later). You will find more fashionable pieces here, yet prices are still cheaper than Bangkok. There is sooo much food and you can just buy a little from each stall if you want to sample a little bit of everything.
Where to stay in Chiang Mai
Chiang Mai is much bigger than Chiang Rai or Pai and has many options for both budget and luxury hotels. We recommend Panviman Chiang Mai Spa Resort which is surrounded by mountains. It has an infinity pool filled with mountain water and even its own golf course! You will get your own balcony that leads to a private jacuzzi.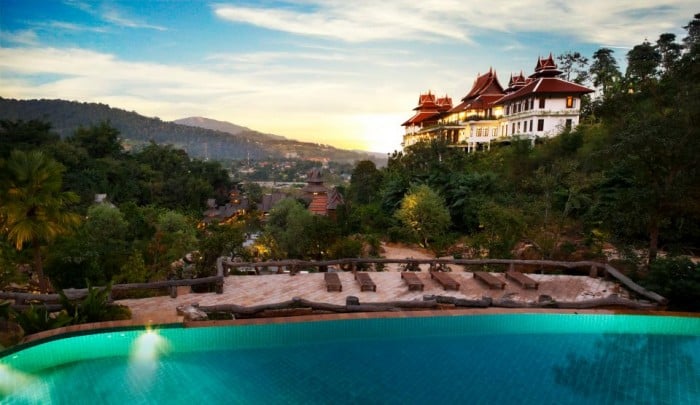 Image credit: Panviman Chiang Mai Spa Resort
Getting from Chiang Mai to Pai
You can rent a car or motorbike and drive down some of the most scenic mountain routes. Alternatively, book a minibus for 150 baht with Aya, a popular and reliable transportation company. They have buses leaving hourly everyday and you can get them to pick you up from your hotel. You can also take public buses from Chiang Mai's Arcade Bus Station. These buses are slower and there are only five buses each day, leaving at 7am, 8:30am, 10:30am, 12:30pm, and 4pm.  
Day 5 — Pai: Immerse in unspoilt nature
Pai is a quaint mountain town just four hours from Chiang Mai and is home to the idyllic countryside beauty of Thailand. After four days of excitement, we recommend winding down and escaping the bustling city to Pai's quiet wilderness.
1. Check out the steep Pai Canyon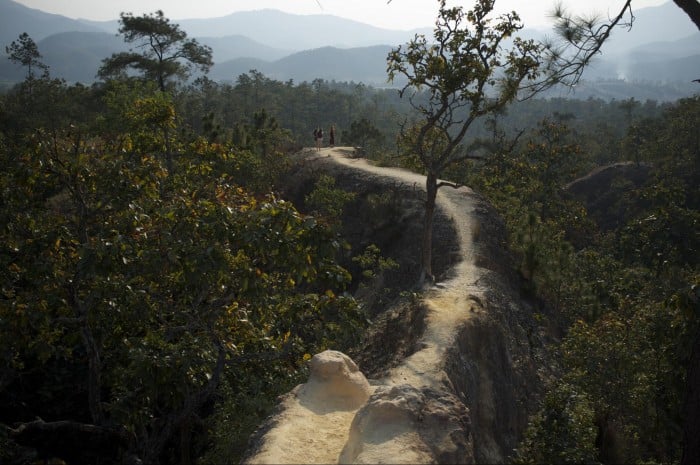 Image credit: Aleksandr Zykov
Pai Canyon is a nature reserve and one of Pai's gems. A paved stairway leads you up to one of the most stunning views in Pai. You can choose several hiking trails. The scenery is unexpectedly beautiful and the vantage points offer you a 360 degree view to capture it all. The canyon ridges, though beautiful, can be quite dangerous so hike with care. These narrow ledges were formed through erosion and some are quite steep cliff drops. But the thick, luscious forests and massive rock walls are something you do not want to miss.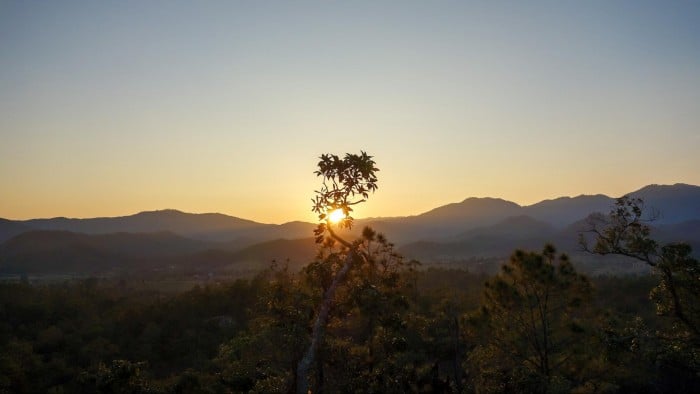 Image credit: Klim Levene
2. Take a dip at Mae Yen Waterfall (Option A)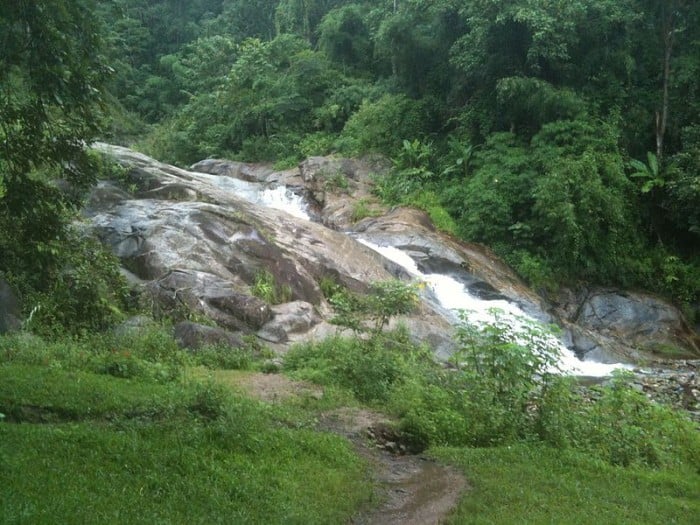 Image credit: -1g
Wash off that hiking sweat at nature's great shower! Pai is has three famous waterfalls: Pam Bok Waterfall, Mor Paeng Waterfall, and Mae Yen Waterfall. Though the first two are the most famous, they are overcrowded and therefore rather underwhelming. We highly recommend Mae Yen Waterfall instead. The hiking scenery is more beautiful and the water is cool and refreshing. A natural pool awaits you at the top; the waterfall cascades in eight levels and makes for fun swimming!
2. Soak in Pai's natural hot springs (Option B)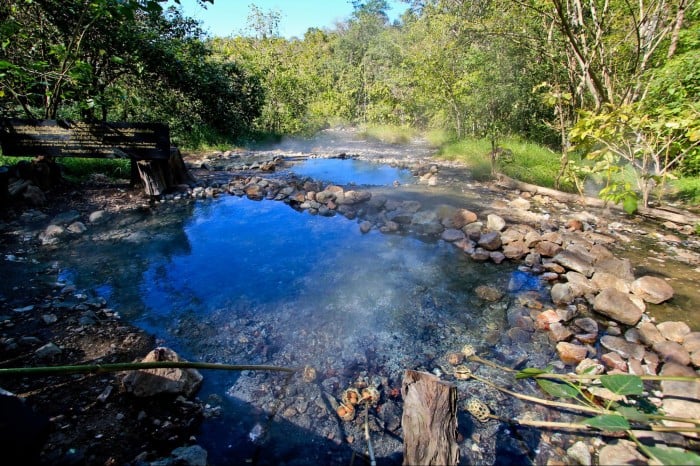 Image credit: Patty Ho
Boiling eggs in Pai's hot springs
Surprisingly, Pai is known for a series of hot springs! If you want to wallow in hot, hot waters instead of under cold waterfalls, then head to Tha Pai Hot Spring. Here, a cold spring runs over boiling hot rocks to create wonderful heated pools. Immerse yourself and let the 80 degrees heat soak into your bones. You will be surrounded by tall trees and if you're lucky, you may spot a colourful local bird! There are also private spas around the area that use the same water and charge even less for you to enter (around 100 baht).
3. Lap up the agricultural scenery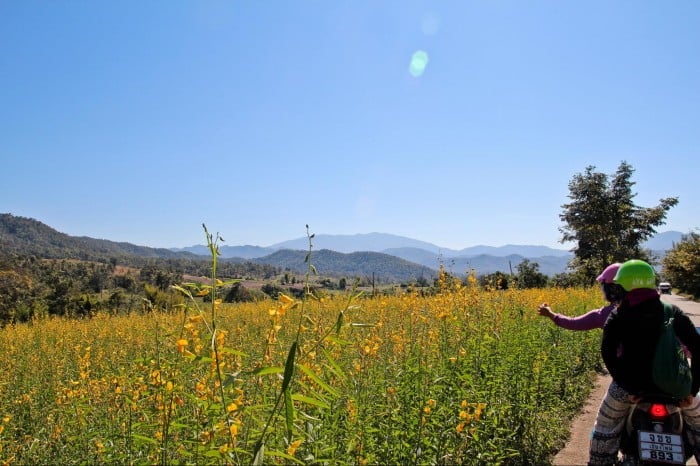 Image credit: Patty Ho
After all that hiking and swimming, it's time to enjoy an idyllic tour of nature. Thailand is undoubtedly famous for its rice paddies and scenic agricultural farms. These stretch for miles on end and allows you to experience the countryside. In the distance, you can spot mountains that surround the little town of Pai. It's a great way to relax.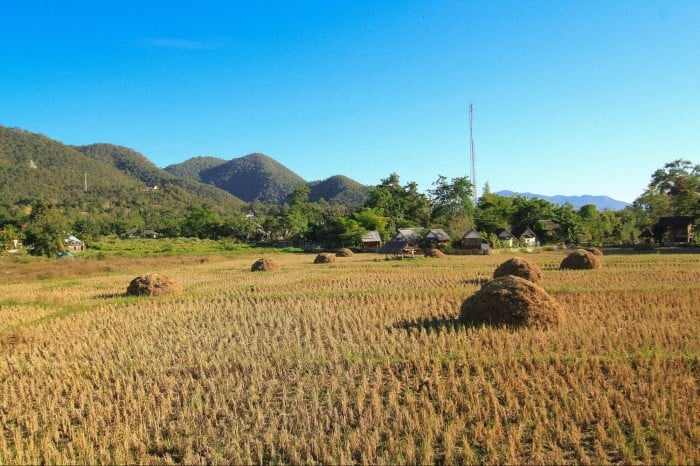 Image credit: Patty Ho
4. Shop at Pai's Walking Street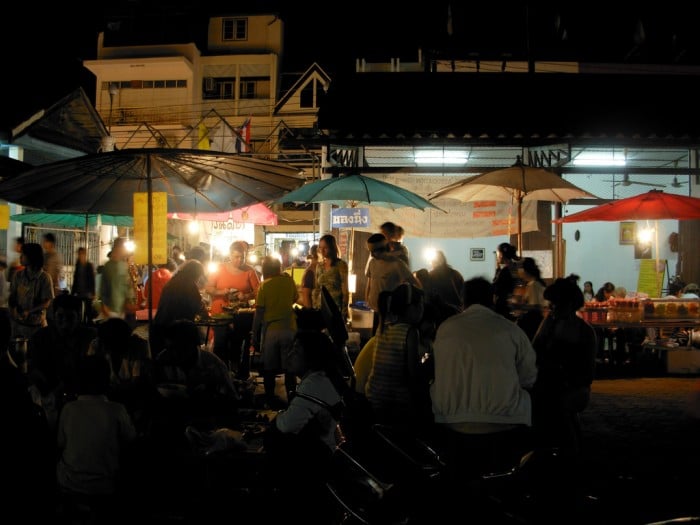 Image credit: Hector Garcia
End off with great food and great deals at Pai's own night market. Pai's main street comes alive at night with food stalls and market vendors offering everything from the typical hippie gear to beautiful jewellery and customisable postcards. As for dinner, you can choose from a varied selection ranging from barbequed meats, sushi, and sweet, fresh smoothies.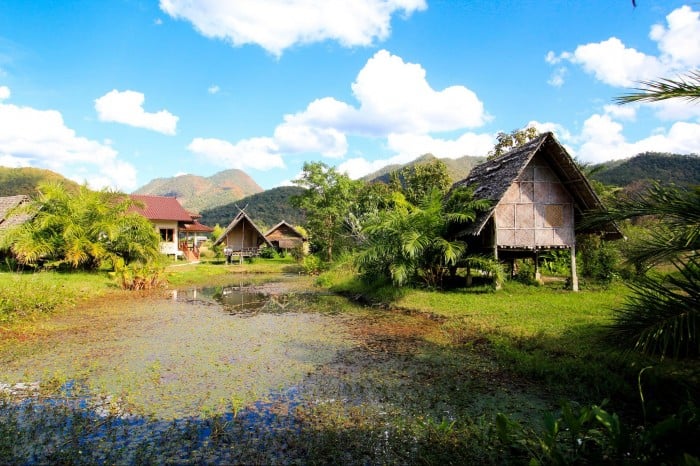 Image credit: Patty Ho
Where to stay in Pai
Pai has beautiful straw-hut bungalows that you can easily find on popular sites like Airbnb for only 500 baht. Alternatively, you can stay in Pai's most famous hostel, Spicy Pai, which allows you to sleep in similar straw huts with five to ten people. It's a great way to make new friends and costs only 75 baht per night.
How to get around
Welcome to Thailand where everyone seems to only ride motorbikes! You can choose to rent a motorbike too, or a car if you're not the devil-may-care sort. Public transport is minimal here, but more popular tourist destinations often cater minibuses or songthaews (vehicles that pick up and drop off passengers as they drive along). As for taxis, you can catch tuk-tuks (open-back vehicles), motorbike "taxis" or actual taxis. You can also choose to cycle! Make sure you check how far your destination is and the condition of the roads because cycling may always not be feasible.
Enjoy your trip!
Now you can truly say you've been to Thailand (and not just lying on its beaches). Variety is the spice of life and you will really get to try EVERYTHING in this comprehensive 5-day itinerary to Chiang Rai, Chiang Mai, and Pai! You will never run out of things to do, so let's get packing and go!