I must confess, I've never ridden a hot air balloon before. But you don't really need to hop on one to know that there's something quite magical and inspiring about them. As children, we all experienced grasping the thin string of lollipop balloons that could drift away the moment we loosened our grip. Our imaginations went flying when we thought of what it would be like to be weightless and swept off, joining our lollipop balloons as they ascended to the sky. 
I guess that's where hot air balloons come in. These elephant-sized balloons are a child's fantasy come to life. It's no surprise that destinations around the world throw hot air balloon festivals annually. They mark special occasions and give us a deeper appreciation for the breathtaking landscape that surrounds us; all the while, evoking a sense of wonder and youthful spirit as we are lifted up, up and away. 
So while we're grounded in the midst of a global pandemic, go on this sweet escape; admire photos of fun and enchanting hot air balloon festivals around the world!
Asia
1. Saga International Balloon Fiesta, Japan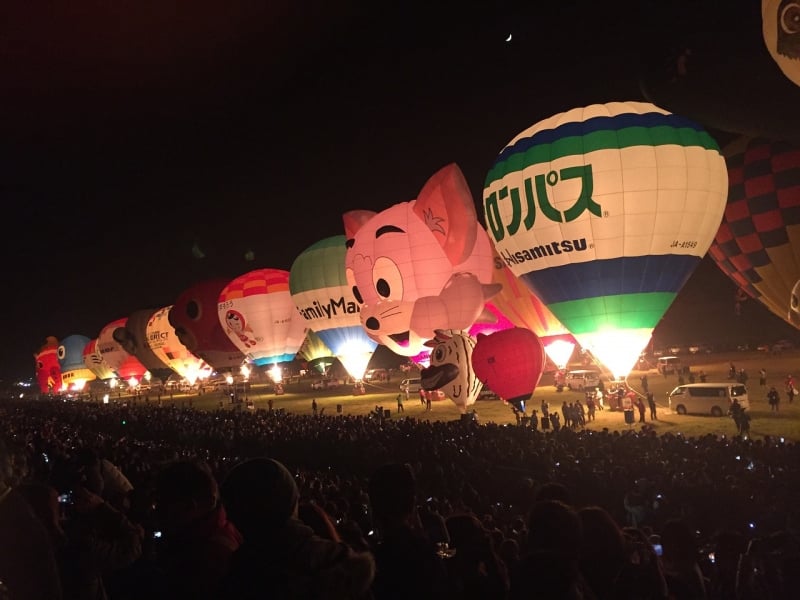 The International Balloon Fiesta in Japan actually started in Kyushu in 1978. Now, it's celebrated annually in the lovely Saga prefecture every autumn. The festival often registers participants mainly from the United States, United Kingdom, Switzerland, Belgium, and South Korea.
What makes the Saga International Balloon Fiesta special aside from its contest is its nocturnal event called "La Montgolfier Nocturne". This translates to "the night balloon." On this magical evening, the brilliant multicolours of hot air balloons illuminate the ground and the sky. Spectators are entertained not only with floating firelights but also with music and fireworks. During the day, you can even set a space for a family picnic as you watch the hot air balloons linger in the heavens. 
2. Taiwan International Balloon Festival in Taitung
The Taiwan International Balloon Festival in Taitung happens every summer. It's the strongest lure for tourism in the area as it usually runs for one whole month. The festival is known for its cute and character-themed hot air balloons that make the event not only photogenic but also perfect for families with children. 
If you want to ride a hot air balloon during this festival, you'll need to book months in advance. A cheaper alternative would be to book a tethered balloon ride, where the balloon ascends only to an extent since it's roped to the ground. Take note though, that children below 10 years old aren't allowed in any type of balloon ride. But as you can see from the photos, going to Taitung just to marvel at the flying hot air balloons from the ground is still worth the travel!
3. Philippines International Hot Air Balloon Festival in Clark, Pampanga
The Philippines' International Hot Air Balloon Festival happens between January to February and runs for four days, making it the biggest aviation sports event in the country. When it started in 1994, the original purpose of the event was to boost the local economy after three years of the devastations brought about by Mt. Pinatubo's eruption. Balloon and plane pilots were the only ones who participated. 
As the years went by, the festival began to expand and feature other sports, from skydiving and microlight to rocketry demonstrations, and from remote control helicopter flying exhibitions to kite-making and choreographed kite-flying. Nowadays, pilots and tourists from both Europe and Asia flock to Clark to take part in this annual event, which has gained a whopping estimate of 100,000 attendees every year!
Europe
4. Bristol International Balloon Fiesta, England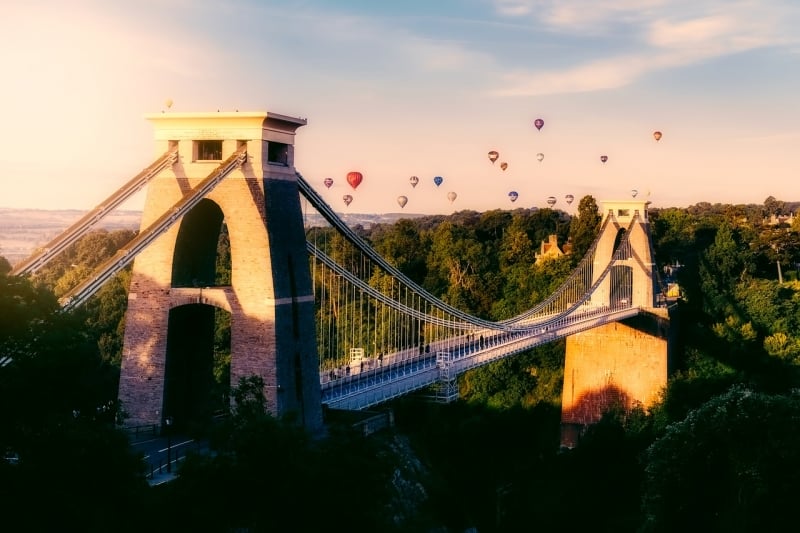 Bristol's hot air balloon fiesta is the largest family-friendly ballooning event in all of Europe, and it happens every August with a three-day run. Parents will be happy to know that entrance is free and there are a lot of fun activities to keep you and your nearest and dearest entertained. Buy some juicy snacks from their hot food outlets, ride the carousel, and of course, let your little ones enjoy the ball pit. All of these are on top of the morning and afternoon lifts you can hop on to see Bristol's beautiful cityscape. 
The best part of the fiesta? The Nightglows and Fireworks Finale, where a gallery of glowing balloons take up space in the evening sky. With a chosen soundtrack to match this event, you won't help but feel euphoric and content. 
5. European Balloon Festival in Igualada, Spain
The European Balloon Festival is the largest hot air balloon event in Spain and takes place every first fortnight of July. This Spanish festival has a four-day run, from Thursday to Sunday, and attracts roughly 25,000 visitors a year. During the celebration, you can expect 50 hot air balloons fly high each day as balloon pilots from around the world compete for the top spot in the contest. 
You can, of course, hop on a hot air balloon as well, but you'll need to book in advance. Other activities include a family workshop, where you'll be taught how to make a balloon key ring, children's shows and games, along with opera and zarzuela concerts. If you've got a knack for photography, you better start taking snaps the moment you enter the festival; they hold a contest for photographers who capture the best photos during the whole celebration. We hear the winner gets a trophy and €500!
6. International Hot Air Balloon Festival in Chateau-d 'Oex, Switzerland
Every January, Château-d'Oex in the Vaudois Alps hosts hundreds of hot air balloons in an eight to nine-day festival. You should know that Château-d'Oex is not only the Swiss hot air balloon capital, but it's also a historical spot. In 1999, two men by the names of Bertrand Piccard and Brian Jones attempted to circle the world via a hot air balloon — and their starting point was this lovely Swiss municipality. Needless to say, you'll find a hot air balloon museum in Château-d'Oex which will educate you further on this history. 
As for the festival itself, you can look forward to watching participants from all over the world compete on who the best balloon pilot is. Don't forget to ride a hot air balloon for yourself and take photos against the majestic backdrop of the snow-covered Alps. Now that's what we call a picture-perfect moment in hot air balloon standards!
7. Ferrara Balloons Festival, Italy
As the most prominent hot air balloon festival in Italy, it's no surprise that the Ferrara Balloons Festival can attract 100,000 people in a year. What sets this festival apart from the rest is that it offers free hot air balloon flights to visitors, plus a stunning view of the Renaissance city centre; this a UNESCO World Heritage Site that's just a stone's throw away from Giorgio Bassani Park. You also have the option to land on any field or plain you see during your ascent. 
And if you have a fear of heights, no worries. Go for the anchored flights that have the hot air balloon rise only until 30 metres above the ground. Don't forget to take your little ones along; the festival, after all, will feature a lot of animated balloons!
Eurasia
8. Hot air balloon rides in Cappadocia, Turkey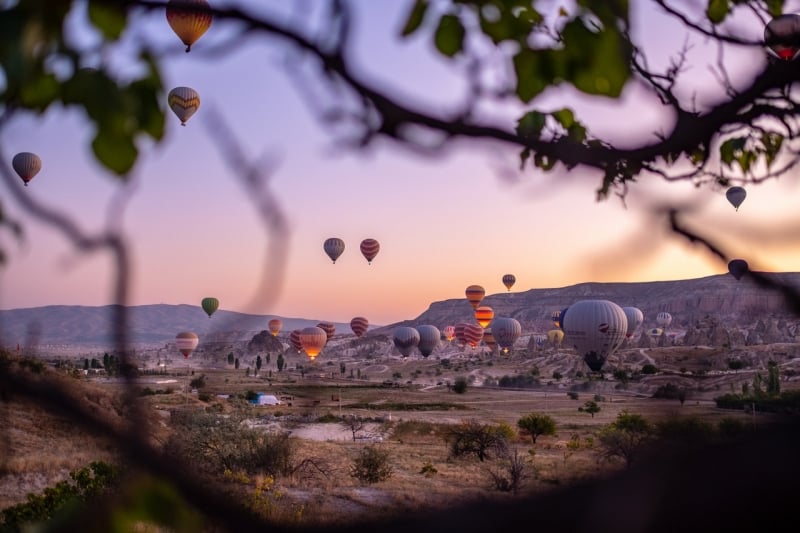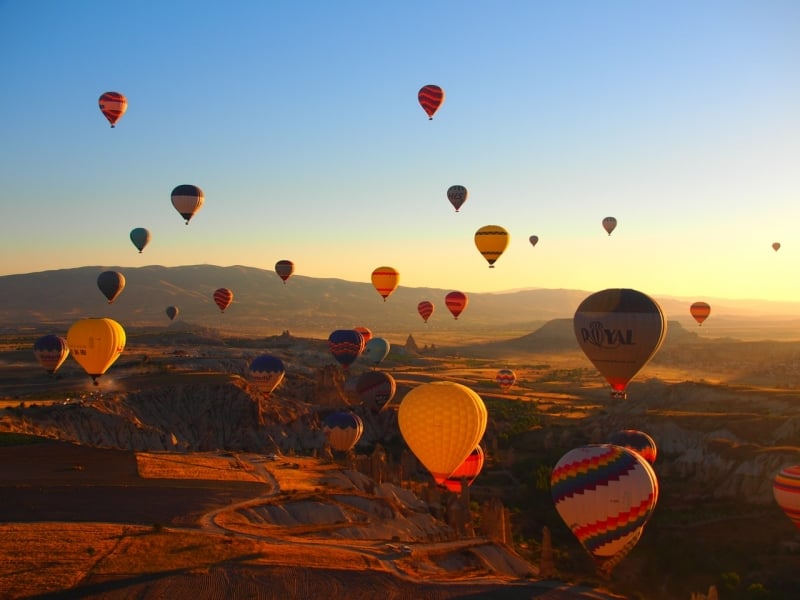 Okay, I'm cheating a little bit. We all know that the hot air balloon rides in Cappadocia aren't for festive purposes. In fact, hot air balloons in Turkey fly 250 days in a year. But this list wouldn't be complete without adding photos of the stunning view of Cappadocia speckled with kaleidoscope coloured balloons. 
More than a hundred balloons fly every morning and you need to book months in advance if you want to enjoy the view. It might be a struggle to get yourself a slot; but once booked, you'll be rewarded with the unique spectacle of Göreme's "fairy chimneys", a.k.a. the cone-shaped rock formations of Monks Valley!
Also read: Cappadocia — What You Need to Know About this Fairytale Region in Turkey
USA and Canada
9. Albuquerque International Balloon Fiesta in New Mexico, USA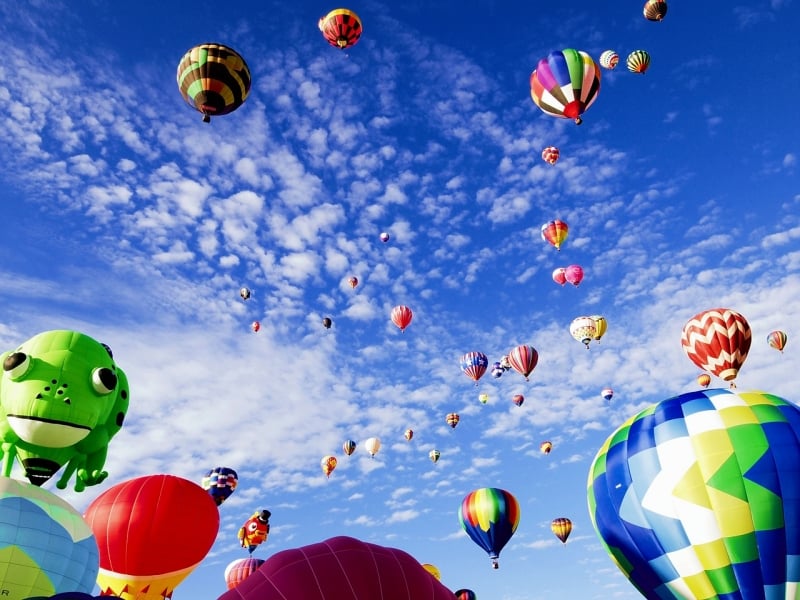 An event that takes place every October, the Albuquerque International Balloon Fiesta is said to be the biggest hot air balloon festival in the world. It's come a long way from its humble beginnings in 1972, when only 13 hot air balloons were launched. Today, it sees over 500 hot air balloons fly each year in a nine-day festival. 
As the biggest balloon event, this festival features the most vibrant and animated hot air balloons you'll ever see. From multi-coloured and culturally themed balloons to those shaped like animals, people, and even famous figures from history, this event will keep your curiosity alive. The festival hosts unique challenges and events too. The Flight of the Nations Mass Ascension, for example, involves the pilots launching their balloon in time to their country's national anthem — as they wave their flags proud! 
10. Colorado Springs Labor Day Lift Off, USA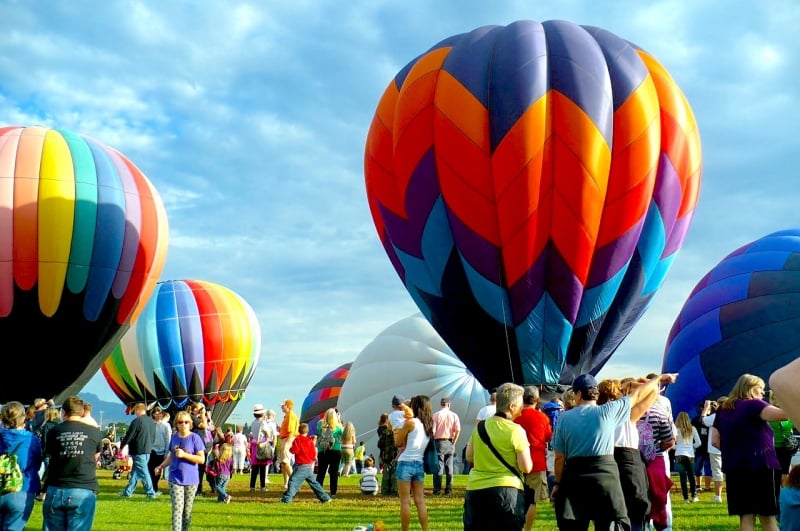 Yet another hot air balloon festival with free admission is Colorado's Labor Day Lift Off. Arguably the most fun Labour Day tradition in Colorado, this is an event that both the old and younger generations can enjoy. Visitors may set their own stations and blankets to enjoy the funtastical view above in comfort and style. In the morning, an estimate of 70 hot air balloons ascend while guests can buy food and drinks at various stalls. Stand by to see the hot air balloons set aglow at dusk!
There are other activities to enjoy too, such as skydiving demonstrations, paddle boarding, and even eating competitions. But if you get enough courage to ride a hot air balloon from Memorial Park, look out for the best view in Colorado there is — Pikes Peak!
11. The Great Reno Balloon Race in Nevada, USA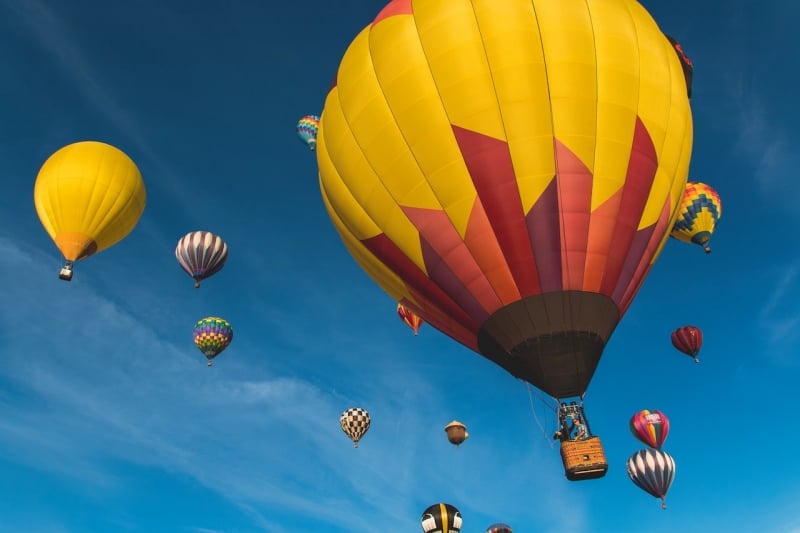 Introducing the world's largest free hot air balloon event! The Great Reno Balloon Race takes place every September for four days. Around a hundred hot air balloons are flown each year, with an average of 120,000 visitors to match. This event has won many awards including "Best Special Event in Reno" and "Best Event in Northern Nevada". 
As a family-friendly event, you can look forward to jam-packed programs. These often include shopping and eating at Balloon Boulevard, scavenger hunts, and pyjama party competitions. Feel free to set up your own place as you bond over food while watching hot air balloons drift towards the sky. Bringing your camera is a must. There's always a photo competition for whoever captures the best moments at the festival!
12. International Balloon Festival of Saint-Jean-sur-Richelieu in Quebec, Canada
This hot air balloon festival, held every August, is the biggest one in Canada; it's also the most family-friendly festival in Quebec. Aside from getting to "book a flight" and witness Quebec's marvellous cityscape from on high, there are dozens of activities you can do at a lower altitude. There are hot air balloon and boat games for children, as well as ziplines and inflatables. Meanwhile, adults can look forward to concerts which feature local and international artists over the course of nine days. 
Every day at the festival is an opportunity to learn more about balloon flying; take part in the programs and demonstrations the festival offers! But if you're not interested in that, entertain yourself with character-themed balloons you'll find here and there. (Get ready to watch Tom chase the annoying mouse Jerry up into the skies!) Most of all, don't miss out on the Night Glows; this event lights up hot air balloons on the ground like lanterns in the night!
Oceania
13. Canberra Balloon Spectacular, Australia
Last but not the least, the Canberra Balloon Spectacular in Australia happens every March with a two-week celebration. The balloon flights offer views that will show you Mother Nature at its finest. For one, the event always starts on the lawn of Canberra's old parliament house, cradled by a glistening lake and verdant forest. Better wake up super early if you want to go for a ride because the balloons lift off just after sunrise! (Remember to book your flight ahead.)
Each flight lasts from 45 to 60 minutes, but it's never boring. There are lush meadows to admire, and of course, a beautiful backdrop of the lake and sprawling hills for your photo op! After landing, treat yourself to champagne and a hearty breakfast prepared by a special caterer every year. What better way to cap off a scenic hot air balloon journey than with a full stomach? But if you're not down with that, spectating is free. You should take the chance to kayak at Lake Burley Griffin, which will give you a spellbinding view of all the hot air balloons lifting off. 
Also read: 15 Awe-Inspiring Hot Air Balloon Rides Around the World
I know we're really missing the feeling of flight in this time of our lives. But I hope these photos of mesmerising hot air balloon rides around the world lift your spirits even just for a bit. The day will come when we'll not only hop on a plane again but also take flight on our very own hot air balloon. Till then, stay safe. Stay grounded.