Having stressful days and sleepless nights? Maybe it's time to make your great escape to one of these incredible Indonesian destinations: Bandung, Belitung, Medan, or Yogyakarta. With picturesque landscapes and boundless nature, there's no better place to switch off, relax and recharge. Find out more about these destinations now!

Presented to you by Changi Airport Group x TripZilla
---
It's not uncommon to hear travellers flocking to Indonesia for their beautiful islands and idyllic beaches, but let's just think about somewhere besides Bali for a minute — because the city of North Sumatra has its own treasures too and believe it or not, they're more than good enough reasons for you to book a flight here pronto!
Medan, its thriving capital, is a cultural hub, culinary heaven, and fantastic gateway to the many natural hidden gems on the island. Its surrounding areas are just as worth exploring too — not only do they boast lush greenery and cerulean lakes, they're also home to many underrated natural wonders. Here's the best part: Medan is a mere 1.5 hour away by flight, and there are multiple flights from Singapore daily!
Here's the best part: Medan is a mere 1.5 hours away by flight, and there are multiple flights from Singapore daily!
Book your flights on Jetstar Asia
today, with all-in one-way fares starting from just
SGD76
!
So, if you're looking for a nature escape with picturesque places that will refresh your senses and rejuvenate your mind, body and soul, Medan is the place to go. Intrigued already? We've put together a short list to help you get started.
1. Shower In A Two-Colour Waterfall
Sibolangit Waterfall is not like any other waterfall: its 100-metre long cascade is a shade of greyish-white, while its plunge pool is a dazzling emerald blue — a result of a unique phenomenon in which two different colours exist in the same waterfall! Picture it against a rocky cliff and calm greenery… The view is simply breathtaking. The water can be a bit chilly but if you're game, you can dive into it!
Otherwise, you can dine at the many food stalls situated along the trails while taking in the beautiful surroundings. Do remember to bring proper, sturdy footwear if you're coming here — the rocky grounds can get slippery! Make sure to head out early, too: it's a two-hour drive from central Medan to Durin Siru Gun, a village near the waterfall, and another two hours of trekking to reach the waterfall grounds.
2. Have a splashing fun time at Lake Toba
Despite being close to five hours' drive away from Medan, Lake Toba remains as one of the most-visited natural attractions in North Sumatra. In fact, it's the largest lake in Indonesia and the largest volcanic lake in the world!
This lake is a paradise for fun water activities such as kayaking and boat cruising. The famous Sipisopiso Waterfall also lies on the northern end of the lake — make sure to catch the rainbow floating at its base and the surrounding mountainscape while you're there!
To get to Lake Toba, you'll have to reach the town of Parapat (around a four-hour drive via Jl. Lintas Sumatera from Medan) then take a 30-minute long Tuk Tuk ferry ride to Samosir Island, where many other natural attractions can be found — that we'll look at next!
Excited to explore Lake Toba and cross it off your bucket list?
Book your flights on Jetstar Asia
today, with all-in, one-way flights from Singapore to Medan starting from just
SGD76!
It's the perfect excuse for a short escapade.
3. Discover the Batak Tribe's Culture and History on Samosir Island
A trip to Lake Toba is incomplete without exploring Samosir Island, a large volcanic island situated in the middle of Lake Toba. There's absolutely no reason not to visit the world's largest island within an island AND the fifth largest lake island, especially when there are many activities to do there!
Besides its naturally picturesque setting, Samosir Island is also the heart of Batak culture and history. Many traditional artefacts, houses, and graves belonging to the ethnic Indonesian tribe can be found on the island. There's Ambarita Village, a traditional village that was once home to the Batak tribe. The tribe has a history of ritual cannibalism (and many other not-so-friendly practices) but if you're brave enough, you can see the remnants of its morbid traditions for yourself! For instance, the Parsidangan Stone is home to a circle of large stones carved into chairs and tables, which used to be a meeting place and trial area where executions were carried out. Another popular tourist attraction would be watching a Sigale-gale ritual, where locals would demonstrate a live funeral ritual and dance performance involving a traditional doll.
4. Discover North Sumatra's best kept secret, the Tinggi Raja White Crater


Familiar with the famous Pamukkale white pools in Turkey? Well, if that has always been on your bucket list, you'll be surprised to find that the Tinggi Raja White Crater in North Sumatra bears a striking resemblance. These glorious white "snow" terraces emerge due to hot water flowing over the limestone steps in the area, which have then cooled and hardened. It is not possible to swim here because the temperature of the water is simply too hot. Nevertheless, it's worth a visit to explore this ethereal spot! 
We recommend visiting during weekday mornings, where you'll find lesser crowds and more freedom to take as many photos as you like. Plus, it's a 4-hour drive away from Medan so be sure to start your journey early. Click here to find out more.
5. Trek Gunung Sibayak, An Active Volcano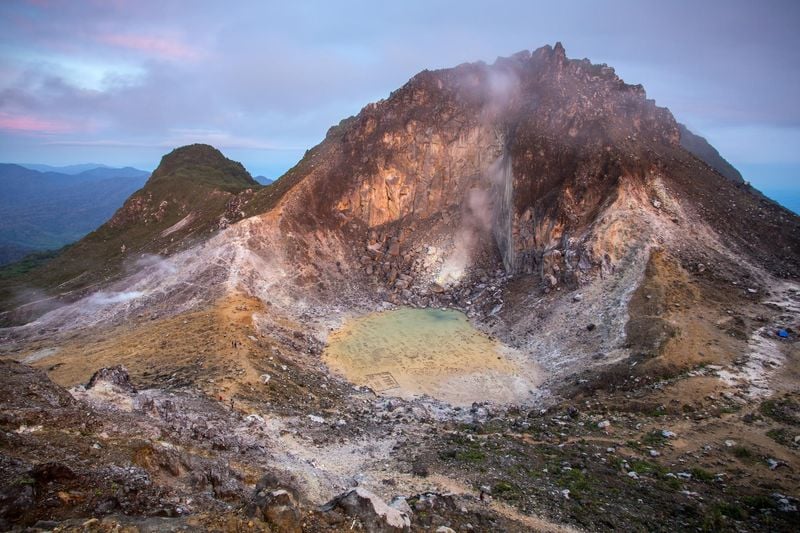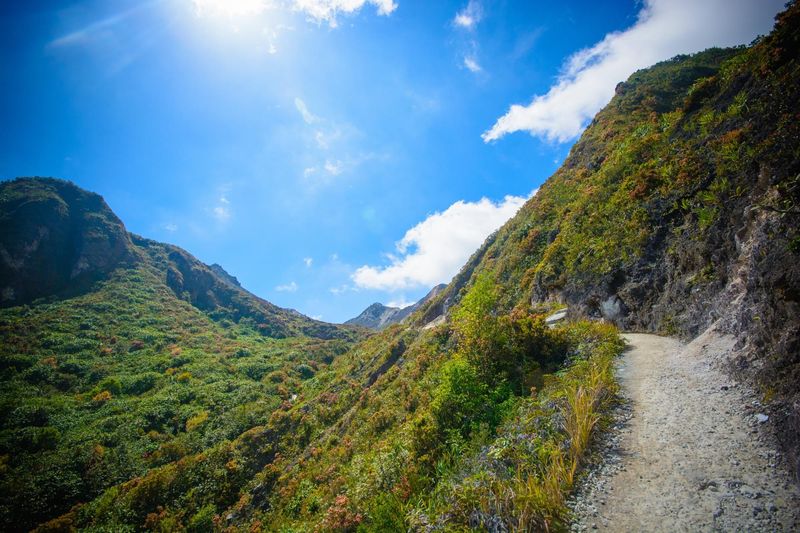 Indonesia has the highest number of active volcanoes in the world, and Gunung Sibayak happens to be one of them. The volcano, boasting a summit of 6,870 feet, is situated north of Berastagi, a small town roughly two hours drive away from central Medan – in between Medan and Lake Toba. The easiest trekking route should take you three hours at most — and once you're up there, you'll get to see the scenic heart-shaped volcanic crater lake and the clouds of crystalline sulfur floating above it! We suggest following guided tours (which you can find in Berastagi for less than S$50) — you don't want to risk getting lost in the jungle, or wasting time and missing the glorious sunset view.
6. Take a dip in the Sipoholon Hot Springs
Situated further down south from Medan, the Sipoholon Hot Springs are an incredible sight to behold! Thanks to its sulphur content, the waters are an eye-catching shade of turquoise blue, in stark contrast to the surrounding limestone hills which are coloured in bright orange, yellow and green hues. There are two huge hot springs where you'll be able to witness how hot water flows out of the ground directly. So remember to pack your swimming suits along for a relaxing, therapeutic dip in these natural pools! Do take note that there's an entrance fee of Rp. 5,000 (~S$0.47) per person.  
Can't wait to take a dip in these gorgeous thermal pools and snap some Insta-worthy photos?
Book your flights on Jetstar Asia
today, with all-in, one-way flights from Singapore to Medan starting from just
SGD76
!
Now that you've explored the best of Medan's surroundings, it's time to head back to the city!
7. Visit a 17th-century Hakka Mansion
Feel as if you've been transported back in time at Tjong A Fie Mansion, a historical landmark that was once the home of Tjong A Fie, a wealthy Hakka Chinese businessman, and a gift from him to his wife. With 35 rooms and two storeys, this mansion is a must-visit for those who appreciate architecture and culture — for this place features Chinese, Malay, and Art Deco influences, and a building structure observing Feng-Shui principles. Examine the 17th century furniture and Peranakan artifacts in the in-house museum, or join a complimentary guided tour of the full place for a truer experience.
8. Learn About Medan's Royal History At Istana Maimun
Besides being helmed as one of Indonesia's most beautiful palaces, you should visit the Maimun Palace for its collections from its royal history back in the 19th century, and stunning architecture influenced by the Dutch and Spanish. View the lavish inauguration throne in its glory, and get an up-close look at the antique furniture and interiors that have maintained Islamic culture during colonial times. If you're down for a short yet intriguing history lesson, don't miss it!
BONUS: Indulge In the Best of Indonesian Cuisine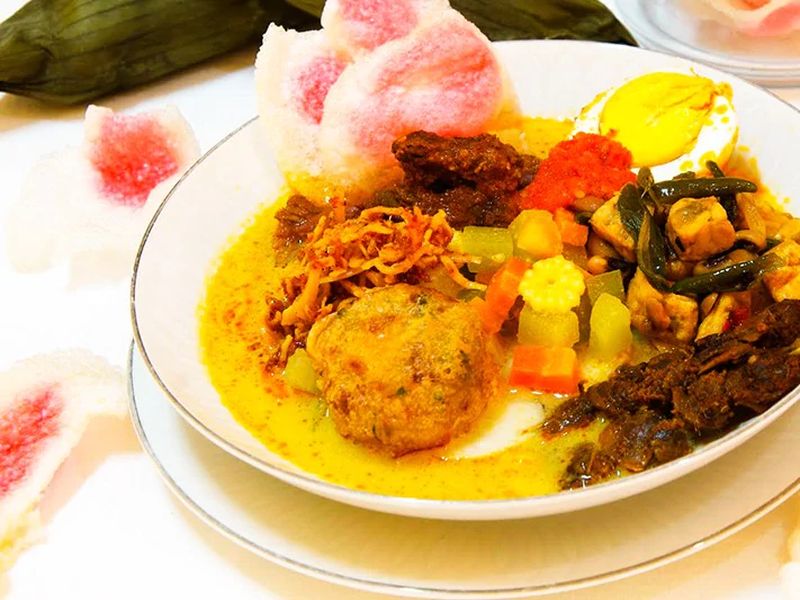 Now, here comes the obligatory point about food. Don't look at us like that — we promise these delicacies are worth it! Especially Lontong Sayur, Medan's own specialty, consisting of a soup made from Sayur Lodeh (vegetable soup with coconut milk), tofu, Tempeh (fermented soybean), Sambal, boiled egg, Rendang, and most importantly: Lontong (steamed rice in banana leaves). Other popular must-try dishes include Bihun Bebek (duck vermicelli noodles), Mie Pangsit (Medan's take on wanton mee), and for all you spicy food lovers: Saksang (traditional Batak cuisine made from pork)! Are your taste buds tingling yet? We suggest heading to Merdeka Walk to begin your food conquest. You'll find other delightful Indonesian foods there and, if you need a beer to unwind, just make your way to one of the many bars.
We've reached the end, but don't panic — these are just 8 of the many things you can do in Medan and its surroundings! If you're an explorer at heart, we're pretty sure you'll enjoy this underrated city and all that it has to offer!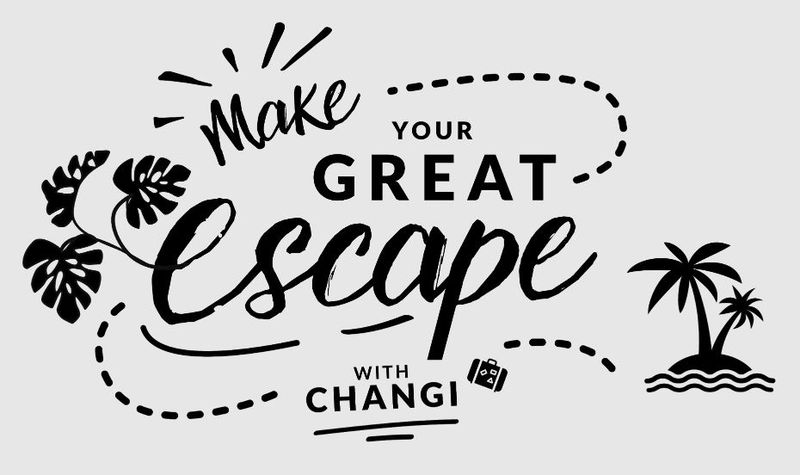 Tempted to escape to Medan right now? These idyllic spots await your arrival!

Book your flights on Jetstar Asia

now and enjoy a smooth and fuss-free journey to kickstart your much-needed vacation. It's time to escape your dreary daily routine for some fresh air and 

crystalline waters in Indonesia!

For more great deals on other Indonesian destinations, click HERE. And stay tuned for the rest of this 4-part series, featuring picturesque spots in Yogyakarta, Belitung, and Bandung!  
---
Brought to you by Changi Airport Group.