Hands up if you love to travel to Bangkok! The Thai capital is a perennial favourite among Singaporeans when it comes to choosing a travel destination, whether it's a weekend getaway, a family holiday or even a bachelorette party! It's not difficult to see why since the city is constantly outdoing itself with stunning new places to see, Instagrammable cafés and restaurants, bustling markets and unique resort stays.
In fact, we love Bangkok so much that Thailand is celebrating its millionth Singaporean visitor with their Thanks a Million Campaign! Sign up for their newsletter to get access to an exclusive insider's guide to Thailand, featuring brand new haunts for your planning pleasure, along with hidden gems that you might have been missing all these years!
Here are some snippets that will inspire you to start planning your next trip by the time you're done!
New cafés in Bangkok
Bangkok does cafés and bars ridiculously well, always producing bigger, better, more stylish outfits than we've ever dreamed of. Expect tantalising displays of food and drink and delectable desserts that come in all sorts of novel forms at these up-and-coming places.
Shugaa Café
Stepping into Shugaa Cafe is like having all of your childhood fairytale dreams coming true in an instant. With lovely pastel interiors and whimsical touches, the entire place is a fantastical experience.
Even more magical are the delicately beautiful and yummy desserts that are on display! Each dessert is more carefully constructed than the last and taste sinfully good despite. It's no wonder that they've been gaining a strong social following with their photogenic desserts popping up on our Instagram feeds. If you'd like to celebrate a special occasion, they also do custom cakes and host events. Just remember to make a reservation in advance!
Opening Hours:
Daily: 10.00 – 20.00 Hrs.
Address: 27 The Residence at 61 Bldg 61 Sukhumvit 61 Alley, แขว คลองตันเหนือ Watthana, Bangkok 10110, Thailand
Telephone: +66 9 2254 7328, +66 2381 5940
Website: Facebook
The COMMONS
While not a café per se, this community mall is home to an eclectic mix of local eateries, craft stores, artisanal goods and activity spaces. Other than chilling over brunch and coffee, attend a workshop for DIY crafts or baking, while enjoying the live musical performances taking place. The COMMONS is driven by a lot of heart, warmth and love for the creative community – an attitude that is reflected in this communal space.
Opening Hours
Daily: 08.00 – 01.00 Hrs.
Location: 335 (Thonglor 17), 55 Sukhumvit Rd, Klongtan Nue, Watthana, Bangkok 10110, Thailand
Telephone: +66 2712 5400
Website: www.thecommonsbkk.com and Facebook
V'Lacha
Despite the "hipster" café hype, V'Lacha serves up some local flavour with authentic traditional sweets and photo-worthy decor. New to the café scene, V'Lacha sets itself apart with colourful sweet treats and a variety of flavours made from local ingredients!
With the quaint decor, the café is a good blend of local influences and modernity that makes it a great place for tea with friends (and perhaps an impromptu photo shoot)!
Opening Hours
Daily: (closed Sundays) 10.00 – 20.00
Location: Soi Ari 1, Khwaeng Samsen Nai, Khet Phaya Thai, Krung Thep Maha Nakhon 10400, Thailand
Telephone: +66 0 6308 7888
Website: Instagram
Rising eateries and restaurants in Bangkok
When you order food in Bangkok, your menu probably revolves around the same few dishes like Tom Yam, Phad Thai and Mango Sticky Rice. But that's not all there is to Thai food! Spice up your dining experience with these novel eateries that will take you on a revolutionary culinary adventure!
The Local

The Local conveys authenticity not just through the Southern Thai dishes that they serve, but through a preservation of their local culture and traditions. Be blown away by scrumptious Thai cuisine prepared using old family recipes that have been passed down for generations.
Sit down at traditional stilted tables and experience local culture in the best way, through food! Alternatively, opt for the Chef's Table experience and embark on a gastronomic journey as mouthwatering dishes are whipped up right before your eyes!
Opening Hours
Daily: 11.30 – 14.30 Hrs.; 17.30 – 23.00 Hrs.
Location: 32-32/1 ซอย สุขุมวิท23 Khlong Toei, Khet Watthana, Krung Thep Maha Nakhon 10110, Thailand
Telephone: +66 2664 0664
Website: thelocalthaicuisine.com
Siam Spring Bistro
Located in a picturesque restored shophouse, Siam Spring Bistro matches its look with absolutely divine Thai dishes! Other than the few popular Thai dishes,  you can also be treated to a series of lesser-known local delights.
Growing in popularity for their intimate setting and private spaces, this is a great place to relax with good company and indulge in tasty local food. Savour Thai heritage in the best of locations with an authentic meal and amazing hospitality!
Opening Hours
Daily: 11.00 – 22.00 Hrs.
Location: 22 Soi Thatien Maharaj Rd. Phra Borom Maha Ratcha Wang, Phra Na Khon, Bangkok, Thailand 10200
Telephone: +66 8 6999 7555
Website: Facebook and Instagram
Erawan Tea Room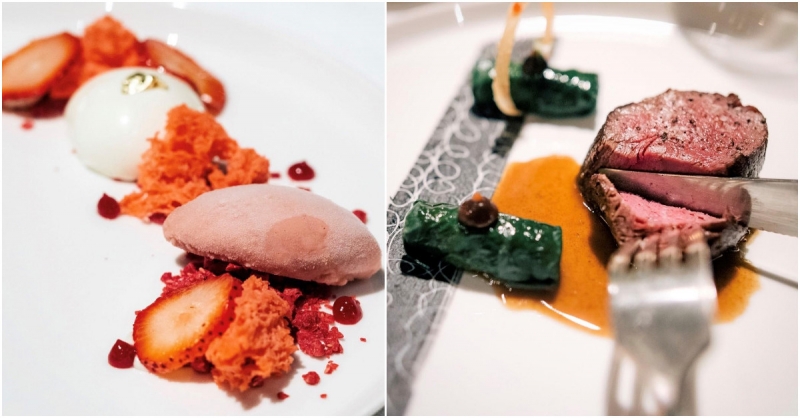 While the Erawan Tea Room has been around for a while, the place promises a tea experience like no other. Touted as one of Lonely Planet's best afternoon tea spots in the world, Erawan Tea Room presents an Asian take on the afternoon tea genre. Offering a generous mix of Asian teas from Thailand, China, Sri Lanka and India, Erawan Tea Room also serves a delightful selection of sweet and savoury Thai bites. Not only are they exquisite and picture perfect, they also pack a culinary punch with traditional flavours.
All this delicious food is made even tastier knowing that they support small-scale fisheries when sourcing for their ingredients, taking care to use only seafood that is caught and farmed using sustainable methods. Want more? Try their all-you-can-eat buffet during dinner and on the weekends!
Opening Hours
Daily: 10.00 – 22.00 Hrs.
Location: 494 Rajdamri Road, Bangkok, Thailand, 10330
Telephone: +66 2254 1234
Website: https://bangkok.grand.hyatt.com/en/hotel/dining/ErawanTeaRoom.html and Facebook
New resorts and stays in Bangkok
Sook Station
This all-new hotel concept raises awareness for second chances! Sook Station is a creatively themed hotel albeit slightly dark and ominous. With prison bars as doors, bunk beds and a monochromatic aesthetic, this prison-themed hotel has been gaining popularity amongst tourists who are looking for a unique travel experience in Bangkok.
Location: 45-49 Sukhumvit 101/2 Alley, Khwaeng Bang Na, Khet Bang Na, Krung Thep Maha Nakhon 10260
Telephone: +66 8 6332 0555, +66 8 1123 0005, +66 8 1442 0449
Website: sookstation.com and Facebook
Bangkok Tree House
Forget rooms with a view, how about having the night sky as your blanket? Or being lulled to sleep by the calming sounds of the river? Bangkok Tree House is a green accommodation that pledges to clear one kilo of trash from the river for every stay booked with them!
Enjoy dramatic views of the area in their tree house "rooms" and even have a bath under the moonlight! As a hotel committed to taking care of the environment, their usage of bamboo, energy-efficient appliances and barring of cars around the compound, all speaks of their dedication to the cause.
Location: 60 Moo1 Soi Bua Phueng Pattana, Bang Namphueng, Phra Padaeng, Samut Prakarn, Greater Bangkok, Samut Prakan 10130, Thailand
Telephone: +66 8 2995 1150
Website: bangkoktreehouse.com and Facebook
New markets and shopping areas in Bangkok
The word 'shopping' is practically synonymous with Bangkok and many have entered the country with one bag and returned home with three! But if Chatuchak, MBK and the usual night markets are getting a little humdrum for you, here are some snazzy new places that you can spend your baht at!
Chang Chui
Chang Chui is a creative park where shopping meets art. Even if shopping is not your thing, you'd want to visit this park for the huge plane (yes, you read that right) that sits in the centre of the space and is impressive in its own right.

Otherwise, check out the various cafés and tearooms that serve a dazzling mix of local and international cuisines, depending on what suits your fancy! You may also take to the shooting games, ball games and other activities that are available at the park. You're bound to have a blast regardless of what you choose to do there!
Opening Hours
Daily (closed Wednesdays): 11.00 – 21.00 Hrs. (Green Zone); 16.00 – 23.00 Hrs. (Night Zone)
Location: 460/8 Sirindhorn Road, Bang Phlat, Bangkok, 10700 Thailand
Telephone: +66 8 1817 2888
Website: changchuibangkok.com, Facebook and Instagram
Siam Gypsy Junction Market
One of the new kids on the block, Siam Gypsy Junction Market carries an air of nostalgia rarely seen in other night markets. Selling secondhand goods, faux antiques, vintage goods and vinyl records, this is the indie-est of the indie and also where you'll snag some cool and unique find.
Even if you don't feel like shopping, the gypsy and retro theme of the market is sure to have you intrigued. We heard you can even get a drink on the roof of a bus!
Opening Hours
Wednesdays – Sundays: 18.00 – 01.00 Hrs.
Address: 29 Khwaeng Wong Sawang, Khet Bang Sue, Krung Thep Maha Nakhon 10800, Bangkok
Telephone: +66 2910 7913
Hidden gems and scenic sights in Bangkok
Icon Siam
Soon to be opened, Icon Siam is not just a mega shopping mall but will also showcase cultural aspects from all 77 provinces of Thailand. This visionary shopping centre is one of Bangkok's most highly anticipated new malls and definitely worth a visit!
Sitting on the riverfront, you'd also be able to engage in exciting activities such as boat racing and other water activities. It's not just for shopping, Icon Siam is a megaplex that promises something for everyone!
Address: 299 Soi Charoen Nakhon 5, Charoen Nakhon Road, Khlong Ton Sai, Khlong San, Bangkok 10600
Telephone: +66(0)2 118 2211
Website: iconsiam.com
Lhong 1919

An old Sino-Siamese port sitting on the banks of the Chao Phraya river, Lhong 1919 retains its old heritage charm and sheds light onto Thai-Chinese history. Visit the Mazu Shrine which showcases the Goddess of the Sea and fascinating figurines that originated from China.
Appreciate the intricate Chinese architecture, especially in the main area of San He Yuan, which features restored murals and auspicious Chinese paintings on the doors, walls and windows. Home to art and craft stores, restaurants and various events happening throughout the year, Lhong 1919 is brimming with culture and beautifully so.
Opening Hours
Monday: 11.00 – 20.00 Hrs.,
Tuesdays – Sundays: 09.00 – 20.00 Hrs.
The upper level of the shrine is open daily until 20.00 Hrs.
Address: 248 Chiang Mai Rd., Khlong San, Bangkok 10600, Thailand
Telephone: +66 9 1187 1919
Website: lhong1919.com and Facebook
Bukruk Urban Art Festivals
Organised by the European Union, the Bukruk Urban Art Festivals is a series of art exhibitions, music festivals, talks and street art showcase that happen throughout the year. Even if you don't visit Bangkok during the festival period, you can still explore Charoen Krung and marvel at the fantastic wall paintings!
Address: Charoen Krung, Songwat, Decho and Surawong Roads, Bangkok.
Website: bukruk.com
Want to have a deeper look into the hidden gems of Bangkok and Thailand? Sign up for Tourism Authority of Thailand's (Singapore Office) newsletter to have the latest news on new openings and happenings in Thailand. Plus, subscribers will have exclusive access to an exclusive e-book that has been released to celebrate a million Singaporean visitors to Thailand! Expect insights into new trendy stays, cafes and markets in Thailand, exclusively curated for Singaporeans.
Additionally, as part of the Thanks a Million campaign, stand to win a trip for two to Thailand and redeem exclusive shopping vouchers when you book your next trip to the Land of Smiles!
---
Brought to you by Tourism Authority of Thailand (Singapore Office).