Have you heard of Sihanoukville? Also known as Kampong Som, this charming coastal city remains a largely untouched hidden gem in Cambodia. Filled with white sand beaches and breathtaking natural sights, this idyllic city is quickly gaining popularity amongst backpackers and might just become the next big thing. You know what that means? It's time to make your way here before it becomes the next trendy tourist destination!
Not sure where to start your exploration? Fret not, we've come up with a complete one-week itinerary to guide you through your adventure. Let's go!  
[AIRASIA: FLY TO SIHANOUKVILLE FROM RM89]
AirAsia now has direct flights from Malaysia to Sihanoukville FOUR times a week – on Mondays, Wednesdays, Fridays & Sundays. Is that awesome or what? Plus, you get to enjoy all-in one way fares from just RM89! That's an absolute steal.
Book from now till 23rd July 2017, and choose to travel anytime you'd like from now till 8th Feb 2018! Don't miss out on this awesome deal.
Day 1:
You better change into your swimsuits the moment you touch down in Sihanoukville, because it's time to hit the beach! Ochheuteal Beach and Serendipity Beach are two of the most popular beaches in the city. With its soft white sand and clear blue waters, these beaches are definitely not to be missed!
There are also plenty of chic bars and restaurants around the area, so feel free to grab a meal (or two) at the eateries near the beaches! Mike's Burger House, for instance, is known for its incredible beef burgers! Yum!
After lunch, continue your beach-hopping adventure and head to Otres Beach. Unlike Ochheuteal Beach and Serendipity Beach, Otres Beach is less patronised and has a more laid-back vibe. If you're here on a Saturday, don't forget to visit the Otres Market nearby, which is a Saturday market filled with crafts and food vendors. Expect lots of live music, cold drinks, hot food and good vibes!
Alternatively, you can head to Independence Beach, which offers a more tranquil atmosphere as well. Feel free to drop by for dinner at any of the beachside BBQ shacks for a delicious end to your first day.
Day 2:
Kickstart your second day with a visit to The Independence Square on Ekareach Street (Independence Street). Across the street lies a small park containing the Independence Monument (Vimean Ekareach), which was built to celebrate Cambodia's independence from foreign rule and also to honour Cambodia's war heroes.
Next, head to Kbal Chhay Waterfall which is located about 16km north of downtown Sihanoukville. Here, you'll find a stunning collection of cascading waterfalls ranging from three to five metres high. Don't forget to spend some time here to swim and splash around!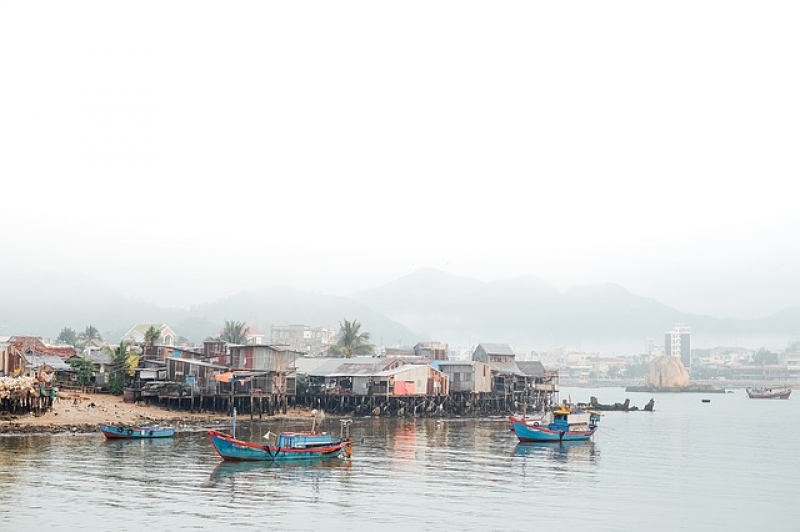 Continue heading north and you'll find yourself at the quaint Stung Hau Town, a small fishing village full of rustic charms and filled with lots of boats and fresh fishes. There are no tourist facilities here, which means that you're definitely in for an authentic local experience!   
After which, head back downtown and conclude your day at La Rhumerie, a snazzy little bar situated on Serendipity Beach Road. Decorated in an interesting neo-80s style, this glitzy haven is the perfect place for you to savour some cocktails and wind down for the night.
Tempted to visit this offbeat city in Cambodia? AirAsia now flies directly to Sihanoukville from Malaysia, so you can get there in less than 2 hours! Whenever you're in need of tropical beach vacation, you know where to head to for a good time.
With their exclusive promotion happening from now till 23rd July 2017, enjoy all-in one way fares from just RM89! All you have to do is travel by 8th Feb 2018.
Day 3:
What's a trip to Cambodia without visiting a temple? On day three, make a trip to Wat Krom Temple, one of the most stunning attractions in Sihanoukville. Sitting atop a small hill on Santipheap Street, this temple is dedicated to Ya-Mao, a local deity.
Next, take a short 45-minute ferry to the Koh Rong Samloem, a beautiful island situated west of Sihanoukville. Just look at how gorgeous it is! Who could resist that?
Looking for something more exciting than lounging on the pristine beaches? Here's some good news for you: Koh Rong Samloem island is also an excellent scuba-diving site! No worries, courses can be easily arranged with the Scuba Nation Diving Centre branch in Sihanoukville.  
Afterwards, head back to Sihanoukville and ascend the Sihanoukville Mountain, a 132-metre peak just behind the main town area. Offering a spectacular view of the city, islands and beaches, the mountain is the ideal spot for catching breathtaking sunsets or night views.
Day 4:
It's time to head out to the sea! The most popular (and most cost-effective) way to enjoy the sea is to book a full-day island cruise that will bring you to one or several islands and offer you opportunities to snorkel, swim and even kayak.
Breakfast, drinks and buffet lunches would often also be provided. There are several boat and ferry tours operators in Sihanoukville so you can simply take your pick! One such operator would be Island Speed Ferry, the biggest ferry company in Sihanoukville.
If you're not into island cruises, you could always opt for other types of cruises such as booze cruises, sunset cruises and night time party cruises!
Day 5:
Set forth to Prey Nup Mangrove Forest situated in the north of Sihanoukville early in the morning for an eye-opening and meaningful experience. Here, you'll get to learn more about the delicate and endangered ecosystem in Cambodia!
The mangrove forest also provides some wonderful bird watching opportunities, so you better keep your eyes peeled for some milky storks, egrets and kingfishers!
Then, make your way to Ream National Park, one of the seven national parks in Cambodia. Encompassing 210 square kilometres of coastal land, this glorious park is brimming with mangrove forests, endangered birds and offshore coral reefs.
If you visit during the months of December to February, you might even get to spot some white freshwater dolphins cartwheeling out of the water! How cool is that?
Exhausted from an entire day of nature exploration? Treat yourself to a sumptuous meal at Nyam, a Khmer restaurant near the Ochheuteal Beach! Serving traditional Khmer dishes, this cosy diner is great for you to delight your tastebuds with unique Khmer salads and the freshest seafood dishes (think: fish steamed in banana leaves and Kampot pepper squid)!
Day 6:
On your second last day, it's time to venture out a bit further for more adventures. Set out for Bokor Mountain that's approximately two hours away from the city. Offering incredible views of both the coastline and the surrounding islands, Bokor Mountain is a must go for all scenery lovers.
The mountain is also home to many abandoned French colonial buildings and  "ghost" buildings, including a casino, a hotel and a Catholic Church. These ruins make the place look eerie and mysterious, but all the more charming.
Then, descend the mountain and head a little further south around the coastline to visit the delightful riverside towns of Kampot and Kep. Expect lots of old French colonial architecture, crumbling mansions and crab markets.
Day 7:
For your last day, take all the time you need to wake up and enjoy a relaxing morning lazing at one of the sunny beaches in Sihanoukville. If you're up for something more rejuvenating, consider going for a morning yoga session at Anam Yoga Otres for a stimulating experience.
Afterwards, head to Phsar Leu Market, the biggest traditional market in Sihanoukville. You will be able to find a variety of food stalls with mouth-watering dishes like barbecue chicken and rice porridge. This is also a good place for travellers to experience an integral part of the locals' daily lives and get to know Sihanoukville better.
P.S. Other than food dishes, there is a multitude of other options including clothes, jewellery and local souvenirs!
[AIRASIA: FLY TO SIHANOUKVILLE FROM RM89]
AirAsia now has direct flights from Malaysia to Sihanoukville FOUR times a week – so a holiday in this coastal city of Cambodia is incredibly fuss-free and easy to get to!
Don't miss out on their exclusive promotion happening until 23rd July 2017: you get to enjoy all-in one way fares from just RM89! Discover the rustic old-world charm of Sihanoukville and travel from now till 8th Feb 2018.
Add this underrated city to your bucket list NOW.
And there you have it! With this comprehensive one-week itinerary, you're bound to have an exciting and fun-filled adventure in this hidden gem of Cambodia!
---
Brought to you by AirAsia.