Mention Cambodia and one cannot help but daydream of exotic adventures: glittery spires of the Royal Palace, the fluttering saffron of orange robes, luscious treks through time into a world of jungle temples where wild elephants roam. It can be quite the fantasy, especially if you're picturing in mind a panoramic scene made up of rolling hills, thundering waterfalls, and winding rivers. This is Thailand before the crowds arrived, back when the landscape consisted of little more than a couple of dusty cities, glistening architecture, and idyllic islands teeming with sandy coves and coastal villages. It is almost the perfect fusion of Heaven on Earth, a pristine jungle that has made itself a focal point on every Southeast Asian travel map.
The best thing that you will come to find about Cambodia is, whether you're holidaying there as a family, a couple, a group of friends, or just plain solo – a common thread of exciting experiences and enjoyment awaits. This vibrant nation is a discombobulating riot of colours; a break to make you think, or a break to make you stop. Bar-hop through islands, do the temple run, feast on history that will make your blood run cold; whatever form it takes, it won't take you long to realise that there is more to Cambodia than Angkor Wat or the Killing Fields. This is a destination of a full suite of experiences – one, that will add up to the epic adventure of your lifetime.
Kampot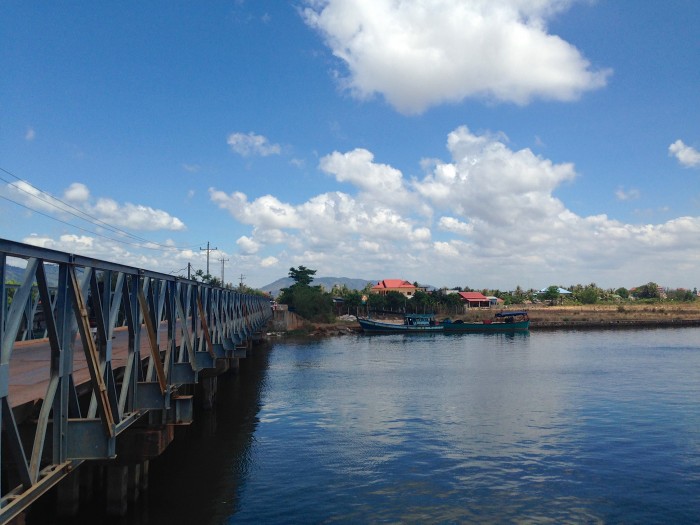 Image credit: James Antrobus
Kampot is a sleepy black hole of sorts. One of those beautiful rundown towns you can't quite picture yourself spending more than a day or two – but end up staying for more than a week. Lest you think this is all it's ever been, this rustic little village once saw the light of better days – after all, it was Cambodia's primary port before Sihanoukville rose from the ashes in the 1950s; and traces of its bustling heyday still show in its old, rickety villas and shophouses dotted along the riverfront.
Go if… you like travelling back in time, free-and-easy exploring, and a change from the usual touristic scenes.
Don't go if… your itinerary bleeds 'luxury'.
Experiences not to miss…
1. Plan a Day Trip to Kep. Kep is yet another sleepy coastal town located only 25km away – a stone's throw, really. It's a must-visit if you're after a dip in some of the most beautiful beaches in Cambodia. Not in Kep itself, mind you. This town is merely the gateway to some of the most pristine islands scattered around the province.
2. Watch a movie marathon at Ecran Movie House, a nice little movie-cafe establishment that's highly popular with the backpackers. Decent-sized theatre; comfortable big cushion lounge seats; and only US$2.50 for public screenings – a complete steal, if you ask me.
3. Explore the area around Bokor National Park, an architectural legacy from Cambodia's colonial days now left in beautiful, rustic derelict.
Battambang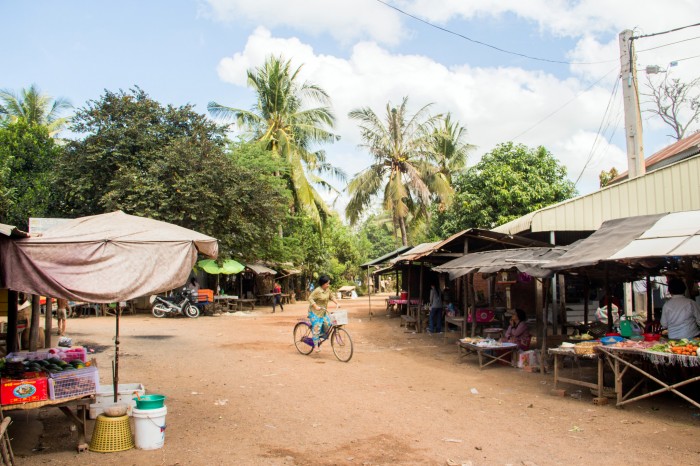 Image credit: Branstonorginal
Like Kampot, Battambang is a tranquil respite from the bustling going-ons of Phnom Penh and Siem Reap. It may be the second largest city of Cambodia, but it lacks all the trump cards needed for proper touristic appeal – there is no grandiose architecture, no acclaimed historical artefact, and definitely no cosmopolitan glitz; which also means no city traffic, no touts, and no busloads of annoying tourists.
This humble burg of bumpy roads and ochre village streets is stunning countryside material if you know where and how to look. Its sleepy persona hides a brewing wave of creativity in music and arts, and it is fast becoming a cradle to the thriving local scene. Battambang is hospitable enough without being overly smothering, and its smattering of chic atmospheric establishments will draw you in with its seemingly uninteresting yet charming ways.
Go if… you wish to discover a small, close-knit cluster of communities connected by a common love for creative inspiration, avant-garde art, and simple living.
Don't go if… a slow-paced lifestyle makes you all itchy and restless.
Experiences not to miss…
1. Ride through glade-green fields on the rickety Bamboo Train – a wooden pallet set atop tank wheels and attached to an outboard motor for propulsion. Good luck!
2. Visit the Phare Ponleu Selpak Circus for a thrilling display of comical skits and tales, with classic circus acts of balancing, juggling, twirling, spinning, dance and more.
3. Explore the many quaint little boutique hotels and cafes scattered across the city. Must-visits are Jaan Bai, Lotus Bar and Gallery, Kinyei, Lonely Tree Cafe, and of course, Choco L'Art Cafe.
Also Read: 15 Experiences You Must Have in Cambodia
Sihanoukville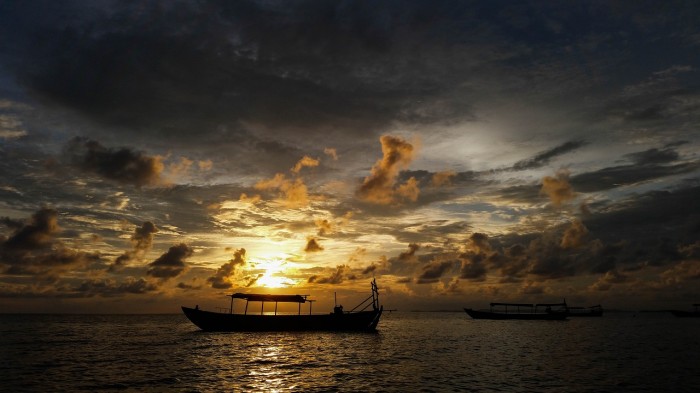 Fuelled by sun, sand, and cheap booze, Sihanoukville's beachcombers party like clockwork every night of the week. It is the closest thing that Cambodia has for a Vang Vieng; and boy, is it giving Vang Vieng a good run for its money. Each is its own country's most hedonistic party destination; but unlike Vang Vieng, Sihanoukville sprang to life just less than 30 years ago. This youngest Cambodian city was still involved in the final demobilisation of the Khmer Rouge as recent as the early 90s, but has since rapidly developed into the hard partying hub that we know and love today.
None of Sihanoukville's beaches has palm tree-lined shores with clear waters and stretches of pristine sand; but like Kep, it is the hopping point to nearby islands that are close to picture perfect. The centre itself doesn't give you much to see by day; but by night, the entire town comes alive almost like magic; and makes for an interesting, spectacle to behold – if you're game enough for it.
Go if… you don't mind throwing some wild, party-hungry fun into your itinerary.
Don't go if… tourism sleaze and dubious drug scenes scare you. (It really shouldn't – not unless you actually get involved.)
Experiences not to miss…
1. Visit the local market. Otres Market and Psar Leu Market are notable favourites that offer good glimpses into the locals' way of life. Definitely recommended for those in favour of an alternative to wild partying.
2. Beach-sloth. Sihanoukville is a beach haven, and you'll be spoilt for choice with the likes of Serendipity, Ochheuteal, Otres, Independence, Sokha, and Victory, just to name a few. However, if it's quality beaches you're looking for, you might want to island hop to nearby gems like Koh Rong Sanloem, Koh Rong, Koh Ta Kiev, or Koh Totang instead.
3. Party, and party hard. Is there any better experience to recommend when you're in the country's most revered party destination?
Phnom Penh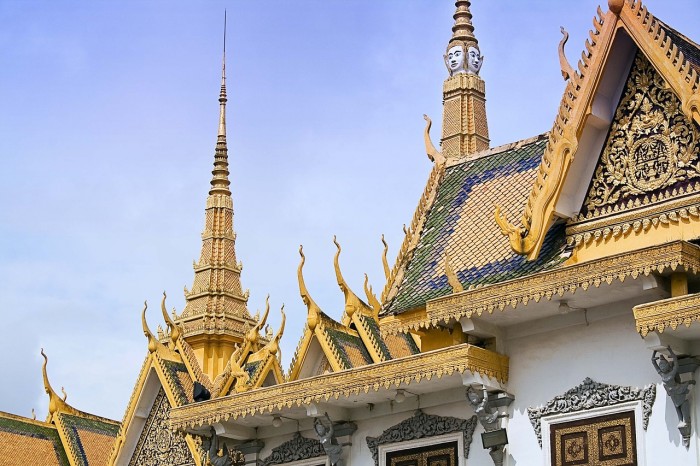 Phnom Penh is an untamed city of organised chaos. It is at the heaving crossroads of cultures, times, people and worlds; with one foot rooted in its dark genocidal past and the other striding boldly towards a brand new future. The city whizzes by at a dizzying pace; always congested, vibrant and unrelenting – at times, it is almost impossible to believe that this is the very same capital that almost got depopulated by the Khmer Rouge just forty years ago. There is a live-in-the-moment feel in every nook and cranny just waiting to encapture you, from its shiny temples to its sprightly markets to its buzzing back streets. Stroll around the city by foot, enjoy long walks by the Mekong River, experience the local day-to-day through its people and food: key features of this city will spring out at you from the tiniest of corners, even if you're not looking.
A turbulent city that is constantly on the edge of everything, Phnom Penh can be quite the assault on the senses – it is one of those 'love it or hate it' places, but never an uninteresting one. Depending on how you wish to take it, it can either be a city of endless possibilities or one that will wear you down quicker than a heartbeat.
Go if… you are open to experiencing a distinctly different kind of Southeast Asia that is not all rustic glitz and Indochic glamour.
Don't go if… the nitty gritty can really get under your skin.
Experiences not to miss…
1. Meander the famous local markets of Phnom Penh – the Central Market (Phsar Thmei) and Russian Market (Phsar Tuol Tom Pong)  will put you off to a fantastic start. Both are big, bustling venues that are an absolute delight to navigate, with a profusion of buys that range from kitschy local handicrafts to imitation goods of the likes of Patek Philippe and IWC Schaffhausen. For an evening option, try the Phsar Reatrey, the atmospheric night market located by the city's riverfront.
2. For a tiny fee, you may experience what it was like to live like a Cambodian King. Located just side by side to each other, the Royal Palace and Silver Pagoda feature some real fanciful Khmer architecture, and offer intriguing snippets into the lavish lifestyles of Cambodian royalty.
The impressive National Museum sits just a stone's throw away from these monuments, so pop to indulge in a look-see if you have the time.
3. The Tuol Seng Prison and the Killing Fields are two of the most gripping manifestations of Cambodia's genocidal past that you will ever experience. Both places hold meticulous recounts of the country's most painful years, and is guaranteed to tear up your heart from inside. Imagine an entire population of professionals and educational elites being wiped out – thousands at one go – and the permanent, sweeping impact of that on a nation. In an attempt to deconstruct the country back to a primitive Year Zero, the Khmer Rouge successfully killed 3 million of their 8-million population – all in just a short span of 4 years.
That's 2,000 people a day.
If the world of Khmer Rouge is completely brand new territory to you, then these will be the two best references to begin your spiral into the country's darkest days.
Siem Reap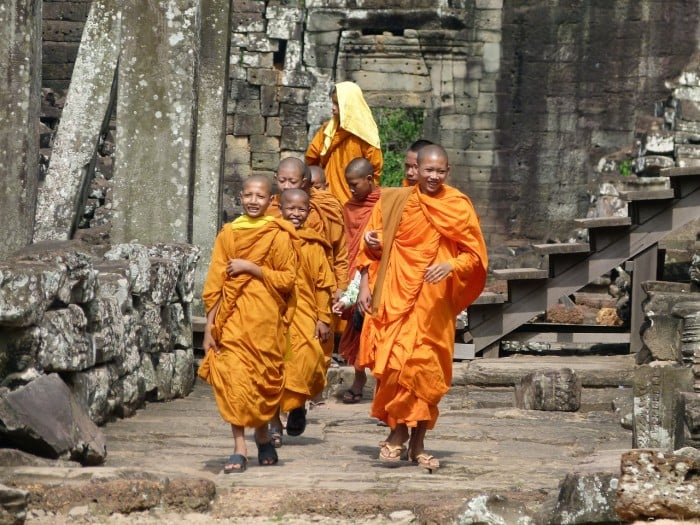 You cannot say that you've been to Cambodia if you've never been to Siem Reap. In this sleepy ancient city, historic culture dominates; and Siem Reap plays host to more than a thousand Angkors as well as some of the liveliest local markets and clean night spots in all of Cambodia. To have stepped into this country and not experience any of this at all is a cardinal sin grave enough to render your trip obsolete. It is the epitome of Cambodia's chronological timeline, from its glittering history of extravagance and spirituality to its short but deep genocidal scars – and to its bright future that is still yet quite unknown.
Siem Reap is, in essence, still a small town at heart and easy enough to navigate. There are as many budget guesthouses as there are quality mid-range boutique accommodation and high-end luxury hotels; and the centre brims with chic bars, restaurants, and businesses that make it the perfect culmination of your Cambodian itinerary.
Go if… you want to travel back in time (like seriously wayyyyyy back) to a land of atmospheric old-world charm.
Don't go if… no, really. If you skip Siem Reap, you might as well not go at all.
Experiences not to miss…
1. Take off your Angkor-tinted glasses: there is more to Siem Reap than temples. Experience traditional Khmer culture by watching an Apsara dance over dinner (available at most mid-to-upper scale eating establishments), visit the floating villages of Kompong Khleange, and of course, indulge in authentic Khmer cuisine and street food at local markets and food houses.
2. Soak up the scene at the Old Market/Pub Street area. Day or night, this place thrives with the kind of hustle and bustle that will astound even the blurry-eyed. These are the busiest alleys in all of Siem Reap, and its passages transform from local markets by day, to a dining, shopping, and nightlife hub by night.
3. Got time to spare? Do the full 3-day temple run around the Angkors. There is more to this archaeological world than just the legendary Angkor Wat, so sign yourself up for the full display of breathtaking relics and impressive ruins.
Also Read: 5 Reasons Why Cambodia Should Be On Your Bucket List
Trust me, they will not disappoint.