Calling all lovey-dovey couples!
There are never enough romantic hotspots to go around, especially when life gets dreary and you need that perfect escape! We totally understand.
We also know that no couple is the same. So we've sussed out these five hotels across Thailand and Cambodia that offer a luxurious resort experience. For discounts of up to 70% on luxury hotels and holidays, check out Secret Escapes. 
For the Rustic Couple: Angkor Village Resort & Spa at Siem Reap, Cambodia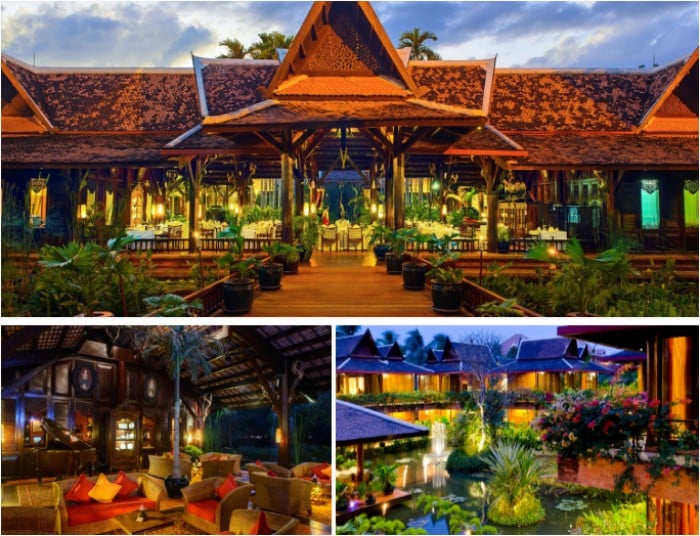 Step into paradise when you enter Angkor Village Resort and Spa, Cambodia. Inspired by traditional Cambodian villages but revamped with a contemporary vibe, this luxurious resort is a unique blend of  traditional architecture and modern accents.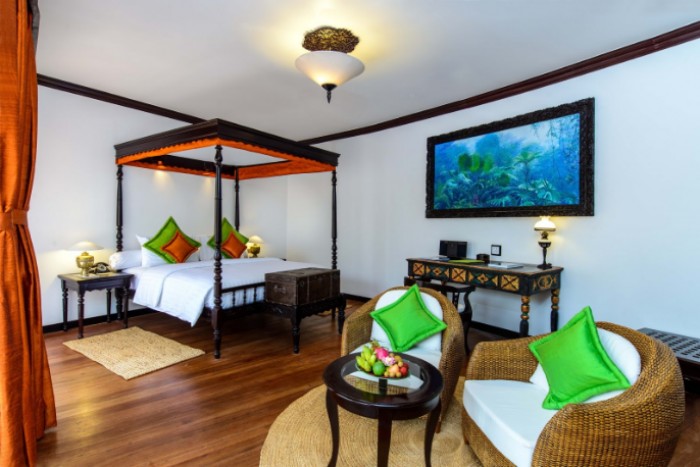 The stylish rooms are decorated with traditional Cambodian elements and intricate locally-produced hardwood furnishings. Each room also comes with a terrace overlooking the floral gardens or meandering river-shaped pool. What a mesmerising view to wake up to every morning!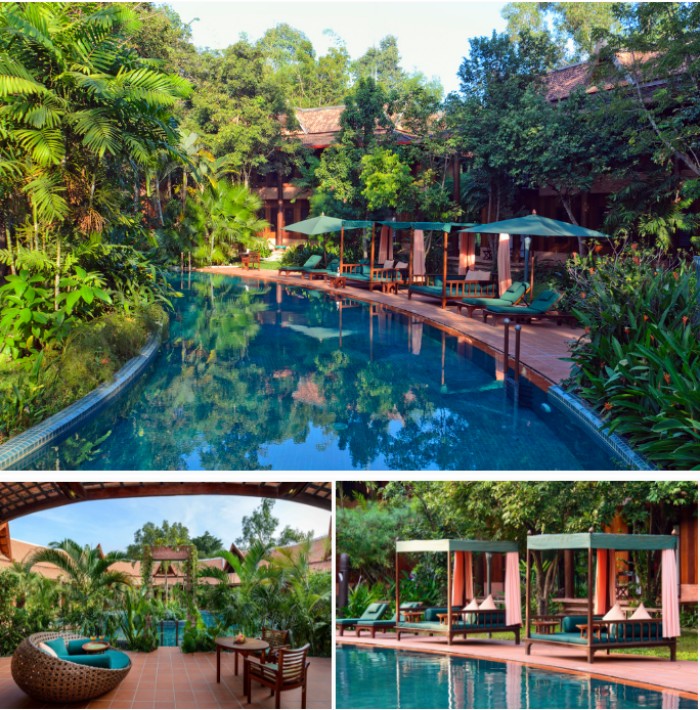 Situated amidst lush greenery, the poolside is an excellent place to while the afternoon away. Take a dip in the pool or sip refreshing cocktails with your partner on the plush cabana. There is even an outdoor boutique area where you can shop for locally-designed handicrafts. Don't forget to visit the Spa Village to experience ancient Cambodian healing methods and spa treatments which use local herbs and flowers!
Furthermore, the Angkor Village Resort and Spa also has an on-site theatre with music and dance performances, offering a great introduction to the ancient Khmer culture! This place would be a treat for those who love a dose of culture every now and then.
For the Beach-Loving Couple: Novotel Surin Beach Phuket at Andaman Sea, Thailand

Just mere steps away from the pristine white beaches and the sparkling aquamarine waters of the Andaman Sea, Novotel Surin Beach Phuket is a tranquil retreat perfect for a romantic getaway. Escape the hustle and bustle of Patong Beach haven of serenity. Just take a look at that view!
The rooms in this upscale resort are attached to a small terrace where you can relax and just lounge around. Couples will definitely feel rejuvenated after staying in this luxurious sanctuary!

Make a splash in the magnificent pools of Novotel Surin Beach Phuket which feature numerous slides!
Also, don't miss out on the array of activities available such as aqua aerobics, water polo, yoga, boxing, table tennis and bicycle tours. You'll never get bored during your stay here, that's for sure.

In addition, the Boardwalk poolside bar offers a buy-1-get-1-free promotion for Happy Hour from 12–4pm. Lounge in style on the sunbeds with your favourite cocktails, frozen smoothies and fresh fruit juices. If you're in the mood for hearty American fare and ice-cold beers, why not head to the Champions Bar and Grill instead? You can catch the latest sports games and scream your hearts out for your favourite team.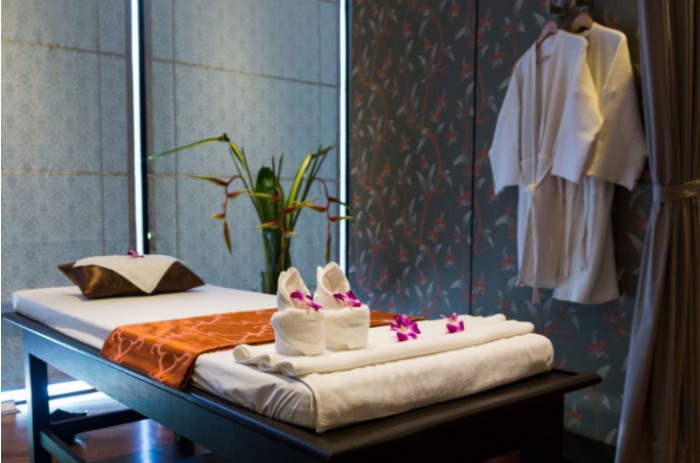 What's a trip to Thailand without a therapeutic massage session? Allow the spa therapists at In Balance Spa to release all the tensions in your muscles with their traditional Thai techniques. Sounds like pure bliss!
For the Shopaholic Couple: Novotel Sukhumvit 20 at Bangkok, Thailand

Not sure where to stay for a luxurious holiday in Bangkok? Novotel Sukhumvit 20 is one of the finest hotels in Bangkok, going above and beyond to satisfy the needs of their guests. This hotel held its soft launch in July 2016, so it is still spanking new!
One of the selling points of Novotel Sukhumvit 20 is its location in the centre of Sukhumvit, Bangkok's leading business and entertainment district. It is close to Emporium and Emquartier, two mega shopping malls, and also within a walking distance to three train stations: BTS Asok, BTS Phrom Phong and the Sukhumvit MRT station.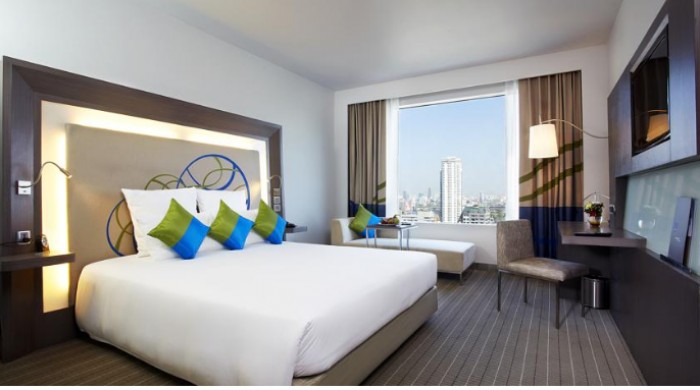 Enjoy unparalleled comfort and a romantic time in their spacious rooms that boast a panoramic city view! Every room has subtle touches of traditional Thai designs that showcase Thailand's rich cultural heritage.

Doesn't the pool just look so inviting? Go for a refreshing dip or simply lie back on the lounge chair for a suntanning session. Remember not to miss the "Sundowner Time" specials at the Pool Bar, where you can enjoy 50% off all drinks from 5pm till sunset!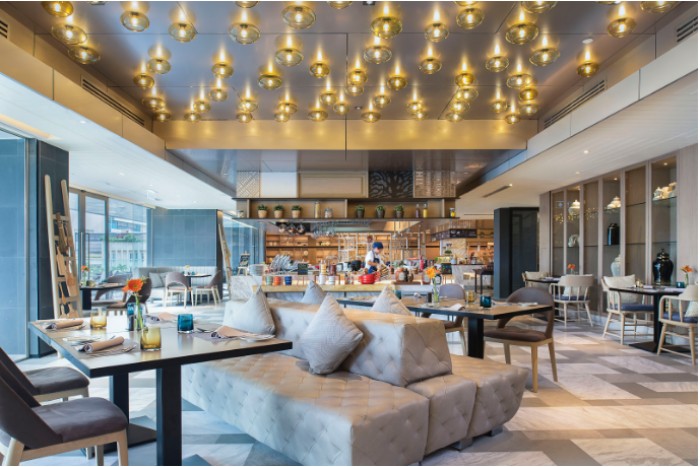 Also, there are four excellent restaurants and bars located within the hotel – Gourmet Bar, Food Exchange, Pool Bar and Novotel's first rooftop bar!
The Food Exchange offers a modern interpretation of traditional food markets around the world and its open-cooking concept allows diners to view the chefs preparing their food. How cool is that? To wrap things up nicely, be sure to catch the stunning sunset from Sky on 20, Novotel's rooftop bar, located on the 26th floor. The views of the city are absolutely gorgeous!
For the Hipster Couple: Loligo Resort Hua Hin at Gulf of Thailand

Named after Hua Hin's most famous delicacy, Loligo Resort Hua Hin is a modern Thai boutique hotel set amidst lush, landscaped gardens. It is a mere three-minute walk from Hua Hin Beach, a nine-minute walk from the eclectic Cicada Market, and a short drive away from exhilarating water rides at the Vana Nava Hua Hin Water Jungle.

The elegant hotel rooms are truly a sight to behold! Every room comes with a balcony offering either the garden and pool view, or the sea and horizon view. The pristine shades of pure white invoke a soothing ambience – just the thing you need for a relaxing vacation by the sea.
The pool also boasts an outdoor jacuzzi, inviting sunbeds and its very own bar and restaurant. And, if you're like us, the jacuzzi will probably not be enough. Don't worry! Pop by the Blue Coral Spa for a foot reflexology session or other massage treatments.
Aside from offering 24-hour room service, Loligo Resort Hua Hin also has four other quaint restaurants for their hungry diners. Choose from The Captain which offers all-day dining; A Caravan which has fresh soups, salads and sandwiches; Squid Ink Bar for creative cocktails, wines and beers; as well as Sailor's Club, a chic private lounge and underground bar. With so many dining options, you'll be spoilt for choice!  
For the Indulgent Couple: JW Marriott Khao Lak Resort & Spa at Khao Lak, Thailand

JW Marriott Khao Lak Resort & Spa is located beside the pristine Khuk Khak Beach in Khao Lak. It offers the perfect location for a tropical holiday, with coconut trees swaying in the wind, sparkling turquoise waters and a sky awash with hues of colours at sunset. This stunning resort is also home to the longest swimming pool in the whole of Southeast Asia, measuring a whopping 3.2 kilometres long! Simply amazing!
The rooms are furnished with traditional Thai elements and hardwood finishings that evoke contemporary rustic vibes. Selected rooms have an additional loveseat where couples can enjoy amazing views of the pool and lush greenery surrounding them, all within the privacy of their own room. It certainly sounds like a perfect way to spend a languid afternoon!  

Or if you're in for some proper pampering, the in-house spa, Quan Spa, boasts its own garden and treatment rooms with outdoor salas, whirlpools, steam rooms and saunas! Perfect for nourishing the body, mind and soul.
After enjoying a lovely day around the resort, sit down and enjoy a delectable meal with your loved one! Choose from the eight restaurants and bars which offer a range of Mediterranean, European, Japanese and Thai cuisine. Or even better, surprise your partner with a romantic candlelight dinner by the beach under a blanket of stars. It'll be truly a night to remember.
Tempted to book your romantic vacation at these hotels? I bet you are! For the best discounts on luxury stays, book your stay through Secret Escapes. 
---
Brought to you by Secret Escapes.