When someone says the words "art hub", chances are you are more likely to think of a hip, well-populated city with a bustling cultural scene than a sleepy islet with less than 4,000 inhabitants. However, Japan is here to prove us all wrong with Naoshima, a small island in the Seto Inland Sea which, during the last two decades, has become an unlikely pilgrimage site for artists, collectors and tourists alike.
There are some interesting nuggets of information about Naoshima:
This once-desolate island was revitalised through arts and culture
In the past, Naoshima showed little tourist potential due to massive pollution caused by industrial waste that used to be dumped in the surrounding waters. This all changed in 1985, when Tetsuhiko Fukutake, the owner of one of Japan's leading publishing companies, met up with then-mayor Chikatsugu Miyake in order to discuss the prospects of turning Naoshima into a cultural and recreational getaway. It took several years before the results of this encounter would be shown to the world.
The institutions in Naoshima were designed by renowned artists and architects
The first major project on the island, Naoshima International Camp, was designed in 1989 by a prominent Japanese architect Tadao Ando. Benesse House Museum, another one of Tadao Ando's creations, was completed three years later. As the most important building on the island, the Benesse House acts as multipurpose space designed for exhibiting art and accommodating guests who are looking to have the full Naoshima experience.
Naoshima hosts works by the world's most famous painters and sculptors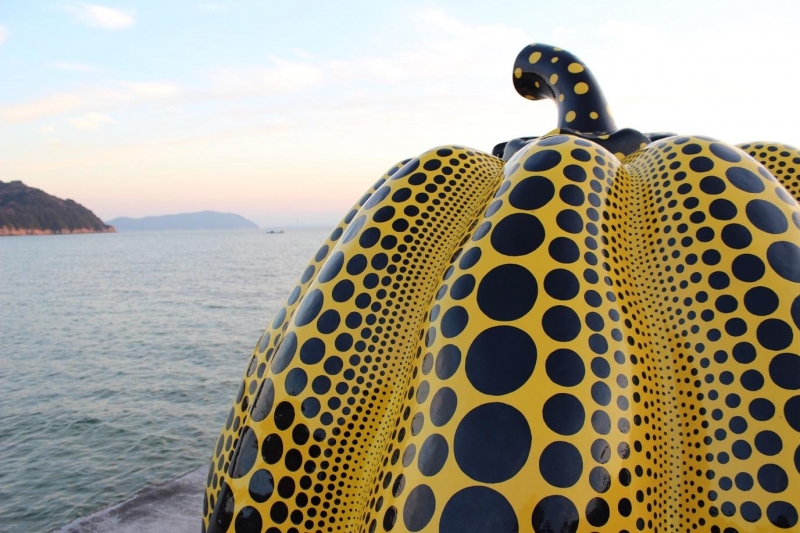 Initially, the artwork displayed in Naoshima was brought over from museums, galleries and private collections from all over the world. As the project grew bigger, site-specific art started being commissioned directly from the artists. One of the most significant results of this undertaking was Yayoi Kusama's famous artwork titled Pumpkin, which still stands on a concrete pier for all the visitors to see. Naoshima is also home to Chichu Art Museum, and otherworldly art space which was purposefully designed to host works by three major artists: Claude Monet, James Turrell and Walter De Maria.
Naoshima allows you to have an immersive artistic experience
Unlike museums, galleries and other traditional art venues, the artwork in Naoshima are allowed to exist without boundaries, as if it were in perfect harmony with the nature that surrounds it. You can walk or cycle around the island and, on your way, you will be able to encounter enchanting statues and installations which, despite their contemporary character, appear as if they were as old as the island itself.
The Naoshima project is only getting bigger
The creative forces behind the Naoshima project have no desire to stop developing this oasis of art. In 2010, Tadao Ando and Lee Ufan (a prominent figure of Korea's contemporary art scene) collaborated to create a space dedicated to the work of the Korean painter and sculptor. In the summer of 2017, the Japanese architectural firm SANAA completed the port terminal building, a cloud-shaped construction that now greets Naoshima's visitors as they embark on a magical journey across the world's only island of art.