Contributed by Quotient Travel Planner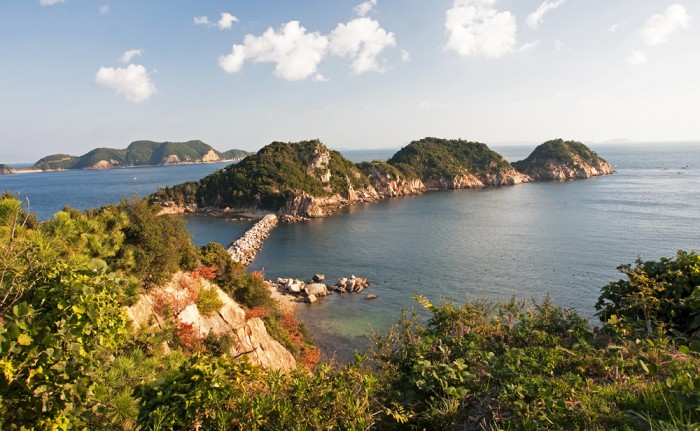 Japan is made up of over 6,800 islands, and unless you are a local who loves to explore or someone who has to resort to using toes to count the number of visits to the Land of the Rising Sun, it is unlikely that you would have stepped foot beyond the main islands of Honshu, Shikoku, Hokkaido, Kyushu and Okinawa.
While there's plenty to occupy travellers in the big islands, visiting smaller ones allows one to appreciate lesser-known facets of Japan and gain a fuller perspective of the country. There are plenty to choose from, but this article recommends the ones that have unusual appeal and also boast reputable and comfortable options for a restful night's stay (or more).
So if you think you have seen enough of Japan, a visit to one or more of the following recommendations may convince you otherwise!
Izu Oshima
The largest of the Izu Islands, Izu Oshima is administered by the Tokyo Metropolitan Government but is geographically closer to the Izu Peninsula of the Shizuoka Prefecture. It has long been revered for its landscape and abundance of flora; Izu Oshima is believed to boast the greatest number of tsubaki or camellia varieties in Japan. The striking contrast of blue-grey sea and fuchsia camellias is a trademark panorama between January and March.
Also read: Exciting Seasonal Festivals in Japan You Don't Want to Miss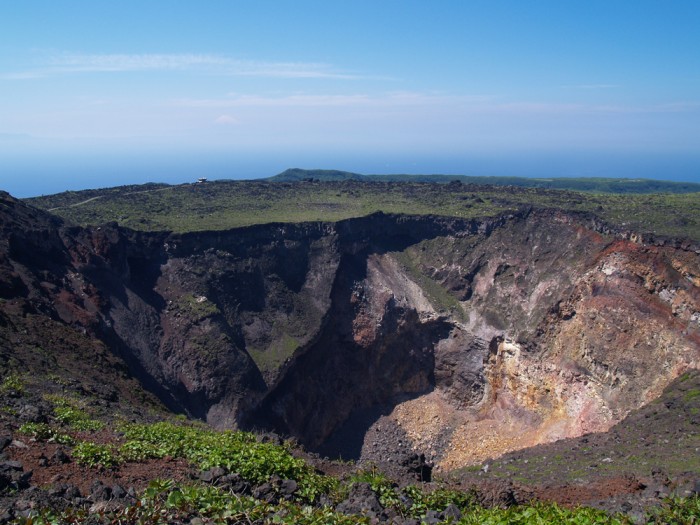 The hike to Mount Mihara and peering down the volcanic vent is one of the top activities on Izu Oshima.
Dominating the island is Mount Mihara, an active volcano that last erupted in 1990. The caldera is both a source of scenic pride and a grim reminder of the frailty of life, as it was a popular suicide spot for decades from the 1930s. The thermal activity has also sprung forth several hot springs, which make for a deserved wind-down to a day of hiking and sea sports including diving. The traditional buildings of the old fishing town at Habu Port will also charm with their nostalgic appeal, as will the interesting local products from the rich land.
Izu Oshima can be reached from Takeshiba Pier in Tokyo in under 2 hours by jetfoil (several departures daily); from Atami in Shizuoka, several ferries ply the hour-long route daily. There is also a daily flight from Haneda Airport to Oshima Airport.
Naoshima
One of Japan's current coolest islands, Naoshima is an art collection and architectural showcase rolled into one. Funky and fashionable art installations by the Benesse Corporation are scattered across the island — one of about 3,000 in the Seto Inland Sea — as well as occupy underground real estate in the form of museums and galleries. The public bathhouse, needless to say, also is centred on art.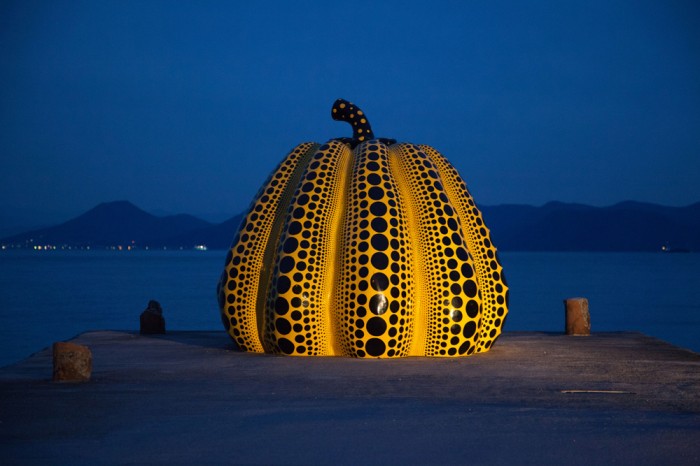 One of the iconic art sculptures on Naoshima, the yellow pumpkin was created by Yayoi Kusama. | Image credit: CC BY 3.0 (Jmhullot, 2012)
Even those unfazed by the artistic hype of Naoshima, also termed as Ando Island for the work here by architect Tadao Ando, will find its bohemian vibe, cultural value and pretty panoramas irresistible. Not forgetting, it is the only place in Japan where you can enjoy Japanese bunraku (puppet theatre) performed entirely by women. The 007 Museum dedicated to the Naoshima-affiliated James Bond novel The Man with the Red Tattoo also makes for a great distraction for the visitor.
Also read: 7 Absolutely Breathtaking Sites in Japan You Never Knew Existed
Naoshima, part of the Kagawa Prefecture, is accessible by ferry from both Honshu (nearest shinkansen station: Okayama) and Shikoku. From Uno, visitors can reach Naoshima's Miyanoura Port (regular ferries) on the island's western end or Honmura Port on the opposite end in 20 minutes. Regular hour-long ferries from Takamatsu also ply Miyanoura Port, and there are also some high-speed boats that take only 25 minutes.
Shodoshima
Also tucked in the Seto Inland Sea between Honshu and Shikoku, east of Naoshima, is Shodoshima, better known as the birthplace of olive cultivation in Japan. Olive trees were successfully grown in Shodoshima in the early 20th century after failed attempts in various locations in the country, and today the Olive Park in Nishimura bears testimony of a very fruitful journey for Shodoshima in olive cultivation and also the place where you can beat the heat with olive ice-cream, of course!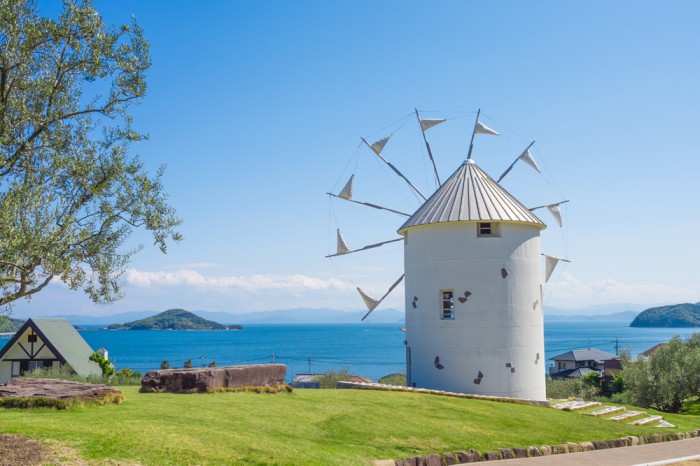 The scent of olives and this whitewashed Greek-style windmill add to the Mediterranean vibe of Shodoshima.
Nature and culture are just as much a crowd puller for this picturesque locale. It is home to the Kankakei Gorge, recognised as one of the three most beautiful gorges in Japan and especially gorgeous in late autumn, while its senmaida or "one thousand rice fields" are overwhelmingly attractive under the brilliant rays of sunlight. At the outdoor kabuki stage of the Nakayama farming village, step back in time to as far back as the Edo Period with a little imagination, or time your visit with the annual performance in mid-October. Devotees can also embark on the Shodoshima 88 Temple Pilgrimage, which can take up to two weeks by foot, or just pay homage at the 50-metre-tall statue of Kannon that houses both a temple and an observatory.
Shodoshima is also famous for its soya sauce, tsukudani (fish or seaweed boiled in soya sauce), sesame oil (Shodoshima contributes 50% of the country's output) and tenobe somen, so consider yourself in for a treat.
There are various ways to get to Shodoshima. Visitors can opt to fly into Takamatsu in Shikoku, take the airport bus for 40 minutes to the port and then a 30-minute high-speed ferry to Shodoshima's Tonosho Port; car ferries are also available to various ports in Shodoshima. From Himeiji port, a 20-minute bus ride from Himeiji Station along the JR Sanyo Shinkansen line, there are regular car ferry services daily and the journey to Shodoshima's Fukuda Port takes 100 minutes. There are also limited 3-hour car ferry services from Kobe to Sakate Port in Shodoshima. Lock in a minimum of two nights.
Ishigaki
Remote and enigmatic, the gateway to the Yaeyama Islands is a beachgoer's paradise offering plenty of excellent beaches and snorkelling and dive spots that reveal spectacular shallow reefs. Inland, there is also evidence of Ishigaki's enviable diversity of ecosystems — visitors can enjoy the mangroves via guided kayaking tours along the Fukido and Miyara rivers, and there are also plenty of hiking trails through the island's hilly interior including up Mount Omoto, Okinawa's highest peak.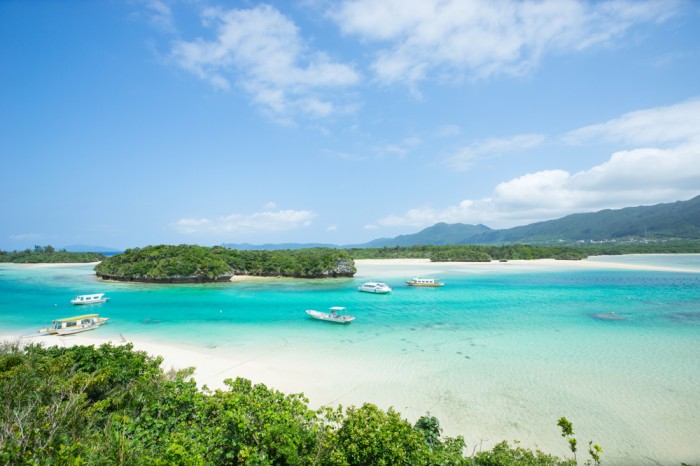 The clear turquoise waters of Kabira Bay, along with its black pearl fame, make it popular with tourists.
Also read: Only in Japan: Weird Sights That Travellers Can Spot
You can also learn more about the cultivation of black pearls in Ishigaki's Kabira Bay, which together with nearby Iriomote are the only two black pearl farming sites in Japan. The emerald blue waters of the bay shoring its signature tourist glass-bottom boats are known to be a hotbed for large schools of manta rays.
And that's not all — a visit here invariably involves island-hopping to the nearby car-free Taketomi, a throwback to the days of the Ryukyu Kingdom and the wilder and larger Iriomote, where nearly the whole island is Japan's southernmost national park.
Ishigaki can be reached via a 3-hour flight from Tokyo's Haneda Airport, or an hour-long flight from Okinawa Honto Airport. A rental car is a good way to sightsee the island, as buses are infrequent and make many stops. Three nights are recommended to fully enjoy the Yaeyama Islands.
Editor's note: Yaeyama Islands is offered as an extension to Quotient Online Store's Okinawa itinerary.
Yakushima
This island about 73 nautical miles from Kagoshima, the southern end of Kyushu, does not strike you as particularly arresting when you first arrive. But step into its forests with cedar trees thousands of years old and you will be awestruck at the incredibly lush and tranquil settings. The tallest mountains in Kyushu, towering nearly 2,000 metres, are contained on this modest round-shaped island spanning just over 500 square kilometres.
Many tourists are lured by the famous Yakusugi (Yakushima cedar) on the island. Famous cedar residents include the Jomonsugi, reputed to be the oldest tree in Japan, the 'husband-and-wife-embracing' Meotosugi and the Buddhasugi, a part of which is said to resemble the face of Buddha — all of which are found within the area about one-fifth of Yakushima designated a UNESCO World Heritage Site. Furthermore, fans of Studio Ghibli should not miss the bewitching landscape of Shiratani Unsuikyo Ravine; a section of the forest here was the inspiration for the Princess Mononoke animated film produced in 1997.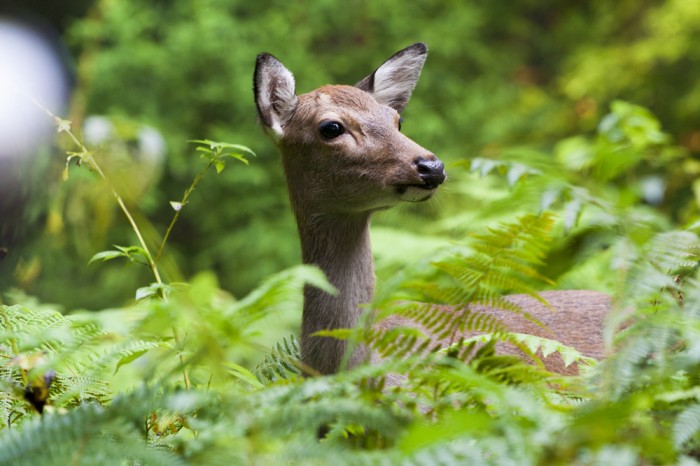 Though shy, Yakushika or wild Yakushima deer are commonly sighted on the island.
The enchantment is not limited to ancient cedar. Keep a look out for the native Yakushika (Yakushima deer) and Yakuzaru (Yakushima monkey); during summer, you may even catch sight of endangered female Loggerhead and Green Sea turtles come ashore to the beaches around Nagata to nest. Its biodiversity credentials, according to UNESCO, number 1,900 species on the flora front, with bird and mammal species registering 150 and 16, respectively.
Daily flights from Fukuoka (once) and Kagoshima (multiple) connect Yakushima with mainland Kyushu. Yakushima can also be reached via a 2 to 3-hour jetfoil from Kagoshima Port, and a once-daily flight from Osaka. Plan for a minimum of two nights here, although three to four will give you time to explore various parts of the island at a leisurely pace. A rental car is a convenient and flexible way to get around the island; however, be prepared to do a considerable amount of walking.
Raring to go to Japan?  You'd be happy to know that Quotient TravelPlanner specialises in bespoke travel, so that you can make that desired trip happen according to your preferences.
Start building that epic holiday today, or choose from one of their many Ready To Tour packages.