As I sat down to write this list of Okinawa souvenirs, my mind flashed back to my earliest experience of a ¥100 store. It was my first time to independently explore a foreign country, and what I had prioritised in my itinerary was my souvenir shopping spree. In retrospect, travelling just to shop for souvenirs is quite comedic. But also, if you're just as sentimental as I am, you would have probably done the same thing.
Travellers who value friendship and family ties want their loved ones to experience the greatness of our trips. This said, having a foolproof list of Okinawa souvenirs was a must when our team visited the peerless island in Japan. And because the Japanese prefecture is like no other, the team made sure to bring pieces of beautiful Okinawa home, too. So without further ado, here is a list of the best souvenirs in Okinawa — especially handpicked by us for you.
Also read: Top Things to Experience in Okinawa
Enjoy authentic Okinawan cuisine for FREE!
Already been to Okinawa? If you're currently based in Singapore, you can win a voucher to Okinawan Diner Nirai-Kanai, home of the tastiest Okinawan food in the city!
Simply comment your best photo or video memory of Okinawa here. Only one (1) entry per person is allowed. By 1 Oct 2020, the thirteen (13) participants with the most reactions will win!

Okinawa souvenirs that will remind you of their local cuisine
1. Okinawa soba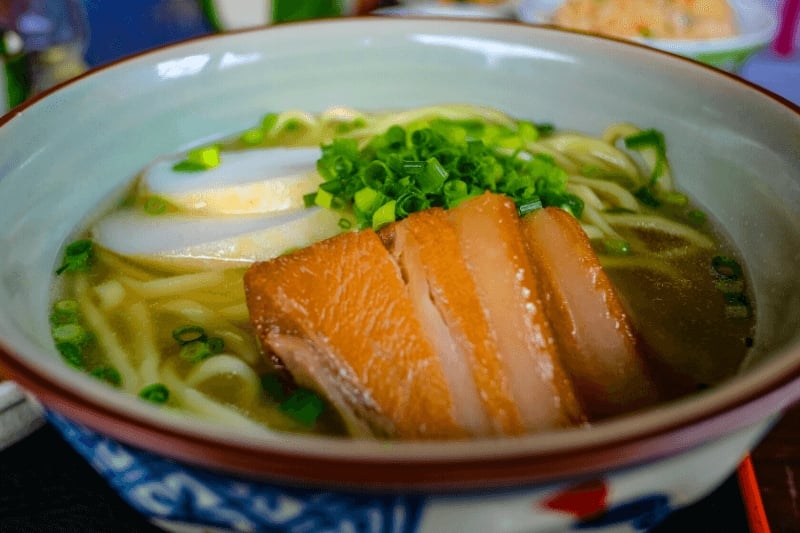 Okinawa is especially known for its culinary delicacies. One of its most famed dishes is the Okinawa soba — a pork-flavoured bowl of hot soup with chewy noodles. As this meal is well-loved in Japan, it's even been made into a flavour for instant noodles! 
Bring home packs of instant soba and relive your Okinawa trip (because you will want to, we promise!) any time. Call up your friends and family and cook them a batch of these — they'll definitely thank you for it!
2. Chinsuko (shortbread cookies)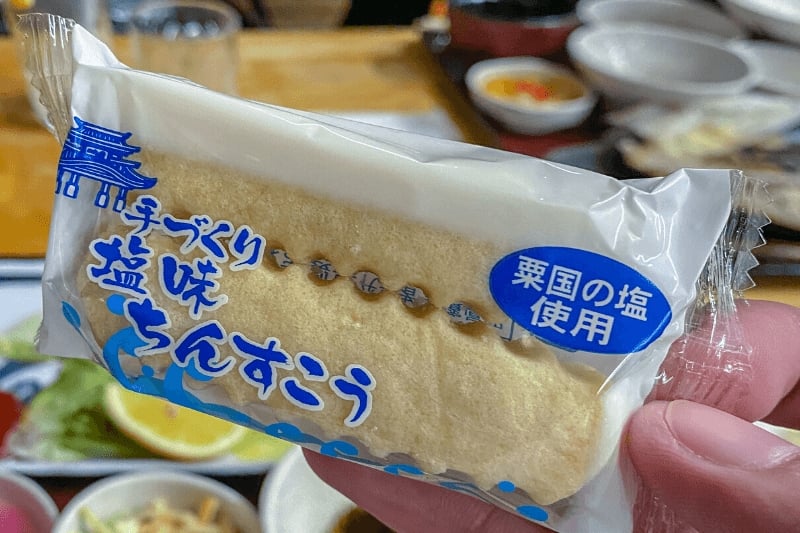 Okinawa is not just home to savoury noodles — it also has tasty delights for the sweet tooth! A traditional Okinawan treat, chinsuko is a small biscuit that hails from the Ryukyu Dynasty (1429 to 1879). Back in the day, only royal and noble families snacked on chinsuko during festivals and other celebrations.
With its melt-in-your-mouth goodness, chinsuko tastes similar to the mildness of shortbread cookies. You can also find it in sea salt, coffee, purple yam, brown sugar, or pepper flavours! So if you or your loved ones are foodies, chinsuko should definitely be on your list of must-buy souvenirs in Okinawa. We're telling you: It's perfect on its own, but even more heavenly when paired with a cup of coffee!
3. Beni-imo (purple sweet potato) tarts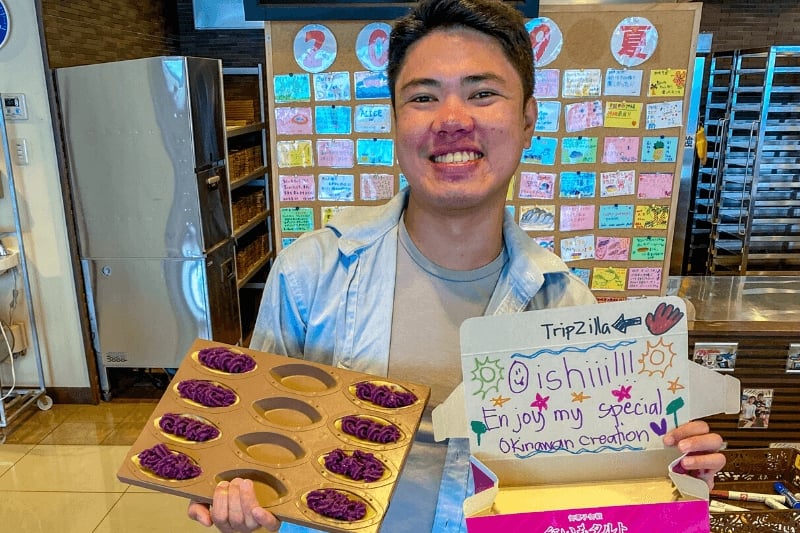 Purple sweet potato lovers are bound to fall under the spell of beni-imo, Okinawa's very own superfood. The iconic delicacy has made a name for itself on the island. With its sweet taste, you'll regularly see it around Okinawa in the form of ice cream, biscuit toppings, and cheesecake fillings. Needless to say, you won't have trouble finding beni-imo anywhere. Its rich, purple colour makes it stand out in any crowd!
Not only is beni-imo luscious, but it's also very healthy. It's rich in fibre, vitamin A, and vitamin C — a perfect snack for your wholesome diet! Head over to Okashigoten Onna, a souvenir store in Onna-village, to experience making your own beni-imo tarts. Nothing beats Okinawa souvenirs that are not only edible, but also made with love! Meanwhile, the Okashigoten Matsuo Store in Kokusai Street also sells Halal products which Muslim customers will love!
4. Kokuto (brown sugar)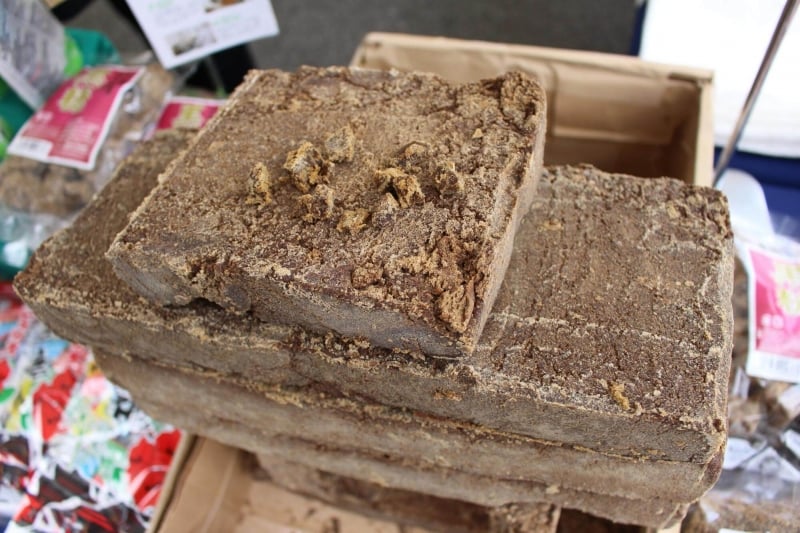 You're probably wondering what is so special about Okinawan brown sugar. Well, surprisingly, locals consider kokuto a building block in Japanese cooking — just as much as miso and shoyu. If you think of your favourite Japanese dishes, kokuto is probably a key ingredient of those as well.
The Japanese particularly prefer kokuto over other types of brown sugar because of its relatively mellow flavour. To attain this, producers of kokuto employ slow cooking of pure sugarcane juice. 
Because it's as nutritious as it is delicious, many locals eat kokuto as it is. You can score kokuto in tiny packs, making them ideal Okinawa souvenirs for your friends!
5. Pineapple cake
In the northern part of Okinawa Island, there lies a gem for pineapple lovers. Pineapple Park in Nago is home to various kinds of food infused with — you guessed it — pineapples. You can have wine, juice, pie, tarts, cookies, ice cream — basically, all the things you can ever wish for, wrapped in the fibrous fruit's tarty goodness.
Among all the treats in Nago Pineapple Park, the premium pineapple cake steals the spotlight. Made with the finest ingredients, this moist snack has held the Monde Selection Gold Medal for eight consecutive years. Indeed, premium pineapple cakes are some of the most luxurious souvenirs in Okinawa you can bring home with you. So, make sure not to miss them! 
6. 35Coffee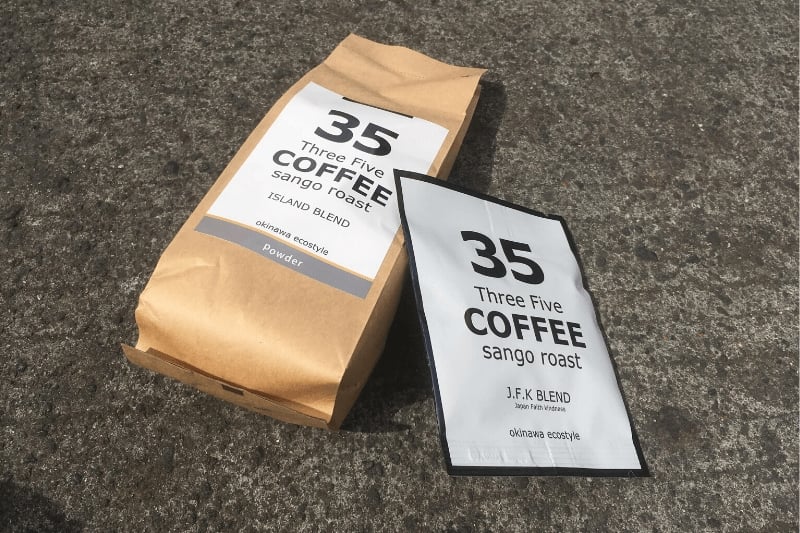 If you're wondering what souvenirs in Okinawa to get your officemates, we highly recommend 35Coffee. A brand of coffee that is only available in Okinawa, 35Coffee employs an eco-friendly roasting method of using dead corals as fuel. With their unique process, their coffee becomes light and mild; simple, yet delightful. And because of their methods, 35Coffee has encouraged the regeneration of coral reefs in Okinawa. Ambitious in their advocacy, the brand has planted almost 3,000 new corals over the decade.
For your souvenir shopping, you can purchase 35Coffee in small packs — either in beans or in powder form. But if you want to stock up at home, you can also buy 35Coffee bags that are packed in 440 grams. We recommend getting the bag of beans so it lasts longer!
7. Awamori sake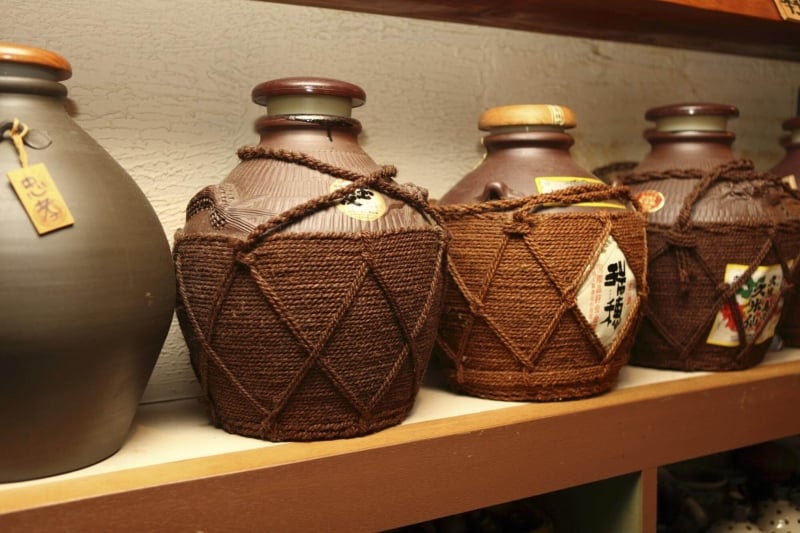 Karii! If you're a fan of adventurous experiences, then awamori sake is your new best friend. A strong and exotic beverage, awamori actually goes a long way into Okinawan culture. Besides being the island's official liquor since the Ryukyu Kingdom, awamori is also considered to be the oldest distilled liquor in Japan!
What makes awamori distinctively famous is its incorporation of the black koji mold. This key ingredient, which is proudly Okinawan, creates the optimal environment for producing sake in the subtropical destination. With the traditional techniques utilised in generating awamori, the liquor has become known for carrying the "flavour of Okinawa." 
8. Sata andagi (doughnuts)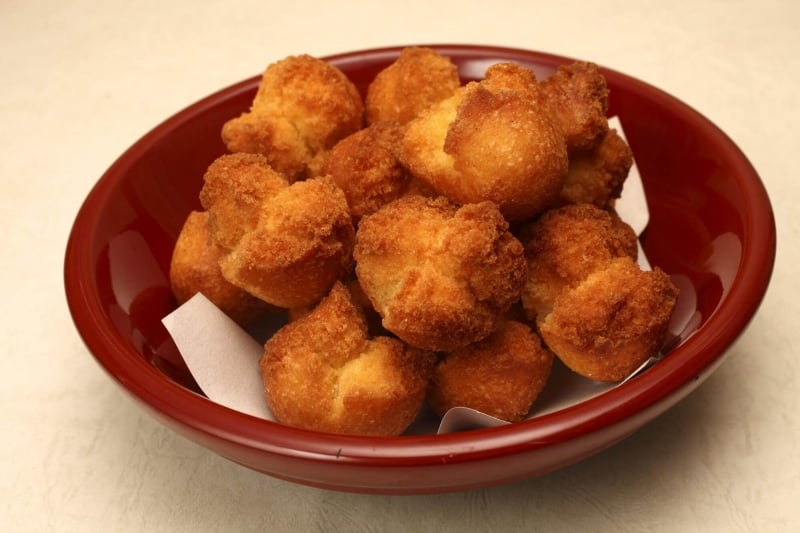 Another popular saccharine snack in Okinawa, sata andagi are basically deep-fried Okinawan-styled doughnuts that are made of eggs, sugar, and flour. Crispy on the outside and moist on the inside, this classic Okinawan snack is quite an experience in itself.
While the recipe for sata andagi sounds uncomplicated, this confectionary actually fuses both Chinese and Japanese techniques so that it's fried to perfection. Nowadays, the doughnuts are commonly served in grand celebrations in Okinawa. And with their lasting distinct sweetness, sata andagi have also become among the most popular souvenirs in Okinawa tourists would never want to miss out on!
Artsy and fun DIY souvenirs in Okinawa
9. Coral dye products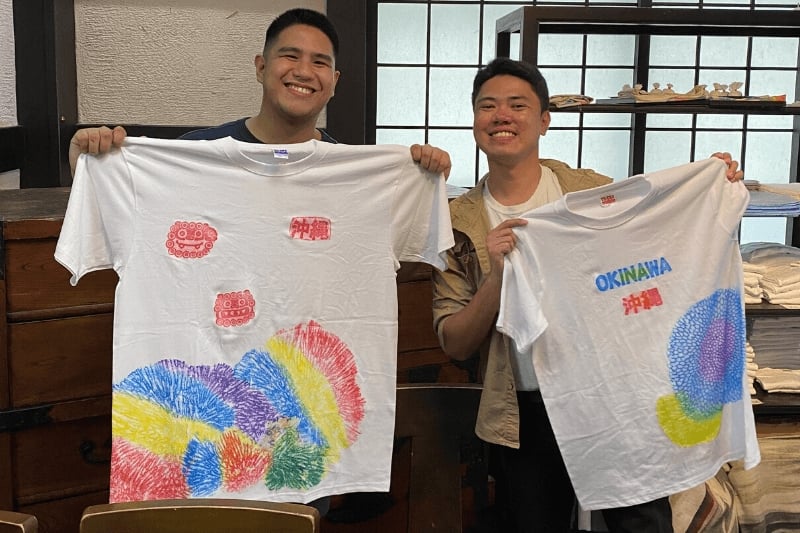 Speaking of corals, coral dyeing is one of the traditional experiences you can't miss when in Okinawa. Locally, this intricate dyeing craft is known as bingata. At Shuri Ryusen in Naha, you can make your own coral dye items and bring them home as personalised Okinawa souvenirs. For you to accomplish the coral dyeing activity, the staff at Shuri Ryusen will hand you fossilised corals that you'll use for adding patterns to your chosen items.
Stemming back from the 15th century, bingata fabric was mainly used by Okinawan royalty and the warrior class. Now, bingata products are available throughout Okinawa for tourists to purchase. You can buy them as purses, coin pouches, and even phone cases. That said, they make great gifts for family members of all ages! Do look out for the brand name YOKANG as well. This apparel company creates incredible fashion with sophisticated bingata dyeing techniques.
10. Glassware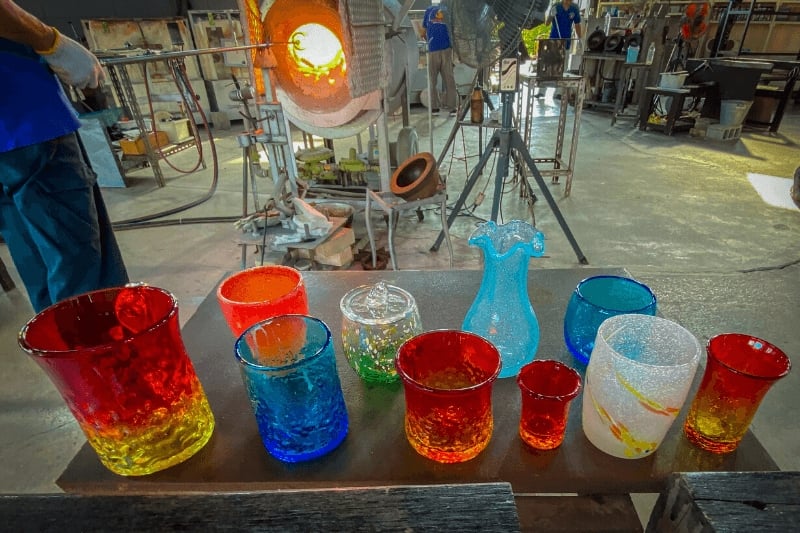 Another traditional experience you must try in Okinawa is glassmaking at Ryukyu Glass Village, the largest glass factory on the island. Glassmaking goes back a long way for Okinawans, as this became one of the major occupations of the Japanese after World War II. As an attempt to recover from the war, Okinawans created art out of tossed out glass bottles. Now, the tradition is one held proud by the people of the island.
At Ryukyu Glass Village, you can create your own glassware — including drinking glasses, accessories, photo frames, and candles, with the help of the staff. If you're pressed for time, you can purchase readily available glassware not just here, but various other souvenir shops in Kokusai Street and attractions like Okinawa World.
11. Origami paper cranes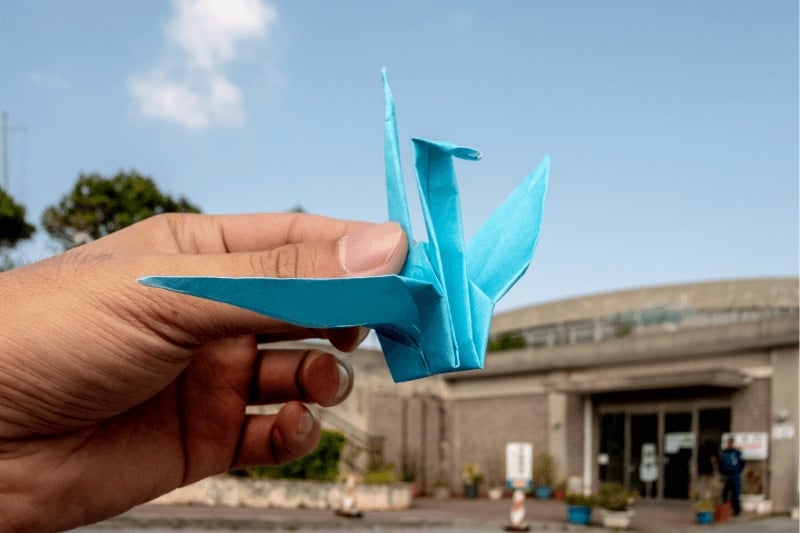 You're a true-blue Japan fanatic if you've tried folding a thousand origami cranes to be granted a wish. Ingrained in Japanese culture, origami cranes are thought to be symbols of peace and longevity. That said, locals make it a habit to fold cranes when they pray. In fact, you will find origami cranes engulfing the Former Japan Navy Underground Headquarters, a place that serves as a memorial for the soldiers who died during the Battle of Okinawa. 
At the Former Japan Navy Underground Headquarters, visitors can also make their own origami cranes as they undergo a quick folding workshop. You can make multiple origami items and take them home as beautiful handcrafted Okinawa souvenirs, too!
Quaint trinkets and special souvenirs from Okinawa
12. Shisa statues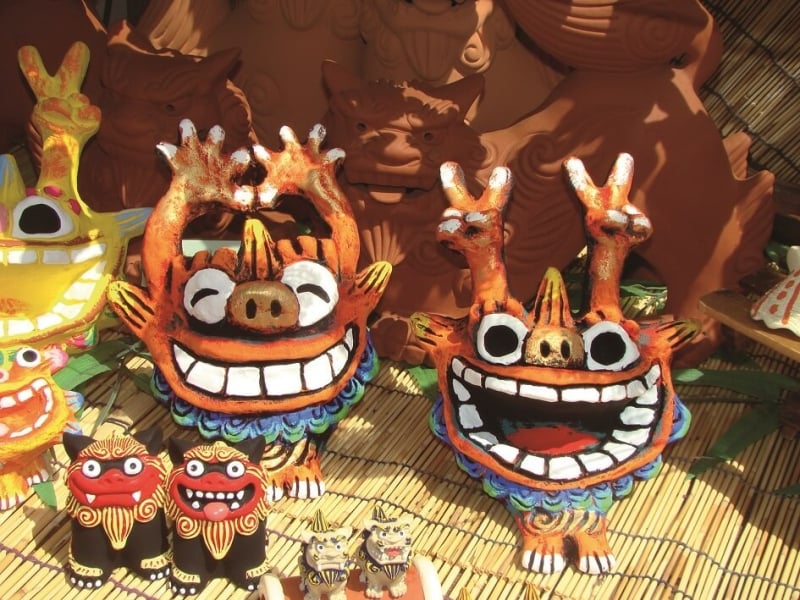 A traditional Ryukyuan cultural figure, the shisa has long been known as the guardians of Okinawa. Resembling a colourful mix of lions and dogs, these vibrant creatures are hailed as protectors from evil; you will certainly spot them by pairs on rooftops or doors in several Okinawan households. 
Across Okinawa, you might see shisas of all shapes and sizes. They also come in traditional designs and modern colours. If you're seeking a handy shisa souvenir, look no further: Okinawa has numerous places where you can buy shisa figurines — some shops even let you paint one of these guardians for yourself!
Also read: 8 Stunning Sights in Okinawa Best Explored By Car
13. Organic soap and other skincare products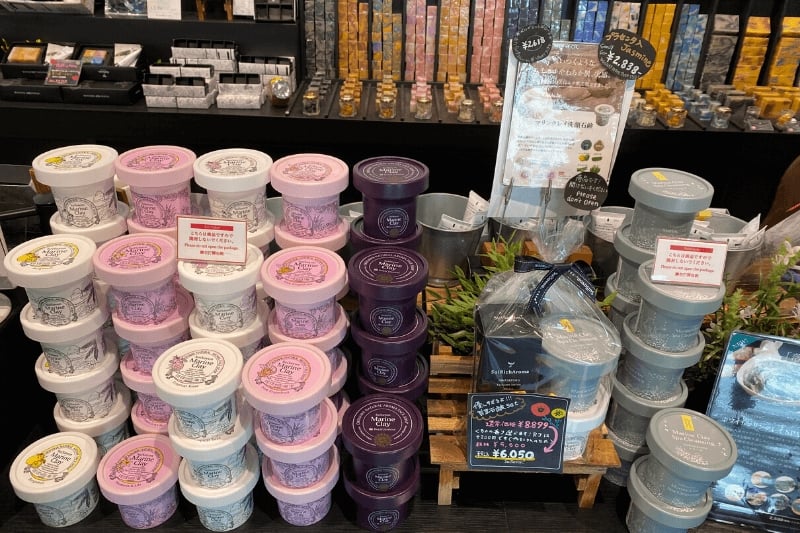 Okinawa boasts of minimalist and organic beauty products that are gentle on the skin. The brand SuiSavon takes the number one spot for organic soap and skincare essentials. Grabbing inspiration from the natural wonders of Okinawa, the brand carries a wide variety of soap products that will trigger your senses. You can even make your own soaps as souvenirs here!
With the mission to refresh customers with the specific scents of the island, SuiSavon indulges in natural ingredients and essential oils that are derived exclusively from locally grown plants. In the same way, other Okinawa beauty brands also incorporate speciality ingredients in their products — like deep sea water derived from the oceans of Kumejima in Okinawa!
14. Sanshin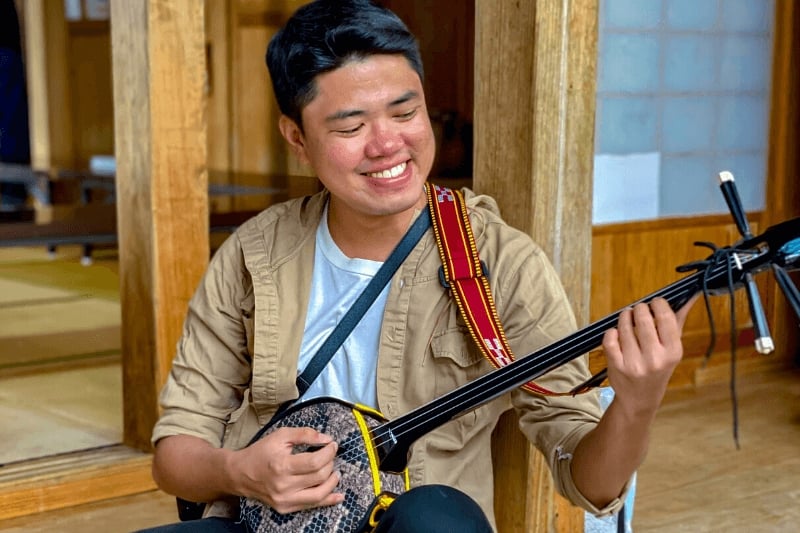 Searching for a special gift for your special loved ones? Resembling a banjo, the sanshin is a native musical instrument that originates in Okinawa. However, it only sports three strings which musicians should pluck one at a time.
One interesting feature in playing the sanshin is that its musical arrangement is written as Chinese characters, as opposed to musical notes. And while this instrument conveys a traditional way of music, modern Okinawans still enjoy the fun tunes that the instrument produces.
Some sanshins feature a body covered with genuine snakeskin, while others are artificially made. Only the latter are allowed to be brought out of Japan.
15. Yachimun pottery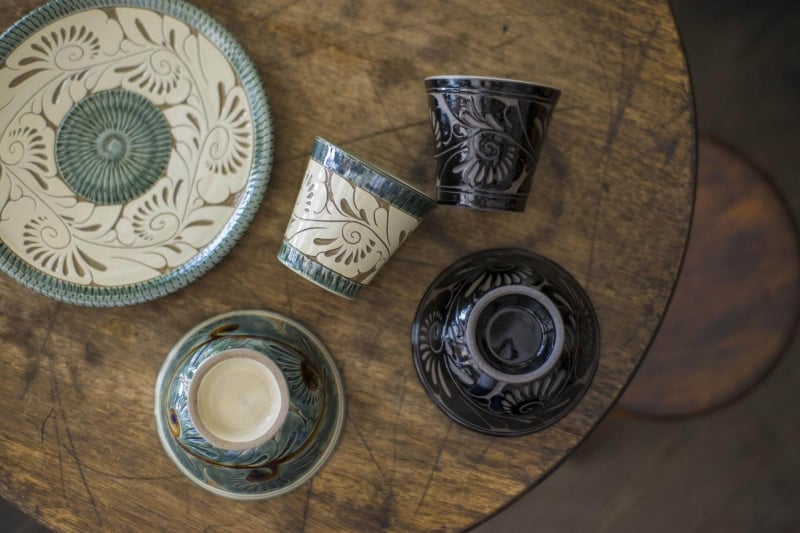 Yachimun pottery is one of the more attention-grabbing souvenirs you can score in Okinawa. This one-of-a-kind ceramic product has been developed over the years. In other words, you'll find so much character in each yachimun piece!
Nowadays, you can purchase either a traditional or a modern piece of yachimun product. Whether you're planning to bring home an art piece or a practical tableware, it's best that you head over to Tsuboya Pottery Street near Kokusai Street to find your very own yachimun souvenir.
Also read: A 7D6N Okinawa Itinerary: How to Explore of Japan's Hidden Gems
Without a doubt, Okinawa is best experienced firsthand once we can all travel safely again. But if you can't bring your loved ones with you by then, we highly recommend sharing a taste of the island through these interesting and unique Okinawa souvenirs.
For more information, please visit Okinawa Tourism's official website, Facebook, and Instagram.
---
Brought to you by the Okinawa Convention & Visitors Bureau.
Originally posted on TripZilla.ph. Minor changes were applied.