Inle Lake is the second largest lake in Myanmar. The estimated surface area of the lake is 116km2. During the dry season, the average water depth is 2.1m, with the deepest point being 3. m. During the rainy season, water level can increase by 1.5m.
Most tourists would stay at Nyaungshwe town and venture out to the river during the day. But I suggest staying at the resorts by the lake so that you'll be in awe returning to the hotel on boat and also get to admire the view of the lake early in the morning.
What to see at Inle Lake
You'll need to hire boats or go on boat tours to see these sights since they are quite spread out. It's unlikely that you'll be driving your own boat so I'll leave out the coordinates.
Cat Monastery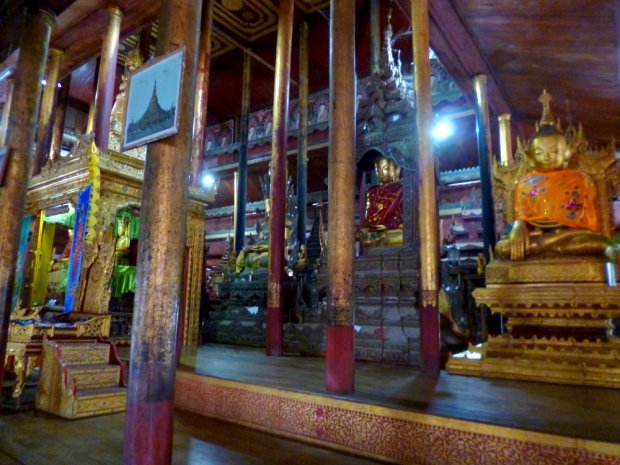 This monastery used to be called "Jumping Cat Monastery", but now, there are no longer any jumping cats here. The cats used to jump through hoops, but with too many tourists coming in, the kitties became exhausted from the shows and eventually led to the monks stopping the performances.
The monastery has a collection of ancient Buddha images made in different styles.
Behind the monastery, you'll get a good view of some of the floating gardens.
Floating Gardens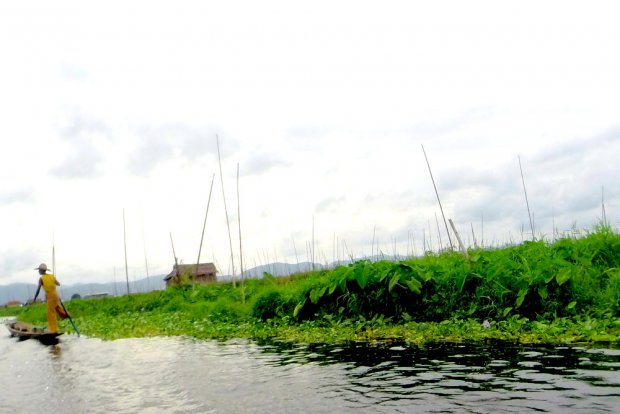 It's better to call these "Floating Plantations" since they do grow a lot of fruits and vegetables. The farmers gather clumps of water hyacinth and other lake debris into rows, then secure these to the lake bed with bamboo poles. They also pour mud from the lake as fertilizer. They then grow their produce on these beds.
The floating beds would rise and fall according to the water level so there's no worry of flooding. I think it's very ingenious of them to come up with such a system.
Still, I saw a farmer spraying something onto the plants (while on a boat) so I can't really say that everything is organic.
Phaung Daw Oo Paya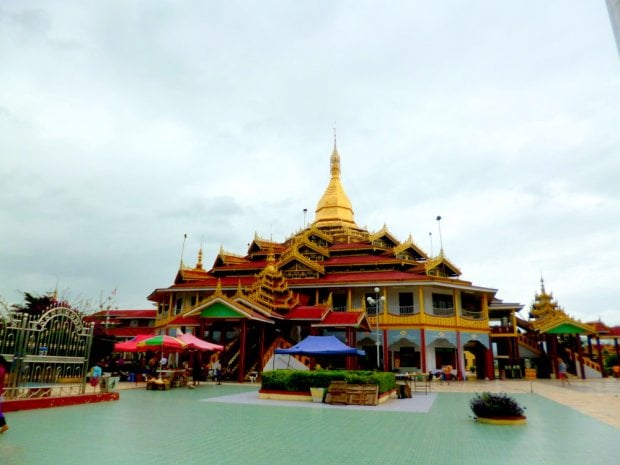 The pagoda houses five ancient Buddha images that are not recognisable because of the layers of gold leaves stuck onto them.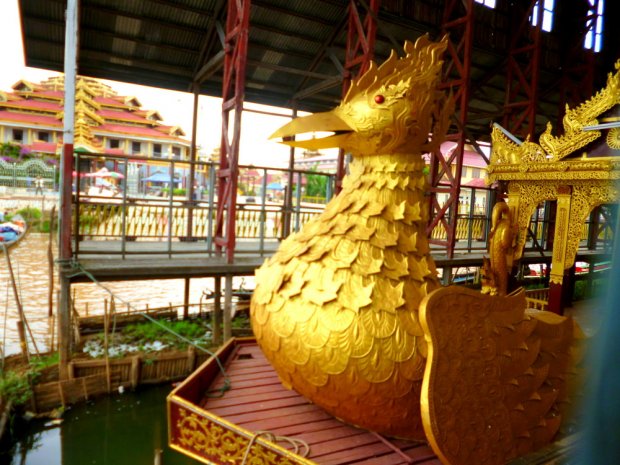 Right across the pagoda are several floats and boats used during Phaung Daw Ooo festival. The bird float is particularly impressive.
Market near Phaung Daw Oo Paya

There are many markets going on at Inle Lake on different days of the week. This market near Phaung Daw Oo Paya is held every five days, and people from the mountains will come down with wares to trade here.
Fruits here are cheaper than Yangon when they are in season. I bought a juicy mango for SGD 0.64 in July. The ground can get very muddy during the rainy season so be sure to not wear your nicest shoes.
Shwe Inn Tain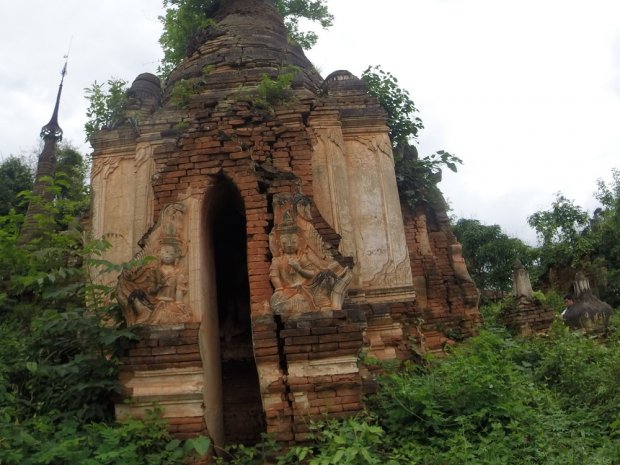 Our guide called this place "Mini Bagan" because of the many pagodas. Most of the pagodas from long ago are crumbling and draped with overgrown vines. There seems to be many more modern pagodas than antique ones here.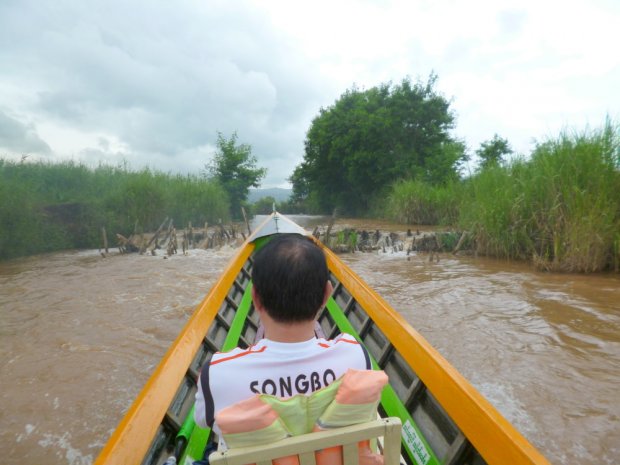 The journey up here is more exciting, as you need to go upstream to reach this place. Every once in a while, your motorboat comes to a mini dam with a tiny entrance just wide enough for the boat. The water level ahead looks higher but the skilled motorboat men are able to slice through the water without causing any bumpiness.
Local neighbourhood on Inle Lake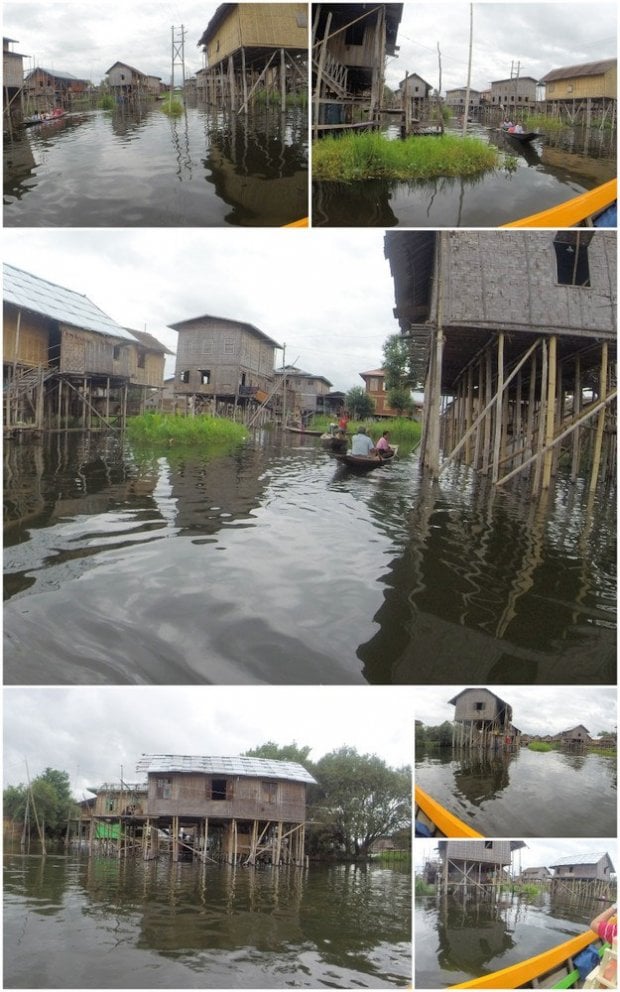 The boat tour would most likely bring you to the neighbourhoods at Inle Lake where you can get a glimpse of their daily lives. The houses in the photo are built on bamboo stilts and some houses have garages for their motorboats.
In the evening, you will see children taking their baths in the water, right at the bottom of the house. There are also small boats rowed by what seems to be equally small children.
Oarsmen of Inle Lake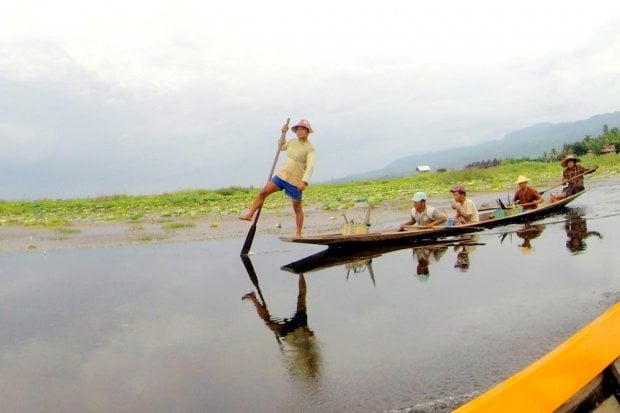 This is not exactly a site per se, but the fishermen (and sometimes oarsmen) of Inle Lake are famous for their cone-shaped fishing net and boat rowing skills (oddly called Stand Up Paddle Inle-Style).
There was one particular guy in the middle of the lake who seemed to be there just for tourists to take photo. He stands up on one leg and poses. Sometimes he poses with what seems to be a dead fish.
Be sure to give Inle Lake two days worth of time because there are so many things to see! If you cram everything in a day, you'll find yourself falling asleep on your boat ride, and you wouldn't want that, would you?
Many thanks to TripZilla and Myanmar Airways International who made my trip to Myanmar possible. All comments are my own.
TripZilla Reader's Special: Grab this chance to visit Myanmar from only SGD418!