A driver told me that years ago, in the then-military state of Burma, a lieutenant woke up one morning and commanded the country to immediately switch to driving on the right-hand side of the roads. How its citizens cope with the sudden change, I would never know. But people in Yangon have been driving on the right-hand side in their loaned cars for over 46 years. And more pedestrians wear longyi –  a traditional sarong – than they do modern fashionable clothes. Together with ramshackle cars, buildings that look like they have not been renovated since the 80s and the traditional culture, I felt like I was in an alternative universe, one much different than the urbanised world I am living in.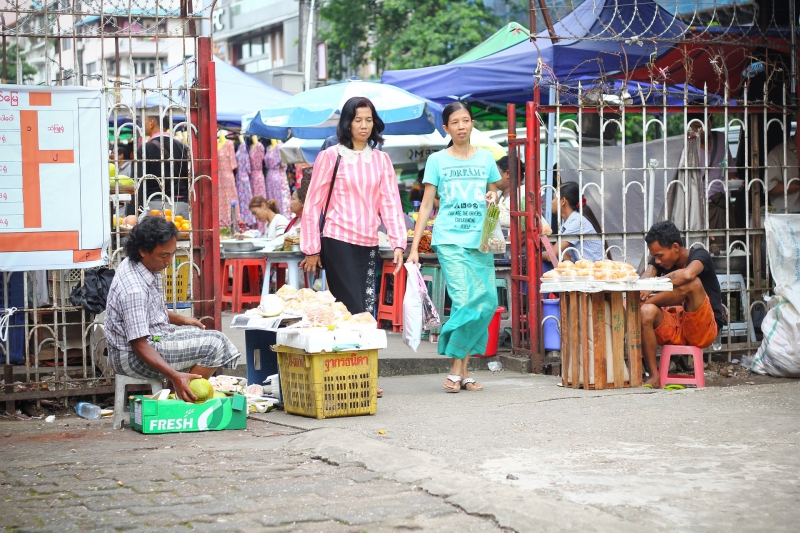 The driver took me around the city, before arriving at the famous golden pagoda: Shwedagon Pagoda. Like most his colleagues, he is self-employed and does not wear a uniform. And like most of his fellow Burmese, he is cheerful, kind-hearted and loves his country just the way it is.
The driver, whose name I regretfully forgot, took me to a stretch of road where many embassies are located. As I adored the serene atmosphere and the good condition of the infrastructure, he proudly praised Yangon's citizens for their responsibility in protecting public properties. I agree with him. The locals consciously kept the streets free from trash and parked their cars in the right place everywhere in Yangon. That alone took me by surprise, for I was familiar with the disorderly characteristics of big cities. Compared to Bangkok or Saigon, Yangon is in good form, despite the out-to-date facilities.
According to the driver, embassies are scattered around the city for security reasons. In his plain words, should there be a terrorist attack at one embassy, the others would not be blown up. Myanmar has a long history of aggression. From the harsh rule of its military junta to religion-driven wars, the country seems prone to violence. However, the driver's nonchalance when discussing such topics, as well as his optimism about the future of the newly open economy, made for a refreshing conversation. His smiles were infectious, and his outlook on life lifted my mood immediately.
I alighted at the Shwedagon Pagoda. In order to get inside the pagoda, visitors had to take off their shoes. At the entrance, throngs of kids made money by selling plastic carriers they collected from the nearby trash bins for 100 Kyat each. I did not suspect the bags were dirty until my seller picked up a new carrier from a trash bin by the entrance. 
Shwedagon Pagoda comprises many Buddhist buildings, with the major one visible from many corners of Yangon. Outdoor, the floor was made of a special rock that does not get heated up under the sun. What a blessing for bare-footed visitors like myself, I thought. To see the giant jewel on top of the main pagoda, I had to use a telescope. Myanmar is known for its wealth of jewels. Nonetheless, the people saved the most valuable piece for their Shwedagon.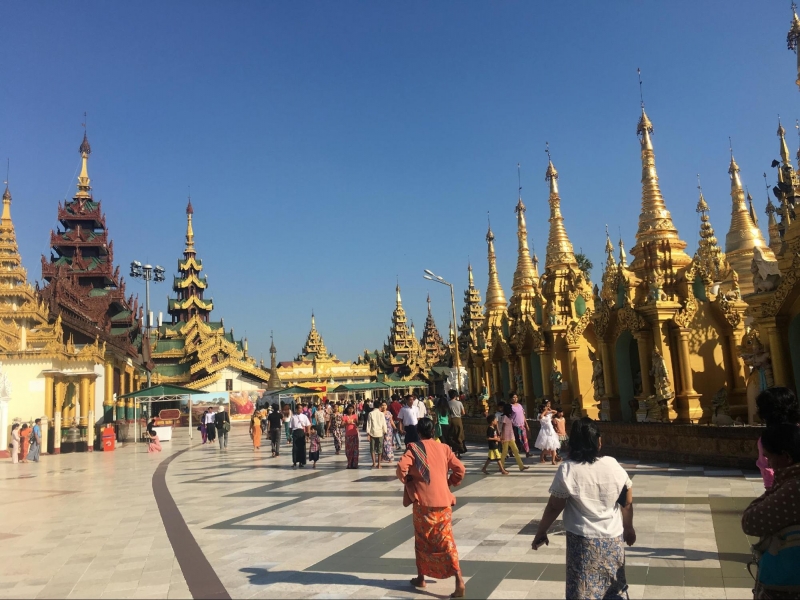 It was a Monday morning, yet young people flocked to the pagoda to pray and spend time with their loved ones. The pace in Yangon, as I observed, was more relaxed than most cities. People roamed the streets on Monday mornings and they spent a big part of the day in the pagoda. If you're looking to avoid the stressful sight of grumpy commuters and horning cars, come to Yangon for a breather.
When the night fell, I took to the famous night market on Strand Road for dinner. I was far from impressed by the cuisine of Yangon, with fried foods and MSG-laced mixes. However, there was no such thing in sight at the night market in Yangon. Throughout the length of Strand Road which stretches for a kilometre, food stalls were crowded with eaters.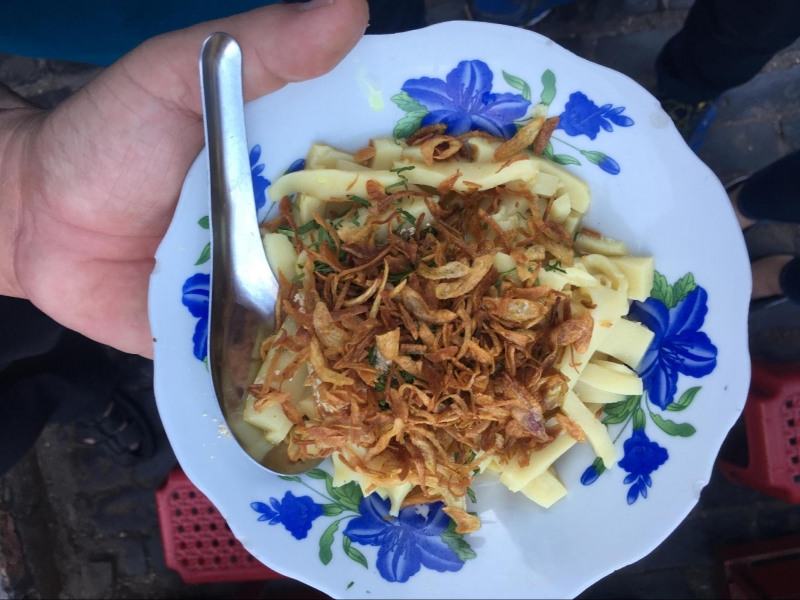 Noodle salad is sold in yokes. A special kind of thick noodle is seasoned with instant noodle seasoning powders, coriander, sugar and topped with crunchy fried onion.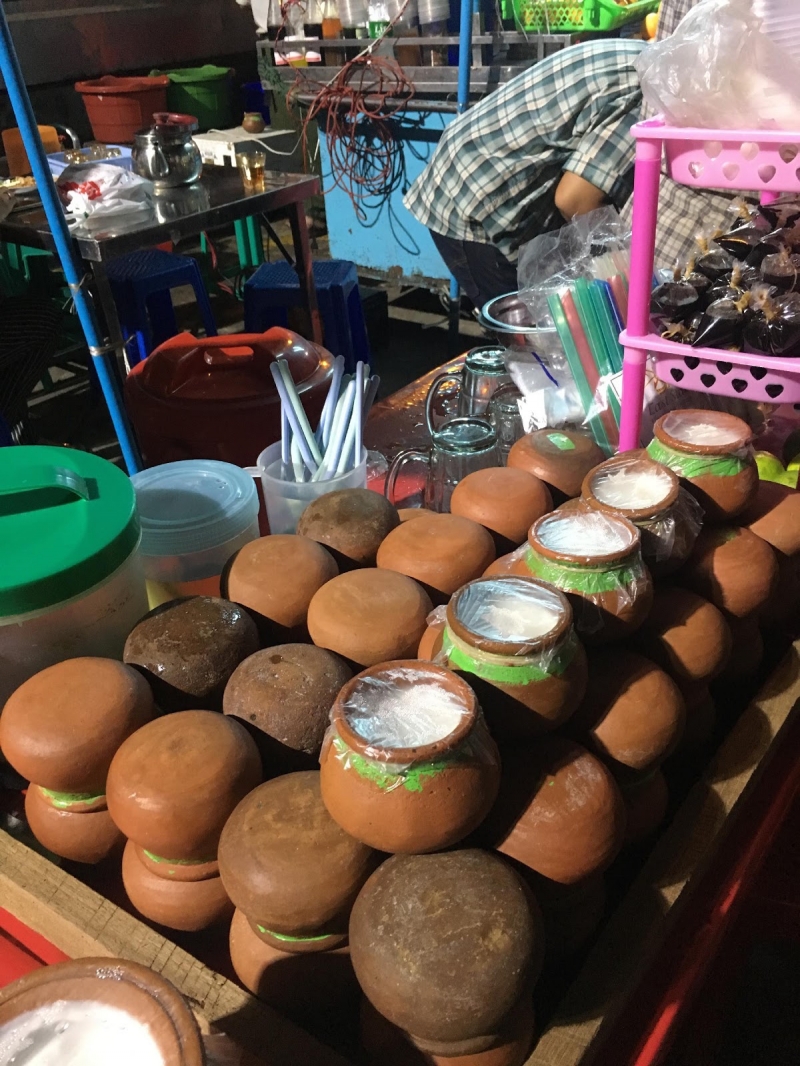 Unsweetened yoghurt is fermented and stored in clay pots. Sellers add sugar and ice to serve.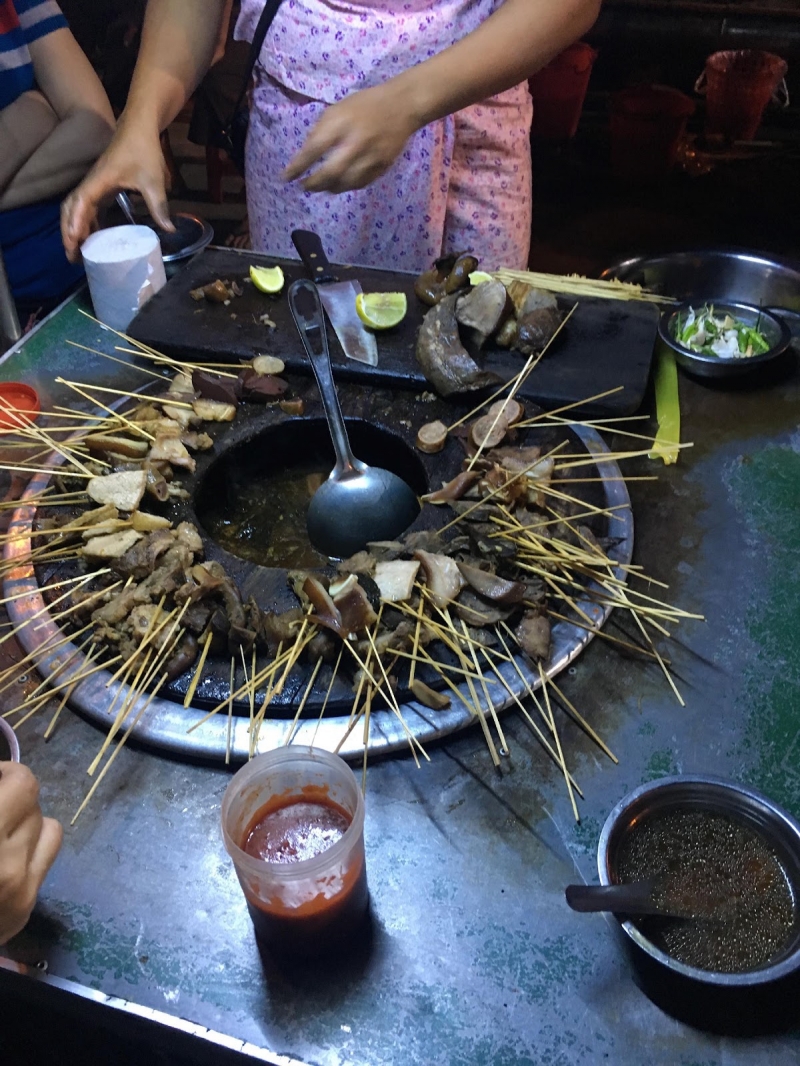 Eaters stop and take a seat by these boiling pots of pig organs skewers. They can self-serve, and are charged based on the skewers taken.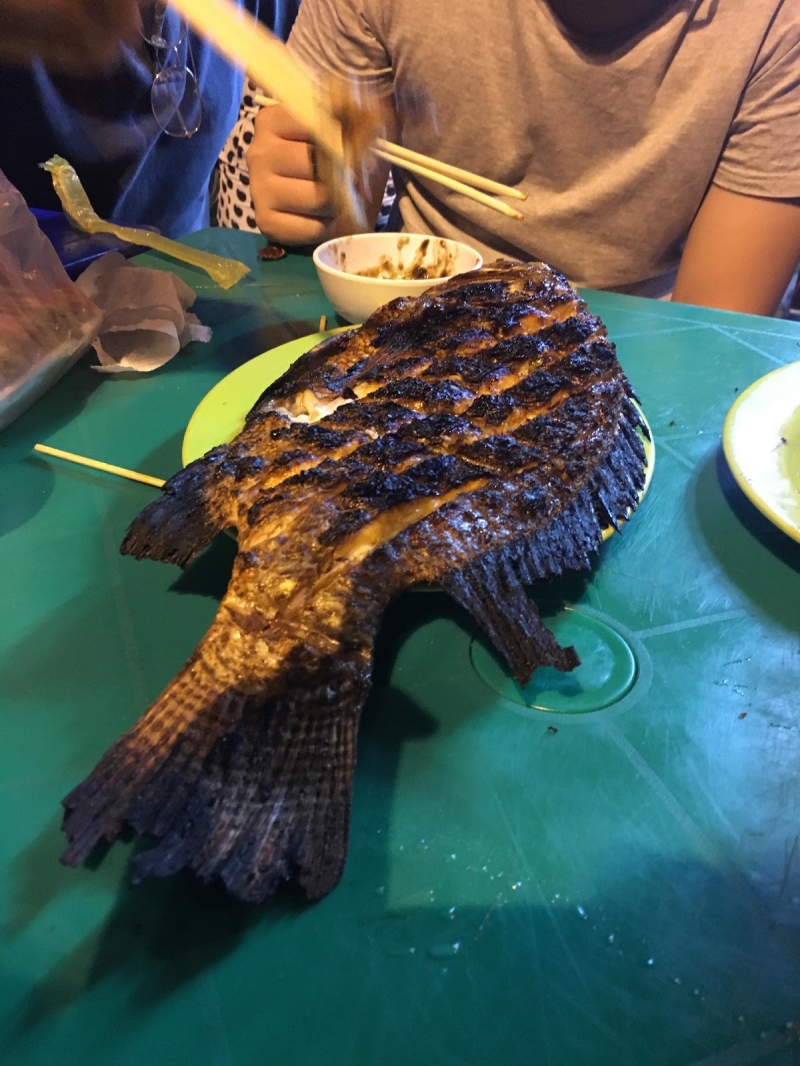 Grilled fish is the go-to order for groups and families, and is the most common food in the night market. Served with chilli and lemon sauce, the fish is fresh, hot and perfect when paired with a drink.
Most served takeaways, but others offered seats for a higher price. Fruit sellers displayed packets of strawberries and mangoes, which sadly were rotten on the inside. I bought a pile of strawberry – literally, a pile – and regretted immediately. I decided to visit the malls. Shops were closed at a little after 8.30 pm. Long before that, shoppers had vacated the busiest malls in Yangon. I heard the new Parkson would be closed soon – after 2 years in business. What a pity. For the first time in my life, I went back to my hotel when the night was young. I guessed the city of Yangon did not have much to offer for an all-nighter.
On the way back to my hotel, I made a few changes to my itinerary. I've seen enough of Yangon in a day, and tomorrow I would be headed to Bangan Village, a place known for the most beautiful sunrise in the world.