Influenced by the overlapping tastes of the 100 ethnic groups that call the country home and the five countries that share its borders, Myanmar's cuisine is simple but superbly diverse.
While it is easy to lazily draw the conclusion that some of more well-known Burmese dishes are similar to those found in neighbouring India or China, the Burmese have infused their own flavours and serving style that make these dishes very much their own.
Let's take a culinary journey through some of the best food that the country has to offer which will not only whet your appetite but also leave you wondering "why haven't I tried that yet and why can't I find it where I live?"
1. Ngar Hta Min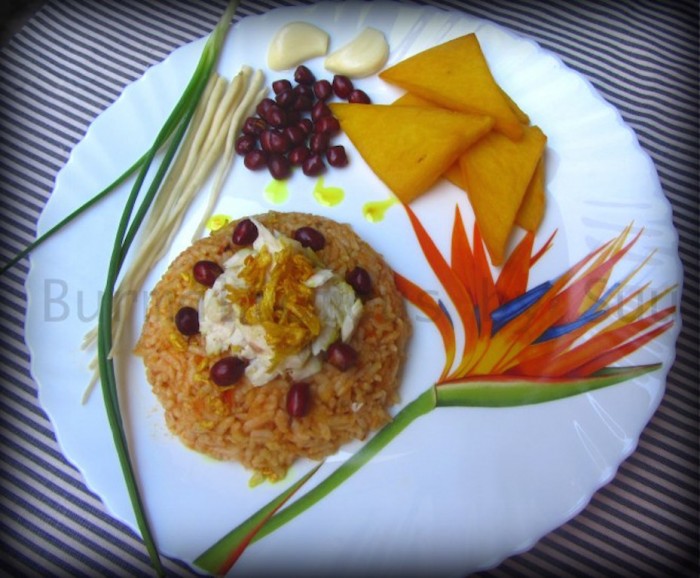 Image credit: theburmalicious
A brilliant dish from the Shan region, Ngar Hta Min is a delicious fish-tomato rice or fish-rice cake – a comfort food best suited for rainy evenings or cold nights in the hills. It's a simple dish prepared by making small round balls from a mixture of pre-cooked tomato, fish, rice and potatoes together, and garlic, chilli and fish oil for flavour.
2. Tea and Snacks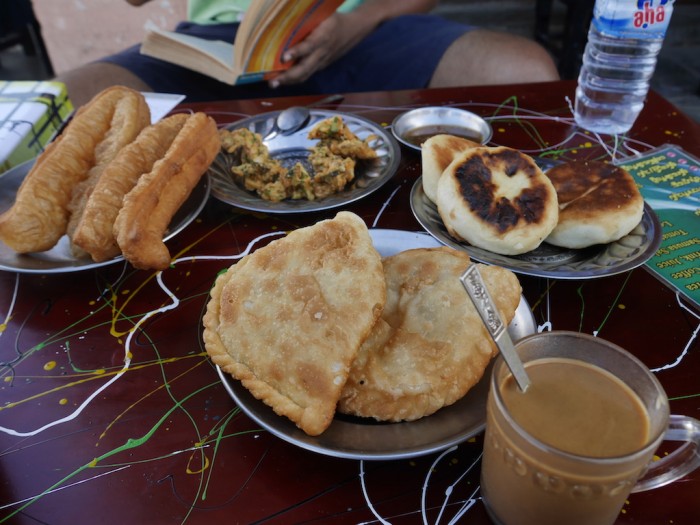 Burmese take their tea very seriously. A cup of black tea is sweetened with condensed milk to make it richer. It can be enjoyed all day long at tea stalls along most roads, and if you're not into milky tea, Chinese green tea is also available. And the tea doesn't come alone – any decent tea stall will have a gamut of snacks – flatbread sprinkled with sugar, fried pakoras, fritters, fried bread sticks, Buthi Kyaw (bottle gourd pieces, batter fried) and others – served to you with the tea. You pay for only what you eat but the idea is to present the temptation and before you know it, you're through half the selection.
3. Mont Lin Ma Yar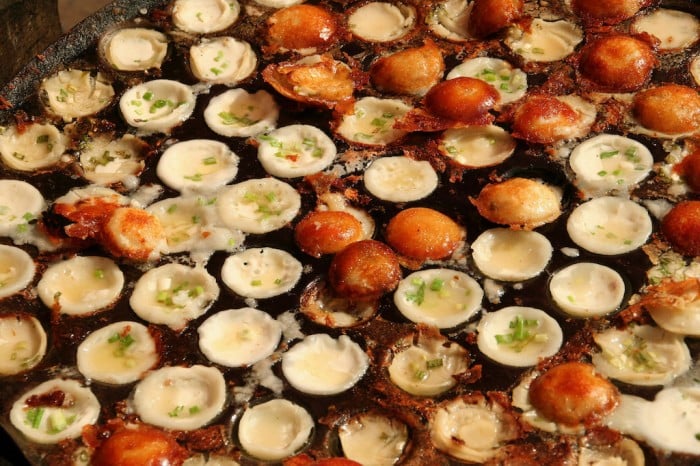 Image credit: Alex Schwab
Within the same category as above but sold independently is a gorgeous looking snack Mont Lin Ma Yar – informally called the 'husband and wife snack'. While walking in downtown Yangon, you'll come across many hawkers selling these golden muffins. They are made with rice flour batter in a special iron mould. The batter is divided into two sections – the first half contains only batter and the second half is topped with quail egg and roasted chickpeas. Both the halves, the "Yin and the Yang", are then joined together to create the Mont Lin Ma Yar.
4. Shwe Yin Aye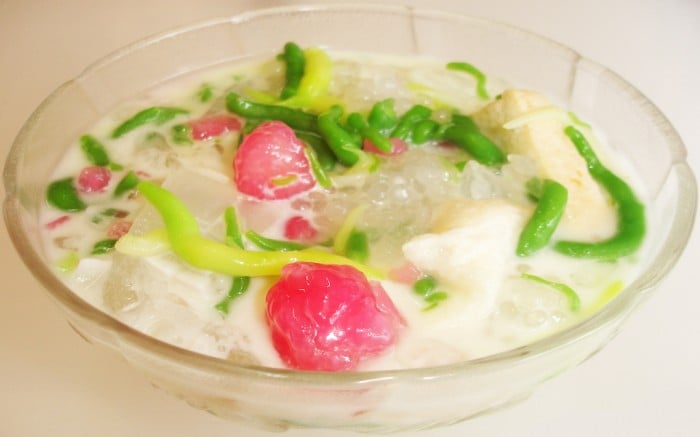 Image credit: deviantart
On a hot day in Myanmar, an iced dessert cannot be too far from your thoughts. Shwe Yin Aye is similar to Chendol from Indonesia and is prepared with steamed sticky rice, coconut milk jelly, tapioca seeds, coconut milk, sugar, bread and ice. You can eat this dessert with different combinations of seaweed, agar-agar, palm sugar, etc.
5. Myanmar Curry-Rice meal
The local set-meal is not just comfort food but an experience in itself. It comes with a slightly oily curry (choose from chicken, fish, mutton, beef, vegetable or pork), rice, a bowl of lentil soup and six vegetable side dishes (expect to find potatoes, pumpkin, okra, broad beans, leafy vegetables, tomato salad, etc.) and a garlic chili dip. The variety of side dishes and spice levels may differ from place to place but this culinary experience remains the same.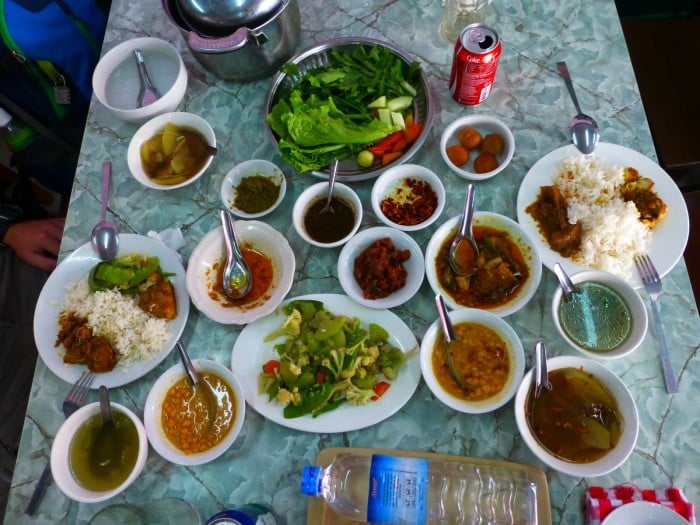 Image credit: Paul Arps
And this costs just S$4-5 – what more could you ask for?
Tips: The best set-meal I had in Myanmar was at Ma Mae Ning restaurant in Bagan. It is run by a Burmese family who takes pride in displaying their family portrait with Aung San Suu Kyi, who once visited their restaurant. Another great place to try the local meal is at Bamboo Forest Restaurant at Inle Lake. The place is slightly expensive but a great halt in the middle of a demanding Inle Lake tour.
6. Mohinga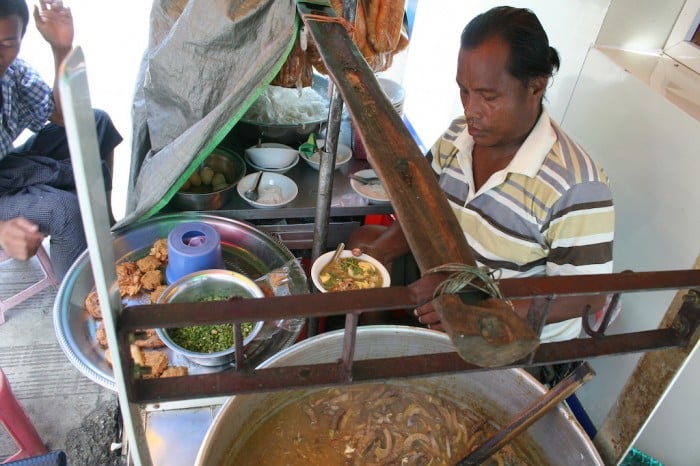 Image credit: Kaj17
A savoury fish noodle soup which is indisputably the ultimate breakfast dish of the country. A fish flavoured rice noodle soup, it is delicious and available almost everywhere in Myanmar.
A word of caution here, though, it is a fish soup in its true sense – cooked with fish, fish paste and fish sauce. If the smell of fish bothers you, clip your nose and but do have it.
7. Sanwin Makin
Image credit: whenmysoupcamealive
A traditional Burmese sweet which draws its inspiration from Indian semolina desserts, these cakes are common treats available on the street. In addition to semolina, coconut milk/cream, egg, cardamom and sugar also go into preparing these cakes which are then topped off with a sprinkling of poppy seeds.
8. Shan Noodle Soup/Salad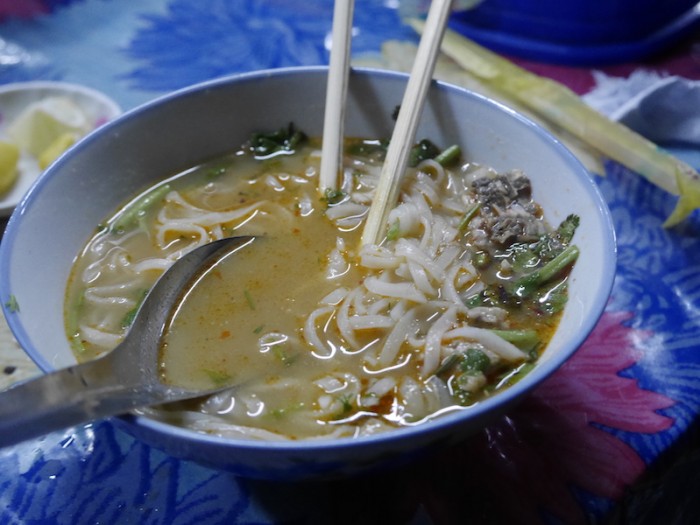 More popular in the Shan region, it consists of flat rice noodles in a flavoursome broth with shredded chicken or pork, a sprinkling of toasted sesame with garlic oil and pickled vegetables on the side. It is served more in the boat noodles (a popular Thai dish) tradition – serving size is small and probably good for a snack. But it is a snack that is deliciously addictive, so don't be alarmed if you end up having 3-4 bowls or more. It is also served without soup like a salad.
Better to arrive at these shops early enough as this dish is eaten more as a breakfast or snack item and the popular shops run out of it by the evening.
Tips: I am yet to discover the worst place to not to have this dish. The best place I had these noodles was at a small kiosk run by a woman in the alleys of the main market in Kalaw. The other places to grab a great bowl is at 999 Shan Noodle House in Yangon and Pyae Pyae in Kalaw.
9. Burmese Salads
The food in Myanmar is often unassuming. Some dishes may not look like much but are indeed delicious. Among these is the whole range of Thoke (salad in Burmese) – simple but delightful, and super healthy to boot.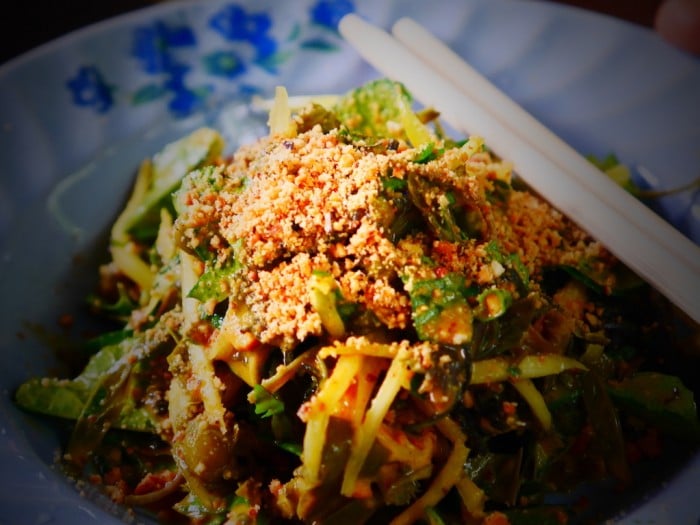 The most common salad you'll find is tomato-peanut salad followed closely by Lephet Thoke or pickled tea leaf salad which is probably more well known outside of Myanmar.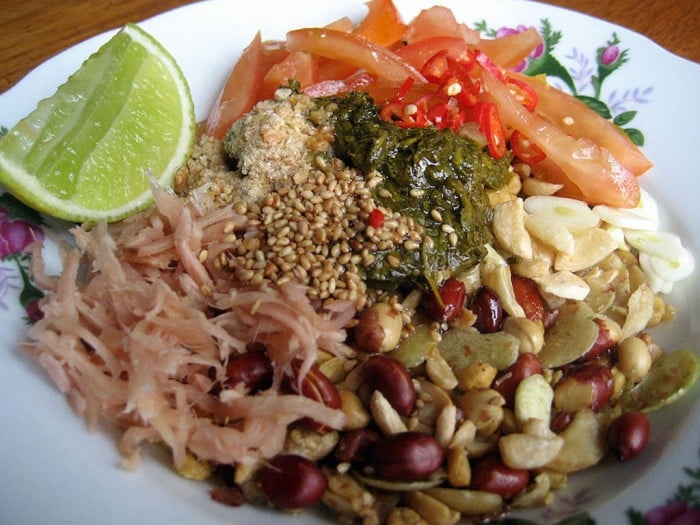 Image credit: Hintha
Other Thoke include Gin Thoke, or ginger salad, which consists of shredded ginger and cabbage, toasted chickpea powder, yellow lentils, peanuts, and lots of lime; Myin Kwa Yuet Thoke which combines pennywort leaves, tomato, peanut, garlic and lime juice; and Shan Tofu Thoke (tofu here is a misnomer) which is made of chickpea puree with a consistency of tofu. Probably the simplest of all is a salad of sprouted whole yellow peas with chopped tomatoes and onions with a dash of lemon. Interesting, huh!
10. Burmese Yoghurt drink
This refreshing glass of sweet blended yoghurt can be a very effective cooling agent when the Burmese heat becomes unbearable. Quite similar to Indian Lassi, Burmese have their own version of this drink where the sugar is replaced by palm sugar syrup. Don't be afraid to try some add-ons like chocolate fudge, sticky rice or coconut shreds which add to the experience.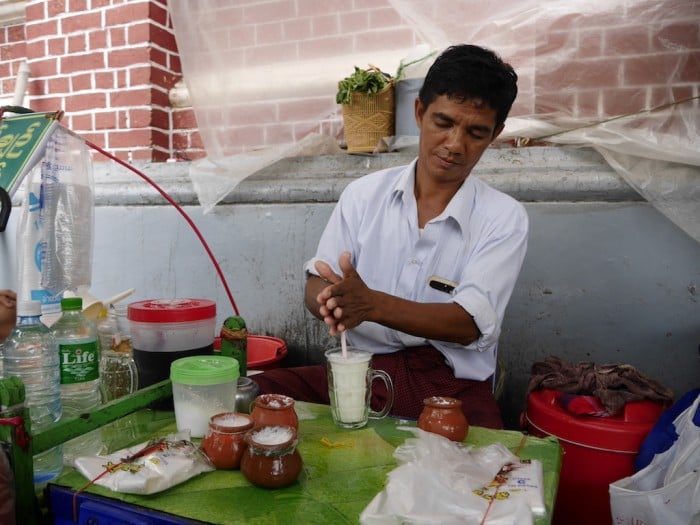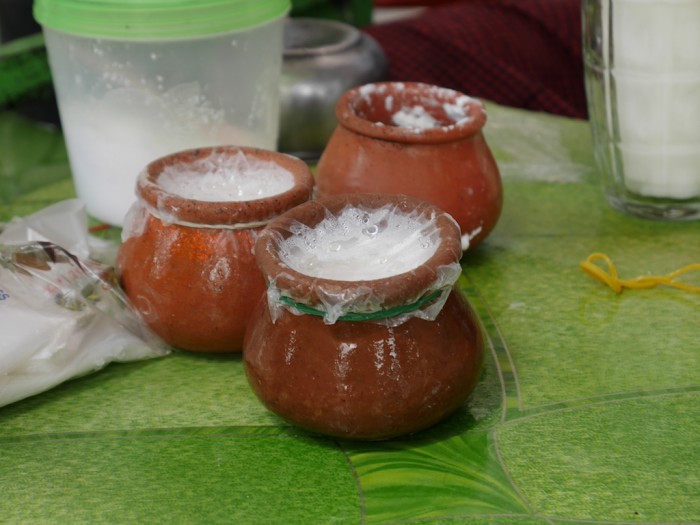 Beware! the base level of sugar is quite saccharine. Ask the vendor to go easy on the syrup if you are not into super-sweet.
Next time anyone tells you that Myanmar cuisine is similar to India or China, take them along to explore the cuisine with a fresh perspective.
Also Read: 7 Must-Have Experiences in Myanmar for First-Time Travellers