Ever since Myanmar started opening up to tourism, many people I know of (whether adventurous or not) have visited or have been planning to visit the country.
I realised that Myanmar is no longer just the dream destination for the adventurous when even the aunties started talking about it. One day, my mom casually mentioned to me that a "travel expert on TV" recommended visiting Myanmar and that the country is beautiful and cheap to visit.
Still, I wasn't adventurous enough to visit Myanmar on my own. I think I used up my sense of adventure during my 130-day trip around the world. I didn't have the energy to make the plans, bookings and sketch an itinerary.
That was why when I heard about the Myanmar Airways International (MAI) trip to Myanmar, I grabbed it. Now's a chance for me to see Myanmar without the hassle of planning!
Of course, the downside of a packaged tour is that you're bound to your group without many opportunities to see things outside of the comfortable tour bubble. Still, that's a price that I'm willing to pay to get a glimpse of the country.
Myanmar Airways International flight to Yangon
Myanmar Airways International (MAI) is a full service carrier and is one of the six airlines with direct flights from Singapore to Yangon.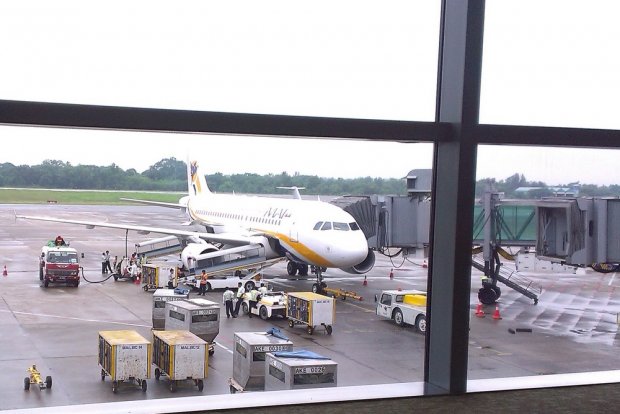 MAI plane from Yangon to Singapore
MAI is one of the six airlines with direct flights from Singapore to Yangon. For a full Myanmar experience, I'd recommend choosing this airline to see the cabin crew dressed in the traditional Myanmar longyi and to listen to the announcements made in the soft Myanmar language.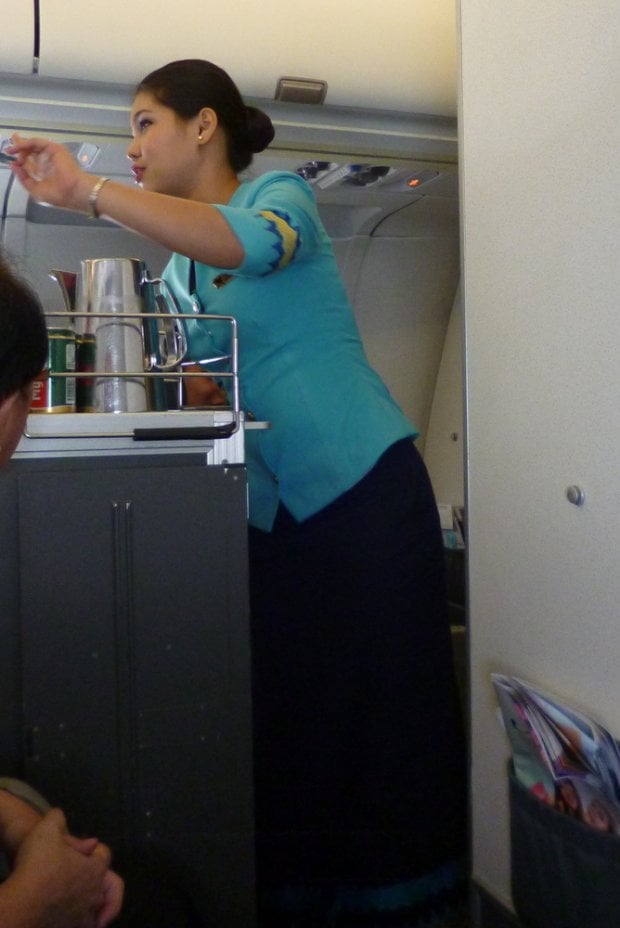 MAI cabin crew wearing traditional longyi
The inflight magazine is also Myanmar-specific, so you can learn more about the country and some of their language in the short two hour plus plane ride.

I'm one of the odd people who actually likes plane food. MAI's food did not disappoint. On the flight to Yangon, I had the chicken noodles while on the way back, I had curry chicken with prata. They were all delicious.


MAI inflight meal. From left: Chicken noodle, fish bee hoon and chicken prata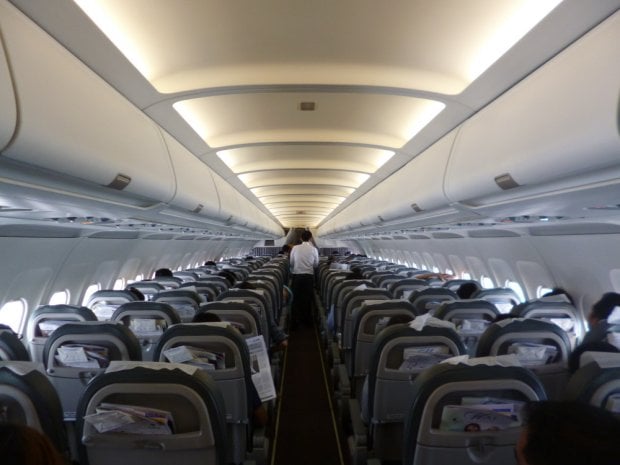 Myanmar Airways International Economy class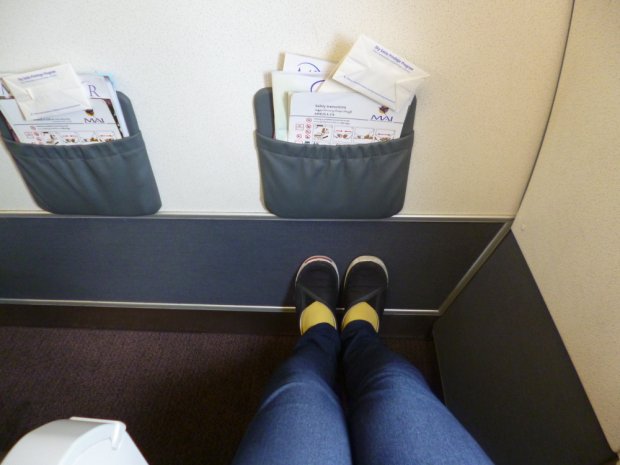 Leg room for Premium seats
When the plane flew over Myanmar, I saw emerald green land, rectangular water fields and ribbons of water from the river. The land didn't look like anything I had seen before and I was enchanted.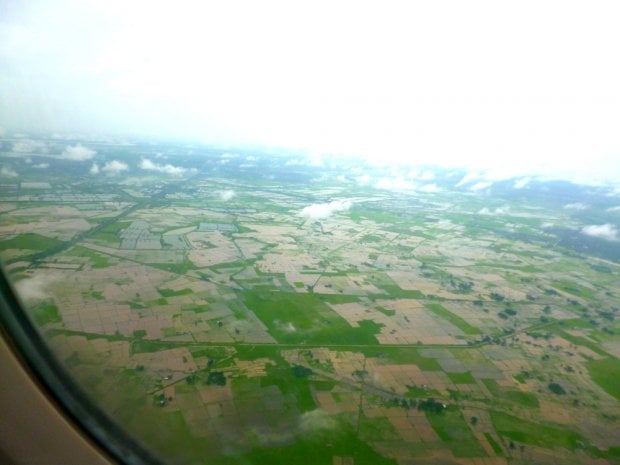 A glimpse of Myanmar from above
A trip to Shwedagon Pagoda
When we reached Yangon airport, we changed our Singapore dollars to local kyat (pronounced as "cha't"). It was SGD 1 to MMK 777. For easier mental calculations, you can choose to remember that USD 1 converts to about MMK 1,000.
We were greeted by our tour guide, Moon, who is from the local tour agency, Myanmar Tourex. I learned that all the tours that Myanmar Airways International offer are provided by Myanmar Tourex, a family-run travel agency.
Our first tourist spot was Shwedagon Pagoda where it was said that that eight strands of Gautama Buddha's hair were enshrined.
We left our slippers at the ground floor and took the elevator to the top where the Pagoda was. Since most of the area was not sheltered, the tiled floor was wet and everyone walked in small steps.
We began the tour in front of an image of Buddha under a bodhi tree. The tour guide told us about the history of the pagoda and then led us to the main compound. The first sight of Shwedagon Pagoda made me gasp. At 105 metres high, it towered over the other little pagodas. It still glimmered brightly even in the rain, and I suspect that it would be blindingly gold when the sun is out.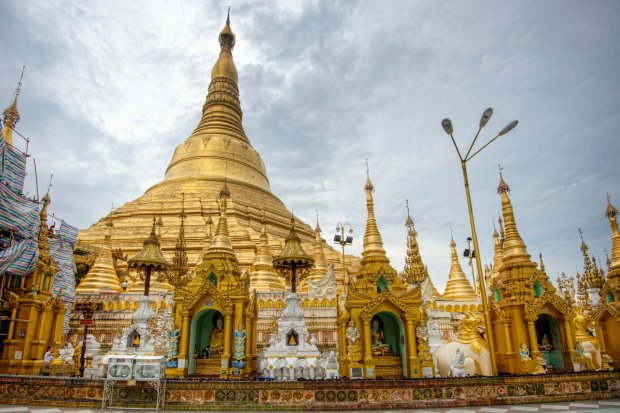 Image credits: http://bit.ly/1jAubVK
Our guide told us that there are different "corners" for each day of the week (plus two for Wednesday morning and Wednesday evening), and each person should pray at their respective corners. I left the group to go in search of the Sunday Corner.
Strangely, the days of the week didn't seem to be arranged accordingly. I walked a large round before finally stopping at the Sunday Corner. There was already a throng of women gathered in front of the Buddha underneath the Sunday Corner sign. I said a small prayer and jostled with the women to rinse the image of Buddha with little tin cups of water.
It started drizzling heavier at the end of our tour. When we reached the ground level, I realised I could not find my flip flops because they were stored in a different place from my tour group.
Short stay at Hotel ESTA
Yangon was only a starting point for us on this tour. We stayed at Hotel ESTA during our first and last nights in Myanmar, while the rest of the days were spent at Inle Lake.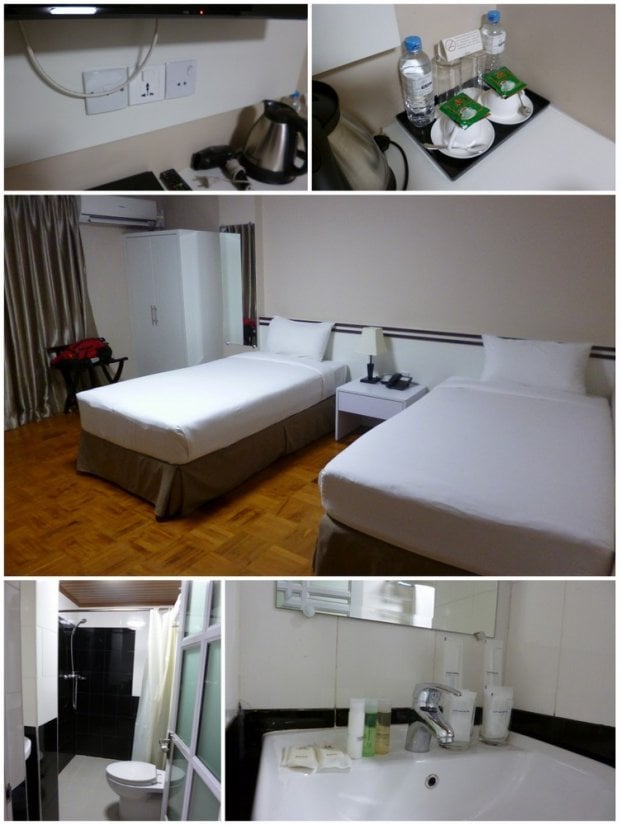 Hotel ESTA is run by an enterprising Myanmar lady who spent a large part of her childhood in Singapore. The hotel amenities did not disappoint. I was most pleased that there were enough electrical plugs for two people and an electric kettle with 3-in-1 coffee mix.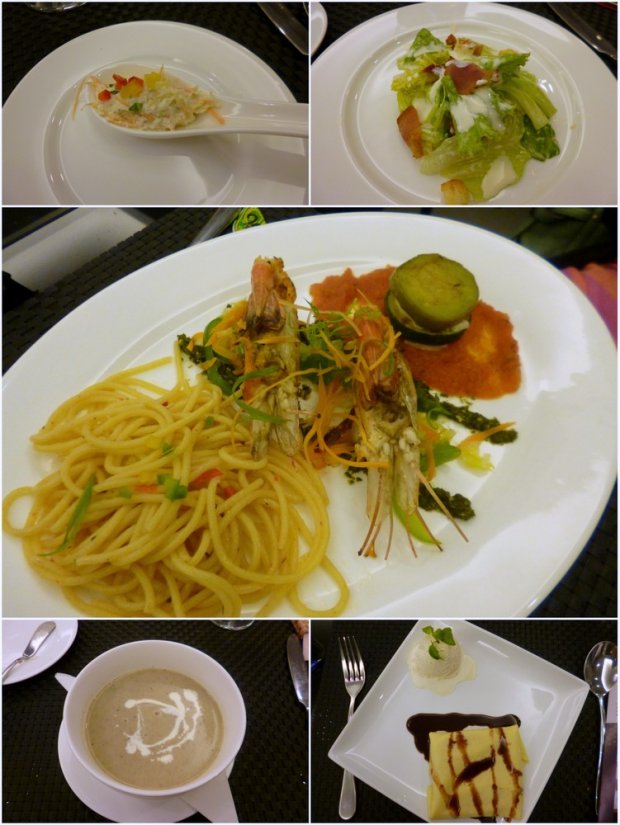 For dinner, we had western food. The prawn that came with my pasta was quite large. The banana pancake dessert with vanilla ice cream was to die for.
After enjoying the hot shower, I slept like a baby but still woke up at 3am. I was afraid that I might miss the morning alarm and be the last person to arrive at assembly. If it weren't for the early flight, I would have stayed in bed for much longer.
Since we had to leave very early for both days – the second day to catch a domestic flight and the last day to catch the flight back to Singapore – breakfast was prepared in takeaway boxes for us to bring along.
From Yangon to Inle Lake
If you don't have much time in Myanmar and prefer to travel in comfort, it's best to take the plane to reach the other destinations. It's comfortable and saves time so it will give you even more time and energy to sightsee.
On the day we were flying to Inle Lake, the traffic from Hotel ESTA to the domestic airport was smooth. Yangon's domestic airport is right next the the modern, boxy international airport.
The domestic airport was blinged out to look like the exterior of a pagoda. It was golden all over even in the dim morning night. I had seen it the previous day but thought that it was a shrine or pagoda to pray for good luck for travellers.
It was pouring while we waited for the plane. I was worried that our domestic plane from Yangon to Heho (the airport nearest to Inle Lake) could not fly.
Also read: Why It's Better to Visit Myanmar in the Rainy Season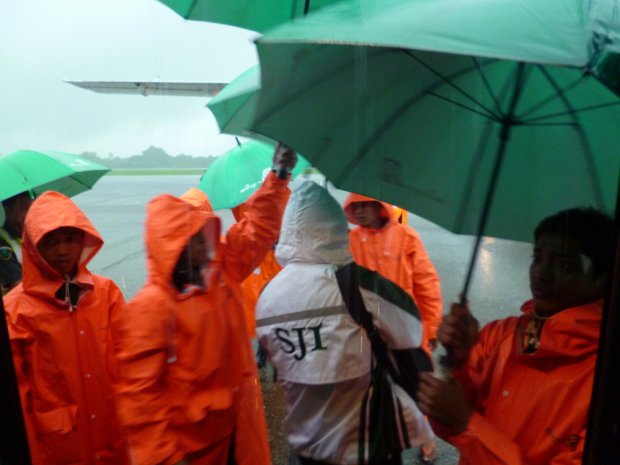 Rainy day at Yangon domestic airport
When it was our time to board, the ground staff lined up with large umbrellas to shelter us from the airport building to the bus and from the bus to the plane.
Even with the heavy rain, the pilots of Air Bagan were able to bring us to our destination safely. I'm pretty impressed.
Enjoying Inle Lake for two days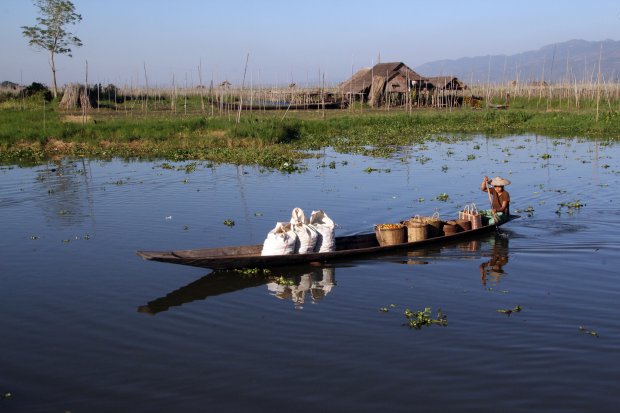 Image credits: http://bit.ly/1qV509f
I spent most of the days at Inle Lake on a boat. The tourist spots were scattered on different parts of the lake and its shores so it's quite impossible to see everything by bus.
Also read: What to Do at Inle Lake, Myanmar
Inle Lake might not be as famous as Bagan or Mandalay, but the view on the lake and the floating gardens are definitely something you shouldn't miss.
Back to Yangon, trip to Scotts Market for shopping
We left Inle Lake after two days of touring, as it was time to head back to Yangon for our flight back to Singapore.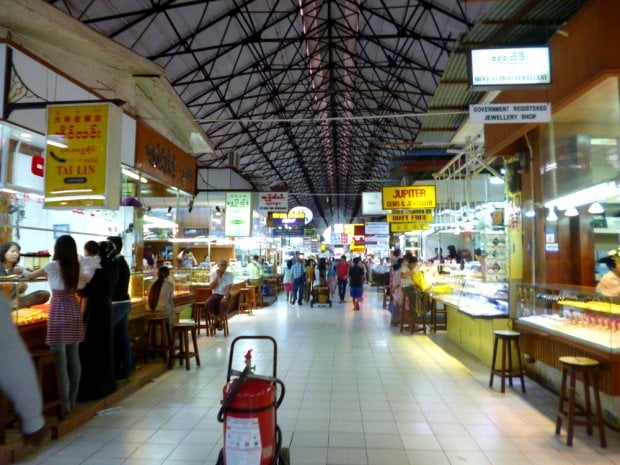 One our last day, we had a bit of time to visit Scotts Market for some local shopping. Compared to Ho Chi Minh City's Bến Thành Market, Scotts Market – now called Bogyoke Aung San Market – is a bit smaller and less warm.
While at the market, I managed to haggle two longyi for MMK 8,000 and some bracelets made from probably-not precious stones.
I tried haggling down thanaka to a ridiculously low price but the vendor refused to sell them to me. I realised that I had crossed the line and became the unpolite tourist who expects everything to be cheap.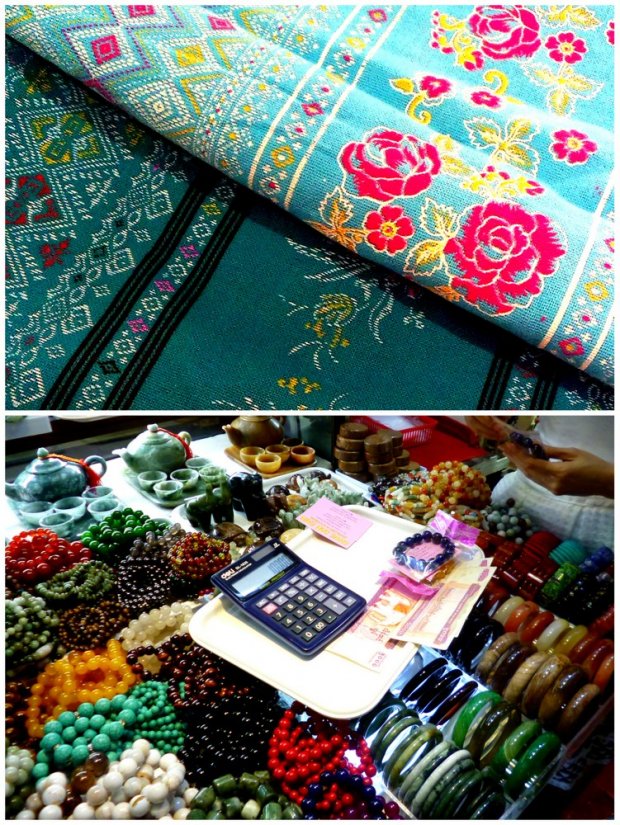 My friend from Myanmar later told me that things at the market are overpriced to begin with, but I still had a great time and hope to visit again.
Our last dinner in Yangon was the buffet at Shangri-La. My travel buddy Debbie (who wasn't with me on this trip) and I now have a new item on our To-Do List when travelling – we should try the buffet at one of the classy hotels because the food would be good and yet cheaper than in Singapore.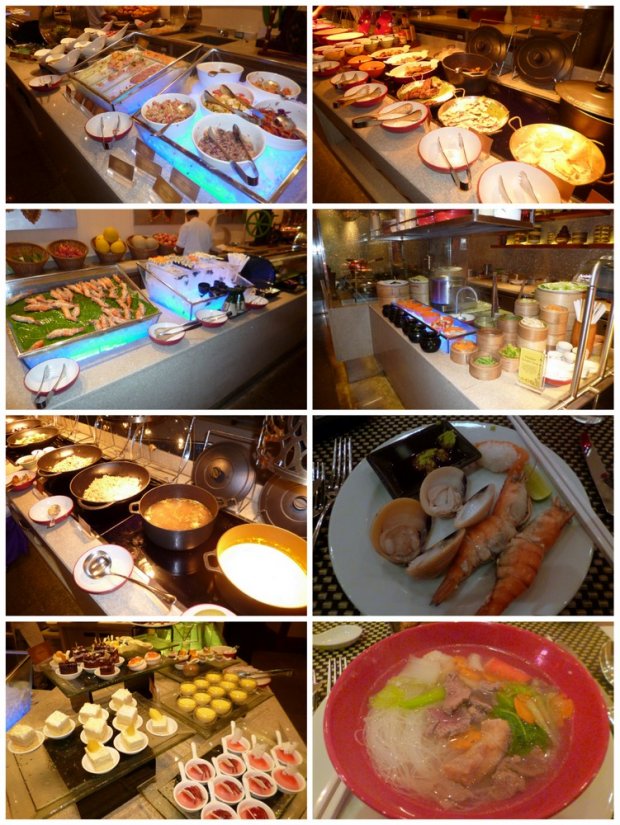 Buffet dinner at Shangri-La Yangon
The buffet at Shangri-La Yangon gets crowded so remember to make reservations before popping over.
The last night was spent at Hotel ESTA. I had a room switch and ended up with a king-sized bed. It also felt good to be there because of the relatively fast and stable Wi-Fi connection. I really can't live without my phone.
After this trip, I want to return to Myanmar to see the rest of the country that I didn't have the chance to see. But most importantly, to buy those boxes of thanaka!
Many thanks to TripZilla and Myanmar Airways International who made my trip to Myanmar possible. A big thank you to Myanmar Tourex and Hotel ESTA for the tours and accommodation. As usual, all comments are my own.
TripZilla Reader's Special: Grab this chance to visit Myanmar from only SGD418!