With a diverse variety of things to do in Melbourne and its surrounds, chasing the delightful spring scenery may not be the first thing that comes to mind. You may not even know that there's much to see in the area during springtime.
If that's what you think, prepare for your mind to be blown as we explore what there is to do in Melbourne and Victoria with this 5D4N springtime road trip itinerary. 
While the rest of the world has said goodbye to spring, Australia is only beginning to say hello — and what better way to celebrate than by visiting the great state?
ALL flights to Melbourne on CheapTickets.sg are now on sale! Book your air tickets by 25 Oct 2019 to enjoy great deals.
If you'd like to experience the best of what Melbourne and its surrounds can offer during springtime, we've prepared a list of highlights just for you. Following this itinerary of five days and four nights, you'll be journeying through the Yarra Valley and Dandenong Ranges, before heading towards Melbourne city on the way to Macedon, and then driving back to Melbourne on this suggested route: 
Melbourne Airport → Wandin North → Woori Yallock → Silvan → Olinda → Melbourne CBD → Mount Macedon → Melbourne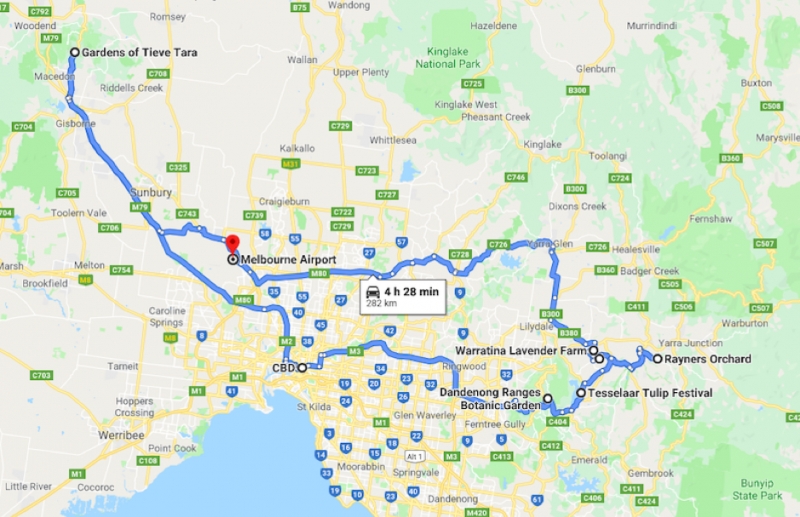 From tulip farms to garden sanctuaries, we'll show you how to go beyond the usual sights of Victoria. So what are you waiting for? Put on that rockin' road trip playlist and let's hit the road. 
Day 1: Melbourne Airport → Wandin North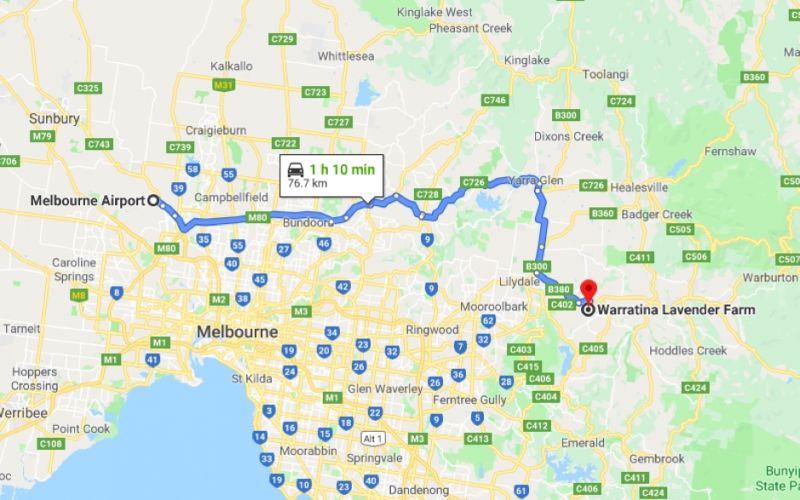 Choose the most convenient flight for you and arrive in Melbourne Airport, all ready to kick-start your grand adventure.
Be sure to check out the flight dates that are up for grabs on CheapTickets.sg, as they now have a special promotion of $20 OFF all flights to Melbourne from now until 25 Oct 2019.
Luckily, you won't have to look too far to rent a car from your terminal. You can hit the ground running by securing a car rental via CheapTickets.sg, too. We suggest booking this upon purchasing your flight tickets so you'll have ticked transportation arrangements off your travel to-dos early on.
For the first stretch of your trip, you'll make your way towards Wandin North, covering a distance of approximately 73 kilometres and spending about an hour on the road. 
As you roll the windows down and breathe in the fresh country air, the wonders of the Yarra Valley and Dandenong Ranges will have you swooning at every turn. 
Warratina Lavender Farm
Your first stop is Warratina Lavender Farm, a family-run estate with over 10,000 fragrant lavender plants rushing into bloom. As you stroll through the premises, whip out your camera to capture the heavenly sight of purple blooms surrounding you. 
You can time your arrival with lavender season from mid-November to the end of January, when the flowers will be in full bloom. Worry not if you're travelling to Australia during a different season; there are always a couple of rows throughout the year for you to wander through. 
After soaking up the views of flowering lavender, feel free to explore other attractions. Go on a guided walk through the cottage garden. Treat yourself to a charming tea room overlooking the flowers, where you can have raspberry cheesecake or scones with cream. 
Address: 105 Quayle Road, Wandin North, VIC 3139, Australia
Opening hours: 9am – 5pm from October to January; closed on Tuesdays, Good Friday, and Christmas Day
Cherryhill Orchards
After a break in the tea room, you now have enough energy to swing by your next stop five minutes away. As a rolling landscape undulates before your eyes, you will stumble upon Cherryhill Orchards, a 90-acre farm that has been growing cherries since the 1940s. 
This magnificent orchard is one of the most successful cherry producers in Australia and a must-see destination in the Yarra Valley. Spruce up your Instagram feed as you walk under pristine cherry blossoms lining the pathways. It helps to plan your excursion ahead, as the orchard's Blossom Festival runs from 26 Sep – 6 Oct 2019.
If your road trip takes place a little later this year — say, around late November to early January — you're in for a special treat. This is the perfect time to see Australia's sweetest cherries and sample them for yourself. After all, who wouldn't love to spend hours picking these juicy, wine-dark cherries straight from the tree? 
Come any day from 30 Nov 2019 – 12 Jan 2020, and you'll most likely find groups of families and friends settling down for a picnic. You can spend an entire afternoon here — maybe even try a cherry-flavoured drink or two. 
Address: 474 Queens Road, Wandin East, VIC 3139, Australia 
Opening hours: 9am – 5pm daily
Overnight near Yarra Valley
After a long day of appreciating flowers and sampling delicious fruits, you're probably looking for a comfortable place to rest. From rustic farm lodges to endearing bed and breakfasts, these are a few options you can consider: A Twist of Willow Bed and Breakfast, Westering Cottage, and Eagle's View Bed and Breakfast. 
All of these accommodations happen to be ten minutes away by car from Warratina Lavender Farm, so don't worry about using up more energy or gas than you need to.
With a peek of what Melbourne and what's around the city can offer during springtime, aren't you just itching to catch the season's blooms and produce before it ends?
It's not too late to find cheap flights to Melbourne — as long as you book before 25 Oct 2019 on CheapTickets.sg!
Day 2: Wandin North → Woori Yallock → Silvan → Olinda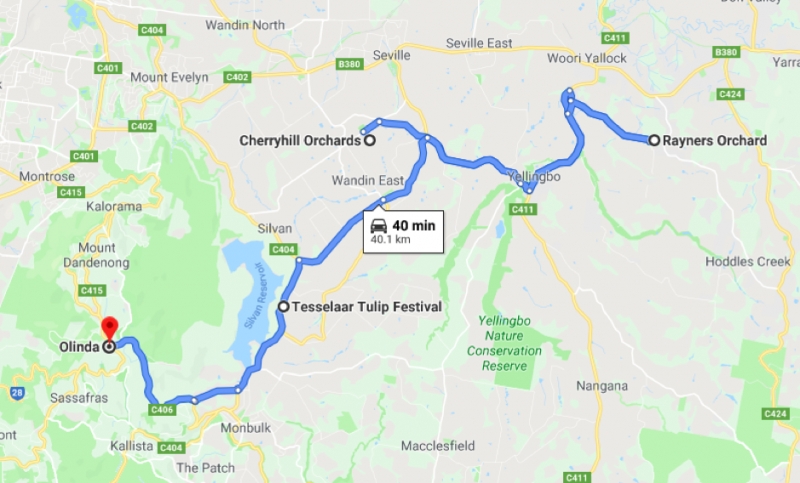 When you're awake and feeling fresh as a daisy, proceed to Woori Yallock before arriving at the massive farm called Rayner's Orchard. 
Here, you can join a guided tour on a huge tractor that will wind its way through groves of fruit as you search for the ripest ones. Keep your eyes peeled for springtime fruits such as oranges, mandarins, lemons, tamarillo, grapefruit, kiwi fruit, and gooseberries. 
Naturally, you might find yourself craving a slice of fruit pie afterwards. Before you head out, drop by the Peach Cafe to satisfy your appetite for traditional flavours and wholesome food, brought straight from the farm to your fork.
Address: 60 Schoolhouse Road, Woori Yallock VIC 3139, Australia  
Opening hours: 9am – 4pm daily
Tesselaar Flower Farm
After having your fill of fresh produce, take a 20-minute excursion towards Silvan. Pull up at Tesselaar Flower Farm, where almost a million tulips grow into a lush carpet of red, yellow, white, pink, and violet. We could stare at this spectacular field of flowers all day. 
Catch the height of tulip fever at the world-renowned Tesselaar Tulip Festival from 14 Sep – 13 Oct 2019.
Beyond these floral delights, you can also participate in treasure hunts, meet friendly alpacas, and enjoy the live entertainment at this festival. Purchase your tickets online to skip the queue. 
Address: 357/359 Monbulk Road, Silvan, VIC 3795, Australia 
Opening hours: 10am – 5pm daily 
Feeling the tulip fever? There's still time! Book your flight to Melbourne through
CheapTickets.sg
to experience the wonders of the Yarra Valley and c
atch great deals until
25 Oct 2019
! 
Use the discount code: UNDISCOVERVIC
Overnight at Olinda
With all the fruit-picking and festivities, you're probably just about ready to call it a day. 
Olinda, one of the quaint villages resting in the Dandenong Ranges, enjoys a wide range of accommodations with restaurants nearby. As evening draws near, tuck yourself in a cosy room with a view that looks out to a garden at Gracehill Accommodation or Cambridge Cottages. 
Day 3: Olinda → Melbourne CBD
After eating a heavy breakfast, embark on a five-minute drive towards the National Rhododendron Gardens, also known as the Dandenong Ranges Botanic Garden. 
National Rhododendron Gardens 
Suffused with a dreamy air, this bountiful garden beckons to travellers with its thousands of rhododendrons, azaleas, camellias, cherries, and daffodils. As you walk leisurely through the gentle slopes, you can hear birds chirping through the trees; if you're lucky, you might see one dart by! 
Address: The Georgian Road, Olinda, VIC 3788, Australia
Opening hours: 10.30am – 5pm daily
You can also venture out to other highlights near the area, such as the mystical statues at William Rickett's Sanctuary or the artfully-trimmed hedges at Cloudehill Gardens. 
Before setting out for the next stop on your road trip, treat yourself to a hearty meal at Piggery Cafe or Coonara Springs Restaurant near Olinda.
Overnight at Melbourne's Central Business District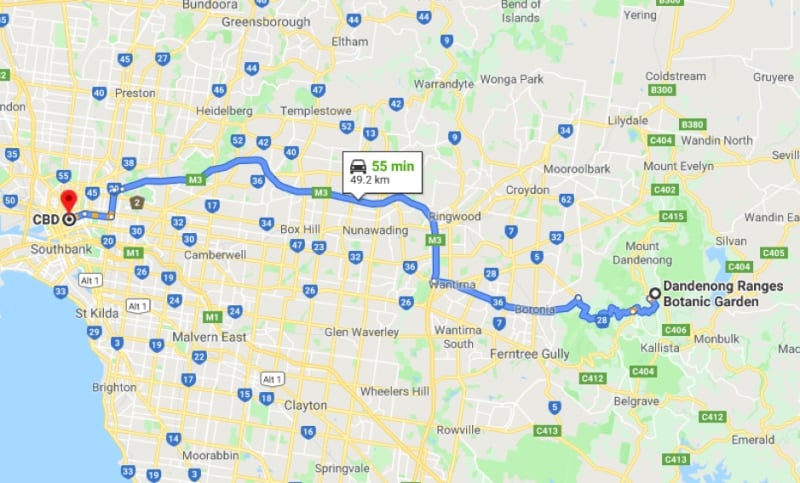 Once you're ready to hit the road again, drive for about an hour towards Melbourne's Central Business District. Upon arrival, check in to the accommodation of your choosing.
If you're looking for calming and restful stays near the main attractions, take a look at Archie's CBD Laneway Apartments or Ibis Melbourne Central. 
The night is still young, so you'll have enough time to explore the buzzy nightlife scene around the area!
Even if you're not all about colourful flowers and fruit-picking, there's still
tons happening in the city
and in other Victorian attractions during this wonderful time of year.
Just don't miss out on great deals to Melbourne from CheapTickets.sg, which are up only until 25 Oct 2019! 
Day 4: CBD → Mount Macedon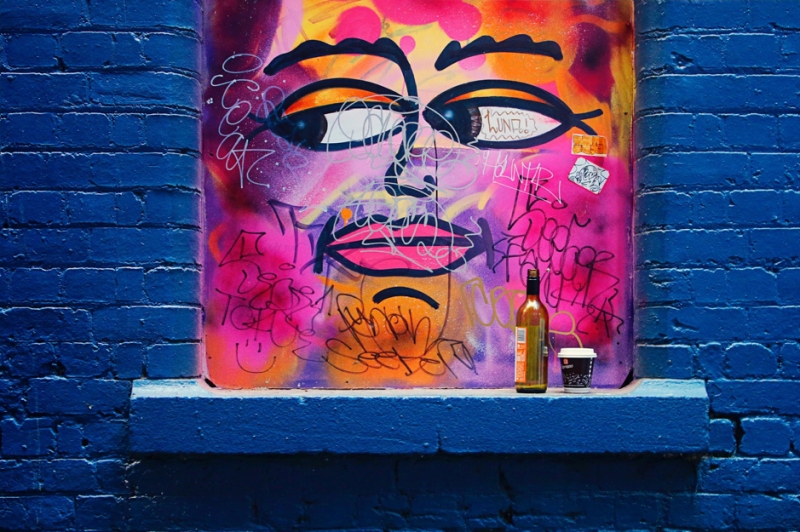 Rise early to greet the pulsing heart of Victoria: Melbourne city. 
Amble along photogenic laneways to find eclectic street arc, chic restaurants, outdoor cafés, nifty bars, and all sorts of hidden gems. Go on a food trip at Queen Victoria Market, where the mouth-watering stalls will give you plenty of delicious options for breakfast. 
Visit historic buildings such as the General Post Office and the Parliament House. Marvel at the grand facade of Flinders Street Station and see why Melbournians like to meet each other under the clocks. Stand in awe at the walls of books at the State Library Victoria, where grandiose architecture meets a treasure trove of knowledge.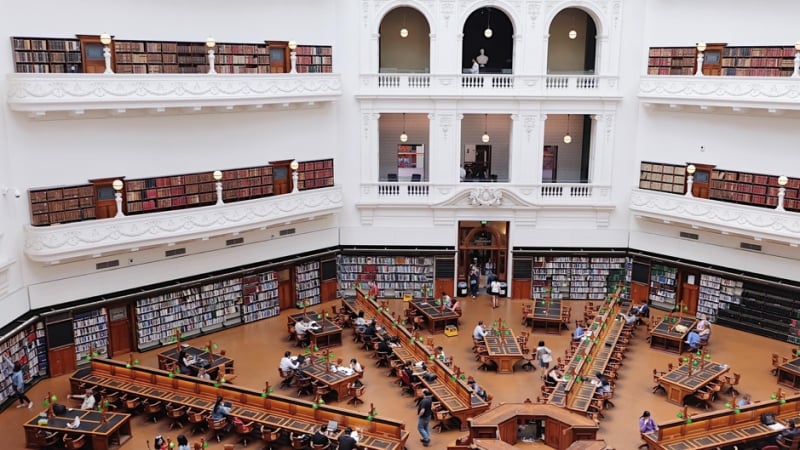 Overnight at Mount Macedon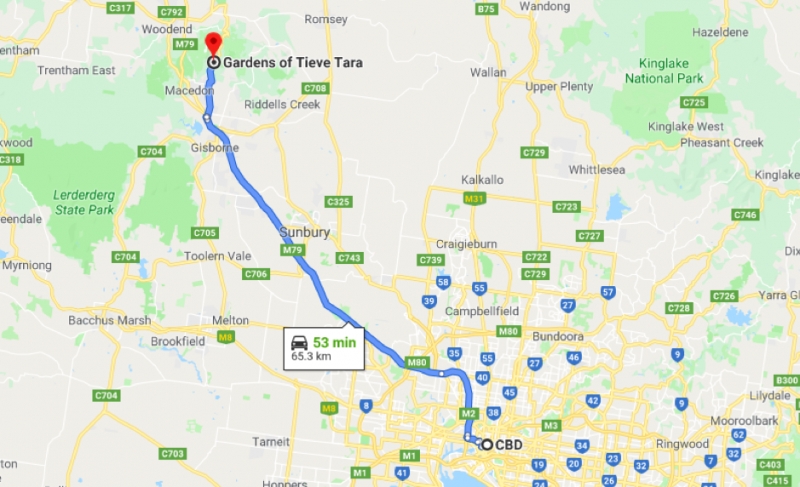 After taking in the dazzling energy of the Central Business District, you can drive to your last stop at Mount Macedon within an hour. For a quiet place with English-style gardens at Mount Macedon, consider staying at Braeside Mount Macedon Country Retreat Bed and Breakfast. 
Day 5: Mount Macedon → Melbourne 
You're almost at the end of your road trip! Pat yourself on the back for a safe journey so far, before making your way to your next stop at the Gardens of Tieve Tara, which is just a three minute-drive away from your bed and breakfast. 
Gardens of Tieve Tara 
No matter where you go, this hideaway in Mount Macedon invigorates your senses with its panoramic views. You can admire the lovely reflections of century-old trees in the lake, where wild ducks and Toulouse geese can be found swimming peacefully. 
Tieve Tara opens its gates to the public from 1 Sep – 30 Nov 2019, an ideal period to behold the davidia and dogwood trees in full bloom. 
With extra time on your hands, you might also want to check out Hanging Rock for impressive rock formations and majestic views.
Address: 751 Mount Macedon Road, Mount Macedon, VIC 3441, Australia
Opening hours: 10am – 4pm on weekdays; 10.30am – 4.30pm on weekends and holidays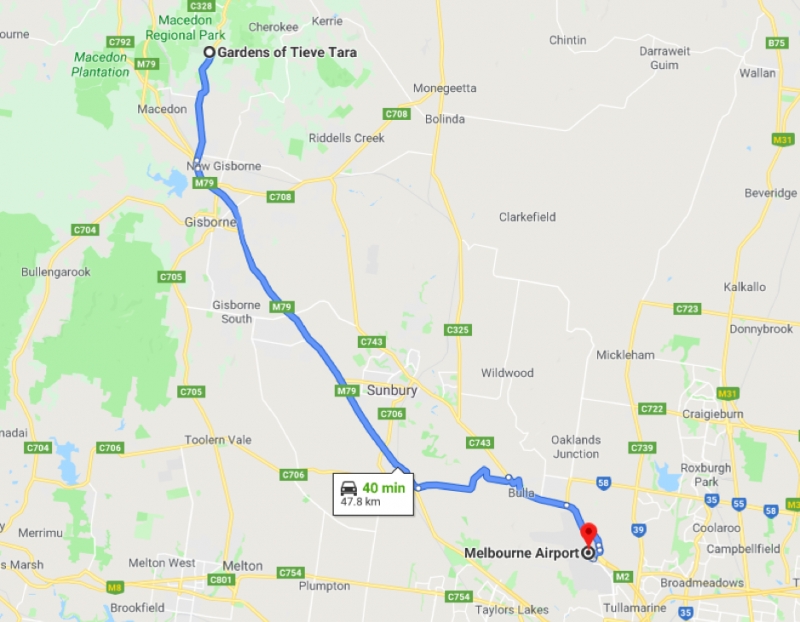 Finally, it's time to drive back to Melbourne Airport for your flight back home! 
Now that you have everything you need to book your flights, reserve accommodations, and rent a car, you're all set for your scenic road trip outside of Melbourne. 
Whether you're travelling with friends or family, setting out on a road trip doesn't have to be stressful. By following this self-drive road trip itinerary, you can experience the hidden gems of Victoria at your own pace. 
Also read: 14 Places & Activities in Melbourne & Its Surrounds You Can UnDiscover in 2019
If you know any highlights we may have driven past on our road trip, share your photos and tag us on IG: @tripzillamag. We'd love to see your travels! 
---
Brought to you by CheapTickets.sg and Visit Victoria.