If your favourite pastime includes searching for cafes to chill out at and sipping on a good cup of coffee, then the Land Down Under should definitely be on your travel bucket list. Known for its coffee culture that has synonymously blended with their way of life, Australia is the perfect vacation destination for those who just want some time off to unwind and recharge.
And what better way to do so than at the plethora of quaint cafes and little, independent coffee shops that you'll find almost anywhere in this region? Australians love their coffee, so it's no surprise that the cafes there are probably some of the best in the world.
Here's a short list of cafes in Sydney and Melbourne to look out for the next time you go down under! Excited already?
Cafés in Sydney
1. Cornersmith
Located in a rustic three-story, brick-walled building in Sydney's Inner West, Cornersmith Marrickville is where you can stroll in for fresh cups of coffee and breakfast in the morning or unwind with dinner and drinks when night falls.
Come in for a delicious fusion brunch of okonomiyaki with poached egg that will help you start the day right or for a slice of freshly-baked Lemon Drizzle Cake at teatime. Do take note that like most coffee shops in Aussie, Cornersmith offers a seasonal menu that serves up different offerings and changes according to what ingredients are in season. With a firm belief in ethical food production, sustainable business practice and community engagement, Cornersmith is one of those cafes where there's always something brewing (and we're not talking about just coffee!) Why not sign up for their workshops and pick up a new cooking skill (or two!)?
Address:
Annandale: 88 View St, Annandale
2. Bread & Circus Wholefoods Canteen
Step into the charming Bread & Circus Canteen and you'll find yourself in a cosy, rustically-furnished space – complete with wooden tables and seats, and red brick pillars. This homey space is perfect for people-watching and the slow savouring of a mug of fresh brew! Not a fan of coffee? Have a glass of cold-pressed juice, a smoothie or take your pick from a list of fine teas that they have, with options like organic lemongrass and ginger chai, and moroccan mint tea.
As for food, you can look forward to noshing on scrumptious sweet or savoury breakfast offerings such as summer on toast (goats chevre, seasonal tomatoes, fresh herbs, chilli flakes and lime) and toast with avocado and fresh tomato, or caramelised lemony banana pancakes and spiced banana bread. How mouthwatering does that sound? The cafe also has a light lunch menu with items such as hearty soups, salad bowls and sandwich boxes.
Address: 21 Fountain Street Alexandria
Website: http://breadandcircus.com.au
3. The Commons Local Eating House
The Commons Local Eating House is a cosy, chic dining space with wooden tables and decorated with lots of potted plants which contribute to the laid back, natural aesthetic of the cafe. This cafe prides itself in serving up food that is made from ethically-sourced produce as well as supporting local artisan food makers as much as possible. You can expect nothing but quality and freshness on your plate.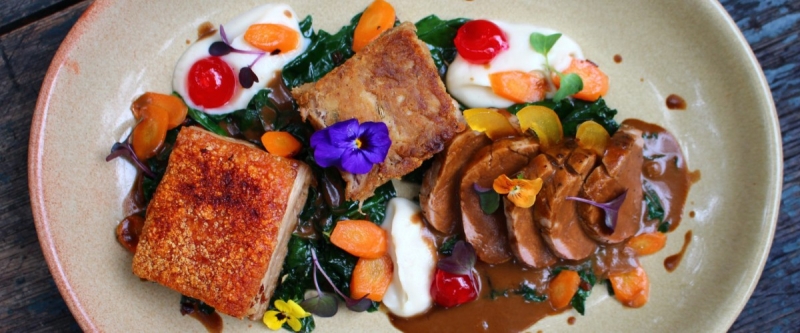 Indulge in a good meal no matter what time you visit – this cafe has a Day Menu, Dinner Menu and a Seasonal Set Menu. Settle for a satisfying brunch plate if you're stopping by in the morning or nibble on starters like mushroom and smoked provola arancini or spinach and ricotta naked dumplings before going on to fresh pappardelle, port lincoln mussels or a seasonal farmhouse risotto as your main! There are also vegetarian options available such as beetroot lasagna, veggie burger and carrot, almond and rosemary vegan soup.
They also have Downtown Bar under their dining room, which comes alive as the sun goes down – go for good music and enjoy their signature cocktails and beers!
Address: 32 Burton St. Darlinghurst
Website: http://www.thecommons.com.au
Cafe-hopping means you get to try out lots of good food, but you might soon realise that you've spent all your cash on avo toast and soy lattes! Finding a good money-changer around the neighbourhood can be such a hassle, plus the exchange rates might be far from ideal.
Well, guess what? Solve this problem simply by opening a DBS Multi-Currency Account (MCA). With an MCA, you won't have to pay any foreign exchange fees. Plus, you get to buy currencies at your preferred rate when the exchange rates fall, and pay directly in that currency using your DBS Visa Debit card.
We'll show you how it works:

STEP 1: Keep a lookout for the best time to exchange your currency

Keep your eye on the exchange rates of the Australian Dollar and wait until its value drops to your preferred rate before exchanging your Singapore Dollar for the Australian Dollar.
Tip: Once you've planned out where you're headed to, you can also set up a FX Rate Alert on the latest DBS/POSB digibank app, to get notifications when your preferred rate is met. Simply log in to digibank app > Select 'Transfer' on the menu > FX Rate Alert

On top of the Australian Dollar, your MCA account also covers these other foreign currencies: British Pound, Euro, Canadian Dollar, Hong Kong Dollar, New Zealand Dollar, Norwegian Kroner, Japanese Yen, Swedish Kroner, Thai Baht and US Dollar.

STEP 2: Transfer funds into your MCA to secure your desired rates

Don't forget to transfer funds into your MCA so as to lock in your desired rates. Your exchange rate will be locked in at the time of Funds Transfer, and will not be subject to any future fluctuating market rates.

STEP 3: Whip out your DBS Visa Debit Card and you're ready to go!

If you're a new DBS/POSB customer, every new MCA account comes bundled with a complementary DBS Visa Debit Card. With this card, you will be able to make cashless transactions in Australia on the go.
Sounds convenient, doesn't it? The MCA is applicable in most countries that accept the major foreign currencies, making exploring Down Under and the rest of the world a breeze!
4. Wolfe and Co.
Wolfe and Co. is more than a cafe – it's an Instagram paradise. Their All Day Menu includes dishes that sound simply delightful and delicious, you'll be spoilt for choice when trying to decide on your order. From their signature Wolfe's Waffles (house buttermilk waffles, vanilla peaches, milk caramel and cashew popcorn brittle) to Summer Avocado (smashed avocado, heirloom tomato, beetroot textures, sourdough), every dish certainly sounds and looks like a dream. Embellished with generous sprinklings of bright berries and edible flowers, these dishes are truly a feast for both your eyes and tummy too.
Desserts and cakes are also available and on a seasonal rotation so check out what they have for the day when you come in. Even their coffees are darling to look at so make sure to get a good shot of your latte art for the 'gram before you take a sip!
Address: 538 Old Northern Road, Dural
Website: http://www.wolfeandco.com.au
5. The Bower Restaurant
The Bower Restaurant is located by Cabbage Tree Bay, and right in front of the sparkling blue ocean. It is owned and operated by a husband and wife team who aim to use the freshest ingredients available from both organic and local growers in the food they serve. With good food and a view like this, you could bask in the relaxing ambience forever, just listening to the sound of the waves lapping lazily while you sip away on a latte.
Indulge in a breakfast burger piled to the brim with double bacon, fried egg, avocado and gruyere or the classic eggs dish – poached eggs on sourdough with bacon and avo. If you're willing to turn your breakfast up a notch, go for a morning tipple and pick from their selection of fun breakfast cocktails like seaside spritz or a plum and peach bellini!
Address: 7 Marine Parade, Manly
Website: https://www.thebowerrestaurant.com.au
6. Sydney Fish Market
Another great place for fresh and delectable seafood would be none other than Sydney Fish Market! Sydney Fish Market just so happens to be the largest market of its kind in the Southern Hemisphere, as well as the third-largest seafood wet market in the entire world! A visit to Sydney definitely warrants a trip here to take in the sights and the sounds so you might as well stop here for lunch too.
Choose from a variety of different restaurants and cafes lined up by the boardwalk and order up the freshest catch for an affordable, yet indulgent seafood lunch that you'll never forget.
Address: Bank St & Pyrmont Bridge Road
Website: http://www.sydneyfishmarket.com.au
Cafés in Melbourne
7. Glovers Station
You'll easily find cafes in Melbourne, dotting the laneways and arcades. The hipster capital of Victoria definitely won't let you down especially when it comes to finding a good cuppa. First on our list is Glovers Station! With its wooden touches and brick walls, this cafe has really given the former abandoned service station a new lease of life.
Swing by for a brisket benedict which switches things up from the usual eggs benny or for a freshly poached ocean trout that's served with quinoa and avocado puree. Vegans won't be left out here as there are also dishes like the summer salad and vegan poke bowl. And as if the mains don't sound mouth-watering enough, this place serves up equally dreamy sweets such as ambrosia waffles (with fresh fruit and white chocolate sauce), pearl & stone fruits (sago, vanilla bean custard mandarin, pistachio dukkah and raspberry & rose panna cotta.
Address:
258  Glen Eira Rd, Elsternwick
8. Industry Beans
For those who take their beans very seriously, Industry Beans is a good place to kick back, relax, and appreciate a good cup of coffee. The team behind Industry Beans actually started out roasting coffee for themselves in a tiny garage, before moving on to set up their own cafe, brew bar and coffee roastery. Every cup comes from quality coffee beans that are roasted daily – this is a cuppa that you will remember for a long time to come.
If you thought their coffee sounded impressive, wait till you check out their food menu which includes gourmet items like coffee rubbed wagyu burger, porcini egg, and cinnamon dusted brioche along with the usual breakfast staples like acai oats and avocado smash.
If you enjoyed your brew and would like to take a packet of their coffee beans home with you – good news! You can purchase them in-store or online, and they even offer international shipping as well.
Address:
3/62 Rose St, Fitzroy
9. Matcha Mylkbar
If you a lover of all things matcha – make a beeline for Matcha Mylkbar, which is Australia's first specialty matcha cafe! Located by the beach at St. Kilda, this clean, minimalistic, black-and-white themed cafe specialises in all things green tea and other healthy, plant-based eats (hence, suitable for vegans).
Here you'll find a range of lattes in rainbow hues – with choices like smurf latte (a magical blue latte made with blue algae and coconut mylk) to creamy pink beetroot latte, purple peanut butter latte, turmeric latte, cacao latte, and apple pie latte – you will find that all of them are just too pretty to drink! Aside from matcha latte (duh), there are also other matcha creations such as matcha made in heaven pancakes and the matcha burger. Other vegan eats include soba and veggie bowls as well as vegan eggs (made from plant-based ingredients) dishes.
Every dish and beverage is served in bright colours and hues, making it the perfect cafe for Instagrammers to visit as well. They even have an Instagram prop corner stocked with a fresh marble tile, beauty light, letter board, marble coasters and a cactus to help you achieve your desired photo for the 'gram! How #aesthetic is that?
Address: 72 Acland St (corner Carlisle St)
Website: http://www.matchamylkbar.com
Can't wait to try out all these cafes in Sydney and Melbourne? Well, if you think you might become a frequent flyer to Australia (or anywhere in the world), why not
apply for a DBS Altitude Card
? Enjoy 3 miles/S$1 spent on online flight & hotel transactions (capped at S$5,000 per month), 2 miles/S$1 spent overseas (in foreign currency), and 1.2 miles/S$1 spent locally.
And the best part? These miles don't expire! You can take your time in redeeming them as and when you like. So whenever you spend, you're actually saving up for your next trip! Sign up for DBS Altitude Card today!
10. Flipboard Cafe
Nestled in the shop-front window of Brolly Studios and Bennetts Lane Jazz Club is Flipboard Cafe, a multi-level nook entirely furnished with wood surfaces – from wooden counters to the tables, chairs and walls, and flooring too.
Come in for afternoon tea (or coffee), and grab some pastries or sandwiches. With daily offerings like muffins, croissants, and delicious wraps and hand-cut sandwiches stuffed with fillings like roast chicken, chive and avocado, roast turkey and cranberry and smoked salmon with cream cheese. If you're feeling peckish and looking for a spot to just chill out, Flipboard Cafe is the place to be.
Address:
72 Acland St (corner Carlisle St)
11. Operator 25
Operator 25 is a uber cool coffee joint that's in a refurbished early 1900s building which housed Melbourne's first switchboard. True to its origins, the space is telephone-themed, and you'll find playful signs at every corner of the cafe with slogans like "Call me maybe". This could be a good place to make a new friend and maybe… use that as a pick-up line?
Operator 25 dishes up Asian-fusion eats along with the usual cafe staples, so expect to find kaya french toast (french toast with coconut spread), asian style omelette (with prawns, minced chicken and vietnamese mint) for breakfast and five-spice duck leg and balinese pork burger come lunchtime. For drinks, those willing to venture into something more unconventional can even try a kaya matcha latte, an avocado coffee (avocado smoothie, espresso, chocolate sauce with vanilla ice cream) or iced peanutella (peanut butter, Nutella and chocolate milk, with banana foam and popping candy)!
Address:
25 Wills St, Melbourne
12. Denis the Menace
This beautifully-designed and playfully-named cafe, Denis the Menace, is located in the heart of the suburb of Cremorne. Housed in a warehouse and furnished with furniture made out of reclaimed timber, Denis the Menace is a fun, open space for quiet chats and catch-ups, or to just relax and people watch.
As a cafe that covers breakfast, lunch and everything in-between, Denis the Menace offers menu items your usual breakfast must-haves such as big brekky and eggs benedict as well as some dishes with a Japanese twist like watashi wa denis (rolled omelette, cured salmon, avocado, shitake mushrooms, sesame, seaweed and ginger miso sauce) and don katsu (crumbed chicken breast on coconut rice topped with Katsu curry sauce and mixed pickled veggies).
Address: 106-108 Chestnut St, Richmond
Website: http://www.denisthemenace.com.au
Salivating already? No matter whether you're looking for a hearty brunch or feeling peckish and craving for a snack, just turn round the corner and you're bound to find a joint that serves up a soothing cup of coffee along with good eats. After all, we've listed only 12 out of the tons of cafes in Australia that are just waiting to be discovered. So go forth, cafe-hoppers, get ready to chill out, explore and enjoy!
P.S. Don't forget to download the DBS Lifestyle app which lets you activate your card's magnetic stripe! It's just so convenient. Simply download the app, look for Card Services under the More tab, and select your card. It'll automatically be activated when you travel, and de-activated when you're home. Download now!
---
Brought to you by DBS.
DEPOSIT INSURANCE SCHEME (from 1 Apr 2019)
Singapore dollar deposits of non-bank depositors and monies and deposits denominated in Singapore dollars under the Supplementary Retirement Scheme are insured by the Singapore Deposit Insurance Corporation, for up to S$75,000 in aggregate per depositor per Scheme member by law. Monies and deposits denominated in Singapore dollars under the CPF Investment Scheme and CPF Retirement Sum Scheme are aggregated and separately insured up to S$75,000 for each depositor per Scheme member. Foreign currency deposits, dual currency investments, structured deposits and other investment products are not insured.