We'll be honest — Western Australia (WA), or even just the capital of Perth, isn't exactly the first port of call for most travellers itching to visit Australia. Why visit Western Australia when you have other fun cities to check out, like bustling Sydney and sunny Gold Coast, right? Well, that's where you're wrong. 
With a bit of digging, you'll find that Western Australia is a treasure trove of hidden gems. Don't believe us? Read on to discover our favourite facts about Perth and Western Australia — some of which might have you dropping your jaw!
Enjoy up to 20% off your Agoda hotel bookings in Western Australia & beyond!
From now till 31 December 2019, OCBC Cardholders get to enjoy 20% off accommodation bookings in Western Australia and 6% off elsewhere in the world.
Offer applicable only for a stay period between now and 30 September 2020.
Get 20% off Western Australia hotels
*Limited to first 500 transactions. T&Cs apply.
1. Surprise, surprise: it boasts of the largest number of purebred camels in the world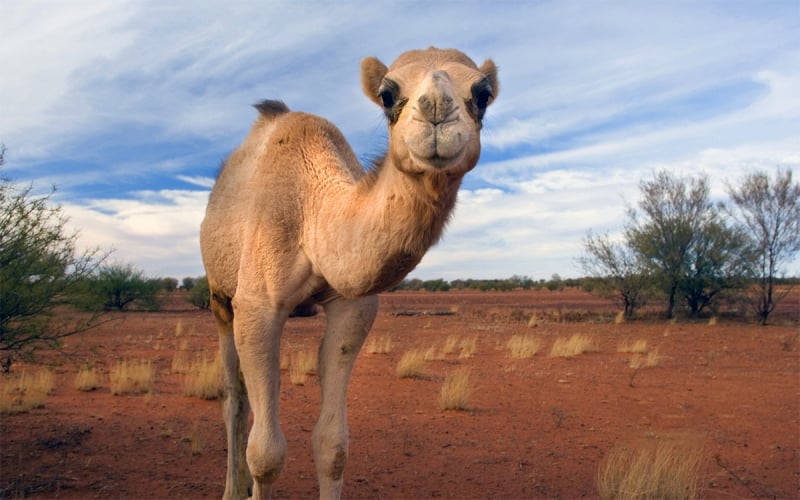 Did you know that you can actually go for camel rides in Western Australia? In fact, the state exports camels to the Middle East. Settlers hailing from the Canary Islands first introduced camels to the country back in the 1840s. Since they have no natural predators, the populations of camels have skyrocketed. 
2. Perth is only 5 hours away from Singapore!
You read that right, Perth is just a 5-hour direct flight from Singapore, making it an ideal long weekend holiday destination. In fact, the distance between Perth and Singapore is almost equal to that between Perth and its own national capital (4h35min)!
There is an insatiable array of things to sink your teeth into in Perth. Do not be fooled by its skyscrapers; it might be a major metropolis, but the city has the perfect balance of urbanity and nature. It's home to Kings Park, one of the world's biggest urban parks (bigger than New York City's Central Park, in fact), located right in the heart of Perth. And if you love your vino, the breathtaking vineyards of Swan Valley await you.
3. There's an entire community dedicated to garden gnomes
Yes, you read that right. In the south of Western Australia, there's a place called Gnomesville, located just off Ferguson Valley (1.5 hours away from Perth). Gnomesville is home to over 5,000 gnomes, and the number continues to grow even today.
Want to partake in the mischief? You too can add your own gnome to the community! Just make sure that your garden gnome ornament has a sign stating where it's from (ain't no better time to rep your home country!) and any other relevant information.
4. It's the only place where you can find the happiest animal on Earth (in the wild)
That's right, we're talking about the quokka! The smiley little marsupial is endemic to only Western Australia, and you can mostly find them on Rottnest Island. On the island west of Fremantle, quokkas have no natural predators, which is frankly a relief — we can't bear the thought of anyone (or anything) hurting these cheery critters! It's a popular day trip for many people visiting Perth, so don't forget to pay these quokkas a visit when you're in Western Australia.
5. You can see Perth from space!
More accurately, you can see the city lights of Perth from space. Back in 1962, astronaut John Glenn said that he was able to spot Perth from space, thanks to the city's street lighting. Because of this, Perth is also known as the "city of lights". Take that, Great Wall of China!
 Discover the magic of Western Australia's capital city up-close!
Exploring Perth and the rest of Western Australia? From now till 31 December 2019, enjoy 20% off accommodation bookings on Agoda when you book with your OCBC Card*!
Applicable for a stay period between now and 30 September 2020.
*Offer is limited to first 500 transactions. T&Cs apply.
6. The Great Emu War once took place in Western Australia (spoiler alert: the emus won)
Did you know that Australian government once tried to wage war on emus? Even better, did you know that the emus won the war? The Great Emu War came about because the Australian government had to find employment and housing for the returning veterans after the First World War. The solution was to offer money and a piece of land in Western Australia. 
The only catch? The place was rife with hordes of emus — the giant birds took a fancy to devouring crops. This led to a "war" waged by the veterans-turned-farmers on the emus, of which the latter emerged victorious. Go figure. 
7. Perth is the most isolated city in the world
To put it into perspective, the closest city, Adelaide, is a whole 2,200 kilometres away. It's also closer to Jakarta than it is to the capital of Australia, Canberra. Wild, right? Western Australia boasts over 12,500 kilometres of coastline, which means you won't be fighting for a spot on the beach any time soon. It's certainly a welcome change from the overcrowded beaches of touristy, tropical destinations like Bali.
8. The Busselton Jetty is the longest wooden jetty in the Southern Hemisphere
At over 1,800m long, the jetty lets you walk almost two kilometres into beautiful waters of Geographe Bay! This journey should take you roughly 25 minutes each way. And it's certainly worth the walk: the fresh ocean air makes for an enjoyable stroll and you'll even stumble upon local fishermen fishing along the way.
Make a date at the jetty's fascinating Underwater Observatory after, where you'll descend 8 metres below sea level to discover the bay's marine life and tropical corals. And if you're feeling peckish, there are heaps of cafes and family-friendly restaurants for your picking. Fun fact: the jetty once even had a waterslide! Unfortunately, it has since closed down in 2011.
9. It's home to the world's largest rock
Move over, Uluru — the largest rock formation in Australia (and the world, actually) resides in Western Australia. Named Mount Augustus, it's twice the size of its more famous cousin, Uluru. The local Wajarri people call Mount Augustus "Burringurrah". The giant rock is what's known as a monocline, which means it has step-like folds. So, if size matters to you, pay Mount Augustus a visit ASAP.
10. You can marvel at stunning naturally pink lakes up close!
No need for fancy filters here — Western Australia is home to a handful of lakes that are naturally pink. The stunning Hutt Lagoon, nestled in between Port Gregory and Kalbarri is arguably one of Western Australia's world-famous landmarks. 
This bright bubblegum pink hued lake sometimes even transitions into a shade of lilac and, on occasions, a vivid red. Following the Indian Ocean Drive from Perth, you can self-drive and reach Hutt Lagoon easily under six hours. If you're arriving from Kalbarri, you'll even catch your first sight of the lagoon within just half an hour!
There are a handful of spots along the drive you can stop at and marvel at the extraordinary view. The postcard-perfect village of Port Gregory, for one, is a favourite among many. Grab a quick bite here and spend the night at one of its many farmstays and cottages. (There's even a caravan park!) And for those lucky enough to visit during summer, witness the entire scenic countryside become blanketed with  beautiful wildflowers. 
#TripZillaTip: The best time to visit Hutt Lagoon? Visit during mid-morning or right before sunset and watch the magnificent colours transform right before your eyes. 
11. Perth has the highest number of self-made millionaires per capita
Besides that, Western Australia also has the following: the country's largest gold mine, Australia's oldest operating gold bullion mint, the world's largest producer of pearls, and the world's largest diamond producers by volume. Who knows, maybe you'll strike it rich after visiting Western Australia!
12. There's a separate principality 6 hours from Perth
Ever just throw your hands up in frustration and decide to set up your own kingdom? No? Well, that's what Leonard Casley did. Back in 1969, the Casley family owned 9,900 hectares of wheat ready to harvest. Unfortunately for them, the government issued quotas allowing only 99 acres of wheat to be sold. This, of course, would have led to severe financial losses for the family.
Fed up with the government, the Casleys decided to declare their independence from the Commonwealth of Australia and set up their own sovereign state. And thus, the Hutt River Province became a Principality. The Principality even has its own royalty, passports, stamps and currency!
With this list of 12 fascinating facts about Western Australia, have we piqued your interest yet? There are lots more nuggets out there, but we won't spoil you any further. Head over to Western Australia to uncover them for yourself!
 Traveling to Western Australia & beyond? Enjoy up to 20% off your hotel bookings on Agoda!
From now till 31 December 2019, OCBC Cardholders get to enjoy 20% off accommodation bookings in Western Australia and 6% off elsewhere in the world. Offer is applicable only for a stay period between now and 30 September 2020.
*Limited to first 500 transactions. T&Cs apply.
Get 20% off your stay in Western Australia
Don't have an OCBC Card? Sign up now! More information such as terms and conditions, fees and charges can be found here.
---
This post was brought to you by OCBC Cards.