On 15 Dec 2020, Marriott International Asia Pacific launched "Your Smile Travels A Thousand Miles" campaign. This campaign celebrates the company's associates and guests' resilience looking back on a tumultuous 2020. Singaporean artist collective, Ripple Root, created its cover piece drawing inspiration from 3,000 smiling faces and heart-warming stories of Marriott International associates and guests collected.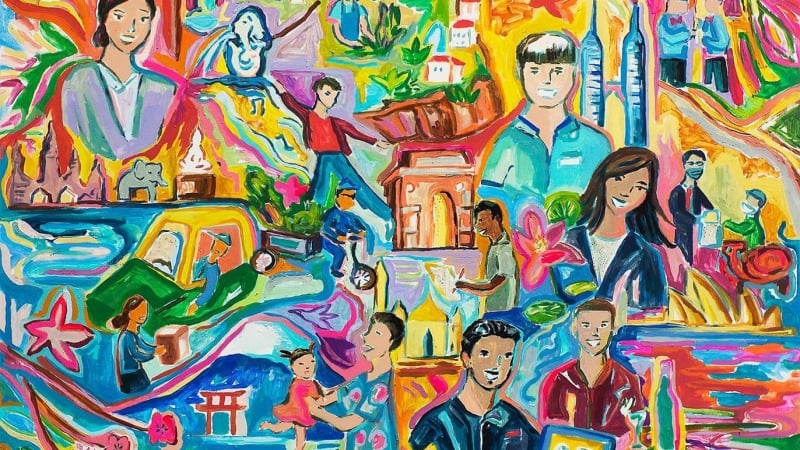 Inspiration behind Marriott International's campaign art piece
Ripple Root's bold and vibrant colours complemented its unique patterns and strokes to produce Marriott International's commissioned piece. Artists behind Ripple Root – Liquan Liew and Estella Ng –"hope to convey the same feeling of hope and warmth, and inspire everyone to stay positive and hopeful for the year ahead." 
The artwork depicts a group of Marriott International associates of diverse backgrounds, yet sharing the same smile which radiates positivity and resilience. Flora and nature surround these figures as symbols of hope for the new year. 
2020 was plagued by COVID-19, and it certainly hasn't been easy on the hospitality business. Nonetheless, Marriott hotels donated essential items including face masks, hand sanitisers and cleaning supplies in the name of support and solidarity. These items reached front-line and medical workers, families and community groups. To date, associates from hotels across Asia Pacific have volunteered over 85,000 hours of their time to serve their communities. Through the Healthcare Hero Rate Program, Marriott International offers special rates at over 100 participating hotels across Asia-Pacific for healthcare professionals to enjoy a well-earned rest while they take time out.
Where you can find it
From 15 Dec 2020 to 6 January 2021, guests and travellers can view the original art piece at JW Marriott Hotel Singapore South Beach. The digital rendition of the artwork will also be on display at selected Marriott International hotels across Asia Pacific.