Is Orchard Road too crowded on weekends? Too far? Too expensive? Never fear, because plenty of shopping malls have been popping up around the average neighbourhood, and the old ones are constantly undergoing revamps. These malls have added features that make them even friendlier to shoppers, such as children's playgrounds and wider corridors to convenience the wheelchair-bound. And with their cheaper rents and larger shop spaces, many bargains can be found here, which just takes the icing on the figurative cake. Here are some of the best neighbourhood malls in Singapore that I've been to!
Also read: 10 Things Every Singaporean Should Do to Feel Like a Tourist in Their Own Country
1. IMM
Short for International Merchandise Mart Mall, IMM is situated in Jurong East, just a short distance away from Jurong East MRT station. After renovation works to expand the shopping space, it is now the largest outlet mall in Singapore, with more than 50 outlet stores. These outlet stores have provisions for everything—fashion, sports, travel, furniture. Famous brands include Agnes b., Coach, Samsonite, Adidas etc.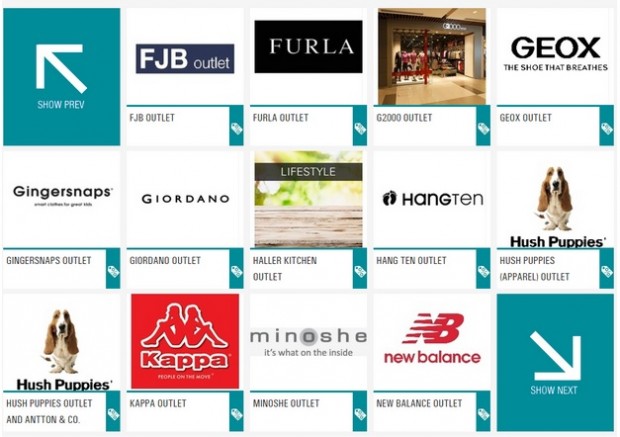 Image credits: IMM
The place is also great for families, as they have a wet AND dry playground for older children on the 3rd level of the mall. There's even a 7-metre tall Tree House!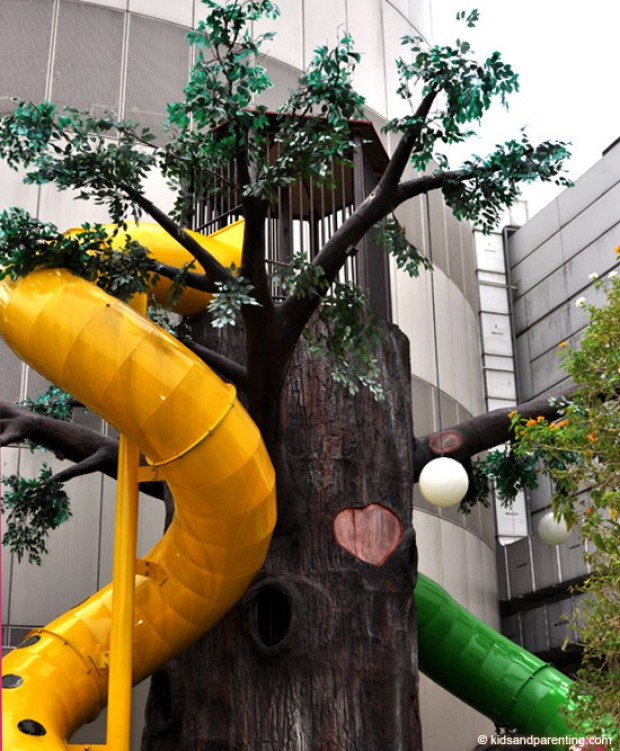 Image credits: Kids & Parenting
Imagine, you can deposit your children here, shop to your heart's content, then retrieve them when you're ready to head home!
For parents with young babies and toddlers, nursing rooms are available, and there are baby strollers that can be borrowed for free. In fact, it is so family-friendly, it has won accolades for it. What's not to like?
2. nex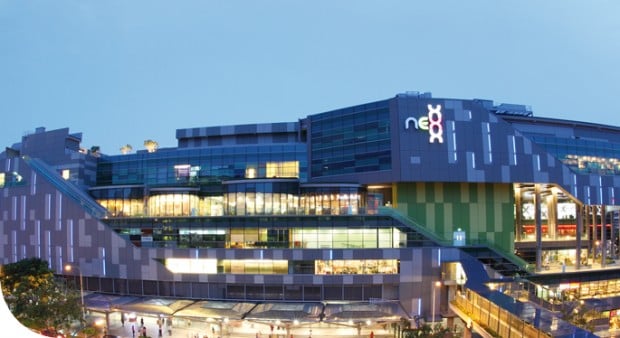 Image credits: Bontanique at Bartley
Dog lovers, you'll definitely want to hear about this. For the first time ever, pet owners can bring their pets shopping! nex is touted as the first pet-friendly mall in Singapore. Shoppers bring their pets into the mall through specially designated lifts and escalators, and these little animals are allowed entrance to specific areas. In the SkyGarden at the rooftop, K9 Park is the first dog park in Singapore built within the confines of a mall.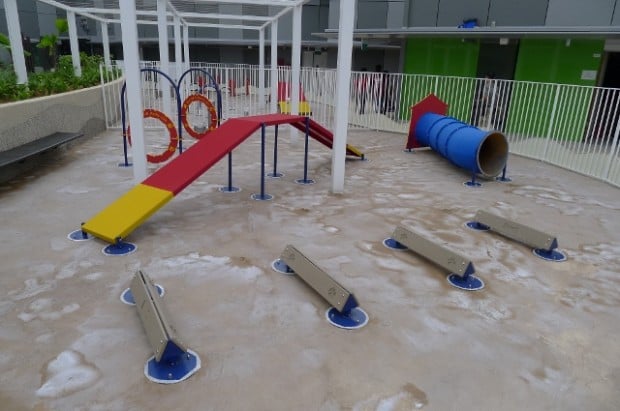 Image credits: Pets Magazine
What's more, dog-owners can now enjoy a cuppa or two with their loyal companions at the DoggieStyle Café situated right at the rooftop!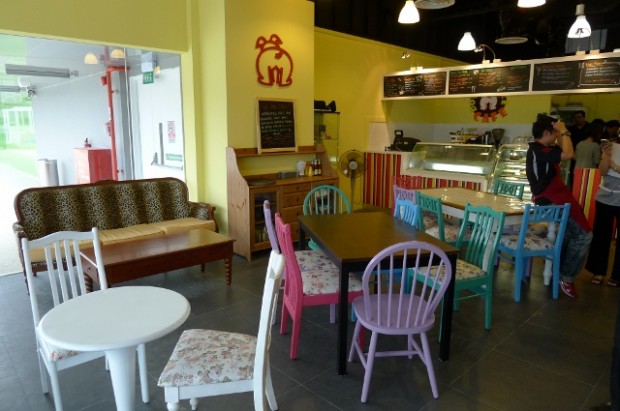 Image credits: Pets Magazine
In addition, similar to IMM, nex also has a children's playground with both dry and wet equipment. Since it is located right next to K9 Park, one can imagine all the chasing, laughter, and barking going on at the open-air rooftop garden!
They've got a wide range of shopping options too. As the biggest mall in the North-East region, it has numerous amenities, such as 24-hour supermarkets and gyms, a library, and the cinema. Global fashion brands can also be found here—H&M, Uniqlo, Sephora, etc.
Integrated with the Serangoon Bus Interchange and Serangoon Interchange MRT station, its accessibility is also a huge plus to friends living in the north-east.
3. City Square Mall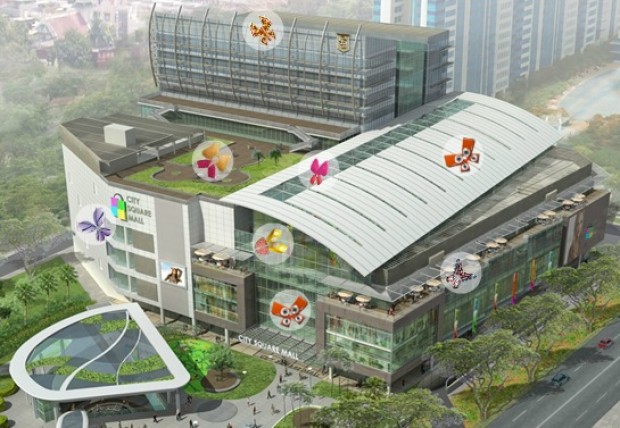 Image credits: City Square Mall
Not only is this shopping mall voted the best suburban shopping mall in 2015, it is also the first eco-mall in Singapore. This means that during the building of this mall, green features were incorporated to make it as energy-efficient and green as possible. As such, the mall is equipped with various green features such as eco-restrooms and designated parking spaces for hybrid cars. It even has its very own urban park, aptly named City Green.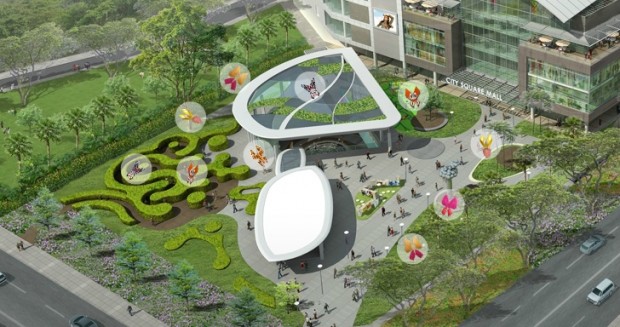 Image credits: City Square Mall
The park aims to provide a learning experience about ecology and the natural environment, to promote caring for the environment and green living, amongst others.
Always wanted to learn aerobics but didn't want to pay the course fees? Then it's probably high time you made your way to City Square Mall. Every Sunday from 9-10 am, families are invited to join in the Family Fun Zumba & Kickboxing at the SkyPark on the 6th level of the mall. All walk-ins are welcome and no pre-registration is needed. Mmmm, imagine working up a sweat and breathing in the fresh air on a bright Sunday morning with your entire family!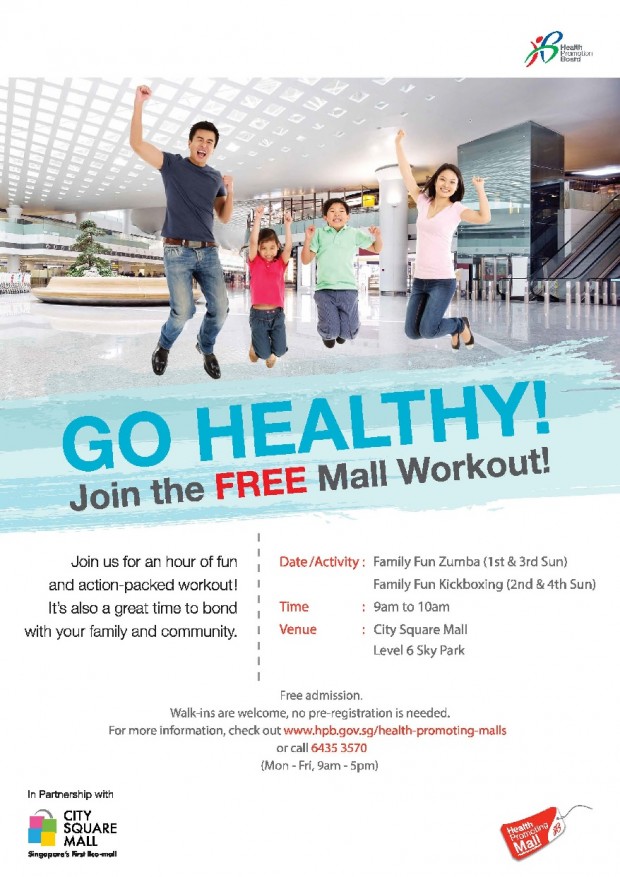 Image credits: City Square Mall
Have things you want to throw but can't bear to because of the good condition they're in? Then why not rent out a flea market booth, and do some charity while you're at it? The mall has a monthly flea market, in which a partial sum of the proceeds from the rental of booths will go towards the Singapore Children's Society, a foundation that aims to bring happiness and aid to children in need. So you get to get rid of old stuff, earn some pocket money, and help a couple of kids. That's killing 3 birds with 1 stone!
They even have goodies for tourists! True to their nature as an eco-mall, the mall is giving away eco-bags to tourists who show their passport together with a printout (attached here for your convenience). So why not grab a free and useful souvenir here from Singapore? Their offer stands till 31st December 2015, so hurry and make your way down now!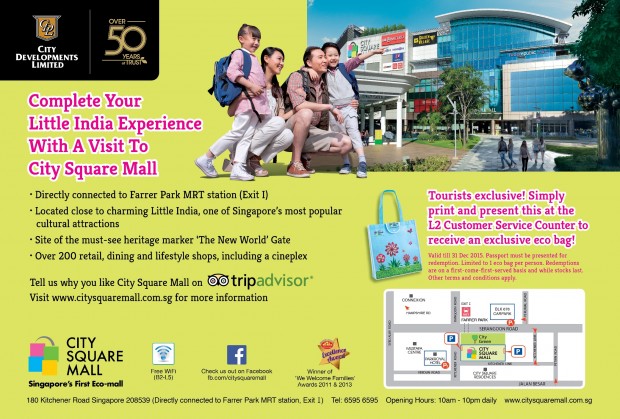 Image credits: City Square Mall
4. Jurong Point
Also making the top 3 best suburban shopping malls is this gem in the far west of Singapore in Jurong. Integrated with both the Boon Lay Bus Interchange and MRT station, it became one of the largest suburban malls in Singapore after its second expansion in 2008. Boasting more than 400 shops, it comprises JP1 and JP2, referring to the original wing and the extended new wing respectively.
With a 24-hour supermarket, departmental stores, and a cinema, it is the meeting place for many students from the nearby schools. So don't be surprised if you see these uniformed kids hanging out at the fast-food restaurants after school, it is practically the only shopping mall around anyway.
Being the only largest shopping mall around, meal time is crunch time for diners, especially for dinner. As such, the mall has a huge array of dining options. It's a foodie's heaven here—156 shops selling food! But what I'd like to emphasise here are their food streets. Specially designed to emulate an iconic area of a certain country, these designated food areas showcase the defining characteristics, as well the restaurants selling their respective cuisines!
To my knowledge, they've currently got food streets named after those in Japan,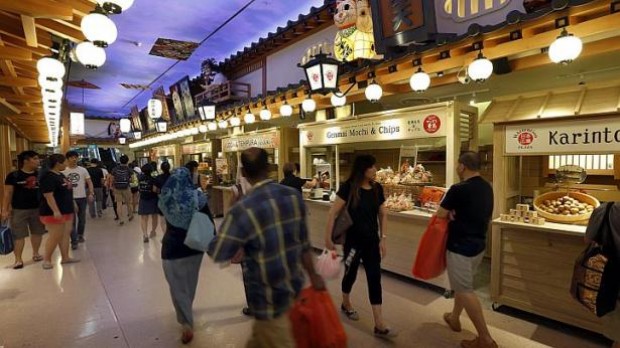 Image credits: The Straits Times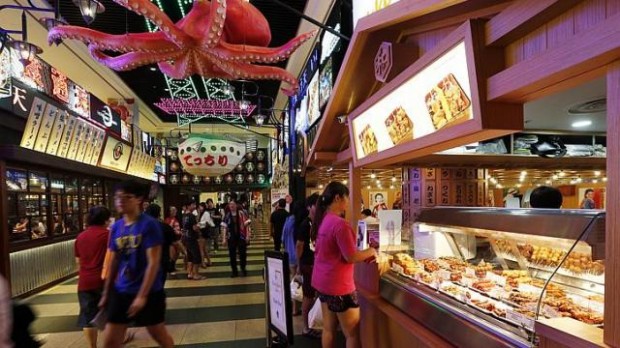 Image credits: The Straits Times
Malaysia,
Image credits: My Life Your Story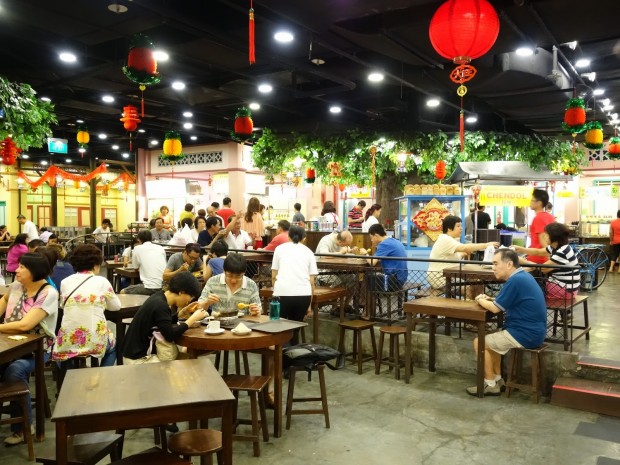 Image credits: PinkyPiggu
Korea,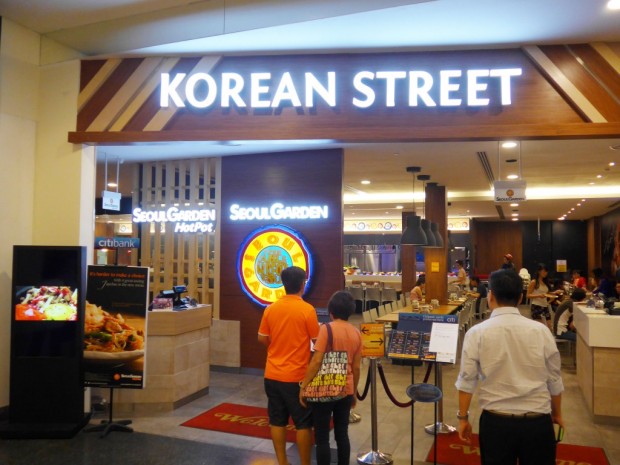 Image credits: Savvi.sg
And their latest addition—Hong Kong.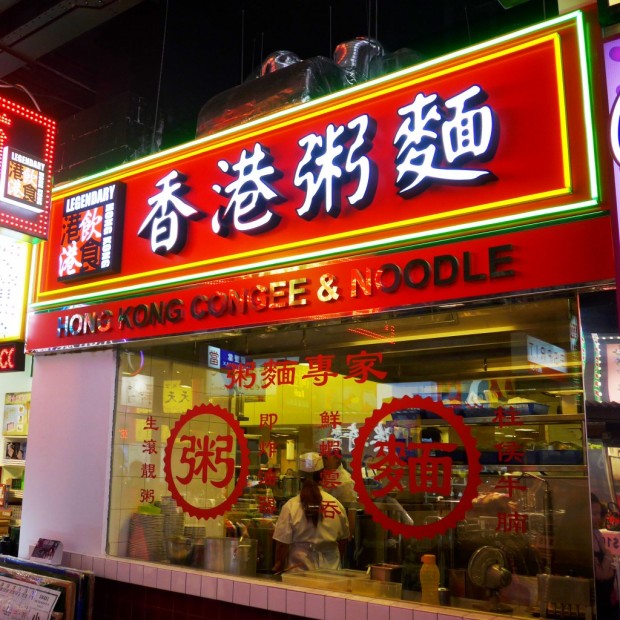 Image credits: Savvi.sg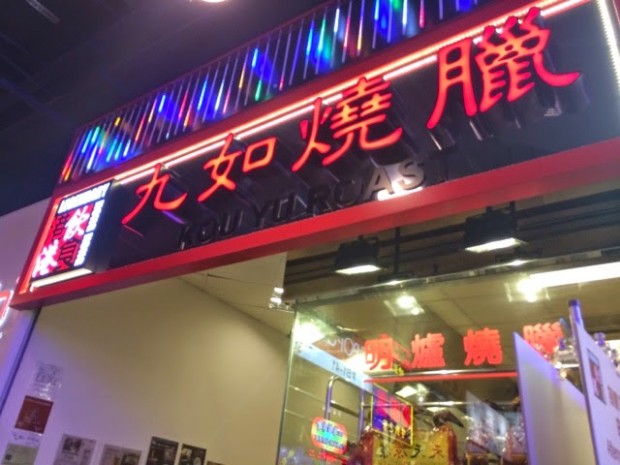 Image credits: Jing Xian
Just imagine, you could literally spend the entire day here, trying out all the Asian food! Breakfast in Malaysia, lunch in Korea, tea in Hong Kong, dinner in Japan, then dessert in Singapore—call it a food tour around Asia, right at your doorstep. A relatively cheaper option then flying all over the place, isn't it? 😛
5. Queensway Shopping Centre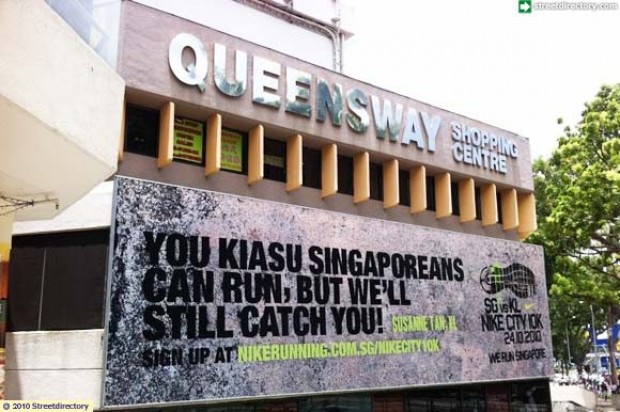 Image credits: Streetdirectory.com
Though old and looking a little worse for wear from the outside, this shopping centre is a favourite haunt of students and sports buffs alike. Why?
At the grand old age of 40 years, the mall is still a hot favourite with locals looking for limited edition sports gear, and customised shirts and jerseys. Looking to restring a racket? Top-of-the-line limited edition sports shoes? A cheaper customised football jersey? Queensway Shopping Centre is your answer to all these needs, and more.
Image credits: Youtube
What about students, you ask? Well, where do you think your class t-shirts were printed? How about those school team jerseys and jackets? That final term project which would have cost you tens of dollars to print in school? Here, of course!
You need never fear you don't get a good bargain—there are more than 150 shops providing all the above services. As long as you have the determination and stamina to hunt them all down, I'm sure you'll get the best deal in the mall.
Its interesting octagonal layout makes for a mystifying yet hilarious shopping experience. I can't recall how many times I've wanted to return to a shop, only to be unable to find it because I didn't take note of the unit number of the shop! I know I'm not the only one either; I've seen many people standing in the middle of the mall, staring up and around them blankly, looking for the shop they want to buy from in vain.
And after your bargain-hunting experience, pop over to IKEA, conveniently located just a street away, for some of those well-deserved meatballs!
6. Tampines 1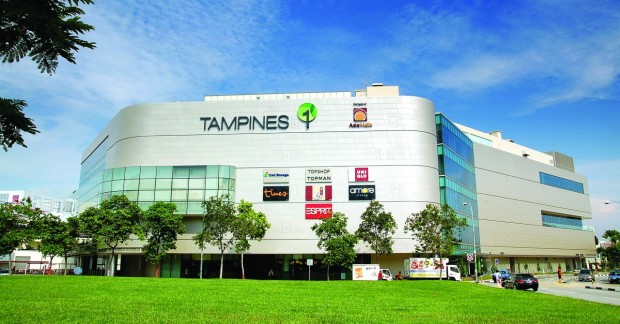 Image credits: Tampines 1
Yes, I know, I've neglected the east-siders. But this is dedicated to you guys! Located right next to Tampines MRT station and Tampines Bus Interchange, it is very accessible for east-siders, and west-siders too. Well, if you're willing to brave the west-east train ride to and fro, and risk butt-ache from the hard train seats. I'm kidding. (Not really, I've tried it. :/)
Anyway, like its west-side counterparts, it has attracted major fashion retailers such as Promod, Uniqlo, and Topshop and Topman, and lifestyle stores such as Daiso. In fact, they were probably the first to convince these brands to open their stores in suburban malls, seeing how Tampines 1 was opened in 2009, much earlier than Jem or Westgate.
Food choices are aplenty here as well. It has a cluster of double-storey quaint cafes and restaurants, a not oft-seen thing in land-scarce Singapore, as well as more mainstream options like Bakerzin, Imperial Treasure Restaurant, and Sushi Tei, to name a few.
What else is new? Nothing much, except for its swimming pool.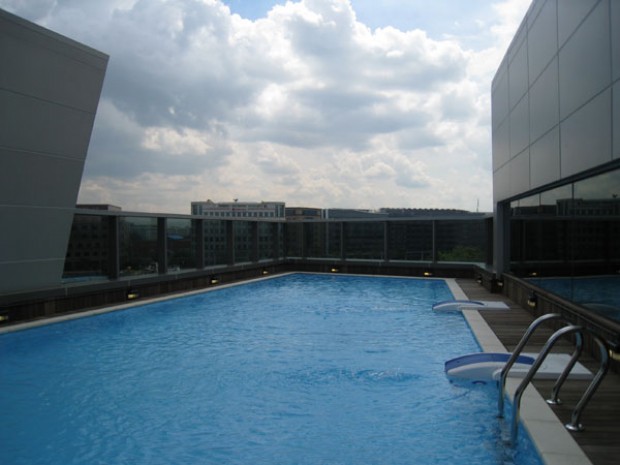 Image credits: Lester Chan
You read right. Thanks to one of their anchor tenants –Amore Living—the mall has its very own dedicated outdoor swimming pool, the only one in Singapore. Now, I'm not sure if they allow the public to enjoy the facilities, but you're welcome to find out, and tell me!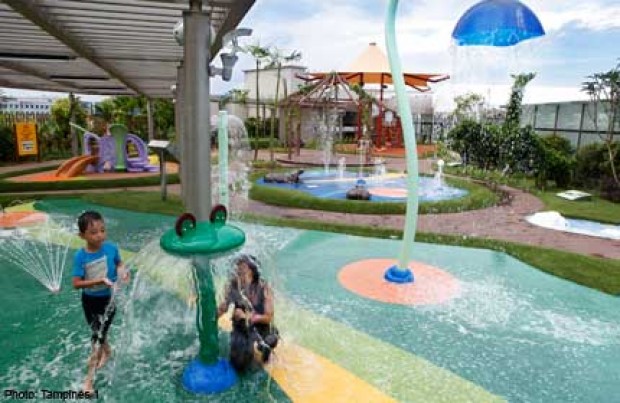 Image credits: AsiaOne
And for families for kids, how can you miss out on the wildlife-themed rooftop water playground? Parents can turn this into an educational trip for your kids, and let them learn more about wildlife conservation in a fun and wet way!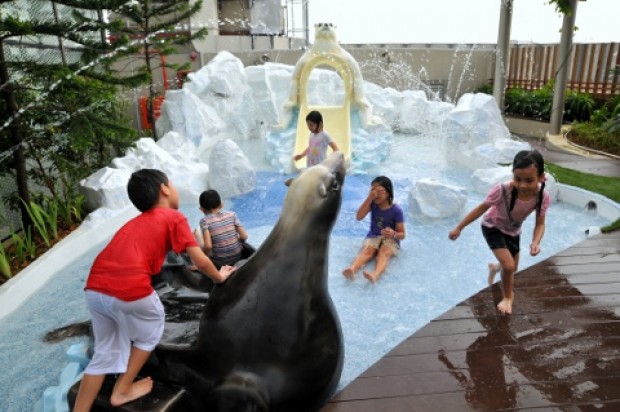 Image credits: The New Age Parents
Okay, I'm going to talk about the next three malls together, since they're situated so close to one another, and together they create an awesome cluster of shopping, eating, and playing. So here goes:
7. JCube
Anyone out there still remembers Jurong Entertainment Centre (JEC)? Yep, that's JCube's predecessor. Previously boasting Singapore's only ice-skating rink, it was eclipsed by Kallang Leisure Park, when the latter also built an indoor rink to rival the likes of JEC. JEC was demolished in 2008 and in its place now stands JCube.
From this: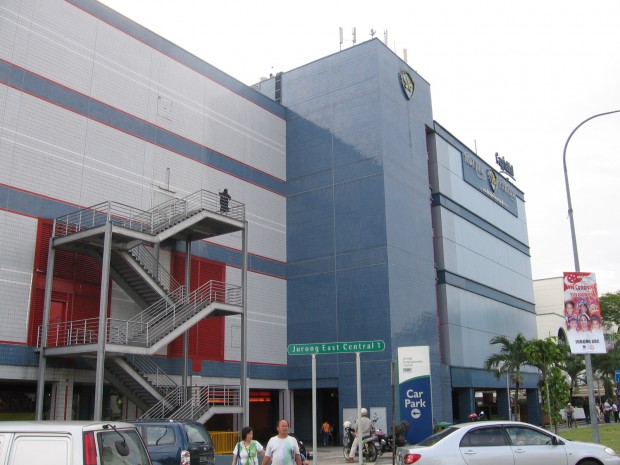 Image credits: OpenBuildings
to this: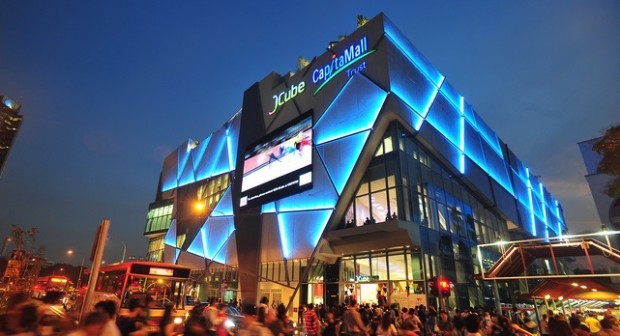 Image credits: Capitaland
Following in its predecessor's footsteps, it houses Singapore's only Olympic-size ice-skating rink, as well as the first IMAX theatre in the residential areas. Because of the ice-skating rink, temperatures in the mall seem to be a few degrees lower than that of other malls, but hey, who's complaining?
A sport that doesn't involve perspiration and the hot sun? I'm there!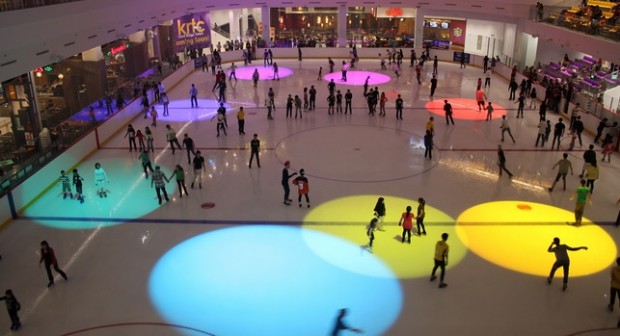 Image credits: Capitaland
Situated a short distance from Jurong East MRT station, it may not enjoy the footfall that its following competitors have, but it does draw a crowd, especially on disco-on-ice nights, held on Fridays and Saturdays.
Budding singers can also hone their skills at Teo Heng KTV Studio, a low-budget karaoke hangout.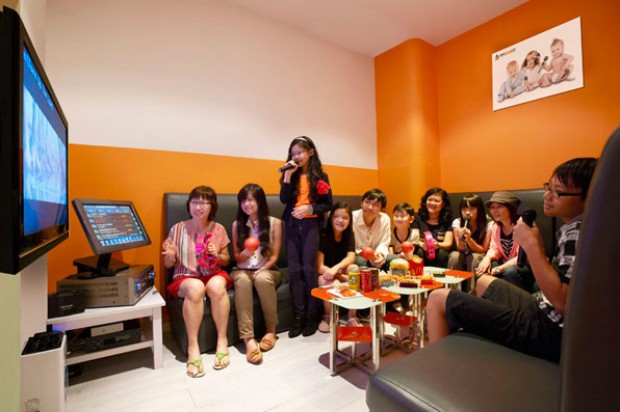 Image credits: The Best Singapore
In its efforts to reinvent itself and attract more youths to the mall, JCube recently launched J.Avenue, a shopping area inspired by the well-known Harajuku and Hongdae shopping districts found in Tokyo and Seoul.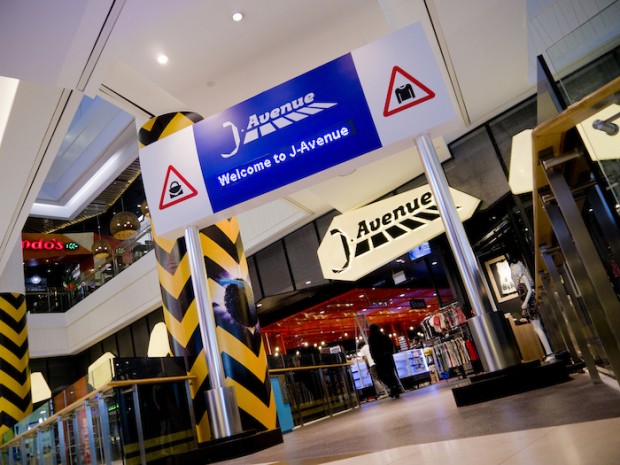 Image credits: Vulcan Post
The shops here mainly focus on fashion apparel and accessories, and since shop leases here are 3 months to a year, offerings are constantly changing. You could return from time to time to hunt for new items and unique pieces! Alternatively, if you happen to be a first-time shop owner or are looking to start your own business, why not try your hand here first?
8. Jem
Directly connected to Jurong East MRT interchange, the mall is a hot favourite with commuters looking to do some shopping or grab a quick bite after work.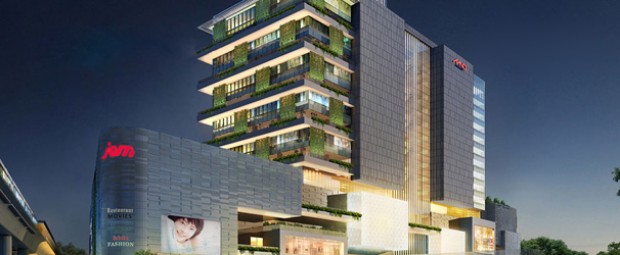 Image credits: Jem
Only opened in the past couple of years, it features many major retailers, such as Robinsons, H&M, etc., for whom it is their first time setting up outlets in suburban Singapore. Other stores include Dorothy Perkins, Uniqlo, ameba, Courts, Marcella, and so on. See, I told you there was no need to go to Orchard Road for your major shopping needs, didn't I?
If there's one thing I admire about mall developers in Singapore, it is how they manage to constantly innovate themselves, work with limited space, and incorporate anything into the design of the malls. I mean, whoever heard of a sheltered marine-themed kids' playground in a mall, and right within a rooftop garden?!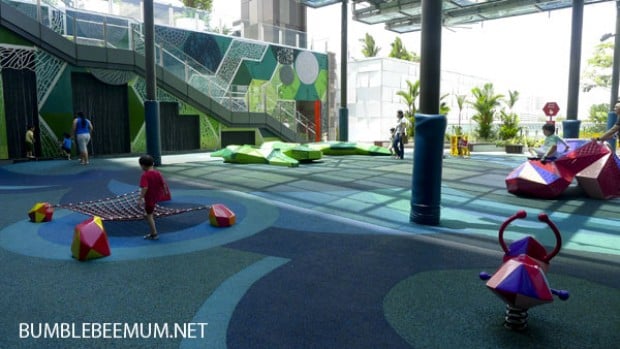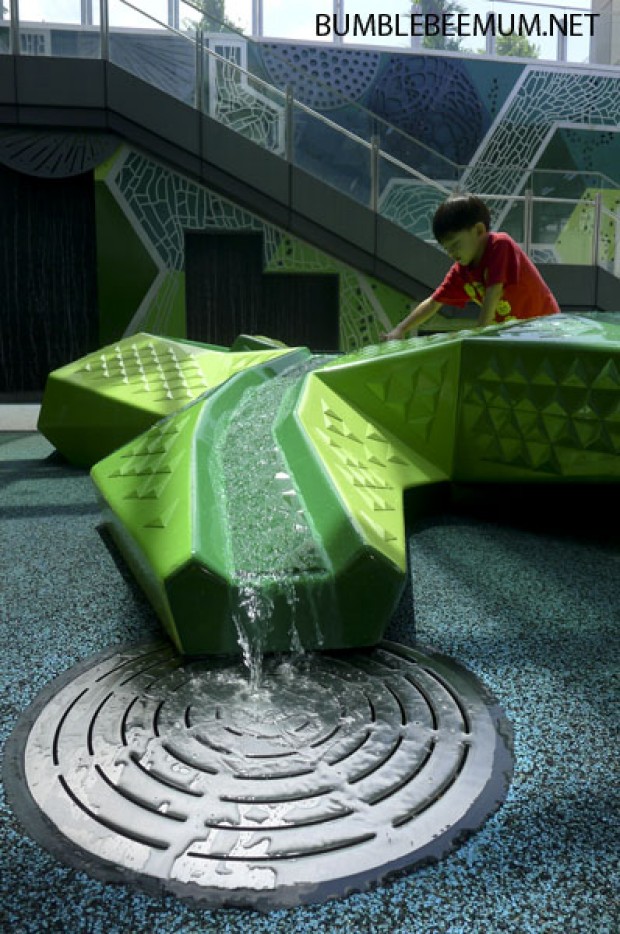 Image credits: BumbleBeeMum
On top of all that, there are green spaces and rooftop gardens tiered across the 5th to 7th floors of the mall. I personally find it a great space to escape from the strong air-conditioning of the mall, whilst admiring the orange glow of the setting sun on Singapore's residential landscape. It's usually quiet enough on weekdays for some much-needed introspective reflection too.
9. Westgate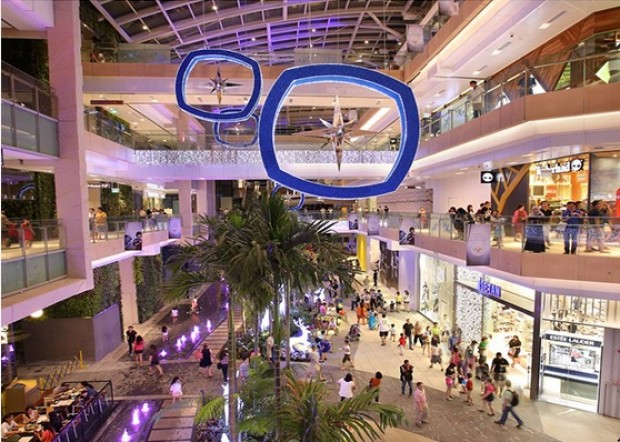 Image credits: Westgate
Westgate completes the cluster of malls of the Jurong East enclave of entertainment options. A unique architectural hybrid that comprises both alfresco and indoor areas, the mall always has plenty of attractive lunch deals, making it a popular choice for office workers at its adjoining office tower and around the area. Like Jem, it has also attracted several brand names to set up outlets here, including the likes of Michelin-starred dim sum eatery Tim Ho Wan, Isetan departmental store, and fashion names such as Braun Büffel and Armani Exchange. Ion of Jurong, maybe?
As with many of the malls on this list, it has provisions for kids while their parents shop to their hearts content. However, when Westgate decides to do something, it goes big, or not at all. Proof of this is the fact that it is home to Singapore's largest thematic outdoor playground in a mall, giving Jem a run for its money.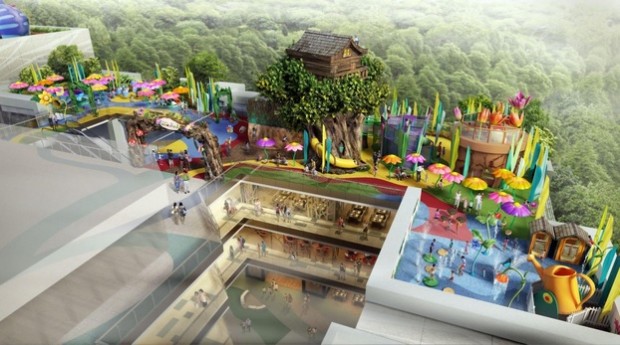 Image credits: Capitaland Mall Asia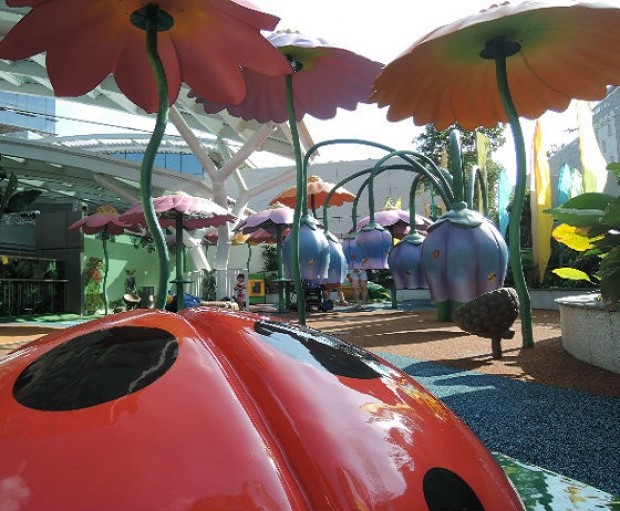 Image credits: Westgate
Open to the public for free, some of the things to look out for in Westgate Wonderland include giant replicas of flora and fauna, a 10-metre tall tree house and a huge watering can that sprays water—very much like an oversized garden, don't you think? Children can experience what it's like to dance among the flowers, à la Jack and the Beanstalk!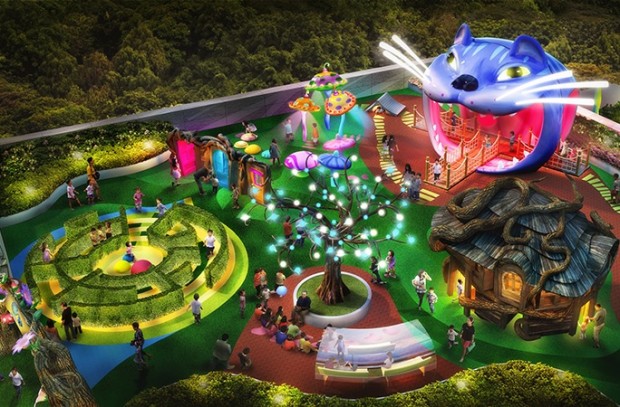 Image credits: Capitaland Mall Asia
And as night falls, the playground is magically brought to life with special sound and lighting effects, turning it into yet another make-believe world in which kids can spend ages, playing hide-and-seek with the shadows, until you holler at them to go home!
10. Causeway Point
For those of you residing in the north, Causeway Point is the place to go to get your shopping fix. The seventh largest shopping mall in Singapore, Causeway Point contains more than 250 shops for you to explore.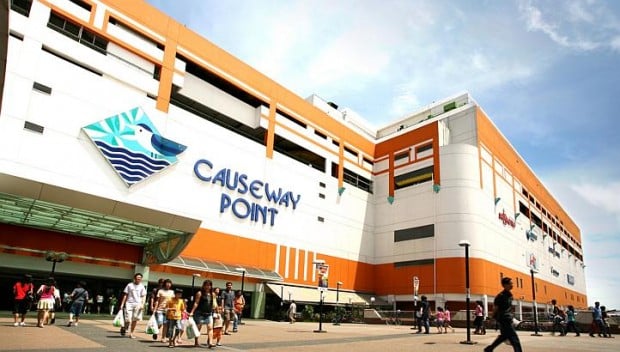 Image credits: Straits Times
With many large retailers like Uniqlo opening outlets in Causeway Point, the north of Singapore is definitely no less satisfactory for the shopaholics among us!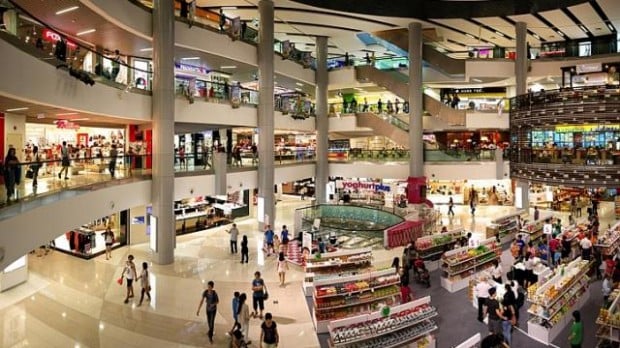 Image credits: Straits Times
And after you are done shopping, you can indulge in the mouth-watering food available in the mall. You can sink your teeth into a helping of delicious Boon Lay Power Nasi Lemak or go to Bagus, a food court which serves some of the best halal-certified hawker food alongside international cuisine.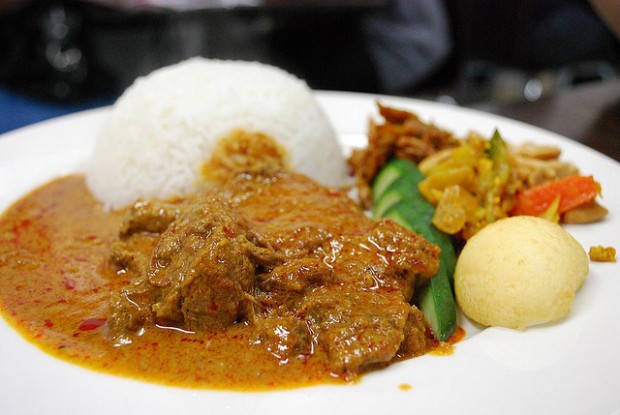 Image credits: Alpha
Like some of the malls above, Causeway Point has facilities set up for children to enjoy while their parents shop. However, Causeway Point has not one but two playgrounds for children to have fun in.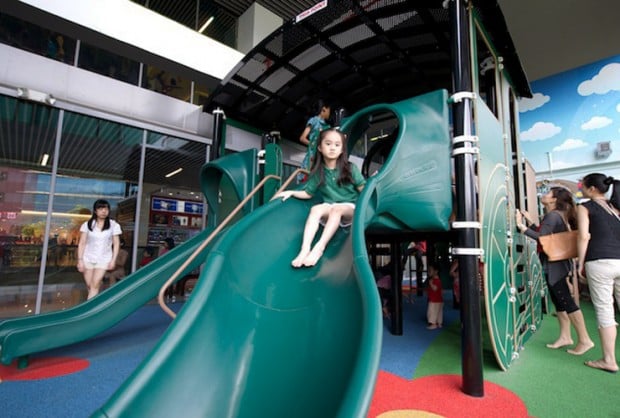 Image credits: Fraser Centrepoint Malls
Your children can first enjoy playing with fake "animals" in the first indoor playground while you relax in Swensen's or Empire State.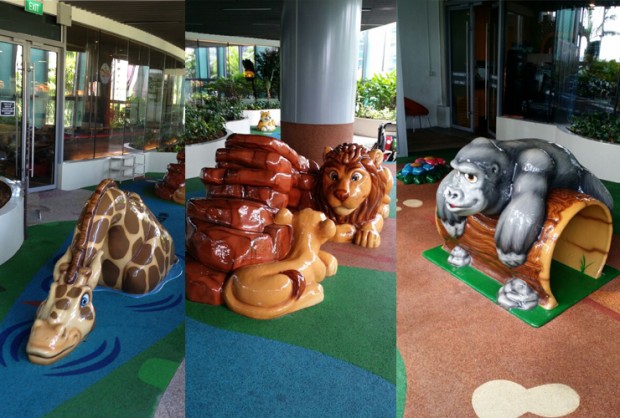 Image credits: Fraser Centrepoint Malls
After that, your little ones can can pretend they are travelling in a train in the second indoor playground. With the playgrounds open from 10am to 10 and the pm, your children will have lots of time to enjoy themselves.
11. Toa Payoh Shopping Mall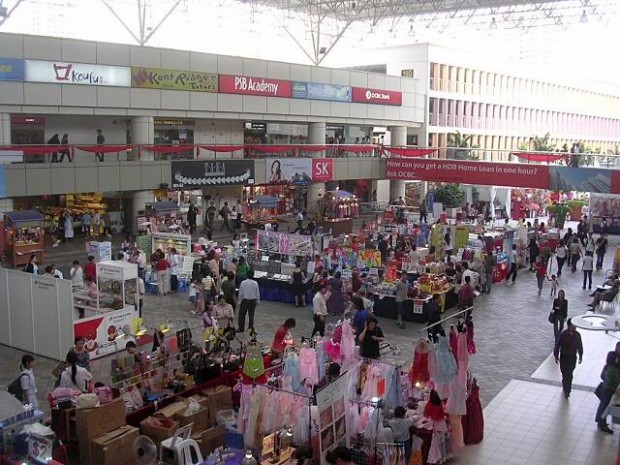 Image credits: Skyscrapercity.com
This must be the only mall that is not exactly the conventional definition of what a mall should be. It comprises the surrounding neighbourhood shophouses and the void-deck shops lining the ground floor of the HDB blocks that, together, make up Toa Payoh Hub.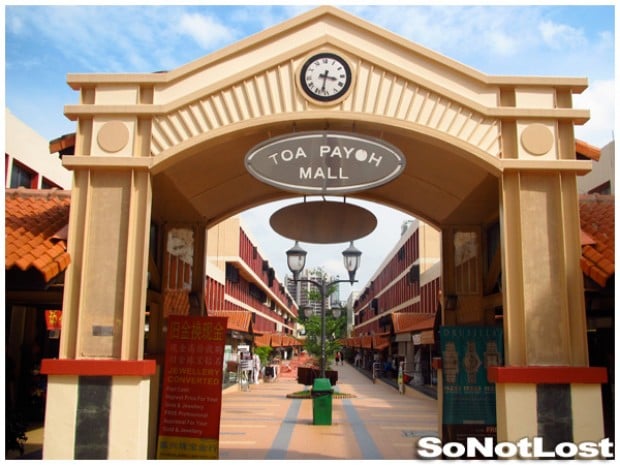 Image credits: SoNotLost
A quaint shopping street that seems entirely removed from the modern skyscrapers of bustling Singapore, it's the perfect "mall" for young locals and tourists to go for a closer look at the few colonial shophouses that still stand in Singapore today, though you probably shouldn't expect to pick up vintage bargains of any sort here. You also get to see how the general Singaporean population go about their daily lives, and grab a daily necessity or two on the way.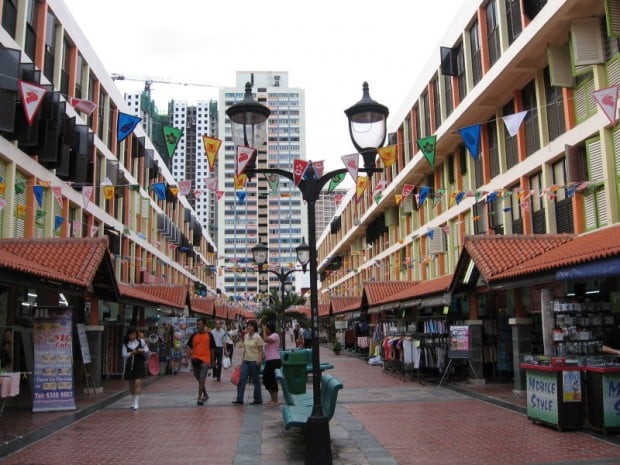 Image credits: Sengkang
Walk along the tiled streets. Take a seat on the open-air benches lining the middle of the street. Look up. Feel dwarfed by the high-rise apartment blocks. Pop into one of the many hardware shops to pick up a bargain or two, or go for a facial at one of the small aesthetic centres lining the ground level.
And after, go for a walk around one of Singapore's oldest estates, and see if you still can spot any old-school mosaic playgrounds!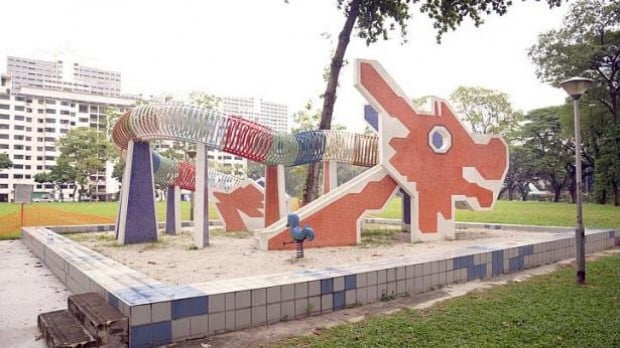 Image credits: The Straits Times
Well, that rounds up my 11 best neighbourhood shopping malls in Singapore! Of course, everyone has their favourite, must-go shopping centres, and more often than not it is probably the one you often frequent out of convenience or familiarity! So which are your favourite haunts? Tell me in the comments below!
Also read: 12 Best Outlet Malls in Asia With Crazy Discounts