What's a holiday in London without shopping? After all, you have come this far to save for your vacation, so do yourself some retail therapy by splurging a little. In London, you'd be surrounded by many fashion-forward individuals and this might just inspire you to update your wardrobe and dress the part.
Whether you're into vintage thrift shops, hipster local boutiques or luxury branded goods, here are a couple of shopping destinations to check off your London itinerary.
1. Brick Lane Market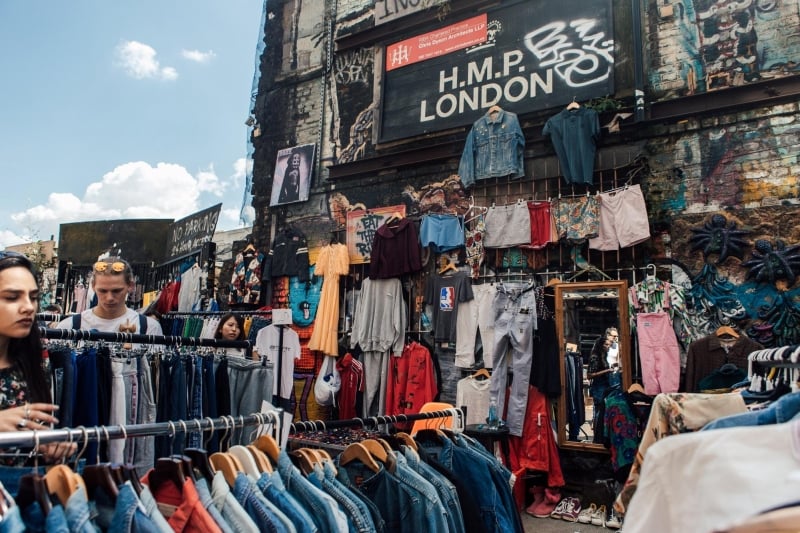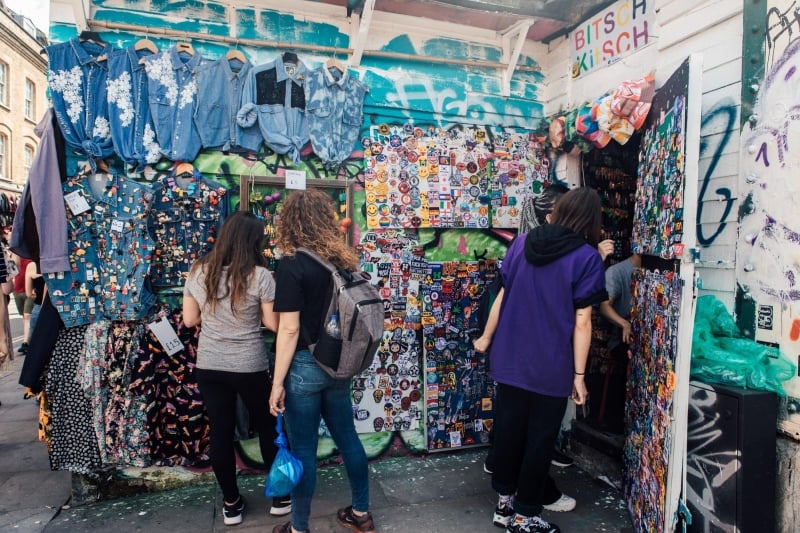 Here's the thrift-shopper favourite: Brick Lane Market. From antique collectables to secondhand apparels, this huge market is saturated with booths, shops and vendors selling anything vintage. Think 1970s printed dresses, embroidered denim jackets, old-school dolls, and retro vinyl records. In the Old Truman Brewery, you will find the Sunday UpMarket which houses quirky crafts and handmade clothing from up-and-coming local designers.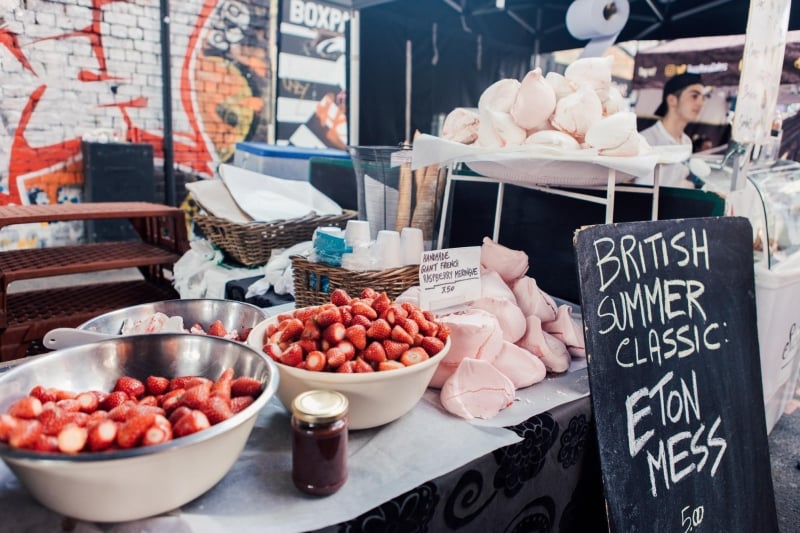 If the vintage shopping gets overwhelming, take a food break. Brick Lane is dotted with food stalls that serve everything from giant French meringues to Bangladeshi curry and even Chinese Sichuan dishes! It is also home to one of the highly raved Beigel Bake which comes with a huge serving of salted beef to go along with its bagel bun.
2. Boxpark Shoreditch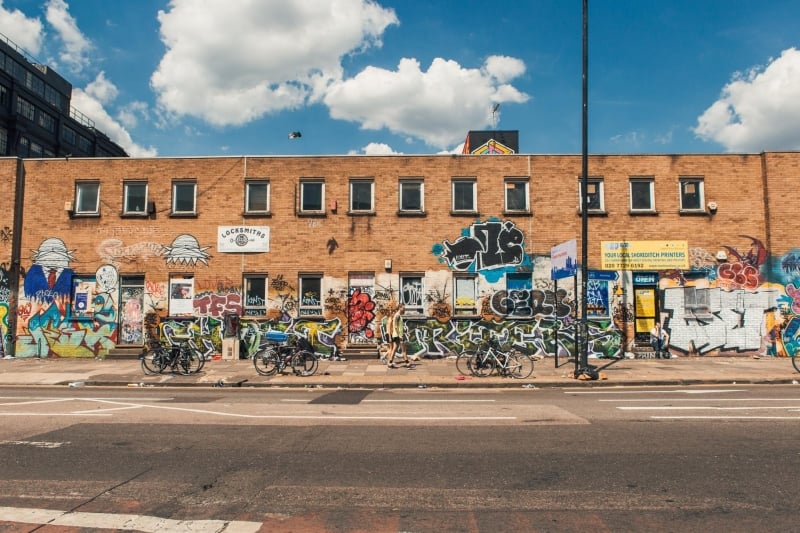 Not too far away from Brick Lane is Boxpark Shoreditch, the world's first ever pop-up mall. It formed the basis of inspiration for other malls with a similar shipping container exterior. Made out of disassembled, refitted shipping containers and placed tastefully in the heart of East London, Boxpark houses over 40 fashion and lifestyle brands, as well as cafes, in creative pop-up spaces. Get yourself some funky streetwear or indulge in a good soft-serve on a cone here. This area also serves as a contemporary space with many surrounding street art graffiti that complements this innovative mall.
3. Oxford Street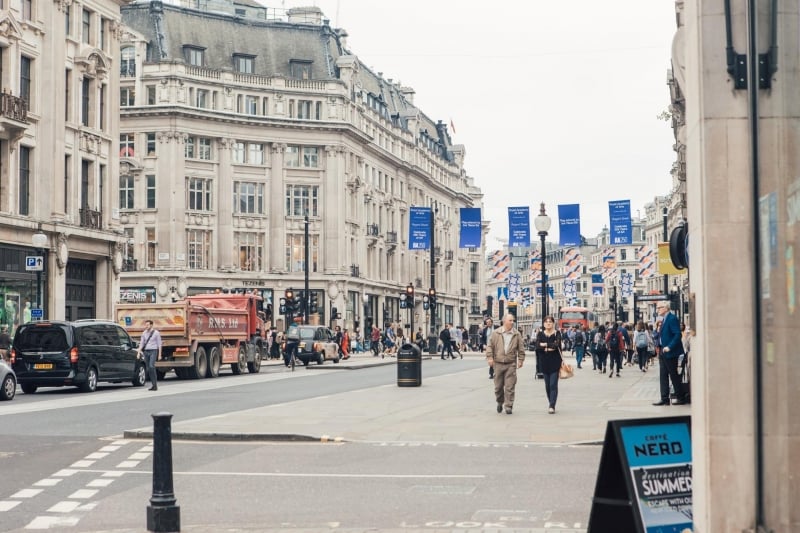 Claimed to be the busiest street in London, Oxford Street is a retail space that stretches over five million sq ft, and is critically acclaimed as the nexus of London shopping. It is home to many international high street fashion labels like H&M, Zara and Urban Outfitters, as well as independent boutiques. Primark's flagship store is located at Oxford Street and tourists come in droves for their affordable offerings. Many of the retail spaces here, such as Niketown, also hold exclusive product launches.
4. Carnaby Street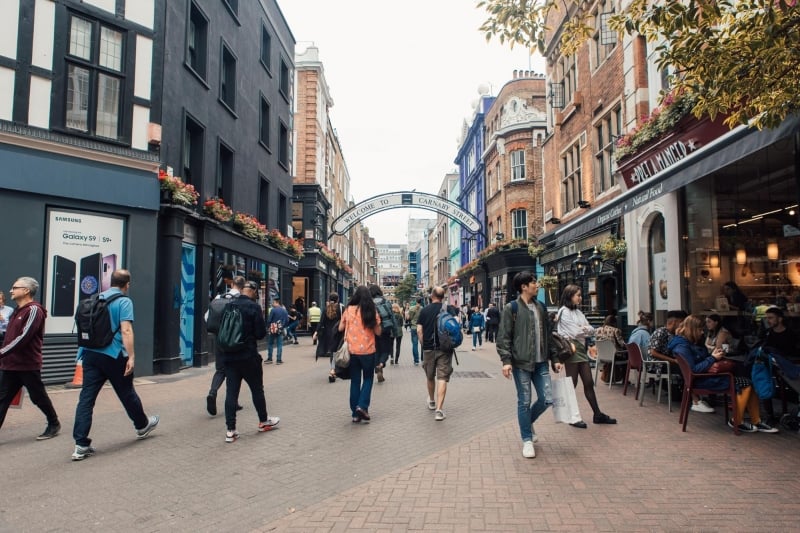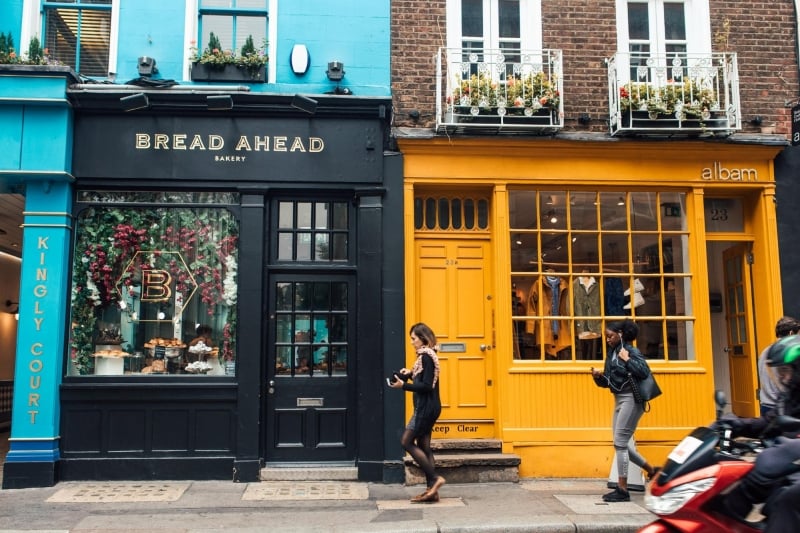 Celebrated as the iconic epicentre of the Swinging 60s, Carnaby Street is made up of 13 colourful streets. Just a stone's throw away from Oxford Street, Carnaby was the birthplace of many designer boutiques and retailers. These stores mainly targeted the mod and hipster crowds with its tailor-made suits and miniskirts. Back then, Carnaby was also the second most frequented attraction in London after Buckingham Palace.
Today, Carnaby is still home to many independent boutiques, as well as up-and-coming designer stores. It's ideal for shoppers who are looking to get something designer or tailor-made. There are also many aesthetically pleasing English bars and cafes here that make for perfect rest stops.
5. Covent Garden Market
If you have no idea what you would like to shop for, or if you'd like to window shop, Covent Garden would be a good place to start. From classic antique collectables to homewares and handmade jewellery, Covent Garden has a mishmash of modern infills that appeal to the locals and tourists alike.
6. Bicester Village
This is the place to find the biggest bargains and discounts on designer and luxury goods. Located less than an hour away from London, Bicester Village is an outlet shopping centre. You will chance upon a plethora of high-end brands such as Chanel, Yves Saint Laurent, Tommy Hilfiger and Ralph Lauren. To date, Bicester Village is known to have over 160 designer boutiques and is an unmissable shopping destination for those who have perennial designer brand favourites. You can also get tax refunds with the tax booth in the village here! The Scandinavian-inspired architecture and floral displays on the high streets are a beautiful sight, making the shopping experience a wholesome and pleasant one.
Tip: Plan your trip here in time for the summer sales as many stores will often slash outlet prices by 50%!
7. Portobello Road Market
Antique lovers, rejoice! This is London's ultimate antique market for all vintage lovers for its wide array of old-fashioned knickknacks. You'll find imported metalwares, ceramics, paintings, toys and heritage ornaments. Come here on a Saturday morning to get the full Portobello experience as it is the market's main antiques trading day. With over 2,000 vendors, you can easily spend hours here sieving through all the assortments. Even though Portobello Market is renowned for its value-for-money vintage goods, remember to haggle for cheaper prices. You can also get secondhand fashion apparels and even groceries here.
8. Victoria & Albert Museum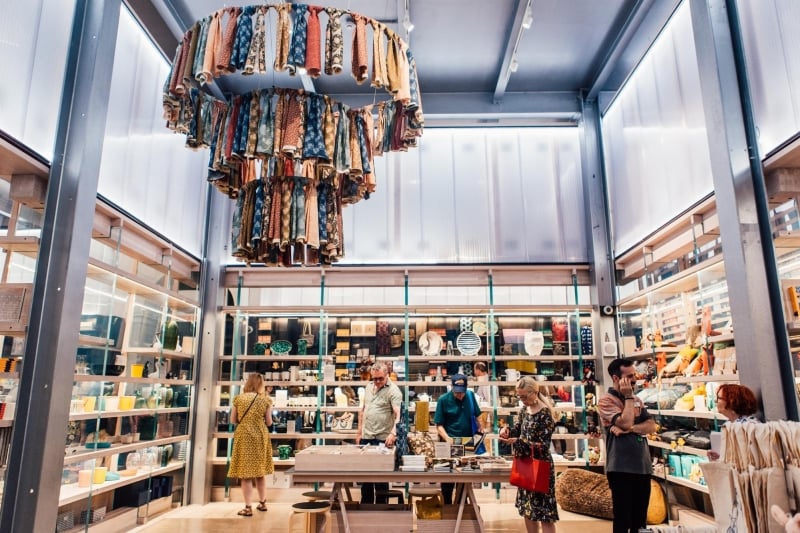 Although a museum isn't typically on the list of places to shop in London, this art and design museum, also widely known as the V&A, makes it to the list for its unique range of fashionable gifts, printed fabrics, postcards and eclectic designer accessories. The V&A shop is located in the heart of the museum, and they specialise in goods that are catered to the arty-farty audience who would appreciate handmade ceramics, opulent accessories and decorative arts. They also have tote bags, scarfs, notebooks and cards in characteristic English-style pattern prints.
Entry to this leading art and design museum is free. They have a diverse range of exhibitions and galleries that are sure to keep you entertained for hours.