Klook x TripZilla: Introducing our "Klook & Save" series!
We know the pain of budgeting for trips. There's just so much to see and so much to do! Quit putting yourself through all that headache; with Klook, you'll be guaranteed quality experiences at more affordable prices. Travel paperless and hassle-free – just the way we like it.
If you're a first-time user of Klook, use the promo code "TZKLOOK5" to get US$5 (~S$6.50) off any of your activities. Adventure starts NOW!
---
Hands up if you love visiting Hong Kong – we know we do! In fact, what's not to love about this bustling metropolis that's home to a wide array of gastronomical cuisines, on top of night markets and shopping malls galore?
However, if you haven't made a trip down to this glorious city, what's holding you back? Quit waiting around for your friends' and families' schedules to align; why not embark on a solo trip to explore Hong Kong however and whenever you please?
If you're daunted by the thought of solo travelling, fret not! Arm yourself with these tips – from transportation upon arrival right up to your departure from the airport – that'll help make your experience a smooth and fuss-free one.
1. Research on how to get around the city
What's most daunting about travelling solo? The thought of getting lost. Especially in a foreign country chock full of confusing signboards peppered with a thousand different directions! We know, it's every solo traveller's nightmare. This starts the minute you get off the plane: instead of trying to navigate the complex train system and lugging all your luggage up and down multiple flights of steps, why not hop onto the Hong Kong Airport Express Train that will basically deliver you right into the city center in just 24 minutes?
Book your ride in advance, and simply show your mobile voucher to the staff at the gates. In addition, you might even be able to enjoy free shuttle bus pick-up and drop-offs between the Airport Express stations straight to your hotel's doorstep. This is only available for select hotels – check out the list right here. 
Klook Pro-tip: Even if you haven't settled on exact dates for your trip, the open date tickets for the Airport Express Train are valid for 90 days from the booking date, giving you more than enough time to prepare. In addition, buy your tickets from Klook and enjoy prices that are even lower than the usual group ticket price. P.S. Use the promo code "TZKLOOK5" to shave US$5 (~S$6.50) off your booking, meaning you can score an airport transfer from JUST S$2!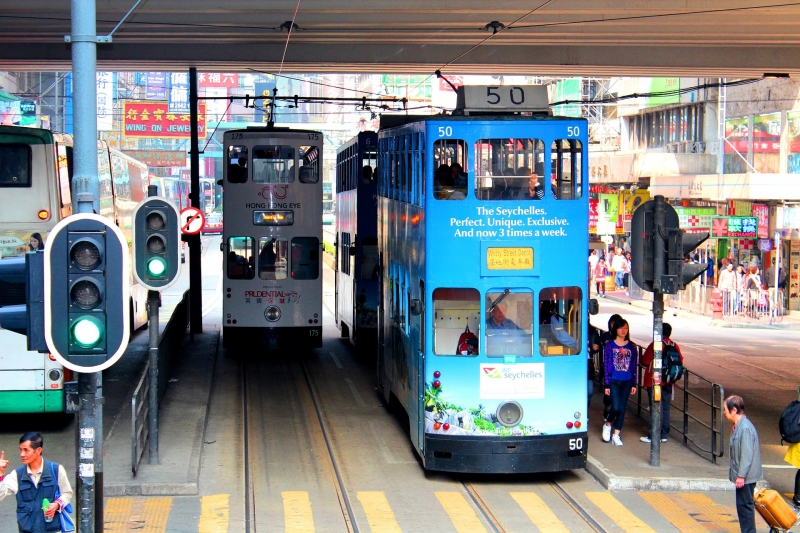 Other than getting into the city from the airport, familiarise yourself with the various ways to get around the city. The MTR (Hong Kong's version of the subway system) consists of a whopping eleven rail lines, which can even bring you to the Disneyland Resort. If, however, you prefer to travel above ground, opt for one of the open-top public buses, that can double up as a sightseeing excursion. Alternatively, check out the city's iconic trams that make for quite the novel experience.
All these forms of transport mostly accept Octopus cards, which brings us to our next point:
Many of you would have heard of Hong Kong's famous Octopus cards, but did you know that they're not only used for public transport around the city, but also for monetary transactions as well? One of the risks of travelling alone would be making yourself seem like an easy target for robbers if you fiddle around with large sums of cash in public – yes, even in a modernised city such as Hong Kong. One tip is not to wear too flashy clothing or don pieces of extravagant jewellery; the trick is to blend in and not make yourself stick out like a sore thumb. Another tip is to get an Octopus card, which basically eliminates the need to flash your cash in public!
With an Octopus card, you'll be able to travel around the entire city in ease. To make things even easier for you, THOUSANDS of stores including McDonald's, 7-11 and Watsons are at your beck and call when you're due for a reload!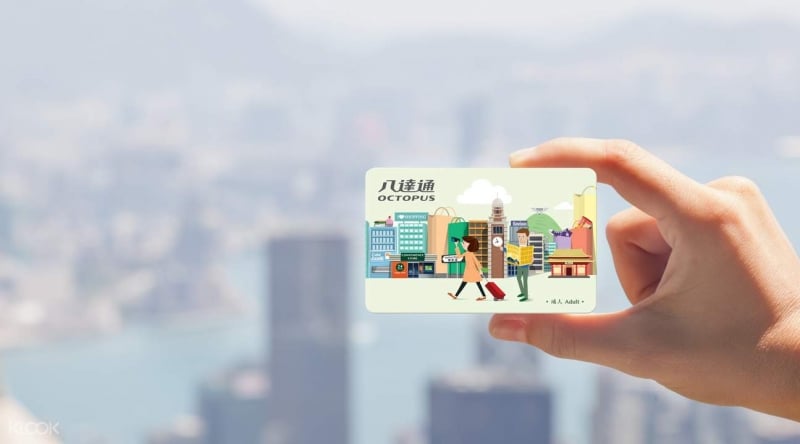 The Octopus card works much like Singapore's EZ-Link Cards; simply tap them on any relevant reader and amount will be deducted from your stored value. It's fuss-free travelling at its finest! Besides coming in extremely useful for transportation around the city, this card will allow you to make purchases in supermarkets, vending machines, fast food shops, convenience stores and more.
Also, when you order your Octopus card from Klook, you'll be able to pick it up once you arrive at the airport – easy peasy. This comes inclusive of HKD50 (~SGD8.70) worth of stored value, plus an extra US$5 (~S$6.50) off with the promo code "TZKLOOK5", you'll only pay SGD2.20 for this card. Sweet, huh!
Klook Pro-tip: Unlike many such cards, you do not have to pay a deposit for your Octopus card, allowing you to take it home as a souvenir. There's also no expiry date to the card, meaning you can easily reuse it on your next trip to Hong Kong!
3. Stay connected wherever you go
The worst thing you could do to attract attention as a solo traveller? Looking confused and lost. Prevent yourself from falling into this trap by getting yourself a SIM card, which will allow you to stay connected on the go! Seriously, being connected 24/7 to the internet and your family back home is the best assurance you can give yourself.
If you're not sure which SIM card to get, opt for this one where if you choose to have 8 days of unlimited 3G data, it basically adds up to just a little over SGD1 for a day's worth of unlimited data. Is that value for money or what! Even better, save yourself US$5 (~S$6.50) with the promo code "TZKLOOK5".
On top of never having to worry about being (literally) lost with Google Maps at your fingertips, you'll also be able to upload your Instagram snaps instantly. If you don't want to miss out on any photo-worthy spots, go on this Central Street Art Walking Tour and hunt down multiple art murals at once. Who says you can't experience everything a city has to offer even when you're travelling by yourself? Go all out!
4. Embrace the freedom you'll have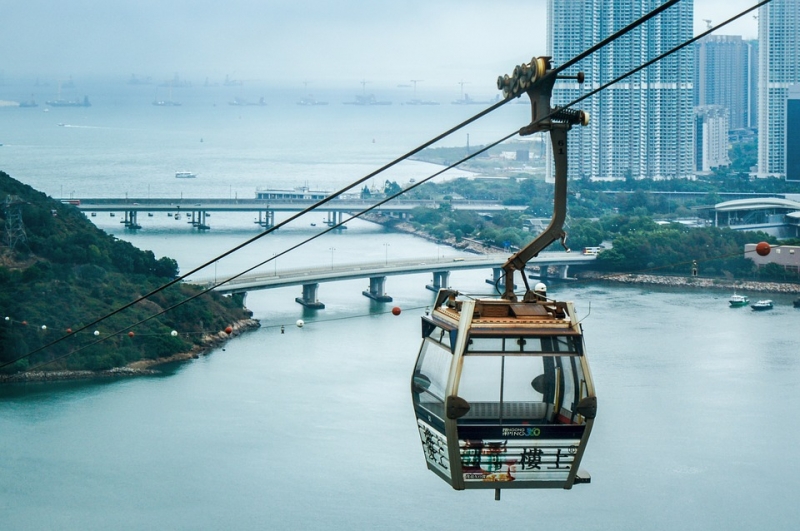 The thing about travelling with friends or family is that you're often constrained by other people's preferences. Everyone has different likes or dislikes and, naturally, will have different things that they want to see and do whilst on holiday. However, when you travel solo, you'll have the power to do whatever you want, whenever you want!
Indeed, travelling solo gives you the absolute freedom to try out all kinds of different activities!
And where better to start in Hong Kong than scaling the iconic Lantau Island – via cable car? Feel on top of the world as you make your ascent up towards the tallest outdoor-seated Buddha in the world that, also, makes for a perfect Instagram shot.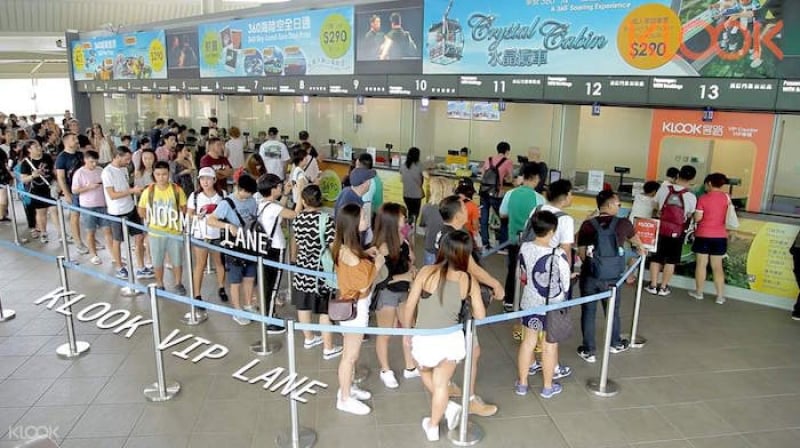 Even better, skip the crowds when you buy your tickets from Klook! Enjoy VIP priority entry through a separate queue (as shown above).
Address:
11 Tat Tung Road, Tung Chung, Lantau, Hong Kong

Nearest Train Station:
Exit B of Tung Chung Station, Exit B. The cable car terminal is located adjacent to the station.

Opening Hours:
10am-6pm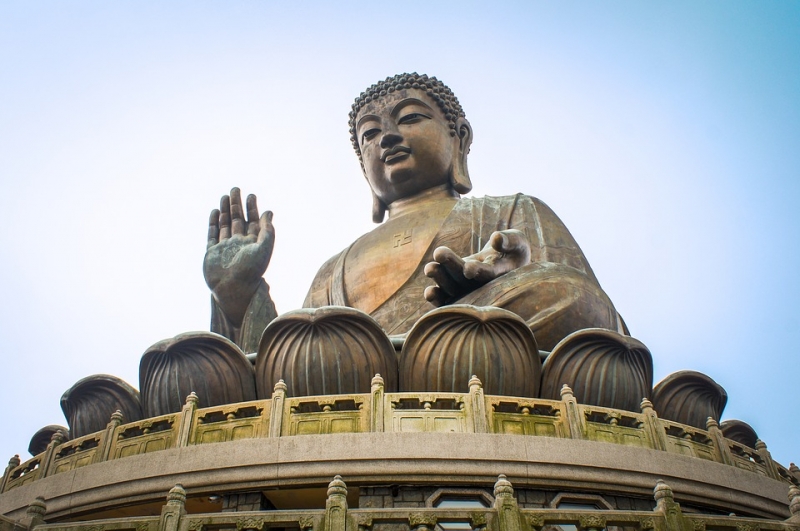 That's not all, on top of your panoramic views, the glass-bottomed crystal cabin makes it seem you're floating on thin air. With sublime views of the Ngong Ping Plateau and North Lantau Country Park, you'll be completely transported from Hong Kong's bustling city to your own serene oasis. Skip the snaking queues and get your tickets in advance, giving yourself more time to explore this priceless topography. For an even more immersive experience, opt for the Lantau Cultural Heritage and Insight tour, or even the 360 Lantau Sunset tour that comes with spectacular views.
Klook Pro-tip: Combine your trip with a dolphin-watching excursion at Tai O Village. These tours are run by the locals, and thus don't cost much! Alternatively, embark on a Tai O Sea Kayaking excursion to view the stilt houses from an entirely different perspective.
For those looking to take a day trip, delight in the fact that you can…
Reach Macau in approximately just one hour!
In fact, why restrict your adventures to merely within Hong Kong? One of the perks of solo travelling is none other than having the freedom to venture out of the city – at your own pace! For starters, check out neighbouring Macau for an exhilarating day-trip. You have complete autonomy to plan and execute your dream patronage to the former Portuguese colony, making your trip to Hong Kong much more worthwhile. Get there quickly with the Macau TurboJet Ferry; book your tickets in advance and choose your favoured departure time (the ferry departs every 5-15 minutes!).
Address:
Hong Kong Macau Ferry Terminal, 3/F Shun Tak Centre, 200 Connaught Road Central, Sheung Wan, Hong Kong

Nearest Train Station:
Sheung Wan MTR

Opening Hours:
7am-23.59pm
Klook Pro-tip: Don't worry if you get hungry while you're travelling on the Macau TurboJet Ferry! There's a selection of food, beverages and duty-free goods available for purchase onboard. Also, if you're prone to seasickness, do remember to take necessary precautions before boarding the ferry should there be an instance of rough weather.
If this is going into your itinerary, don't forget to get Hong Kong/Macau Wifi to stay connected in both places! Also, get the iVenture Hong Kong and Macau Attractions Pass for the most cost-effective way to explore both cities. Access 14 attractions from both cities, and enjoy the flexibility of planning your own itinerary. This pass will even give you additional perks and discounts, and is valid for a 3- or 5-day duration. If you like collecting little keepsakes from your trip, this pass even comes with an extra colour guide book detailing any information you'll need to get around.
5. Don't be afraid to eat alone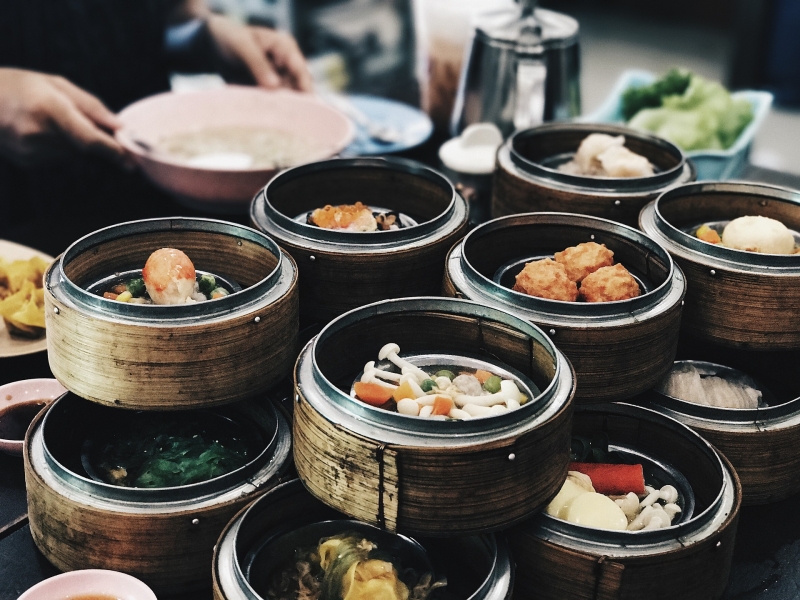 We know that the stigma of eating alone can be a little intimidating. However, why ever should it be? Don't be afraid to do so; take the chance to indulge in some people-watching, to read a good book, or simply enjoy some good old 'me' time. Check out Ding Dim 1968 in Central, known for putting a twist on classic items, offering dishes such as the Siu Mai with Black Truffle. Plus, don't worry about the language barrier – they also offer multi-language menus available in English, Vietnamese and Korean. Book with Klook to enjoy a HKD100 (~S$17) coupon as well as discounted drinks, a.k.a. quality food at a discounted price-tag!
Ding Dim 1968 in Central
Address: Shop A ,14D Elgin Street, Central
Nearest Train Station: Sheung Wan MTR Station (Exit A2)
Opening Hours: 11am-10pm Thursday-Sunday, 11am-9pm Monday-Wednesday
Plus, if you're worried about the language barrier, coupons are pretty much universal language – simply book your desired meal and show the restaurant staff your coupon to get started!
Alternatively, food that you can eat on the go is always a good bet! Dig into some heartwarming Egg Waffles (where you can get up to HKD9 (S$2) off), or cool yourself down with 10% off some Specialty Ice Cream from Emack & Bolio's, whose creations are absolutely Insta-worthy as well.
Lee Keung Kee Egg Waffles
Where:
Branches in Tsim Sha Tsui, North Point (original branch), Wan Chai, Po Lam, Tuen Mun

Opening Hours:
11.30am-12am, daily
Emack & Bolio's
Where:
Branches in Central, Tsim Sha Tsui and Tsuen Wan

Opening Hours:
11am-11pm Sunday-Thursday and Friday-Saturday 11am-1am (Central), 12pm-11pm Sunday-Thursday and 12pm-1am Friday-Saturday (Tsim Sha Tsui), 11am-10.30pm Sunday-Thursday and 11am-11pm Friday-Saturday (Tsuen Wan)
Klook Pro-Tip: For further discounts, hit up Hee Wan Roasted Kitchen where you can get 10% off that quintessential roast goose fix, or another 10% off snacks and desserts at Dream Tofa in Central.
Booking with Klook not just allows you to get more for less (hello, discounted coupons!), it also gives you S$0 purchases. Simply download the Klook app from the Apple Store or Google Play, select which restaurant you wish to visit, and redeem a coupon. Easy peasy! You'll pay the restaurant directly, but these coupons give you immediate discounts so it's really a win-win situation!
Hee Wan Roasted Kitchen


Address: 189-191 Portland St, Mong Kok
Nearest Train Station: Mongkok Station (Exit E2)
Opening Hours: 7am-2am Monday-Sunday

Dream Tofa in Central


Address: Shop 6, G/D., 1 Lyndhurst Terrace, Central
Nearest Train Station: Central Station (Exit D2)
Opening Hours: 11am-10.30pm, daily
If, however, you prefer to dine with company, then you should…
6. Take the initiative to make friends from all around the world
Solo travelling also opens up opportunities to make new friends from all around the world. However, this might often prove rather intimidating for many. However, our advice to you is not to be afraid to take the first step! Staying in hostels can often help to open up such conversations, or events such as pub crawls can provide the perfect opportunity to get out and meet tons of new people.
A perennial favourite amongst travellers, solo or not, is Hong Kong's kaleidoscopic nightlife. Treat yourself to some drinks and old-school live entertainment – all in the name of fun. With free VIP entry to some of the hippest establishments and a complimentary shot at each bar you patronise, you'll have the best night of your life in all of Asia!
Klook Pro-tip: That being said, it's always important to be aware of your surroundings, especially as a solo traveller. Never let your drinks out of your sight and no matter how well you feel like you know your new friends – always remember that you've only just met them. Other than that, simply keep your wits about you and get ready to have the time of your life!
Another good way to make friends is to…
7. Discover the city on a walking tour
Walking tours are a quintessential part of every budget traveller's  itinerary. Walking tours are the ideal mode of venturing any gargantuan city, where you can experience its allure from the ground. However, Hong Kong's fair share of constructions and highways make certain routes a conundrum to navigate. The solution to that? Walking tours that, at the same time, also allow you to gain insight into the locals' way of life.
Spruce up your Hong Kong adventure with guided tours that skip the tourist traps and take you straight to the heart of the action! Check out the Hello Hong Hong Walking Tour, choose to Walk the Local Route or, if you're strapped for time, see the best of Hong Kong within 3 hours with this Introduction to Hong Kong Guided Walking Tour. Alternatively, if you're up for a more immersive experience, go on this Good Evening Kowloon Walking Tour where you'll savour delicacies from a century-old fruit market, get your fortune read and more.
Walking tours are a total lifesaver when you think about all the research you'll have save, minus the hassle of finding out how to get to the various places. Besides, you'll probably be splurging a lot more if you choose to meander through the hustle and bustle of Hong Kong on your own. With such a comprehensive lineup of activities on offer for each tour, this experience will be worth every penny. Besides, you might even find a few like-minded travel companions whilst you're at it!
Klook Pro-tip: Do remember to dress in a comfortable attire and appropriate shoes as you would be walking for the duration of the tour (as the name suggests)!
8. Gain insight into the locals' way of life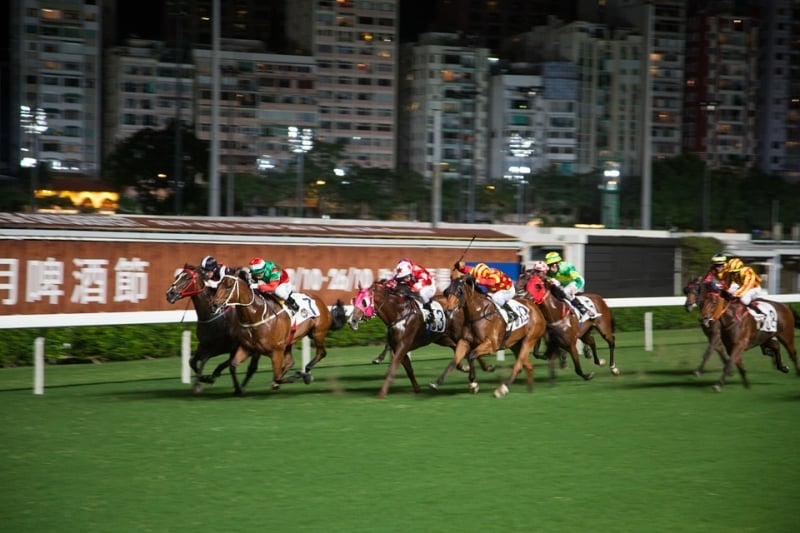 Having dim sum, navigating Ladies Market and shopping at Mongkok are some of the tried and tested things travellers to Hong Kong always do. On your first solo trip to the city, why not shake it up a little?
In every city, the locals know every nook and cranny when it comes to finding entertainment that'll give you the best bang for your buck. So when in Hong Kong, we recommend that you do as the locals do, and seize the opportunity to attend a – believe it or not – horse race. Dabble in some horse racing bets yourself or just bask in the dynamism of your surroundings. THIS is how you truly live like a local!
Klook Pro-tip: Don't miss out on the weekly Thursday Pub Crawl which runs for free when you've booked yourself for a Wednesday Horse Races Crawl. You'll even get a free shot and discounted drinks at each of the bars – how's that for size!
Imagine, horse racing PLUS a pub crawl for just S$17. Plus, you can take US$5 (~S$6.50) off with the promo code "TZKLOOK5" for even greater savings, which brings it to JUST S$10.50 for both experiences!
Solo travelling in Hong Kong doesn't seem so daunting anymore, does it? Start packing your bags and conquer Hong Kong with these tips! To make your solo trip more affordable and convenient, Klook has an entire selection of deals to ease your travel worries. Their activities are guaranteed to have the lowest price in the market, with up to a whopping 60% off! Book your activities with Klook and have all the vouchers sent paperless to your phone – making it all the more easier for a solo traveller to navigate around the sheer labyrinth of Hong Kong city.
To add the icing on the cake, add "TZKLOOK5" for an additional US$5 (~S$6.50) off any Klook activities! Hong Kong's metropolitan city awaits you with its many hidden gems, so stop procrastinating and start planning your next trip today!
---
Brought to you by Klook.