Spring came for Japan quietly this year, as travellers take shelter at home to slow down the spread of the pandemic. Sadly, this also means that many cherry blossom festivals have been cancelled for good. Yet the spring flowers are turning the parks of Japan into spectacular landscapes all the same — magical sights with only a few people to see. 
Even if you can't experience their full glory, these photographs of flowers blooming in Japan might help soothe your cabin fever. Feast your eyes on these springtime delights! 
Shibazakura at the base of Mt. Fuji
As Japan bids goodbye to cherry blossom season, the appearance of shibazakura (moss phlox) flowers usually attracts the crowds around this time in May, especially during Golden Week. Creeping flowers of pink, red, and white blanket the grounds of Fuji Motosuko Resort in Fujikawaguchiko, Yamanashi Prefecture. Standing in the midst of the fields will give you a spectacular view of Mt. Fuji, a sight we wish we could see in person! 
Also read: More Than Cherry Blossoms: 7 Japan Flower Parks You'll Fall in Love With!
Nemophila at Hitachi Seaside Park
Millions of Nemophila flowers, also commonly referred to as "baby-blue eyes," are currently taking over Hitachi Seaside Park! At the public park in Ibaraki Prefecture, these bell-like blooms are transforming Miharashi Hill into a surreal landscape of pale blue flowers. 
Also read: 12 Most Colourful National Attractions Around the World! 
Azaleas at Daikouzenji Temple
More than 10,000 Japanese azaleas are expected to reach full bloom at Daikouzenji Temple in Akita Prefecture. From mid-April to early May, these red, pink, purple, and white shrubs breathe life and colour into the temple grounds, so much so that the place is called as "Tsutsuji-dera" or the "Azalea Temple" by locals. Come springtime, it's the very picture of calm and serenity. 
Poppies at Showa Memorial Park
While poppies tend to draw tourists to California, these paper-like blooms can be be found in Japan as well. At Showa Memorial Park in Tachikawa, the yellow, red, and orange poppies look especially radiant while swaying in the breeze. Wide lawns and trees take up plenty of space at the park as well, making us nostalgic for a time when we could linger and enjoy a picnic near the flowers. 
Tulips at Kamiyubetsu Tulip Park
The beginning of May signals the start of the tulip blooming season in Hokkaido — and judging by these photos, we're missing out on so much! More than 200 varieties of tulips sprout at the Kamiyubetsu Tulip Park in Monbetsu, where they reach their full vibrance until early June. Add in the windmill in the distance, and this rainbow-coloured park looks just like a fairytale! 
Wisterias at Kawachi Fuji Garden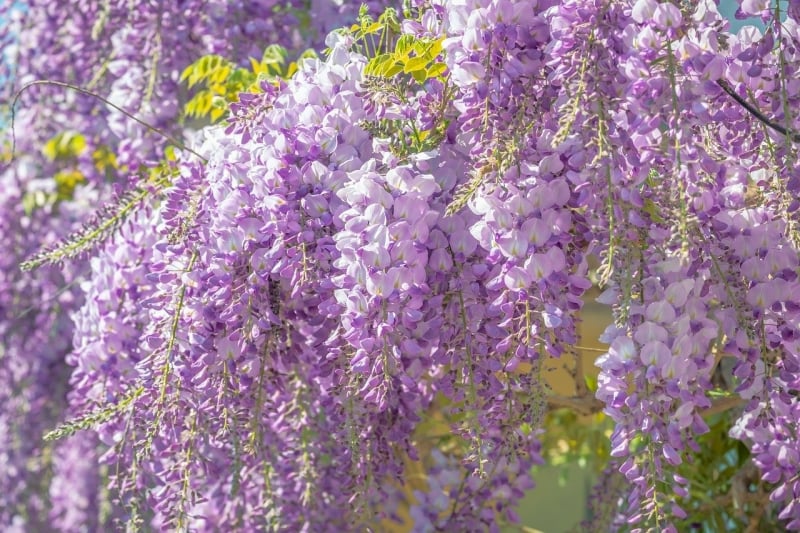 Closely following the hanami season in Japan are wisterias, which look just as dreamlike in photos as they do in real life. These purple flowers may come in second to cherry blossoms in terms of fame, but they have a surreal quality all on their own. 
Is it a pleasant coincidence that the Japanese word for wisteria is "fuji," the same word for the country's most famous symbol? From the enchanting tunnels of Kawachi Fuji Garden to the giant wisteria tree in Ashikaga Flower Park, these flowers have a mesmerising allure we can't look away from. Nor would we ever want to. 
Also read: 8 Most Stunning Trees in Asia That Will Take Your Breath Away
We hope you don't feel bad for missing out on these springtime views! Naturally, all of these parks are temporarily closed to visitors, so any future travel plans will have to wait. 
In the meantime, we can sigh and dream of witnessing these flowers in Japan some day. Knowing that with or without us, nature finds a way to carry on.