Fuji Q Highland – home to 4 of the most insane, record-breaking roller coasters in the world: Fujiyama, Dodonpa, Eejanaika and Takabisha. Thrillseekers! This one's for you.
Not a fan of rollercoasters myself, but this is a place that I absolutely had to check off my Japan bucket list. I can proudly say that I've fallen in love with this amazing place, and for all those planning a trip to Tokyo or Japan – this amusement park definitely deserves a spot in your itinerary!
My coaster list goes by increasing scariness. So if you want to read about the most mind-blowing one first, start from the bottom-up!
Read more: 4 Days Tokyo Itinerary: Where to Go and What to Do
Fujiyama – One of the World's Tallest and Longest Roller Coasters

Image credit: Fuji Q Highland
Top Speed: 130km/h

Duration: 3:36min

Height: 79m
This roller coaster can be said to be the least intimidating among the four, but I would definitely still think twice (or thrice!) before daring to take this ride again. Fujiyama stands tall and proud at 79 metres, and was once the world's tallest roller coasters. Given its height, riders can actually enjoy a fantastic view of Mount Fuji from the top. Warning: You're only able to feast your eyes on this magnificent view for a total of just a few seconds before you descend on a whopping 70 metres kickass drop! Eeeek!
Fujiyama is full of stomach-dropping twists, drops and turns, and brings its riders on one heck of a ride! A friend of mine was as blind as a bat without his spectacles, and his only memory of the ride was seeing alternating patches of blue (the sky) and white (Mount Fuji) that spiralled in all directions. What a trip! Of course I was of no help at all, and provided a screeching soundtrack of screams.
Dodonpa – One of the World's Fastest Roller Coasters
Image credit: Fuji Q Highland
Top Speed: 172km/h

Duration: 55sec

Height: 52m
If you have a need for speed, this roller coaster is the ride for you! A word of caution: Looks can be deceiving – Dodonpa's track seems to pale in comparison as compared to the other coasters, and is suspiciously without any massive drops or 360 degree loops. But what the coaster lacks in aesthetics it makes up for in speed – it speeds up to 172 km/h in a mere 1.8 seconds! Man, this roller coaster is fast! Trust me, I learnt it the hard way.
As the saying goes, never judge a book by its cover. Yep, now I know never to judge a roller coaster by its track. RATS!
Eejanaika – World's Fastest 4th Dimension Roller Coaster

Image credit: Fuji Q Highland
Top Speed: 126km/h

Duration: 2:10min

Height: 76m
For those who wants a coaster ride like no other, Eejanaika is the ride that you should not miss. It's the taller and faster of the only two 4th dimension coasters in the world. The other is in Six Flags, California. The 4th dimension is a design in which the seats can rotate forward or backward 360 degrees in a controlled spin.
This was my first roller coaster ride in Fuji Q Highland, and being on the ride felt like I was being thrown around in a washing machine. No joke! Eejanaika holds the crown for being the roller coaster with the most number of spins in the world. Gulp! According to the park's website, there are three kinds of spins – the "spinning of your seat forward and backward", "loops and flip-flops through the air", as well as "spinning with twists in it". However, all the spins probably feel the same to most riders – hold onto your seatbelts, it's going to be a topsy-turvy ride!
Takabisha – One of the World's Steepest Roller Coasters

Image credit: Fuji Q Highland
Top Speed: 100km/h

Duration: 2min

Height: 43m
Unfortunately, I did not manage to personally try this ride due to the snaking long queue that was estimated to be three hours long. FYI, I went on a Tuesday, just a normal run-of-the-mill Tuesday. For those planning a trip to the park, do be prepared for long queues!
However, if you do manage to brave the queue and go on this ride – I salute you! Featuring the steepest drop in the world at 121 degrees, Takabisha is a real nightmare. I mean, just look at it!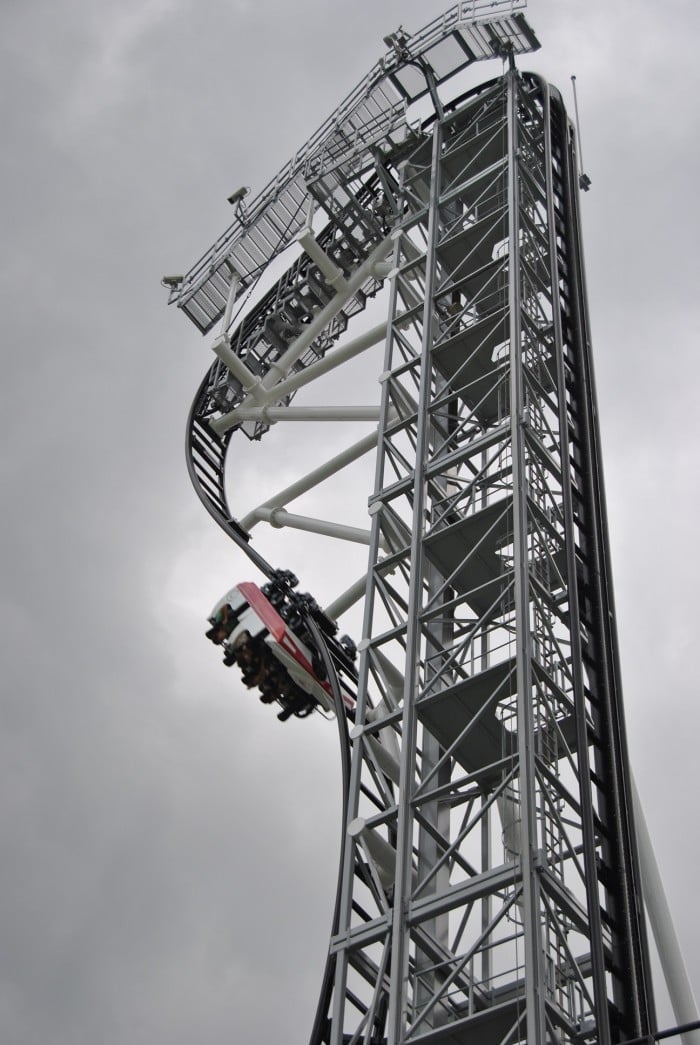 Image credit: calltheambulance
Just look at that 121 degree free fall! Excuse me while I hyperventilate at a corner. As if the drop isn't scary enough, the ride even halts your carriage at the 90 degree bend for a few seconds before you go down the inverted drop! Get this, Instead of using a traditional lift hill, it uses magnetic launch motors to blast its cars from 0 to 100km/h in just 2 seconds! Good luck to all of you who are still dying for the Takabisha challenge – my heart can only take so much.
Like my friend so aptly put it: "There will never be a ride less scarier than the other. Unless it's a kiddy ride". True, because up to this day, none of us can decide which of the four roller coasters takes the icing on the cake. So which is the scariest? It's your call! For me, I think I've had more than enough thrills to last me a lifetime.
Getting to Fuji Q Highland
Here are a few useful details for you to make the most out of your trip!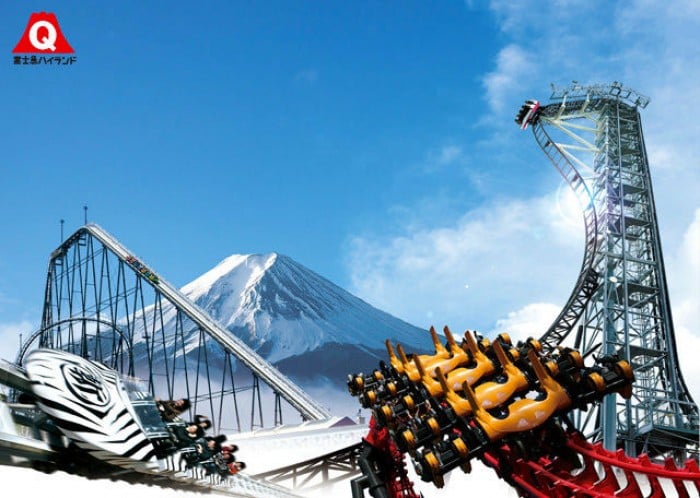 Image credit: Fuji Q Highland
The park is open all year round with the exception of a few irregular closing dates. Check their operating calendar

here

. (Do note that the page is in Japanese only. Click on the month to view the respective calendar. The kanji 休園日 in the grey bar indicates the days that the park is closed.)
You can either buy a 1 day free pass ticket for 5,200JPY (63 SGD), or an entrance ticket for 1,800JPY (22 SGD) with a pay-per-ride scheme ranging from 500JPY to 1000JPY (6 SGD to 12 SGD).
Fuji Q Highland features four – past and present – record breaking roller coasters, as well as two haunted houses.
Roller coasters not thrilling enough? Check out the 2 haunted houses – Haunted Hospital: Super Scary Labyrinth of Fear, and the newly built Hopeless Fortress: Ultimate Fort!
Read more: Mt. Mitake: A Day Hike in Tokyo You Must Complete