Tokyo is one of the worldwide capitals of fashion and it is home to many high-end stylists. But if your wallet isn't as big as you'd like, did you know that there are still places you can visit to get both new and secondhand clothes on the cheap?
Ready for the tour? Let's go!
Stop 1: Flea Markets
Depending on the day you choose for your shopping tour, you might be able to start hunting at one of Japan's many flea markets. These are good places if you like digging – a.k.a. the art of wading through a pile of clothes to snatch that one deal!
There are several flea markets in the Tokyo area. One of the biggest and most popular is the Ohi Racecourse Flea Market, which can be reached from Oimachi Station, and happens every Saturday and Sunday from 9am to 3pm. It doesn't just have clothes, but also all kinds of furniture and knickknacks.
Mottainai Flea Market, part of the Mottainai ("avoiding waste") recycling movement, focuses only on clothing. However, the schedule and locations tend to be pretty erratic, with multiple venues around Tokyo from Akihabara to Gotanda. It's best to check out the schedule page for details (it's only in Japanese, but it should be easy enough to figure out dates and locations).
Another big market, with some 200 vendors, can be found in the heart of Tokyo at Shinjuku Chuo Park. It's open from 10 a.m. to 3 p.m. (closed in case of rain), but once again, the schedule is quite irregular: check this page under 直近開催 ("Chokkin Kaisai," which roughly translates as "immediate events").
If you can read Japanese, we also recommend checking Recycler.jp or Tokyo Recycle for a list of flea markets in Tokyo and the surrounding prefectures.
Stop 2: Harajuku
Some might be grossed out by the idea of using other people's clothes, but keep in mind that in Japan, second-hand clothes tend to be in very good shape when they're given up by their previous owners. It might have something to do with Japanese houses being small and closets being even smaller, but given how fashion-conscious Japanese young people tend to be, clothes often aren't worn much before they need to make way for the new!
Flea markets tend to close early in the afternoon, so once you've gotten your first shopping fix, pick up your bags and head to the trendy heart of Tokyo: Harajuku! If you're a total cheapo, Harajuku might seem expensive, but there are a few secrets that will make the trip totally worth your while.
First of all, most shops on Takeshita Dori (Takeshita Street) will have a small corner dedicated to items on sale. It might not be obvious from the outside, but once you enter the shop you should be able to find it – so don't be afraid to explore! Our best find on Takeshita Dori was a brand new bag for ¥300!
One chain worth visiting is the 390 Mart (read "Sankyuu Mart," or "Thankyoumart"). This shop takes its name from the fact that everything inside is priced at ¥390. It's a very good stop for tote bags, cute socks, basic T-shirts and hats. The Takeshita Dori stores have a section dedicated to cheap denim shorts and secondhand T-shirts, also for ¥390.
If you're into cute tights, cosplay and Lolita shoes, try to visit Bodyline. This shop mainly caters to the Lolita crowd, though its dresses tend to be frowned upon as "cheap" compared to established brands. However, the shop also has a quite large section of unique tights, with prices that go as low as ¥200, and decent Lolita-esque and punk-ish shoes and boots for around ¥3,000. They also occasionally have clearance sales on collections – our best catch here was a pair of shoes for ¥500!
Your final stop in Harajuku is a secondhand shop called Kinji, located on Meiji Dori (Meiji Street). Kinji caters more to the "alternative" and young crowd, but it also has fashionable clothes for everyone. While the quality usually isn't stellar, the prices go as low as ¥400 for miniskirts, T-shirts and cardigans. Kinji tends to have better options in winter, as lighter pieces of clothing often get ruined easily and don't make such good secondhand items.
Finally, try to go to Harajuku on a rainy day! To encourage customers to step out of their homes and spend money, shops often have temporary sales going up to 20 percent off!
Stop 3: Shibuya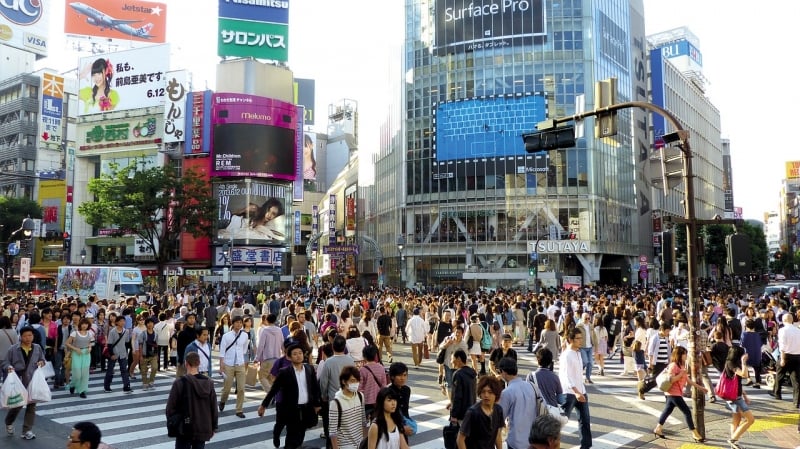 From Harajuku, you can walk your way to Shibuya on Meiji Dori and continue your bargain-hunting adventure!
We have two stops here: the first one is Bingo, a secondhand clothes shop that's part of the Book Off chain, which sells secondhand video games, CDs, books, manga and so on. Bingo has a wide selection of domestic and foreign brands (which means larger sizes available), and the cheapest of the cheap can be found in the sales racks scattered around the store. Bingo is located in the basement of the same building that hosts the Shibuya Book Off branch.
Your second stop in Shibuya is Don Don Down on Wednesday, right behind the more expensive Zara. As the peculiar name reveals, in this used clothing shop prices gradually lower every Wednesday, until they get to the ¥100 level! The question is, how long are you willing to wait and risk losing your precious item to someone else?
Now, if you'd like some new clothes instead of old ones, then the following two destinations are for you:
Stop 4: Shinjuku
From Shibuya, hop on the Yamanote Line and head to Shinjuku. Here you have a choice: used alternative clothes on the west side and new women's clothes on the east.
Take the West Exit if you're interested in alternative and Lolita Japanese fashion. Closet Child spans three floors of a building just northwest of the station and carries several Japanese alternative and rock-ish brands like Algonquins, Glad News, h.NAOTO and more. All items are secondhand and sold for much less than the original price. The shop is diagonally across the street from exit D5 of Shinjuku Nishiguchi subway station.
If you like Western brands, head over to the east side and go to the Forever 21 branch in Shinjuku Sanchome. The second floor has a permanent section of sales items, with prices that go as low as ¥300 for new skirts and T-shirts.
For more gyaru-inspired Japanese fashion, take a peek inside the eight-floor Studio Alta (across from the East Exit police box at JR Shinjuku Station), especially on the upper floors. Here, too, most shops have at least one sale rack, with items at reasonable prices – and this is true also for fancy shoes! Alta also includes a small 390 Mart branch.
The street on Alta's left side (coming from the station) also has a bunch of cheap shoe shops, including the high-heeled, cute offerings from Attagirl. This chain will always have some styles for around ¥2,000, with sales dropping prices as low as ¥1,000, and their shoes go up to LL sizes (around 28 cm).
Stop 5: Takadanobaba
Once you're done in Shinjuku, just two stops away on the Yamanote Line is Takadanobaba. This student town abounds with cheap eateries, but there's also one cheap shop you want to check out: Shimamura. If you tell anyone in Japan this name, you'll probably see them make a half-disgusted face, as it has a lame reputation. However, it's not lame at all! See it for yourself by heading up the street just past Big Box!
Shimamura will take some digging, but hidden among the T-shirts with weird English prints you'll be sure to find something cheap and cute enough to wear. Another good point of Shimamura is that both its clothes and shoes go up to LL sizes, making it the best place for bigger ladies. The Takadanobaba shop also carries children's fashion, and it's a good spot to shop for cheap yet cute roomwear. Look not only at the discount racks, but hunt down the aisles for items that have been discounted by a new price sticker on the label.
Another peculiar feature of Shimamura is that the shop will often collaborate with cute characters, famous brands and idols to offer designer products for cheaper prices. If you like Sanrio or Disney characters, it's definitely the place for you!
If you feel like doing some more digging among secondhand clothes, you can take Waseda Dori toward Waseda University until you spot Tanpopo House on your left (the map puts it down a side street, but it's actually on the corner). This shop has permanent racks of items for ¥100, and while most of them are very low quality, if you look hard enough you'll definitely find something worth taking home. Their shoes section is very small, but it's worth checking for the possibility of decent-looking brand shoes at ridiculous prices.
A final stop, mostly for accessories like bags, hats and socks, is Miniso, located across the street from Tanpopo House. This chain of shops mostly carries household items, but also has quite a big selection of cute bags for prices that range from ¥500 to ¥2,000.
Stop 6: Nippori
From Takadanobaba, you have two choices – one of which is to hop on the Yamanote once again and head over to Nippori. This is especially interesting for people who are into sewing, as we're heading to Nippori Fabric Town (Nippori Sen-i Gai), featuring more than 100 shops selling all kinds of cloth and sewing equipment. However, our recommendation for people of a smaller build is to check shops for racks with "sample" written on them: these racks often carry label-free sample items made for department stores or popular brands, but at a quarter of the price!
In addition to the general hunt, there are some specific shops you might want to check out. The first one is Heiwa-do (ヘイワ堂), a series of wholesale shops that sell not only textiles and accessories for the house but also clothing! While the quality isn't stellar, the prices are so low (starting at around ¥100) that it will be hard to leave empty-handed.
The second recommendation is Pop-Girl. While this shop is also part of the Heiwa-do group, as the name implies, it caters mostly to young women, and has Shibuya 109-inspired fashion at much lower prices. The same company also owns Lemon, which caters to children (see Heiwa-do above).
Stop 7: Koenji
From Takadanobaba, another option is to take the Tokyo Metro Tozai Line to Nakano, and from there head over to Koenji on the JR Chuo Line (if you'd prefer to go directly, you can also make the trip on the Chuo Line from Shinjuku). The main attraction of Koenji is another secondhand shop, Mode Off, located just north of Koenji Station's North Exit. Part of the same chain as Bingo, Mode Off offers plenty of brand clothes in decent condition, with the clothes generally placed according to price, from lower to higher.
Koenji also has a Don Don Down on Wednesday branch on the south side of the station, but if you're looking for more vintage or hipster-esque shops, pass the PAL Arcade area and go over to Look Street. This is the vintage heaven of Tokyo, and while most shops aren't especially cheap, it's worth exploring them as they might have sale racks or hidden gems inside. This website has a thorough list of shops in the area.
Also read: 10 Budget Shopping Places in Tokyo For Bargain Hunters
While this tour should keep you busy for at least a whole day, it's definitely not a comprehensive list of cheap clothing shops in Tokyo (we haven't even mentioned Shimokitazawa, which is a trip in itself!). Feel free to share your recommendations in the comments!
---
This article was first published as a two-part series in All About Japan: Tokyo Dirt-Cheap Clothes Shopping Tour.
Related stories: