The world's most populous metropolitan area, Tokyo is a fascinating mix of modern commercial culture and ancient Japanese heritage. With its bright lights and constant stream of people, the sheer scale of Tokyo can be slightly overwhelming for first time travellers.
Whether you're a seasoned Tokyo tourist or an intrepid first timer, read on for our definitive four day itinerary to take on the capital of Japan.
Also read: 20 Essential Tips for Your First Time in Japan
Day 1 – Of breathtaking views and an introduction to Japanese culture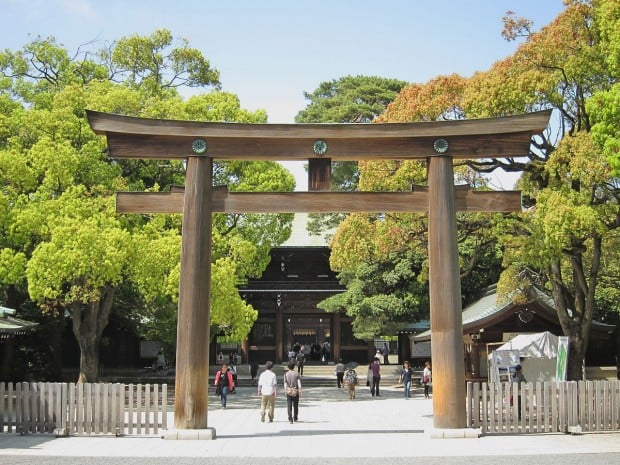 Image credit: Wikimedia Commons
1. Take in the stunning views from the top of the Tokyo Metropolitan Government Building
The 243 metre tall building has two towers, each housing an observation deck on the 45th floor. The observatories are famed for their panoramic views, allowing visitors to see famous landmarks like the Tokyo Skytree, the Tokyo Tower, Mount Fuji, and Meiji Shrine just to name a few. The best part? It's entirely free.
Tips: The South Observatory opens from 9.30am to 5.30pm, while the North Observatory opens from 9.30am to 11pm. If you're intending to be around the vicinity later at night, you can save the North Observatory for later to marvel at the bright lights illuminating the Tokyo cityscape.
2. Enjoy a relaxing stroll on the grounds of Meiji Jingu (Meiji Shrine)
The Meiji Shrine is a shrine dedicated to the deified spirits of Emperor Meiji (the first emperor of modern Japan) and his consort, Empress Shoken.
Shinto ("the way of the gods") is the indigenous faith of the Japanese people. As old as Japan itself, it remains today one of Japan's major religion alongside Buddhism. Visitors to Meiji Jingu can take part in typical Shinto activities, like making offerings at the main hall, buying charms and amulets, and writing out one's wish on an ema (a wooden plate to be left at the shrine for good luck and blessing).
Word has it that the Emperor Meiji himself designed the iris garden here to please the empress. The irises bloom in June each year, and that's when the garden looks the most beautiful.
Tip: If it's still early and you have some time to spare, walk over to Harajuku, which is just right beside Meiji Shrine. The symbol of Harajuku, Takeshita Dori (Takeshita Street) is the birthplace of many of Japan's fashion trends.Take in the 400 metre long street lined with shops, cafes, boutiques, and fast food outlets. Try the most famous crepe stall on Takeshita, Marion Crepes. The strawberry flavoured one is highly recommended.
3. Sip classy cocktails on top of the world
Fans of the hit movie Lost in Translation can try to relive their magical movie moments in the iconic New York Bar, dramatically perched on the 52nd floor of Park Hyatt Tokyo. Aside from offering amazing views of Tokyo, the New York Bar is often considered one of Tokyo's best cocktail bars.
Tips: Come before the sunset and leave before 8pm to avoid the hefty cover charge and only pay for your drinks.
Day 2 – Modern Tokyo: It's all about Shibuya



Image credit:

Richard Schneider
1. Take in the famous Shibuya Crossing
The busiest pedestrian crossing in the world, Shibuya Crossing is equal parts sensory overload and adrenaline rush. When the lights turn red at this busy intersection, they all do so at the same time in every direction. Traffic comes to a stop and pedestrians spill in from all sides, the epitome of organised chaos in the capital city of Japan.
2. Bask in the sights and sounds of Shibuya
If you love shopping, you could easily spend one day in Shibuya and still complain of not enough time. In light of the numerous perfect shopping places in Shibuya, we have kindly shortlisted three of which we really think you should not miss.
Firstly, visit the Shibuya 109, which has achieved somewhat landmark status over the years.  This mall mainly targets the female population, so if you're a guy and you want to shop, head on over to the nearby 109 Men's for your shopping fix.
Next, visit the 8 storey-tall Tokyu Hands. If you're a fan of arts and crafts, this place will be love at first sight for you. Tokyu Hands is a DIY store that sells basically… everything. From travel items to gardening tools, stationery to beauty products, interior décor to art supplies, you never know what you can find here. It's going to take a lot of self-control to leave without buying a little something just for the sake of it.
If you are a music enthusiast, you would want to check out Tower Records. The Tower Records in Shibuya is considered the flagship store among the 83 (and counting) branches of Tower Records, and now occupies nine full floors selling original CDs, books, and other artist merchandise.  
Tips: Have a small bite or a cup of coffee in the Tower Records cafe on the second floor. Sit by the window and you get a great view of the Shibuya streets.
Also read: 8 Fashion and Retail Spots in Tokyo Every Shopaholic Must Visit
3. Play Pachinko
Pachinko is a Japanese arcade style game that can be played in Pachinko parlours all over the country. Every year, Japanese people spend US $300 billion at Pachinko. To put that into perspective, that's about twice the entire GDP of New Zealand.
Why, you might ask, are Japanese so obsessed with this little game of Pachinko?
Head into one of the largest Pachinko parlour in Shibuya, Pachinko Maruhan, to find out for yourself. We don't want to spoil it too much now, except to say that it is an extremely simple game that oddly resembles pinball.
Day 3 – Old Meets New: Of real Japanese fishermen, a 7th century temple, and shops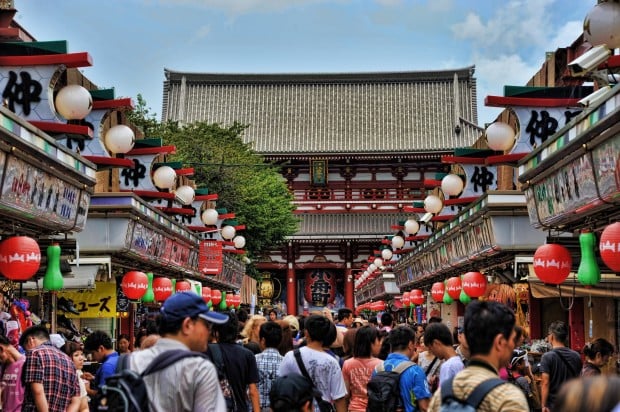 Image credit: chensiyuan
1. Wake up before the sun rises to witness the famous Tuna Auction at the Tsukiji Fish Market
The largest and busiest fish market in Japan, one of Tsukiji Fish Market's main draw is the legendary Tuna Auction that takes place before the sun rises most mornings. Before you go though, check this website to see if public access is permitted that day.
Entry to the auction is free on a first-come-first-serve basis, limited to 120 people, admitted in two tours of 60.
Registration starts from 5am, but people start queuing from 2am onwards. To be safe, try to reach there before 3am to be one of the 120 lucky people. They give out coloured vests to identity visitors, and if there are still spots available, you will get one. As soon as they run out of vests, you're out of luck.
Tips: As there is no 24-hour public transport in Tokyo, you need to spend the night somewhere near Tsukiji market. Consider taking a three hour shuteye at the nearby Com Com Manga Café (a mere ten minutes' walk from the site of the Tuna Auction). If you're not intending to sleep, pop into the reliable Sushizanmai's honten (main branch) right beside the fish market, which is open 24 hours.
Tips: Wear appropriate clothes and footwear as it can get quite smelly and messy. Be prepared to jump out of the way of incoming trucks and trolleys. Please remember to bring a jacket as the auction area is cold especially since the tuna are frozen. Bring a book or a magazine to read while waiting for the auction to start. There's absolutely nothing to do while waiting.
No visit to Tsukjii is complete without a well-deserved sushi breakfast (to reward yourself for waking up in the middle of the night).
Tips: Go to Sushi Dai (Dai means number one in Japanese), but brace yourself for the crazy long queue (three hours is commonplace). Just a bit further down on the same street as Sushi Dai is Daiwa-Zushi, which is just as good as Sushi Dai. Fun fact: Daiwa-Zushi is run by the son of the owner of the Sushi Dai, and it is said that father and son fish together and frequently compete to see who can catch and make the best sushi in Tsukiji.
2. Explore Asakusa, the centre of Tokyo's shitamachi (which literally translates into "low city")
The Asakusa area can be easily explored by foot, and has been praised as a place where an atmosphere of Tokyo's past decades lingers. The main attraction in Asakusa is the Sensoji Temple, a Buddhist temple built in the 7th century, claiming its place as Tokyo's oldest temple.
Also marvel at the beauty that are the Asakusa Shrine and the Kaminarimon (Kaminari Gate) leading to Sensoji Temple.
Then, walk and eat your way through Nakamise Street. A shopping street that stretches over 200 metres, it leads from the Kaminarimon to Sensoji Temple's second gate, Hozomon. Look out for traditional Japanese souvenirs like Japanese chopsticks, geta (Japanese sandals), wooden combs, and Maneki Neko (a traditional good luck charm in the form of a beckoning cat).
Tips: When was the last time you wrote a postcard? Buy some postcards depicting the sceneries of Asakusa in the Edo Period (a historical period of Japan between 1603 and 1868) and send a few to your loved ones back home.
Also read: Cuteness Overload: 10 'Kawaii' Things to Do in Tokyo
Day 4: Relaxation the Japanese way: Of traditional theatre and hot springs
Image credit: Sergey Vladimirov
1. Appreciate Kabuki, one of UNESCO Intangible Cultural Heritage
Kabuki is a traditional Japanese form of theatre dating as far back as the Edo Period. Rich in showmanship, kabuki involves elaborate costumes and outlandish make-up. Most essential to kabuki is, however, the exaggerated actions performed by the actors.
Plots typically revolve around historical events, moral conflicts, love stories, tragedies, or other well-known stories. As even Japanese people find it hard to fully understand the old-fashioned form of Japanese language that is usually used in kabuki, it is reassuring to know that headsets can be rented for English narrations and explanations.
The Kabukiza Theater is one of the best places to see kabuki, with plays happening almost every day. Check out this website for show details.
Tips: One full Kabuki show typically lasts about four to five hours, which can be overwhelming for most people. As a kabuki program is made up of several acts, opt for a single act ticket (an act is about 45 to 60 minutes) just for the experience. Expect to pay around 2000 yen.
2. Pamper Youself at one of the Best Onsen Theme Parks in Japan – the Oedo Onsen Monogatari
What better way to conclude your visit to one of the most volcanically active country in the world than with a trip to an onsen (hot spring) in its capital city?
Oedo Onsen Monogatari is one of the most well-loved onsen in Tokyo. Not only does it house natural hot spring baths, this theme park is decorated with the intention to bring customers back in time to the Edo era. There are plenty of entertainment options, from fortune telling, carnival games, dining places, shopping, to overnight accommodation.
However, don't let those distract you from the main appeal of this place: the onsen. There are numerous baths of different temperatures and sizes. Take your pick from outdoors or indoors, and try out the baths with the massage jets. The water, rich in sodium ions, is drawn from 1400 metres underground. The thermal baths here are thought to be good for relieving nerve, muscle and joint pain.
Tips: People with tattoos are not admitted. Expect to pay about 2500 yen. Consider the "Doctor Fish" foot bath, where small fish nibble away at the dead skin on your feet.
Also read: 7 Seriously Cool Hostels in Tokyo Under SGD 50
That brings us to the end of our 4 day itinerary of what to do and where to go in Tokyo! Tokyo has so much to offer, and it's only inevitable that we left out some pretty swell places in our 4 day itinerary. If you have a few more days in this wondrous city, you might want to consider checking out the Shinjuku Gyoen National Garden (one of the most aesthetically pleasing green spaces in Tokyo) and the Akihabara district (an area famed for its countless electronic shops and in recent years the epicenter of Japan's otaku culture).
Like all itineraries, allow yourself some freedom and flexibility. Discard some places that doesn't interest you as much, throw in some others, be open to new and at times culturally shocking experiences, and you're all set for your upcoming Tokyo trip to be your most fruitful and awesome one yet!