Travelling these days isn't just about discovering exciting new experiences, it's also about taking swoon-worthy photos to remember your trip! Check out these experiences at Resorts World Sentosa that simply belong on your Instagram feed! 
Also read: Reignite Your Wanderlust at Resorts World Sentosa With These Unique Experiences Fit for Every Traveller!
1. Take a dip in the freeform pool at Equarius Hotel
Nestled along the fringes of a beautiful tropical rainforest, Equarius Hotel is one of the most enticing stays at Resorts World Sentosa. The natural sunlight that shines through from its large glass panels casts a homey and ambient glow that makes for a refreshing sight and fantastic pictures. For that tropical @staycationvibes photo, try capturing a photo as you're entering the deep blue free-form pool! 
2. Wake up to magical underwater sights at Ocean Suites
As a deluxe two-storey townhouse, Ocean Suites feature a living room area with an outdoor patio on the upper level, but the real show stopper is the bedroom on the lower floor. Right across your comfy bed is a large floor-to-ceiling window that opens out into the Open Ocean Habitat at S.E.A. Aquarium with over 40,000 marine animals — which we must say is an obligatory photo spot for your stay. And since you're in your own room, don't be shy to let loose and strike a multitude of poses to match the mood of the photo! 
3. Admire graceful marine giants at S.E.A. Aquarium
For even more magical underwater sights, head on over to S.E.A. Aquarium! One popular photo spot is the Shark Tunnel. The curvature of the tunnel provides the ideal framing and composition for your photo. Time your photos for when a majestic shark passes overhead and you'll have an awe-inspiring #potd for your feed! Otherwise, almost every corner of S.E.A. Aquarium doubles up as a stunning backdrop for photos: Ambient lighting, shadows cast by the reflections in the water, all these make for a blissful atmosphere that's perfect for soulful photos. 
Note: When taking photos at S.E.A. Aquarium, please ensure that you do not use any bright lights or flashes. 
4. Have photo session with sharks at Shark Encounter
Shark Encounter is one of the most popular and in-demand activities at Resorts World Sentosa and for good reason. After all, how often do you ever get the chance to get up close with these alpha predators of the ocean! From behind the safety of an acrylic underwater tank, of course. All you need to do is bring proper swimwear and staff members will be on hand to help you capture this picture-perfect moment swimming with the sharks.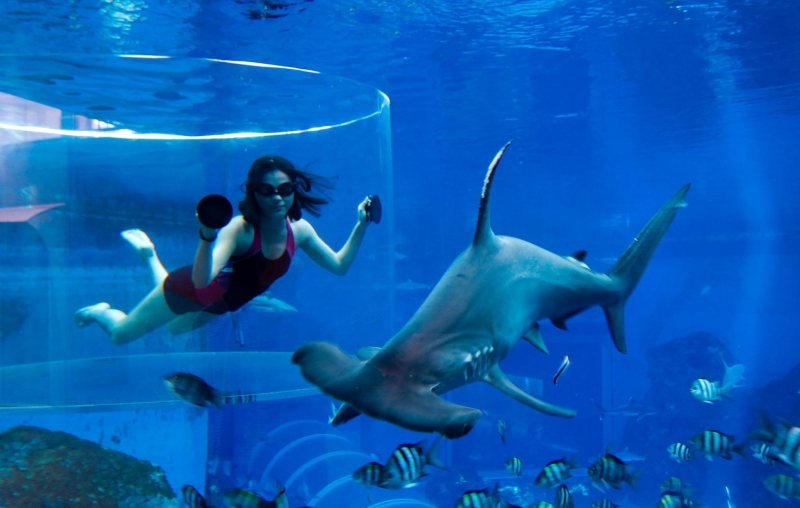 5. Snorkel amidst colourful fishes at Rainbow Reef
If you'd like an even more intimate experience where you can swim freely alongside the marine animals you see, then head on over to Adventure Cove Waterpark where you can snorkel alongside 20,000 tropical fish at the Rainbow Reef! Set in an environment that perfectly mimics a natural reef colony, you'll be able to experience an Insta-worthy snorkeling experience that rivals even the ones offered in the Maldives or at the Great Barrier Reef.
6. Strike a pose with your favourite stars at Universal Studios Singapore
At Universal Studios Singapore, whether it's the Minions from Illumination's Despicable Me, the ever-popular characters from Transformers, or the colourful cast of Sesame Street, you just can't help but approach them and strike a pose for a quick photo for your Instagram feed! To make sure you don't miss any of these stars, be sure to check out the showtime board or Universal Studios Singapore Guide App for the Meet-and-Greet time slots!
7. Round up your picture-perfect trip with a classic pose
Finally, no visit to Resorts World Sentosa is ever complete without the iconic photo next to the Universal Studios Singapore globe! In fact, you could even say that this is one of the most popular photos to take in all of Singapore! So don't be shy! On your next trip to Singapore, walk right up and strike your best pose! 
Also read: Top Fine-Dining Experiences at Resorts World Sentosa to Celebrate Your Special Occasions!
And there you have it, seven of the best Insta-worthy experiences in Resorts World Sentosa that will bring your travel-starved Instagram feed back to life! So the next time you're planning a trip, make sure you don't forget your camera! 
For more information, visit Resorts World Sentosa's official website, Facebook, and Instagram page
---
Brought to you by Resorts World Sentosa.
Resorts World, the Resorts World logo and all Resorts World elements and related indicia TM & © Genting International Management Limited. All Rights Reserved.
TRANSFORMERS and its logo and all related characters are trademarks of Hasbro and are used with permission. © 2022 Hasbro. All Rights Reserved. © 2022 DreamWorks L.L.C. and Paramount Pictures Corporation. All Rights Reserved. Sesame Street ® and associated characters, trademarks and design elements are owned and licensed by Sesame Workshop. © 2022 Sesame Workshop. All rights reserved. Minions and all related elements and indicia TM & © 2022 Universal Studios. All rights reserved. Universal elements and all related indicia TM & © 2022 Universal Studios. All Rights Reserved.