The Maldives may have been an expensive destination in the past, a place that could only be visited on pre-booked tours by established travel companies. Those days are over. You don't have stay at a luxury resort anymore, nor pay commission to travel companies. The Maldives have opened up to independent travelers in recent years, which means that you are now allowed to mingle with the local population and can stay in independent locally owned accommodations. It is now entirely possible to plan and manage your vacation to the Maldives yourself. If you're prepared to do some research beforehand and spend more time sorting through your options, you can come up with an incredibly cheap and personalised itinerary.
Budget airlines have emerged at an lightning-fast rate in Southeast Asia in the past decade, while budget, yet well-equipped, guesthouses are popping up like mushrooms and cheap ferries now travel between the islands.
Here's an overview of how to save money on the five most expensive aspects of travel, the five aspects that are involved in any trip.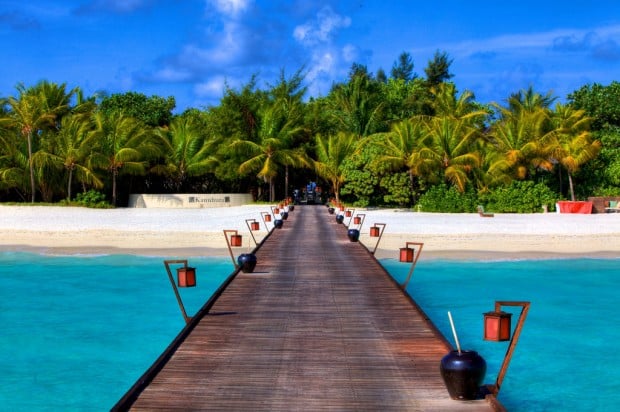 Image Credits: Nic Adler
Also read: Travel Notes: Solo Backpacking in Maldives
Flights
While once it would have cost you more than $1,000 to travel to the Maldives from anywhere in Asia on flights that included way too many layovers, now there are several regional Southeast Asian airlines that offer pretty affordable fares.
Examples of airlines that operate between Singapore and Malé, the main island of the Maldives, are Malaysia Airlines, Singapore Airlines and Sri Lankan Airlines. Of course, your best bet for a cheap flight is with a budget airline, so do follow Tigerair on Facebook to be in the loop for their "Tigerflash" sale and other promotions.
If you plan your trip well (or if you are lucky to have scored flight tickets during a promotion) you will be able to find tickets priced as low as $258. Usually tickets are a bit more expensive than that, though, but still extremely affordable.
In addition to Singapore, there are also flights to Malé from other major Asian cities, such as Kuala Lumpur, Bangkok and Dubai, with the same kind of affordable fares.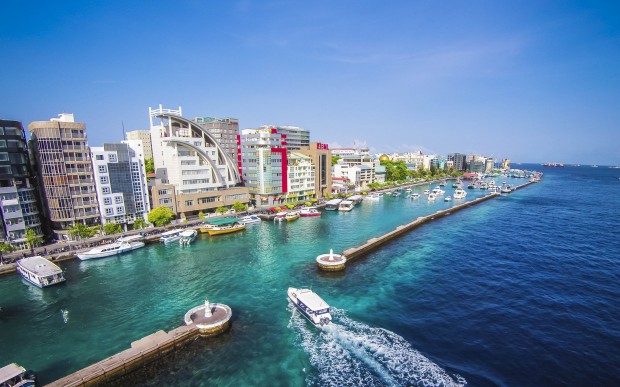 Image Credits: Nattu
Also Read: Travel Notes: Solo Backpacking in Maldives
Transportation
Because the Maldives is an archipelago of no less than 1,192 islands, 192 of which are inhabited, the only ways of getting around are by ferry or by domestic flight. From Malé Airport, you can reach Malé by ferry. Those ferries leave right next to the exit of the airport. The ride takes approximately twenty minutes and cost about $1.
Getting around Malé can be done by taxi, which usually won't cost you more than $5. Taxis are also the only way of getting to the main ferry port, where the public ferries to the other islands depart. In case you want to visit another island, it's important to check the respective ferry schedules (they don't run all too regularly). Prices for a ferry ride between islands range from $3 to $20, which is still insanely cheap.
It's only when you want, or need, to visit an island that's further away that you will have to cough up some more cash. That's when you will be looking at a domestic flight or a trip by speedboat, both of which could cost you a few hundred dollars. Speedboats are the only way to get from Malé to a resort.
A possible way to save money on transportation over longer distances is to ask a local fisherman if you can hitch a ride on his boat. You will definitely be asked to pay a fee for that, but that'll be much cheaper than paying for a flight or speedboat ride.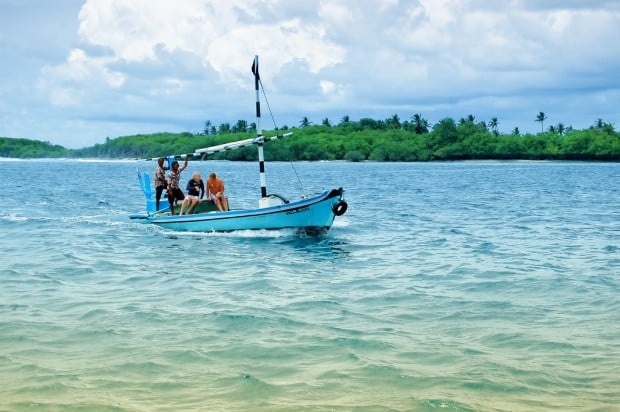 Image Credits: Nattu
Accommodation
Maldives may have a reputation of tropical luxury, but that doesn't mean that there aren't any budget options. Since 2009, when the Maldives' government first allowed locals to run guesthouses, there has been a rapid increase in locally owned budget accommodations on the islands. Prices for a night in one of those guesthouses can be as low as $40, or $20 per person if you're traveling with a friend or partner – much, much cheaper than the rates of luxury resorts. Therefore, instead of staying in a resort island, go hunt for the perfect Maldivian local island for your getaway.
Although there are guesthouses on many islands, there are a few that you should consider first. There are several guesthouses on Malé, the main island, and on the urbanized island of Hulhumalé, but it is the islands of Huraa, Thoddoo, Mathiveri and Felidhoo that, together with comforts and excellent facilities, also provide more solitude and nature. That's where you really want to be!
Staying at a local guesthouse is also a wonderful way to get to know the local people and culture. Obviously, those types of accommodation aren't as luxurious as private resorts, but they do have everything you need. And because you're consciously traveling on a budget, you won't need much anyway, right?
However, before rushing off to book a cheap guesthouse, do take note of its location, what the cost includes, and your means to get there from the airport. Speedboat transfers may add up to a fair sum of money and if you're planning to hop around the many islands, you will want to stay in a place with easy means of getting around.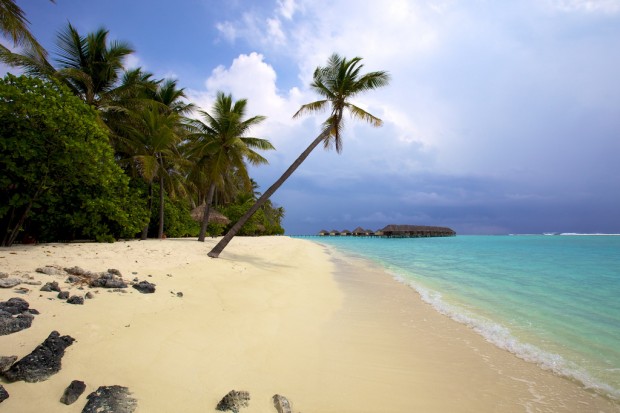 Image Credits: Nic Adler
Also read: What to Know Before Booking Your Maldives Vacation
Food
Another amazing advantage of staying at a guesthouse is that they sometimes provide meals as well, authentic local meals prepared with healthy ingredients. If you happen to be staying at a guesthouse that doesn't provide meals, there's usually some kind of cheap local restaurant in the area. Coffeehouses, for instance, are great places to get a – that's right – cup of coffee, but also serve sandwiches, noodles and other kinds of snacks.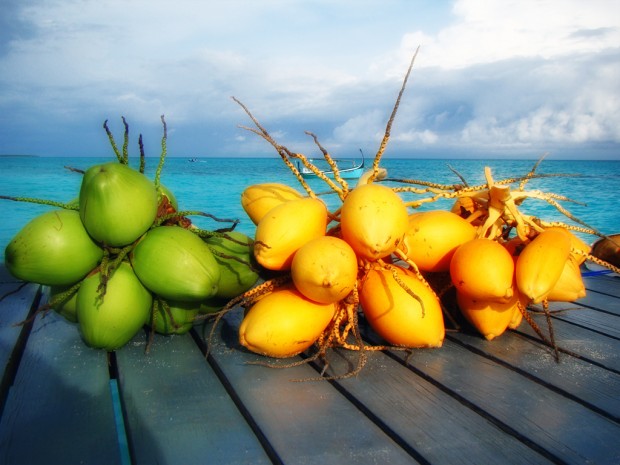 Image Credits: Badruddeen
Things to Do
Activities on the Maldives can be crazy expensive, but, again, the guesthouses provide affordable solutions for that problem. Both the resorts and many guesthouses offers dive excursions, but it should come as no surprise that the guesthouses charge a lot less. Although each guesthouse has its own specific prices, you shouldn't expect to pay more than around $30 per person for a snorkeling trip or around $60 for a day trip to a deserted island.
In case your guesthouse doesn't offer any excursions, you can always knock on the door of a resort and inquire if you can join one of theirs. That'll cost more, but, hey, you're still saving money by not staying there!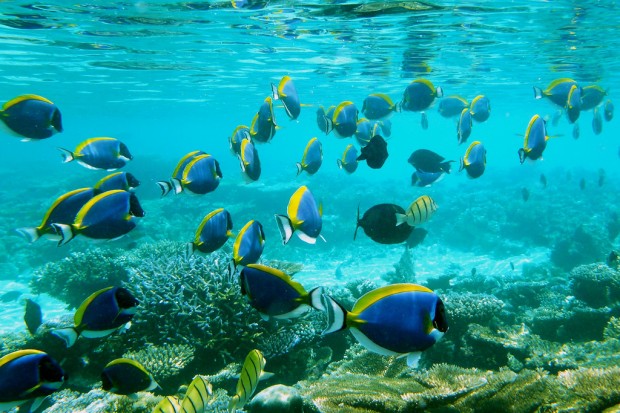 Image Credits: Nic Adler
Also Read: 8 Reasons Why a Maldives Trip is Worth Breaking the Bank
Additional Notes
It's good to be aware of the fact that the Maldives is a Muslim country and that women are supposed to cover up their legs and shoulders on the beaches, making wearing a bikini impossible. Wearing swim gear is only allowed on the private beaches of the resorts and out at sea during excursions. Additionally, alcohol is forbidden as well, except, again, within the boundaries of the resorts. Those are two things to be aware of; two things that shouldn't be a problem when taking into account the memorable experience that you get when staying at a local guesthouse with a Maldivian family and eating authentic freshly prepared Maldivian food.