Maldives is one of the world's greatest beach destinations. That's not an overstatement by any means. This island country comprises hundreds of islands in the Indian Ocean, some of which are owned entirely by resorts and hotels. It's also one of the most iconic tropical destinations in the world, famous for its overwater bungalow complexes that extend into the shallow blue ocean. This is a dream of a destination – quite literally for many people.
To provide you with some fun travel inspiration, we have compiled the following list of best overwater bungalows in the Maldives.
Also Read: How to Travel Maldives on a Budget
1. Constance Moofushi Resort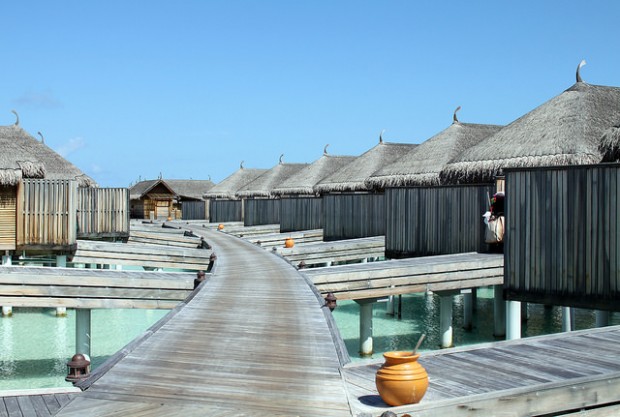 Image Credits: flowcomm
Constance Moofushi Resort is one of the newest all-inclusive resorts in the Maldives. The all-inclusive program applies to the whole island, which is entirely owned by the resort. A stay at this five-star private island resort includes three meals per day, alcohol and plenty of water sports and other activities.
2. Centara Grand Island Resort & Spa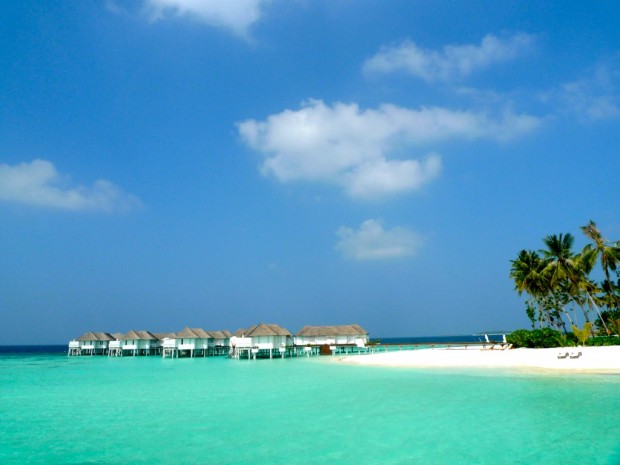 Image Credits: kashmut
Centara Grand Island Resort & Spa is a luxurious four-star resort with 62 overwater bungalows and 42 rooms on the island. It offers an all-inclusive package. Although it's not the cheapest resort, you might want to consider it for the size of the bungalows, the presence of a hot tub in almost every bungalow and the blissful rain showers on the decks.
3. Vakarufalhi Island Resort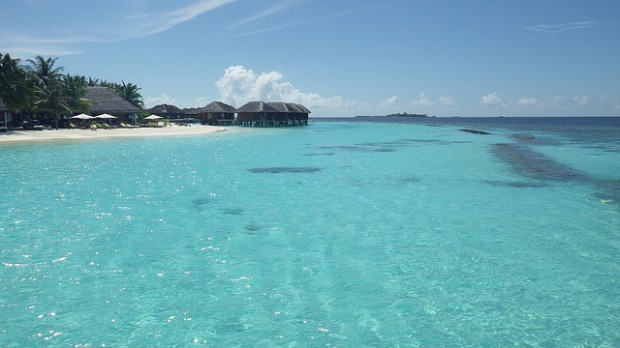 Image Credits: Laika ac
One of the smaller private-island resorts in the Maldives, Vakarufalhi Island Resort has 25 overwater bungalows and an additional 50 beach villas. It's an informal place to stay – a place where it's normal to walk around barefoot all day. The bungalows themselves are well-equipped, while the restaurant offers excellent food.
4. Anatara Veli Resort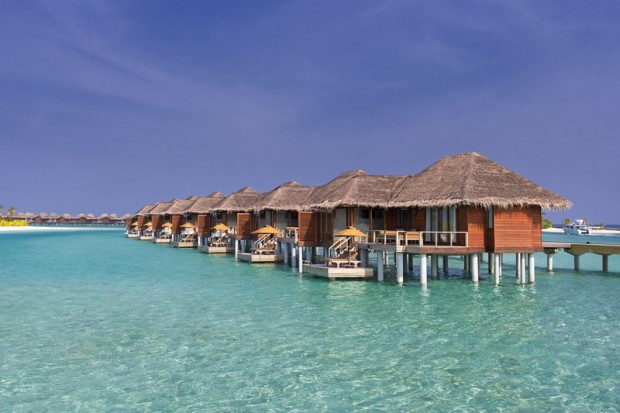 Image Credits: Anantara Veli Resort & Spa
The 50 overwater bungalows at Anatara Veli Resort are soaked in luxury. They all have a double sundeck, dressing area, wine fridge, king-size bed, flat-screen TV, Wi-Fi and more.
5. Ayada Maldives
Image Credits: Ayada Maldives
Ayada Maldives offers everything that you'd associate with a tropical island getaway, from ocean hammocks to overwater bungalows with their very own pools and private terraces. This resort, surrounded by a coral reef where dolphins play, is often included on lists featuring the best resorts in the Indian Ocean.
Also Read: 8 Reasons a Maldives Trip is Worth Breaking the Bank
6. Kuramathi Island Resort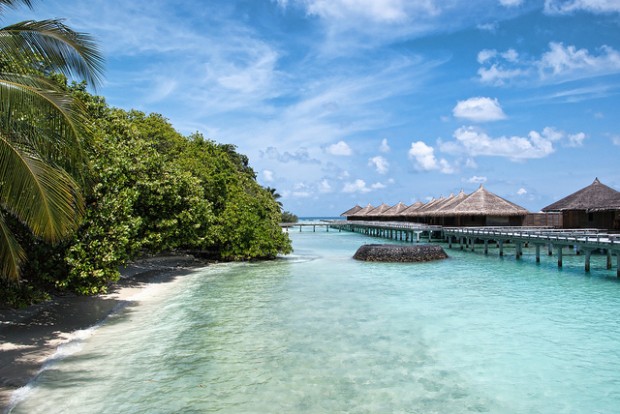 Image Credits: Marc
Kuramathi Island is one of Maldives' largest private islands. The four-star Kuramathi Island Resort comprises the entire island and has almost 300 rooms, including 70 overwater bungalows. It offers all-inclusive plans, which cover food and activities, but no alcohol or other luxury items.
7. Baros Maldives

Image Credits: Baros Maldives
Set on its own private island, Baros Maldives consists of 30 overwater bungalows, all featuring the most modern amenities. Additional facilities in the resort include, but aren't limited to, a restaurant and a spa.
8. Veligandu Island Resort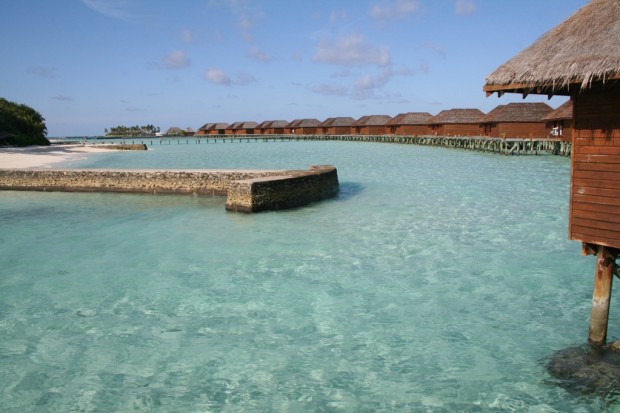 Image Credits: giuseppe portale
Compared to other private-island resorts, this one is rather affordable (which doesn't necessarily mean that it's cheap). Veligandu Island Resort consists of 64 overwater bungalows and has the amenities and prices to rival some of the much bigger resorts. Activities on offer include sunset cruises, sea kayaking and snorkelling lessons.
9. Gili Lankanfushi Maldives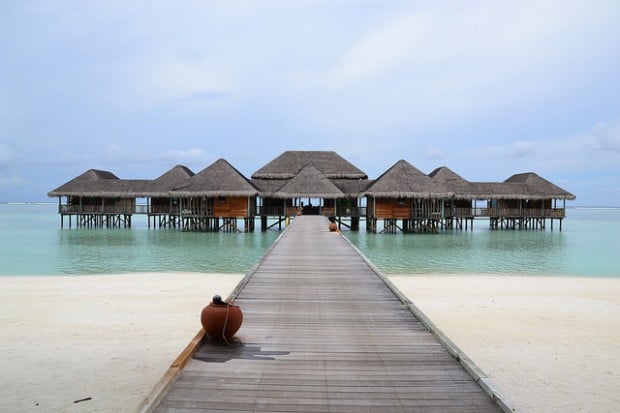 Image Credits: Simon_sees
The seven overwater bungalows that make up the so-called Crusoe Residence at Gili Lankanfushi Maldives are truly one of a kind. Unlike the overwater bungalows in other resorts that are connected by a boardwalk, these bungalows are solitary and can only be reached by boat. Equipped with a rooftop sundeck and wine cellar, a private motorboat and a large air-conditioned living room, these bungalows are the ultimate tropical getaway.
10. Lily Beach Resort & Spa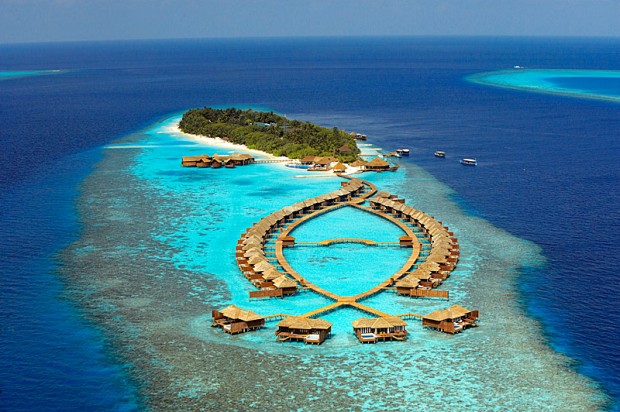 Image Credits: Lily Beach Resort & Spa
Lily Beach Resort & Spa is among the highest rates all-inclusive accommodations in the Maldives. This five-star high-end luxury resort features 56 water villas, or overwater bungalows. In the peak months, it would be hard to find a free spot, so make sure to book way ahead if you ever want to stay here.