Contributed by The Bisaya Traveler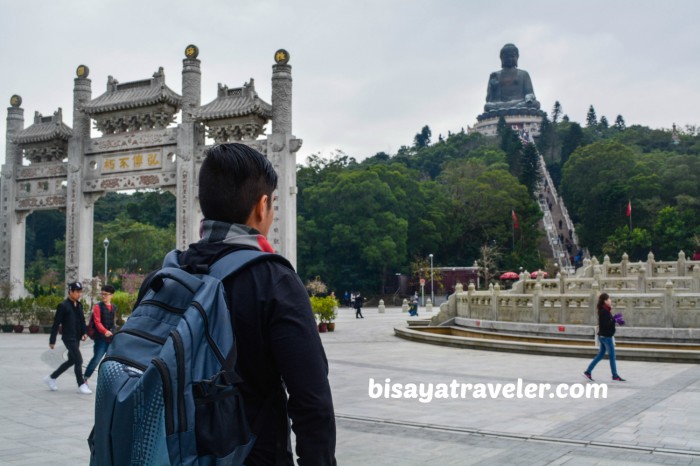 Lantau Island – the largest island in Hong Kong – is a surreal and charming hub that brings solace to the senses and soul of its visitor. From impressive Buddhist architectures to towering peaks, Lantau Island boasts a plethora of diversions and sights that promise to take your breath away. Whether you're travelling alone or with your family, you will surely find your bliss on Hong Kong's largest outlying island. As a matter of fact, you'll have an absolute blast in this Asian destination, even if you don't stop by its most sought-after attraction – Hong Kong Disneyland.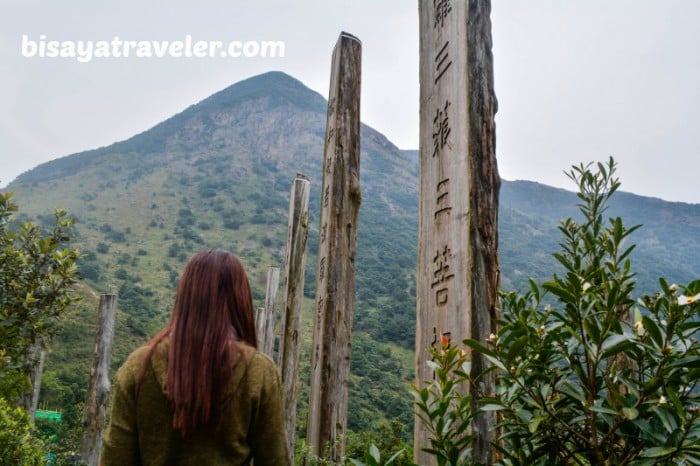 Unlike most tourists and travellers on Lantau Island, I didn't include the world-famous Hong Kong Disneyland to our travel itinerary. Don't get me wrong – the Hong Kong Disneyland can be a supremely fun and exciting experience for other people, with its magical series of spectacular events and thrilling rides. But the thing is, I've never been a big fan of Mickey Mouse and his sprightly crew. Not to mention, the admission for this renowned theme park is a little steep for my taste, at HK$539 (₱3,455) for a 1-day adult entry.
Also read: Kowloon City: A Historical Neighbourhood to Explore on Your Hong Kong Trip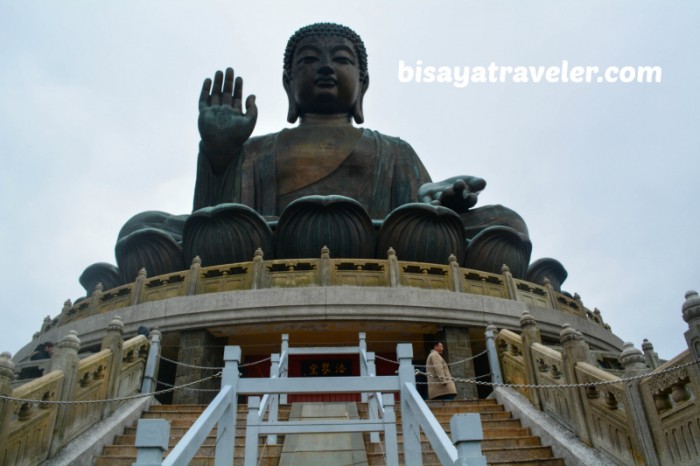 While we didn't swing by Disneyland, my wife and I still had a swell time, exploring Lantau Island. Here's how enjoyed our 1-day visit on this Hong Kong island.
How we got to Lantau Island
We reached Lantau Island like most locals would do – by train. From our guesthouse in Nathan Road, we headed down to Tsim Sha Tsui MRT station and took a train ride to Lai King Station via the Tsuen Wan Line (red line). Then, we took another train ride to Tung Chung – the gateway to Ngong Ping Village, through the Tung Chung Line. For more information about the city's MTR service, make sure to check out their official website.
After enjoying a hearty lunch at Subway outside the Tung Chung station, we went straight to Ngong Ping Cable Car Terminal, where we saw a couple of long lines for the ticket counter. But since we booked our tickets prior to our trip, we got to skip the longer queues and waited in line for just a few minutes. Upon submitting our voucher, the lovely lady in the counter gave us our tickets for the Ngong Ping 360 ride as well as for the meals at the Ngong Ping Garden restaurant.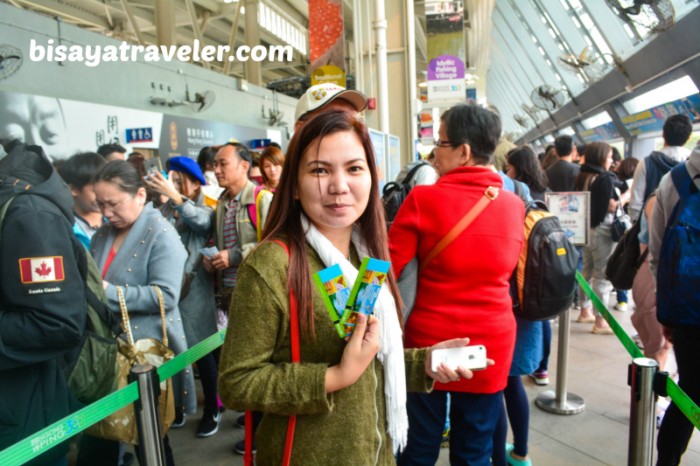 We still had to wait in line, though, after receiving our tickets for our standard Ngong Ping 360 ride. Nevertheless, the wait was painless and rather short. As we were about to embark on our journey, a young employee took pictures of everyone inside the cabin. I didn't know what exactly those pictures were for, but I still gave him my best smile.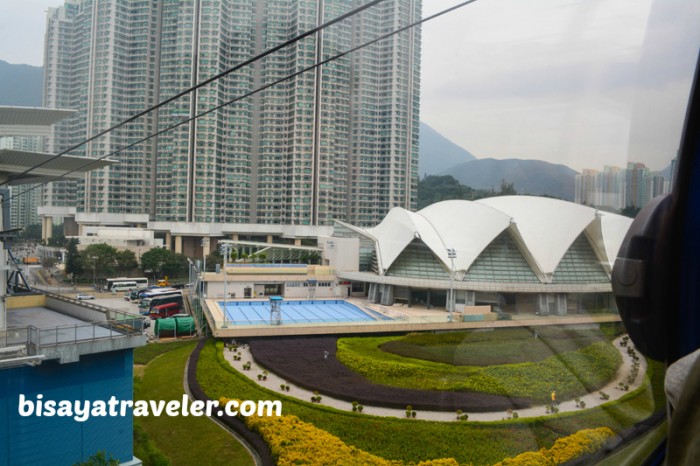 Our Ngong Ping 360 ride, even though we picked the standard option, was nothing short of amazing. Thrilling and marvellous, this comfortable 25-minute gondola lift gave us tons of mesmerising bird's eye views of the sprawling Hong Kong International airport, Lantau Island's verdant mountainside as well as the beautiful deep blue sea. Yes, it was a bit hazy, but we were still treated to unforgettable panoramas and overlooking vistas of Hong Kong.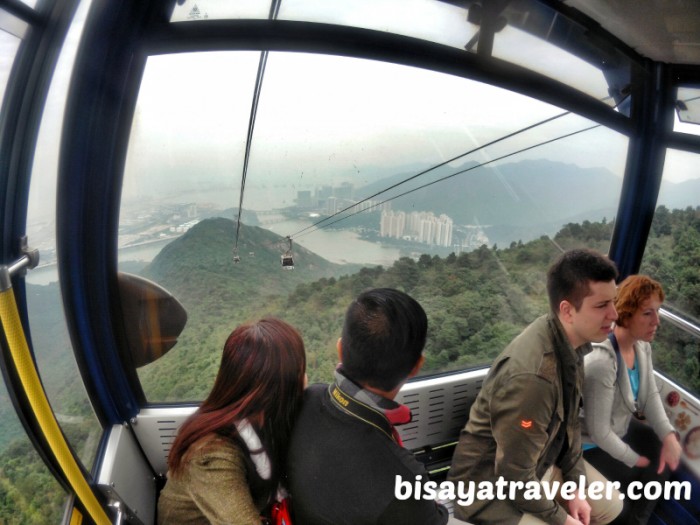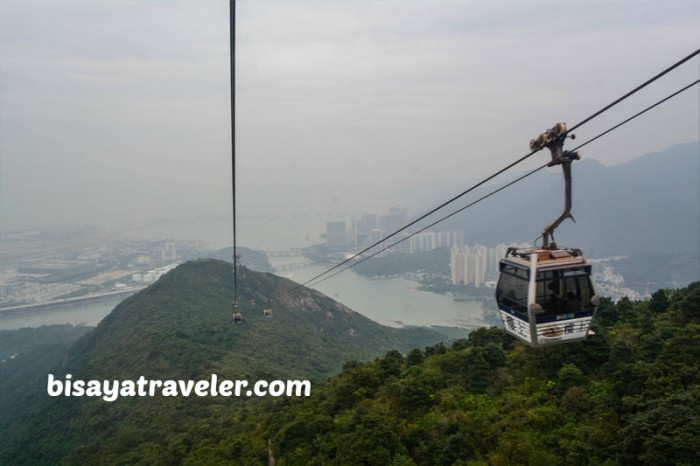 My wife and I were literally on the edge of our seat, snapping photos and admiring the stunning sights surrounding our cabin.
Moments later, a familiar iconic sight came into view – the Tian Tan Buddha.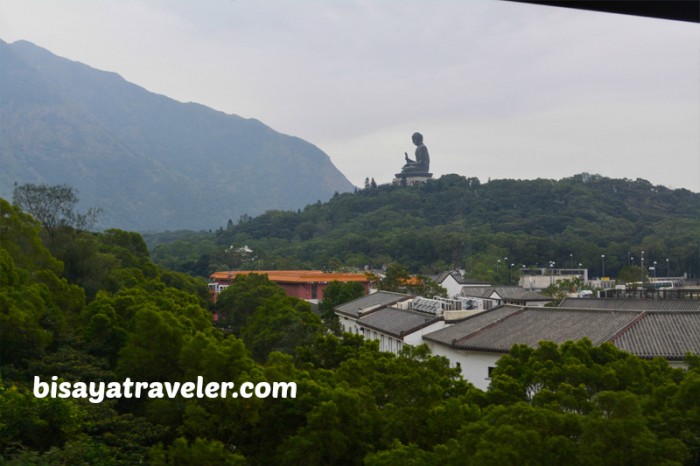 All of a sudden, I could feel a burst of excitement and adrenaline flowing through my veins. I couldn't hide my excitement to my wife, as we were getting closer to end point of our cable car ride.
Ngong Ping Village
As soon as our cable car ride arrived at the upper terminus, we wasted no time and went down to the nearby hall. And guess what folks? We saw a snow globe with our picture taken prior to our cable car flight. That was pretty quick! The tourist guide assigned in the area gave us his best pitch, luring us into their products.
But with a fairly expensive price tag, we respectfully declined their merchandise offers and marched on to the next stop of our trip, which was the Ngong Ping Village. As we were making our way to the village, we caught sight of the Big Buddha from another perspective. And of course, we spent a minute here, to enjoy the view of this gigantic statue.
The Ngong Ping Village is essentially an entertainment and retail centre that houses a collection of restaurants and shops selling souvenirs. We didn't spend a lot of time in this part of Ngong Ping, but took a slew of pictures of it, as we walked towards the Big Buddha.
Along the way, we saw some interesting sights, including a bunch of statues and an amicable cow that ate someone's Subway sandwich, including the plastic. Yikes!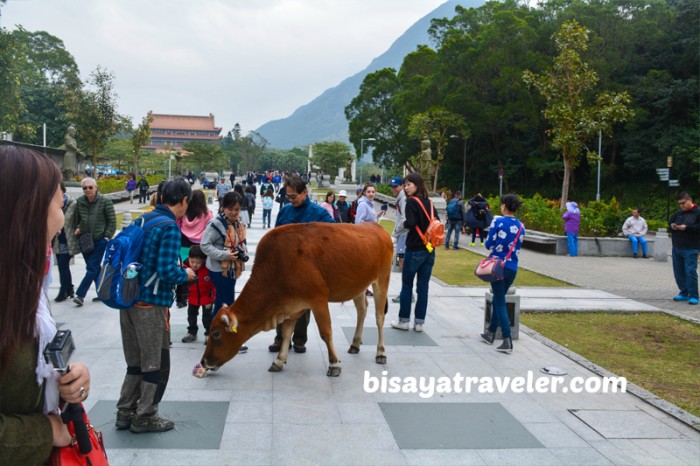 We passed by Ngong Ping Piazza's Instagram-worthy ornamental archway without noticing it since our eyes were so fixated on the gigantic Buddha statue. But before we could even make it to the stairway, my wife, Rabbie, suffered mild cramps on her right foot. I guess it was because of the rather cold weather as well as all the walking and hustling we've been doing on our first day in Hong Kong.
And like any resilient Filipina, she just shook it off, so we can continue on our journey on Lantau Island.
The Big Buddha of Lantau Island
The stairway leading to the sought-after Buddha statue brimmed with devotees and tourists, which really wasn't surprising to me considering its immense popularity. Still, it was a beautiful and remarkable sight that gave me an urge to snap dozens of photos. Honestly, it wasn't quite as big as I thought it was, but it was nevertheless a humbling experience and a sight that I'll remember for years to come.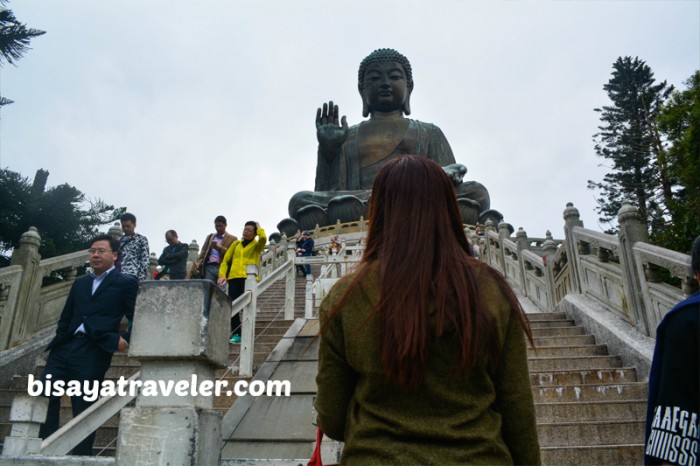 We, then, took the 268-step ascent to its base, to get a closer look at this remarkably beautiful architectural wonder. And, the Big Buddha of Lantau Island is totally awe-inspiring, when viewed up close.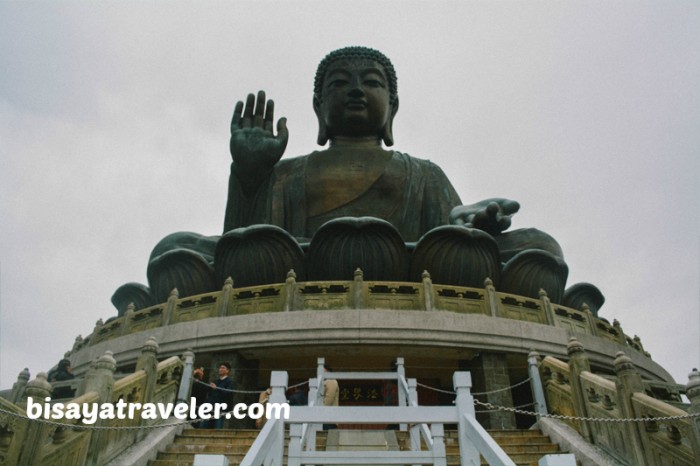 Together, we roamed around the first level of the three-tier podium where Tian Tan sites are located, to find more scenic views and unique angles of the Big Buddha. As you can see, there's no shortage of exquisite panoramas from this viewing platform, in spite of the mist covering it. From small monasteries to the sea and its nearby peaks, there are plenty of beautiful vistas from this overlooking vantage point on the Lantau Island.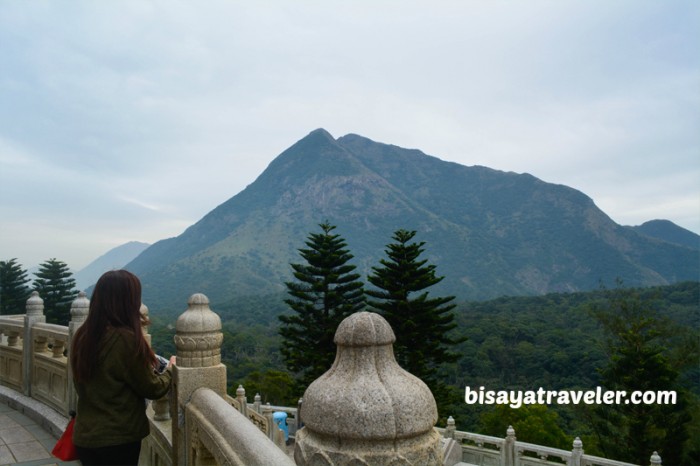 To make things even better, the platform displays 6 sizable and eye-catching statues of Bodhisattvas (Buddhist deities) – three on each side of the staircase.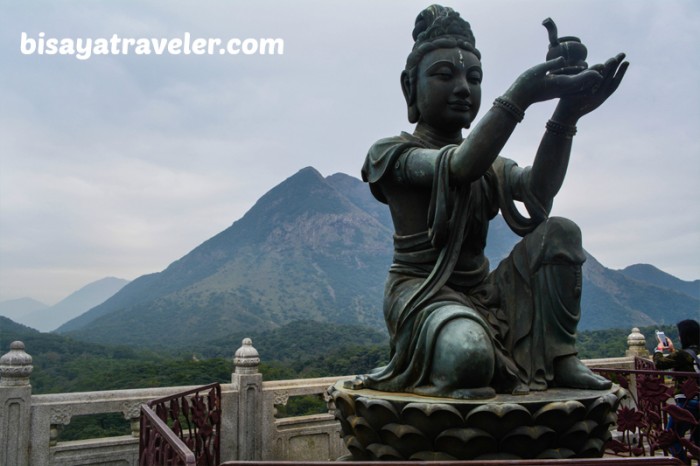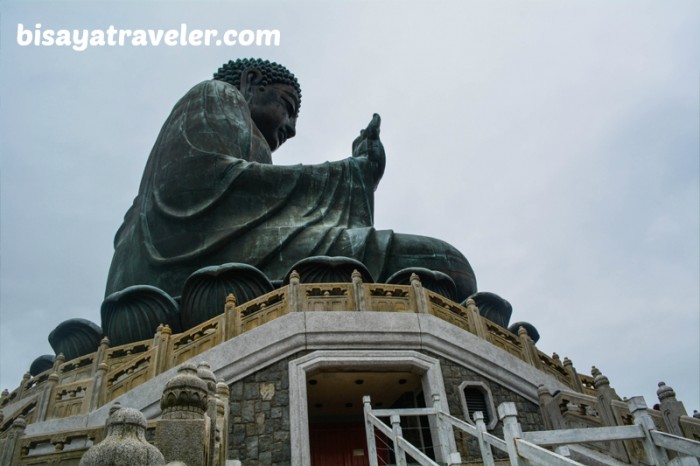 Eventually, we found a stairway leading to a closer viewing platform of the statue. And from there, I saw just how big, grand and elaborate this statue is.
The Buddha statue was an absolute joy to watch, but I had to stop gazing on it. Otherwise, I might end up with a painful strained neck.
Also read: 10 Totally Instagram-Worthy Spots in Hong Kong
Ngong Ping Piazza
With a happy set of eyes and rejuvenated souls, we went downstairs and admired the lush gardens and intricate architectural designs of Ngong Ping Piazza. We did spend some time there, to catch our breath, and relax for a while.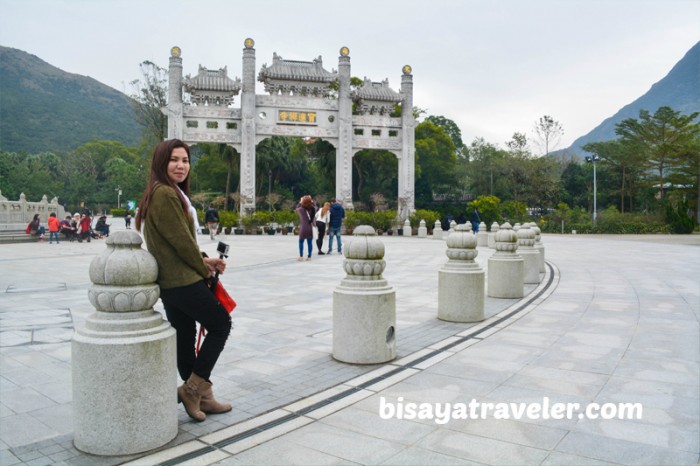 Po Lin Monastery
Although I got zero hours of sleep the previous night (I was too excited), I didn't feel tired, sleepy or weary. I even encouraged my wife to visit the buildings in this part of Lantau Island, including the Po Lin Monastery.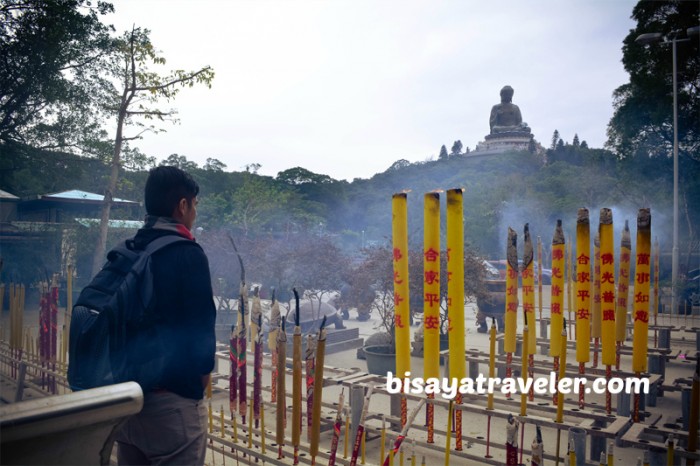 And the Po Lin Monastery was a sweet and awesome bonus to our day trip on Lantau Island. Home to many devoted monks, the monastery was filled with alluring scents and rich with gorgeous manifestations of the Buddhist iconography.
What's more, the monastery was adorned with mesmerising flowers like these fiery celosia flowers.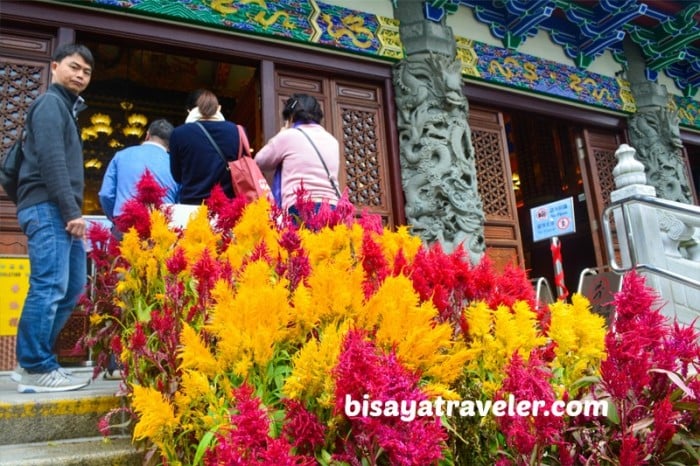 Looks familiar? You may have seen these flowers in Cebu at the Sirao Flower Garden.
We went inside a prayer room, where we were utterly amazed by a trio of shimmering golden Buddhas. Unfortunately, though, picture taking is prohibited in these areas of the monastery.
Wisdom Path
On our way out, I saw a map of the entire Ngong Ping Village. Then, I realised that we have yet to visit Wisdom Path and Lantau Peak. So, we headed back to Ngong Ping Piazza to hit the trail leading to the quaint and less-explored Wisdom Path.
I've read about Wisdom Path on a number of occasions, meaning I have a clue on what it looks like. My wife, on the other hand, didn't know anything about it.
Our walk to the Wisdom path was picturesque. We passed by a lot of interesting flora as well as a couple of abandoned spaces that look like scenes from a Chinese haunted movie. We continued the walk for about 10 minutes until we caught sight of a verdant hill dotted with tall wood columns.
Peaceful and bucolic, the Wisdom Path was a refreshing respite away from crowded corners of Ngong Ping Village. I didn't understand any of the inscriptions on the 38 lanky wood columns, but I felt like I was in a filming scene of a Chinese martial arts movie.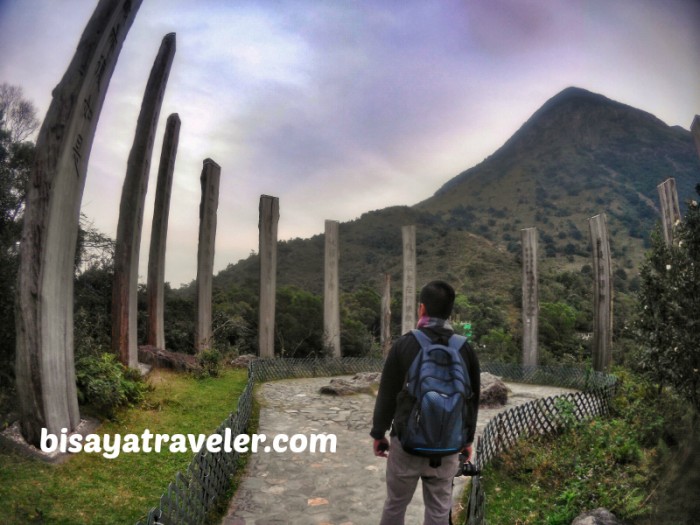 We also saw the steep trail to Lantau Peak. If it was up to me, I would definitely climb that goddamn mountain. But, I wouldn't want to exhaust my wife and drain all her energy, for the sake of my bliss. And besides, time wasn't on our side, and it was about to get dark.
We returned to the village, to take a breather and savour our meals at the Ngong Ping Garden Restaurant. And, with a pair of full stomachs, we went to the terminus and hopped aboard the lift bound for Tung Chung.
Also read: 15 Cheap & Cool Things to Do in Hong Kong
Important reminders
I suggest that you come to Ngong Ping Village early, to do some hiking in the wilderness. We went there about lunch time, meaning we didn't have enough time to hike Lantau Peak.
You can buy your Ngong Ping 360 tickets or any tours in Hong Kong at Tickets to Ride. Trust me, they offer great bargains for any tours in Hong Kong.
Sadly, the Ngong Ping Cable Car service will be temporarily suspended from January to June 2017. Check their website for more details.
There are other transportation options to Ngong Ping Village, besides the cable car lift.
Except for the cable car ride, all the attractions within the village can be enjoyed for FREE!