Contributed by Nomad How Far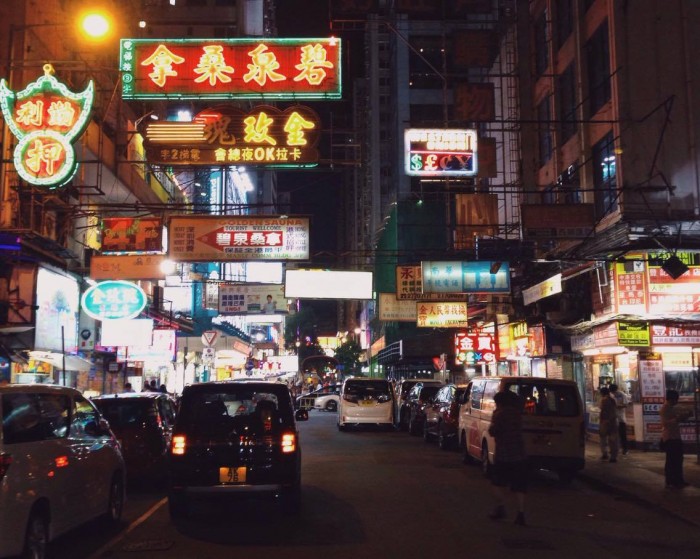 Hong Kong was our starting point of our Southeast Asia trip, and it became one of our most favourite travel destinations. It's a blend of East and West and is the perfect way to get into the vibe of East Asia. Hong Kong doesn't need to be expensive, you can camp for free on a secluded beach, eat in the cheapest Michelin starred restaurant, do some lovely hikes and even win money at the horse races! There are a thousand things to do in Hong Kong, so here are our 15 coolest things to do in the city that won't break your budget!
Also read: Exclusive Hong Kong Insider Travel Tips
1. Pick your favourite horse at the racecourse
There are two racecourses in Hong Kong, Sha Tin Racecourse (weekly on Saturday) and Happy Valley Racecourse (weekly on Wednesday). We preferred the Sha Tin Racecourse because this one was easier to reach from Mongkok. The Happy Valley Racecourse is more convenient if you stay on Hong Kong Island. We loved the Sha Tin Racecourse because it was full of locals, happy to help you to bet on the perfect horse. It is also universally acknowledged as a world-class racetrack! Don't take too much money because if you're like us, you'll be hooked from the very moment. Have a seat between the horse racing fans and feel the excitement and thrill of this sport. At the Happy Valley Racecourse, there's sometimes a themed night. Entrance is only HK$10.
2. Ride the longest escalator in the world
Hong Kong Island has the longest outdoor escalator in the world that connects Central district with the Mid-Levels district. The escalator is connected with footbridges and has multiple entrances and exits. Between 6am and 10am it goes downhill, which makes it convenient for all the businessmen from Mid-Levels to reach Central easily. It goes back uphill from 10am until midnight.
Along the way, you'll discover many cool coffee shops, restaurants, and shops. One of them is Little Buro in SOHO, which offers one of the best Mexican food of Hong Kong in a stylish, relaxed setting. Or Paisano's, also in SOHO, where we ate one of the best pizza in HK. The slices are huge, delicious and not expensive at all.
3. Visit Tai O Fishing Village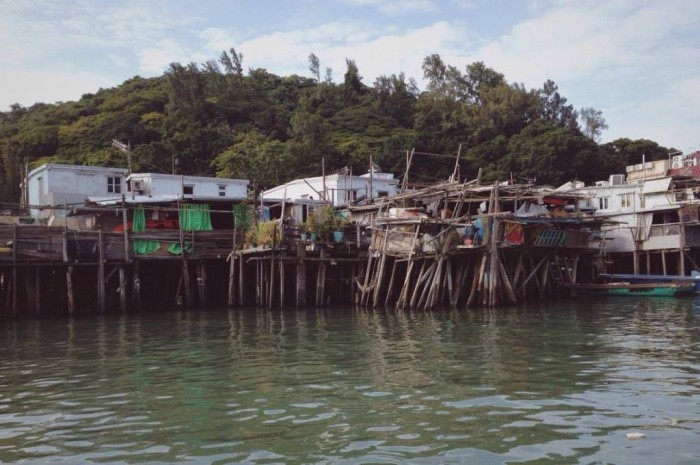 Build partly on the mainland of Lantau, Tai O's fishing village is one of the few remaining places in Hong Kong where you can see traditional stilt houses. Stroll around town and taste some of Tai O's seafood, take a boat tour (HK$20–25) around the village and island or go on a sea kayak excursion. If you're lucky, you'll even be able to spot one of the endangered Pink Dolphins! Combine Tai O with the Tian Tan Buddha and Ngong Ping 360.
Location: Tai O, Hong Kong (map view)
4. Find the hidden waterfall
This waterfall is not especially hidden but certainly not a well-known waterfall in Hong Kong. Even a lot of locals don't know about this waterfall. We're talking about the Dragon Ball Waterfall on the Wang Chung Stream. It is one of the most beautiful waterfalls of Hong Kong, especially after it has rained and there's a lot of water coming from the river.
This hike offers clear water pools, huge waterfalls and fantastic views over the forest. Beware, it's not an ordinary hike because you'll need to go along the stream for the biggest part and climb the rocks next to the waterfall. The hike takes 3–4 hours, and there is no option to buy water on the way. So be prepared before beginning the hike. You can find more info about how to get there here.
Location: Bride's Pool Rd, Shuen Wan, Hong Kong (map view)
5. Try ice cream and eggettes in Oddies Foodies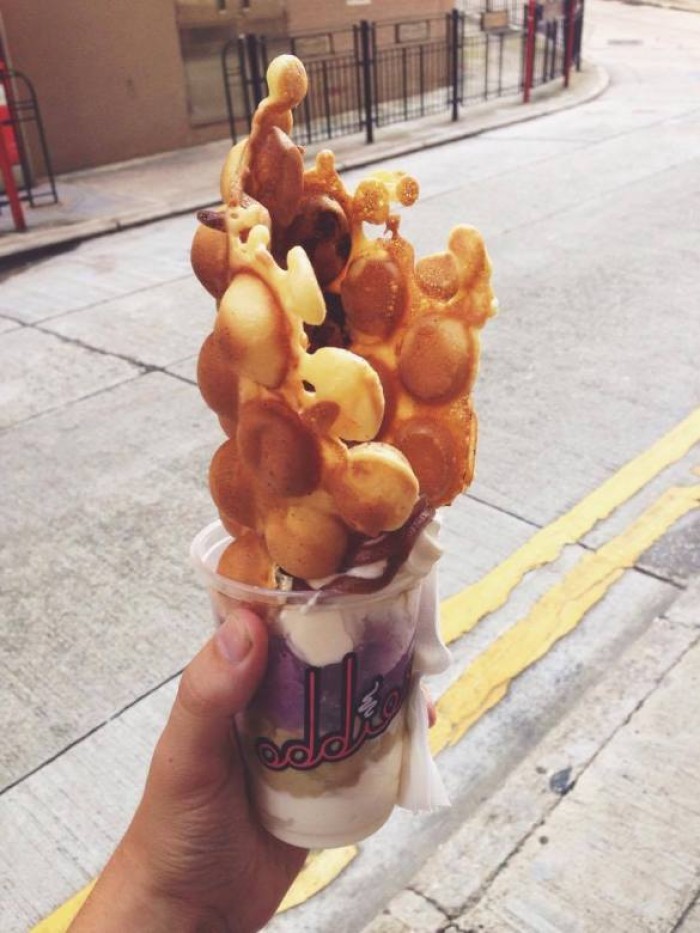 Eggettes or egg waffles are one of the main street snacks of Hong Kong, and HK-residents love ice-cream! So Oddies Foodies found the perfect way to combine Hong Kong's two favourite snacks. They offer ice cream sundaes with tasty Italian gelato and freshly baked eggettes. The combination is truly delicious. Now and then, they come up with different flavours so make sure to check out their Facebook!
Location: 149 Wan Chai Road, Wan Chai, Hong Kong (map view)
6. Grab snacks and beers from 7-Eleven
Yeah we know, 7-Eleven is nothing special. But if we went to one place daily, it was this convenient store. They are everywhere. Hong Kong now has more than 1,000 7-Eleven stores and has the second highest density of 7-Eleven stores in the world, after Macau. They are perfect for a quick snack or to buy some cheap beers instead of going to an expensive bar. Especially if you're a backpacker, Hong Kong can be a bit expensive compared to the rest of Southeast Asia. Get some beers, find yourself a cool spot to chill-out (for example in one of the many parks) and watch how the streets come to life at night.
7. Eat in the cheapest Michelin-starred restaurant
Steamer baskets of dumplings in all sorts and tastes, dim sums, vermicelli rolls or steamed egg cake. If you like these kinds of things, it would be an offence if you didn't go to Tim Ho Wan yet! They are the cheapest Michelin-starred restaurant in the world. The Baked Buns with BBQ Pork are their most famous dishes and are truly delicious! The portions are big enough and worth the money. This restaurant is very famous, so there is a chance that you'll need to wait for a table if you go during peak hours. Luckily, they have multiple branches on Hong Kong Island and Mongkok.
8. Take a Ding Ding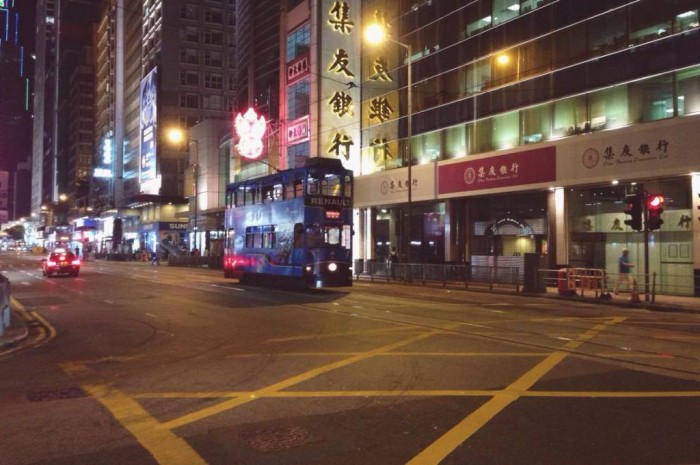 A Ding Ding is Hong Kong's double-decker tram that runs on Hong Kong Island between Kennedy Town and Shau Kei Wan. It costs just HK$2.30, which is super cheap (about US$0,30). We recommend doing this at least once. Hop on, get a seat upstairs, and when you want to hop off, pay the driver in cash or with your Octopus card. Enjoy the views!
9. Find the coolest photography spot in Hong Kong
Perhaps you've seen this cool picture that Peter Stewart took in Hong Kong. We searched a bit, and eventually found the spot in Quarry Bay. We think this is probably one of the coolest photographic spots of Hong Kong. The Yick Cheong Buildings are just regular apartments, but they show the urban architecture of Hong Kong. We didn't manage to take a decent picture because we only had our iPhone 5 with us. So don't forget to take your professional photo equipment!
Location: Yick Cheong Building, 1046 King's Rd, Quarry Bay (map view)
Also read: 10 Totally Instagram-Worthy Spots in Hong Kong
10. Sleep on a secluded beach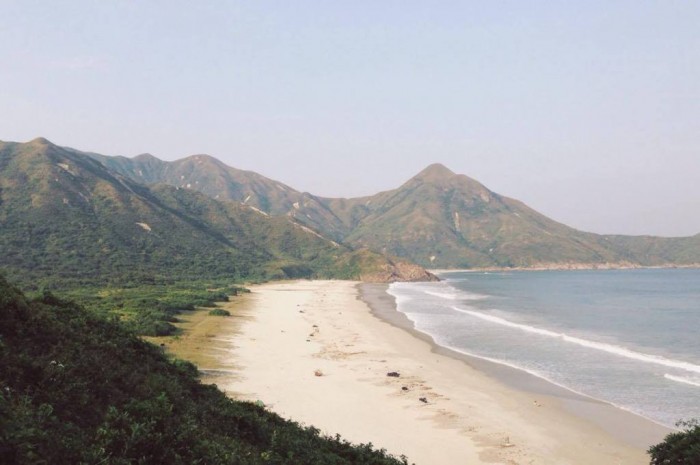 Ever wanted to spend some time on a secluded beach with white sand and clear blue water, or even sleep on one? Believe it or not, it is possible in Hong Kong! Who'd have ever know that you could find secluded beaches in a city as big as Hong Kong?
Along the MacLehose Trail Number 2, one can find the Tai Long Wan beaches. There are three secluded beaches near to each other: Ham Tin Wan, Tai Wan, and Tung Wan. Bring your tent and stay there for the night (you can buy basic tents in RC Outfitters in Mongkok or Sai Kung). Locals also rent some tents in Sai Wan village or Ham Tin. At Ham Tin Wan, there's a beach bar and restaurant. But they weren't open when we arrived and the restaurant opened around 8pm, but they weren't prepared to make some food for us. So the opening hours are just not known. Better to bring some food and water with you, just in case. Find out how to get there here.
11. Discover Mong Kok
Mong Kok is one of the busiest, colourful and most popular districts of Hong Kong and lies in the heart of the Kowloon peninsula. The area is filled with bars, restaurants, and is popular for its markets and shopping streets. The neon-filled streets are always crowded and full of energy, and a lot of streets have their own specialities. If you like the aquarium, the Goldfish Market is your thing. Go bird-watching at the Bird Market. Or maybe you're keen for some shopping. Have a good time at Ladies Market to get some clothes or Sneaker Street, as you can guess, for some sneakers. Between all these markets, get some local street snacks like egg tarts, curry fish balls, eggettes, or for the brave ones, stinky tofu.
12. Get drunk at the best all-you-can-drink bar
If you want to escape the high drink prices in Hong Kong and want to drink/get drunk cheaply, Stone Nullah Tavern is the place to be! They've come up with a whole new sort of "Happy Hour". Regular drinks start from HK$1 at 5 pm and every 20 minutes the price doubles up. So here's a price breakdown: at 5.20 it's HK$2, at 6 pm it would be HK$8, and at the last call (7 pm) it would be HK$64. Isn't that great?! They also offer a great American-style menu. Enjoy!
Happy Hours are from Monday to Friday, 5–7 pm.
Location: G/F, 69 Stone Nullah Lane, Wanchai, Hong Kong (map view)
13. Hike the Dragon's Back Trail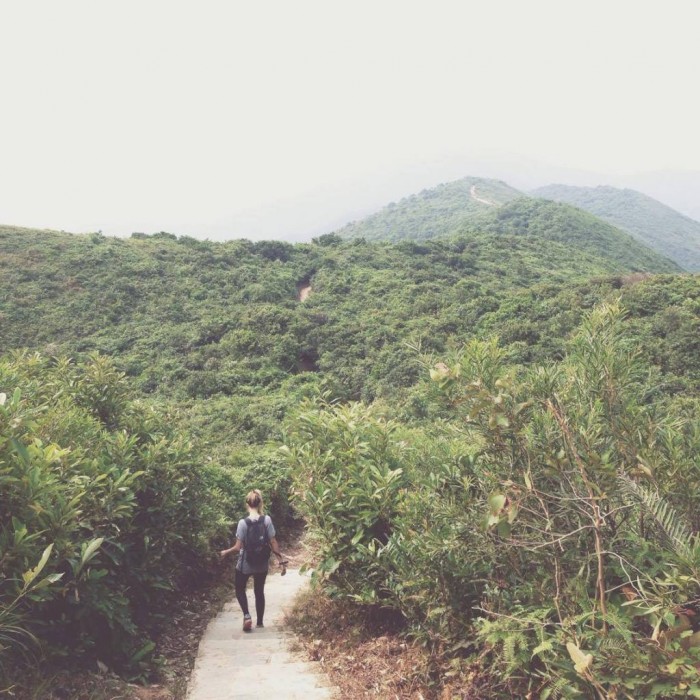 Take the MTR to Shau Kei Wan and hop on bus #9. That's all it takes to get to the Dragon's Back. It's known as the world's best urban hike and is the perfect getaway from the bustling city life. Watch the coastline from the two sides on top of these hills and enjoy the beautiful surroundings of Hong Kong. The hike is not long at all, and you can end up at Big Wave Beach or Shek-O village if you want to relax and take a swim. Tip: Bring a hat or an umbrella because you won't find shade on top of the Dragon's Back. You'll need it on sunny days.
Location: Hong Kong Trail Sec. 8, Shek O, Hongkong (map view)
14. Eat at Dai Pai Dongs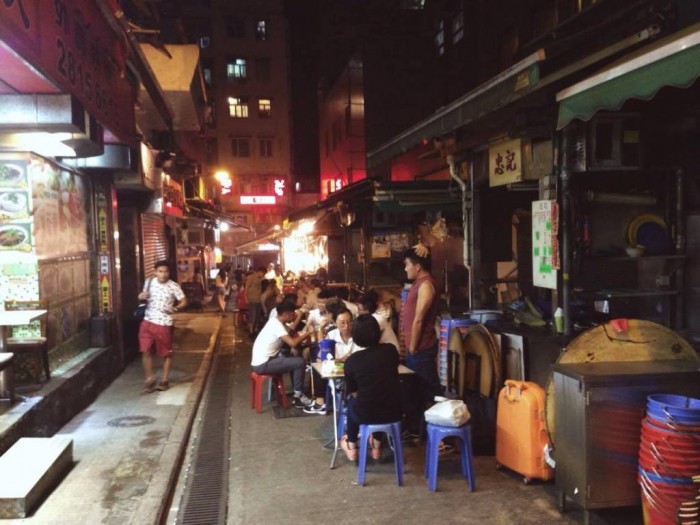 Eating at a Dai Pai Dong is old-school Hong Kong. No fancy things, just a small food stall with some small chairs and a table which you will likely need to share with complete strangers. Get some cheap, delicious food and order a Tsingtao. There are only 25 official Dai Pai Dongs left in Hong Kong. But there are more that are considered as them, like the ones in Temple Street. Walk around Central, and you'll definitely find an official one in its narrow streets.
15. Hop around in Ryze Indoor Trampoline Park
Want to give your kids a good time or want to do something crazy yourself? Jump around in this 7,000 square feet warehouse full of connected trampolines. Ryze offer a lot of trampolines, wall trampolines, a pit foam, and a lot of other cool stuff! They also offer themed parties from time to time so make sure to check their website. Tickets sell out fast so it's best to book your place on a trampoline some days before so you can bounce around without rejection at the door.
Location: 3/F, 321 Java Road, Quarry Bay, Hongkong (map view)