Located in the Hoang Lien Son mountain range of remote north-western Vietnam near the Chinese border, Sapa has grown to become Vietnam's premier trekking destination and an integral stop on many itineraries.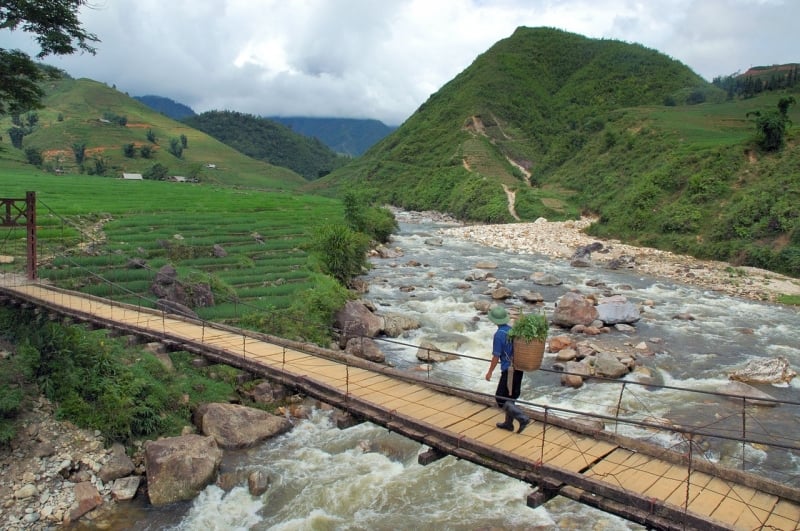 Set against a backdrop of some of the highest mountains on the Indochinese peninsula and populated by a rich variety of ethnic groups, Sapa offers breath-taking vistas of mountain scenery and the opportunity to hike out to local hill-tribe villages to experience something of the traditional way of life. However, with such obvious natural attractions, Sapa is no longer the undiscovered Shangri-La reserved for intrepid explorers it may have been in years gone by.
Organising the trek
I arrived in Vietnam overland from China and took a local bus from the border the rest of the way to the town. The ride through the mountains is spectacular but not for the faint-hearted – or those who suffer from travel sickness.
The town itself is appealing and the focus is the amphitheatre-like square in the centre. Leading off in one direction from the square is the Vietnamese part of town; downhill in the opposite direction are several streets which consist almost entirely of guesthouses, restaurants, bars and souvenir shops serving the town's tourist industry. In the evening, a vibrant market materialises around the square, overflowing down the adjoining streets, and visitors and locals alike congregate there to play ball games, to browse the stalls or simply to sit and watch everybody else.
Almost everyone who goes to Sapa intends to trek and most hotels organise tours. The options available were displayed on the walls of my guesthouse with descriptions of the villages it was possible to visit along with photographs of the different hill-tribes who live there. As the price seemed reasonable, I decided to sign up for a two-day and one-night trek which included a night in a homestay in one of the mountain villages.
Setting off for the hike
On the morning of my trek, I awaited my group at the appointed place on the main square. I had been promised a group of no more than six but it quickly became apparent that this number would not be strictly adhered to. The group didn't seem excessively large, though, and it was hardly worth making a fuss over one or two extra hikers tagging along. However, once we began making our way along the main street out of town, our group quickly merged with several other similar groups and the numbers swelled.
For almost every tourist, there was also one Hmong lady in a colourful traditional dress. They quickly attached themselves to one trekker each and started making cheery conversation in a strange version of English peppered with incongruent colloquialisms they had picked up from the many tourists who had preceded us. Far from the intimate party I expected, with the combined groups as well as the guides and our new-found Hmong friends, the entire procession now comprised at least forty or more individuals, all advancing toward the valley below.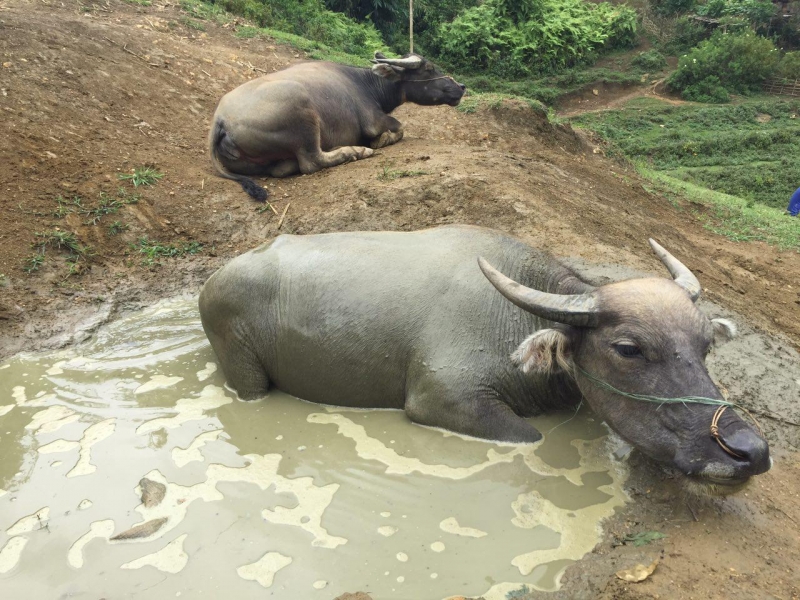 For those who picture Vietnam as a tropical country of palm trees and beaches, the north may come as a surprise. The tree cover is largely pine, and in the mountains, while it can be hot in the summer, the weather is changeable and varies depending on the season. During the months from December to February, temperatures are sometimes uncomfortably cold and it is not uncommon for snow to fall. I was there in July which is Sapa's so-called summer but what is, in fact, the middle of the rainy season and one of the times when the weather is at its most unpredictable. At this time of year, mornings are often cloudy and the hills are covered in a mist which lifts as the day wears on – as I witnessed on my first day of trekking.
Lunchtime in the valley
Descending into the valley, it was easy to understand why Sapa is so highly-regarded for trekking. The surrounding mountains rise from the valley floors, reaching up into the clouds, and below extends a verdant land of rice paddies and winding streams, dotted with the ramshackle structures used by the rice farmers. I can imagine that on a clear day with blue skies it must present a different kind of beauty, but when I was there, it was wet and humid, giving the landscape a mysterious, brooding appearance.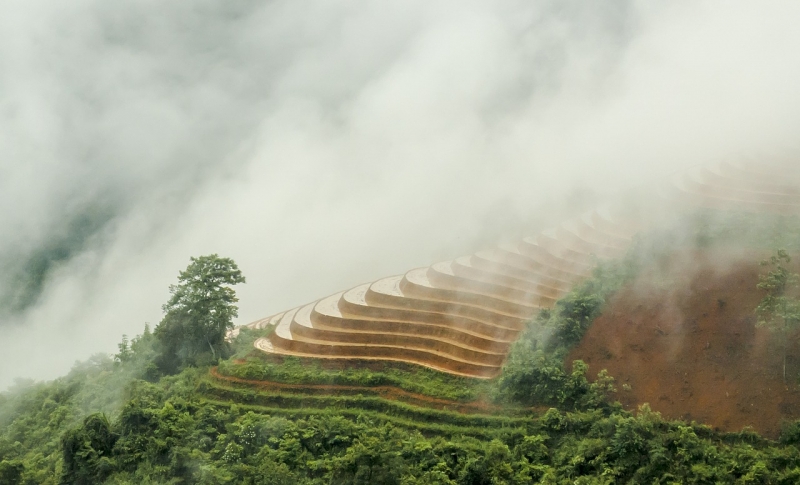 By lunchtime, still with our Hmong escorts in attendance, we reached the valley floor and came to a large building which turned out to be a restaurant where the various trekking groups assembled to eat. Inside, we found rows of tables filled with tourists and were confronted by a cacophony of voices speaking a multitude languages. Our lunch turned out to be a copious array of simple but delicious Vietnamese fare that was just what was required after the first half-day of walking.
With the meal finished and the plates cleared away, the true intentions of our unsolicited companions were finally revealed. It turned out that the retinue of Hmong ladies who had followed us down to the valley floor had not chosen to walk with us for the pleasure of our company or even to practise their English. As soon as the meal was over, they all produced bags, purses, jewellery and other items from the baskets on their backs which they then proceeded to try to sell to us. When we politely refused, their attitude changed from friendly and helpful to almost aggressive as they suggested that, since they had walked all this way with us, we were now obliged to buy something. It was useless to try to explain that we hadn't asked them to accompany us and we just had to remain polite but firm. Their motives had not been entirely unsuspected but it still left us feeling uneasy and we all felt more comfortable once we left the restaurant to continue out trip, leaving our uninvited chaperones behind.
After lunch, we began trekking uphill again and after several strenuous hours of walking through more of the same idyllic rural landscapes, we finally reached the village where we were due to stay. Doubtlessly, not long ago, these mountain villages would have been completely isolated and foreign visitors would have been unknown in these hills. This, however, is no longer the case and as we entered the village, one of the first sights that greeted us was a bar with a pool table and a sign advertising Wi-Fi.
The homestay
When we arrived at the homestay, we were a little early for dinner so we strolled down to a river that traversed the valley below. The villages we passed on the way were more authentic and less tourist-oriented but the river itself was surrounded by several more bars and restaurants. Having wet our tired feet in the stream, we made our way back to the homestay for our well-deserved meal.
When I think of a 'homestay', I imagine spending time with a local family, having the chance to interact with them, to ask questions, to learn something about the way they live and perhaps to help prepare the meal. What we found was a table laid out for the foreign trekkers, another Wi-Fi password on the wall and a fridge full of cold beer for tourists to buy. Our hosts were friendly and they served us with large plates of admittedly excellent food; but then they retreated back into their part of the building and left us alone to eat. I can't complain about people wanting to make a living and I'm quite sure these homestay owners have no desire to eat with different groups of foreigners every evening. It just wasn't quite the experience I was hoping for.
Back again
The next morning, we rose early and began the journey back to Sapa. The second day was wetter than the first and we slid and slipped down the trails, grasping at roots and branches trying to stay upright and helping each other in any way we could. Most of us were wearing decent walking boots but we noticed that the locals we passed were all wearing the same kind of cheap plastic slippers. While we were struggling to make any progress, we were bemused to see them, young and old, practically running up and down the treacherous paths with the agility and sure-footedness of mountain goats.
Miraculously, by the time we reached the pickup point, I was the only member of the group who had managed to keep on my feet the whole way and who wasn't covered in mud. By the end, we were wet and cold and more than glad to be back. We were physically exhausted and all in need of a hot shower but I don't think there was one person who hadn't enjoyed the experience.
Adjusting your expectations
Sapa is a popular and well-known tourist destination and it should be taken as such. If you go to Sapa hoping for wilderness and unexplored landscapes, you will come away disappointed. However, if you go there mindful of what you will find and adjust your expectations accordingly, it can still be a rewarding destination. The trekking is challenging and the panoramas are still stunning, even if the trails and guesthouses are overcrowded.
The town itself is fun with a full range of dining options. If you go, be sure to try one of the barbeque restaurants identified but the suckling pigs and whole chickens slowly roasting on spits outside. You order all the meat and vegetables you want which you then wrap in leaves and dip in sauces to eat, all surrounded by friendly locals. I would go back to Sapa just for that.
Special Tip: In places like Sapa, cash machines are everywhere and it should never be too hard to find a place to withdraw local currency with your card. However, the maximum withdrawal amount in Vietnam is quite low which means you will have to withdraw multiple times. If you are using a foreign card, you will have to pay the associated banking fee which can end up being quite expensive after a few times. If you are planning to stay in Vietnam for an extended length of time, it is advisable to change some cash before you go to avoid having to pay to withdraw money when you are there.