When it comes to eating good food in Ho Chi Minh, one is definitely spoiled for choice. Ranging from Vietnamese-style sandwiches on the street and pho in a local eatery to French-influenced bakeries and stylish cafes – the city has plenty to offer.
But visiting a new city or country, you might get overwhelmed by the choice. Although you might want to just try everything (that's what I like to do), I have put together a little orientation for your culinary visit to Ho Chi Minh.
The prices have been going up slightly over the last couple of years, but you should know that eating well in Ho Chi Minh doesn't need to be expensive. Most locals would say that with 50,000 Dong ($3) you are well off. Letting you know what is out there, you will have to make the final choice of what to eat and what not to eat.
Also read: 5 Reasons for You to Visit Ho Chi Minh City (Saigon)
French Bakeries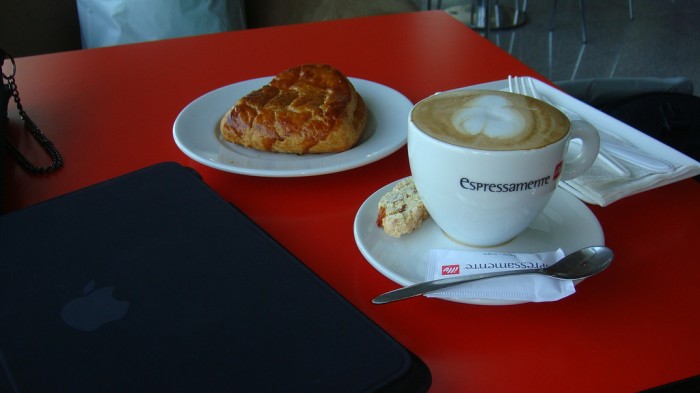 Image credit: David McKelvey
They are obviously a reminiscence of the French colonial heritage. These French-style bakeries are often a café as well, offering coffee, smoothies, and frappuccino-style drinks. Perfect for a short break or to eat on the go, the choice is diverse. My favourites are the bun variations, but the locals simply love bread and meat variations – especially when they are topped with fish or chicken floss.
One should note though that most of the bread is sweet. So don't expect to find any sour dough.
Banh Mi Thit – Pork Sandwiches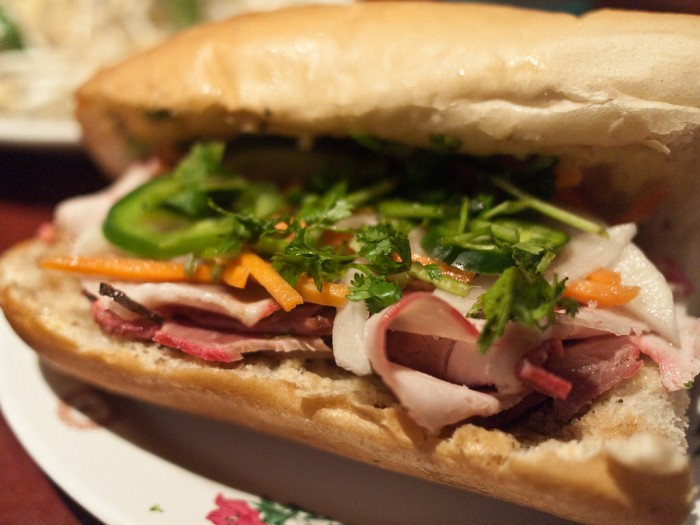 Image credit:  Edsel Little
Easily available throughout the city, Banh Mi Thit are sold at small stores on the road – for the most part. A crusty baguette is filled with pork, coriander, tomatoes, cucumbers, omelette and different sauces. Depending on the stall, you can choose your own ingredients. Such pork sandwich is a perfectly light and quick meal, not costing more than 15,000 Dong (less than $1).
Also read: 6 Awesome Cafes You Need to Visit in Ho Chi Minh City
Pho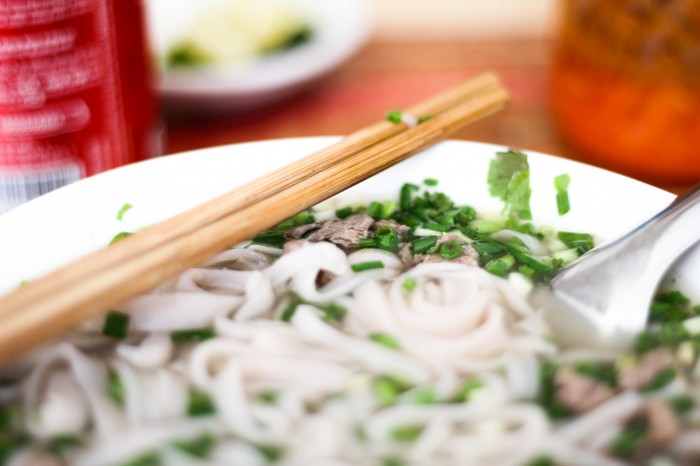 Image credit: Rory MacLeod
If you are visiting Ho Chi Minh, you definitely have to try at least one pho variation. Pho is one of the most common dishes, not just in Ho Chi Minh but also in Vietnam. The dish consists of soft rice noodles and a soup that can either be chicken (ga) or beef (bo) stock. Often you can also choose whether you want meat or fish in your pho. The toppings include fresh bean sprouts, chopped garlic and chilli as well as spring onion. Pho is a must-try.
Bun Rieu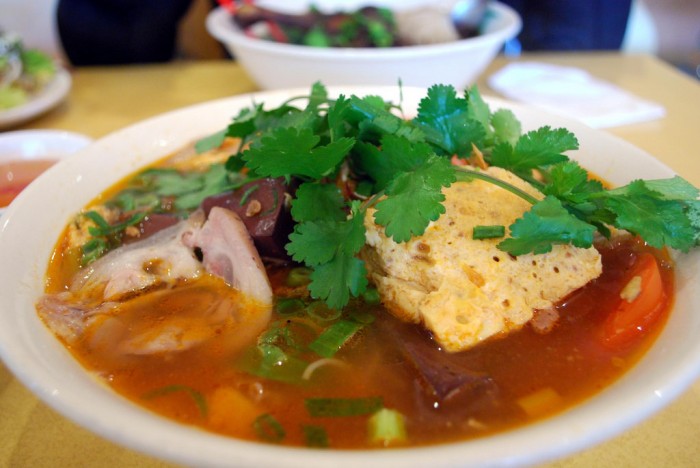 Image credit: Alpha
The Vietnamese obviously love their noodle soups, as bun rieu is another favourite amongst locals. Having a slight sweetness in taste, this dish is very rich and has tomatoes and crap broth as its main ingredients. The noodles tend to be thicker when compared to the ones in pho – however they are still rice noodles. Rich shrimp and carp paste in combination with spring onions will be the typical garnish.
Bun Mam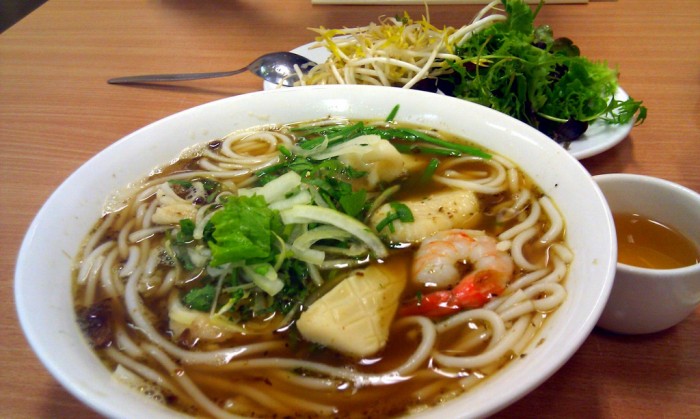 Image credit: Alpha
Distinctly southern Vietnamese, bun mam is yet another noodle soup variation. The dark and intense looking broth is made with fermented fish sauce, making the taste quite strong but not as intense as it might look like. Besides the typical vermicelli noodles, you will also find squid, beef, and prawns floating in your soup. Bun mam isn't as widely available as pho, but you still shouldn't have a problem finding it in the city.
Banh Canh Cua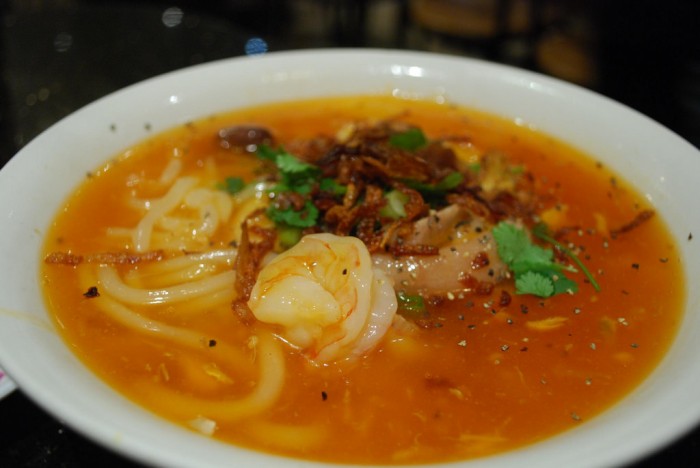 Image credit: Alpha
This dish is a very popular food that you can get just off street stalls. The fish broth and the rice noodles are usually accompanied with a heavy selection of meatballs, crap, and some sort of fish cake (depending on where you eat it). Although the dish isn't spicy, it comes with chillies and lime. If you squeeze the latter into your dish, it becomes actually very refreshing in taste (although it is hot).
Bun Thit Nuong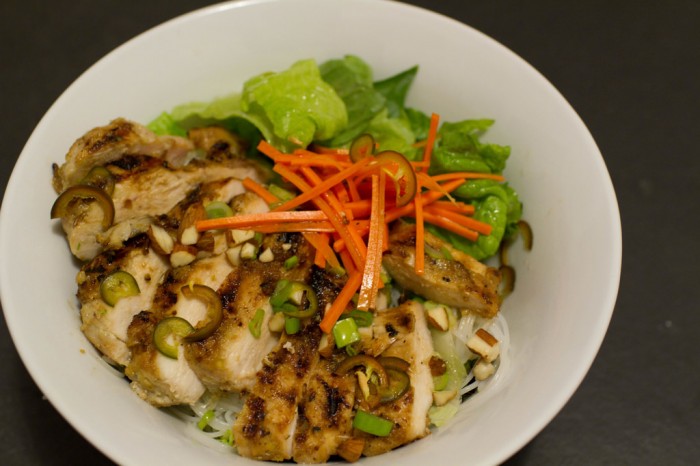 Image credit: Steve Dunham
This noodle variation comes for a change without the broth, but with plenty of other ingredients. The vermicelli noodles are topped with a mix of mashed herbs and lettuce, as well as pork skewers. However, there is more, as the garnish of this dish includes Vietnamese pickles, fresh spring onion, crushed peanuts and a little fish sauce.
Banh Tam Bi Dong Thap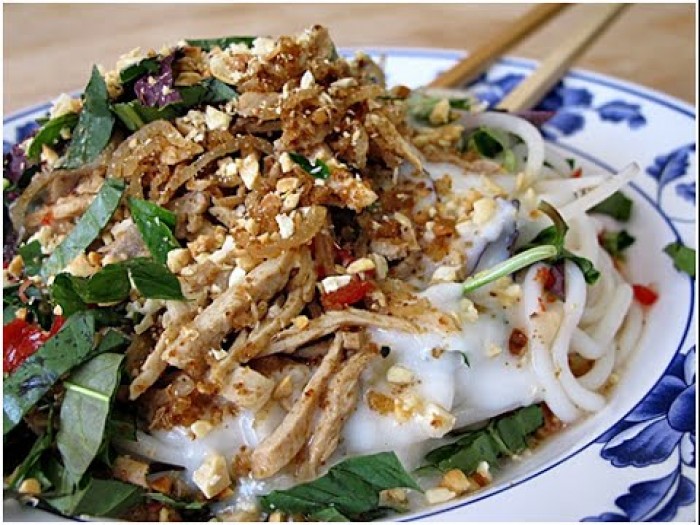 Image credit: Học Cách Nấu Ăn Ngon
Although they quite look like it, these are not Japanese udon noodles. Thick and sticky (seemingly) rice noodles are combined with shredded pork, carrot strips, and pickled daikon. This dish is topped with the obligatory spring onion and a scoop of white creamy sauce. The latter is rather sweet and coconut based.
Also read: Perfect Weekend Getaway to Ho Chi Minh, Vietnam
No matter what and where you are going to eat in Ho Chi Minh, it is always exciting, as restaurants offer plenty of variations. A bowl of Banh Canh Cua in one restaurant does not have necessarily the same taste in another. Hence, there is always space for culinary exploration.