When in Vietnam, try having a food adventure for one whole day.  
This is what I did during my trip to Hanoi, Vietnam. I wanted to experience dedicating a day during my solo travels to food. I wanted to try a food tour!
Also read: How I Travelled 2 Days in Hanoi for PHP 12,000 (All-In)
I wanted to take my travel experiences with food to a whole new level by stepping up from just having breakfast, lunch, snack, or dinner at food stalls or restaurants in my itineraries. I wanted to experience buying food from the market, hearing country facts about the history and culture of the food, interaction with locals and other travellers,  cooking it for myself, realising the value and effort put into a meal, before actually eating and savouring it to the last bite.
As I was solo, I joined 2 food group tours with Vietnam Awesome Travel that took up almost 10-11 hours of my day. Here are some details about the tours and my awesome experiences as well.
From 8:00 AM – 2:00 PM, I went on my first food tour which was called Awesome Home Stay Cooking Class. My expense for this tour was around PHP 1,750+ (USD 35).
The food tour includes the following:
Pick-up and drop-off from/to accommodation & home stay

Short language lesson

Bikes for the wet market

Wet market shopping

Cooking lessons and food preparation  

Lunch

Recipes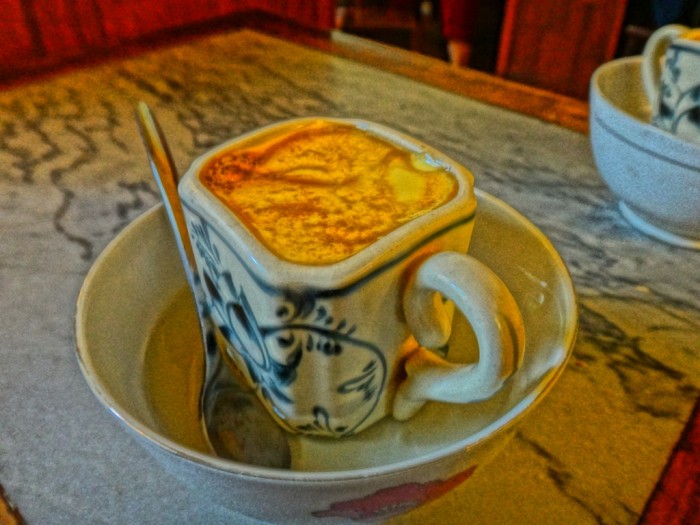 The tour guide picked me up at exactly 8:00 AM. We headed first to one of the most popular coffee shops in old quarter and had the very famous, egg coffee. It tasted so good. It was really creamy, tasty, and smooth. As my other tour mates were asked to be picked up at around 8:30 AM, I had a great time chatting with the tour guide over coffee. We exchanged backgrounds, our travel experiences, and stories about past tours with guests. I really loved that the guide was friendly and accommodating.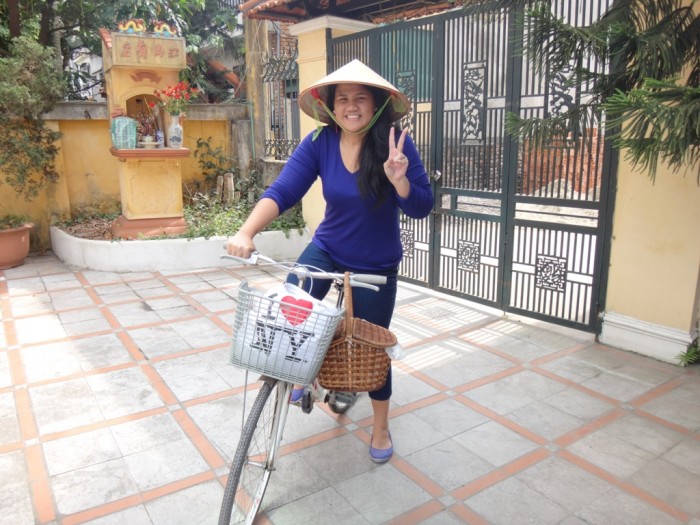 After picking up 3 more Americans to complete our group, we had a 10-minute van ride to the home stay. After a few introductions, we were given a list of commonly said phrases in Vietnamese that would normally be said at the wet market. We were taught how to greet sellers, ask how much the products were, and how to haggle prices. It was really fun because we each had to recite and try to memorize the phrases.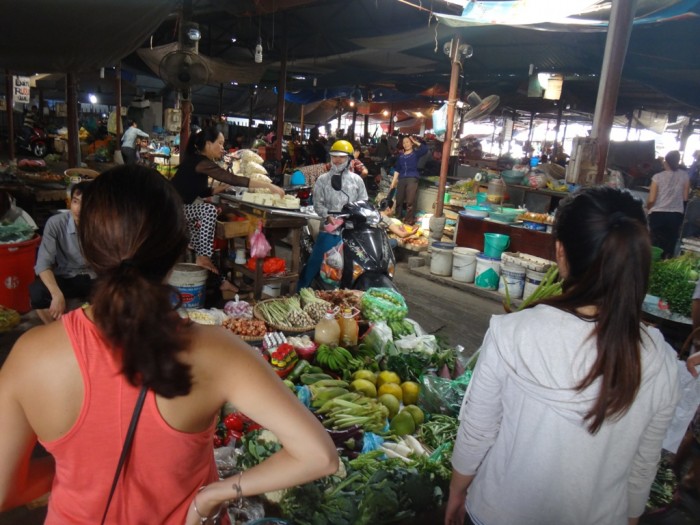 When we were ready, we rode bikes to the market wearing the traditional Vietnamese hat. It was a 10 minute bike ride. The wet market was comparable to the ones here in the Philippines, there was just a lot of scooters or motorbikes around so we had to be careful when crossing. Our tour guide made us buy ingredients and haggle prices. It was really fun because the sellers were smiling or kind of making fun of us. I feel like this is how Americans feel when they try hard to speak Filipino in public places.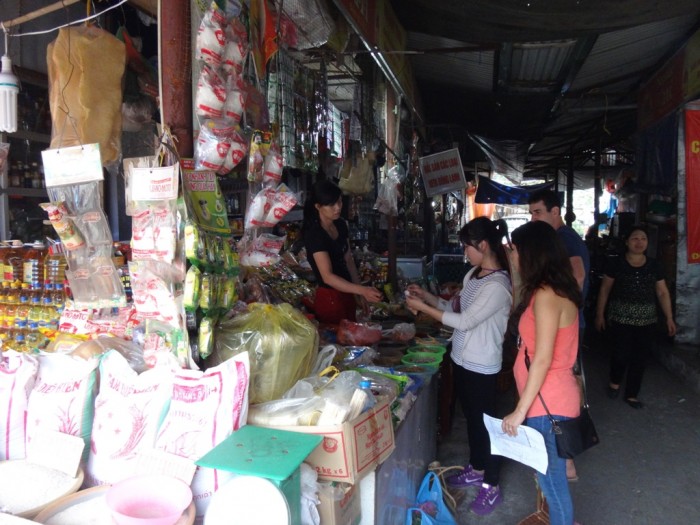 After the wet market, we rode our bikes back and started cooking and prepping our lunch. We made caramelized pork stew, spring rolls, banana flower salad, summer pork rolls, and stir fried vegetables. All of us had the chance to cook and prepare each item from the menu.  
Also read: A Look Into Hanoi's Bizarre Local Markets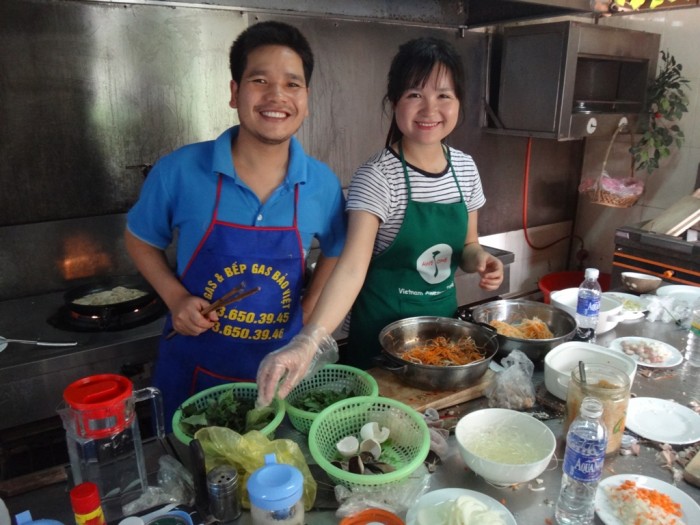 At our lunch table, the staff added sweet mangoes and some salads with noodles. EVERYTHING TASTED SO GOOD. The lunch was amazing as well as I had the chance to interact more with my tour mates. We enjoyed the fruits of our labour in front of an amazing view of the Red River and Eiffel Bridge.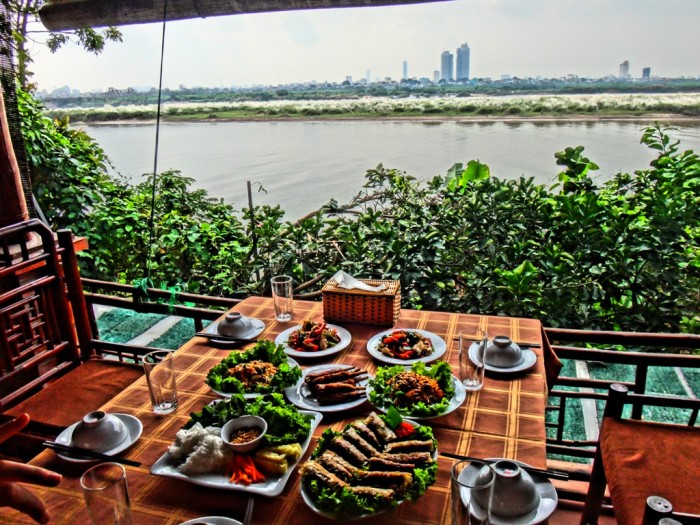 Filling my day with an egg coffee, pleasantries with the guide and my tour mates, a language lesson, a fun Hanoi wet market experience, cooking and preparing varieties of Vietnamese food, and enjoying the food and company for around 6 hours was definitely worth it!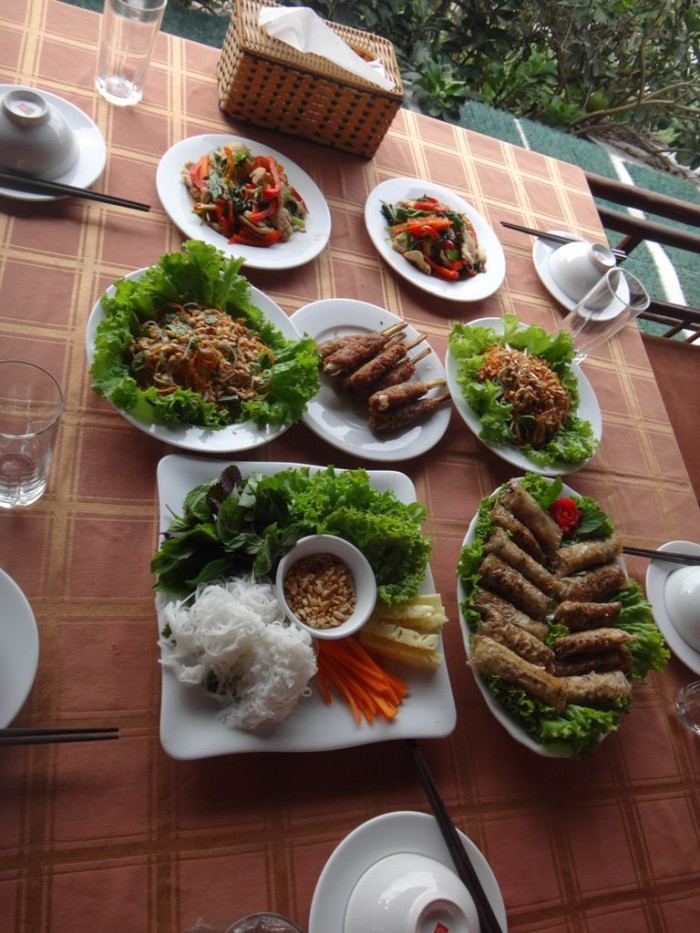 From 6:00 PM – 11:00 PM, I went on my second and last food tour for the day which was called Food On Foot Tour. My expense for this tour was around PHP 1,000+ (USD 20).
The food tour includes the following:
Pick-up and drop-off from/to accommodation & food streets

8 food stops
Can you imagine eating 8 times in just 5 hours? I couldn't imagine it at first when I booked the tour but in the end, it was all worth it!
When I was picked up at 6:00 PM, I was still full from my morning food tour. I didn't know if I could really stomach in more food but I already booked the tour so I had to maximize it. The street food tour group involved a lot more people compared to my morning food tour. We were 9 including our very enthusiastic guide.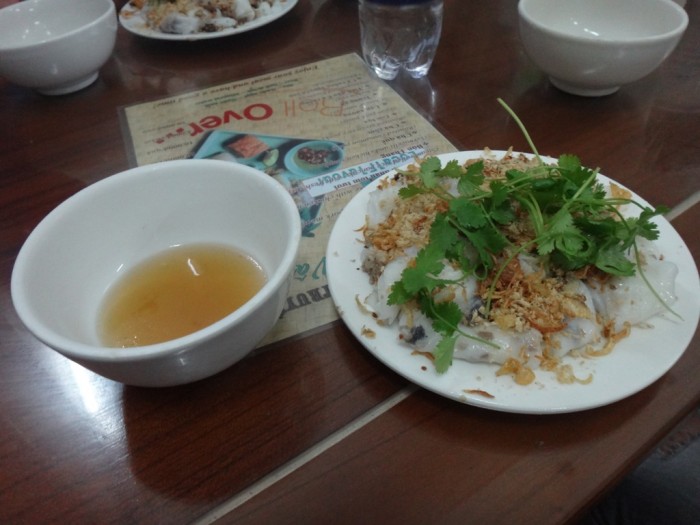 In each food stop, our guide really shared a lot about the food. Its history, how it is made, how popular it is, how significant, and how we should eat them.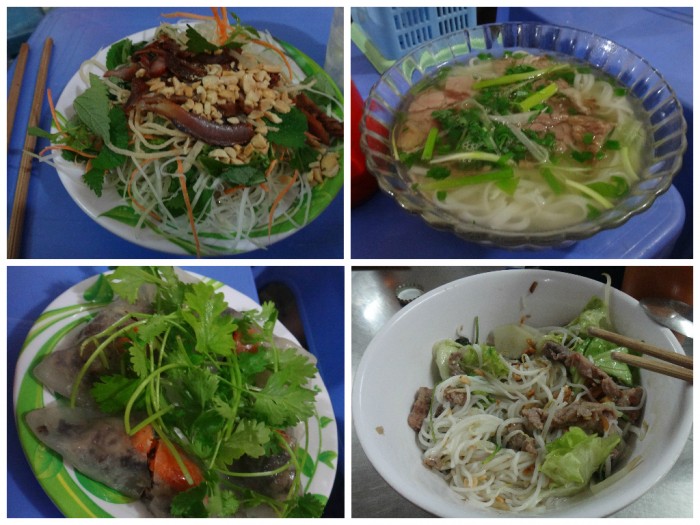 EACH FOOD STOP WAS DELICIOUSLY AMAZING! I even forgot that I felt full from my first food tour. We had vegetables with beans and sprouts, sugar cane, fish, vegetables, dessert, and a lot more.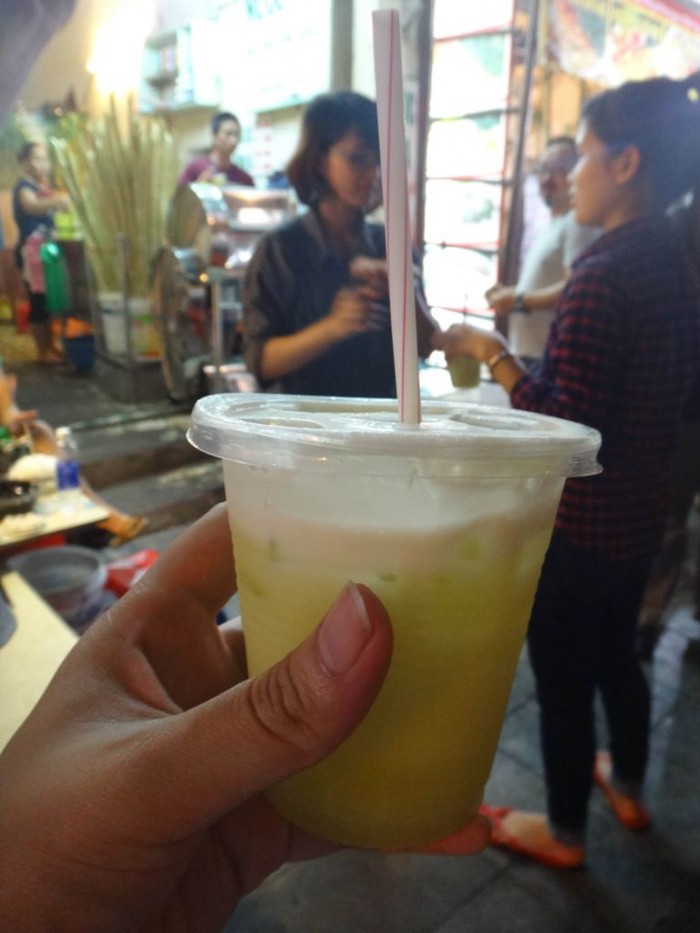 I didn't get the chance to write down all the things that we ate because I was busy getting to know my tour mates. They were from different countries like UK, Australia, Canada, and Belgium, and from varying age groups. It was really fun talking to each one. In each stop, we had a different seat mate so it was really a great chance to get to know each person in the group.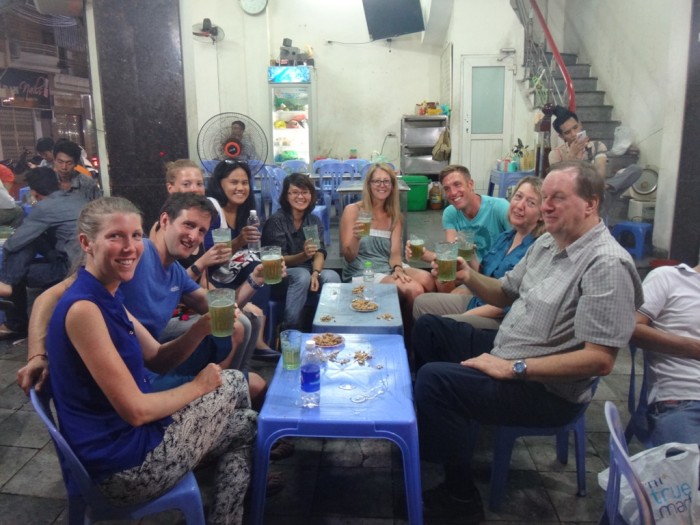 ALL THE FOOD WAS SO GOOD. The infusion of flavours in every bite was to die for. I never really liked vegetables but every vegetable dish we had, I couldn't help but fall in love.
By the 6th stop, I was really getting full. Most of the dishes we had were from stalls at the famous streets in Old Quarter. Our 7th stop was at a restaurant. The order was a full course meal. I couldn't really help but eat again because everything tasted so delicious. The restaurant had coconut wine and those who were brave enough were given a chance to try the Scorpion rice wine.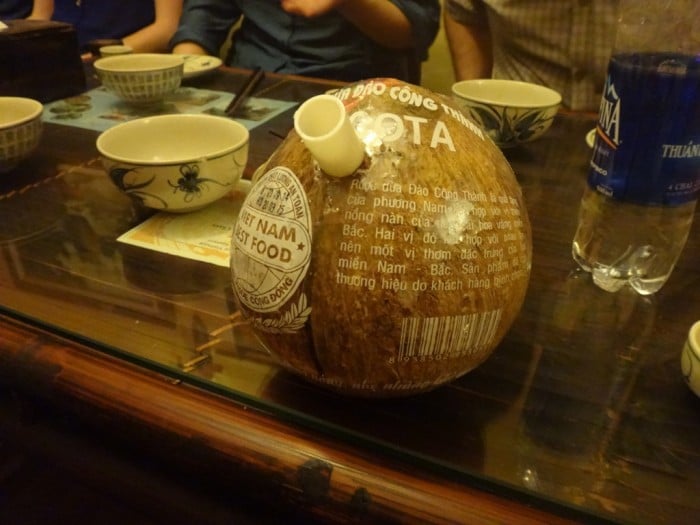 Our supposedly last food stop was dessert. We went to a popular stall which served different iced desserts. I'm glad that this was really light because I was definitely full.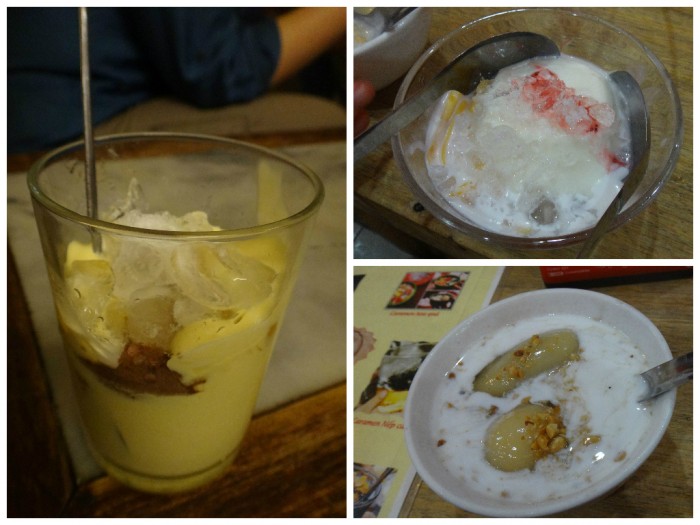 We still didn't want the night to end so we stopped by the famous coffee shop I went to in the morning. They had their egg coffees and I decided to try a chocolate cream dessert. THERE IS ALWAYS ROOM FOR DESSERT # 2.
After my first food tour in the morning, I didn't know anything else could exceed my expectations, but the second food tour was just as amazing and more. I learned so much from the guide, the food, and from the guest travellers as well.
Vietnamese Awesome Travel really provides its customers with the best kinds of experiences. We, as travellers, really have to maximize each of these moments and learn as many lessons as we can from it.
Also read: 26 Reasons to Fall in Love with Hanoi
Have you tried going on a food tour? Share your experiences in the comments!