Halloween is just around the corner, and a perfect holiday calls for the perfect stay that'll haunt you for the rest of your life (in a good way)! All you have to do is find the right Halloween Airbnb home that nods to your taste and courageous mates to bear the eerie-ness with you. That said, behold as we unveil the top horror-themed Airbnb homes worldwide that'll have the Ghostbuster in you wanting to flee there this instant!
Also read: 10 Unique Airbnbs for an Unforgettable Travel Experience
Spookiest Halloween Airbnb homes in Asia
1. This Wizarding World-inspired dwelling in KL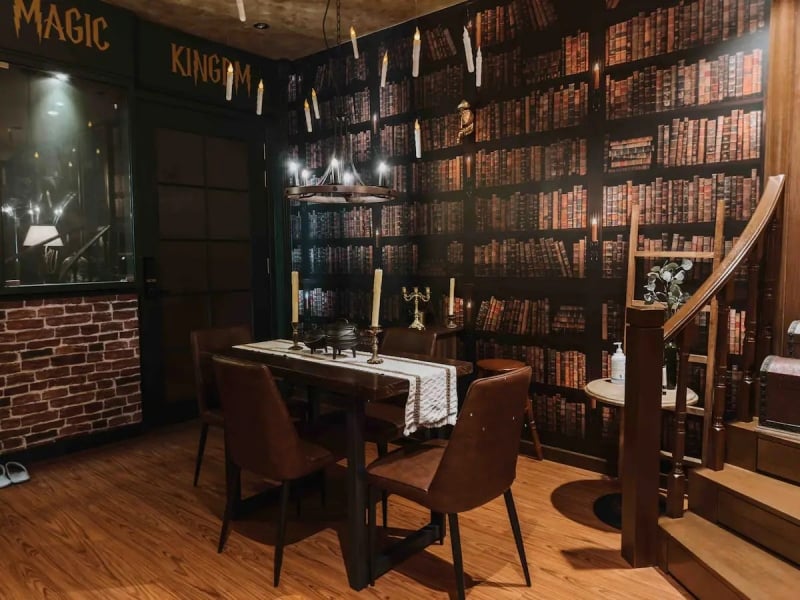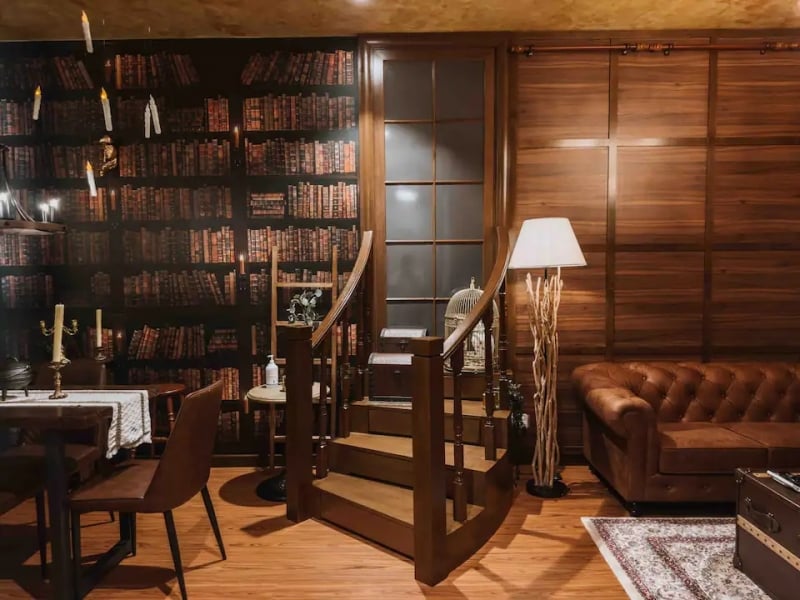 Listing name: Wizarding Residence link LRT/Mall
Listing type: Entire rental unit
Max. no. of guests: 3
No. of bedrooms: 1
The first Halloween-themed Airbnb worth experiencing is this magical lodge, ready to transport you to the world of witchcraft and wizardry! Located in the heart of Kuala Lumpur, any fan of Harry Potter would appreciate staying in this accommodation with an unparalleled witch-core aesthetic. We're talking rustic-themed interior, a make-believe fireplace, hanging candles, and a realistic classical library wallpaper that'll tempt you to search for a non-existent secret passcode that'll send you to another realm! 
During your free time, gather your buddies and have a round of Mystical Uno card game sessions as you sip some brewing Nespresso to stay up all night. Or, better yet, stream the spookiest movies from HBO, Netflix, or Disney+ to your heart's desire, for free! Talk about a unique stay to experience with crazy friends who are solemnly up to no good.
2. This peculiar yet gorgeous property in Osaka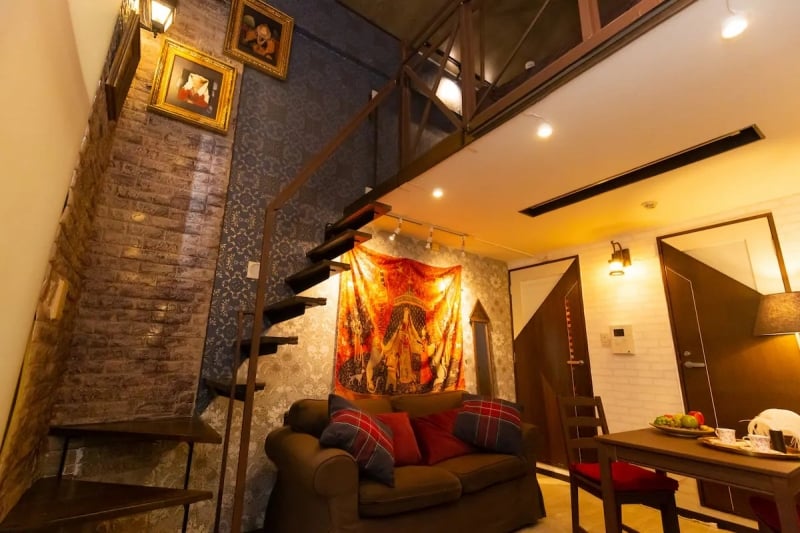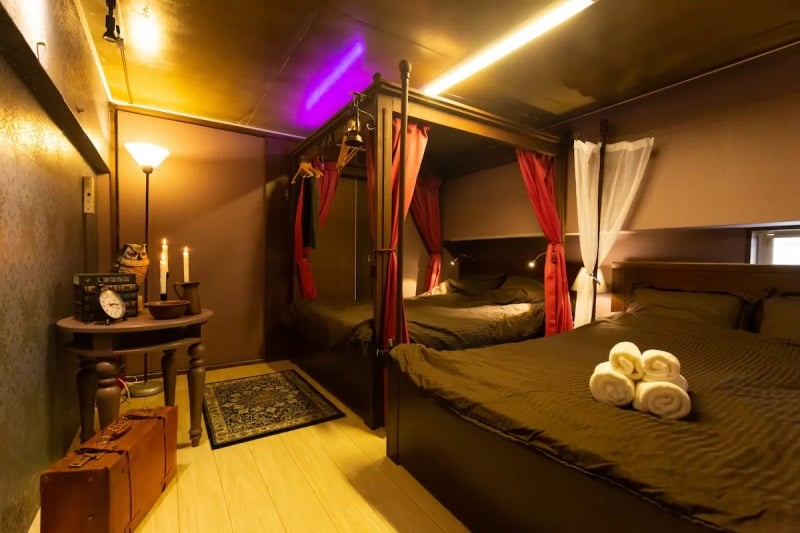 Listing name: Daikokucho Sta / 1 min by train to Namba
Listing type: Entire rental unit
Max. no. of guests: 4
No. of bedrooms: 1
For a group of four on the hunt for a spooky-vibe Airbnb on Halloween during the weekend, this charming wizard-core stay in Osaka, Japan, will do you wonders! Enter the abode and your eyes will be hooked by the unusual tapestry featuring a unicorn and a dog worshipping a goddess, before a portrait of an Englishman with weird horns catches your attention next. 
Climb the steep stairs, and you'll find your bed in black and an owl that'll watch over you as you sleep at night. Don't forget to put out the lit candles for the full experience. Psst — this stay is located in a shopping district, so venture out to the many restaurants and karaoke places nearby when you can!
Halloween-themed Airbnb stays in North America
3. This spooky abode with an antique charm in Southern California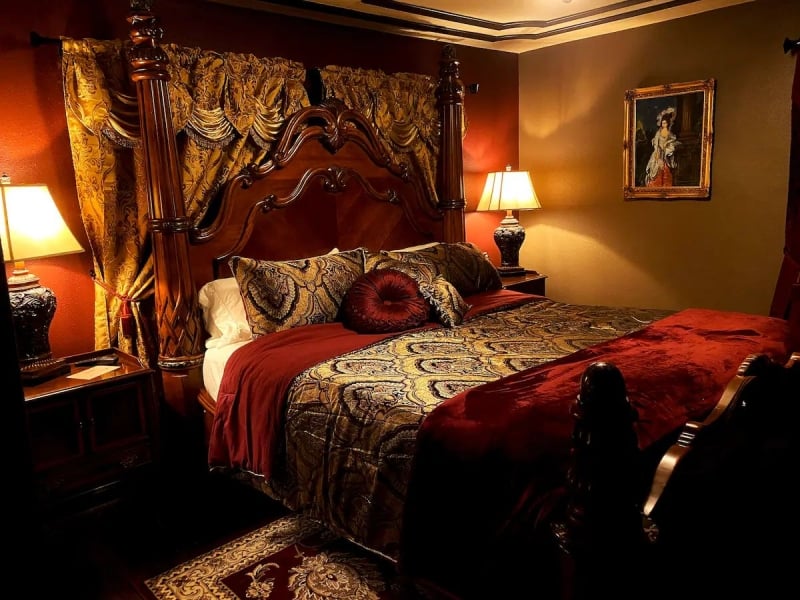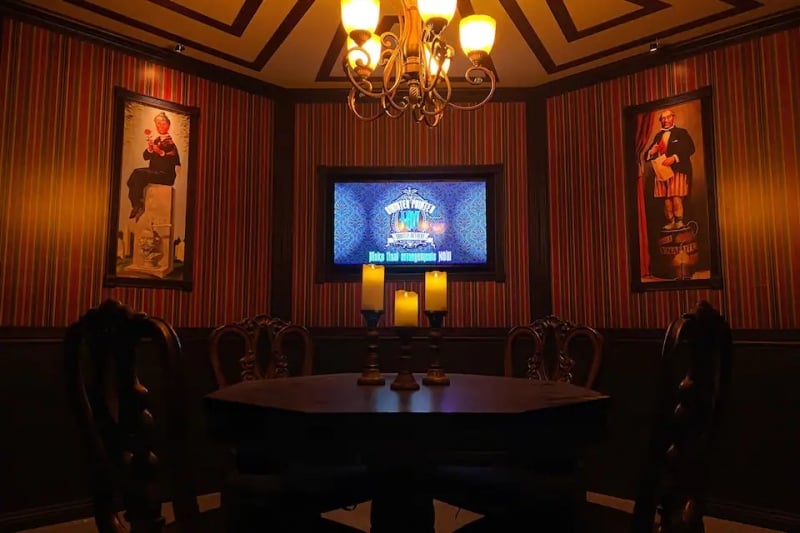 Listing name: Haunted Mansion inspired Ghostly Retreat
Listing type: Entire home
Max. no. of guests: 8
No. of bedrooms: 4
For a family of eight on the hunt for the spookiest stay, this classical Halloween Airbnb in California offers a Haunted Mansion-inspired retreat full of terror and fright! Designed with a dim ambience, lighted candles, and ghoul-themed replicas, hearing echoes of strange noises is a bonus point when spending the night here. 
Enjoy playing board games (as long as it's not a Ouija board) in its living room, and you might feel as if the hanging portraits are watching you — and perhaps a few uninvited pairs of eyes around the area, too. When the eerieness gets a little out of hand, take a relaxing dip in the six-person jacuzzi in the backyard. Afterwards, plunge into your comfy king bed carefully decorated with ancient touch, ready to spend shivers down your spine as you turn off the lights at night.
4. This secluded brick-red mansion in Ontario, Canada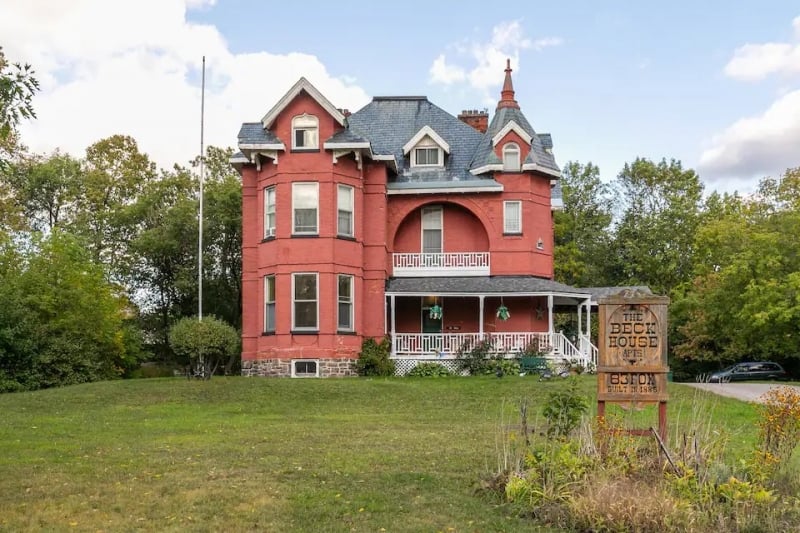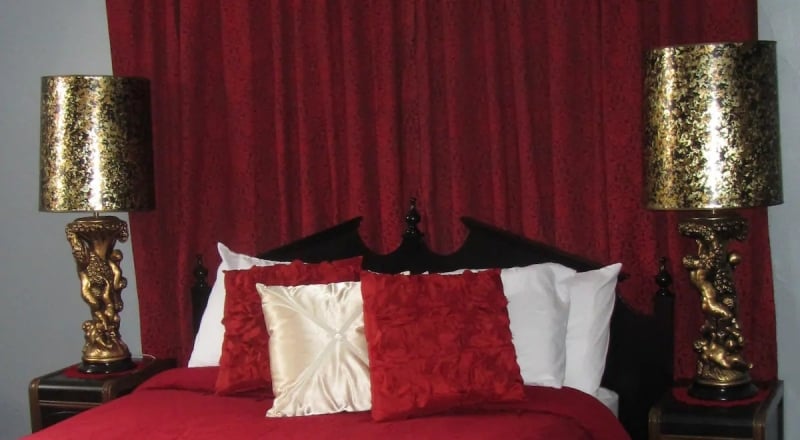 Listing name: The Haunted House Apt 302
Listing type: Entire rental unit
Max. no. of guests: 4
No. of bedrooms: 2
It might look like a normal mansion during the day, but come nightfall, this 1885 Victorian manor in Ontario offers a spine-tingling experience due to its location and history. Used to house a family of 11 and was once renovated as an apartment unloved by many, the spirits within still live on, and you might bump into one (that, if you're lucky enough). The horror-themed Airbnb also features a dark-coloured interior whereby one of its bedrooms is coated in a blood-curdling hue as if the room belongs to a vampire.
To get to your apartment on the third floor, you must climb the creaking and winding staircase that might feel like forever, especially when you ascend at night. Enjoy cooking a light meal with your loved ones in their fully equipped kitchen before you dig into the meals in the haunted dining room. As a cherry on top, have a fun movie night with your fam watching your favourite horror movies from Netflix, and don't be surprised if you get a little company from "the unseen" along the sesh! Definitely the best Airbnb for Halloween to book with your loved ones this year.
5. This grimly space inside a New Orleans mansion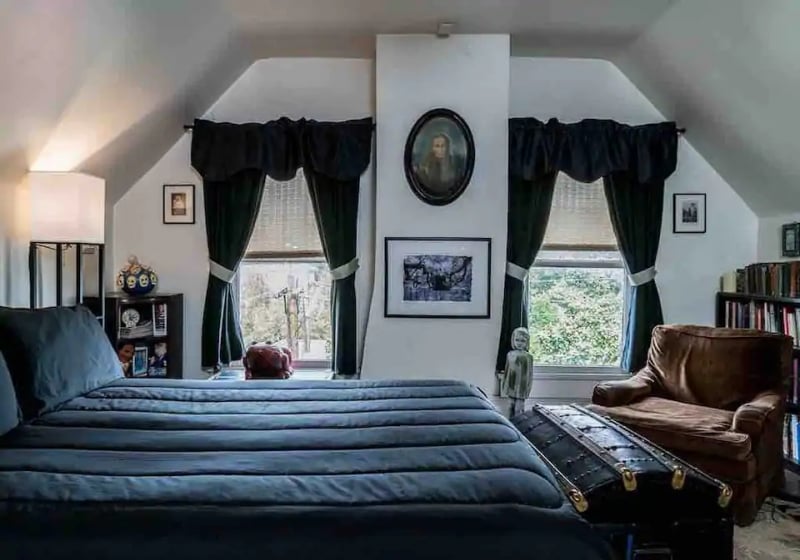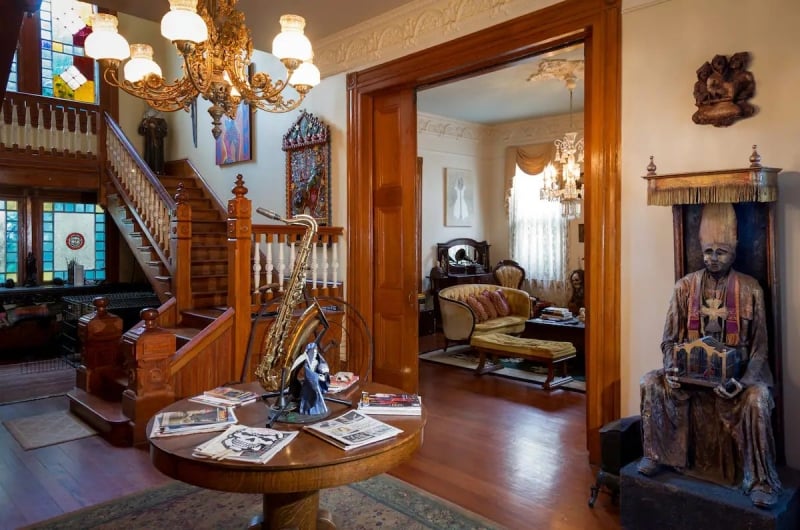 Listing name: Parks-Bowman Mansion: The Haunted Bedroom
Listing type: Entire room
Max. no. of guests: 2
No. of bedrooms: 1
If you're up for some hide-and-seek with a shy ghost in a yellow dress from the '80s, this shady abode with a greyish-black bedroom will give you just that. The third-floor bedroom will be yours throughout the stay, but do spare some time to check out the mansion's music and dining room and a "ladies' parlour" that promises nothing short of supernatural adventure. 
In the morning, enjoy a complimentary coffee in the appointed kitchen, and afterwards, stroll around the lovely garden on the back porch. You can even finish a book or two in your queen-size bed and take a fresh breather on the third-floor patio overlooking the sweeping views of New Orleans to your heart's content. Psst — the Host's cats might sneak out for a visit, but at least you know they're real cats and not "something else." Hands down the best Airbnb for Halloween to check out this year!
6. This foreboding home with a touch of Salem witchcraft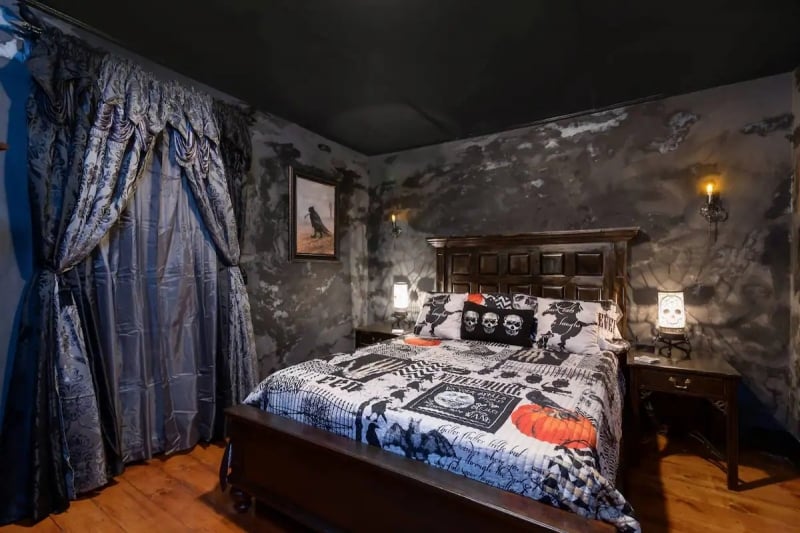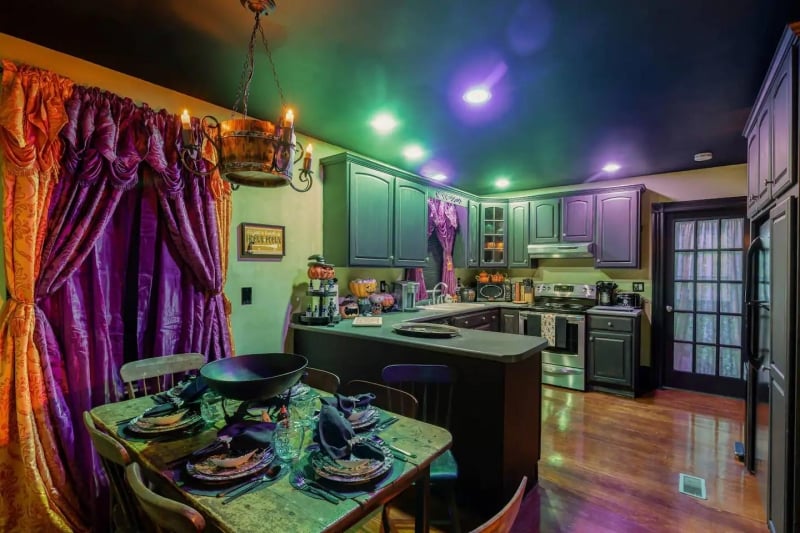 Listing name: Warlock House: Witch's Ball, Seance, Magic Spells
Listing type: Entire condo
Max. no. of guests: 6
No. of bedrooms: 3
Skulls, bats, and ravens are just the tip of this whimsical base in the Witch City of Salem, Massachusetts. Walk along its haunting hallway, and you'll be greeted by the warm glow of the well-lit candlelight. As you go further down the hall, fix your gaze on unnatural memorabilia from Salem's most prestigious attractions, museums, and shops. Residing within this space is a 200-year-old dining table, the perfect place to enjoy a harvest meal with your loved ones. 
Watch the house come to life at night with special smart lighting that can easily be controlled via incantations or a magical touch! When it's time to sleep, the Edgar Allen Poe-inspired bedroom is ever ready to blanket your night with an eerie dream you won't soon forget. Undoubtedly, a much-needed Airbnb for Halloween you didn't know existed!
7. This gothic Halloween Airbnb in Colorado dating back to the Victorian era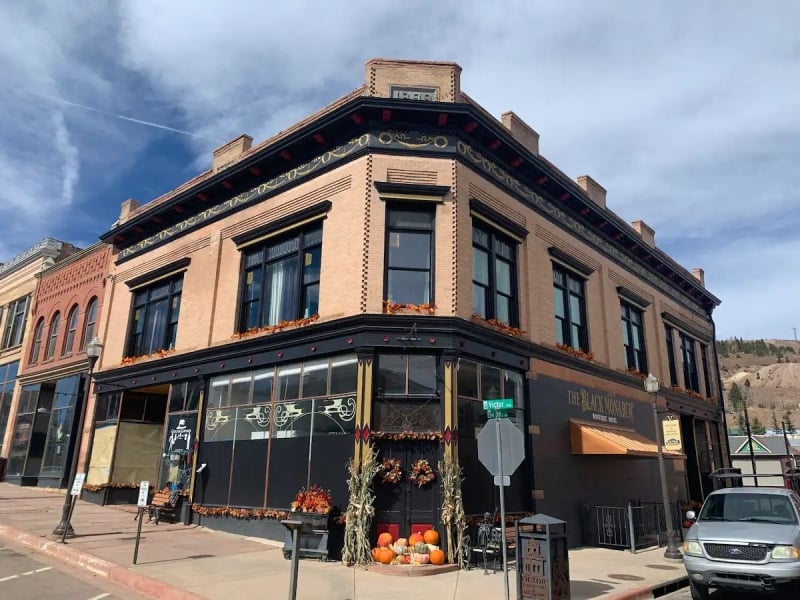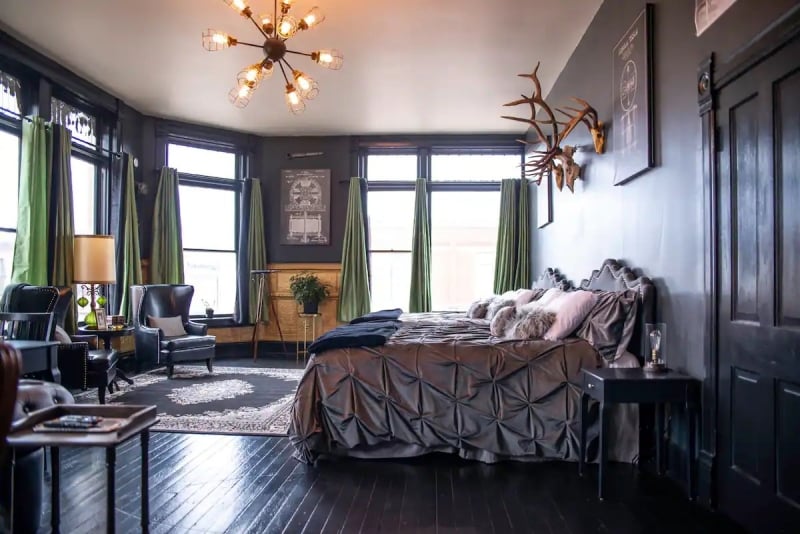 Listing name: The Black Monarch! Haunted Brothel!
Listing type: Entire castle
Max. no. of guests: 16
No. of bedrooms: 7
Peek-a-boo! This luxurious Victorian brothel-turned-Airbnb is the go-to destination for daring buddies wishing to get the best Halloween vacation yet. Guests will be mesmerised by the enchanting taxidermy decor, especially the antlers' stags. This peculiar decor helps impart a "rustic lodge" vibe to the space. The monotonous choice of colours also enhances the muted tones decorations and makes it easier to spot the ghost of a miner who died in a gunfight and is said to haunt the space.
Expect free WiFi, parking on the premises, a dedicated workspace, and a fully equipped kitchen to accommodate your stay in this spooky Colorado getaway. So, do book this perfect Airbnb for Halloween now before it's too late!
Best Airbnbs for Halloween in Europe
8. This spine-chilling yet elegant library lodge in Germany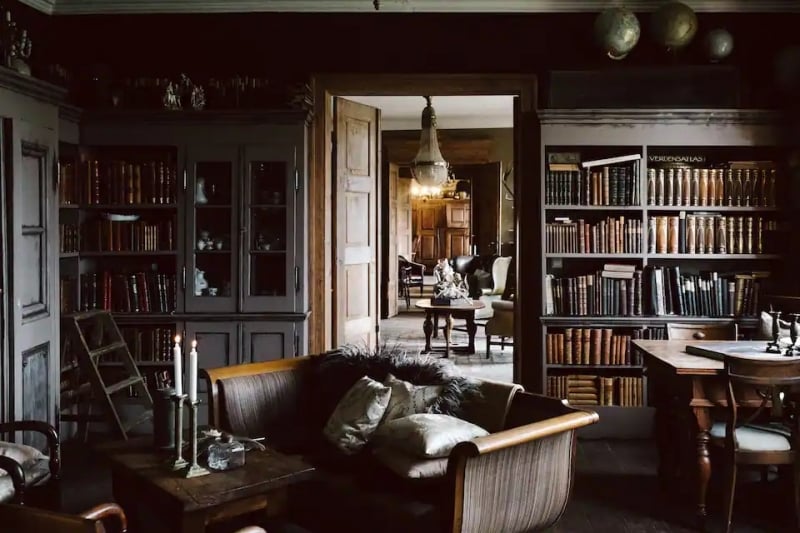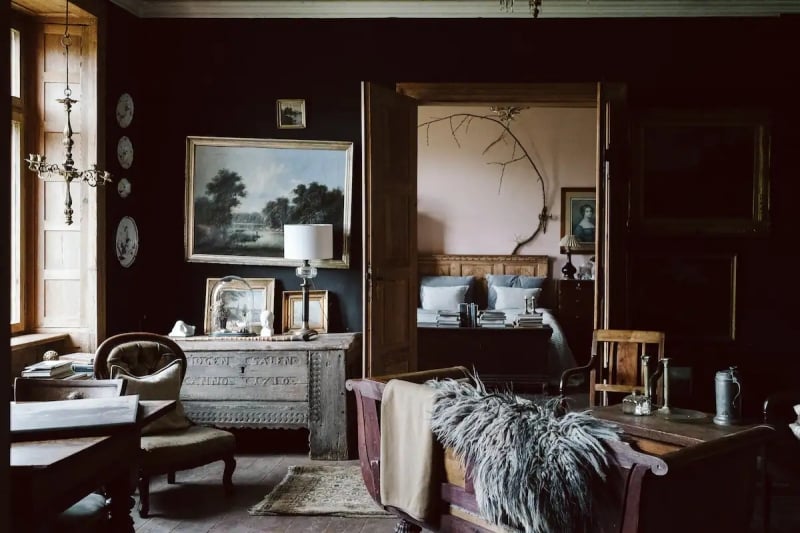 Listing name: Rensow Manor House, Library Apartment
Listing type: Entire room
Max. no. of guests: 2
No. of bedrooms: 2
One look at this mysterious dwelling, and you can already feel creepiness crawling down your spine thanks to its reserved Halloween atmosphere: dark matte furniture with a hint of muted white and brown tones. Looking like something straight out of R.L. Stine's Goosebumps book series, this stay will be the ideal haunted retreat for a daring couple planning to take their Germany Halloween escape to another level. 
Spend your time reading books in the vintage library or prepping some Halloween meals in their fully equipped kitchen. Though the space might give you shivers, especially at night, we assure you that it is warm enough to keep you curled up in your bed all night, thanks to the wood burner inside the bedroom. Did we mention friendly canines are also welcome in this abode? Talk about the best Airbnb for Halloween you should add to your itinerary this instant!
9. This elaborate nightmarish Halloween Airbnb in England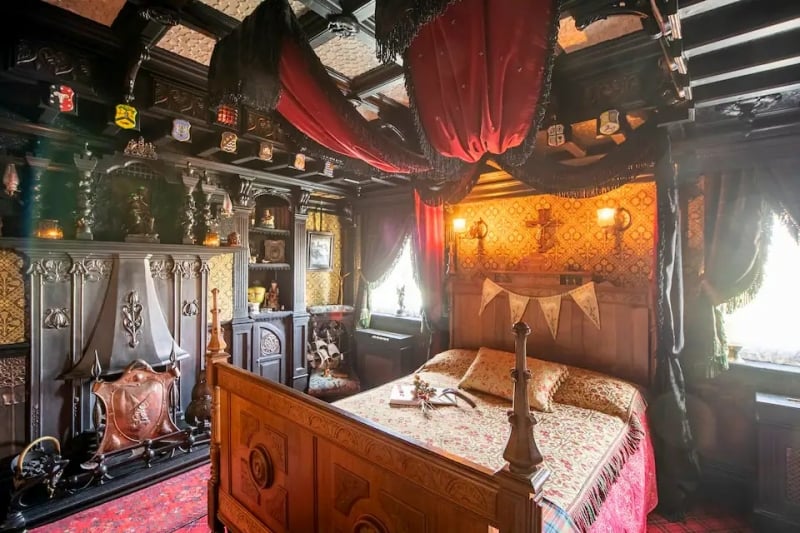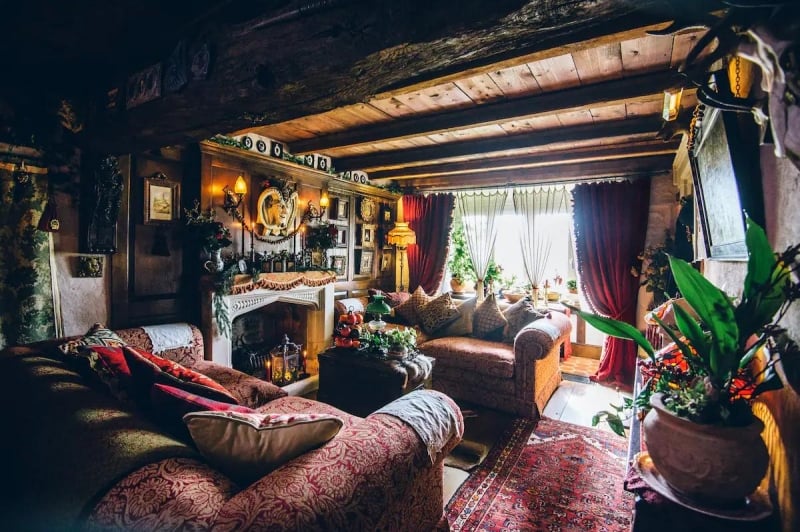 Listing name: The Haunted Bedroom at Talliston
Listing type: Entire room
Max. no. of guests: 2
No. of bedrooms: 1
This Scottish Art Nouveau-style homestead is the place to be for travel buddies looking for something otherworldly and straight out of a horror novel. You can find this haunted bedroom as part of Talliston House & Gardens in the small town of Great Dunmow in England. The space is carefully recreated with the concept of a seven-year-old Edwardian child's room in mind. 
Take a nap in the bed, and you might dream of getting exorcised at the exact chamber. All thanks to the room's nightmarish attention to detail that'll haunt you in your sleep. While you're there, don't forget to check out the Victorian living and dining room, Japanese teahouse, and nautical-themed bathroom — all giving you the excitement you never knew you needed! How's that for a perfect Halloween?
10. This mystical English fortress surrounded by a castle moat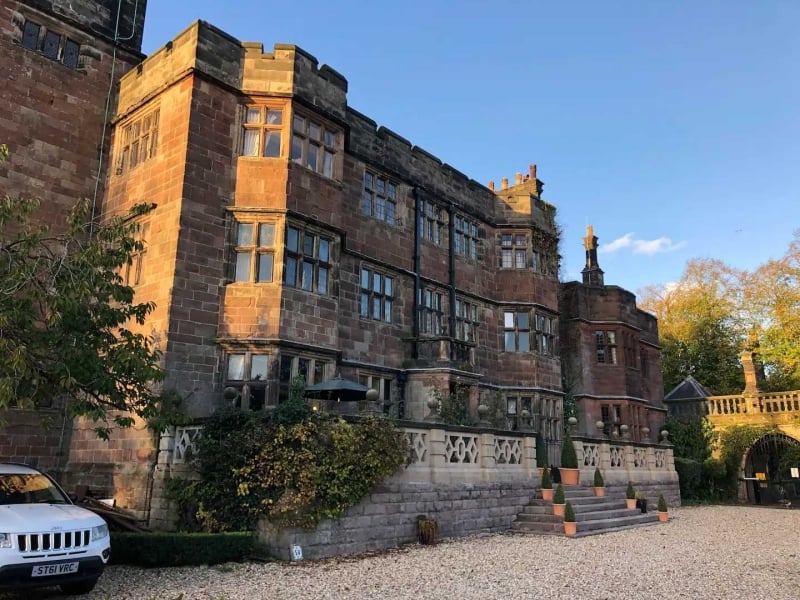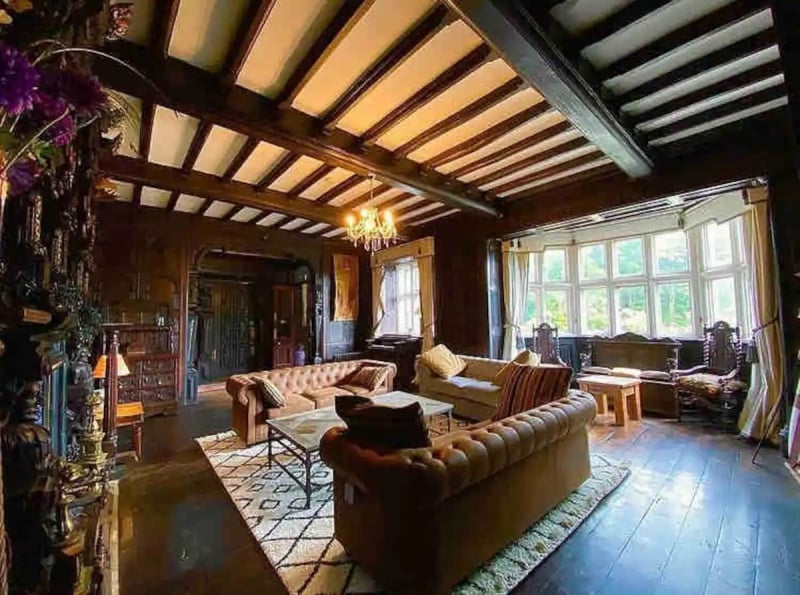 Listing name: Fairytale Castle – Close to Alton Towers!
Listing type: Entire place to stay in a castle
Max. no. of guests: 16
No. of bedrooms: 7
Looking for the perfect Airbnb for Halloween in England for your big fam? This unusual 17th-century castle will do the trick! Here's where you can stay in one of the four self-contained castle turrets. Each one is blessed with the best views of the moat and the wildlife surrounding the area. Some perks worth mentioning when booking this property include centrally heated bathrooms, free WiFi, and a 50-inch TV to keep you entertained. 
Don't miss out on its high-tea session in the Castle reception room, principal dining room, or the "Wedgwood" library that promises you an unforgettable moment with your loved ones (and perhaps the Wedgwood family from the 19th century, too!). When you're ready to explore, Alton Towers and the Peak District are a short drive away from this stay.
Also read: 12 Traditional Airbnbs in Japan for a Unique Travel Experience
And that concludes our list of spookiest stays to book on the upcoming Halloween season! No need to search for "halloween airbnb near me" anymore when you already have this list of top horror-themed Airbnbs worldwide!
Got a property you'd like TripZilla to feature? Inquire with us here.
---
This article contains affiliate links. When you book through these links, we may earn a small commission at no additional cost to you. All images courtesy of the respective property listings.