It has been more than two decades since the first book in the Harry Potter series, Harry Potter and the Philosopher's Stone, was published. Always wondered what it was like to live as lavishly as the Malfoys or cosy up in a cottage like the Weasleys?
Good news is, you don't always have to go to The Wizarding World of Harry Potter to rekindle your love for The Boy Who Lived. Although we haven't managed to cross to Platform 9 ¾ just yet, many Harry Potter-themed vacation rentals and Airbnb homes let you relive the fantasy of the novels. Here are some of the most magical properties around the world where you can escape your drab Muggle reality and live like your favourite Harry Potter characters.
Also read: Harry Potter-Inspired Theme Parks, Shops and Cafes in Asia
Airbnbs and vacation rentals for Potterheads
1. Wait for your Hogwarts letter at Godric's Hollow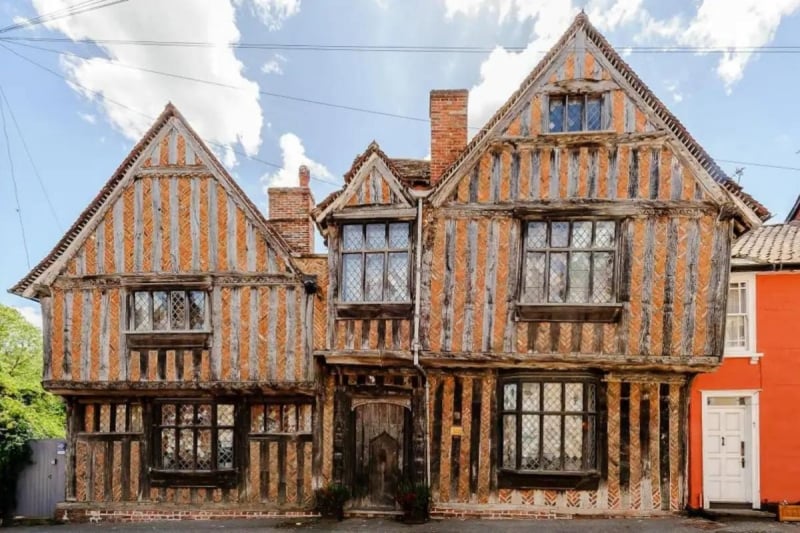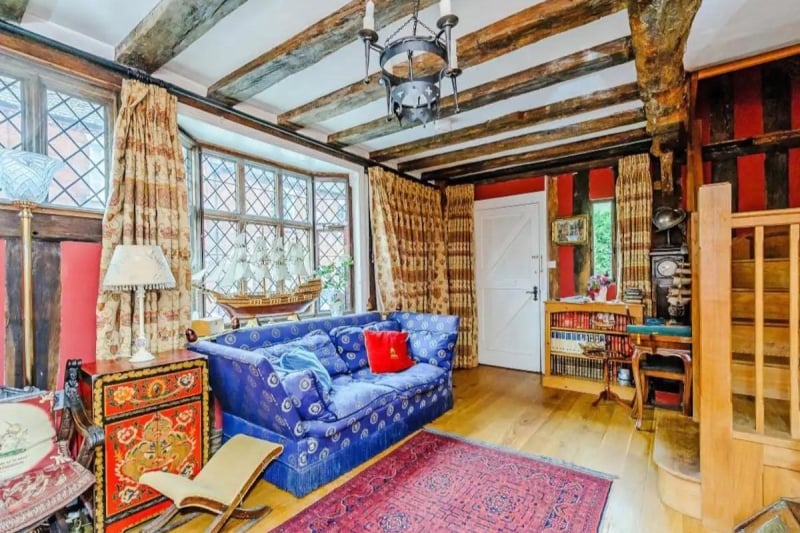 Listing name: De Vere House Bed & Breakfast. Room 2
Listing type: Private room in bed and breakfast
Max. no. of guests: 2
No. of bedrooms: 1 
Nestled in the picturesque medieval village Lavenham, De Vere House actually appeared in the films as Godric's Hollow. You won't have to sleep in a cupboard under the stairs as Harry did. Instead, guests at this charming 15th-century lodge can relax in cosy bedrooms, each one with its own four-poster bed and private bathroom. Plus, guests get to enjoy a free English breakfast every morning in this Harry Potter-themed Airbnb.
2. Go into the woods with Rubeus Hagrid's Hut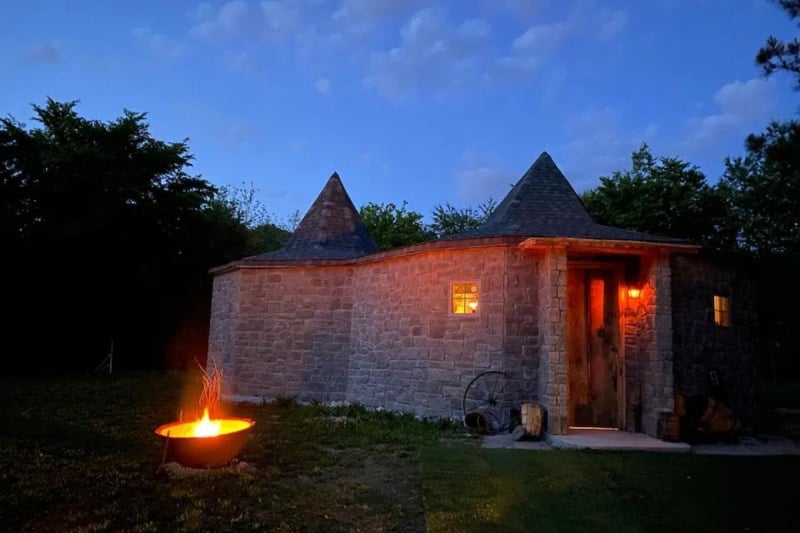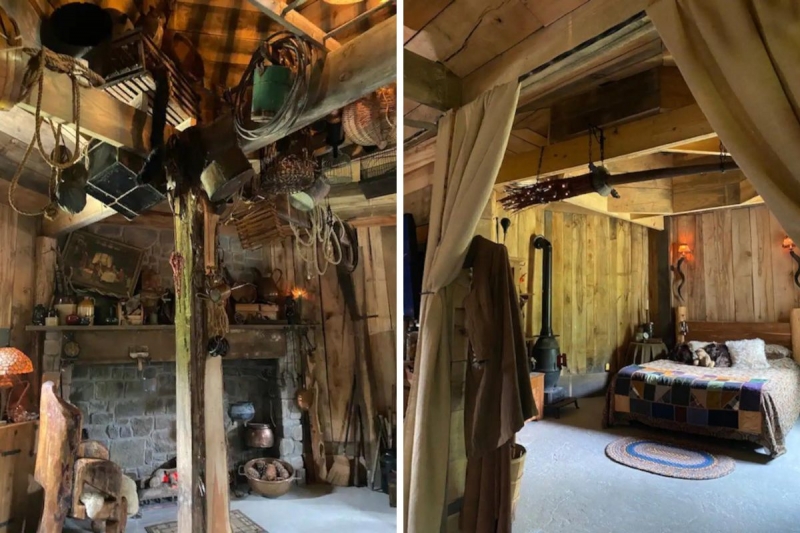 Listing name: Gamekeeper Hut
Listing type: Entire cabin
Max. no. of guests: 4
No. of bedrooms: 1
Are you a fan of the gentle giant Hagrid? This enchanting cottage in Chickamauga, Georgia is filled with so many magical details that one will almost expect Hogwarts' beloved gamekeeper to appear in the doorway. Touches like a dragon in the ceiling, a scavenger hunt, and even an optional gift basket and butterbeer add to the unforgettable magical experience in the Gamekeeper Hut. Unlike Hagrid's hut though, these cottages come equipped with all the modern-day comforts you'll need for a holiday such as a TV, heating and air-conditioning, and a fully functional kitchen.
3. Cosy up in the Weasleys' Burrow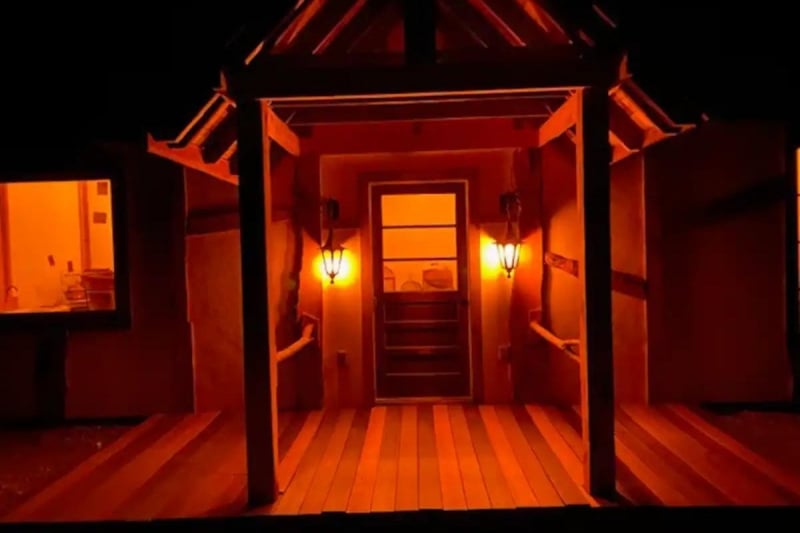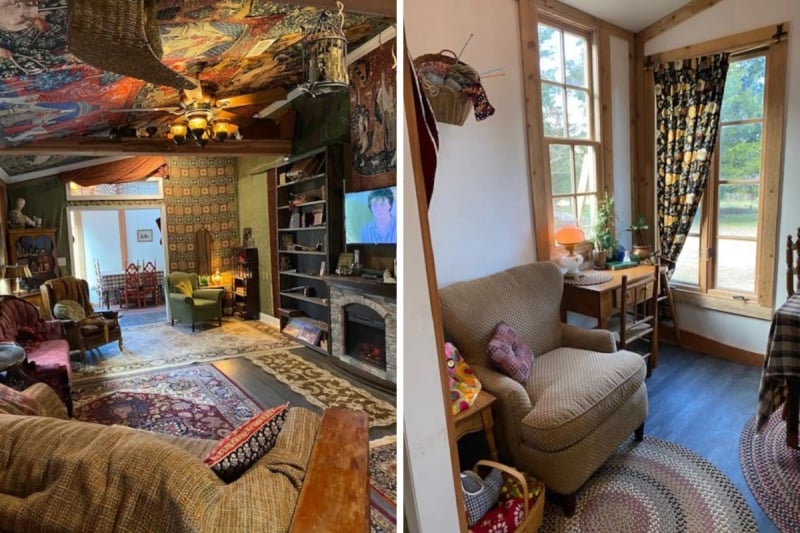 Listing name: The Burrow
Listing type: Entire home
Max. no. of guests: 6
No. of bedrooms: 2
Love the chaotic Weasleys family? This wizarding haven will make you feel like a mischievous red-headed Weasley, too. Coming from the same Airbnb Superhost as the Gamekeeper Hut, The Burrow comes with a sprinkling of wizarding trinkets: Bedrooms behind bookcases, vintage décor, and even an outdoor cauldron where families can roast marshmallows. It's definitely one of the Harry Potter vacation rentals every Potterhead deserves to visit.
4. Embrace the magic in Edinburgh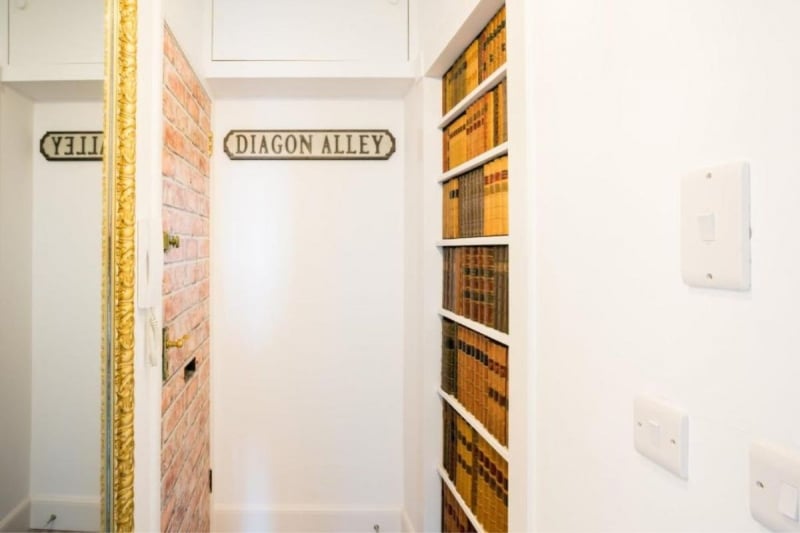 Listing name: West Bow – Magical Harry Potter-Inspired Flat near Edinburgh Castle
Listing type: Apartment
Max. no. of guests: 4
No. of bedrooms: 1 
Potterheads know that J.K. Rowling wrote a good chunk of the series in Edinburgh. So, if you're a wizard wannabe in Scotland, why not book this bright Potter-inspired flat in the heart of Edinburgh? Diagon Alley signs, themed bookshelves, and décor like deer antlers on the wall create an enchanting atmosphere for Harry Potter fans. The apartment boasts pretty city views and receives bonus points for being a stone's throw away from Edinburgh Castle.
Also read: 19 Best Airbnbs in Edinburgh for a Delightful Scottish Getaway
5. Be a pure blood in the Malfoy Manor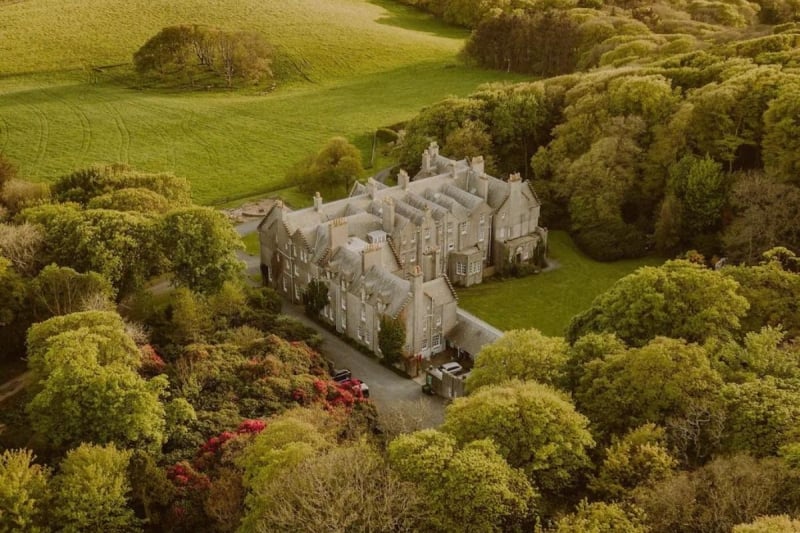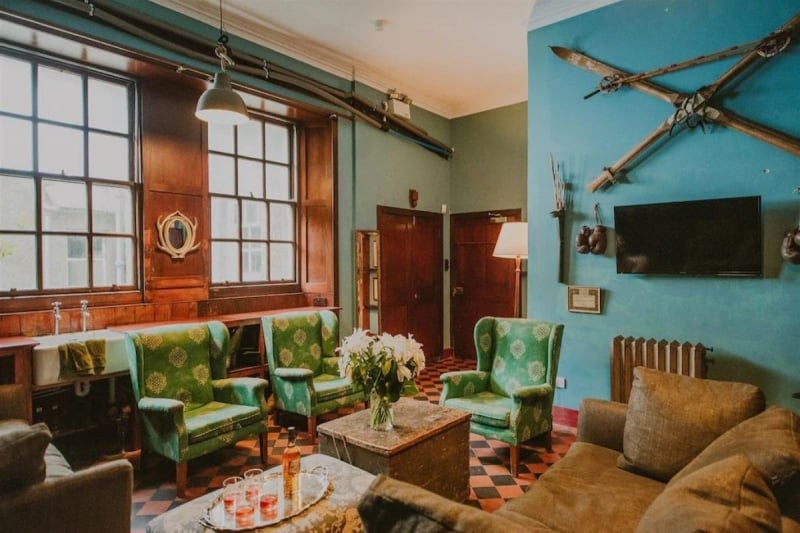 Listing name: Baronial Luxury: Spectacular Castle on 2000-acre Private Estate by the Sea
Listing type: Castle
Max. no. of guests: 8
No. of bedrooms: 4 
Live luxuriously like The Malfoys in this well-preserved Edwardian castle, where you can immerse yourself in the world of old money and grandeur. It comes with 2,000 acres of glen walks, forests, three beaches, two lakes, award-winning walled gardens and even two waterfalls to explore. Perhaps the only things missing are white peacocks and Dobby, the house elf.
6. Elope to the Shell Cottage with your lover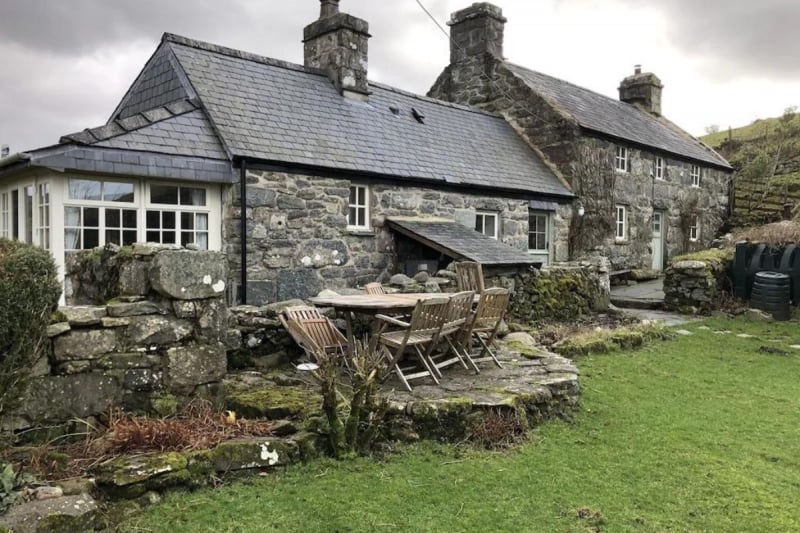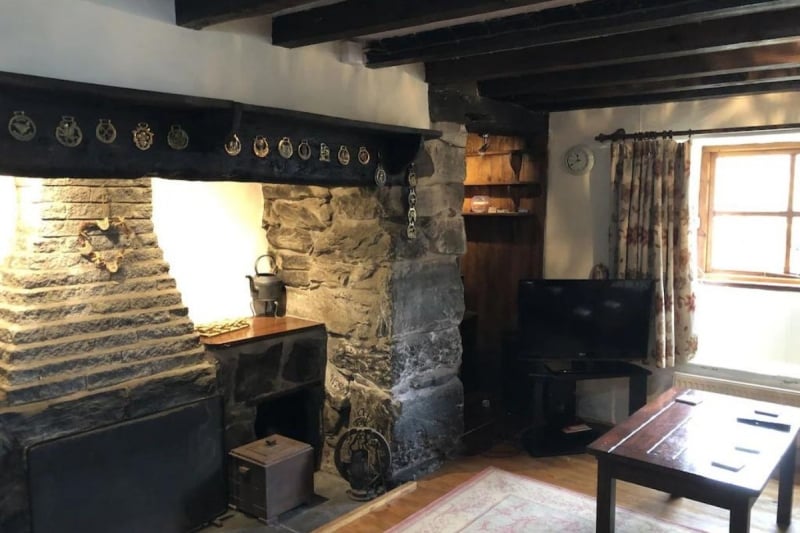 Listing name: 18thC Snowdonia Farmhouse w/ Views of Estuary & Sea to Snowdon & Llyn peninsula
Listing type: Farmhouse
Max. no. of guests: 8
No. of bedrooms: 4 
Just married and looking to escape to a beautiful haven? This delightful stone cottage in Wales resembles the Shell Cottage for newly-wed couple Bill Weasley and Fleur Delacour. Located in the town of Harlech, it's a romantic retreat for couples but big enough to host a family of eight. Pretty views of the sea and mountains create an idyllic setting for Muggles and wizards alike.
7. Live like a true Gryffindor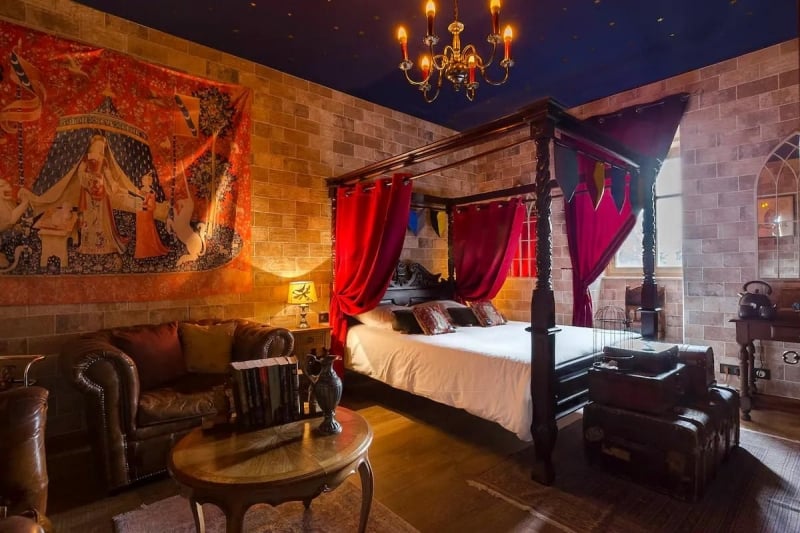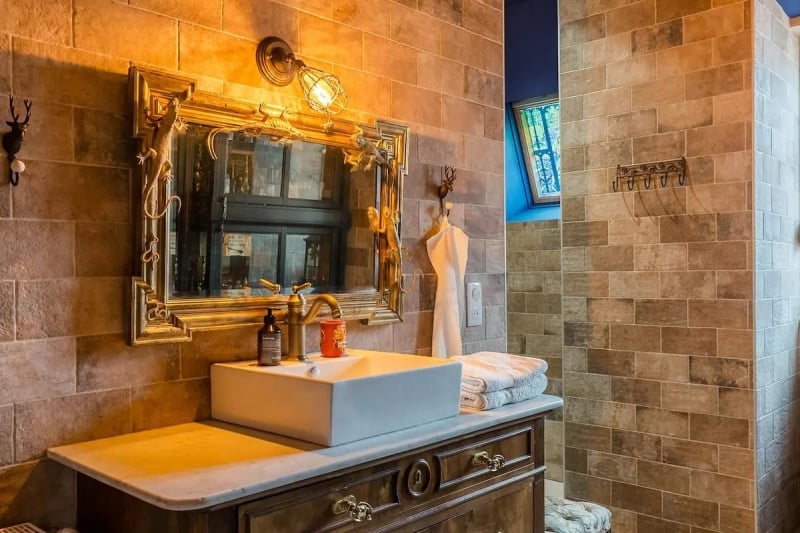 Listing name: Le gite du sorcier ! ★ Magical apartment ★
Listing type: Entire rental unit
Max. no. of guests: 4
No. of bedrooms: 2 
Gryffindors, unite! Tucked in the beautiful village of Colmar in France, this startlingly authentic cottage is made for lion-hearted travellers who want to escape into the magical world. Enjoy the thoughtfully designed accommodation, featuring a Hogwarts-type four-poster bed, stone walls, and old-fashioned décor that would look right at home in the wizarding school. Additionally, this Harry Potter-inspired Airbnb is well-positioned in a quiet neighbourhood close to the city centre.
8. Discover your inner wizard at Harry's House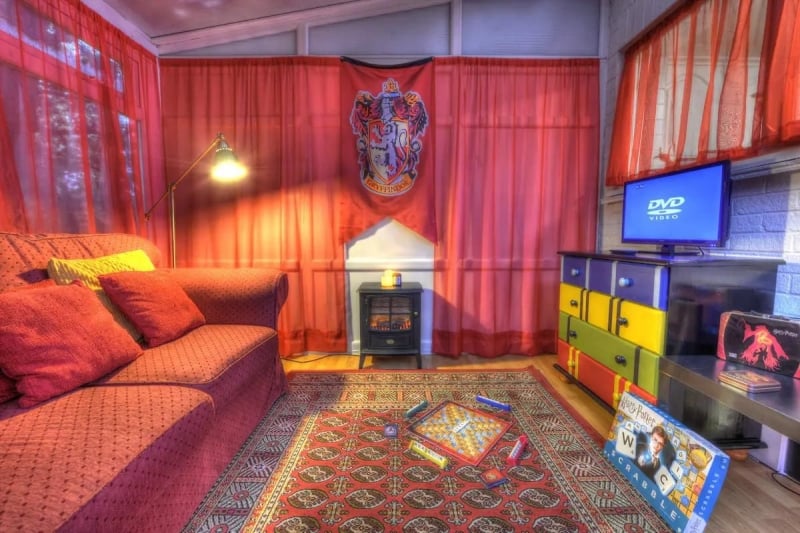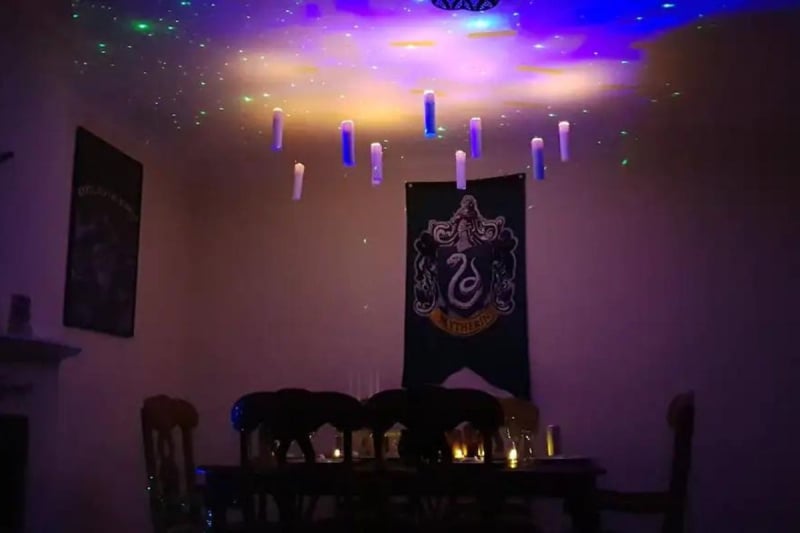 Listing name: Harry's House (Muggles welcome too!)
Listing type: Entire home
Max. no. of guests: 6
No. of bedrooms: 2
If you're visiting London to trace Harry's magical footsteps across the city, then you'll love  this Harry Potter-themed Airbnb designed for magical fans. Dubbed Harry's House, it's a wonderful tribute to the books and films. Keep your eyes peeled for all sorts of Hogwarts-inspired gems throughout the house: Floating candles hovering over the dining table, Crookshanks and Hedwig, and a Nimbus 2000 for Quidditch enthusiasts are only a few of our favourites. Conveniently, Harry's House is only a short drive from the Harry Potter Studio Tour at Warner Bros.
9. Be a student at the school of witchcraft and wizardry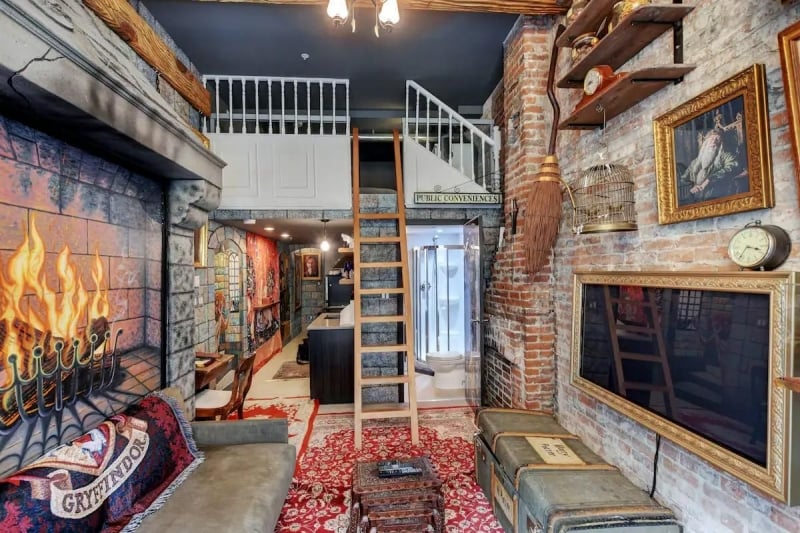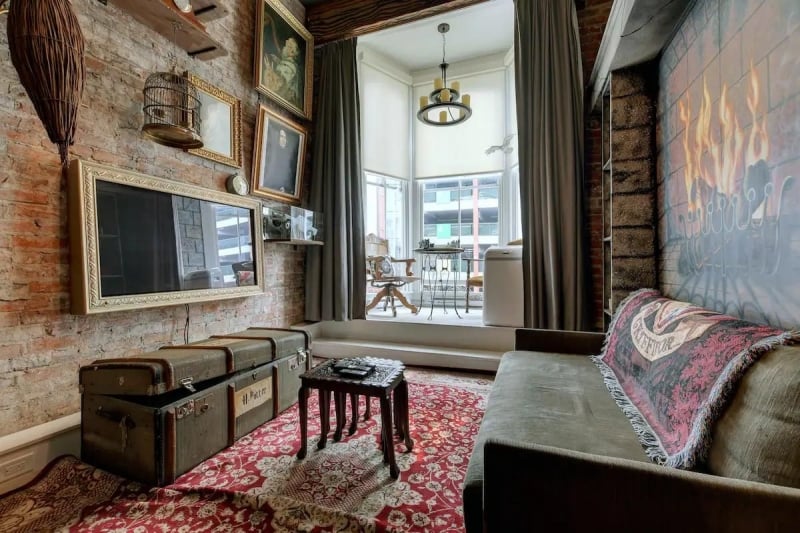 Listing name: The Common Room⚡️
Listing type: Entire condo
Max. no. of guests: 4
No. of bedrooms: 1 
If you've been waiting for your acceptance letter from Professor McGonagall, look no further than this incredible home in Canada, set to make you believe you're already in Hogwarts. Every corner of The Common Room is packed with magic. From magical relics to framed photographs of beloved characters, even just poring over all the Harry Potter-inspired details will take your entire stay. Put on your Hogwarts scarf, flick your wands, and live like a wizard in this magical stay next time you're visiting Victoria.
10. Apparate to this cottage with a room under the stairs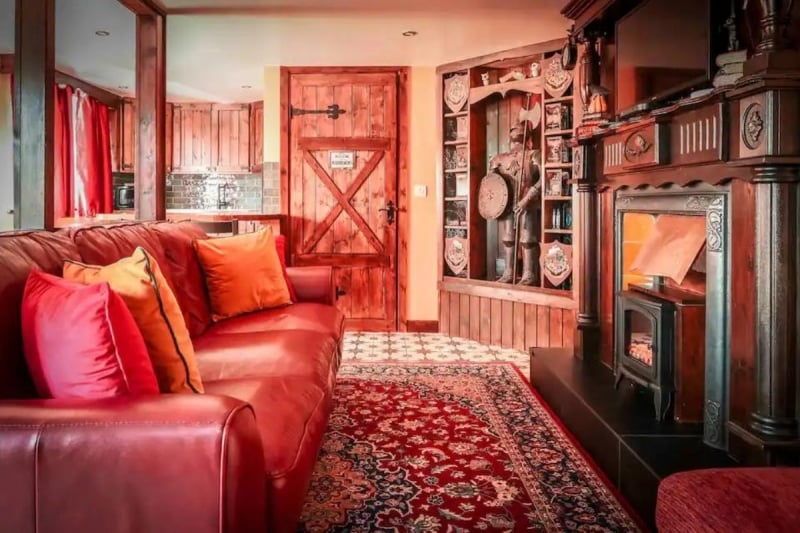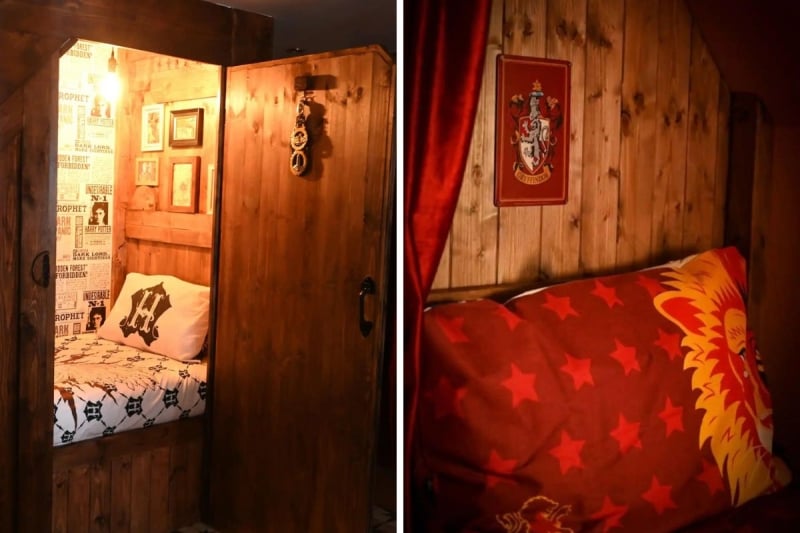 Listing name: Spellcast Cottage
Listing type: Entire cottage
Max. no. of guests: 4
No. of bedrooms: 1 
Whether you come by car, Floo Powder, or apparition, this enchanting staycation spot in Ireland is one of the must-visit Harry Potter vacation rentals for Hogwarts fans around the world. Nods to the wizarding world are found in every room, from the photos of the characters to Platform 9 ¾ in the garden.
Hunt down for the secret room where you can hang out and practise Charms spells. When it's bedtime, the dormitory-style accommodations are perfect for groups, with House-themed bedspreads. But if you really want to pay tribute to The Boy Who Lived, you can sleep in the tiny room under the stairs just like Harry did.  
Also read: 8 Budget-Friendly Airbnb Homes & Vacation Rentals in London
You don't have to get a Hogwarts acceptance letter to sprinkle a little magic in your vacation. For a few days in these Harry Potter vacation rentals, you'll feel like you've apparated straight into Hogwarts. 
Got a property you'd like TripZilla to feature? Inquire with us here.
---
This article contains affiliate links. When you book through these links, we may earn a small commission at no additional cost to you. All images courtesy of the respective property listings.