Contributed by Camera and Cheese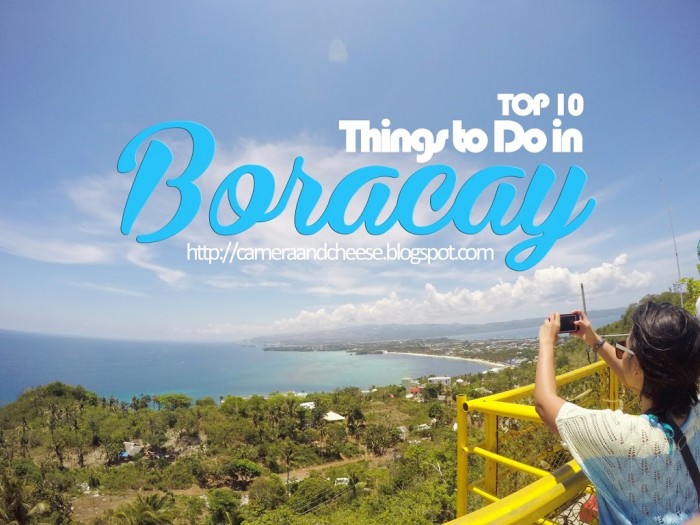 Planning for a trip to the most popular beach destination in the Philippines? Read on to find out what the best things to do in Boracay are!
This is kind of an overdue post and initially, I wanted to make one post per activity but settled on making one for everything. My boyfriend and I travelled to Boracay last April 2015. It was my third time there and it never gets old. Everytime I'm there, I feel free. No one cares about how you look, how big your stomach is and how annoying your cellulites can be. Just one warning for you before you go: IT'S EXPENSIVE! However, there are still some cheap thrills that you could experience; we'll get on to that later.
So the best way to maximize your stay is to really research about the things that you could do in the island and estimate the costs. It doesn't have to be a step by step itinerary. I do really enjoy spontaneity and I don't want to get too stressed over detailed schedules. Learn what you can and prepare.
Anyway, without any more blabbing, here are my TOP 10 Things to Do in Boracay, in no particular order.
Also read: The Boracay Bucket List: 12 Things You Must Do On Your Trip
1. Walk on white beach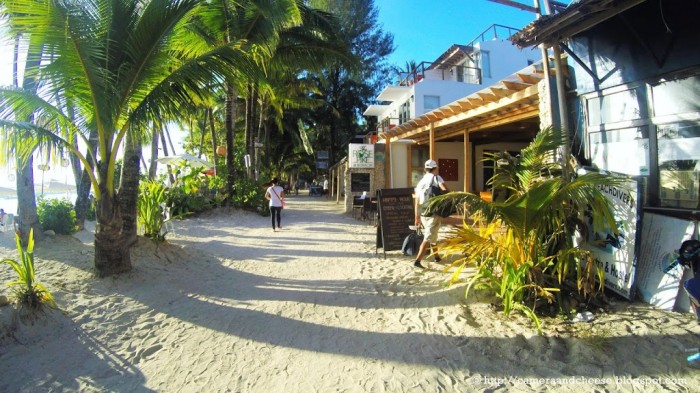 Path on white beach
This is probably the easiest and cheapest activity you can do in Boracay. The beach is free so enjoy it. Quite frankly, I don't like to be out in the sun for a long time so I love taking strolls to and fro stations from around 4:00 in the afternoon onwards. I think this is a must on your first day because you get to scout for places where you can eat, hang out, shop or talk to agencies who provide activities. You will be able to compare prices and plan for your activities on the succeeding days of your trip. It also feels really good to walk barefoot on the shore.
2. Watch fire dancers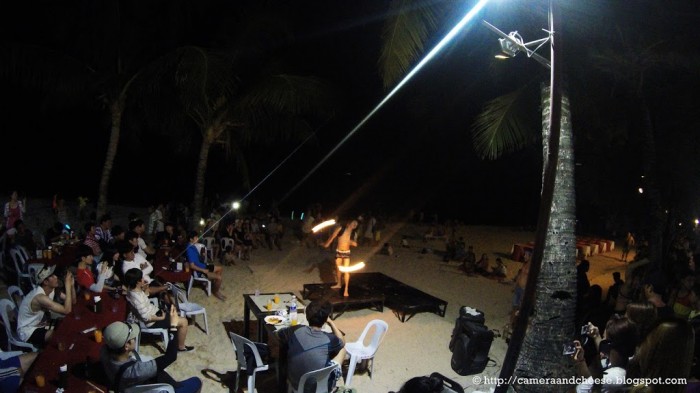 One of the fire dancing shows along the beach
Fire dancers have been quite popular in Boracay. When I came for the first time, there weren't as much yet. Now, every restaurant on white beach has at least two! Pick a good spot where you can get a good view. Don't worry, this is not hard as there are dancers everywhere at night. You can either eat at a resto along the beach or if you are in a tight budget, just sit and be amazed at the tricks that these dancers can do.
3. Helmet diving
I have never tried scuba diving before because, well – it's expensive. A great alternative for this would be helmet diving. Prices range from Php 500 to 700 depending on your bargaining powers. You can sign up for it with one of the middle men along the beach but be warned, they cannot guarantee your safety. In fact, the government has banned these men but they are still prevalent. The safest way to get a ticket is through registered companies. They usually have booths set up on the beach.
Then after paying, a boat will take you to the drop off station in the middle of the ocean! A scripted orientation is given and you are guided by someone under the ocean. You can see fishes and you can also feed them. I wasn't very much after the fishes but rather the experience. The helmet is super heavy and you have to submerge yourself in water so it would feel lighter. At first, I was freaking out and had no idea what to expect. But it was all worth it.
4. Eat your heart out!
THIS.IS.LITERALLY.THE.BEST.PART (for me). I LOVE TO EAT, can't you tell? Anyway, here are my top three eats in Boracay.
D'Talipapa. There are so many choices for seafood in the market. You can choose your seafood and have them cooked at any of the restaurants around the market. Must tries would be shrimps and scallops. Again, don't be surprised if the prices are high compared to other parts of the country. My motto is, if it's food then I can spend more if I want to. Seriously, most of my money is spent for food and I don't ever regret it. We had our fresh seafood cooked at Maya's Kitchen. Hmm yummy! My tummy is rumbling as I am writing this.
Christina's. If you have budget, try this beautiful restaurant. You can sit inside or enjoy dinner and the breeze at night by the beach. It is a bit pricey but the serving is okay and the food we ordered were delicious. I had their lasagne and it was awesome!
Project Pie. If you're into DIY pizza, then you have to try Project Pie. You get to choose from a variety of toppings. By the way, they're unlimited! Also, you get to refill your drinking cup for up to three times! Read my Hot or Not to know more.
BONUS. If you booked a hotel with a kitchen, then you can cook your own food. Go shop at the local market for seafood and spices. Then go to the groceries for other ingredients. I went there with my family once and we had carbonara at our apartelle.
5. Explore D'Mall
Shopping! If you're up for getting souvenirs, swimwear and other things, visit D'Mall. It's not exactly the "mall" that we are all familiar with. It's open and composed of stalls. All products are pretty much the same and the price differences are not big. You can also do some bargaining if you have the guts.
6. Dive or jump off a cliff
I have had such an amazing experience doing this. I've really only jumped the shortest length because I was too scared. Hahaha! I went in a couple more times until my ears hurt. The adrenaline was high and it's such a good way to overcome your fear. It was safe and a lot of people were there to cheer and support you, even if you don't know them.
7. Bathe under the sun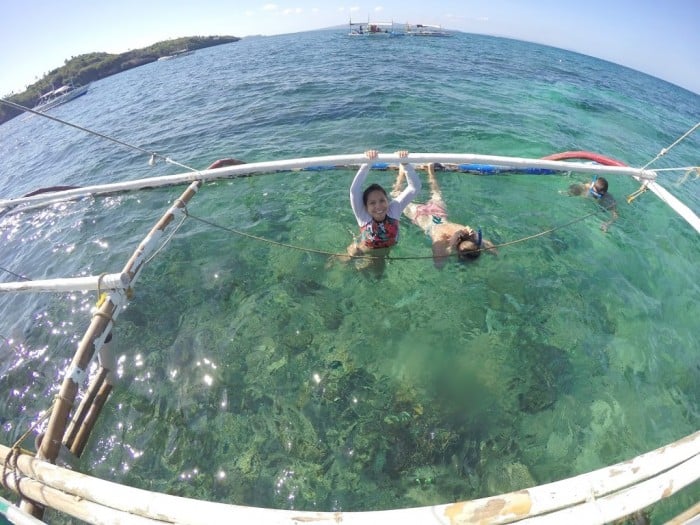 Duh? Why go to the beach if you don't take a plunge into the ocean? It's free and it's refreshing! Best time, for me, to swim is on sunrise and a bit before sunset. That way I won't get too burnt by the sun. Plus, the view is always nicer. Swim-sand-swim again, then eat! Oh yeah, this is the life.
8. Visit Puka Beach
I have to be completely honest, white beach is not as clean as before. The beachfront stations are more crowded than ever. If you are looking for the best spot to swim and enjoy cleaner sand, go to Puka beach. It's accessible through boats and tricycles. I have only tried the former so I can't tell you much about transportation. We just hired a boatman to take us island hopping. We didn't spend much time at Puka beach but there are some resorts near that part of the island if you're interested in more peace and quiet.
9. Lounge and watch the sunset
Beach bum. You just gotta love doing absolutely nothing but lying on the sand after a nice dip in the ocean and enjoying the sunset. You can even do yoga by the beach if you're up for it. The sunset in Boracay is so beautiful. It's both romantic and invigorating. Take this time to relax, forget about your busy schedules and just let go while it lasts! It was such a great experience.
Also read: Local Tips: Best Spots in Boracay to Catch Sunrise and Sunset
10. Ride to the mountains and enjoy the view deck
Boracay isn't just about the beach. You can also do some other activities like riding an ATV going to the view deck. There you can see an overlooking view of the island plus you get to enjoy the ride, even though it was scorching hot! On the way to the deck is an old rundown "theme park" which houses the Trick Art Museum in Boracay. It was the only nice thing there plus it's airconditioned! Haha.
So there you go guys. My Top 10 Things to Do in Boracay. If you have any more questions about travelling there, which places to go to, blah blah blah, don't hesitate to ask me! I will really be happy to answer you. Let me know how your Boracay trip turns out.
Ciao!