It's already December and the travellers among us are starting to think about next year's holidays. Kickstart your travel plans with Giamso's special promotional fares on Cathay Pacific, available from 16 to 19 December. Get your flights to Bangkok, Hong Kong, Taipei, Tokyo and Seoul up to a whopping 50% off their original prices!
Here's the full list of the special fares, inclusive of taxes:
As Cathay Pacific is a full-fledged airline, meals and baggage allowance of up to 30kg are included. On top of that, you can accrue Asia Miles points under Cathay Pacific's frequent flyer programme, which translates to flight rewards, seat upgrades and more which you can use in future!
The travel period is from NOW until 30 Apr 2017 for Bangkok, Taipei, Tokyo and Seoul, and until 30 Sep 2017 for Hong Kong. Blackout dates are also applicable.
If you're not already convinced, let us entice you even further with some irresistible reasons to visit these five cities for your next travel adventure!
1. BANGKOK – Return flights on Cathay Pacific from $222 only
Shop till you drop at Artbox Bangkok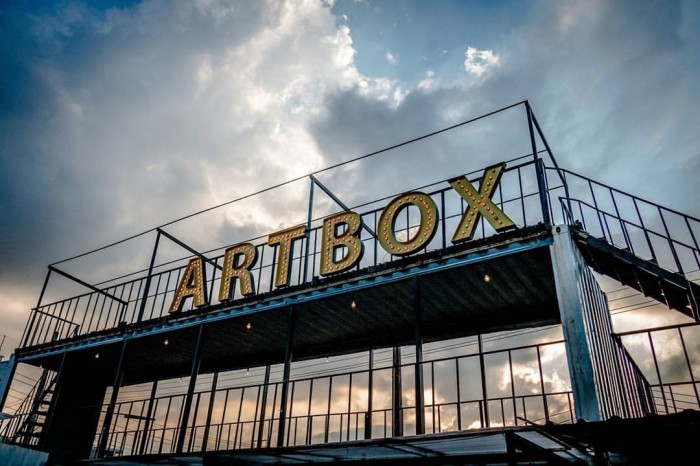 Image credit: ArtboxThailand
Move over, Chatuchak! Artbox Bangkok has taken over as the newest and trendiest night market that all locals and tourists alike are raring to visit. Comprising an eclectic mix of clothes, accessories, artworks and foods, you're definitely in for an exciting night! Quench your thirst with the photogenic rainbow mocktails from Anyfriday or feast on delicious homemade burgers from Burgerholic and more! As night falls, the place turns into an idyllic haven with fairy lights, live band performances, and an outdoor section where you can sit down and soak in the atmosphere..
Get soaked at Songkran Festival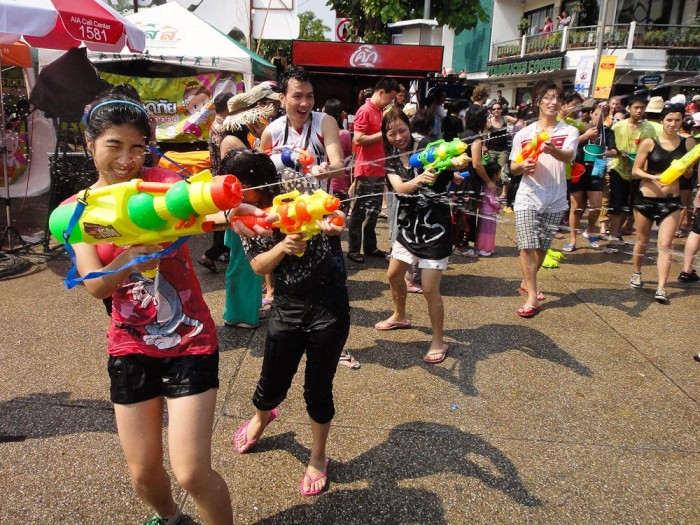 Image credit: John Shedrick
Taking part in the famed Songkran Festival is definitely on everyone's bucket list! If you've never experienced it before, this is the perfect opportunity! It will take place from 13 to 15 Apr 2017, so time your visit and get ready for a splashing good time! Songkran Festival happens during the hottest time of the year and there's no better way to cool down than having an epic water fight! Don't forget to bring water pistols, water bombs, hoses or buckets, and make sure your cameras and phones are in a safe waterproof place. Wash away all your bad luck so you can get good luck for the coming year!
[GIAMSO PROMOTION]
Tempted to book your flight to Bangkok? Don't wait any longer! From 16 to 19 Dec 2016, Giamso is having exclusive promotional fares starting from $222 only for a direct return flight to Bangkok! The original price is $447, so that's more than 50% worth of savings! On top of that, you get to fly via Cathay Pacific, a full-fledged airline that guarantees you will travel in comfort and style.
In addition, you get to accumulate points under Cathay Pacific's frequent flyer programme – by earning Asia Miles towards flight rewards, upgrades, companion tickets and other lifestyle rewards. Book your flights to Bangkok HERE now!  
2. HONG KONG – Return flights on Cathay Pacific from $296 only
Paraglide off the Dragon's Back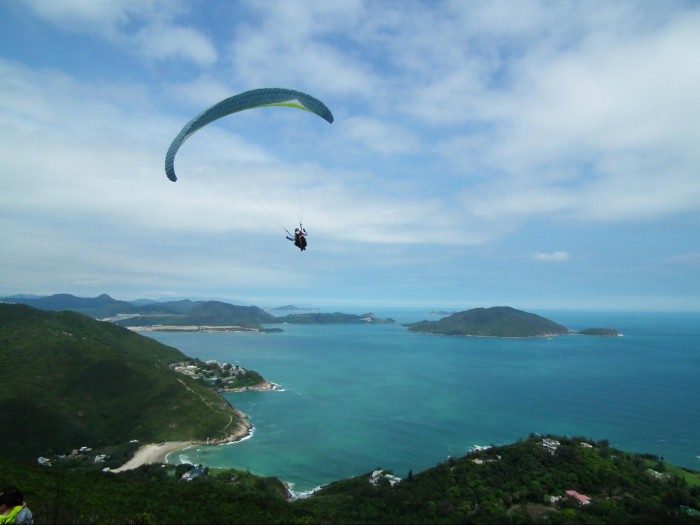 Image credit: Stewart Morris
One of the best urban hikes in the city, this hiking trail is immensely popular because the view from the peak of Dragon's Back will leave you in awe. But you know what's even better? Paragliding off the peak! The panoramic views from up above, complete with a refreshing sea breeze and the serenity of just floating in mid-air…Sounds like pure bliss to me! You'll get a stunning aerial view of Shek O, Tai Long Wan, Stanley, Tai Tam, and the South China Sea to boot. Are you game enough to jump off into the great blue yonder?
Have a sumptuous feast at Dim Sum Icon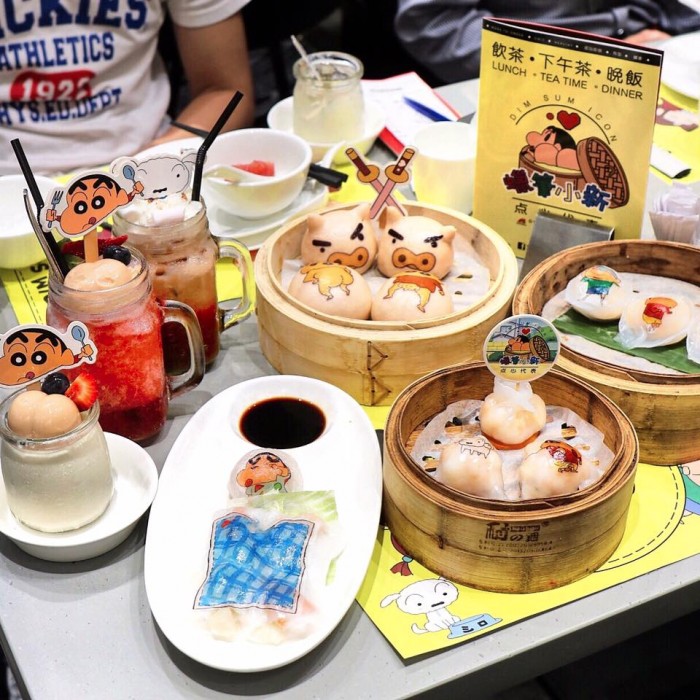 Image credit: Dim Sum Icon
Constantly surprising their customers with ingenious cartoon characters imprinted on various dim sum dishes, Dim Sum Icon promises a one-of-a-kind culinary experience. They've had Little Twin Stars designs, Gudetama designs, Kobitos designs, and recently…Crayon Shin Chan designs! Don't these dim sum dishes look too adorable to be eaten?! You've got to try it out for yourself when you visit Hong Kong!
[GIAMSO PROMOTION]
Can't wait to try out these quirky dim sum dishes? Grab your flights to Hong Kong via Cathay Pacific with Giamso's promotional fares! Happening only from 16 to 19 Dec 2016, enjoy return flight fares from as low as $296. That's 50% worth of savings when compared to the original price of $566! I know you can hardly believe your eyes.
You also get to earn Asia Miles under Cathay Pacific's frequent flyer programme – which means flight rewards, seat upgrades, and other benefits that you can enjoy in the future! There's no reason to wait anymore – start booking your flights to Hong Kong here!   
3. TAIPEI – Return flights on Cathay Pacific from $421 only
Feast your heart out on awesome street food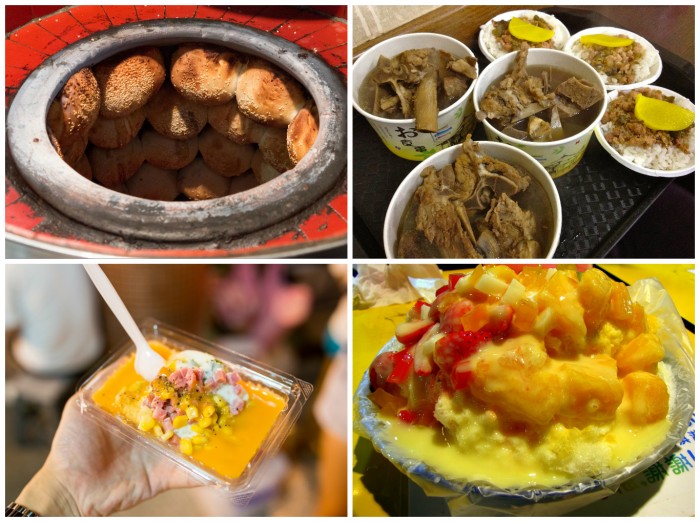 Image credit: (top left) William Selman (top right) LWYang (bottom left) Calvin (bottom right) Juan Carlos Madrigal
Night markets are essentially synonymous with Taipei, no? And what keeps us coming back to Taipei year after year is obviously the… STREET FOOD! Just take a look at those Fuzhou black pepper pork buns, one of Raohe night market's best offerings. Oozing with hot juicy goodness,  the pork fillings are tender with a peppery kick, while the bread is crispy yet chewy. You can't leave Taiwan without trying it for sure. In addition, don't forget to treat yourself to a bowl of rich and fragrant herbal pork bone broth, as well as the sinfully delicious Taiwanese braised pork rice!
For the cheese lovers, take a good look at that mash potato drowned in melted, gooey nacho cheese! Aren't you drooling already? To top it all off, satisfy your sweet tooth with a delightful mango, kiwi, and strawberry shaved ice that will refresh your senses. With an endless array of mouthwatering delicacies, your stomach will certainly be satisfied from such a gastronomic treat.
Wander around Rainbow Family Village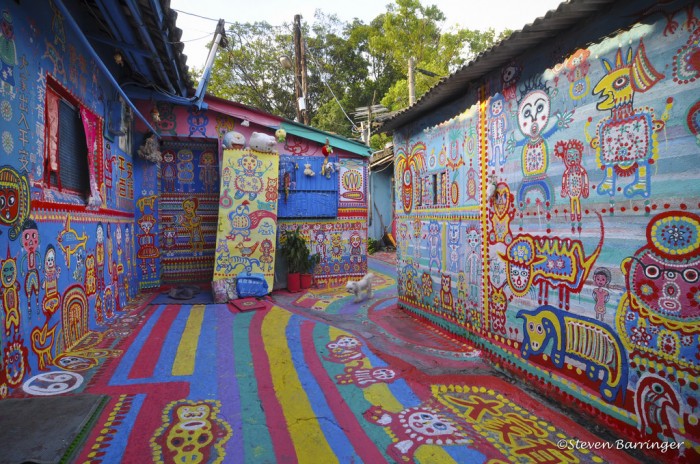 Image credit: Steven Barringer
The mastermind behind this vibrant and whimsical community village is none other than an 87 year old military veteran known as Grandpa Rainbow, or Huang Yung Fu. From the walls, to the doors, and even the ground, he has salvaged its rundown exterior with a fresh coat of paint. He is currently the only person living in the village, and despite its beautiful facade, the village is in danger of being demolished to make way for new development. Pay Grandpa Rainbow a friendly visit and make his day before it gets too late!
4. TOKYO – Return flights on Cathay Pacific from $605 only
Indulge in a shopping spree at Harajuku
Image credit: Jen Morgan
The epicentre of fashionable apparels and trendy shops in Tokyo, Harajuku Street is an ultimate paradise for all shopaholics. Even as renowned international retailers like H&M or Forever 21 emerge in the area, quaint local designer shops continue to hold their ground with their unorthodox styles and kawaii clothing. You'll also get to spot Japanese girls and boys who boldly dress in Lolita punk rock styles, or cosplayers along the street – their outfits might seem outrageous to tourists, but these individualistic styles are completely normal in Japanese society. When you need a break from your shopping spree, head to one of the crêpe stalls and grab a delectable sweet crêpe for a sugar fix!
Challenge your tastebuds at Memory Lane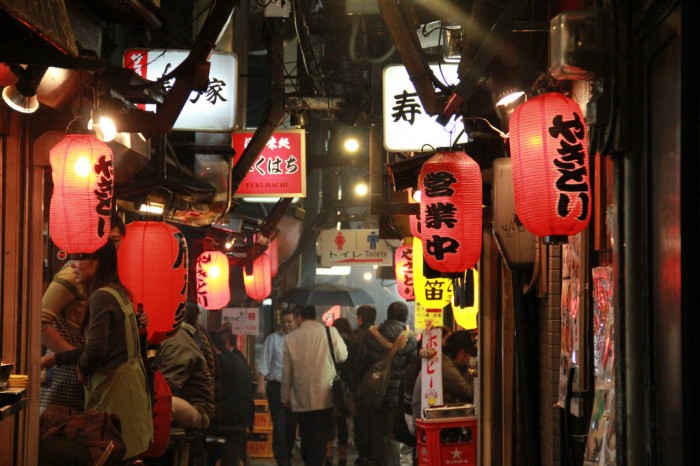 Image credit: Shinya Ichinohe
Also known as Piss Alley, Memory Lane is a narrow alleyway filled with drinking holes and quaint restaurants serving delicious sticks of yakitori,  yakiniku, ramen, and more. The eating places might be cramped, but that's just part of the authentic local experience. The key attraction, however, is none other than Izakaya Asadachi, a restaurant that sells bizarre delicacies like raw pig testicles, frog sashimi, snake liquor, grilled salamander and more! Are you up for a unique culinary meal?
[GIAMSO PROMOTION]
I bet you're raring to explore Tokyo already! This vibrant city has so much to offer – you'll never run out of things to do for sure. Book your flights with Giamso today and fly to Tokyo via Cathay Pacific from $605 only! It doesn't get any lower than this. If you miss out on this unbelievable flash sale, your flights to Tokyo will cost $1048 instead! That's almost double the price.
We've done the calculations for you – that's a total of $443 worth of savings! You could use that amount to extend your stay even longer, shop till you drop at Harajuku Street, or even explore other parts of Japan. There's no time to hesitate, book your tickets to Tokyo right now!
5. SEOUL – Return flights on Cathay Pacific from $621 only
Go trigger-happy at Common Ground
Image credit: Travis Estell
There's no denying that Seoul is undisputedly one of best cities for shopping, and rightly so. Besides its sprawling malls, late-night shopping areas and endless cosmetic shops, there's a new hipster shopping spot that emerged just last year. It has a unique exterior, because all the shops are located within shipping containers, coated with a vibrant shade of blue. The entire compound is every Instagram junkie's dream. Aside from shops selling fashion apparels and accessories, there are restaurants, cafes, food trucks, flea markets, and even live performances!
Taste authentic street food at Gwangjang Market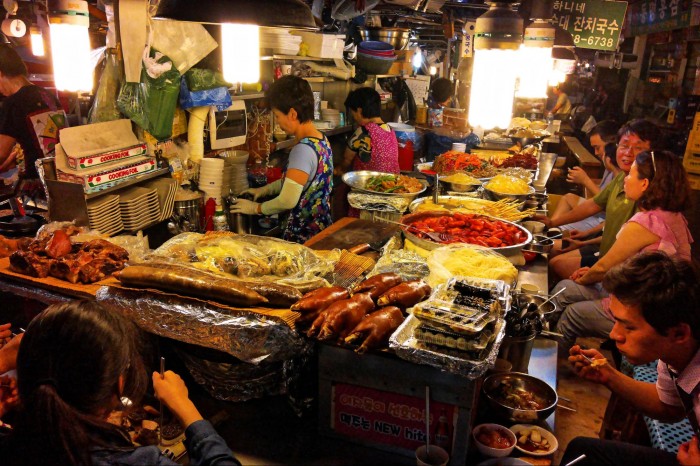 Image credit: Tongeron91
You can't leave Seoul without feasting on its delicious street food, or else you're thoroughly missing out! One of the best spots to try out all types of Korean street delicacies is none other than Gwangjang Market. A bustling hive of activity from the wee hours of the morning, friendly ahjummas tending the stalls will constantly entice you with their extensive selection of freshly prepared dishes. Choose from a variety of fried pancakes, ddukbokki rice cakes, different types of kimbap, soondae (blood sausage) and many more! You're bound to have a satisfying meal whenever you visit.
[GIAMSO PROMOTION]
Visit Seoul now, where mouthwatering street food and awesome shopping awaits! There's no better time to book your tickets than during Giamso's flash sale promotion. From 16 to 19 Dec only, you can fly to Seoul via Cathay Pacific from $621 only! WHAT A STEAL.
Considering the fact that the original price is $945, you get to save a total of $324! Unbelievable, right? That amount could fund your shopping spree at Myeongdong or Dongdaemun and allow you to splurge on delicious street food all day, everyday! Start booking your tickets to Seoul with Giamso today!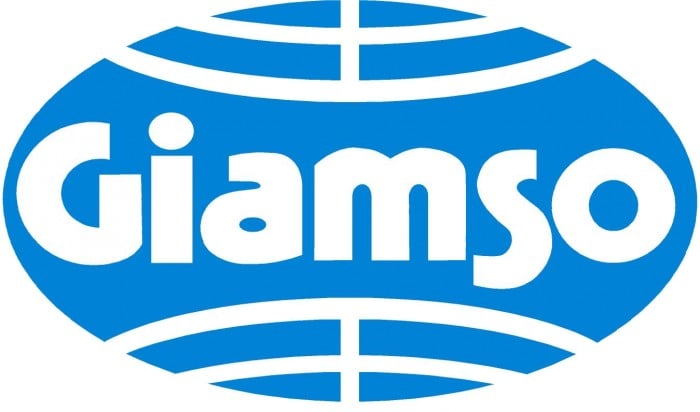 Giamso International Tours is a homegrown travel agency that boasts a comprehensive range of travel products and services catering to both corporate and leisure travellers. With a solid 35 years of experience under their belt, they are constantly committed to providing the best travel deals and enjoyable travel experiences. Known as one of the top travel agencies in Singapore, their professional and personal care ensures that your entire vacation can be fully entrusted into their hands.
As a one-stop travel hub enabling: Worldwide Air Ticketing and Hotel Reservations, Flexi Holidays, Outbound Tour Packages, Customized and Private Touring Experiences, MICE/Incentive Travel, Muslim Holiday programmes, Visa Application, Car Rental and many more – they've got everything covered for you! Constantly delighting their travellers with affordable prices and unparalleled travel experiences, they are a highly reputable travel agency that you will have absolutely no qualms booking with.
There's no time to lose! Start booking your next holiday to Bangkok, Hong Kong, Taipei, Tokyo, and Seoul with Giamso today! These irresistibly low prices don't come by very often, so you better not miss it. Take that well-deserved break you need and jet off for a fun-filled vacation to refresh and recharge!
---
Brought to you by Giamso International Tours