Gangwon Province is easily one of the most exciting locations in South Korea. However, given the fact that most international flights land at Incheon International Airport, most tourists decide to stay in Seoul during their visit. Thankfully, Gangwon Province is just a stone's throw away from South Korea's capital and day trips to Gangwon are extremely easy to plan! 
In this article, we'll share with you some ideal Gangwon day trip itineraries that cater to different types of travellers! Whether you prefer the warm embrace of the summer sun, the magical alpine scenery of snowy mountains, or simply the scrumptious delight of authentic Korean food, we've got a Gangwon day trip itinerary that's just for you! 
Also read: The Most Popular Cities in Gangwon Province: Highlights & Things to Do
For Korean drama fans
Seoul → Nami Island → Jumunjin Beach → Byeolmaro Observatory → Sogeumsan Suspension Bridge → Seoul
Nami Island
If you're a true-blue K-drama fan, then obviously, the first stop of your K-Drama day trip to Gangwon is Nami Island! 
The filming location of the timeless classic, Winter Sonata, and other famous local productions, Nami Island is a swoon-worthy half-moon-shaped island located in Chuncheon, the capital of Gangwon Province. It is famous for its incredibly romantic scenery, especially during the autumn and winter months! 
 Here, photography enthusiasts can take their time as they recreate iconic scenes from their favourite K-dramas, with the stunning backdrop of Nami Island as the backdrop. One of the locations you MUST visit here is the famous Pine Tree Lane. At this iconic location, you'll be able to stroll along the forest, flanked on either side by tall pine trees. How romantic! 
If you're not a fan of walking, you can also rent a bike and explore the island at a leisurely pace. Getting to the island is simple enough as there are trains that connect Seoul to Gapyeong Station, which is just a short walk away from the entrance. 
Jumunjin Beach
As we move from Chuncheon to the port city of Gangneung, one location that has to be on every Goblin fans' bucket list is Jumunjin Beach. 
You might not recall there ever being a beach in the 2016 drama, and you'd be right. That's because it isn't the beach itself (even though it's beautiful in its own right) that appeared in Goblin, but the rocky pier at the end called Jumunjin Breakwater. 
Thanks to the immense popularity of the series, Jumunjin Breakwater is one of the most popular destinations in the area, with plenty of fans willing to line up just for a chance to recreate the iconic shot of the scene where Kim Shin (Gong Yoo) and Ji Eun-Tak (Kim Go-Eun) first met each other.
Apart from geeking out over Goblin, visitors at Jumunjin Beach can also enjoy scenic coastal views and enjoy the gentle breeze. If you love K-pop just as much as you love K-dramas, there's another landmark on Jumunjin Beach you can visit: The BTS Bus Stop. 
No, unfortunately, it's not a designated bus stop that ferries you into the hearts of your favourite Oppas! Instead, it is a custom-built set that was used for BTS's "You Never Walk Alone" album cover. As you might expect, plenty of fans flock to this location for a photo. So, if you're planning to recreate Jimin's iconic pose, be prepared for a long wait! 
Byeolmaro Observatory
Byeolmaro Observatory is a little ways away from Juminjin Beach. You could take a combination of trains and buses to get there, but I recommend hailing a taxi to save time. 
That's because the observatory is simply one of those locations where you can expect to spend an extended period of time just admiring the views. I'm sure that, once you reach the top, you'll be able to guess which popular Korean Drama used this site as a filming location. Hint: It was one of the most beautifully shot K-dramas in 2019 and featured an enticing love story between a South Korean heiress and a North Korean soldier. 
Regardless of whether or not you enjoyed Crash Landing on You, the alluring views at Byeolmaro Observatory, located at the summit of Bongnaesan, are unrivalled. In the day, you'll be treated to verdant hills as far as the eye can see. If you visit at night, you'll be able to gaze up at the starry sky in blissful silence. 
Sogeumsan Suspension Bridge
Our final stop of the day (or evening if you follow this itinerary perfectly) is Sogeumsan Suspension Bridge. Unlike the other locations on this list, you will eventually need to take a taxi to reach this destination. 
Appearing briefly in the drama It's Okay to Not Be Okay, Sogeumsan Suspension Bridge is the longest pedestrian bridge in South Korea. That being said, it's not your typical footbridge. At a height of 100m, this bridge requires a heart of steel to cross. After all, it sways underneath your feet, even if ever so slightly. We can understand why Moon-young (Seo Ye-ji) struggled to cross the bridge! 
However, if you DO make it out to the middle, you'll be treated to spectacular views that will make you say "wow". As far as the eye can see, there are verdant meadows and mesmerising hills. If you're lucky enough to visit during autumn, the views are even more captivating as the area would be blanketed in fiery autumn foliage! 
For nature lovers
Seoul → Daegwallyeong Pass → Odaesan National Park / Seoraksan National Park → Seoul
Daegwallyeong Pass
Personally, Samyang Daegwallyeong Pass is one of my favourite locations in all of Gangwon Province. Located in the snowy Pyeongchang Alps, this alluring location offers visitors a temporary reprieve from the hustle and bustle of city life, a hiding place to escape the daily chores that burden you in the city. 
The serene atmosphere and picturesque alpine scenery are enough to lull anyone into a state of peace and relaxation. As you might expect of mountainous locations, many of the attractions here are steeped in nature. From lovely meadows to cuddly animals, Daegwallyeong Pass lets you embrace Mother Nature in a way you never thought possible in South Korea. 
The Daegwallyeong Sky Ranch is a particularly fun and memorable attraction. This is mainly because of the fluffy sheep that roam the ranch (during summer). Apart from that, this 2,471-acre space also houses plenty of wind turbines that provide the perfect backdrop for Insta-worthy photos. 
Seoraksan National Park
Following the relaxing experience at the Sky Ranch, it's time to get your hiking boots on! That's because the next stop is going to allow you to experience the natural beauty of Gangwon in all its glory! 
Seoraksan is easily one of the most recognisable landmarks in South Korea. After all, it IS the tallest peak of the Taebaek Mountain Range that runs along the Northeast of the Korean Peninsula! Seoraksan National Park, which houses the mountain, is a UNESCO World Heritage Site that is well-known for its dreamy hiking paths and lovely forest scenery. 
In spring and autumn, Seoraksan National Park becomes a hot spot among both locals and tourists eager to experience the natural beauty of this treasure of a destination. The well-marked hiking paths are filled with whimsical flowers, making any excursion one that is filled with scenic spots around every corner. Add to that the ambient sounds of the forest as you traverse through the tree-covered paths, and what you have is an intimate experience of Gangwon's natural beauty. 
If you're planning to hike to the very peak of Seoraksan, I would suggest moving this itinerary to the very top of your list as it will likely take you the entire day.
Odaesan National Park
Alternatively, if you're not as keen on Seoraksan because of the crowds, you could opt to visit Odaesan National Park instead. Like Seoraksan though, this part of your itinerary could take up the majority of your day depending on how you want to explore the area. 
A popular hiking spot among locals, Odaesan National Park is the largest natural forest in the country. As such, as you explore this hidden nature escape, expect to run into a diverse variety of native flora and fauna. It is also home to serene lakes and enigmatic temples and mountains, making the entire experience in Odaesan National Park an exceptionally enticing one. 
There are plenty of hiking courses in Odaesan National Park, each ranging from as little as two hours to as much as eight! Which one you choose depends on how far you want to go. If you want to visit both Odaesan and Seoraksan on the same day, it is doable, but I would recommend choosing one and saving the other for another day. 
Also read: Impressive Locations Across Gangwon Province to Admire Spring Flowers
For those who enjoy the beach
Seoul → Gyeongpo Beach → Anmok Beach & Coffee Street → Mangsang Beach → Seoul
Gyeongpo Beach
The good thing about beach hopping in Gangwon is that most of the best beaches lay only a few minutes away from each other on the east coast. The first thing you need to do is simply get from Seoul to Gangneung. For that, you can choose to either take an intercity bus or a KTX train. 
Once there, make your way to Gyeongpo Beach, which is your first stop. Gyeongpo beach is one of the top beaches in Gangwon. It lies in a unique geographical location between the East Sea and Gyeongpo Lake and is famous for its fine white sand. The waters here are shallow, making it a good place to frolic about. 
In addition to enjoying time in the sun, you could also spend some time at the nearby pine forest which provides a contrast to the coastal views. You should also spare some time to cycle around Gyeongpo Lake, where you'll be able to enjoy the view of majestic mountains in the distance. 
Anmok Beach & Coffee Street
Your next stop, assuming you started your journey in the morning, comes at just the right time. Anmok Beach isn't just popular for sunbathing and the ocean breeze. It's also famous because it is home to Gangneung's Coffee Street! Found next to the beautiful shoreline, Anmok Coffee Street is a must-visit destination for all those who love coffee and ocean views. 
There is a wide range of stunning cafes here, many of which offer views of Anmok Beach. Some of these cafes have specific themes, like Santorini Cafe, while others simply offer you the chance to enjoy a cup of coffee as you listen to the therapeutic sound of waves crashing against the shore. 
If you're lucky, you may even be able to plan your visit to coincide with the annual coffee festival here! It takes place every October and it is a festival which celebrates all things coffee. You'll find aspiring baristas showing off their latte art, innovative brewers offering unique blends, and much more! 
Also read: 16 Most Instagrammable Cafes in Gangwon Province, a Coffee Lover's Paradise
Mangsang Beach
The final beach on our beach-hopping day trip in Gangwon is Mangsang Beach. Unlike the previous two locations, Mangsang Beach is located in Donghae, which is a short distance away from Gangneung. 
Mangsang Beach features fine sand, shallow waters and, lovely evening vibes. You may not be able to catch a beautiful sunset though, mainly because of its location on the east coast. That being said, Mangsang Beach is a good way to end your day trip to Gangwon, thanks to its many lovely photo spots. 
Fans of the K-drama, Hotel del Luna might also recongnise this spot as the beach located inside the titular hotel. 
For those who prefer snowy mountains
Choose from one of Gangwon's world-class ski resorts
Yongpyong Resort
As Korea's No.1 winter wonderland, Gangwon province has no shortage of world-class ski resorts. If you're visiting Seoul during the winter season, then a day trip to one of these ski resorts is an absolute must! 
First up is Yongpyong Resort, which is Korea's very first (and also largest) ski resort. Located high in the snowy Balwangsan Mountains, Yongpyong Resort features plenty of scenic slopes that provide the perfect conditions for skiing. 
The Rainbow Paradise course in the Dragon Zone is often the most popular ski route at the resort. It features the second-longest slope in South Korea and is suitable for all levels of skiers. You can also try your hand at snowboarding and ice skating here!
Apart from that, Yongpyong Resort also doubles up a mini K-drama pilgrimage site. After all, Dragon Peak, accessible via the Rainbow Gondola, has been featured in many famous Korean dramas, including Goblin, and Winter Sonata. Did I mention that the views on the ride up are incredible as well? 
Fun fact: The resort was actually of the official venues where the 2018 Winter Olympics took place!
Alpensia Ski Resort
Speaking of the 2018 Winter Olympics, did you know that Alpensia Ski Resort, located in the alpine Daegwallyeong area, was actually built specifically to host the bi-yearly winter sporting event? In 2018, Alpensia Ski Resort was the main venue for the Pyeongchang Winter Olympics, hosting the ski jumping, bobsleigh, and Nordic events.
Away from the glitz and glamour of the games though, Alpensia is, in and of itself, a wonderful winter destination in Gangwon. Even if you're a total beginner and have never tried skiing, Alpensia Ski Resort promises to be a fun experience. That's because here, you will find gentle slopes that will ease you into the sport at a leisurely pace. This is also perfect if you're travelling with kids! 
You can even go on a romantic ski at night with your loved ones! 
Sono Belle Vivaldi Park
If you're a little tight on your budget, then Sono Belle Vivaldi Park would be your best choice for a ski-filled day trip to Gangwon. 
Easily accessible via bus, Sono Belle Vivaldi Park is one of the most visited ski resorts in South Korea. It is known for being a popular destination for young travellers, thanks to the park offering a multitude of different activities, such as skiing, sledding, and tubing. It is also here where you can visit Snowyland, a fun-filled theme packed that is filled with winter activities specially designed for kids. 
Also read: Top 8 Ski Resorts in South Korea's Gangwon Province
For avid foodies
Seoul → Chuncheon (Dakgalbi Street) → Sokcho (Abai Village) → Gangneung (Chodang) → Seoul
Chuncheon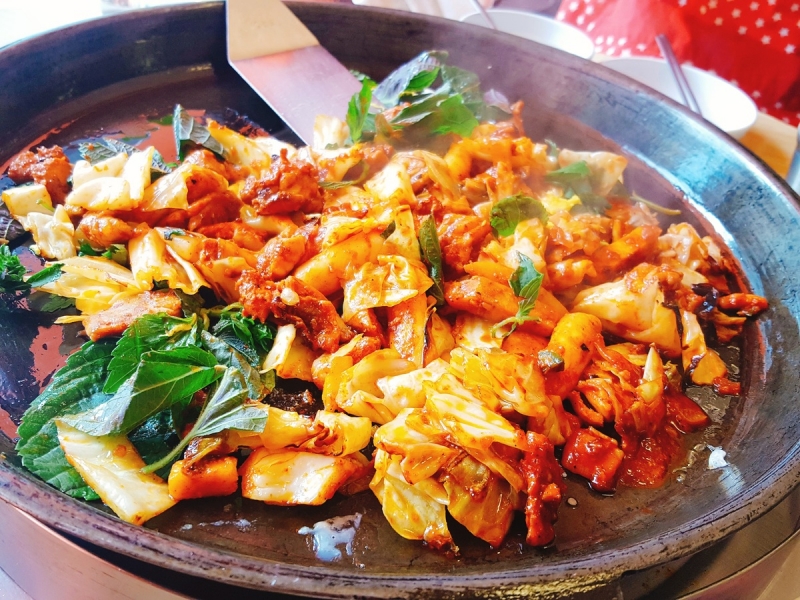 As the capital city of Gangwon Province, Chuncheon is one of the easiest day trip destinations to visit from Seoul. If you're an avid foodie who loves authentic Korean cuisine, this is great news for you! 
That's because Chuncheon is often considered the birthplace of one of the most delicious Korean dishes ever: Dakgalbi. For those who aren't familiar with it, Dakgalbi is basically spicy stir-fried chicken that is prepared over a hot iron griddle. It is smoky, succulent, and really packs a punch. It is especially delicious when paired with fluffy white rice! 
The best location to visit for a Dalgalbi-fueled food adventure in Chuncheon is the famous Dakgalbi Street! As you might have guessed from the name, you will find plenty of Dakgalbi specialty restaurants here, all selling the popular dish at competitive prices. You'll know you're in the right place either by the smell of delicious Dakgalbi in the air or the giant statue of a rooster at the entrance! 
In addition, most Dakgalbi restaurants in Chuncheon also offer Makguksu, cold buckwheat noodles. I suggest pairing Makguksu with your Dakgalbi, but make sure not to overeat because your foodie day trip in Gangwon has just begun! 
Sokcho
Next stop: The northeastern city of Sokcho. Being a coastal city that hugs the shore, the obvious meal of choice here is fresh seafood. However, one question remains: Where can you find the best seafood in Sokcho? 
The answer is Sokcho Jungang Market. This traditional market sells some of the freshest seafood in the city, most of which are caught just right off the shore. My favourite is the assortment of fried seafood snacks on offer, especially the fried squid. However, for a more unique Sokcho delicacy, make your way to Abai Village instead! 
If you consider yourself a Korean food expert, then you surely know what a sundae is: Sausage that is made with glutinous rice, meat, and pork blood. However, did you know that, in Sokcho, there's a different version call ojingeo sundae?
It is basically the same core ingredients stuffed into a squid and steamed to juicy perfection. In the quaint fishing village of Abai, you will find the most authentic ojingeo sundae, made using recipes that were passed down from North Korean refugees who fled to the area during the Korean War. 
Gangneung
The final stop of your foodie day trip in Gangwon is Gangneung, specifically, a unique village called Chodang. It is here where you can sample some of the best tofus in the country. 
Known as Chodang Sundubu (soft tofu), tofu in this village is made using a traditional method that has been passed down for generations. Instead of using regular water, the soy milk is curdled using seawater that is collected from the East Sea. Because of this, Chodang Sundubu is incredibly flavourful and silky smooth, making it the perfect ingredient for many different tofu dishes. 
In the village, you'll find plenty of eateries that sell this local delicacy. There's even a gelato shop that sells ice cream made using Chodang Sundubu! Soontofu Gelato's ingenious creation is creamy and light at the same time, making it a guilt-free dessert that checks all the boxes when it comes to flavour. 
Finally, if you're still feeling peckish after all that eating, head to Gangneung Jungang Market where you will find plenty of yummy snacks, including Dakgangjeong, yummy Korean fried chicken pieces served with a savory glaze. 
For the history buffs
Seoul → Ojukheon (Chuncheon) → Sinheungsa Temple (Sokcho) → Naksansa Temple (Yangyang) → Woljeongsa Temple (Pyeongchang)
Ojukheon
From the outside, Ojukheon looks like any regular hanok (traditional Korean house). However, this unassuming exterior actually hides one of the most important pieces of Korean history. 
After all, Ojukheon is the house where Shim Saimdang, the female calligrapher on the 50,000 KRW note, lived with her family. Walking through the hallowed halls of this hanok, visitors can expect to immerse themselves in the rich cultural history of South Korea. 
You can visit some of the most important sites in the compound. This includes Yulgok Memorial Hall, and Munseongsa Shrine. If you have time, you can also take a small detour into Ojuk Hanok Village, where you can engage in some hands-on cultural activities such as calligraphy and dressing up in Hanbok (traditional Korean clothing). 
Sinheungsa Temple
Once we leave Ojukheon, we'll be embarking on a mini temple-hopping tour to conclude our day trip in Gangwon. First up is Sinheungsa Temple, one of Sokcho's most important historical sites. 
Founded many centuries ago in the Silla Dynasty, this Buddhist temple houses plenty of cultural heritage sites. Examples include the famous Geungnakbojeon Hall and Hwangnyongsa Temple's majestic Three-story Stone Pagoda. That being said, the current temple complex actually isn't the original one. 
You see, the original Sinheungsa Temple was destroyed several times because of frequent fires. After countless restorations, it was finally decided that the temple would be rebuilt at its current location during the Joseon dynasty. It is as beautiful as it is steeped in history. 
If you're visiting Gangwon for more than a day, you can even choose to stay within the temple with the monks. You get to experience life as a Buddhist monk and find some serenity in the process too! 
Naksansa Temple
The second historical Buddhist temple we'll visit is Naksansa Temple in Yangyang County. This 11th-century temple boasts an interesting location: It is built into the slopes of Naksan Mountain. 
The temple overlooks the beautiful East Sea, providing stunning views in addition to cultural sites and historical tidbits. The cliffside pavilion, in particular, is a famous location that locals flock to in the morning to witness the sunrise. Inside the temple complex, perhaps the most eye-catching piece is the massive statue of Avalokitesvara Bodhisattva. 
Woljeongsa Temple
Finally, we head to Pyeongchang to visit, not only the most beautiful historical temple in Gangwon (in my opinion), but also one of the most iconic filming locations of the Korean drama, Goblin. 
Woljeongsa Temple is located within a verdant forest valley on Odaesan Mountain. It features centuries of cultural history and also boasts some of the most alluring views in Gangwon. This is especially true when considering the ambient fir tree path that leads towards the main temple complex.
However, Woljeongsa Temple isn't just for show. It is in fact one of the most important religious sites in Pyeongchang. It is home to many priceless artifacts and landmarks, including the famous Painting of Three Bodhisattvas. In the temple complex, you'll also see architectural marvels like the Octagonal Nine-story Stone Pagoda. 
Also read: Best Hiking Experiences in Gangwon Province During Autumn
Pick your ideal Gangwon day trip! 
And there you have it: six different day-trip itineraries to Gangwon for six different types of travellers! All the locations on the list can be accessed by a combination of public transportation. However, to save time, we do recommend hiring a taxi. This leads us to: 
Gangwon tourist taxis! This convenient service is one of the best ways to explore Gangwon Province effortlessly! You can choose to plan your own personal itinerary or simply sign up for a themed tour package for a set price!
Regardless of whichever one you choose, you'll find that getting around Gangwon Province is way easier with the Tourist Taxis. Plus, for the kind of luxury it offers you, it's actually relatively affordable too!
So, ready to explore Gangwon? We know we are!
For more information, visit Gangwon Tourism Organization's official website.
---
Brought to you by Gangwon Tourism Organization.