Just recently, the Seoul Metropolitan Government released a list of Seoul's most-visited attractions, finally answering our questions of whether the Royal Palaces are more popular than Namsan Tower. Hint: It's not. If you're planning a trip to Seoul soon or simply curious to find out how the attractions have been ranked, check out the list below.
P.S. We've put together a few tips on what to do at each place too!
1. Myeong-dong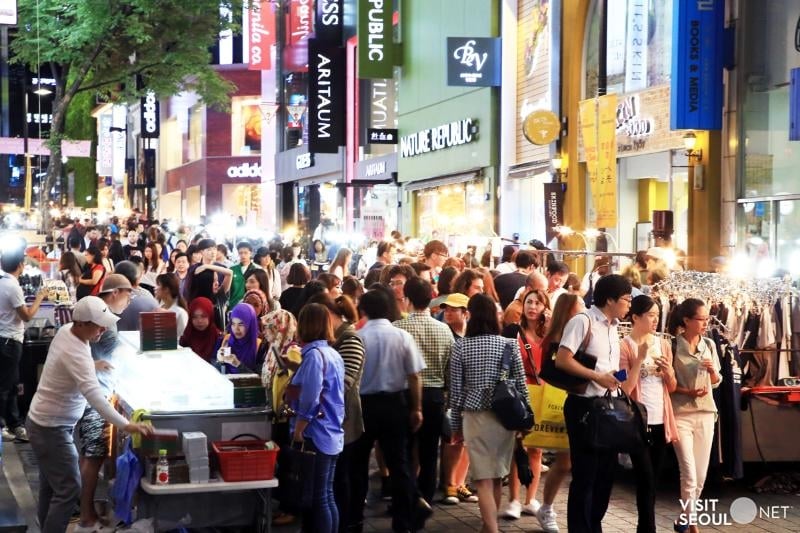 It's hardly a surprise that Myeong-dong, Seoul's iconic shopping district, is the first on the list. Tourists from East and Southeast Asia simply can't skip this place. Whether it's your first or twentieth time travelling to Seoul, this tourist attraction will always be worth a visit. Why? Well, apart from the fantastic deals the dozens of beauty, clothing, and luxury departmental stores all have to offer, you'll also get to savour Korean street food and buy all the snacks your friends back home have been pestering you about!
2. Dongdaemun Shopping Complex∙Dongdaemun Shopping Town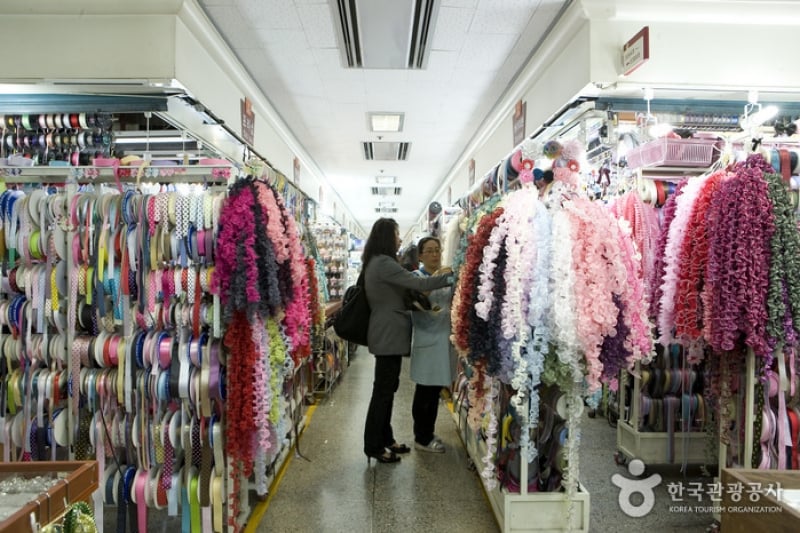 If there's anything you want to buy – anything – you'll find it in Dongdaemun Shopping Town. Perhaps that's why this district is a major tourist attraction: it's home to dozens of traditional markets and more than 20 shopping malls, which literally have all sorts of goods – office supplies, electronics, toys, leather products, shoes, accessories, clothes, and most famous of all, fabrics!
3. Namsan Seoul Tower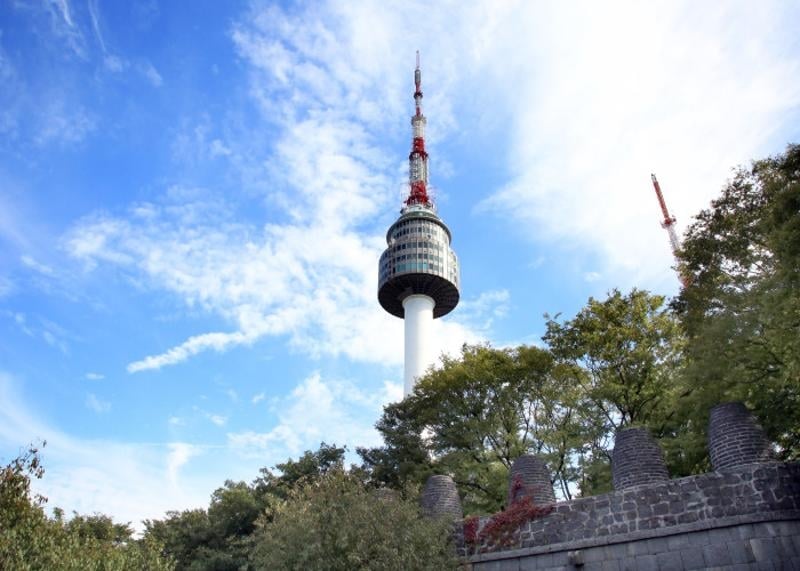 Arguably the most well-known landmark of Seoul, the Namsan Seoul Tower, a broadcast tower, stands atop the Namsan Mountain and offers a breathtaking panoramic view of the city's landscape from its observatory. A scenic cable car ride will take you to the tower grounds, where you'll find cafes, gift shops, museums, a rotating restaurant, as well as couples locking their 'locks of love' onto the tower's railings. It can get a bit breezy up there especially during winter, but the cityscape and idyllic atmosphere make it worth it!
4. The Royal Palaces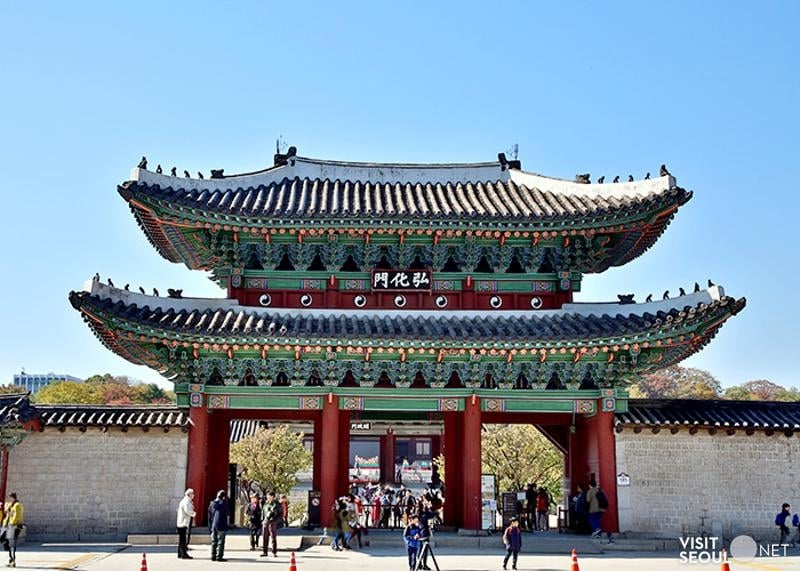 Feel as if you've stepped into the historical kingdom of Korea at the Royal Palaces of Gyeongbokgung, Changdeokgung, Changgyeonggung, Deoksugung, and Gyeonghuigung. Every palace has its unique quality and history, making each one worth a visit! Head to Changdeokgung Palace if you're one to enjoy a quiet stroll through nature, and if you want to watch the opening and closing of the royal palace gates, we suggest heading to Gyeongbokgung Palace. Pro-tip: If you don a Hanbok (traditional Korean attire), you'll get to go in the palaces for free.
5. Sinchon and Hongdae area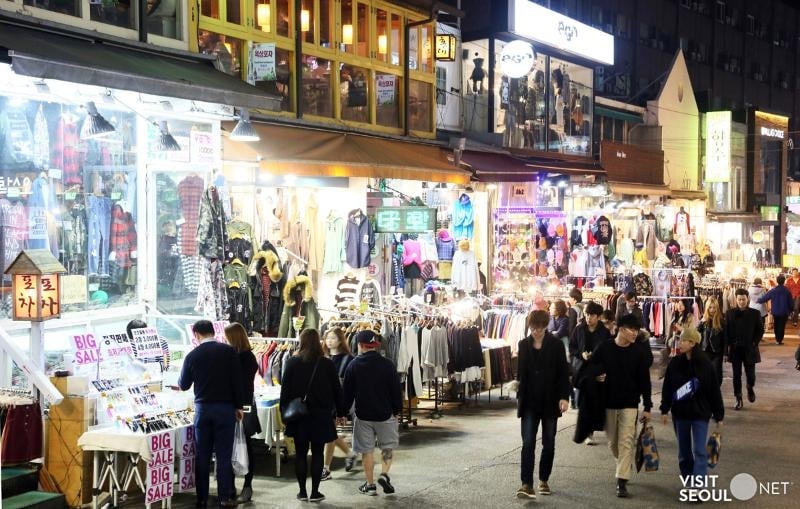 This one's for the young at heart: If you're looking for a place to shop, dine, and just unwind, the districts of Sinchon and Hongdae are just for you. Both districts are home to several universities, and bursting with a vibrant nightlife and urban culture that both tourists and locals don't want to miss. Spend the day shopping for clothes and cosmetics around Ewha Women's University, then at night, move to Hongdae for street food, BBQ restaurants, and cheap noraebang (karaoke) sessions, or listen to the dozens of youths busking along the streets.
6. Namdaemun Market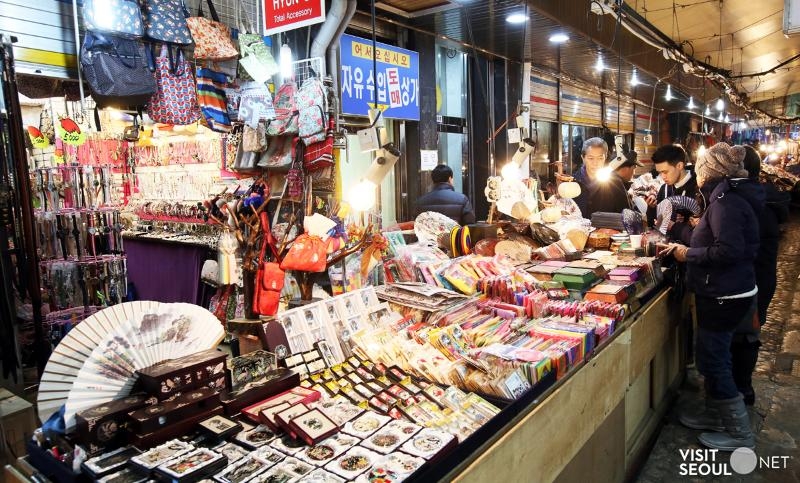 Want to bring home your own Hanbok or a pair of metal chopsticks? You'll find both of those things at Namdaemun Market, a night market filled with stores selling all kinds of cultural goods, such as handicraft, local kitchenware, traditional clothing and Korean ginseng. If you find yourself there, make sure to stop by the Kalguksu Alley – it's home to comfort foods such as sujebi (soup with buckwheat dough flakes) and kalguksu (handmade chopped noodles).
7. Insa-dong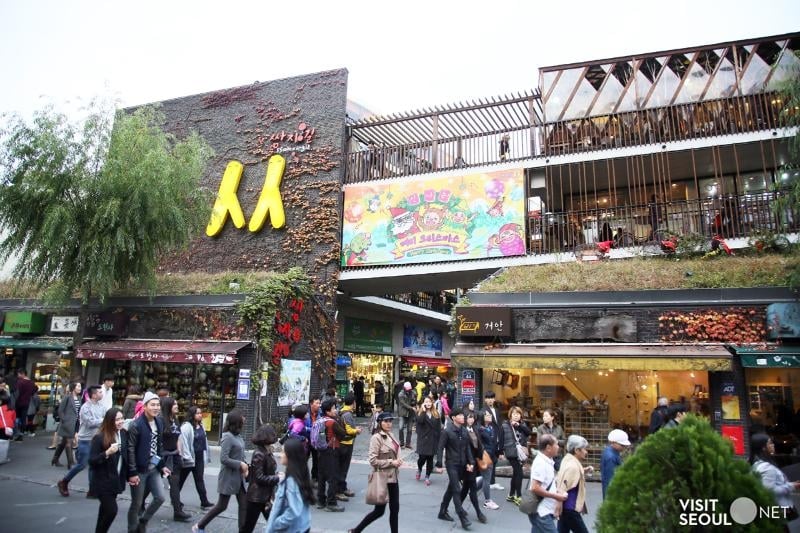 Like Namdaemun Market, Insa-dong is where one would find traditional gifts, such as earthenware, calligraphy materials, antique furniture, and hanji (Korean handmade paper). The difference is that the crowd here is smaller, and there are many quaint cafes, ateliers, galleries, and teahouses that you'll want to spend your entire afternoon exploring. It's a great place to stop by after visiting Gyeongbokgung Palace, which is nearby.
8. Gangnam Station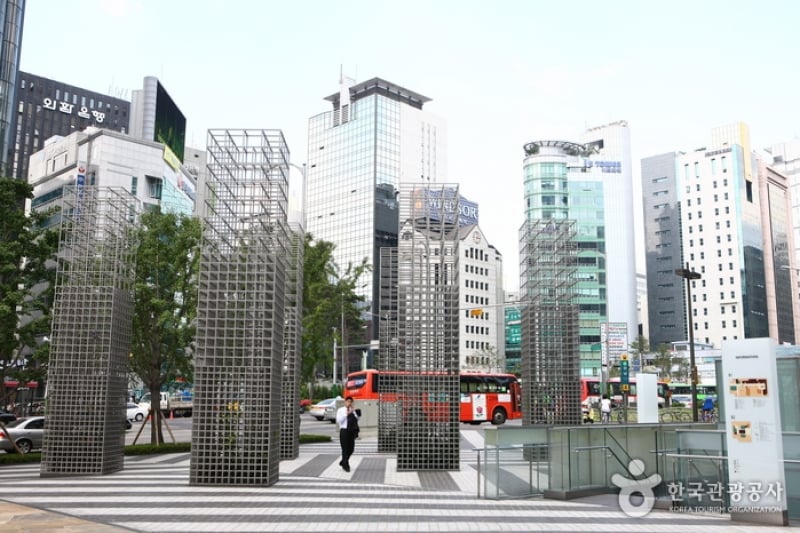 Gangnam is home to several tourist attractions, including the upscale fashion town Apgujeong, the tranquil Bongeunsa Temple, as well as Hallyu spots. A great place to begin your adventure would be Gangnam Station. Start off with a shopping spree at the Gangnam Underground Shopping Center and pop by the surrounding bars, restaurants, and movie theatres at night. For those into K-Entertainment and K-pop, don't miss out on the chance to visit the biggest entertainment companies. If you're lucky, you might even catch a glimpse of your favourite idols there!
9. Museums and Exhibition Halls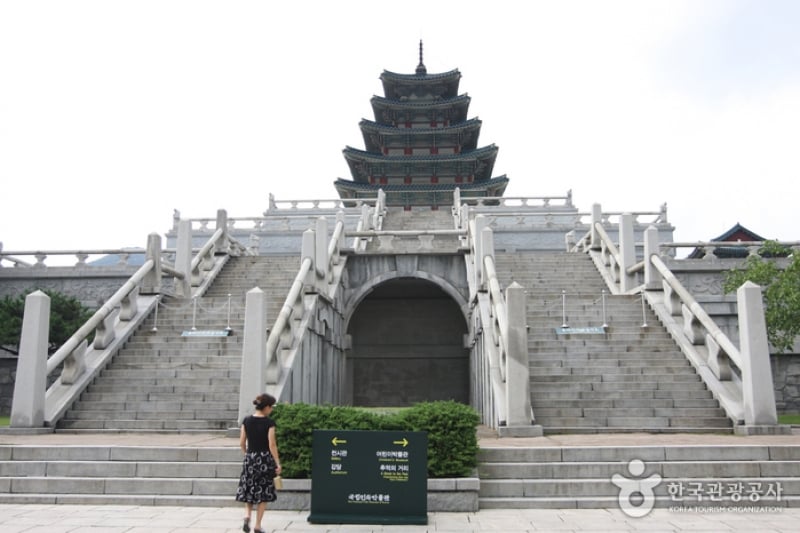 There are dozens of museums and exhibition halls in the city of Seoul that are visited by locals and tourists alike. With such variety, you'll definitely find one to enjoy. Want to learn more about Korea's history and culture? Head to the National Museum of Korea and the War Memorial of Korea. If you're just looking for a fun time, check out the Seoul Trick Eye Museum and make sure to bring a good camera along!
10. Jamsil and Lotte World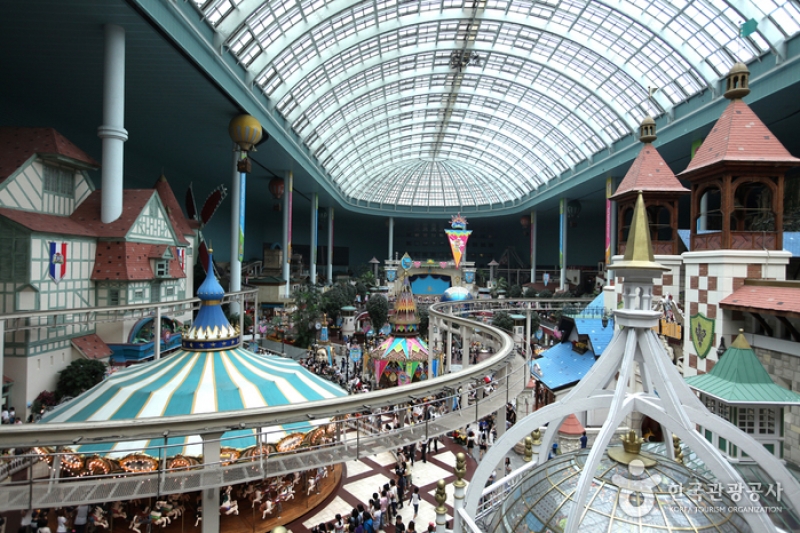 Thrill-seekers and sightseers: Add Jamsil to your itinerary, and make sure Lotte World is on the list. Tourists flock to Lotte World and for the right reason: it has a theme park and an ice rink with parades, a folk museum, a lake, several department stores and more. Also in the area is Lotte World Tower, Korea's tallest observation deck which offers a picturesque view of Seoul, and the Olympic Park, a large outdoor area with three different parks, each having their own theme of culture, leisure, and sports.