For travellers planning to tick multiple countries off their bucket lists, there's a way to achieve that without getting on a plane. Adventures Overland, an award-winning travel company in India, has just announced a brand new overland journey that links Delhi to the capital city of London in the United Kingdom. But there's a twist. Instead of a long-distance train, the trip will take place entirely on a bus! 
Also read: Portugal to Vietnam by Train: An Easy Guide to The World's Longest Land Journey
Scheduled to hit the road by mid-2021, the Bus To London is a cross-border expedition — covering two continents, 18 countries, and a distance of 20,000km in 70 days. The journey will showcase iconic destinations and scenic highlights along the way. Here, you can marvel at majestic temples in Southeast Asia, explore breathtaking landscapes in Central Asia, discover historic cities in Europe, and experience different cultures around the globe — all in one epic, life-changing adventure. 
Trust us, you've never seen a hop-on-hop-off bus like this one. Want to get on board the Bus to London? Here's what you can expect on the journey! 
Key advantages of joining this overland journey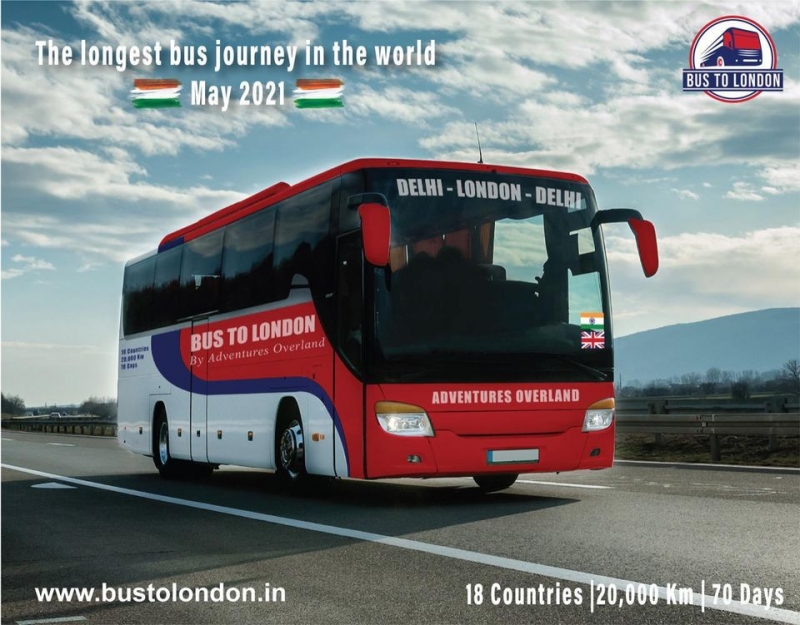 For travellers who don't want to sacrifice comfort during their voyage, the Bus to London uses a modified luxury bus that's designed for comfortable long-distance travel. Moreover, this overland journey comes with top-notch features that can rival even that of four and five-star hotels. 
These are some of the exciting perks that you can expect on the bus trip: 
Each bus will accommodate 20 passengers.

Adventures Overland will take care of all the route planning and research. 

Separate lockers and partitions between bus seats will give passengers their privacy.  

Sightseeing and walking tours will be led by local English-speaking guides in each country.   

WiFi, entertainment systems, and mobile phone charging points will be accessible on the luxury bus. 

Hotel accommodations will be included in the package with two people sharing a room. 

Snacks, chocolates, water, and soft drinks will be provided during the bus journey. 

All permits and clearances for border crossings will be secured by Adventures Overland. 
Exploring 18 countries in 70 days: Which route should you take?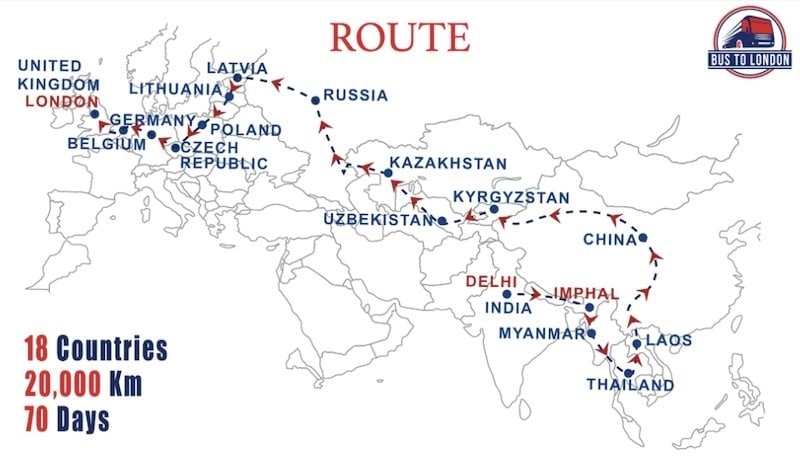 Departing from India for its maiden voyage, the Bus to London will travel to the following countries: Myanmar, Thailand, Laos, China, Kyrgyzstan, Kazakhstan, Uzbekistan, Russia, Latvia, Lithuania, Poland, Czech Republic, Germany, Netherlands, Belgium, France, and the United Kingdom. 
But if this itinerary sounds too jam-packed for you, here's a cost-saving tip. You can shorten your journey by choosing just one of four routes; each one lasts roughly two to three weeks. 
Not sure where to kickstart your journey? Well, it depends on what you want to do, really. Take your pick from the exciting options below: 
Leg 1: India, Myanmar, Thailand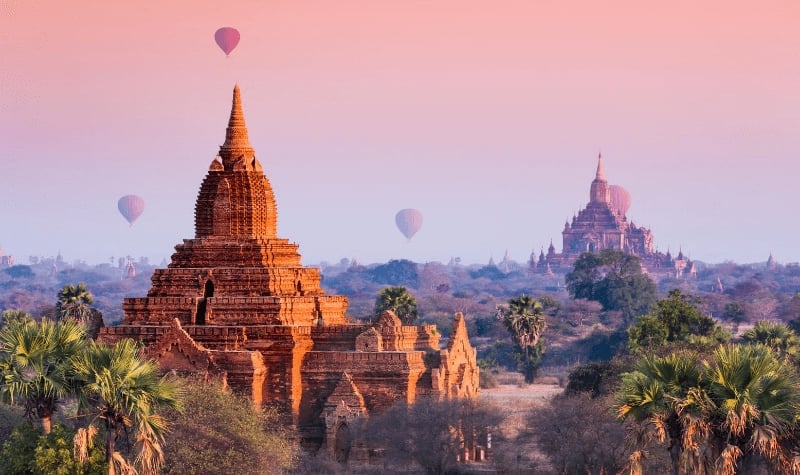 Embark on a journey to the magnificent country of Myanmar, where the awe-inspiring stupas of Bagan and Yangon await. Then take a pilgrimage to the Golden Rock Pagoda, a stunning pagoda sitting on top of a boulder on Mount Kyaikto. Upon crossing the border into Thailand, you can taste delicious Thai cuisine and shop 'till you drop in the colourful markets of Bangkok. Afterwards, you will cross the Mekong River to reach Laos, as you complete the first leg on your journey in the Bus to London. 
Trip duration: 12 days, 11 nights 
Leg 2: China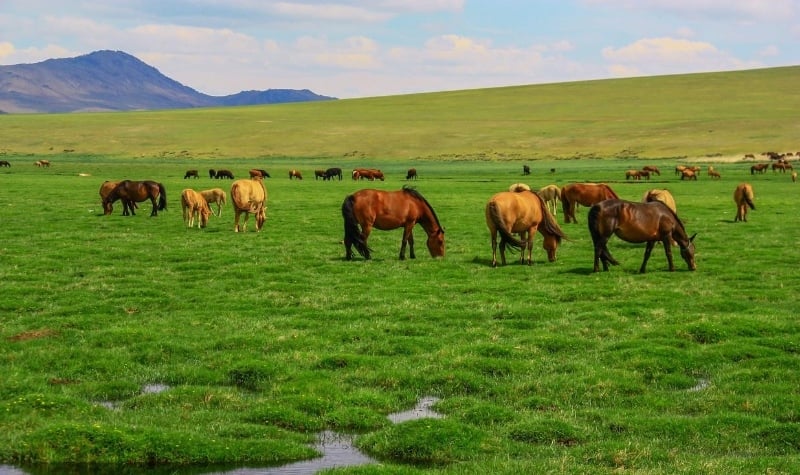 Say hello to diverse landscapes and wildlife on the Chinese leg of your journey, which begins in Chengdu in the Sichuan Province. Witness the alpine meadows in Ruoergai Grassland, follow the ancient routes of the Silk Road, and visit the Mogao Caves in the cities of Jiayuguan and Dunhuang. Your journey continues towards the Gobi Desert, whose vast expanse and unique topography never fails to capture a sense of wonder. 
Trip duration: 16 days, 15 nights
Leg 3: Kyrgyzstan, Uzbekistan, Kazakhstan, Russia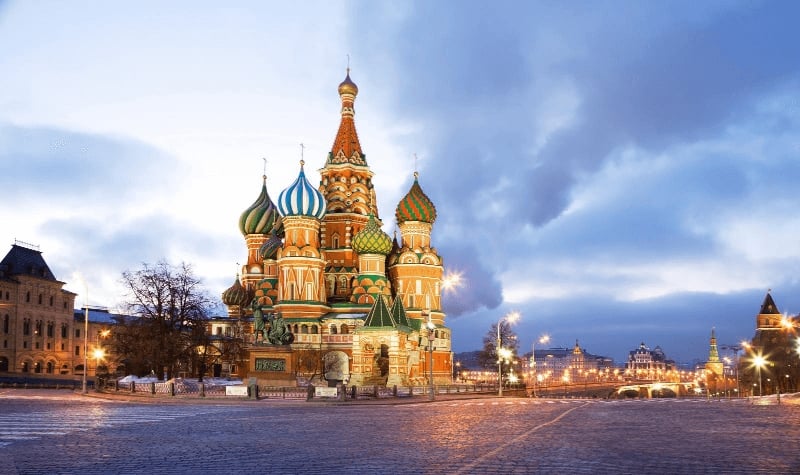 For an exciting melting pot of cultures, you can't go wrong with Central Asia! Check out intricate souvenirs and aromatic pastries at the lively bazaars of Kyrgyzstan, before feasting your eyes on the beautifully patterned mosques at Uzbekistan. With 7 days to spend, you have more than enough time to enjoy the historic cities of Tashkent, Samarkand, Bukhara, and Kiva. The final part of your journey carries you to Moscow, where the famous Red Square features some of the best architectural marvels in Russia.  
Trip duration: 22 days, 21 nights 
Leg 4: Europe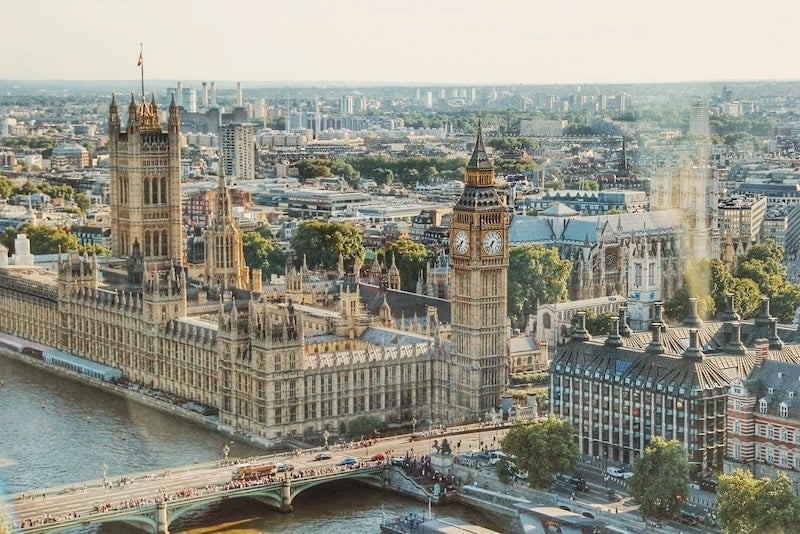 Kickstart the Europen leg of your journey with the Baltic countries of Latvia and Lithuania, whose charming old towns are postcard-worthy! Scenic stops include the vibrant city of Warsaw in Poland, followed by the dreamy bridges of Prague in the Czech Republic. From the "City of a Hundred Spires," you will make your way to Frankfurt in Germany, before moving on to world-class beers and chocolates in Brussels, Belgium. Finally, you will cap off this life-changing voyage of 70 days in London, where you'll find no shortage of exciting things to do in the city! 
Trip duration: 16 days and 15 nights 
Like with any hop-on-hop-off tourist bus, you have the choice on whether you want to embark on the full bus ride or pay for a certain section of the trip. Fortunately, each leg of the journey has been thoroughly organised to provide a smooth-sailing experience. Thus, you won't run out of sights to enjoy, no matter which route you decide to take! 
Note: For the full list of countries and the total breakdown of costs for each bus route, you can check out the brochure here.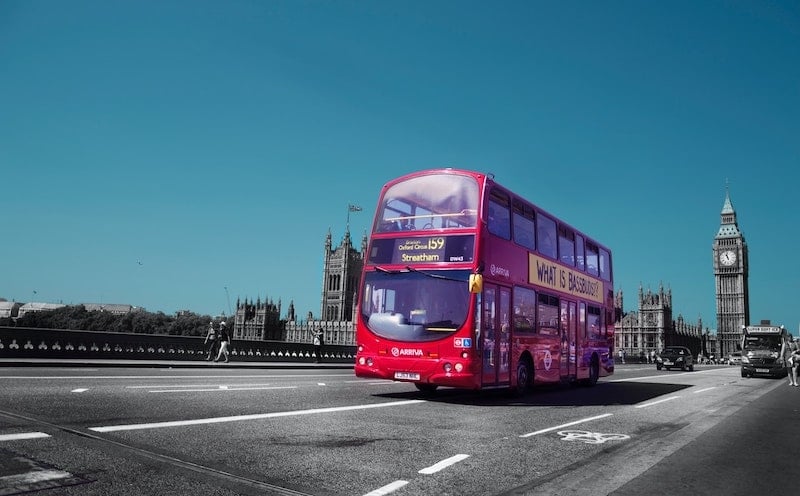 If everything goes according to schedule, the Bus to London is set to become the world's longest bus journey by May 2021. Take note, however, that Adventures Overland will only start accepting bookings once international borders reopen and COVID-19 travel regulations make it safe to explore the world again. 
Also read: Singapore to Europe by Land: It Took Me 7 Weeks & S$3000
For the time being, we can definitely say that this record-breaking bus journey is another addition to our post-pandemic travel bucket list. We're crossing our fingers for next year! 
Visit the Bus to London website for more information.
---
All images are credited to Bus to London | Official Website