Mastering travel selfies is not an easy task. You'll need to capture the scenery behind that will make your viewers feel oh-so-jealous, and at the same time get a flattering angle of your face. Getting the perfect travel selfie often takes hard work, perseverance and at times, some form of shamelessness to smile and click away again and again in the middle of the crowd. But hey, #YOLO and you probably won't see these folks ever again.
The "Donut Selfie"
If you're sick of posting multiple travel photos that may in turn garner you pretty negative (or passive aggressive) feedbacks on social media, you may want to up your game by doing the "donut selfie". It's new, entertaining, inspiring, interactive and deliciously unique.
The up-and-coming "donut selfie", pioneered by Karen X. Cheng, is about to take the travel world by storm. At least, that is what I predict.
This donut selfie is a time-lapse video selfie that combines short clips from various locations into a single seamless masterpiece. It will capture you from one side of the head to another, and in between there'll be plenty of background to take in. It is simple to produce, which is good news for the technologically challenged!
The tutorials below produced by Karen will teach you how to make this awesome donut selfie. You'll want to master this before heading for your next holiday.
Taking a travel selfie
The tricks to taking travel selfies are often not too different from taking normal selfies. The main difference is the importance of the background—if the Leaning Tower of Pisa is behind you, you'll want a darn good recognisable shot of it beside your face.
For the benefit of the selfie noobs, here are some tips to perfecting that selfie. Anyway, if you're really going to be at that place only once in your lifetime 'cos you only live once #YOLO, you'd better perfect this skill.
Tips for a photo-perfect selfie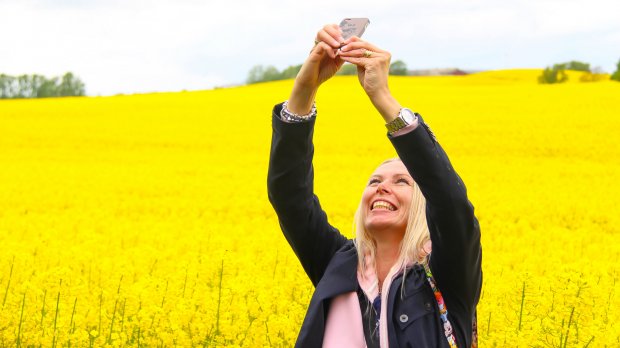 Image Credits: Susanne Nilsson
1. The flattering angle
Get to know the most flattering angles for your face. You may have that one friend on facebook who has her face tilted at a seemingly strange angle for ALL her photos. That's only because she got this tip right!
2. Your picture perfect smile
Get to know your picture-perfect smile: Close lips, toothy grin, lopsided, full blown and gummy or caught-in-the-middle-of-a-laugh, everybody is bound to have at least one!
3. Practice makes perfect
Once you've got the best angle and smile, practice taking a selfie! Many often think that practice is just for math. I beg to differ. You've got to familiarise yourself with your phone and know the best height and distance to place it in front of you so as to capture the optimum face area. Oh hell no, this is starting to sound a lot like math…
4. Natural light source
When out in the field, quickly whip out your phone when the natural light source is in your favour. This is especially so when the weather is gloomy. That moment when the clouds part to let the sunlight through is sacred. Check your background, face the sunlight, and snap before your moment passes… forever.
5. Face the brightness!
Otherwise, always face the brighter side of the room or surroundings. Often, no amount of editing can salvage a poorly-lit shot.
6. Photo-editing applications
That said, everyone needs to have at least one good photo editing app on their phones. You might find yourself in crisis mode one day where you love every single detail in the photo—except, damn, your face looks a little too chubby! In these cases, Camera360 app has a 'face pinch' function to pinch those chubby cheeks and round chin all the way to the Korean "V-Shape". It can even transform your skin to appear as flawless as a baby's butt. Call it deception, I say shut up, this is a necessity.
7. Buy those selfie sticks!
Selfie sticks, the noble invention of the 21st century. One is never too cool for selfie sticks. You know you want it.  I recently came across a guy who placed his phone on a forked tree branch to take a selfie. I wondered why he didn't just buy himself a selfie stick in the first place. Selfie sticks make exceptionally great travel companions because your arm's length will cease to be the limit, hence more background can be captured.
Got it? You're more ready than ever to plaster fantastic shots of your face on Facebook (and Instagram, and Twitter, and Tumblr, and Google+, ….) the next time you travel!