The Philippines archipelago boasts an abundance of islands – 7,107, to be exact. Perhaps the only one that is famous around the globe is the island of Boracay, which is always teeming with travellers. Most of the islands in the Philippines are beauties hidden from plain sight and they remain untouched and undiscovered by travellers. If you're looking for some gorgeous islands to visit, take your pick from this list.
1. Canigao Island, Leyte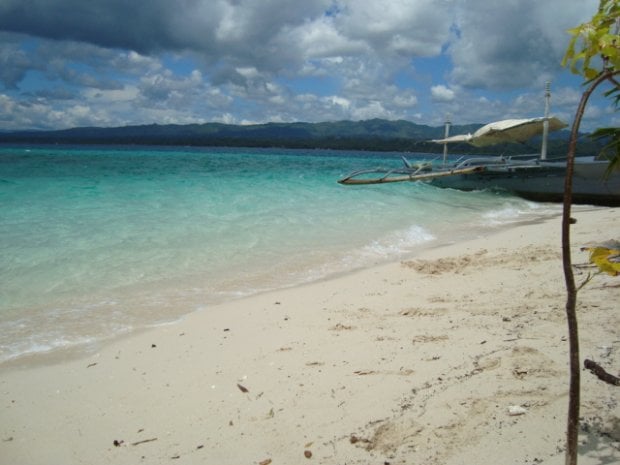 Image credits: Joemill Flordelis
Canigao, Leyte's hidden gem, is a small island located off the southeastern coast of Leyte. Its beauty is often compared to that of Boracay's, thus locals fondly call it Leyte's little Boracay. Minus the crowd, of course.
2. Calaguas group of islands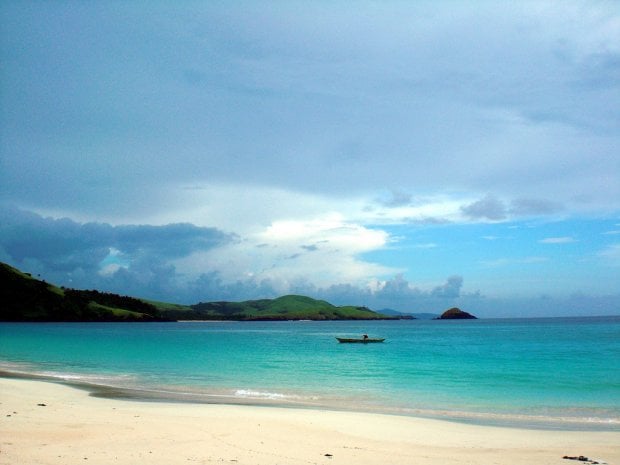 Image credits: Wikimedia
Calaguas is under the jurisdiction of Vinzons, Province of Camarines Norte. The islands of Calaguas can be reached by boat from the fishing village of Paracale. There are no commercial establishments in the island, but you can set up your own tent and camp overnight. Just make sure to bring your own food and drinks, and you are set for an awesome island adventure.
3. Sumilon Island, Cebu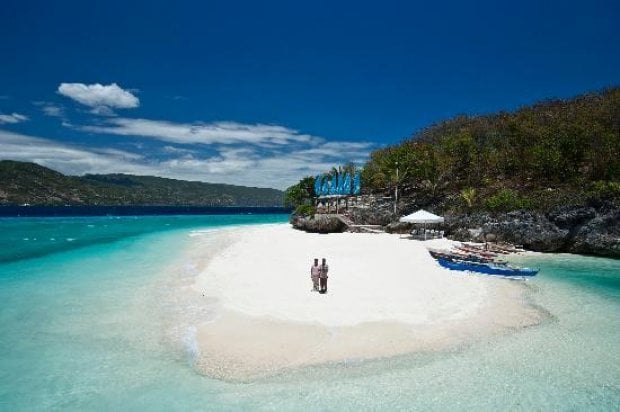 Image credits: Gas Art Travel and Tours
"Sumilon" translates to "shelter". The story behind this name is that many fishermen seek shelter in Sumilon Island when there is bad weather. Aside from its shifting sandbar, Sumilon Island has a century-old baluarte (watch tower) and a natural lagoon. This island paradise in southern Cebu can be reached from Oslob.
4. Palawan Island, Palawan
Image credits: Jacob Images
Palawan is one of the most beautiful islands to visit in the Philippines. From exploring the underground river in Puerto Princesa to snorkelling at Honda Bay, there is no shortage of things to do in Palawan. From Palawan, travellers can go island-hopping to discover the smaller islands that surround it.
5. Coron, Palawan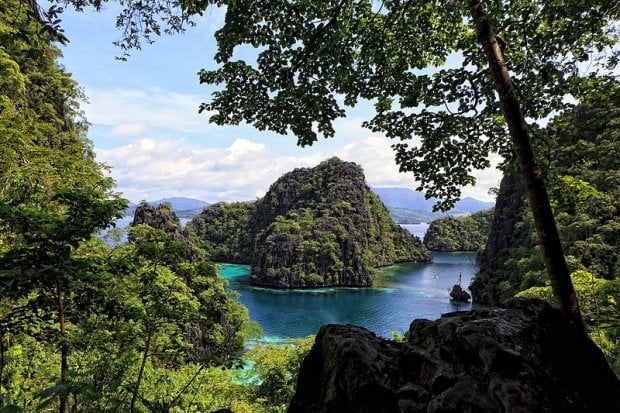 Image credits: Wikimedia
Located at the northernmost island part of Palawan, Coron is as beautiful as many people claim it to be. Aside from marveling at the picturesque Kayangan Lake, travellers can beach-hop, soak in hot springs and dive to explore shipwreck sites in the surrounding islets.
6. Siargao, Surigao del Norte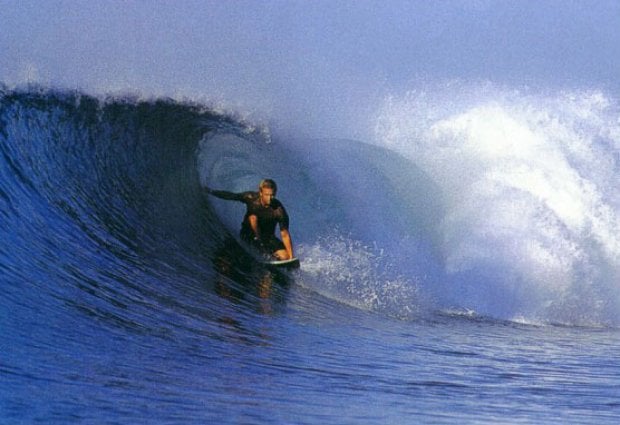 Image credits: Tourist Spots Philippines
Siargao is a tear-shaped island that enjoys year-round waves, making it one of the best surfing meccas in the country. Many Australian and European surf enthusiasts find their way here to ride huge waves.
7. Panglao Island, Bohol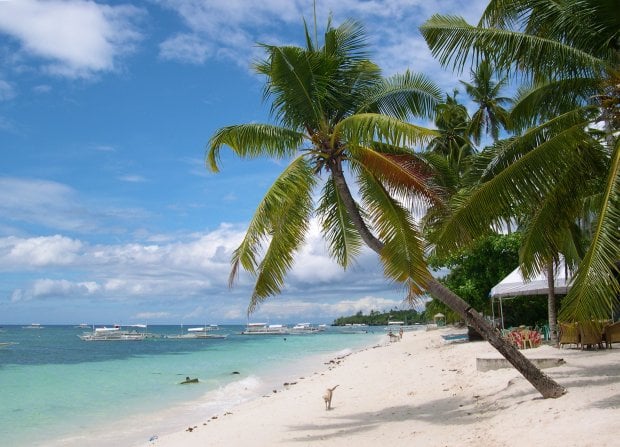 Image credits: Wikipedia
Part of main island of Bohol, Panglao boasts white sand beaches and world class dive locations, and it is frequented by many vacationers. When in Bohol, do try their delicacies such as ube jam or ube halaya (purple yam), kalamay (brown, sticky sweet treat that is sometimes encased in coconut shells), peanut fingers and peanut brittle.
8. White Island, Camiguin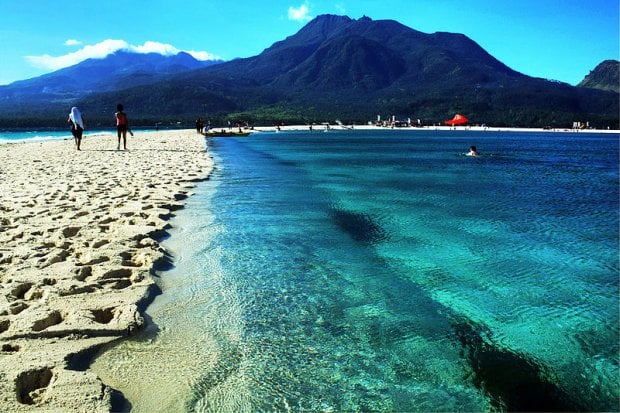 Image credits: Wikipedia
White Island is actually an uninhabited white sandbar off the northern shores of Mambajao, Camiguin. The picturesque horseshoe-shaped sand bar changes in shape and size, depending on the season. The area surrounding the island also hosts some of the greatest dive sites.
When in Camiguin, try their sweet lanzones and include a visit to the sunken cemetery in your itinerary.
9. Boracay Island, Aklan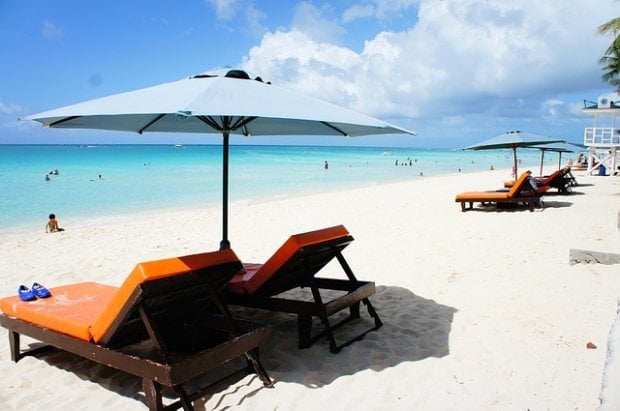 Image credits: Pixabay
As many travellers would have known, Boracay is the party island destination in the Philippines, famous for its long stretch of White Beach. Best time to go is during summer season from March to May. If you want to avoid the crowds on the beaches, visit around June to September. Complete your trip with a fruit shake from Jonah's and a calamansi muffin from Real Coffee and Tea Café.
Also Read: 10 Boracay Experiences to Complete Your Boracay Getaway
10. Bantayan Island, Cebu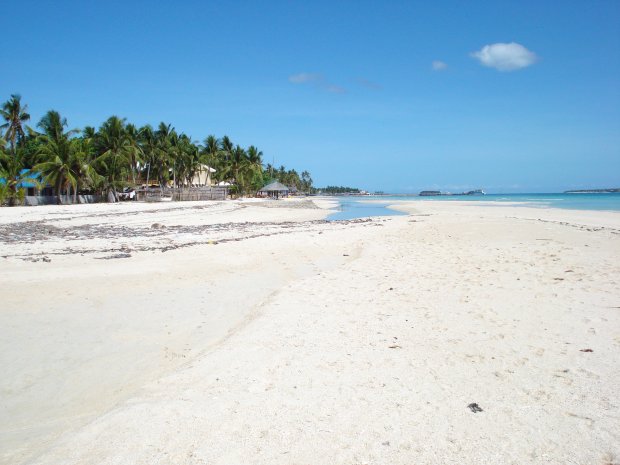 Image credits: bantayan-island.com
Since the Philippines is a Catholic country and observes Holy Week, Bantayan Island is the only place in the country that you can eat meat without feeling guilty during Lenten Season. Bantayan Island used to be a Spanish base against Moro invasions. Hence, the island has built many forts and watch towers all over the place which locals fondly call "Bantayan sa Hari" (watchtower of the king). It was then shortened to "Bantayan".
11. Ave Maria Islet, Guimaras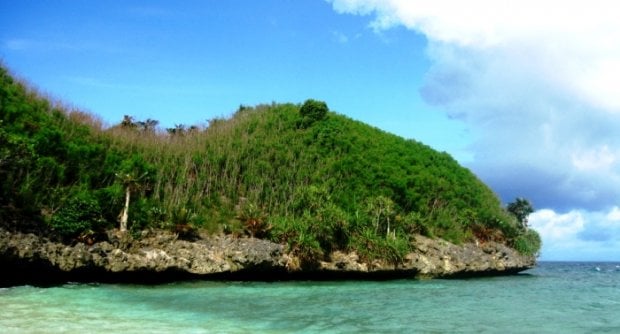 Image credits: Philippine Tourist Attraction
Ave Maria Islet can be visited as part of an island hopping tour from Guimaras. The white sand beach and interesting rock formations of Ave Maria Islet will guarantee that it will be your favourite island among the lot around Guimaras. When the tide is high, the beach will be submerged but when the tide is low, you can have a picnic on the sand. Adjacent to the Ave Maria Islet is the Turtle Island, which is also well worth a visit.
12. Siquijor, Siquijor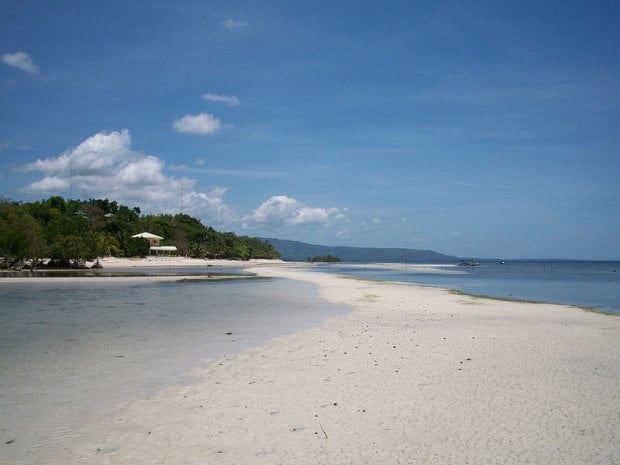 Image credits: Wikipedia
In the past, Spaniards nicknamed the island province of Siquijor as "Isla del Fuego" or "Island of Fire" due to the glow of fireflies seen every night. Siquijor was popularly known for traditional folk healing and bewitching myths of sorcery. Aside from its mystical charm, Siquijor is home to tempting beaches, multi-tiered waterfalls, old spiritual structures and mountains. You can even ask the locals to point you to a faith healer.
13. Kalanggaman Island, Leyte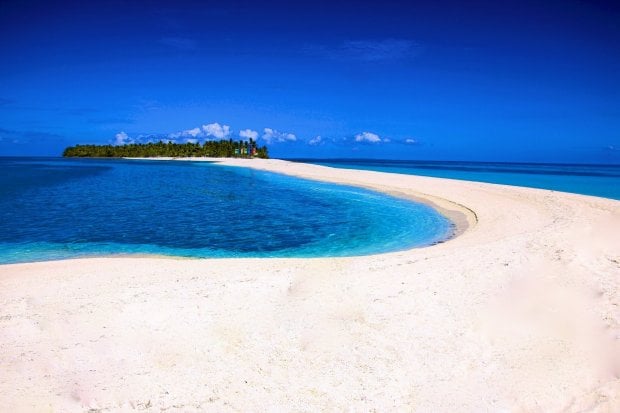 Image credits: Youtube
Kalanggaman Island is Leyte's ultimate beach destination, famed for its long sand bar that stretches from one side of the island to the other. There is no restaurant on the island but visitors can buy fresh catch from local fishermen selling their bounties. Grilling stations and wooden tables are available for use as well.
14. Batan Island, Batanes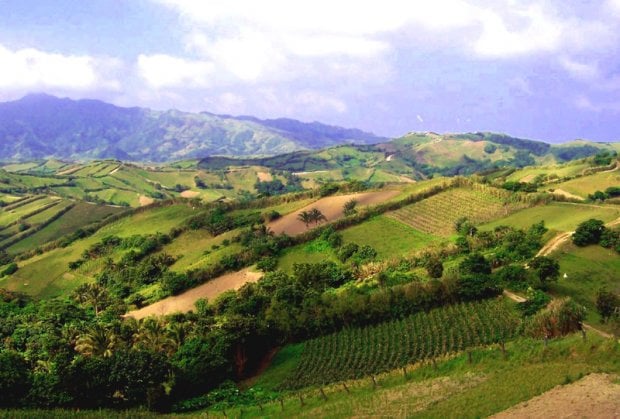 Image credits: Wikipedia
Once you overcome the treacherous waves to get to Batan Island, you will fall in love with the stunning rolling hills and Ivatan stone houses before your eyes. One of the places you must drop by in Batan Island is Honesty Coffee Shop, which is well-known to both locals and travellers as the shop that does not have anybody manning the store. Food and refreshments are available and tagged with labels, and you can just leave your payment into a basket.
15. Corregidor, Luzon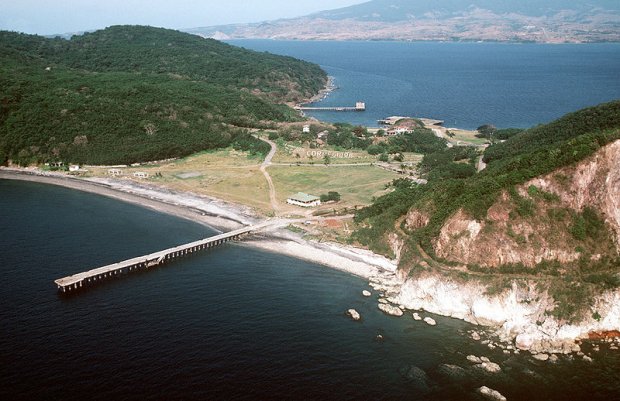 Image credits: Wikipedia
Corregidor is an island located at the southwestern part of Luzon Island. During World War II, Corregidor is the site where historic battles between Filipino, Japanese and American troops were fought. There's more to the island than its war stories and fortifications, though. One can join a jungle survival camp, go bird-watching, have a scenic boat ride or just laze on the beach.
16. Bucas Grande Island, Surigao del Norte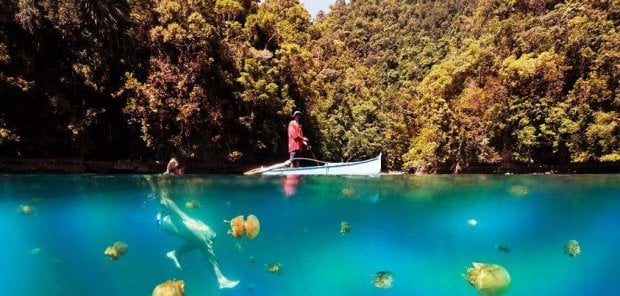 Image credits: Travelphilippinesnow
Bucas Grande Island is known for its magnificent white beaches and it resembles a mix of Palawan, Bohol and Boracay. One of the sights you need to visit in Bucas Grande is the enchanting Sohoton Cove that has a partly-submerged entry and exit point. Other than caves and incredible beaches, you can also find mangroves, waterfalls, lakes in Bucas Grande Island.
17. Balesin Island, Quezon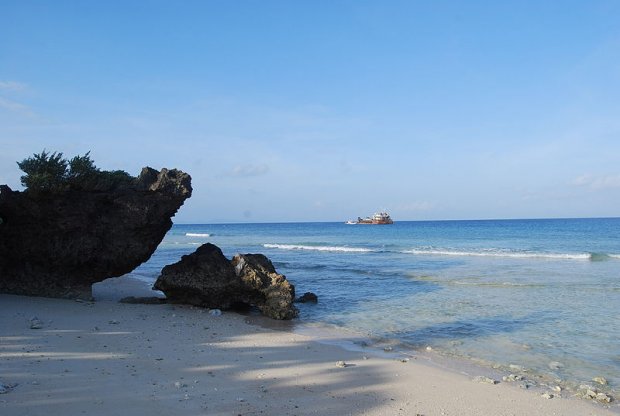 Image credits: Balesin
Balesin Island is a 500-hectare members-only paradise in Polillo, Quezon and it has a beach that stretches 7.3 kilometres, with sand colours varying from white to golden sand. It also a virgin forest with old banyan trees, colorful birds and glowing fireflies. Anyone privileged enough to experience this island will find that they have so many options for activities: from mountain biking and archery to boxing and tennis. Balesin Island even has an aquatic sports centre, a clubhouse, spa facilities, restaurants and bars.
18. Caramoan group of islands

Image credits: Wikipedia
The Caramoan group of islands is an unspoilt paradise known for being a shooting location for the global reality TV show "Survivor". This group of islands in Camarines Sur is blessed with fine white sand, caves, limestone cliffs, lagoons and a cornucopia of marine life. Since Caramoan is underdeveloped island, there's no resort or hotels in the area. However, there are homestays and pension houses in the town centre.
19. Malapascua Island, Cebu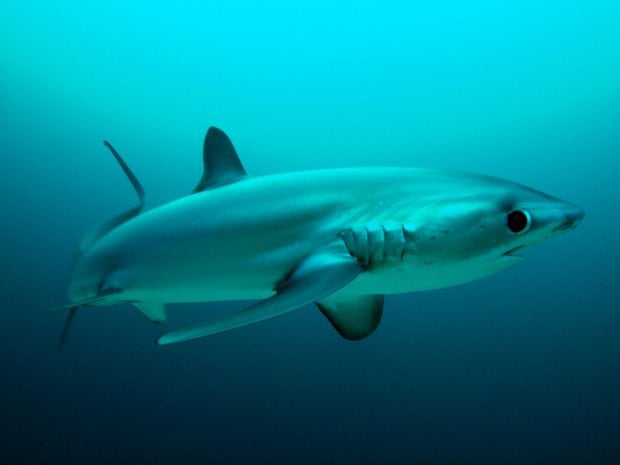 Image credits: Malapascua Diving
Malapascua is charming island in northern part of Cebu that offers travellers a chance to see and even get close to huge sharks such as hammerhead sharks, tiger sharks, whale sharks and thresher sharks. Giant manta rays, devil rays and turtles can also be spotted underneath the crystal blue waters.
20. Vanishing Island, Davao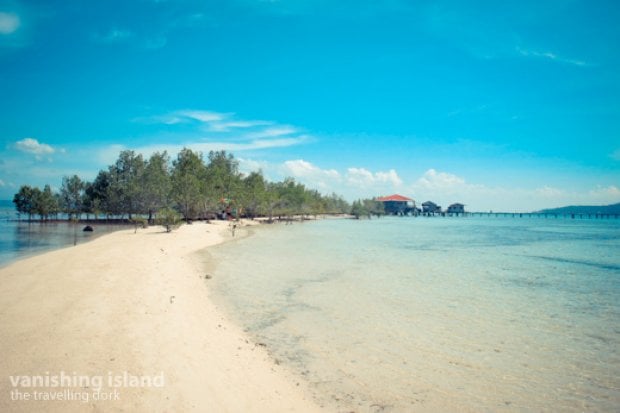 Image credits: The Traveling Dork
Nestled in between Davao del Norte and Samal Island, Vanishing Island is a wide stretch of sand bar that largely "vanishes" when the tide rises. Those who wants to stay on this island without vanishing along with it during high tide can stay in the charming cottages on stilts.