Sacred temples, magnificent rice terraces, and thrilling jungle swings — these are just a few attractions in Ubud, deservingly deemed the 'heart and soul of Bali'. If you're fascinated by Balinese culture and heritage, there are so many things to do in Ubud that make it a bucket list-worthy destination. Read on to discover some of this town's finest spots for nature, history, art, and more! 
Also read: A 4D3N Bali Itinerary for Your Next Family Getaway
1. Watch adorable monkeys at play at The Sacred Monkey Forest Sanctuary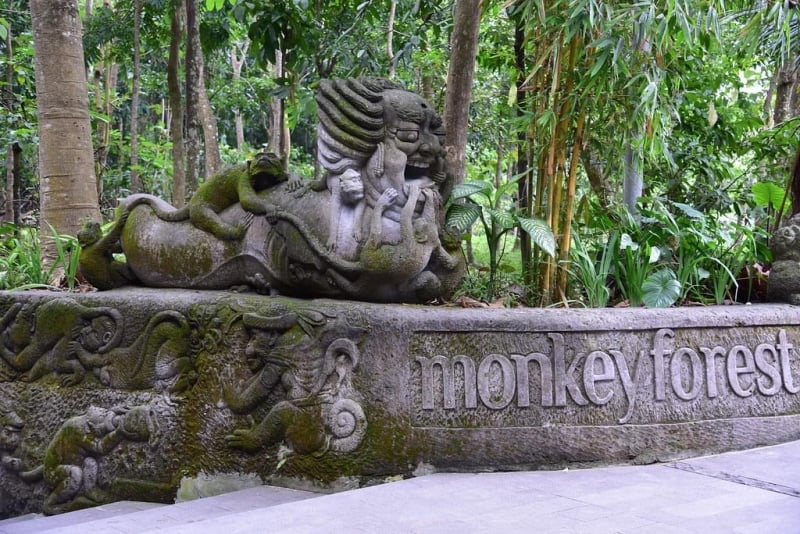 This fun-filled tourist attraction offers a rare and enjoyable opportunity to admire hundreds of monkeys at play. If you're travelling with family or friends, a visit to the Monkey Forest will surely be an entertaining experience.
You'll be surprised to witness how these cheeky little creatures are so comfortable with tourists. Their lack of inhibition may even be to a fault — they have a pesky tendency to grab hair, accessories, and other valuables! So, make sure to keep them all safely tucked away before you enter their territory!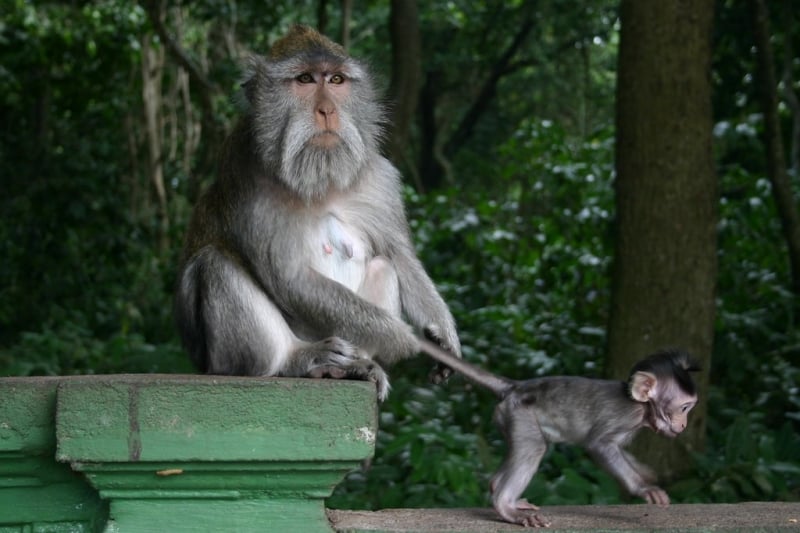 The forest itself is also a fascinating place to explore. There, you'll find tons of interesting statues and rivers that might pleasantly surprise you along the way. 
Address: Jl. Monkey Forest, Ubud, Kecamatan Ubud, Kabupaten Gianyar, Bali 80571, Indonesia
2. Have a go at Bali's famous jungle swing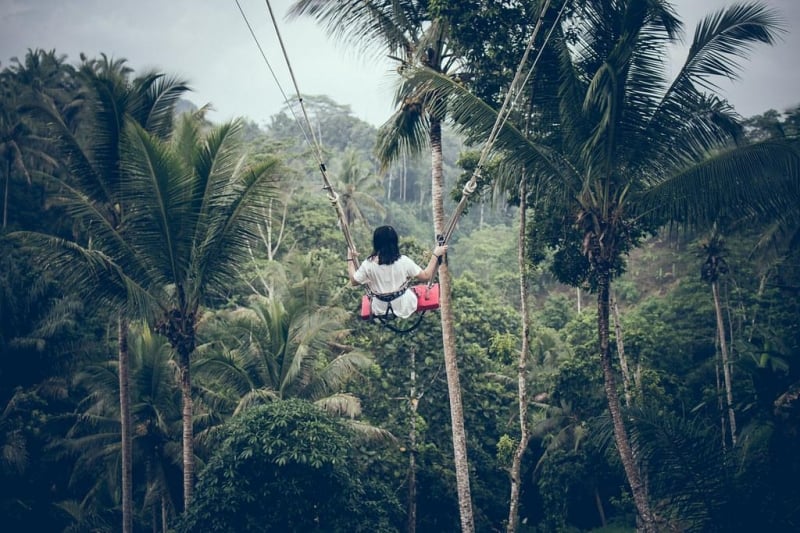 We're sure you've come across the object of envy — the ridiculously aesthetic photos of travellers swinging as high as the sky can take them, while surrounded by a background of lush tropical forest. If you were the kind of child that constantly eyed the most-coveted swing in the playground, then we're sure you'll be delighted to try out the famous jungle swing. It's certainly one of the most popular things to do in Ubud!
Here, you'll be guaranteed spectacular shots to revamp your IG feed. And of course, an exhilarating experience to add to your ever-growing list of unforgettable travel adventures! 
Address: Jl. Dewi Saraswati No. 7, Bongkasa Pertiwi, Kec. Abiansemal, Kabupaten Badung, Bali 80352, Indonesia
3. Check out the breathtaking views of the Campuhan Ridge Walk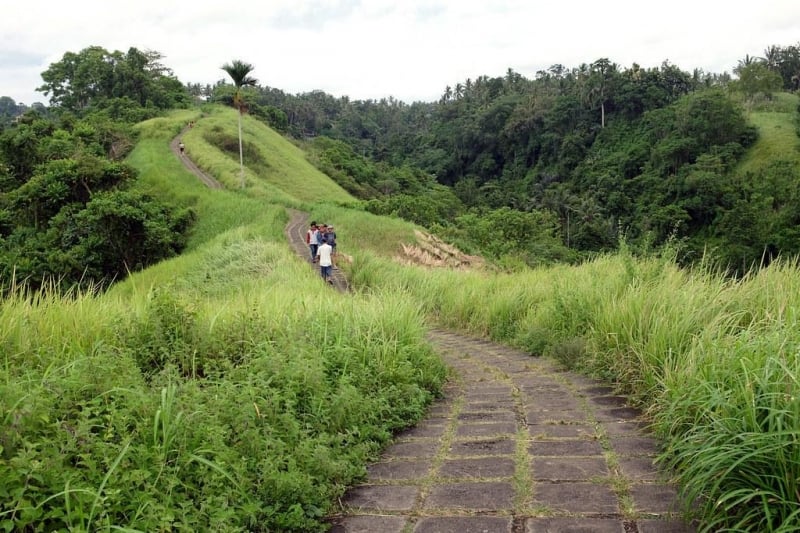 Nature trekkers, raise your hands up where we can see them! Known for their lovely paths through charming local villages and picturesque rice paddies, Ubud is a gold mine for natural trails. The Campuhan Ridge Walk is a gorgeous trail that any nature lover would swoon over. The trek takes around two hours back and forth, so make sure to bring enough water to keep hydrated! 
 
Tip: Ubud's climate is either hot or hotter depending on the time of the year. The sun can be mercilessly hot, so it's best to begin the climb as early as possible!
 
Address: Jalan Raya Campuan, Sayan, Ubud, Kelusa, Payangan, Kabupaten Gianyar, Bali 80571, Indonesia 

4. Pay a visit to the Museum Puri Lukisan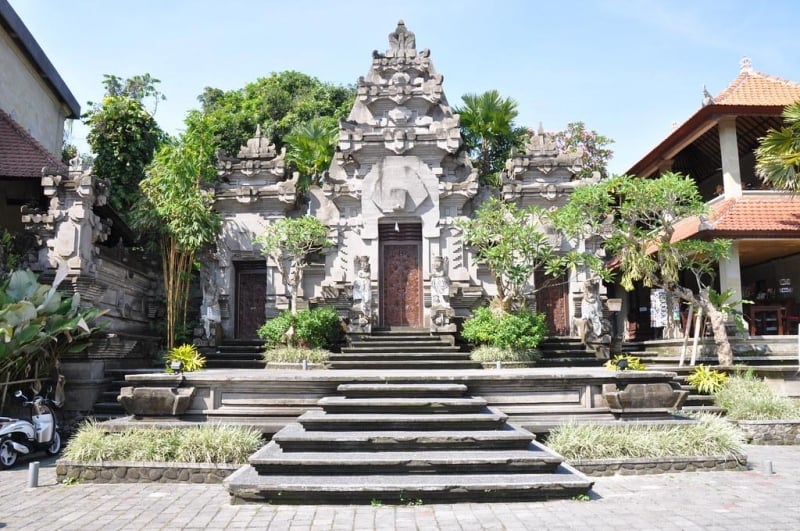 Hoping to catch a glimpse of ancient Balinese artworks? Art enthusiasts are ensured a culturally enriching experience in the oldest museum in Bali, the Museum Puri Lukisan. Complete with a quaint garden and a peaceful fish pond, the museum exudes a serene ambience. For a tranquil escape from Ubud's bustling streets, make sure to dedicate some time to touring around the museum! 
Address: Jl. Raya Ubud, Ubud, Kecamatan Ubud, Kabupaten Gianyar, Bali 80571, Indonesia

5. Pay your respects at Pura Taman Saraswati

Pay tribute to Saraswati — the Balinese goddess of knowledge and art — by visiting her unbelievably stunning temple. Surrounded by tranquil ponds teeming with lily pads and blooming lotuses, it illustrates an image of unadulterated beauty and peace.  
Address: Jl. Kajeng, Ubud, Kecamatan Ubud, Kabupaten Gianyar, Bali 80571, Indonesia
6. Purchase traditional Balinese handicrafts at Threads of Life Indonesian Textile Arts Center
 Traditional Indonesian textiles are known to be beautifully and meticulously handwoven. If you're looking to purchase authentic and thoughtfully made local pieces, go pay a visit to Threads of Life.
Although the pieces are much pricier than in the markets, you're guaranteed the highest quality products, including handloom fabrics and baskets. Plus, with every purchase, you'll also be supporting the weavers who honour traditional craftsmanship. They only use local dyes and fabrics, employ age-old techniques passed down through generations, and promote indigenous Indonesian designs. 
 
Address: Jl. Kajeng No. 24, Ubud, Gianyar, Kabupaten Gianyar, Bali 80571, Indonesia

7. Feel like royalty at the Puri Saren Palace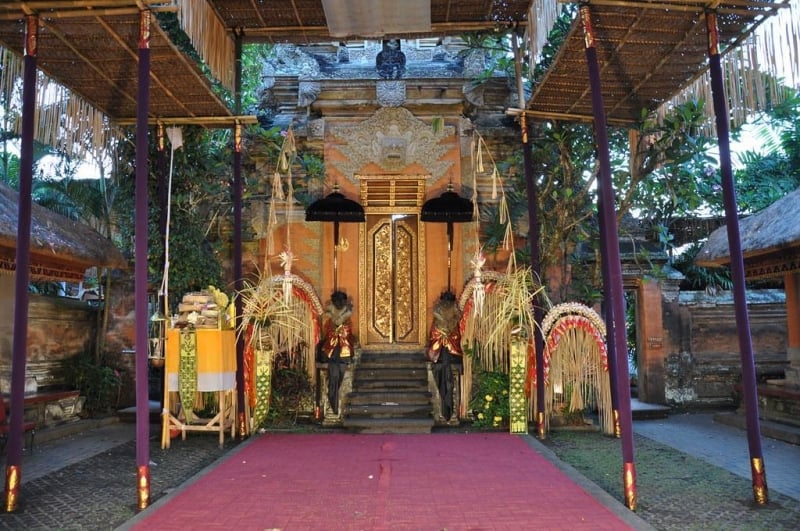 Built in the 1800s, the Puri Saren Palace still serves as the official residence of the royal family. Here, tourists are granted free entrance to the well-preserved structure that displays traditional Balinese architecture and artwork. The grounds aren't huge, so it shouldn't take you more than 30 minutes to stroll the entire place at a leisurely pace. Make sure to take a walk around the exquisite gardens and admire the intricate carvings, shrines, and statues.
 
Tip: We suggest visiting at night so you can catch amazing traditional Balinese dance performances. Many claim that watching the cultural show was the highlight of their trip! Note that you'll have to pay to watch the show, but the price is definitely worth it.
Address: Jl. Raya Ubud No. 8, Ubud, Kecamatan Ubud, Kabupaten Gianyar, Bali 80571, Indonesia

8. Take a class at the Yoga Barn
Yogis, here's one of the top things you'll want to do in Ubud! Get the full Balinese experience by taking a class or two at the Yoga Barn. We're sure all travellers will agree that soul-stirring experiences are part and parcel of the unpredictable life of a nomad. So, it makes sense to work out the mind, body, and spirit while you're in town!
In a land where meditation and silent reflection are valued as much as food and water, the urge to slow down should come naturally. This being said, we say: go forth and find your inner peace. Namaste!
Address: Jl. Hanoman, Pengosekan, Kecamatan Ubud, Kabupaten Gianyar, Bali 80571, Indonesia

9. Watch a Legong dance performance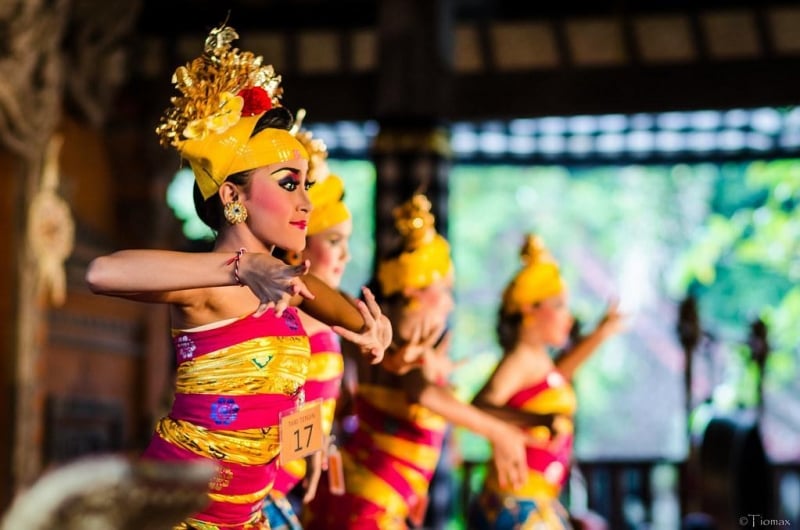 The traditional choreography, ornate costumes, and elaborate movements involved in a Legong dance make it absolutely entrancing to behold. If you'd like to get a taste of authentic Balinese culture and art, you can't afford to miss a performance!
Known to the locals as 'Legong Kraton', which roughly translates to 'the dance of the royal palace', the elaborate performance unfailingly leaves the audience in awe. At times surprisingly quick-paced, the dance involves difficult poses that challenge the performers' endurance and flexibility.
 
Tip: Ask the locals where you can watch the Legong at a venue closest to you. However, a sure-fire plan to catch them is by visiting these cultural attractions — the Puri Saren Palace, Agung Rai Museum of Art, the Puri Agung Peliatan Palace, and the Taman Saraswati Temple. Have fun and enjoy the show!  
10. Whip up a savoury meal at Casa Luna Cooking School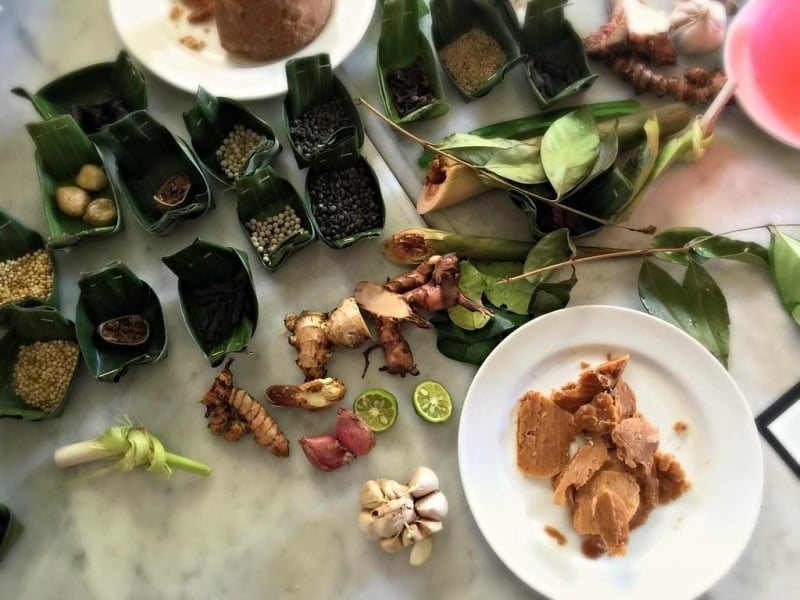 Ever wanted to feel like a master chef? Enrol in one of the classes at the famous Casa Luna Cooking School, where you'll be exposed to traditional Balinese cooking techniques. Listen in fascination as the entertaining and knowledgeable cooking experts give an in-depth introduction to each and every ingredient.
Nervous about stirring up an embarrassing kitchen catastrophe? No worries! The instructors take it upon themselves to break down the steps as clearly as possible. 
If food preparation's not enough to draw you to the kitchen, then maybe this will — whatever you cook during class, you get to eat after with the rest of the participants! It's both an enjoyable and fulfilling experience indulging in mouth-watering meals prepared together with newfound friends.
Address: Honeymoon Guesthouse, Jl. Bisma No. 5, Ubud, Kecamatan Ubud, Kabupaten Gianyar, Bali 80571, Indonesia
Also read: Top 10 Cooking Classes in Bali: Learn to Whip Up Traditional Cuisine
11. Fill your bellies at the Gianyar Night Market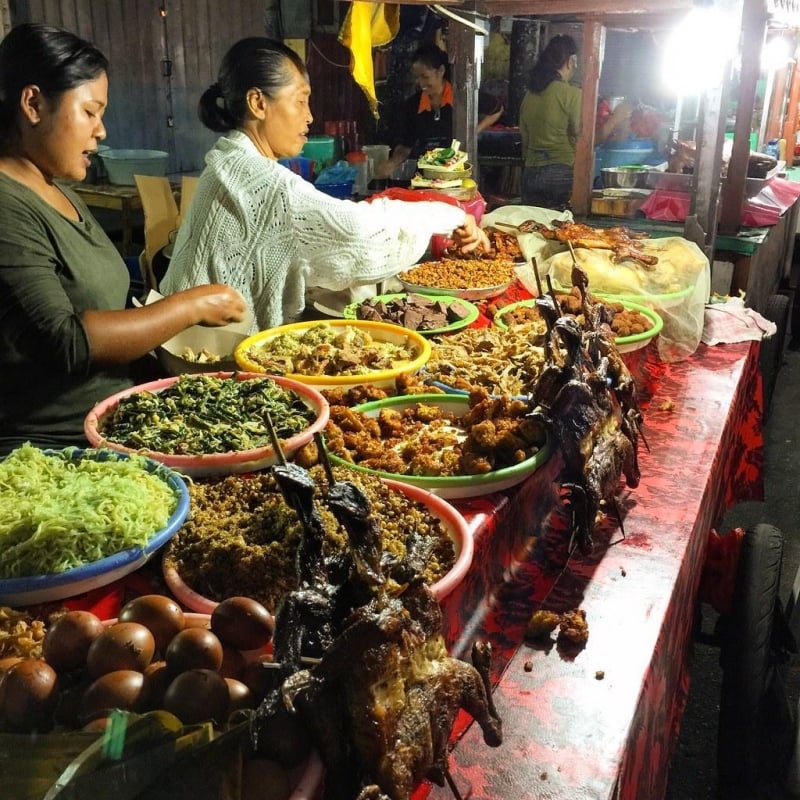 Head on out to the ultimate foodie pit stop! Gastronomes will have an impossible time attempting to restrain themselves from sampling all the street food delicacies. Satisfy your cravings for satay, babi guling (suckling pig), bayso ayam (chicken ball noodle soup), and more!
Don't forget their selection of fresh fruits and exotic desserts, either! Mangosteen, rambutan, sago pudding, and pandan dumplings coated in coconut and topped with a generous amount of palm sugar — how can one resist?

Address: Jl. Ngurah Rai, Gianyar, Kec. Gianyar, Kabupaten Gianyar, Bali 80511, Indonesia
12. Tour around Goa Gajah, Ubud's Elephant Cave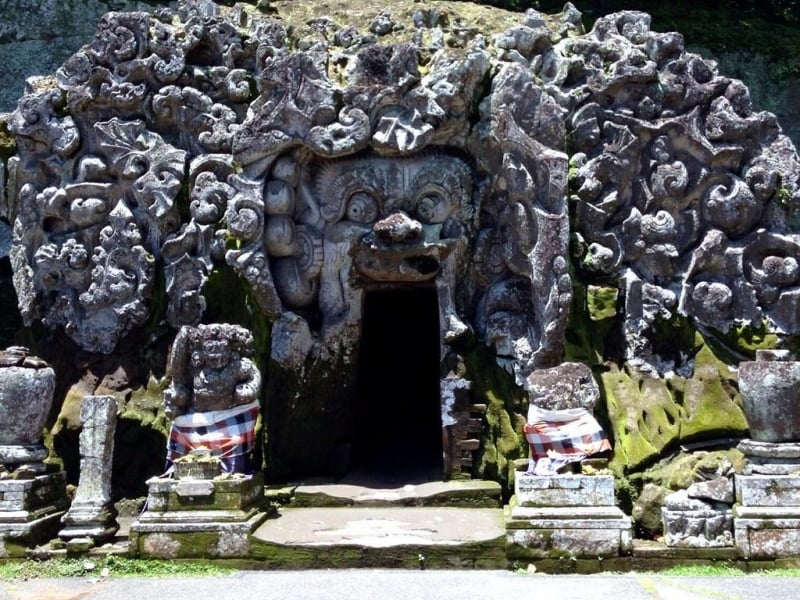 Before we get your hopes up, here's the thing: to this very day, there have been no elephant sightings in Ubud's Elephant Cave. Nonetheless, we still encourage everyone to go and see the water fountains — intricately carved statues of Hindu angels holding vases containing endlessly flowing water (that supposedly contain mystic powers!).
Inside the sacred cave, everything suddenly grows dim, making the atmosphere all the more solemn and meditative. It also becomes rather stuffy, but the experience makes the discomfort worth it. 
 
Address: Jalan Raya Goa Gajah, Pejeng Kawan, Tampaksiring, Gianyar, Bali 80582, Indonesia  
13. Get your fill of quality art at Neka Art Museum
Get a load of both classical and contemporary Balinese art in this privately funded gallery! The Neka Art Museum boasts of a diverse and comprehensive collection of interesting pieces. If you're hoping to see more than just paintings, you'll be delighted to peruse the different art styles at this museum — sculptures, wood carvings, and even media art!

Address: Jalan Raya Sanggingan Campuhan, Kedewatan, Kecamatan Ubud, Kabupaten Gianyar, Bali 80571, Indonesia
14. Shop till you drop at the Ubud Art Market
No list of things to do in Ubud would be complete without a stop at this popular spot. The frenetic buzz of a bustling market, vendors and buyers excitedly negotiating over local goods, beautifully handcrafted products adorning busy, cramped streets… Oh yes, there's nothing quite like the Ubud Art Market! Whether you're looking for charming trinkets for your loved ones or a little something to remind you of your trip, you won't be disappointed.
There are endless arrays of distinctly oriental products sold by hundreds of vendors lining the crowded streets. The air is full of enthusiasm as animated tourists huddle over the plethora of attractive local goods — eye-catching jewellery, handwoven bags, vibrantly coloured scarves, and lightweight clothing designed with traditional Balinese prints. Have fun shopping!

Address: Ubud, Gianyar, Bali 80571, Indonesia
Also read: Bali Souvenirs: 25 Unique Items & Where to Buy Them
15. Be mesmerised by Ubud's remarkable Tegalalang Rice Terraces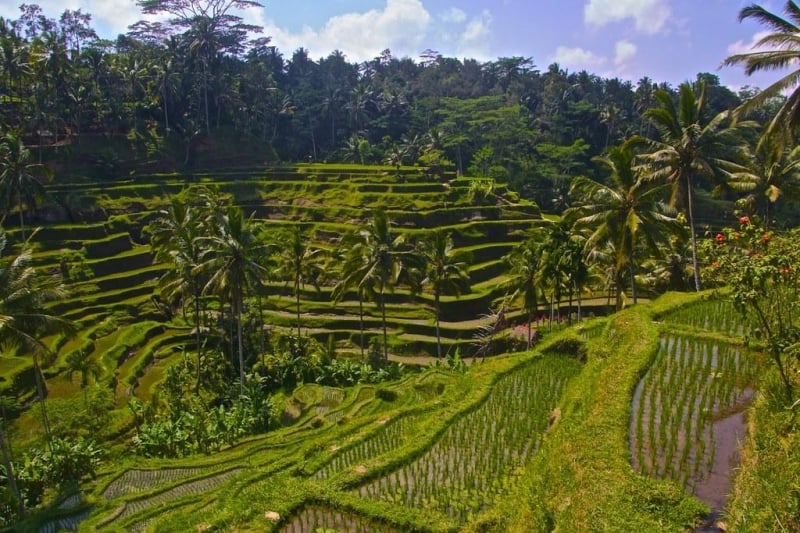 Everyone raves about Ubud's magnificent rice paddies. The scenery is often so breathtakingly beautiful that tourists can't help falling in love with the stunning views. Six hundred metres above sea level, the Tegalalang Rice Terraces are exceptionally impressive to behold. They make use of subak — Bali's traditional and sustainable irrigation system. It's an agricultural masterpiece!
 
Address: Jl. Raya Tegallalang, Tegallalang, Kec. Tegallalang, Kabupaten Gianyar, Bali 80561, Indonesia
16. Catch some awesome bird shows at Bali Bird Park
If you're travelling with family members across different ages, then visiting Bali's most famous bird park is well worth it! Catch some awesome avian spectacles — you'll be absolutely amazed by the tricks these hard-working birds trained hard to learn, all for your viewing pleasure! 
Tip: Don't forget to drop by the Komodo dragon exhibit as well to make the most out of your visit! 
Address: Jl. Serma Cok Ngurah Gambir Singapadu, Batubulan, Kec. Sukawati, Kabupaten Gianyar, Bali 80582, Indonesia
17. Behold the majestic Tegenungan Waterfalls
Worried you've been chowing down on too much satay and beef rendang? Burn off all the calories by walking down a great number of steps… then climbing back up again!
Don't worry — the strenuous workout will definitely pay off. The waterfalls are nothing short of stunning. The breathtaking view will certainly make this climb one of your favourite things to do in Ubud!
Tip: If you wait for the tourists to give you some space, you'll get to capture some incredible shots by the majestic falls!
Address: Jl. Ir. Sutami, Kemenuh, Kec. Sukawati, Kabupaten Gianyar, Bali 80581, Indonesia
18. Be entertained by the vibrant and colourful Bali Agung Show

For some quality entertainment, make your way to the Bali Theatre in Bali Safari Park! You'll never experience a dull moment watching the Bali Agung show. The historical display is so vibrant and captivating, from the energetic dances and coordinated choreography all the way down to the colourful costumes!
Address: Jl. Profesor Doktor Ida Bagus Mantra, Km.19,8, Serongga, Gianyar, Bali 80551, Indonesia
19. Purchase local artworks at Batuan Village
If you're looking for a place to shop other than the heavily frequented Ubud Art Market, then try paying a visit to the lesser known Batuan Village. It's a wonderful place to appreciate traditional Balinese artwork and purchase thoughtfully made handicrafts.
20. Climb down 370 steps to the Gunung Kawi Temple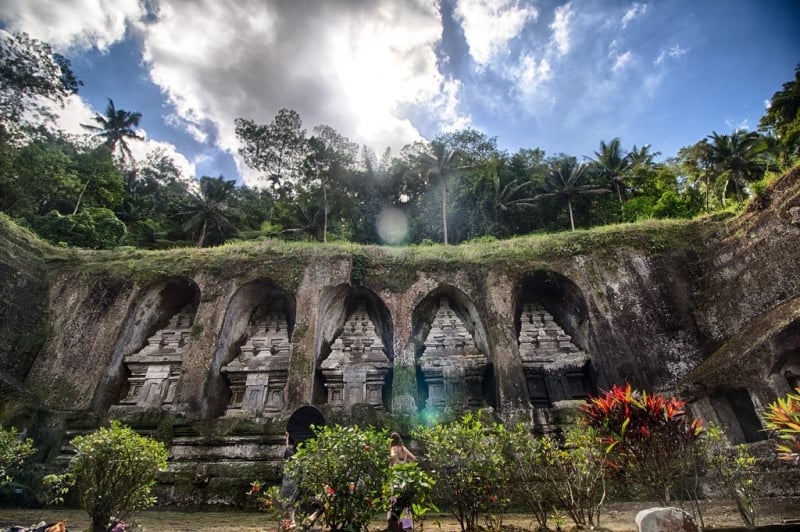 Countless steps don't seem to faze the people of Ubud. We can't blame them — the views are too amazing to pass up despite the toilsome climb up and down! Such is the case with the renowned Gunung Kawi Temple in Ubud — 370 steps down, then back up again (with multiple stops for some cold refreshments). What's in store for you? An amazing view overlooking the marvellous rice terraces! 
Tip: Don't be fooled by the vendors who might try to convince you to buy a sarong to enter the temple. The sarong rental is already included in the ticket price, so you're all set to go!
Address: Banjar Penaka, Tampaksiring, Kabupaten Gianyar, Bali 80552, Indonesia
21. Purify your mind, body, and soul at the Tirta Empul Water Temple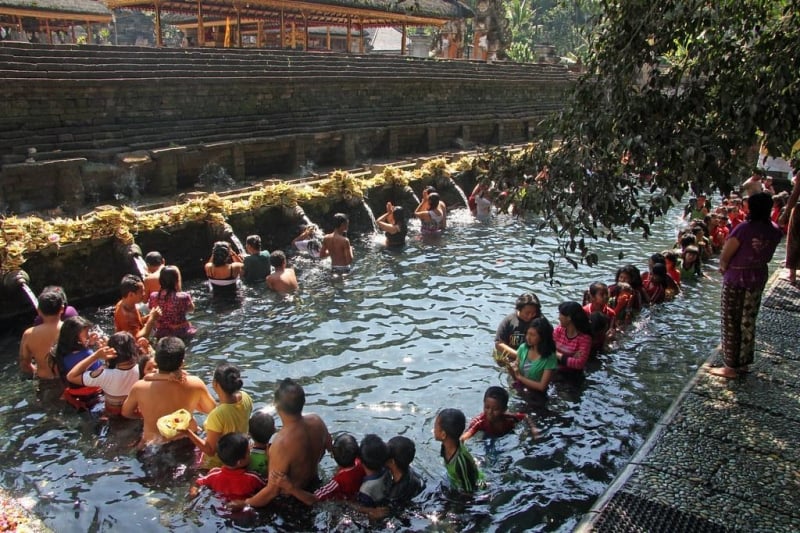 One of the most famous temples in Bali, the Tirta Empul Water Temple is a sacred place for spiritual cleansing. It's nothing out of the ordinary to find locals and tourists flock to the temple in hopes of undergoing the water purification process. Although hundreds of people bathe in the springs everyday, the water remains clean and clear — a symbol of true purity. All sacred rituals are led by a local guide.
Tip: If you'd like a more solemn experience bathing in the holy water springs, make sure to go as early as possible to avoid the crowds!
Address: Jl. Tirta, Manukaya, Tampaksiring, Kabupaten Gianyar, Bali 80552, Indonesia
22. Capture an incredible IG-worthy shot at Lempuyang Temple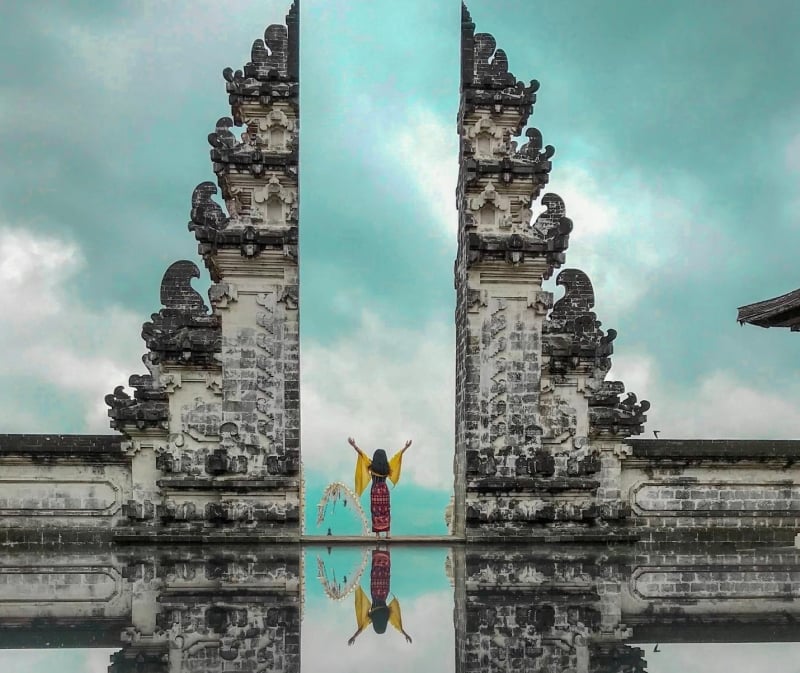 If you're set on capturing a visually aesthetic shot like the photo above, then a visit to Lempuyang Temple is one of the top things you have to do in Ubud. The temple is so grand, it gives the appearance that you're situated in between the Southeast Asian gates to heaven.
Be wary, though! If you're expecting to see an actual lake surrounding the temple, then you might be disappointed. To create the stunning effect seen all over Instagram, the skilled photographers use a mirror. Unfortunately, it's not a real lake that beautifully captures your reflection. But all the same, you can be assured of a fabulous photo!
Address: Bunutan, Abang, Seraya Bar., Kec. Karangasem, Kabupaten Karangasem, Bali 80852, Indonesia
23. Visit the grandiose Gunung Lebah Temple
Temple enthusiasts will go nuts in Bali! There are so many magnificent ones that tastefully capture Bali's rich history and religious beliefs. One of these is the Lunung Lebah Temple, which is also a stunning display of exquisite Balinese architecture!
Address: Jl. Raya Ubud No. 23, Sayan, Kecamatan Ubud, Kabupaten Gianyar, Bali 80571, Indonesia
24. Immerse yourself in total tranquility at Ulun Danu Bratan Temple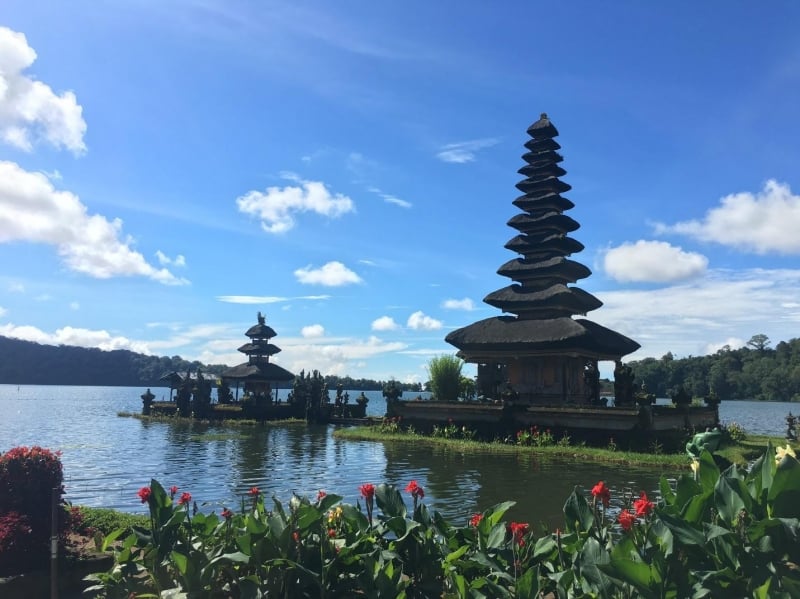 We know, we know —  another temple on this list of things to do in Ubud? Don't be so quick to skip out on this one, though! Built in honour of the water goddess Dewi Danu, the Ulun Danu Bratan Temple is absolutely breathtaking.
Set against a landscape of picturesque mountains and floating atop the Lake Beratan, this temple is the epitome of sweet serenity. Top it all off with a lovely stroll around the well-maintained gardens, which is regularly adorned with blossoming flowers.
Address: Danau Beratan, Candikuning, Baturiti, Tabanan Regency, Bali 82191, Indonesia
25. Catch the stunning sunrise at Mt. Batur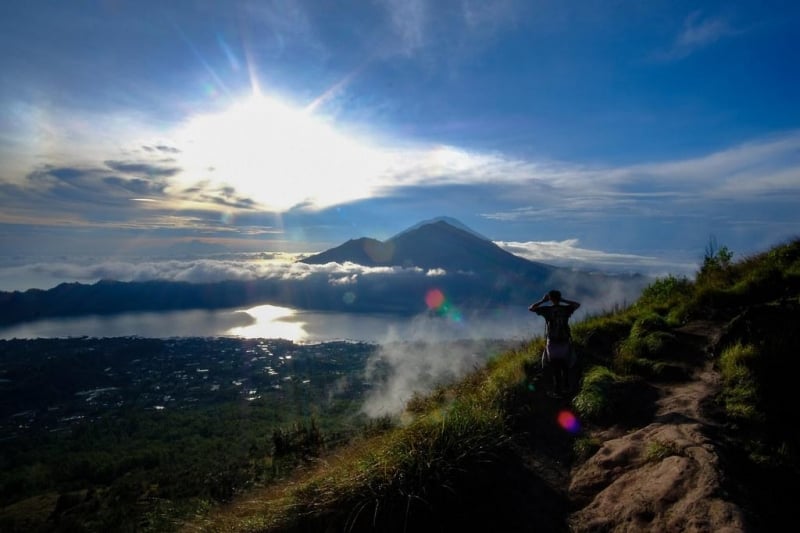 There's nothing like a vigorous hike to start the day right. It's even more exhilarating knowing you'll be climbing the most active volcano in Bali, its most recent eruption having been recorded in 2000.
After trekking up miles and miles, your prize awaits you at the peak: an incomparably beautiful sunrise that will render you speechless. Even if you're not an avid hiker, there are trained local guides who are excellent at accompanying first-timers along the two-hour trek. And what's more, they're pretty well-known for taking superb sunrise photos! 
Tip: The sunrise treks begin before the crack of dawn, so make sure to pack a headlamp with you to help light the way. Also, don't forget to wear layers. Although Bali is notorious for its heat and humidity, the weather atop Mt. Batur can be quite chilly!
Address: Pamapagan Studio Music, Jl. Songan, Songan A, Kintamani, Bangli Regency, Bali 80361, Indonesia
26. Go on a one-of-a-kind coffee trip at Satria Coffee Plantation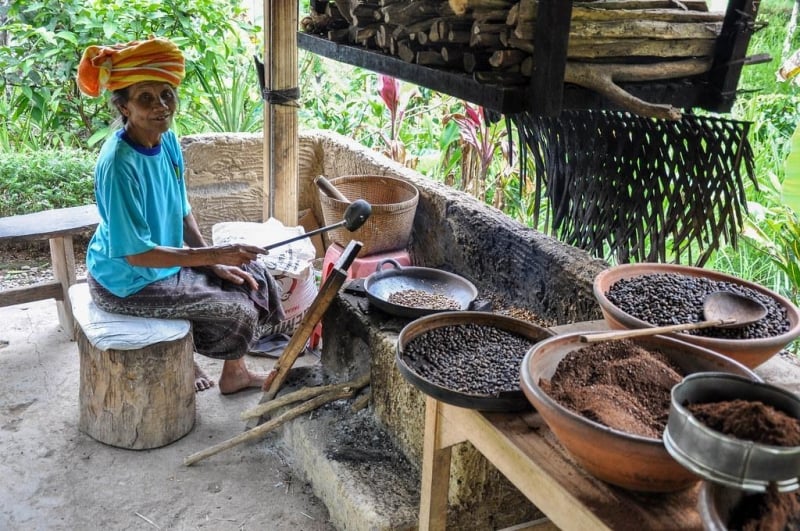 Attention, all coffee and tea lovers! The Satria Coffee Plantation encourages its visitors to try copious flavours of deliciously rich coffee and tea. Get ready for the most caffeine-filled experience imaginable — it's one thing you won't want to miss on this list of things to do in Ubud!
As you tour around the plantation, expect to hear the whole rundown on how coffee beans are farmed, fried, and roasted. In addition, you might even get to see a civet cat — the animal responsible for making (or rather, pooping out) the highly acclaimed luwak coffee beans. Make sure to try a cup of delectable "cat poop" coffee while you're there!
Address: JL. Raya Tampaksiring, Kintamani Basangambu, Manukaya, Kec. Gianyar, Kabupaten Gianyar 80552, Indonesia
BONUS: Stay at an amazing villa!
There's nowhere quite as serene as a Balinese villa. Looking for both convenience and charm? Most villas are located within arm's reach of Ubud's most popular attractions, yet they're tucked far enough away to drown out the distracting city noise.
Surrounded by palm trees and overlooking fields of rice paddies, they never fail to exude peace and tranquility. After a long day of touring and shopping, coming "home" to your villa might even be the highlight of your trip! 
 
Tp: Don't hesitate to splurge a little more on a villa with a pool! Bali's year-round humid weather is perfect for refreshing dips in the water. Pair it with an amazing view of rolling hills, rice paddies, and a starry night sky — you couldn't dream of a sweeter vacation!
Also read: 8 Instagrammable Airbnbs for Chilling Out in Kuta, Bali
Ready for an unforgettable culture trip? With so many exciting things to do in Ubud, you're guaranteed a fantastic experience. Have fun!