There's something magical about inserting a note and waiting patiently for the machine to work its magic before bestowing you your desired goods. Here's a list of 10 coolest vending machines from around the world to look out for on your travels! 
1. SINGAPORE: Dispense convenience effortlessly
Singapore may be small, but we don't lose out to other countries when it comes to the ubiquity of unique vending machines! We have vending machines dispensing fresh salmon, freshly-squeezed orange juice, and books among others. We even have a grocery vending machine, OutStores.sg, which is essentially a 24-hour supermarket. You can purchase canned food and sauces, snacks, toiletries, dried goods and more!
2. JAPAN: Surprise yourself with a mystery item
Japan is home to every possible vending machine you can think of — ramen, alcohol, bananas, fresh eggs, condoms, surgical masks, underwear, batteries — you name it, they have it! The King's Treasure Box, available in multiple locations across Tokyo, presents a twist to your regular toy vending machine. This 1000-yen surprise treasure box will amaze you with unique "treasures" such as pouches, block calendars, and all sorts of random trinkets. 
Also read: These Sakura Itineraries Will Take You to Japan's Best Viewing Spots Throughout April!
3. CHINA: Grab-a-Crab!
Yes, you heard it right! You can grab a fresh, live, hairy crab from a vending machine in Shanghai, China. Hairy crabs are one of Shanghai's best-known delicacies and are farmed in Yangcheng Lake, a freshwater lake in Suzhou that boasts of the home to the best crabs. The crabs can be found in temperature-controlled machines designed to keep these crustaceans in a dormant state, such as to preserve freshness until the point of purchase. 
4. UNITED STATES: Nab last-minute travel wear
Japanese minimalist apparel brand Uniqlo brings fast fashion to a new level of accessibility! With their best-selling travel-friendly apparel such as Heattech innerwear and UltraLight down jackets, they offer last-minute remedies for forgetful travellers. First introduced in 2017 at Oakland International Airport in California, these Uniqlo To Go machines have since been brought to Los Angeles, Houston, and New York. 
Also read: 17 Unique Things to Do in Hawaii Besides Surfing and Beach-Hopping
5. UNITED STATES & CANADA: Cart-out some art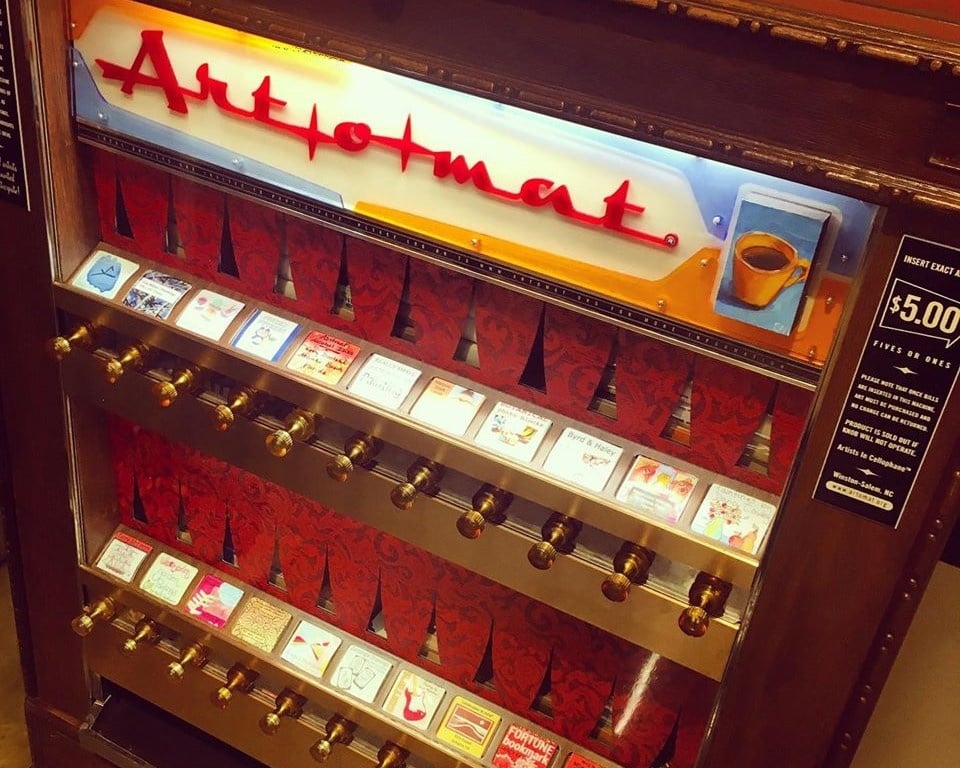 Art-o-Mat machine at Whole Foods Winston. | Image credit: Art-o-Mat 
These retro Art-o-Mat machines that vend miniature masterpieces are converted from retired cigarette vending machines. Not only do you get a cigarette-pack-size, but also one-of-a-kind handmade artwork, and the experience of pulling the knob itself promises to be a thrilling experience! First conceptualised in 1997, there are now over 100 Art-o-Mat machines found in the U.S., Canada, Austria and Australia. 
6. RUSSIA: Vintage Soviet Kvas & Soda Vending Machine
Located in the Museum of Soviet Arcade Museum in both St. Petersburg and Moscow, this vintage Soviet machine dispenses Kvas (fermented Slavic and Baltic beverage), a sweet-tasting, non-alcoholic, beer-like beverage and fruit-flavoured carbonated water. It's pretty much like a Soviet variant of the American soda vending machine. You can purchase some Soviet kopek coins over the counter for a sip of the authentic Soviet experience! 
Also read: St Petersburg Russia Guide – What to Do, Where to Eat
7. SLOVENIA: Quench your thirst with fresh milk
The idea of dispensing raw milk from a vending machine may sound bizarre to some, but not for Slovenians! With over 70 machines around the country, many locals prefer raw milk over treated milk from retailers. Milk vending machines can also be found in other parts of Europe such as Switzerland, Italy, and France. 
8. TURKEY: Recycle to feed the stray
This Pugedo Smart Recycling Box in Istanbul, Turkey is hands down one of the most innovative and valuable ones around. It operates by dispensing dog food for strays in exchange for recycled plastic bottles. All it takes is for people to deposit their plastic bottles at the top, and food will subsequently be released at the bottom. Not only does this encourage recycling, but it also alleviates some of the problems of strays prevalent in the country.
Also read: 10D8N Turkey Itinerary: Discover the Heritage of City Ruins, Ancient Mosques and More!
9. SWEDEN: Pick a read
Book vending machines are one of the 'OG' vending machines around and have been distributed as far back as 1822. Today, these Readomatic book vending machines can be found at Stockholm Arlanda Airport in Sweden. Besides, book vending machines have become increasingly popular, and can be found in other countries such as the United States and even in Singapore! 
10. FRANCE: Get some bang for your bake 
Trust the French to invent the vending machine solely dedicated to their sacrosanct baguettes! Stocked with part-baked loaves, the machine finishes them to perfection, producing a steaming fresh loaf of baguette on demand. Now you don't have to fret over not having access to baguettes in the middle of the night when the bakery's closed! Hon hon hon!
Also read: Beyond the Capital: 8 Incredible Cities to Visit in France Other Than Paris
Now that you've seen some of the most bizarre, innovative and cool vending machines from around the world, which is your favourite?