Exploring this whimsical wonderland in Turkey is indeed a surreal experience like no other. And this list of things to do in Cappadocia will truly inspire you to finally take your first trip! It's one of those destinations that looks like it fell straight out of a fairytale — or an other-worldly fairytale, to be more precise. The landscape is full of intricate fairy chimneys, rolling hills the colour of pale rose, and entire houses carved out of caves.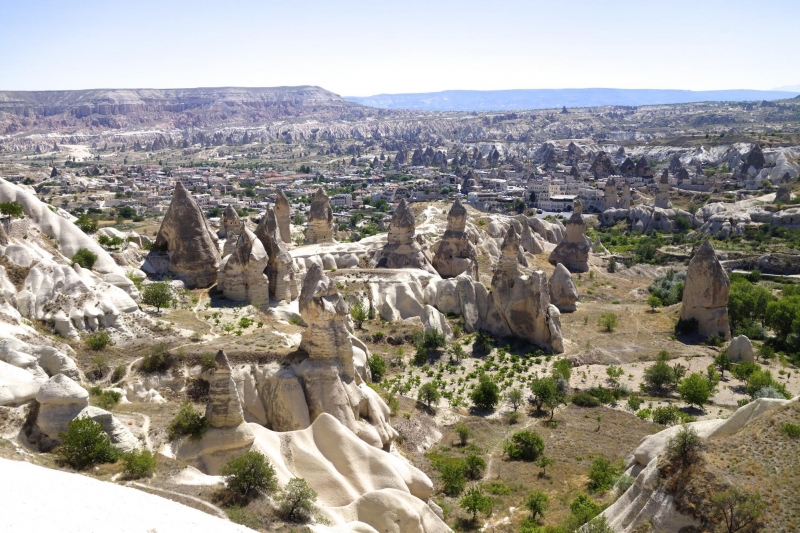 1. Go on a hot air balloon ride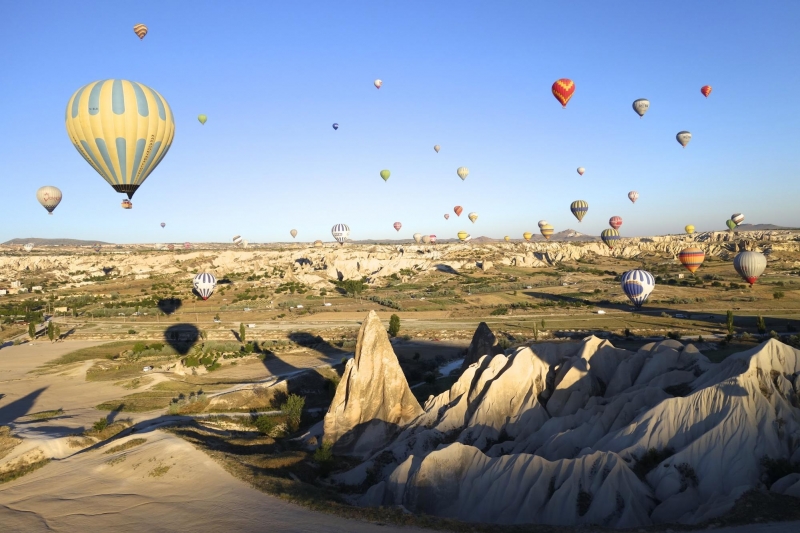 If you think that this destination looks stunning on the ground, wait till you see it from the skies. Going on a hot air balloon ride is perhaps one of the most popular things to do in Cappadocia, and rightly so!

Hotel pickups usually occur around 4.30am, where you'll be brought to a holding centre for a briefing and some morning coffee. At the hot air balloon site itself, be awestruck by how the balloons swell to a mammoth size. Hold your breath as you take off and soar above the magical landscape. Watch as the first sun rays hit the cliffs, bathing the earth in a warm honey glow.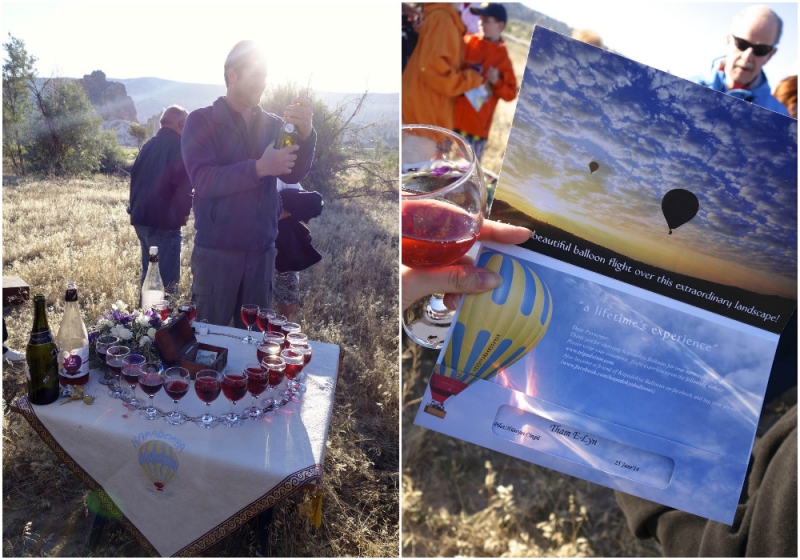 Enjoy the once-in-a-lifetime experience as you glide above the numerous fairy chimneys amidst other brightly coloured hot air balloons in the sky! At the end of the journey, the tour operators will usually break out a bottle of wine to celebrate. Guests will also be given a certificate of completion as a souvenir to take home!
Take your pick from hot air balloon operators available in Cappadocia, most of which offer return hotel transfers. A ride usually costs around €140 (~SGD220) per adult, with some companies offering half-price for children.
2. Stay in a cave hotel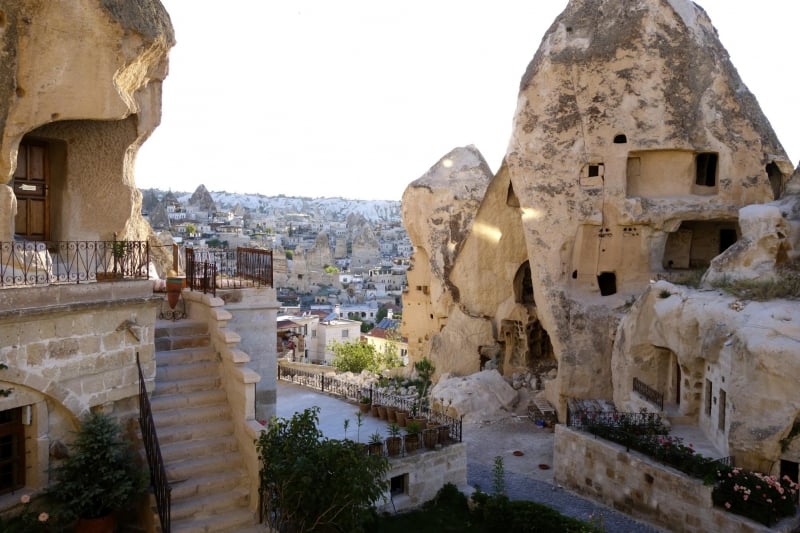 Live the Flintstones life and stay at one of these gorgeous cave hotels, which are uniquely carved out of stone caves.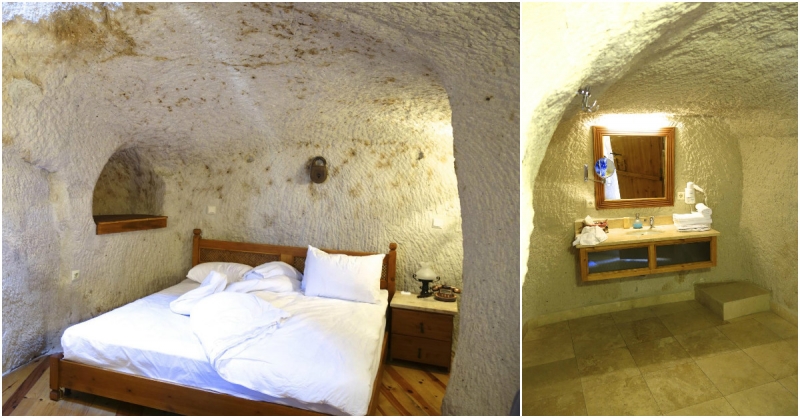 There isn't any air conditioning in these cave hotels, as the natural stone walls keep the interior cool and comfortable. The walls are curved – you'll feel just like you're living within an actual cave, but with all your usual creature comforts.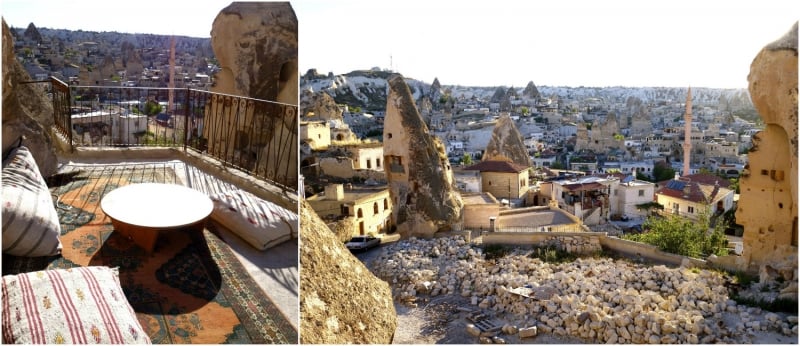 Most cave hotels in Cappadocia come with a quaint little roof garden, complete with rugs and cushions. You might even be able to watch the hot air balloons fly overhead from your very own balcony!
3. Explore the Goreme Open-Air Museum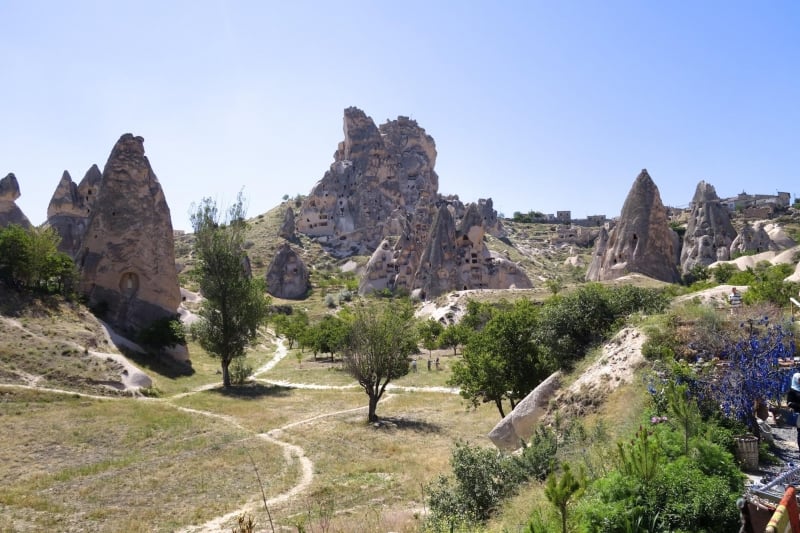 The Goreme Open-Air Museum is a UNESCO World Heritage Site that offers breathtaking rock formations and towering fairy chimneys. It's dotted with rock-cut architecture, some of which are adorned with vibrant wall frescoes.

The area also contains some of the area's oldest churches and monasteries! Spend a couple of hours simply exploring these churches, wandering along the lanes and simply soaking in the atmosphere.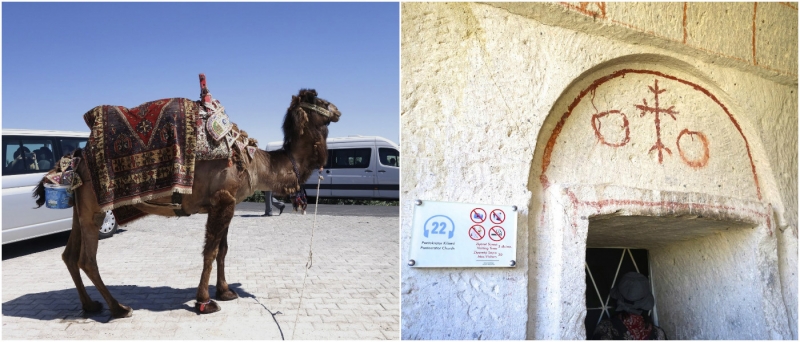 If you wish, you can also go on a camel ride around the premises. It's recommended to visit with a guide so that you'll be able to learn more about the history of the place. However, if you're visiting on your own, audio-guide headsets are also available for rental. Either way, this is definitely something you should to your list of things to do in Cappadocia! 
Opening hours: 8am-6pm
Cost: TRY25 (~SGD6)
Also read: Cappadocia — What You Need to Know About this Fairytale Region in Turkey
4. Navigate an underground city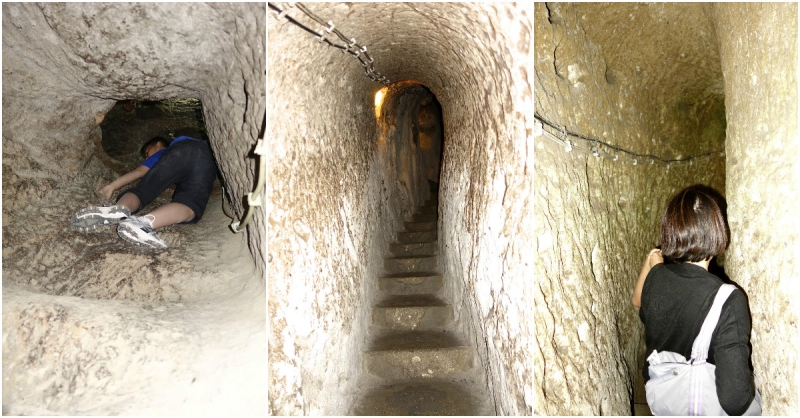 Cappadocia is home to 36 underground cities, of which the widest is Kaymakli Underground City and the deepest is Derinkuyu Underground City. Back in the day, people carved out these underground cities from an extensive network of over hundreds of tunnels, living their entire lives below the surface.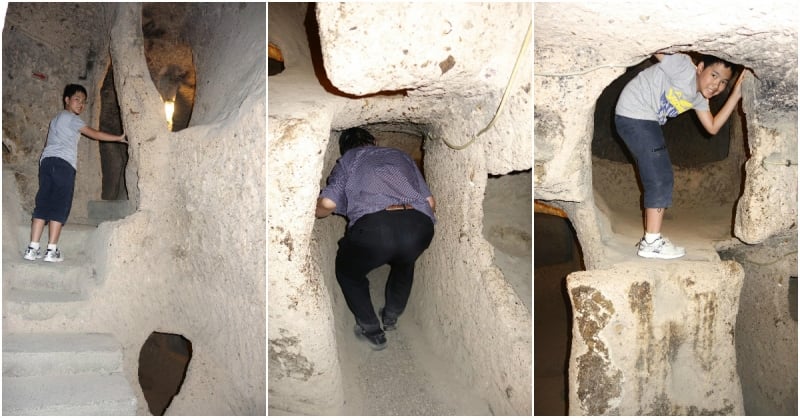 The underground cities comprise stables, wineries, living accommodations, kitchens and even churches. Multiple ventilation shafts normally run through all floors of the underground city. There were also numerous stone doors in place, which could quickly be rolled to block various rooms in the event of an attack.
Do note that exploring an underground city is not for those suffering from claustrophobia or backaches, for you'll need to squeeze through miniature tunnels and climb up multiple narrow stairwells.
Cost: TRY25 (~SGD6)
5. Dine with a view at a rooftop restaurant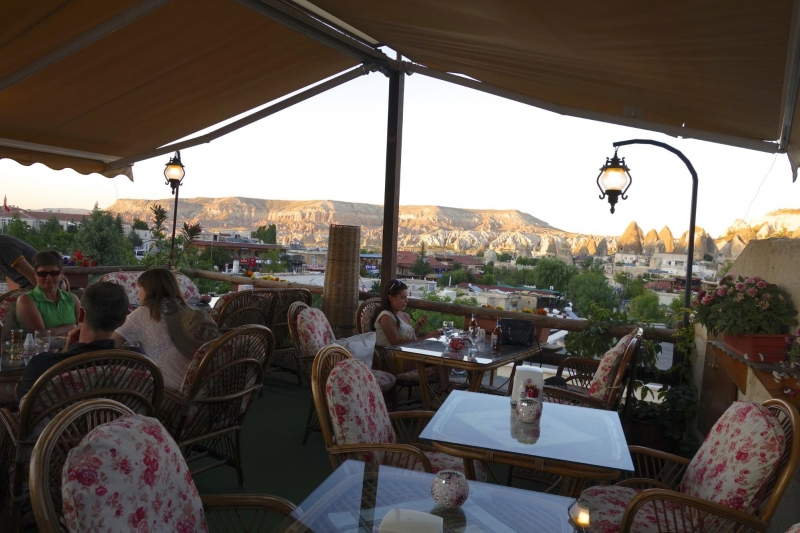 One of the best ways to revel in Cappadocia's magical landscape is to dine at a rooftop restaurant. There are plenty of these scattered all over the region, with each offering a magnificent view.

Drop in for a meal or for a piping cup of Turkish coffee as you marvel at the surrounding view. If you're lucky, you might even be able to catch an unobstructed view of the sunset!
6. Embark on multiple hikes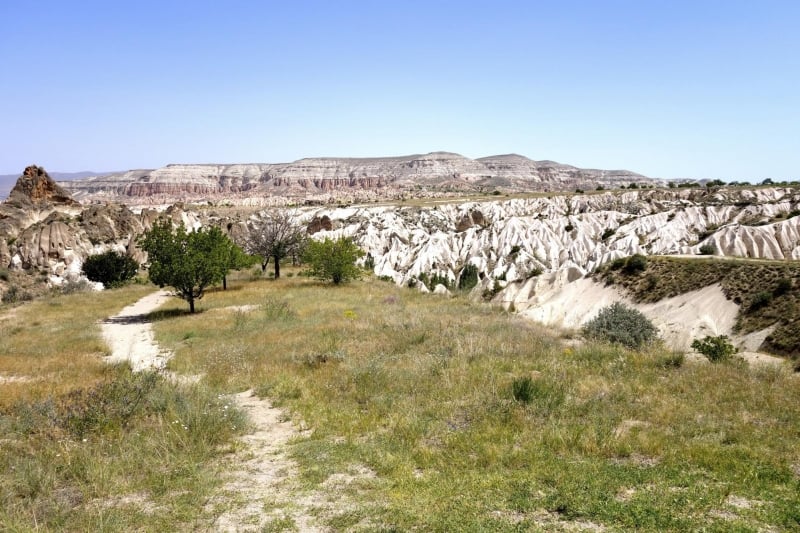 Other than enjoying aerial views of Cappadocia, another great way to experience the region is on foot. There are multiple hiking trails available, with each varying in difficulty. However, the trails are normally over rather flat terrain, making the hikes suitable for people of all ages.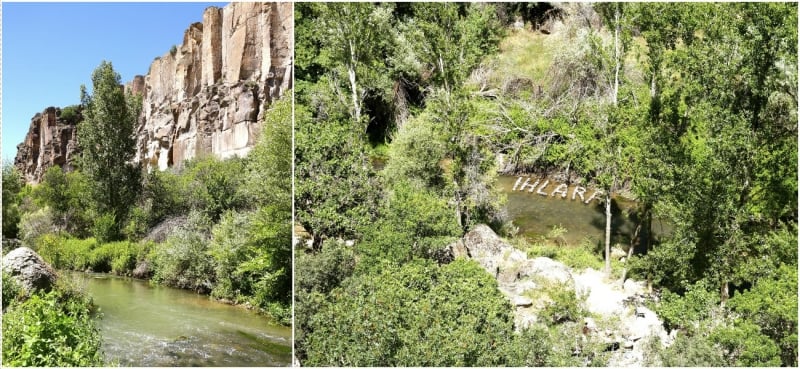 Head to Ihlara Valley for an invigorating hike that starts at Ihlara Village and ends at Selime Monastery. The hike stretches over seven kilometres of flat land (with just a little incline at most), with some of it going along the bubbling Melendiz River. The valley is home to numerous rock formations and cave churches as well!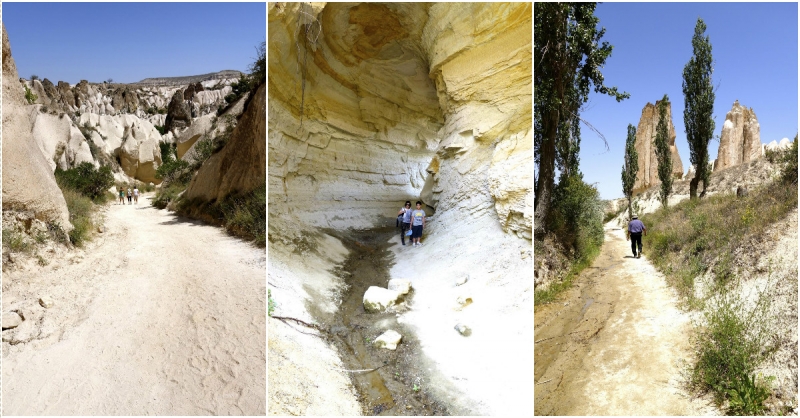 Alternatively, you can choose to hike through Rose Valley, which can be combined with the hike through Red Valley. The Valley is named after the rose-coloured rock that makes up its two walls. The hike stretches across approximately four to five kilometres of flat land, going through intricately carved rock churches and vineyards
If you have the time, why not do them both? You can also head to Love Valley, Pigeon Valley, Sword Valley and Zemi Valley if you wish to spend more time hiking.
7. Have a sense of wonder at Devrent (Imagination) Valley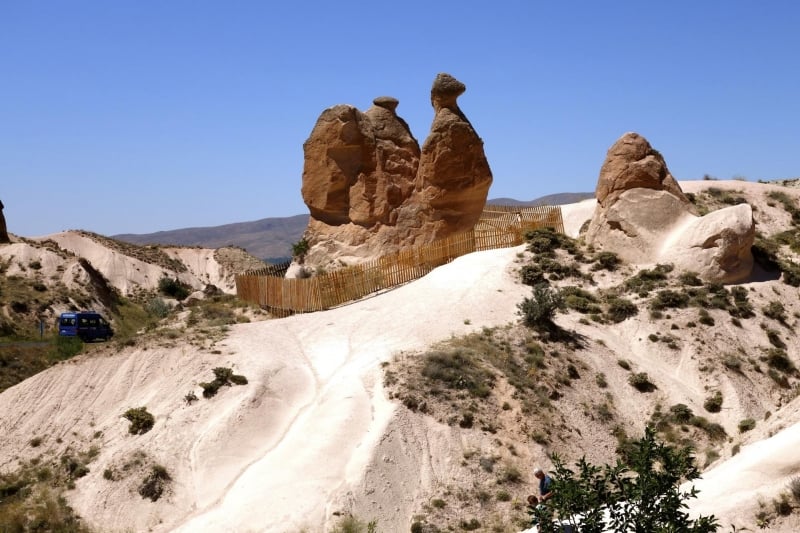 Unlike Cappadocia's other valleys, the Devrent Valley does not house any cave churches. Instead, it boasts an elaborate lunar landscape dotted with incredibly interesting rock formations. Devrent Valley is also colloquially known as 'Imagination Valley' as the rock structures resemble different animals and creatures – with the right amount of imagination, of course. Some even refer to it as a 'sculpture zoo' of sorts. For example, the rock formation pictured above is said to resemble a camel with two humps!

The above rock formations also look like slithering snakes. Other formations are also said to resemble seals, dolphins, alligators or even a kissing couple.
8. Clamber around Selime Monastery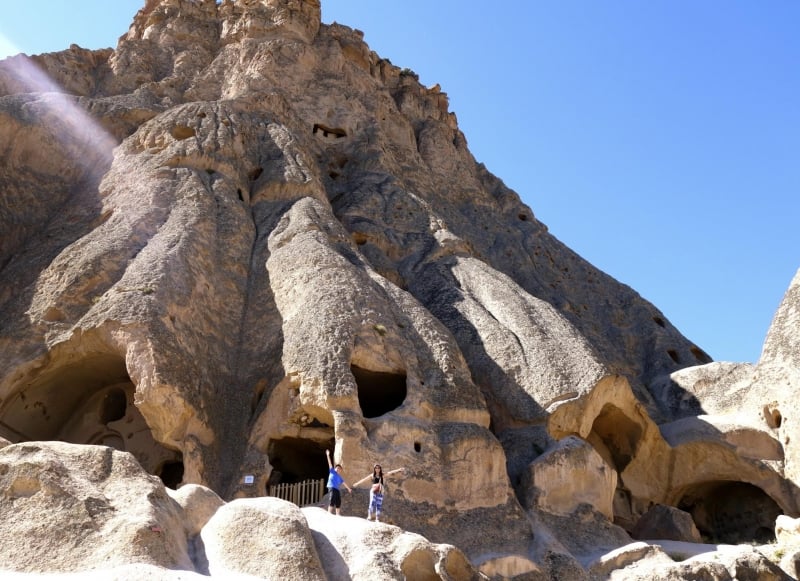 Selime Monastery consists of a giant rock-cut monastery with various levels and rooms. It actually comprises one of the largest religious buildings in Cappadocia!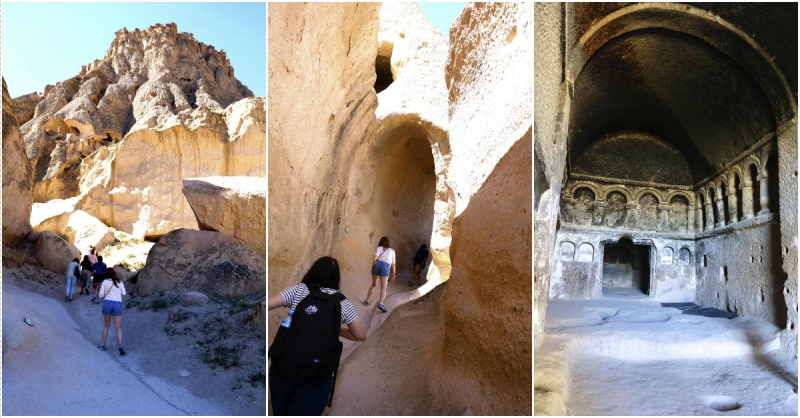 Exploring the Selime Monastery does require quite a bit of climbing and clambering but do be careful as there aren't any handrails in place. You can easily spend a good 1-2 hours here simply discovering every nook and cranny!
9. Drop by a Pottery House in Avanos

Located just a short distance from Cappadocia is Avanos: a town that's famous for its red clay pottery. The town is home to numerous pottery masters, with many handing down their skills from generation to generation. Visitors are able to watch skilled potters work a foot-drivel spinning wheel to create intricate Avanos pottery pieces.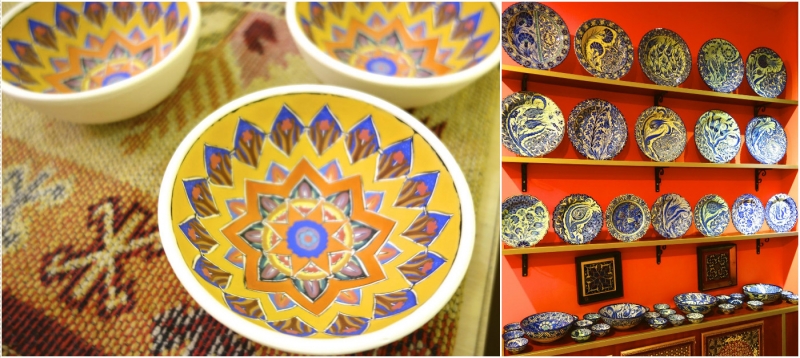 And if you wish, why not bring some of these back home as souvenirs?
10. Marvel at Uchisar Castle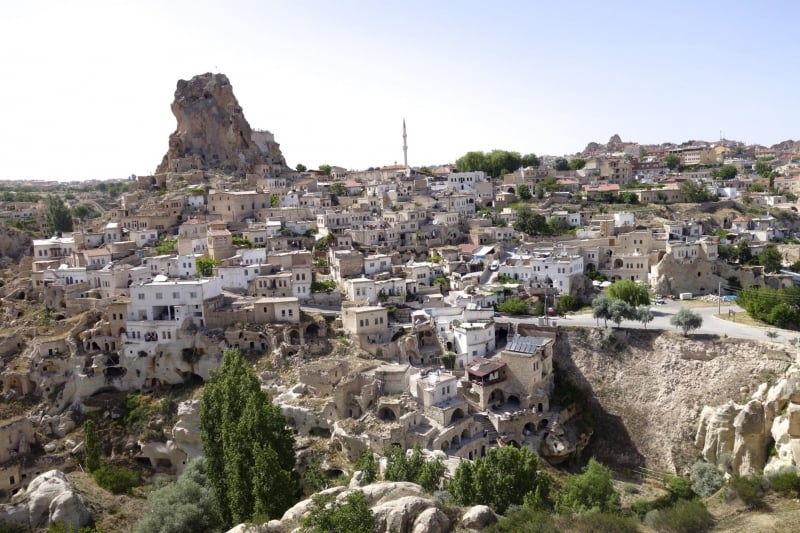 Uchisar Castle was one of Cappadocia's main points of defence during olden days. Around it is a hodgepodge mix of houses that are built into the landscape. It also comprises the highest point in Cappadocia!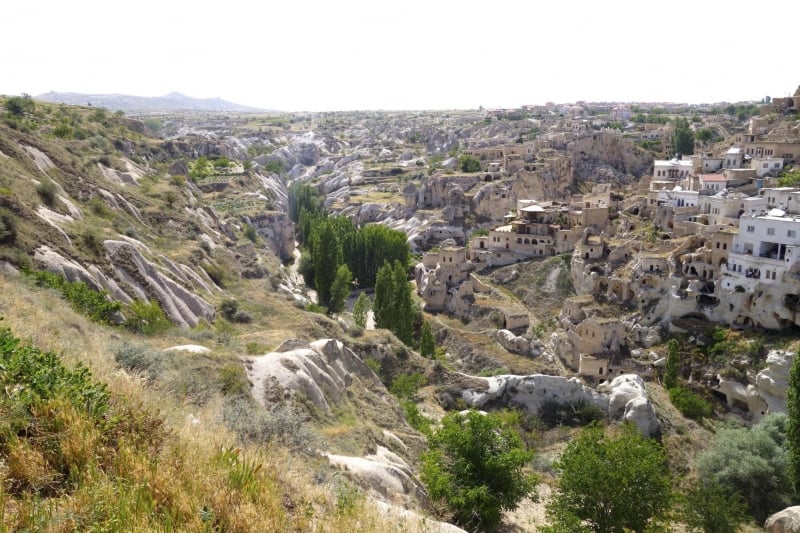 Most of the rooms in the castle have been converted to 'pigeon houses', which are used to collect pigeon droppings. The droppings are seen to be great natural fertiliser, which farmers use for their vineyards and orchards. If you're planning on taking a hike through Pigeon Valley from Goreme, you'll reach Uchisar within a two-hour journey.
11. Make friends with the locals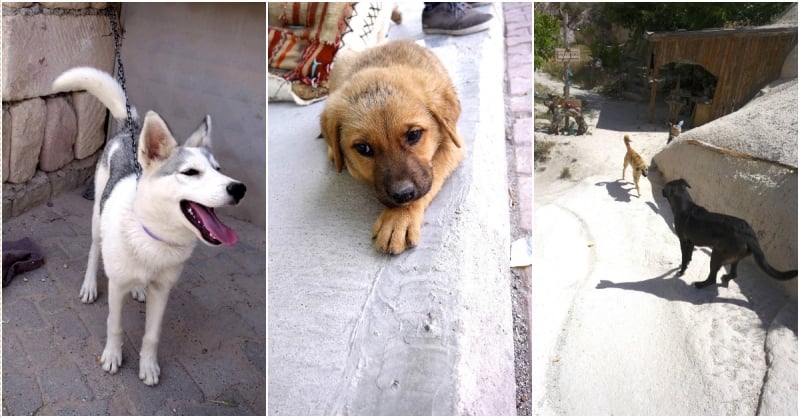 The local Turkey people are incredibly and friendly hospitable, but what stands out are the numerous dogs that inhabit the region. Just look at how adorable they are!

You'll find these dogs everywhere and they'll usually be game for a pat or hug.
12. Indulge in a Turkish bath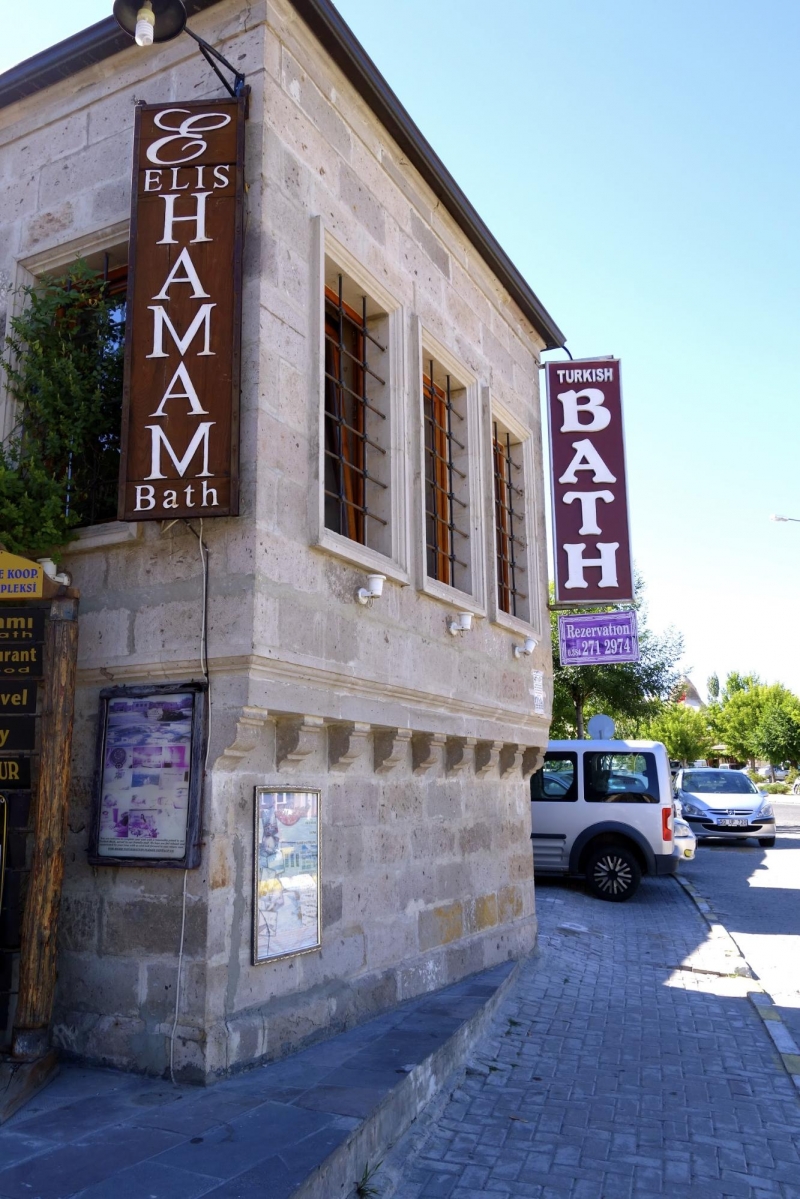 Due to its unique landscape and multiple scenic trails, every trip to Cappadocia often takes a more active slant. However, don't forget to pamper yourself and relax — after all, you're on holiday! Indulge in a Turkish bath, the process of which has been perfected over many years.
There, attendants will help to scrub you from head to toe. You'll then be lathered with liquid soap and massaged. It's definitely unlike any other typical massage! Emerge feeling invigorated and refreshed, and ready to resume your exploring.
Also read: 10 Reasons Why Turkey Should Be on Your Travel Radar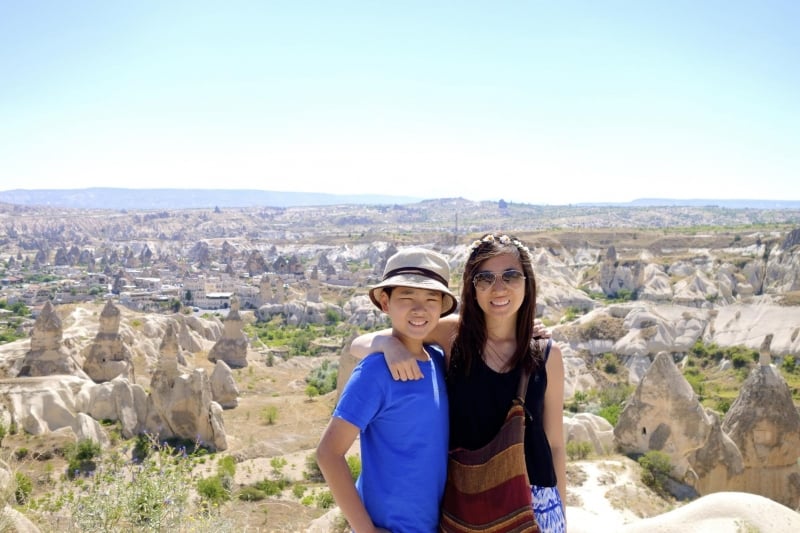 If you're looking for a travel destination that's different, incredibly surreal and downright magical, Cappadocia is the place for you. It's a place of wonder, awe and imagination — perfect for any modern-day explorer. A sensational trip awaits you and w!