Canada is famous for several things — besides birthing musical greats like Justin Bieber, Drake, and Shawn Mendes, the country is known for its abundance of outdoor landscapes and maple syrup. Attractions like Niagara Falls and the Canadian Rockies have been photographed many times over the years, luring both nature enthusiasts and photographers to the Great White North. 

Within its borders, the people are friendly and polite as they are passionate about ice hockey. Canada's diverse communities in Toronto and rich histories in Quebec are bound to leave a lasting impression on every traveller's soul. If you've been planning to commemorate your trip with tokens, here are 22 souvenirs from Canada you should take home to your loved ones. 
Also read: How and Why This Backpacker Travelled to Canada From Singapore Without Flying
Canada souvenirs worth keeping
1. Magnets
Regardless of where you go, magnets are the best souvenirs you can collect and keep. Plus, they're easy to carry around. Look for magnets that depict Canada's best attractions and landscapes. Stick them on your fridge door, and you'll be left revisiting your trip every time you get a glass of water. 
2. Stone totems
In Canada, stone totems are often a symbol of good luck that keeps evil spirits away. It's one of many great Canada souvenirs you can consider taking back home. While they may have animals and paw prints, they will also have meaningful affirmations like, "Bring life back to the lifeless."
3. Keychains
Keychains are another collectable type of souvenir you can gift to your loved ones! Though small, they're pretty meaningful. Canadian flag keychains are especially popular among tourists, followed by those with a maple leaf design. You can decorate your key rings with these, or attach them to the zipper of your school/work bag. 
4. Lapel pins
Pins are a cute way to spice up your outfits and even your travel bags. The best kinds are anything associated with Canada. You can make customizable pins with Canadian elements like the national flag, a polar bear, a moose, or any other things you would like. You can attach the pins to your hat or favourite shirts, or take a piece of your trip with you by pinning it to your bag. Customizable pins will also be great gifts to send away to your families, friends or colleagues.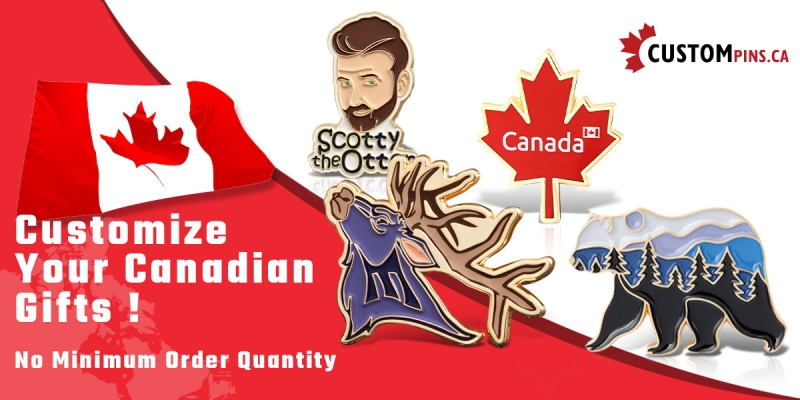 5. Posters and pictures
If you want a way to fill up the empty space on your walls, get a few pictures, laminated prints, and posters of the Canadian scenery. They're light, don't take up too much space in your suitcase, and are great conversation starters whenever someone comes over! We recommend framing them up when you get home, so they don't get dirty or start to crease. 
Also read: These Are the World's Safest Countries for Travel in 2022
6. First Nations souvenirs
Canada is home to 630 First Nations communities, which refer to the three main Aboriginal groups (Inuit and Métis peoples). Today, more than 1.67 million people in Canada identify as Aboriginal. 
One of the top things to do in Canada is to learn about these Indigenous peoples' cultures. You can visit art and history museums, like the McCord Museum and La Guilde in Montreal. Visit their gift shops for a range of these Canada souvenirs; including books, hand-carved marble bears, burnt wood loon carvings, and dreamcatchers. 
Also read: An F1 Guide: Where Are the Best Racing Tracks Around the World?
7. Aboriginal art
Likewise, you can take home Aboriginal artwork. Based on their folk stories, these works depict wildlife, old summers, and pre-colonial Canada. The paintings are colourful and an honourable homage to heritage. Other forms include moose hair embroidery, painted caribou hide coats, deer hide moccasins, and beadwork. At Inuit Gallery in Vancouver, you can purchase these paintings among other Indigenous art pieces and take them home as souvenirs. 
8. Stuffed animals and plushies
Stuffed toys — especially of animals — are one of the top things to get in Canada. They're downright adorable, soft, and perfect for those who love to hoard plushies at home! To remind you of your Canada travels, get a stuffed toy beaver, bear, or moose. You can find that some of the moose toys are dressed in the uniforms of the Royal Canadian Mounted Police, have the national flag's colours and logo, and even have the national anthem, O Canada, embroidered on a shirt. 
Canadian souvenirs you can eat/drink
9. Canadian maple syrup
Canadian maple syrup is arguably the most popular thing on our list of Canadian souvenirs to take home. There's a reason why the maple leaf is on the national flag: Canada produces 85% of the world's total maple syrup, and you can find it literally everywhere, from gift shops to supermarkets. They're great on pancakes, waffles, French toast, and even ice cream!
On that note, if you're a huge fan of maple syrup, it's best to travel to Canada in springtime. Maple syrup is produced in massive amounts during several Maple Syrup Festivals in Ontario, Quebec, and New Brunswick. 
Also read: Your Favourite Country Is the Second-Most Popular Country to Move to, According to Google!
10. Ketchup-flavoured chips
Among other Canadian favourites, ketchup chips are a great souvenir to bring home. Lay's Ketchup Chips are tangy and smoky, with notes of onion and garlic. As such, one bag won't be enough — you're going to regret not getting more. Stock up your pantry with a few bags you can easily find at most groceries and convenience stores in Canada. They're perfect for many laid-back occasions like movie nights, and you might find yourself sneaking a chip or two late at night. 
11. Butter tarts
Butter tarts are a quintessential Canadian sweet treat that you have to try at least once. Imagine biting into a flaky pastry crust with a melt-in-your-mouth maple custard filling. In some variations, the tarts are topped with raisins, walnuts, or pecans. Delicious!
12. Poutine
Canada's national dish is something you might want to indulge in on your trip. It's basically French fries topped with rich brown gravy and cheese curds. If you really want the best poutine in the country, head over to Fritz European Fry House in Vancouver. Their cheese curds are fresh and soft when melted. But if you want something a tad bit fancier, Au Pied de Cochon in Montreal has a foie gras poutine, where the fries are fried in duck fat.  
13. Nanaimo bars
Nanaimo bars are a three-layered dessert that originated in…you've guessed it — Nanaimo, British Columbia. It starts off with a crumb base, followed by a layer of buttercream or custard, and then chocolate ganache on top. For dessert lovers, you can consider following the Nanaimo Bar Trail, which takes you on a self-guided tour of trying this famous bar and its unique variants: ice cream, macarons, cupcakes, and even waffles!
Also read: These Are the Top 10 Liveable Cities in the World in 2022
14. Smoked salmon
Canadian smoked salmon is another one of many Vancouver souvenirs you can consider bringing back to your loved ones… especially if they're huge foodies. The preservation process was originally perfected by the First Nations peoples so they could store wild salmon during long winters. Wyse Bay Atlantic Canadian Smoked Salmon from New Brunswick is arguably one of the best in the world. You can enjoy it in a range of ways; from pairing it with eggs for brunch, to topping it on toast and even pizza
15. Crown Royal Canadian Whisky
Crown Royal is the most famous whisky brand in Canada, let alone in the whole world. It's the perfect souvenir for someone you know who has an affinity for liquours. The brand specialises in a range of blended whiskies that result in a smooth drinking experience, with notes of vanilla, oak, and sugar. While you can have it neat, it's also great for whisky-based cocktails. Plus, they make great housewarming gifts!
16. Molson Canadian beer
Similarly, Molson is a famous and best-selling Canadian beer brand that's worth taking home. The lager beer is said to be light and refreshing, with a sweet taste you get upfront. There are also no added preservatives, as the recipe only uses natural ingredients. You can consider getting these for yourself and your loved ones, but don't throw away the bottles after! Instead, wash it then keep it in a display cabinet, because it'll be one of the coolest Toronto souvenirs you'll ever own. 
17. Canadian ice wine
Canadian ice wine from Ontario is definitely something you'll never find anywhere else, which makes it one of the top Toronto souvenirs. What makes it so special is that it uses the extracted juices of frozen grapes, making it extra sweet. 
If you want to experience a guided winery tour, you can go to Reif Estate Winery, Inniskillin Wines near Niagara Falls, and Peller Estates Winery. If you're in Canada during January, you have to visit the Niagara Ice Wine Festival to taste more of this local favourite. 
18. Tim Hortons
Tim Hortons is a famous Canadian fast-food chain that is primarily known for its coffee, hot chocolate, and doughnuts. Combining these has always been a crowd favourite, and it's about time you decide to bring some to your family. Aside from a box of doughnuts, you can get their instant coffee and hot chocolate powder. As such, you can also take home any of the Tim Hortons merchandise, including mugs, vacuum flasks, and travel tumblers.
Practical Canada souvenirs you can use or wear daily
19. Hudson's Bay Point Blankets
Hudson's Bay point blankets are a type of wool blanket that is pretty iconic in Canada. They're soft, comforting, and can keep your toes warm at night. These come in a range of sizes, but no matter which one you go for, you have to go for the multi-stripe blankets (green, yellow, red, and indigo). These historic stripes have often been associated with Queen Anne, as these rose to popularity during her reign from 1702 to 1714. 
20. Sweaters, jackets, and shirts
Sweaters and jackets are a great way to keep warm in Canada, let alone in other parts of the world. You can easily find sweaters that have the maple leaf embroidered in front, or warmers in the red and white colours of the flag. If you're living in a warmer region, you can opt for any graphic tee with Canada's most iconic symbols on the front. 
Also read: Top 10 Coldest Cities in the World for True Winter Lovers
21. Tote bags
Tote bags are a pretty versatile accessory for you to have every day. So, why not add these to your list of Canada souvenirs? They're perfect for literally any situation, from running quick errands to holding your belongings when meeting up with someone. Some of the tote bag designs include a maple leaf outline, the national flag, or even a collage of everything associated with a particular Canadian city!
22. Canada flag bottle opener
Last but not least, you can gift someone with the souvenir of a Canada flag bottle opener. It's functional, reminiscent of your trip, and easy to distribute to your loved ones. Alternatively, you can find other bottle opener designs like a maple leaf, the moose, and more!
Also read: 30 Europe Souvenirs to Bring Home from Your Next Adventure
As you can see, this country has all sorts of things for everyone. When you're planning your next trip to the Great White North, do consider getting any of these Canada souvenirs. It'll guarantee a smile on your loved ones' faces. 
---
Featured image credit: Cliffano Subagio | Flickr