As one of the most culturally diverse cities in the world, Toronto is home to a melting pot of different cultures, languages, and traditions. You will never run out of things to discover in Ontario's capital city, which boasts a Little India, Greektown, Koreatown, Little Italy, and more than one Chinatown. Of course, it doesn't hurt that the locals are super friendly, too. But if you want to take your trip to Canada to the next level, finding the right Airbnb in Toronto can elevate your vacation from "okay" to spectacular. 
Are you looking for a lakeside escape that will house you and your family? Or are you planning to visit Niagara Falls all the way from New York City? Either way, we've got you covered. From sun-filled lofts in downtown Toronto to charming waterfront getaways near Lake Ontario, soak up the sights of the city with the best Airbnbs in Toronto below. 
Also read: How and Why This Backpacker Travelled to Canada From Singapore Without Flying
Top Vrbo rentals and Airbnb homes in Toronto for an urban getaway
1. This modern luxury residence in the stylish neighbourhood of Rosedale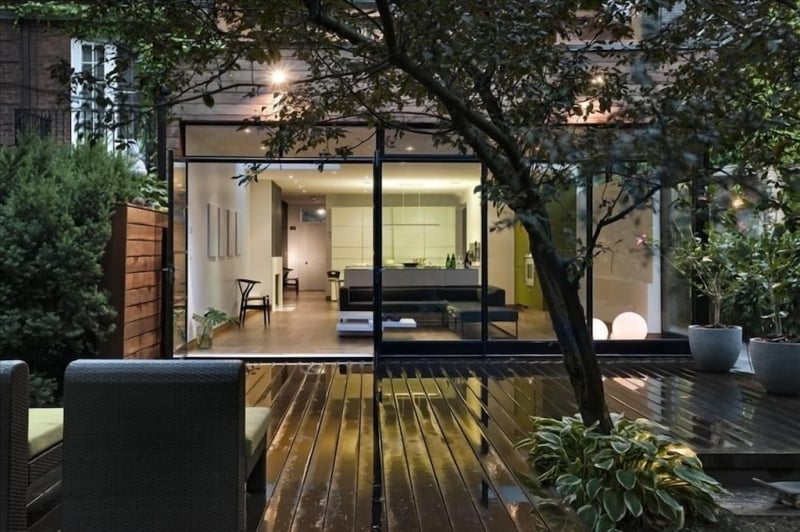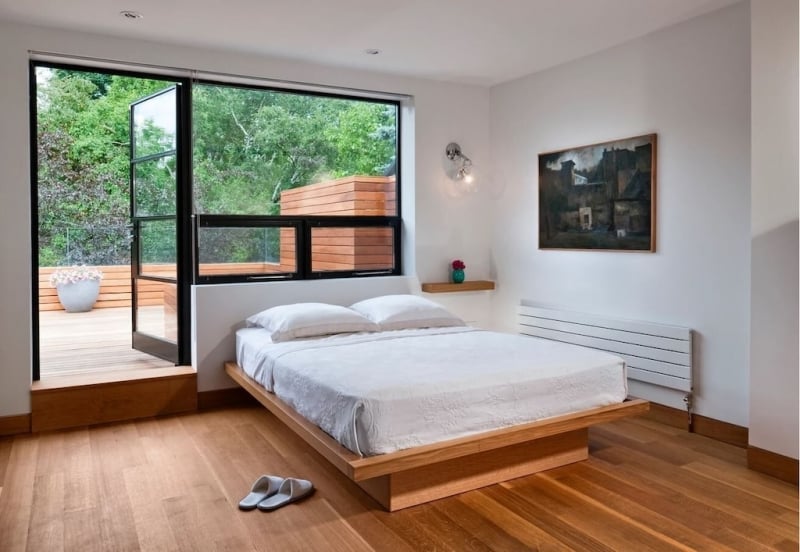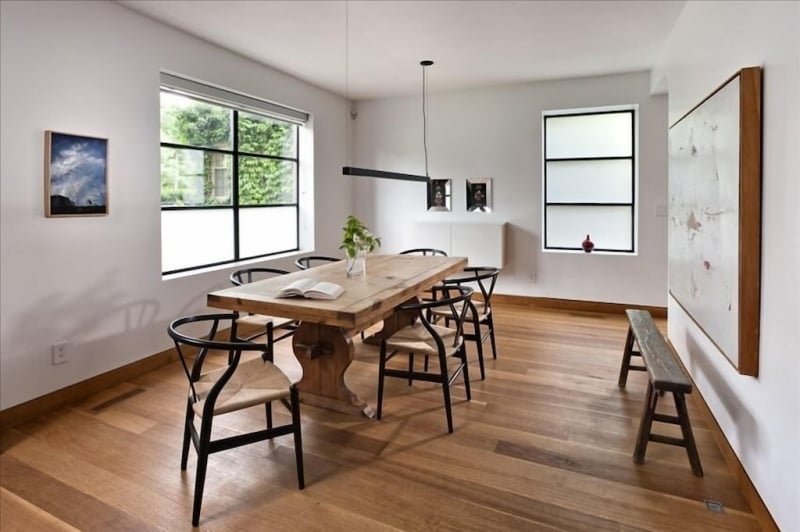 Listing name: Crescent House – Luxury Residence in Rosedale, in the Heart of Toronto
Listing type: Entire house
Max. no. of guests: 6
No. of bedrooms: 4
Indulge in luxurious accommodations and amenities provided by the Crescent House, located in the heart of the city. If you're an enthusiast for all things modern and sophisticated, you'll easily fall in love with this three-story Rosedale residence. Its architecture allows natural sunlight to seep through the home, while offering peace and privacy.
It's the perfect home away from home! And guest reviews agree that the place is everything you imagined it to be and more. Additionally, expect nothing less from the host, as you are guaranteed great hospitality and smooth communication throughout your stay!
2. This penthouse with breathtaking views of the CN Tower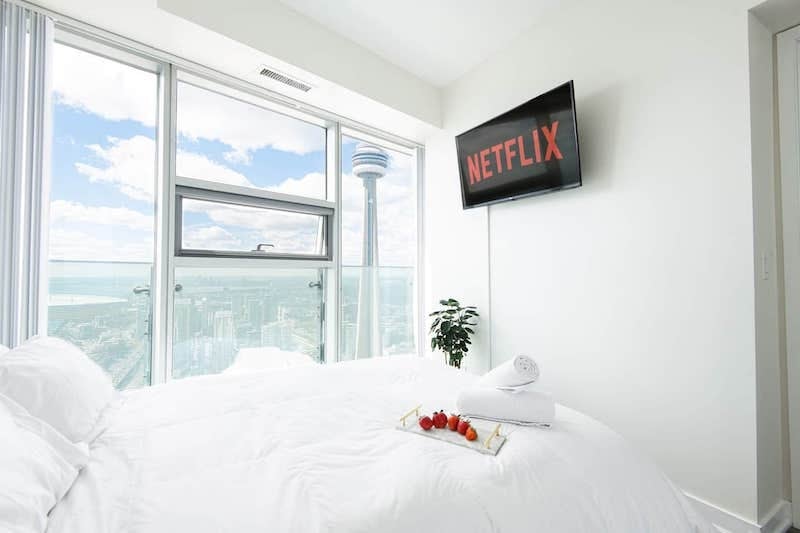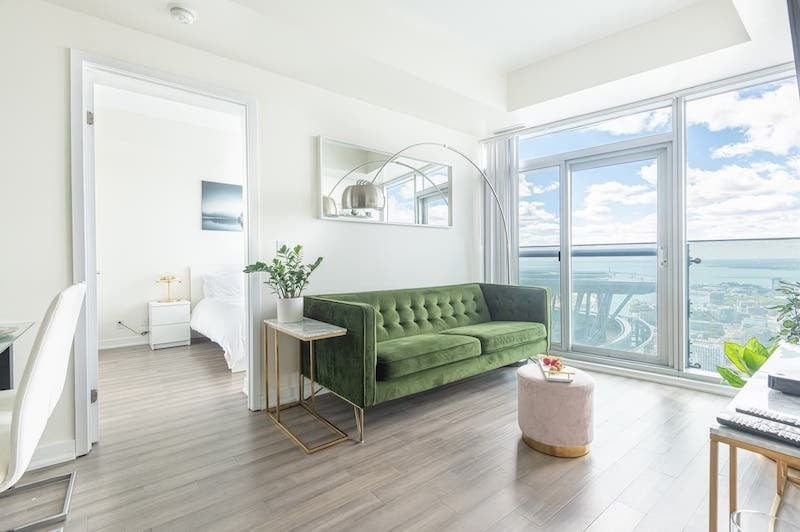 Listing name: Luxurious-Penthouse-CN Tower-Breathtaking Views
Listing type: Entire condominium 
Max. no. of guests: 4
No. of bedrooms: 1
For a fantastic stay in Canada's largest city, your search for the best Airbnb in downtown Toronto begins with this luxurious penthouse. Not only will you wake up to unbeatable views of the iconic CN Tower from your bed, but you're also standing near popular attractions like Union Station, Ripley's Aquarium, Scotiabank Arena, and the Toronto Convention Centre. After a day of sightseeing, come home to an ultra-comfortable sofa and binge-watch your favourite Netflix shows. Might we suggest Schitt's Creek?   
3. This gorgeous abode with art-filled interiors in Queen West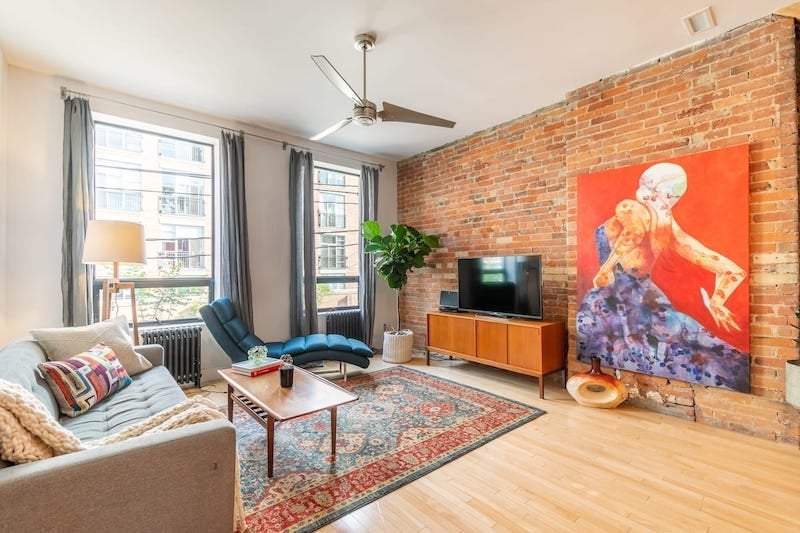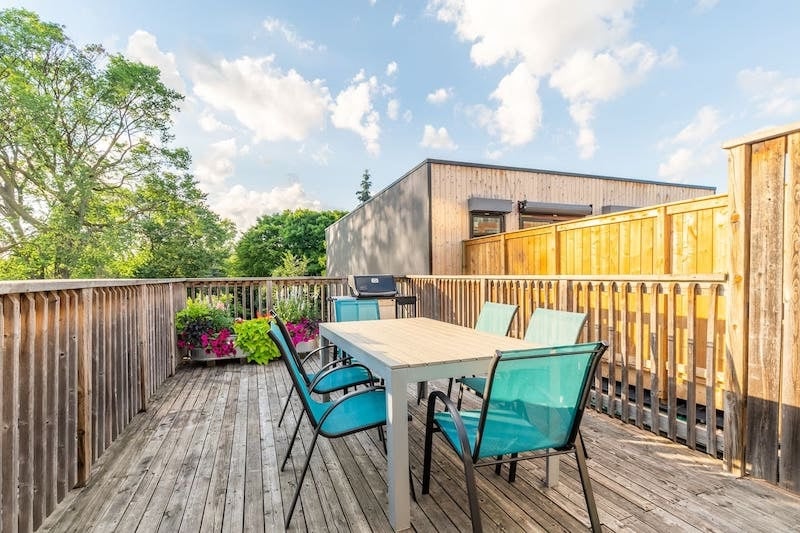 Listing name: Gorgeous Park House on Queen Street West
Listing type: Entire residential home 
Max. no. of guests: 6
No. of bedrooms: 3
Situated in one of Toronto's coolest neighbourhoods, this gorgeous three-bedroom house in Queen West keeps you within easy reach of top-notch restaurants, art galleries, and cafes such as Sam James Coffee Bar and Jimmy's Coffee. Inside, the exposed red-brick walls, mid-century furniture, and paintings match the dynamic vibe of the neighbourhood it belongs to. Best of all, this residential home offers guests the chance to enjoy a barbecue cookout at the rooftop terrace, which overlooks Trinity Bellwoods Park. 
4. This sun-filled loft for a calming escape in the city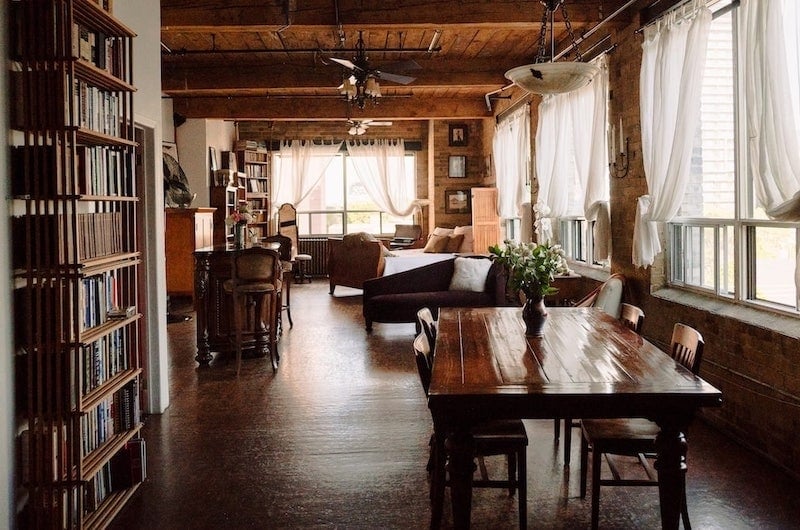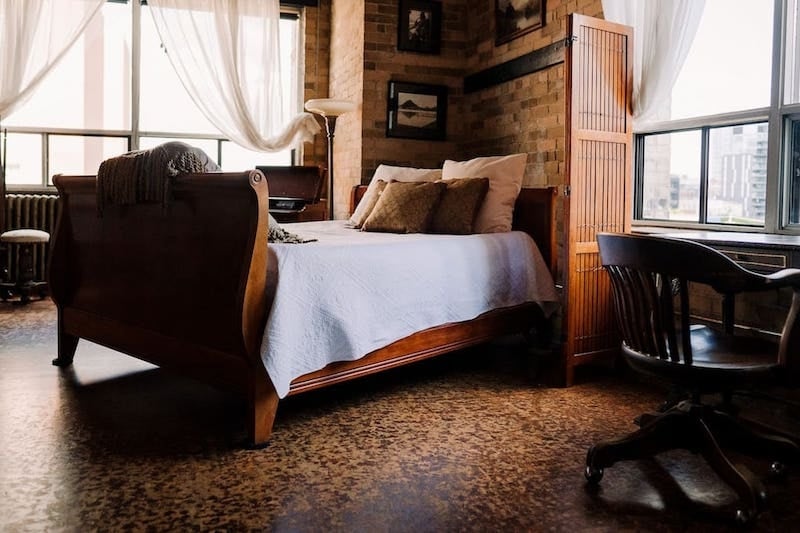 Listing name: Sun Filled Sanity Saver Sanctuary
Listing type: Entire loft 
Max. no. of guests: 2
No. of bedrooms: Studio 
Looking for a hushed escape in Toronto? Whether you're a city dweller or a bibliophile, you can't miss out on this sun-filled loft catering to travellers in need of peace and quiet. Formerly an old shoe factory in World War II, this renovated studio near downtown Toronto has been featured in countless magazines, music videos, and movies for its unique ambience. Inside, the art-filled hallway, Heintzman piano, and towering bookshelves create a moody atmosphere for deep focus and introspection. In other words, it's catnip for creative types. 
Also read: These Cosy Airbnbs With Libraries Are Every Book Lover's Dream
5. This cosy bungalow near the Entertainment District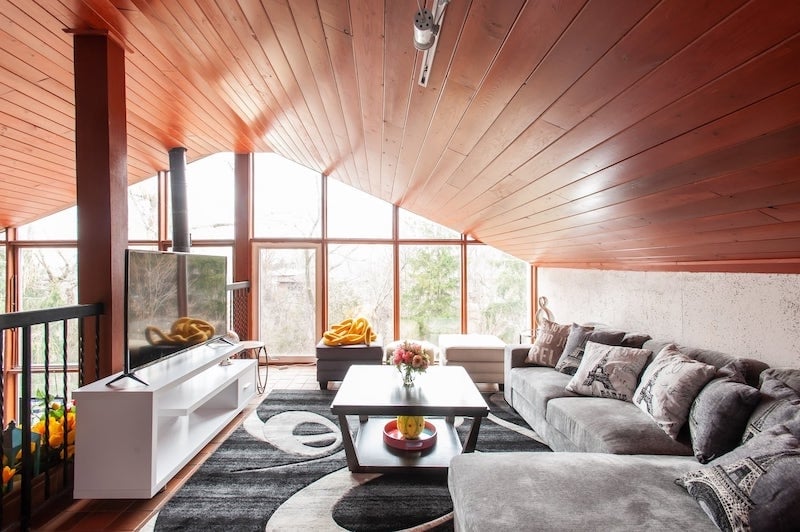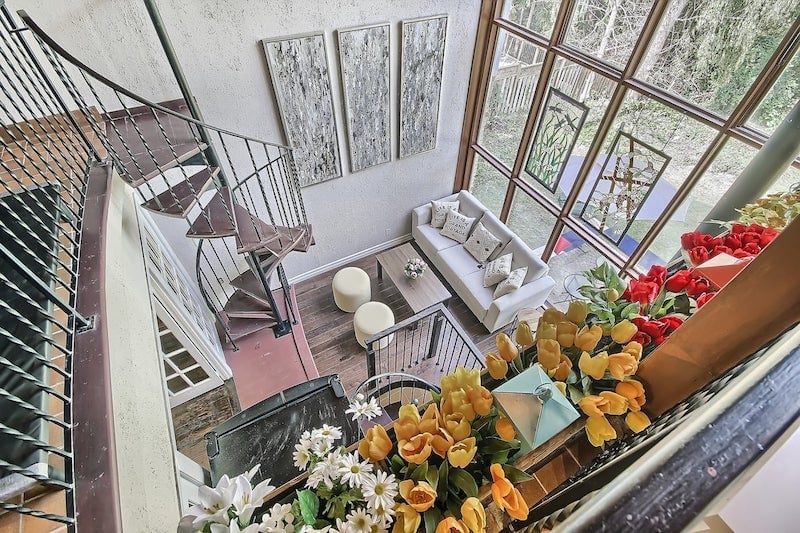 Listing name: Best Home in Toronto city centre
Listing type: Entire bungalow
Max. no. of guests: 12
No. of bedrooms: 8
If you and your travel buddies aren't sure where to stay in Toronto, you won't find a better hideout for group trips than this cosy three-storey bungalow. Approximately a 15-minute drive from the Entertainment District, this well-appointed home feels like a luxurious cabin with its high ceilings, indoor fireplaces, and eight bedrooms that fit up to 12 guests. 
Help yourself to the complimentary coffee in the kitchen, or look out to stunning ravine views from the backyard. Rest assured this bungalow offers plenty of space for you to stretch your legs and roam, whether you're visiting Toronto with family or a couple of friends. 
6. This well-lit industrial loft in the heart of downtown Toronto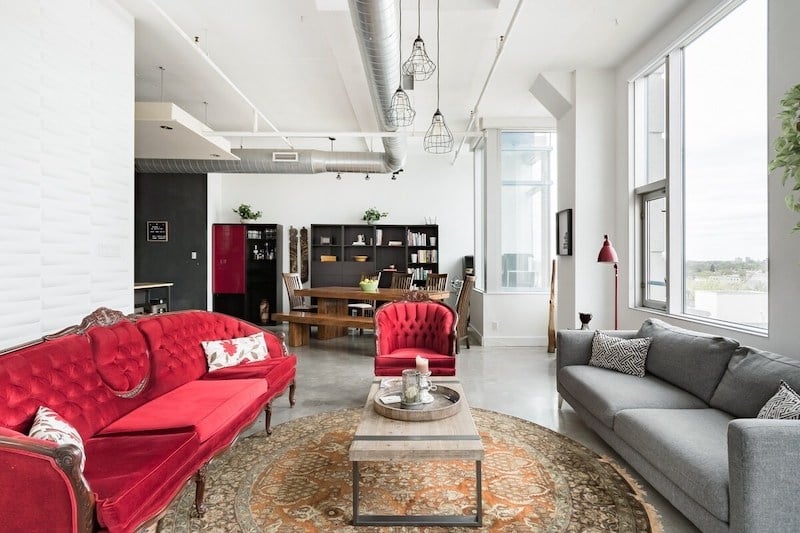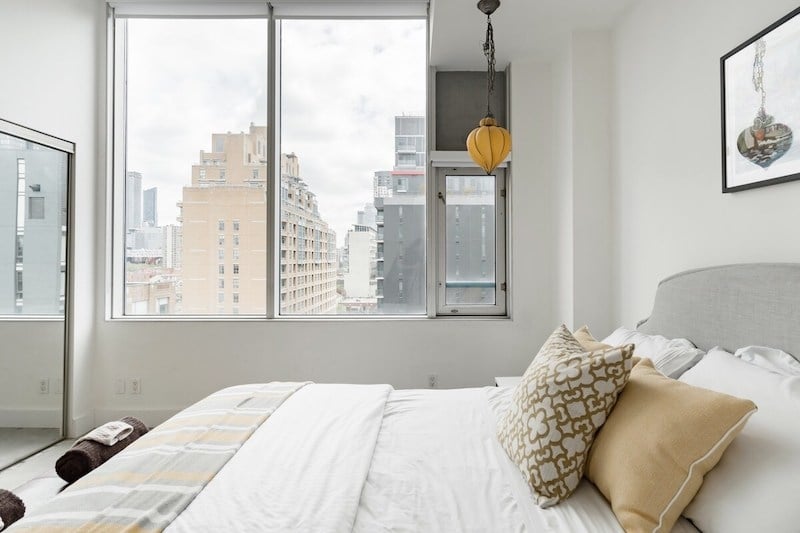 Listing name: Panoramic Views in Huge Loft with Two Bedrooms and Parking
Listing type: Entire loft
Max. no. of guests: 4
No. of bedrooms: 2
When it comes to thrilling adventures in the city, choosing an Airbnb in downtown Toronto is a must. Luckily, this well-lit industrial loft with striking interiors sits right where the action is. The two-bedroom loft comes with a well-stocked kitchen and large windows with views of Toronto's skyline.
Grey concrete walls lend the space an industrial vibe, while colourful furnishings like the vibrant red French sofa can be found in the living room. Factor in the free parking space on the premises, and everything you need for a good time in the city is right here. 
7. This industrial chic condominium in the heart of Downtown Toronto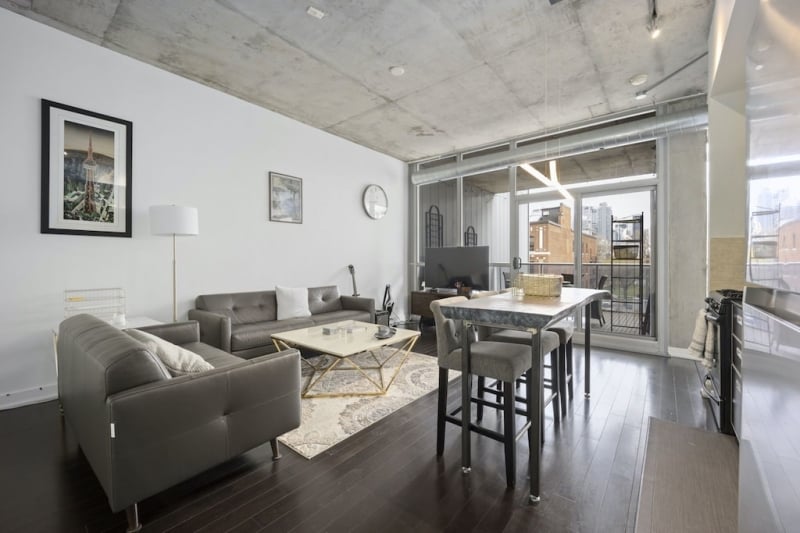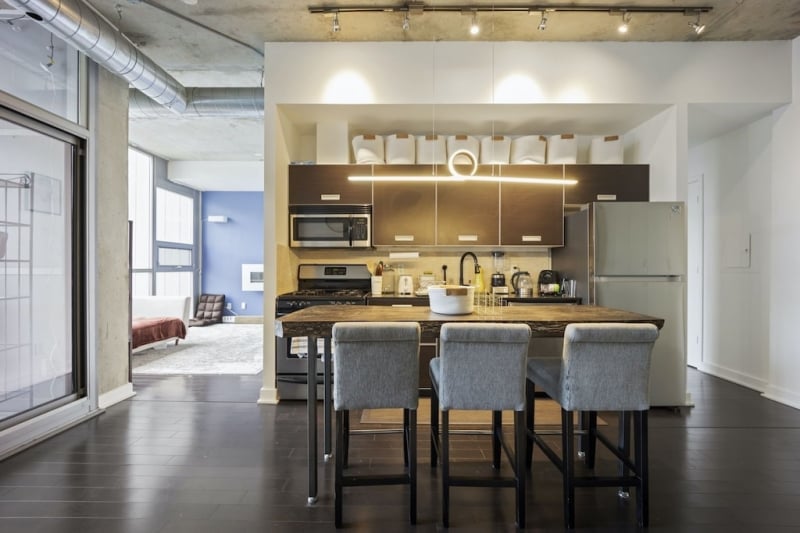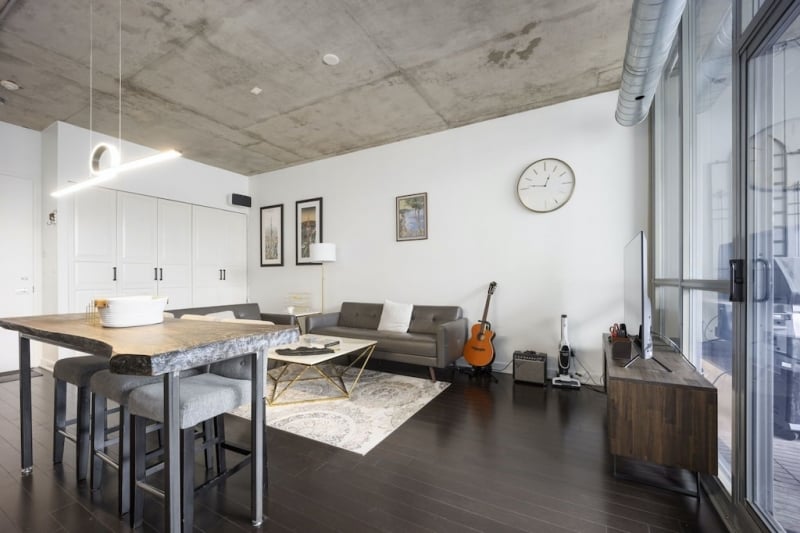 Listing name: Industrial style 1 BR + den in the Heart of DWTN!!
Listing type: Entire condo
Max. no. of guests: 3
No. of bedrooms: 1

Live in style with this downtown Toronto condominium designed in industrial chic fashion. Explore one of the best neighbourhoods in the city, where endless things to do, and exciting activities await you. Here, you'll get a taste of major tourist attractions, great food places, top shopping centres, and the best nightlife spots. 
This small scale home has all the essentials you need for an exceptional staycation or getaway experience. Moreover, you can even level up the space's atmosphere and switch up the vibe with extra home inclusions. Equipped with the Alexa Smart Home and Sonos wireless speaker system, the condo boasts of tech-savviness.
8. This rustic tiny house in Leslieville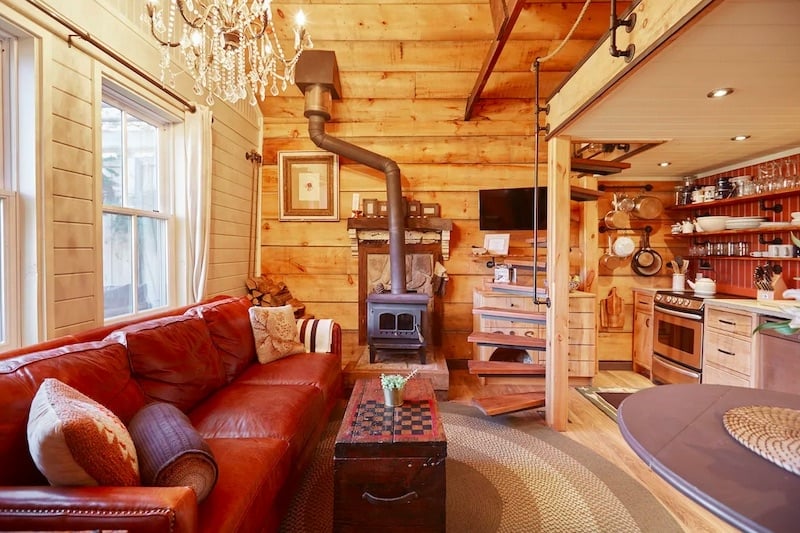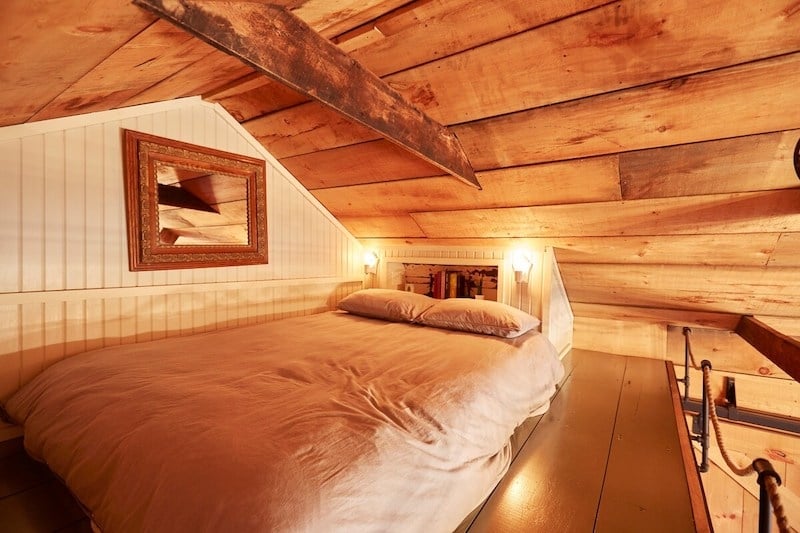 Listing name: The Coach House W Parking A Unique City Cabin Experience
Listing type: Tiny house
Max. no. of guests: 2
No. of bedrooms: 1
Adventurous travellers will love this secluded, custom-designed tiny house that feels just like a cabin in the woods. From the rustic design touches to the well-stocked pantry, everything is set for a memorable country-inspired stay in Toronto. Travelling for the winter? This Airbnb in Toronto has heated floors and an indoor fireplace to keep you warm, too.
Warmer days call for happy hour at the outdoor lounge, but don't forget to venture beyond the house and explore the streets of Leslieville as well. Known as "Hipsterville East," this young and hip neighbourhood holds many exciting options for world-class dining, nightlife, and shopping. 
9. This Instagrammable plant-filled paradise for a fun trip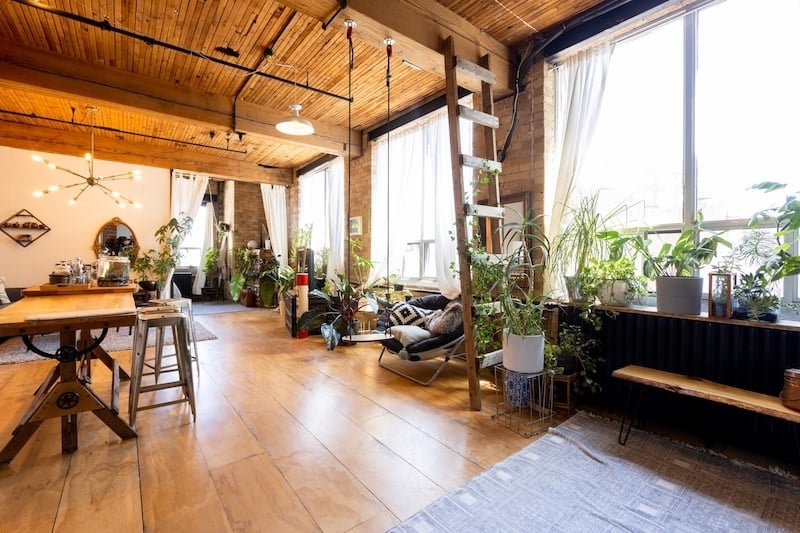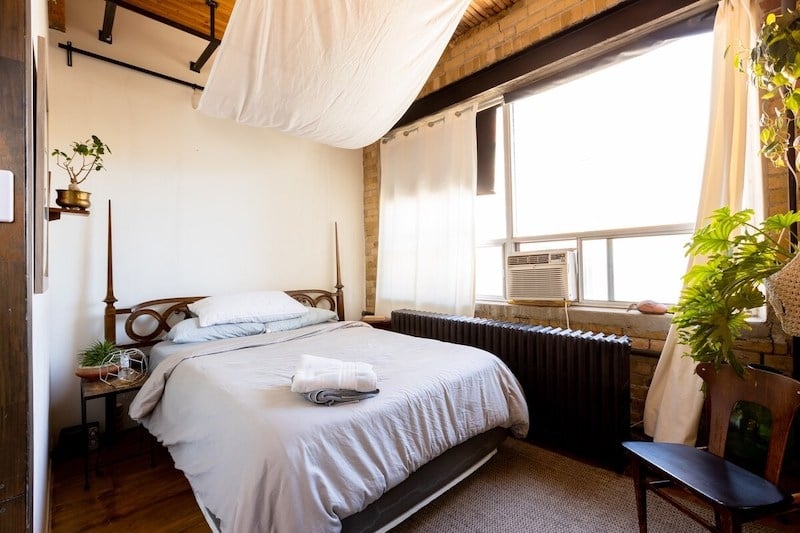 Listing name: LOFT: Plant Paradise, Sunny Loft Studio Apartment!
Listing type: Entire home
Max. no. of guests: 4
No. of bedrooms: 1
If this tropical boho loft isn't Instagram-worthy, we don't know what is. Wooden floors and ceilings, vintage chairs, and over 70 succulents and indoor plants adorn this home. Meanwhile, the indoor swing adds a sweet touch.
Housed in a century-old building, this Airbnb in Toronto is an earthy, cosy space embellished with heirloom pieces, creating a suitable environment for vacationing with friends. It doesn't hurt that it's close to the Eaton Centre, St. Lawrence Market, and the Distillery District either.
10. This elegant house with a sunny terrace for large groups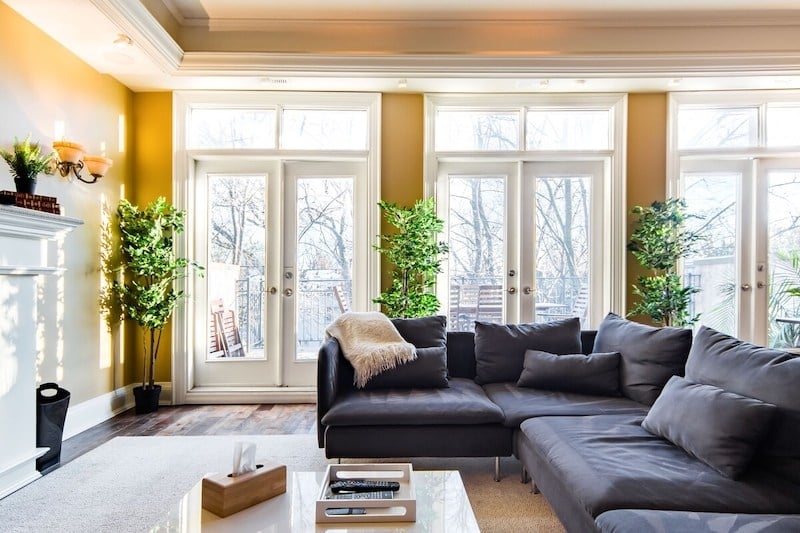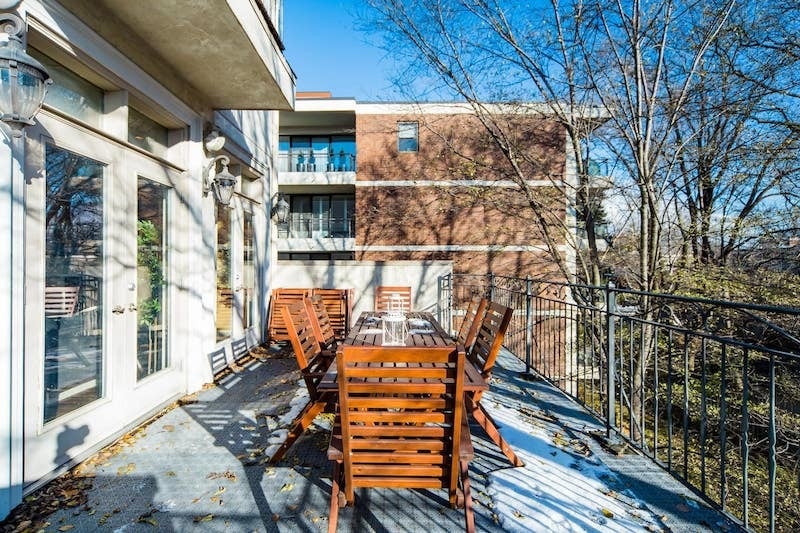 Listing name: Overlooking Forest Hill Trees in Huge Family House
Listing type: Entire house
Max. no. of guests: 12
No. of bedrooms: 3
Does your idea of a family getaway involve staying in a classy period home in an upscale neighbourhood? If so, then you should book a stay in this beautiful Airbnb in Toronto. Located in the high-end neighbourhood of Forest Hill, this huge property has not just one, but two spacious living rooms with their own fireplaces. There's more than enough room for the whole family in this three-bedroom residence, which has plenty of beds of varying sizes. 
11. This contemporary one-bedroom apartment near Little India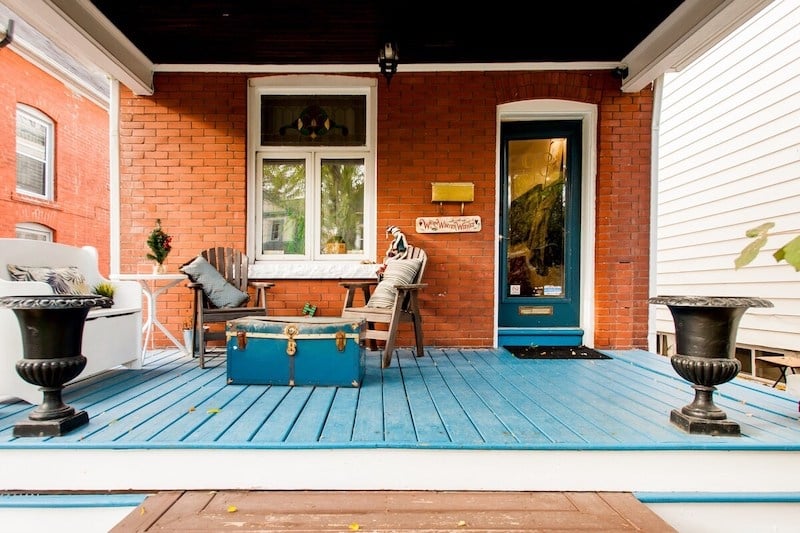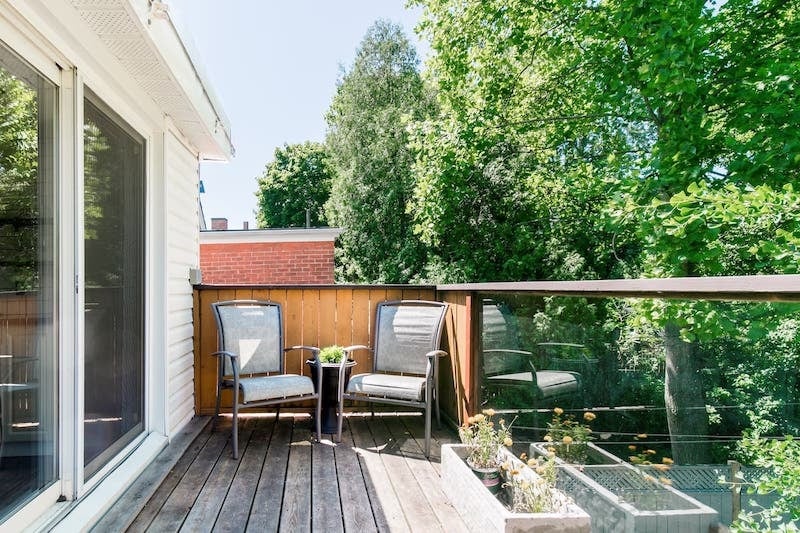 Listing name: Sun-Drenched Suite Close to Little India
Listing type: Entire apartment
Max. no. of guests: 5
No. of bedrooms: 1
For a pleasant stay and some Vitamin D, bookmark this welcoming one-bedroom apartment in the Greenwood-Coxwell neighbourhood. Bask in the natural light shining through the sliding glass doors or enjoy the open-plan living space, which features eye-catching artworks and lovely period touches. The front and backyard patios are ideal for relaxation, too. Alternatively, pay a visit to Little India, where the food itself is an experience. 
12. This spacious home for your family retreat in Riverdale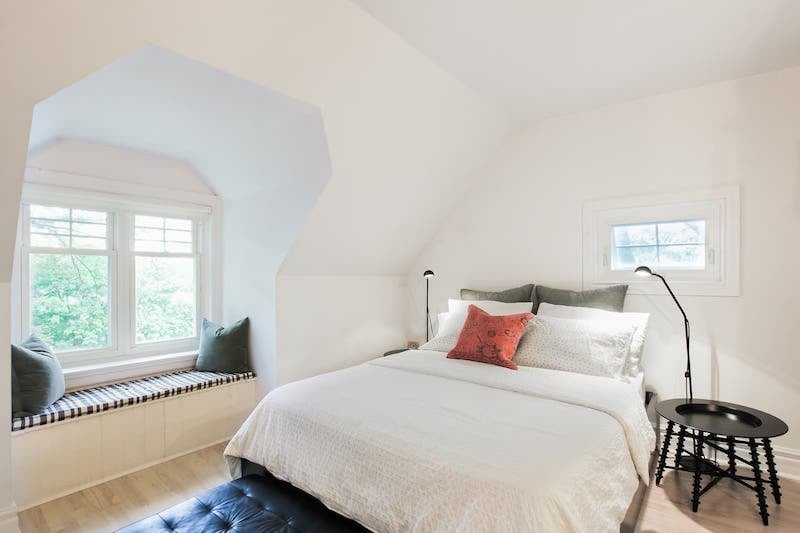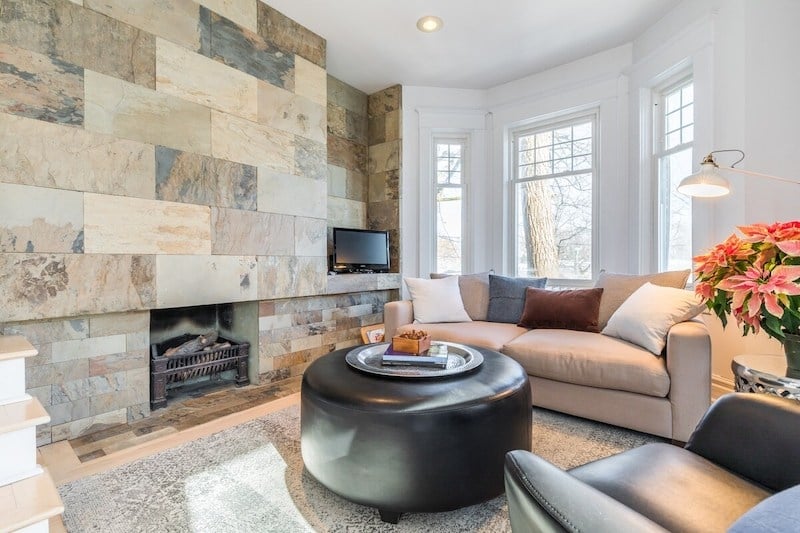 Listing name: Sunny Family Retreat on Withrow Park
Listing type: Entire house
Max. no. of guests: 6
No. of bedrooms: 4
If you're into colourful shopping districts, quaint Victorian homes, and large green spaces, this family-friendly home facing Withrow Park in Riverdale is for you. Here, you can enjoy everything Toronto can offer, with the option of escaping the hustle and bustle of big city life. 
This spacious house boasts four bedrooms that are full of character, plus a living room with a fireplace and huge windows that let the sunshine in. Moreover, it has a study with beautiful views of the park, a soaking tub, and an outdoor lounge with a BBQ grill, perfect for your family holiday. Do note, however, that this Airbnb in Toronto requires you to stay for at least two months. 
13. This private room inside an Edwardian house for solo travellers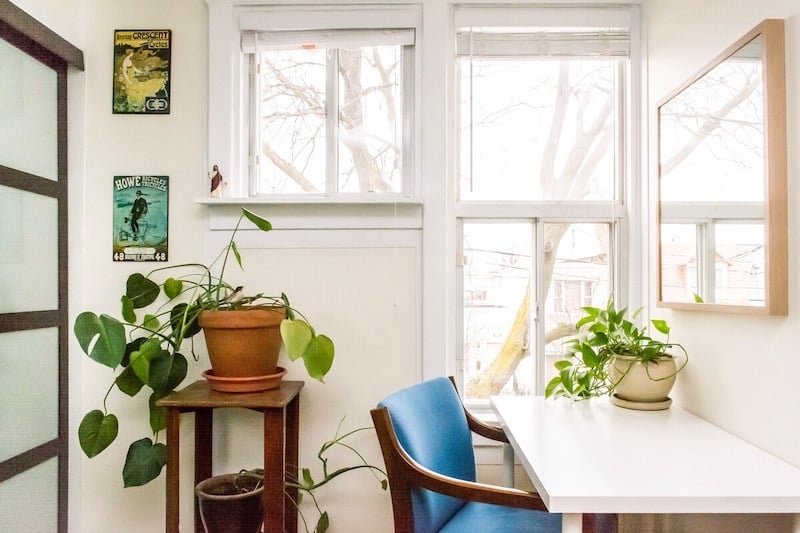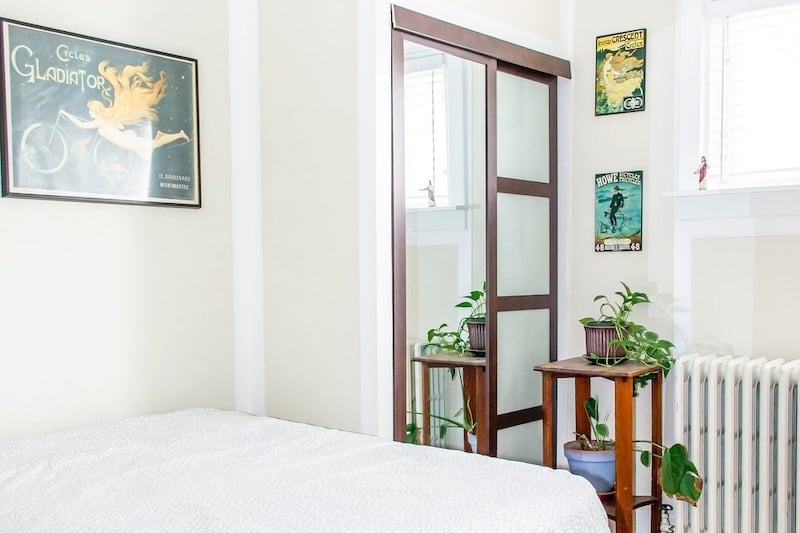 Listing name: Large bright private Bloordale room w/queen bed
Listing type: Private room in townhouse
Max. no. of guests: 2
No. of bedrooms: 1
If you like light and airy spaces, this large private room inside a classic Edwardian house in Bloordale should do the trick.  It's in the heart of Little Portugal and is only a short walk from the coolest restaurants, pubs, galleries, shops, and parks. 
There's a large closet with a full-length mirror to store your luggage and clothes, as well as a wooden dresser with clean towels. With the queen bed and pillows made of organic cotton, you can enjoy a restful sleep each night.
14. This quirky basement apartment for exploring High Park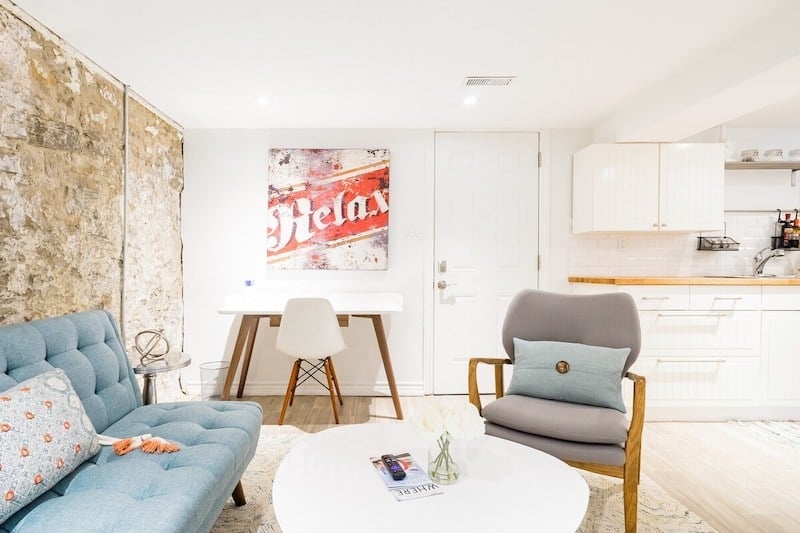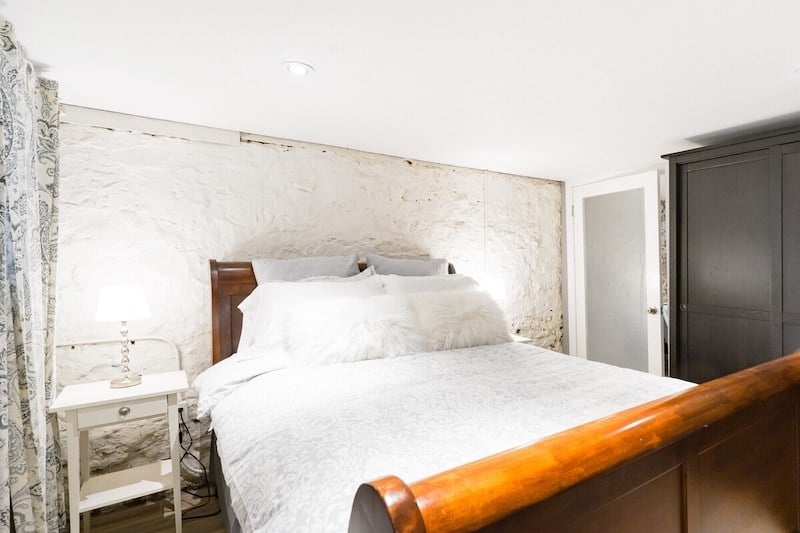 Listing name: Explore Sprawling High Park at a Rustic, Cozy Getaway
Listing type: Entire house
Max. no. of guests: 4
No. of bedrooms: 1
Feel like spending a slow weekend in one of Toronto's biggest public parks? Stay in this inviting basement apartment and gain access to the green neighbourhood of High Park. With a whitewashed stone wall and a sky-blue sofa bed, this home expertly combines rustic touches with contemporary flair and pops of colour. Overall, it's a great base for exploring High Park's winding streets, which are lined with trees and stately Victorian, Edwardian, and Tudor-style houses.
15. This brick townhouse with an outdoor fireplace in The Junction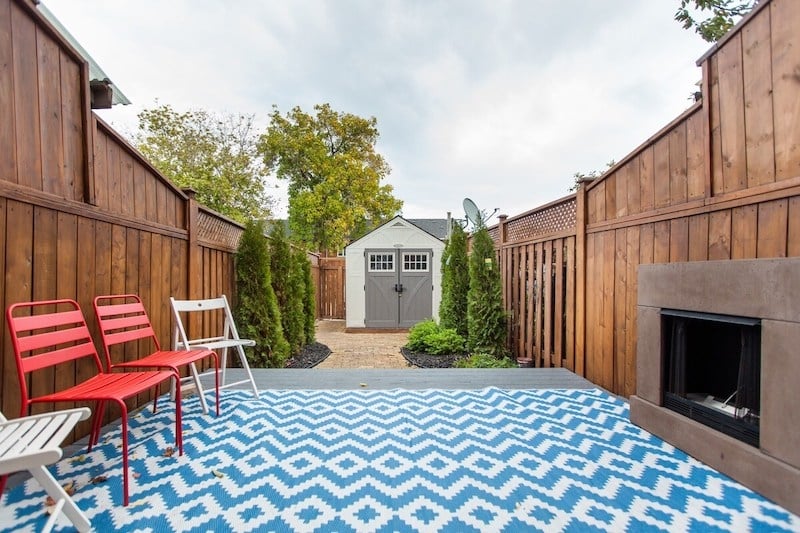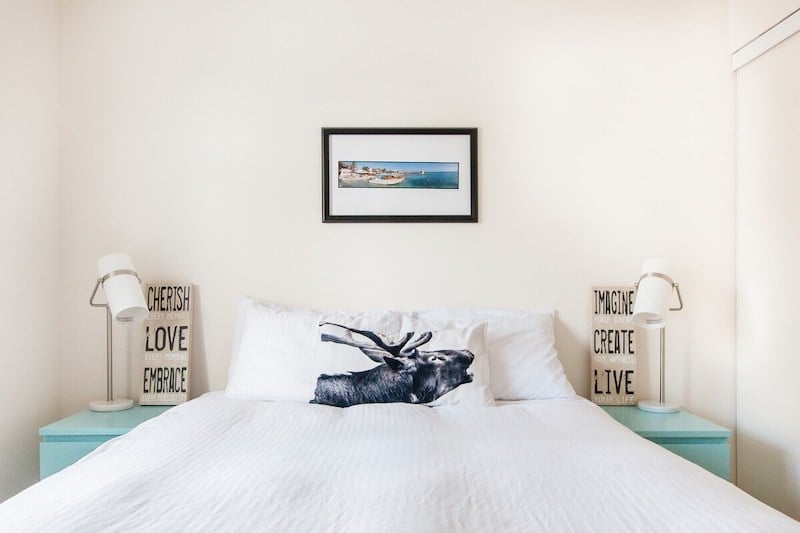 Listing name: Updated Townhouse with Outdoor Fireplace
Listing type: Entire townhouse
Max. no. of guests: 8
No. of bedrooms: 3
Exploring the 150-year-old district of The Junction will introduce you to art galleries, restaurants, cafes, antique shops, and other exciting haunts. To enjoy all of these, stay in this redesigned brick townhouse in one of Toronto's liveliest neighbourhoods.
With chic furnishings and décor, this Airbnb in Toronto makes the ideal home for your family or group of friends. Lean back and chill on the grey couch as you listen to tunes from the portable record player; or better yet, sip an ice-cold beer while enjoying a peaceful evening in the backyard with a fireplace.
16. This dreamy four-bedroom home with a private pool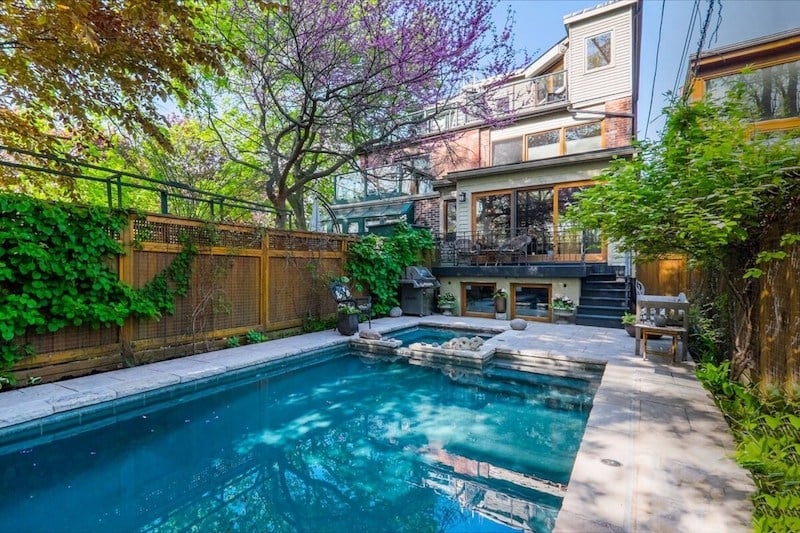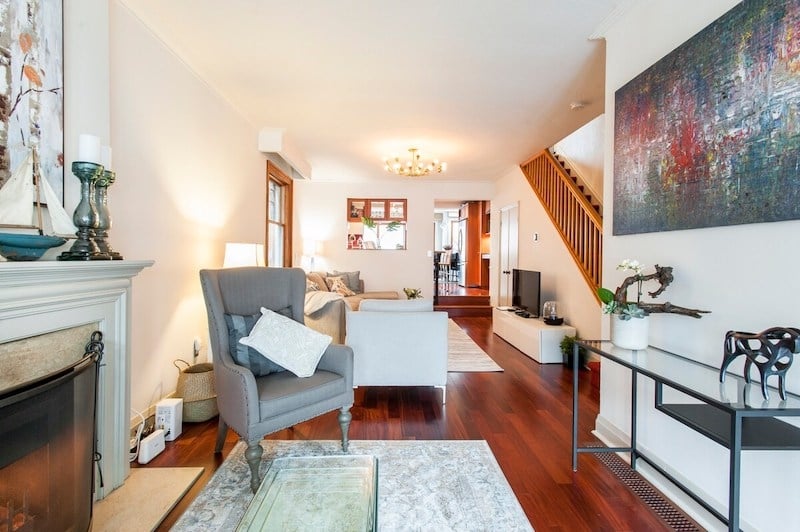 Listing name: Spectacular Home, on Beach, Year Round Open Private Pool
Listing type: Entire house
Max. no. of guests: 7
No. of bedrooms: 4
There's so much to love about this dreamy vacation house along The Beaches. It has four huge bedrooms with views of the park and beach; not to mention a spacious living room with a fireplace and Netflix for de-stressing. It also comes with a family room, a large dining room, and a fully equipped kitchen. But the best thing about this Airbnb in Toronto is that it has a private pool. Anytime you feel like having a pool party with your friends, you're more than welcome to!
17. This charming beach house with a gorgeous view of Lake Ontario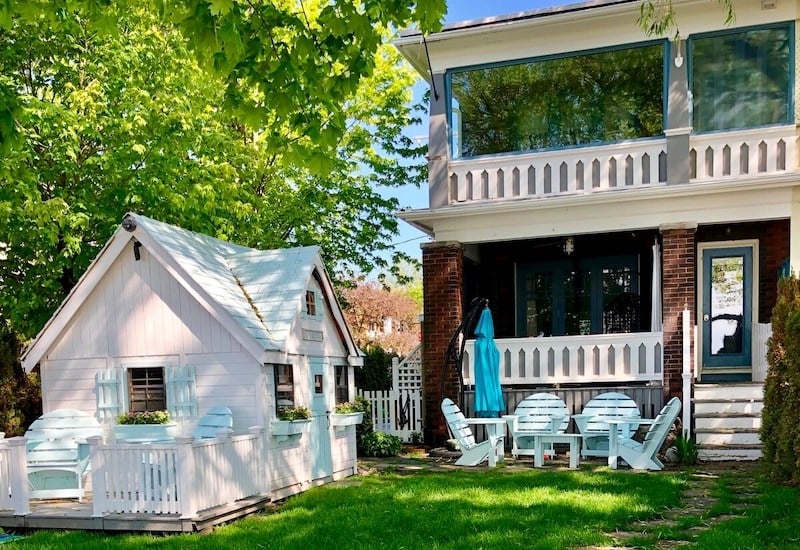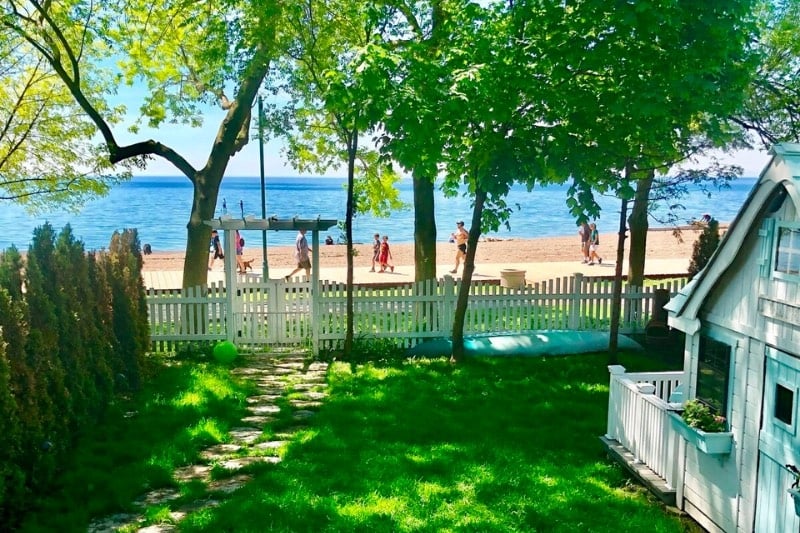 Listing name: Lakefront Beach House in the City
Listing type: Entire house
Max. no. of guests: 10
No. of bedrooms: 4 
If it's a carefree family vacation that you're searching for, then consider this stunning beach house with views of Lake Ontario. Considered one of the best Airbnb rentals in Toronto, this four-bedroom home offers private beach access, free street parking, a nursery, two kitchens, and a barbecue grill.
Kids can have fun at the life-size two-storey playhouse, while the adults can enjoy kayaking or paddle-boarding at the lake. Beach inflatables and beach chairs are also available. Don't forget to catch the lovely sunset from the patio — trust us, your family will thank you for it. 
18. This centrally located cosy apartment tucked in Western Toronto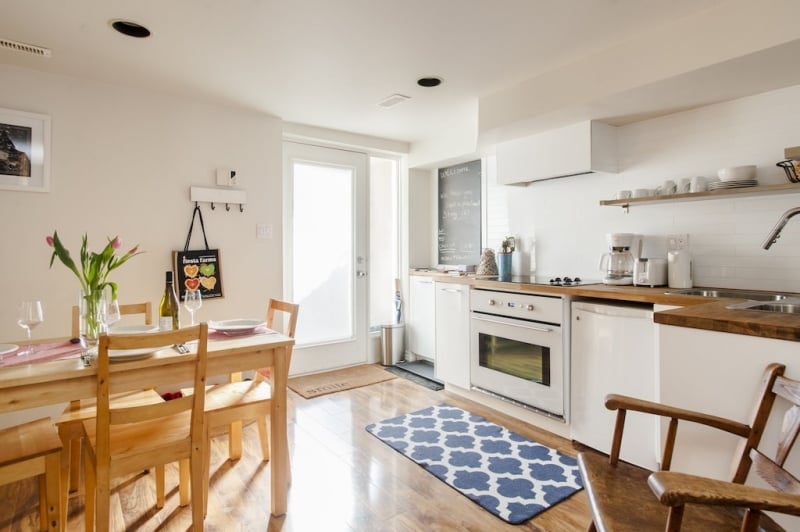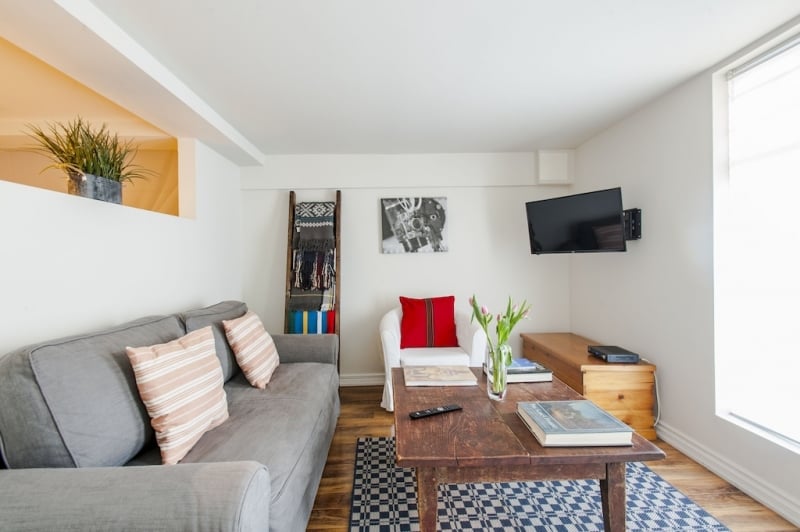 Listing name: Modern, Cozy Apt in detached House in Walkable Downtown Neighborhood
Listing type: Entire apartment
Max. no. of guests: 4
No. of bedrooms: 1
This adorable home is centrally located in a quiet residential area, giving you access to everything you need during your stay. From Toronto's coffee shops and restaurants to museums and parks, city life must-haves are just a few steps away. Not to mention, public transportation is just nearby and easy to navigate! 
When you're all good to settle down after your adventures in the city, you can come home to this clean and comfortable space. It is well-equipped with modern and functional furniture, allowing for a welcoming atmosphere. That being said, it's quite an ideal resting place for solo travellers, couples, and small families staying in Toronto. 
Also read: 16 Best Beach Houses to Book on Airbnb, From California to Hawaii
No longer will you have to wonder about where to stay in Toronto — not when you have these glamorous vacation homes on Airbnb to choose from. Between the magnificent sights and multicultural neighbourhoods, there are so many experiences to savour in this Canadian megacity. Be sure to bookmark these rentals for your next trip!
Got a property you'd like TripZilla to feature? Inquire with us here.