One of the most culturally diverse cities in the world,  Toronto is a melting pot of different languages, food, and traditions. You won't run out of things to discover in Canada's largest city, which boasts more than one Chinatown, a Little India, a Greek Town, a Koreatown, and a Little Italy. It doesn't hurt that the locals are super friendly, too!
Thinking of going on a trip with your friends or family someday? We've got you covered. Whether you're a curious creative, a foodie, a history buff, or an urban adventurer, there's something for you in Toronto. From the sun-filled lofts in downtown Toronto to the charming houses near the idyllic beaches of Lake Ontario, these Airbnb homes in Toronto will help you make the most out of your stay in this pulsing metropolis. 
Also read: How and Why This Backpacker Travelled to Canada From Singapore Without Flying
Top Airbnb homes in Toronto for your urban getaway
1. This well-lit industrial loft with panoramic views of downtown Toronto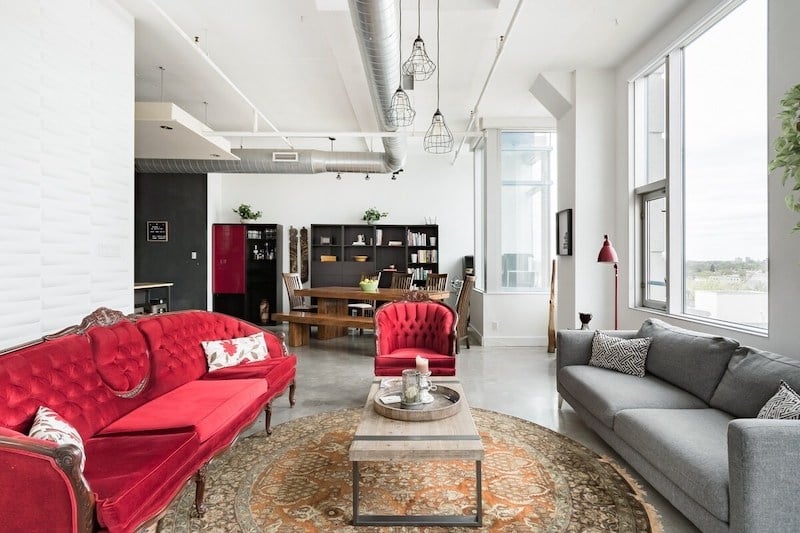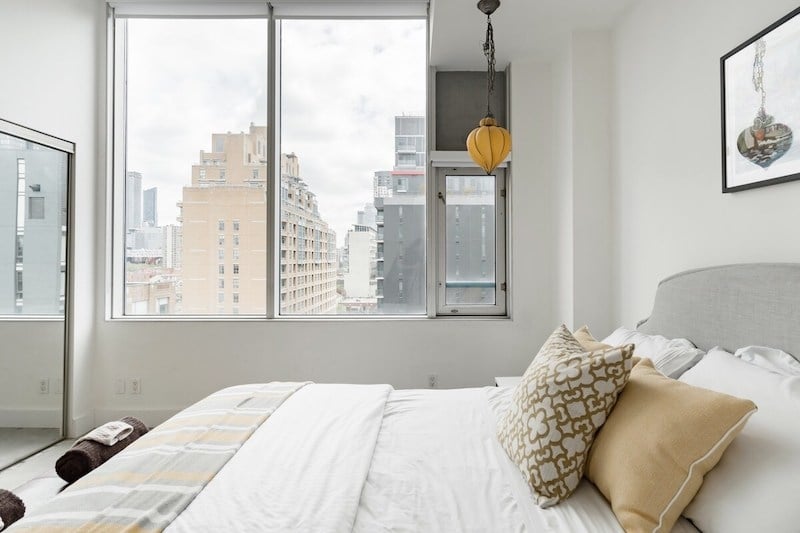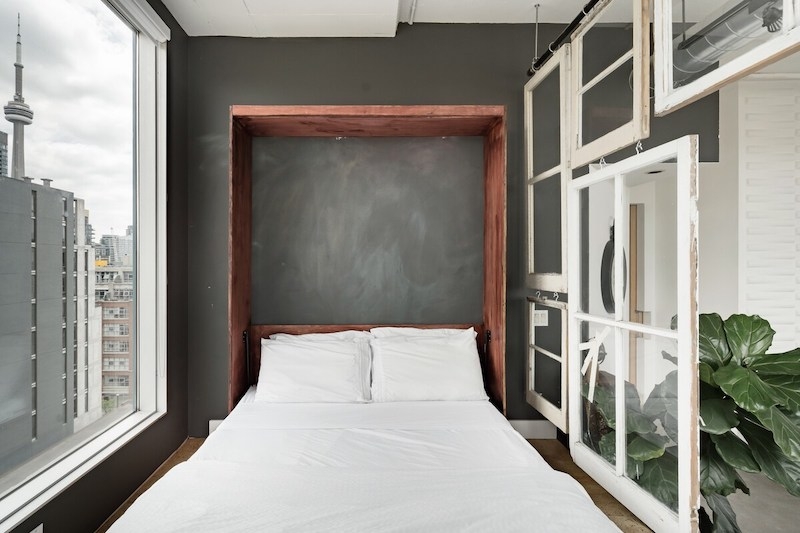 Listing name: Panoramic Views in Huge Loft with Two Bedrooms and Parking
Listing type: Entire loft
Max. no. of guests: 4
No. of bedrooms: 2
Home to skyscrapers, restaurants, a buzzing nightlife scene, and plenty of attractions for a thrilling urban escape, downtown Toronto is not to be missed when visiting Ontario's capital. And within the city's beating heart is this lovely, spacious apartment with striking interiors. 
Exposed ductwork and grey concrete walls lend the space an industrial vibe, while colourful furnishings like the vibrant red French colonial sofa stand out in the living room. Fit for a group of four, this Airbnb in Toronto comes with a well-stocked kitchen and two bedrooms with large picture windows offering downtown views. Why don't you brew yourself a cup of coffee with the espresso machine before starting your Toronto adventure?
2. This elegant house with a sunny terrace for large groups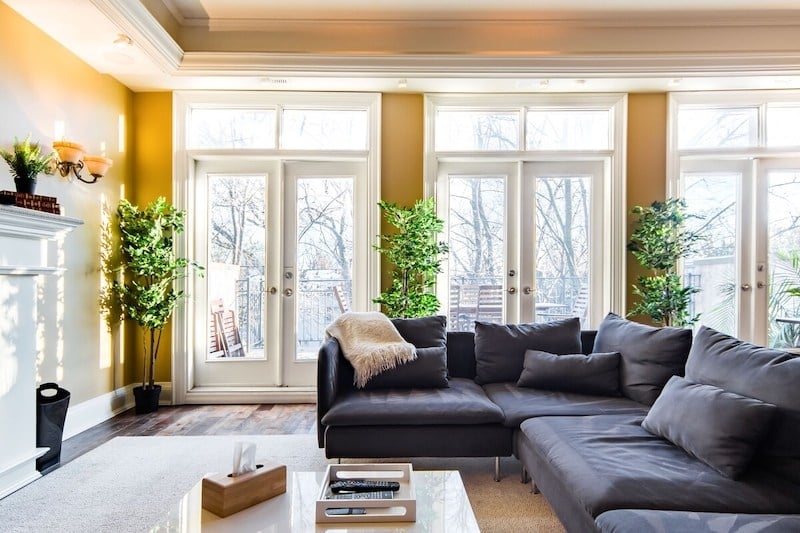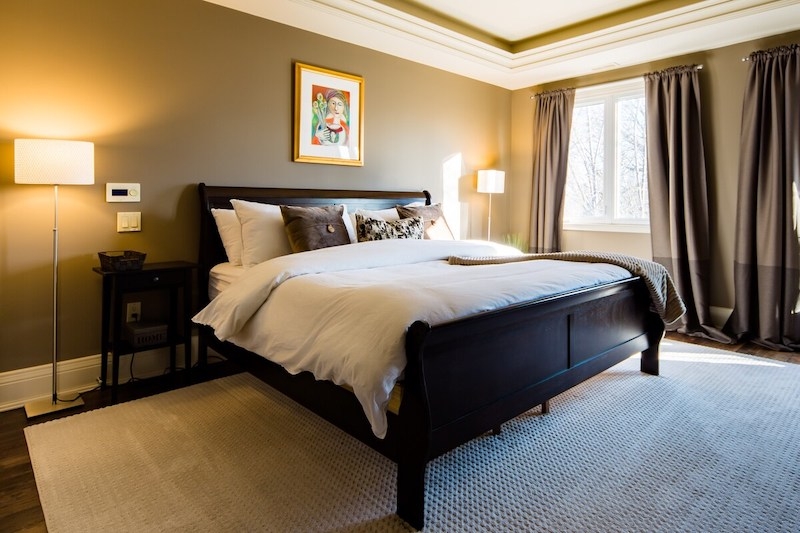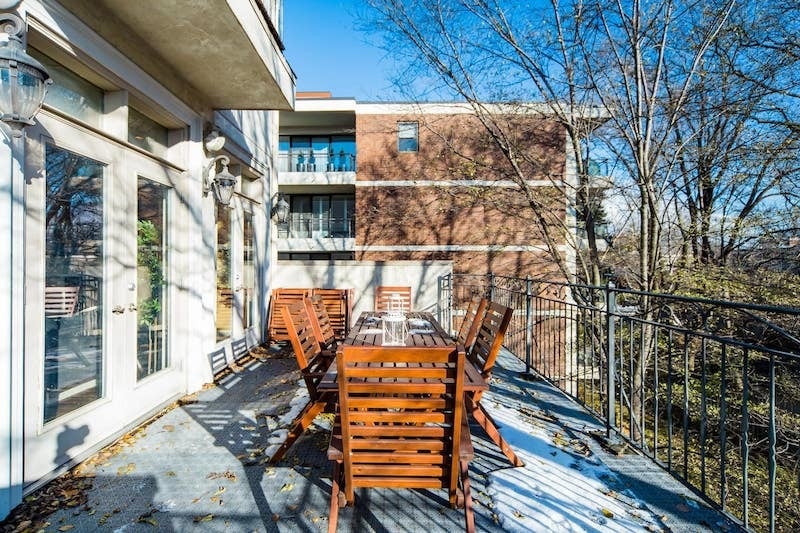 Listing name: Overlooking Forest Hill Trees in Huge Family House
Listing type: Entire house
Max. no. of guests: 12
No. of bedrooms: 3
Does your idea of a family getaway involve staying in a classy period home in an upscale neighbourhood? If so, then you should book a stay in this beautiful Airbnb in Toronto. Located in the high-end neighbourhood of Forest Hill, this huge property has not just one, but two spacious living rooms with their own fireplaces.
With plenty of beds of varying sizes, there's room for the whole family in this three-bedroom home. When you're in the mood for al fresco dining, make your way to the outdoor tables and seats in the backyard and the terrace. This urban oasis is available for medium and long-term bookings.
3. This Instagrammable mid-century apartment for the hip traveller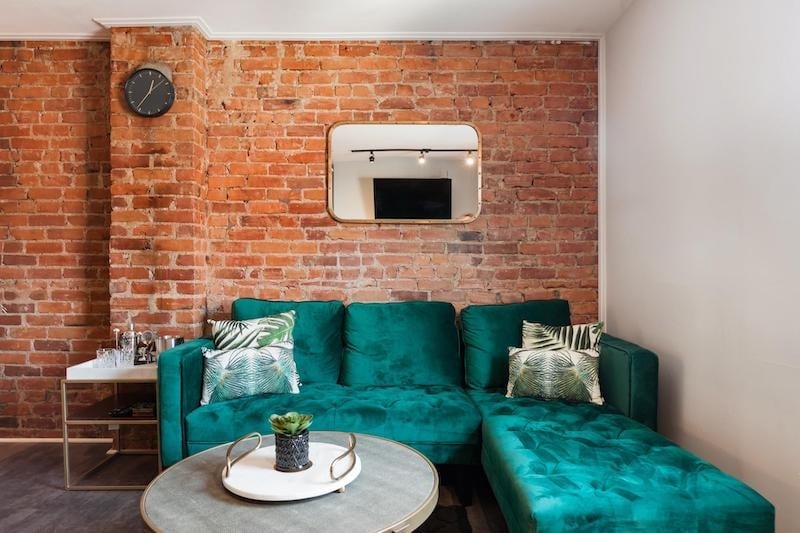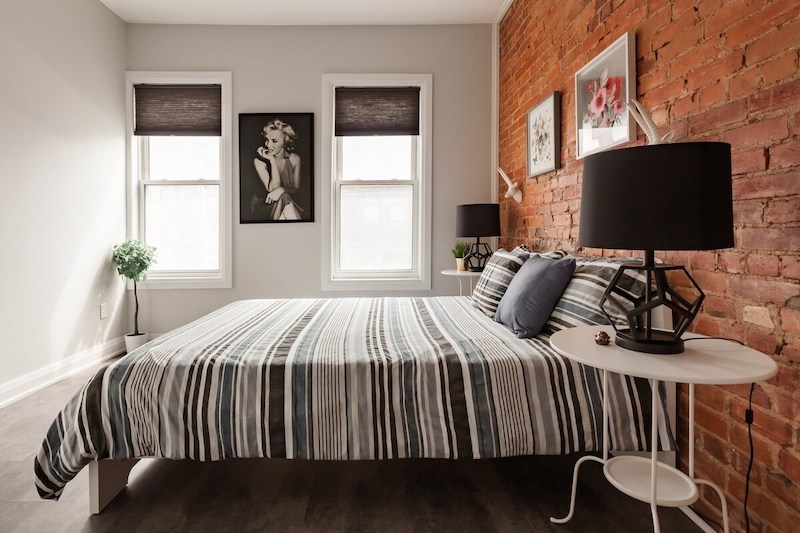 Listing name: Mid-Century Modern Queen Street West Apartment
Listing type: Entire apartment
Max. no. of guests: 6
No. of bedrooms: 3
Industrial design meets modern style in this stylish mid-century home. Exposed brick walls, triptych art, and the green chaise lounge are all perfect for the 'gram. It comes with three clean and comfy bedrooms, promising a good night's sleep for up to six guests. The kitchen is well-equipped, and there's also a study if you wish to squeeze in a little bit of work in between sightseeing. Conveniently located along Queen Street West, this apartment lets you access hip cafés, boutiques, and a great variety of restaurants nearby. After a tiring day, you can unwind in the soaking tub.
4. This rustic cabin for a cosy stay in Leslieville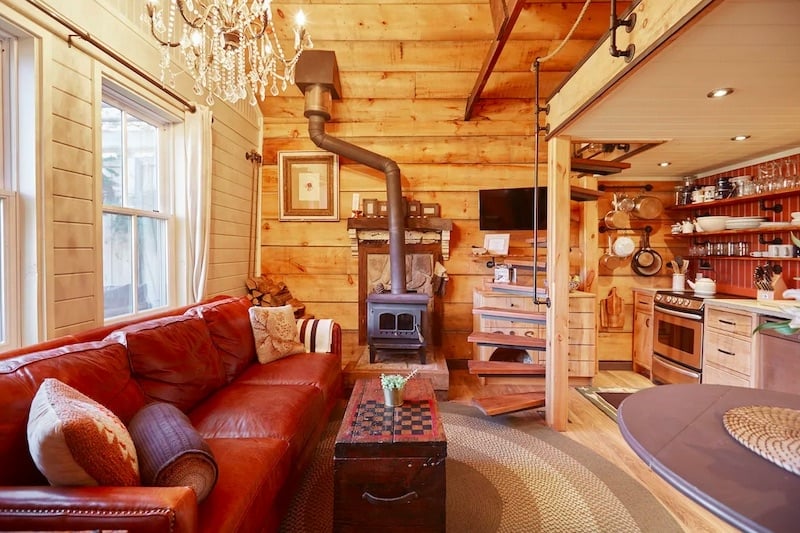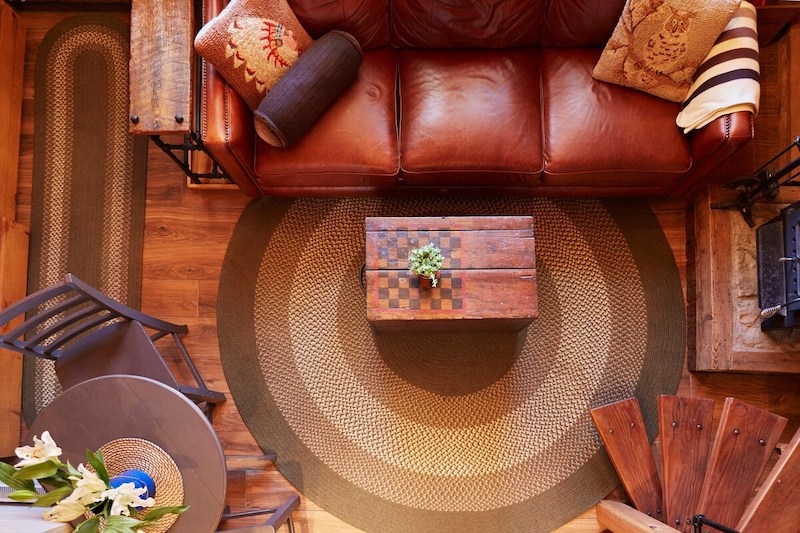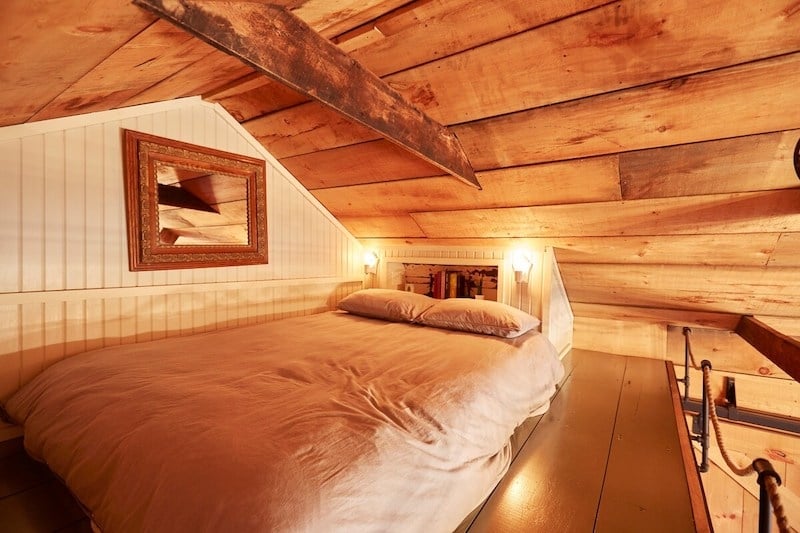 Listing name: The Coach House W Parking A Unique City Cabin Experience
Listing type: Tiny house
Max. no. of guests: 2
No. of bedrooms: 1
Travellers looking for an escape in the city will love this secluded, custom-designed space that feels like a cabin in the woods. From the rustic wooden touches and the comfy couch to the well-stocked pantry, everything is set for a memorable country-inspired experience.
Staying for the winter? This Airbnb in Toronto has heated floors to keep you warm. Plus, you can cosy up with a glass of wine by the indoor fireplace. Summer calls for happy hour at the outdoor lounge, but don't forget to leave this house and explore the streets of Leslieville. Known as "Hipsterville East,"  the young and hip neighbourhood outside your doorstep has exciting options for dining, nightlife, and shopping! 
5. This glamorous and spacious urban home for your family retreat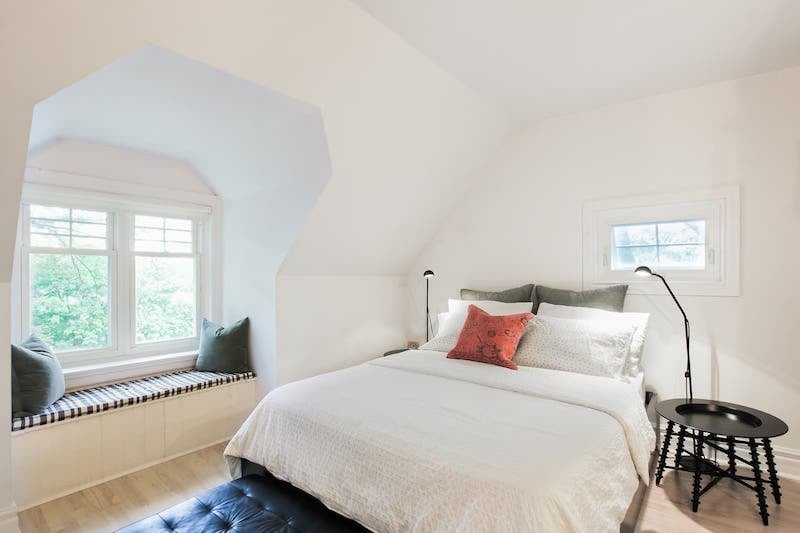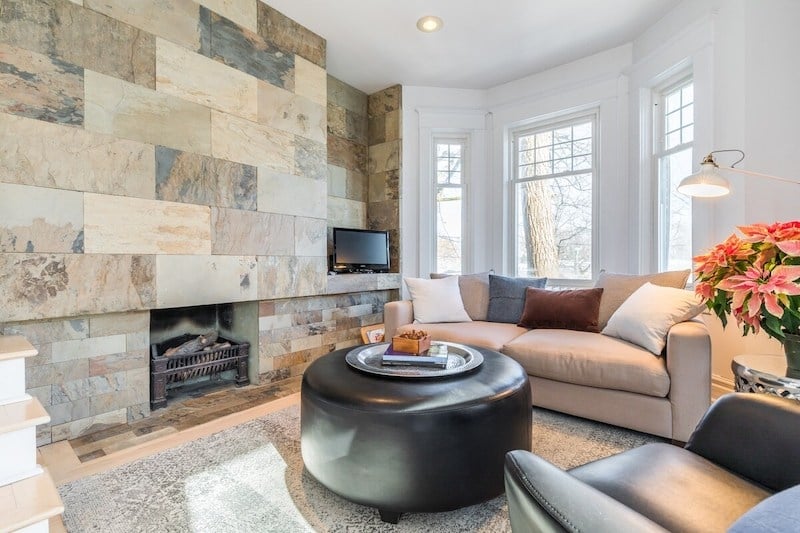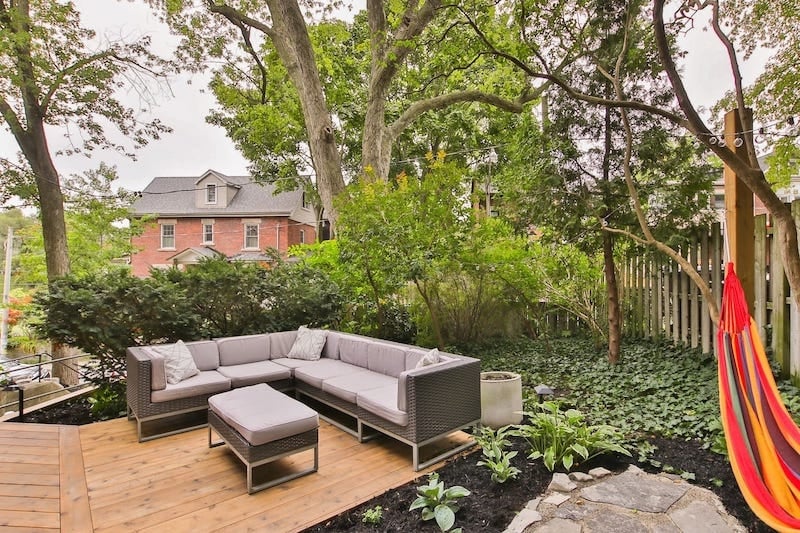 Listing name: Sunny Family Retreat on Withrow Park
Listing type: Entire house
Max. no. of guests: 6
No. of bedrooms: 4
If you're into colourful shopping districts, quaint Victorian homes, and large green spaces, this beautifully designed three-storey home facing the beautiful Withrow Park in Riverdale is for you. Here, you can enjoy everything Toronto can offer, with the option of escaping the hustle and bustle of big city life. 
One of the coolest Airbnbs in Toronto, this house boasts four bedrooms that are full of character, along with a living room with a fireplace and huge windows that let the sunshine in. Moreover, it has a study with beautiful views of the park, a soaking tub, and an outdoor lounge with a BBQ grill, perfect for your family holiday. Do note, however, that this Airbnb in Toronto only allows a minimum of a two-month stay. 
6. This upscale industrial loft for couples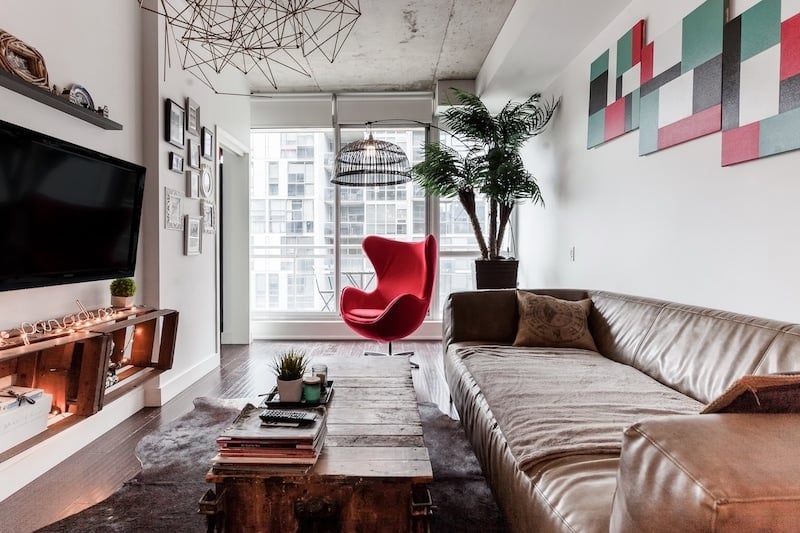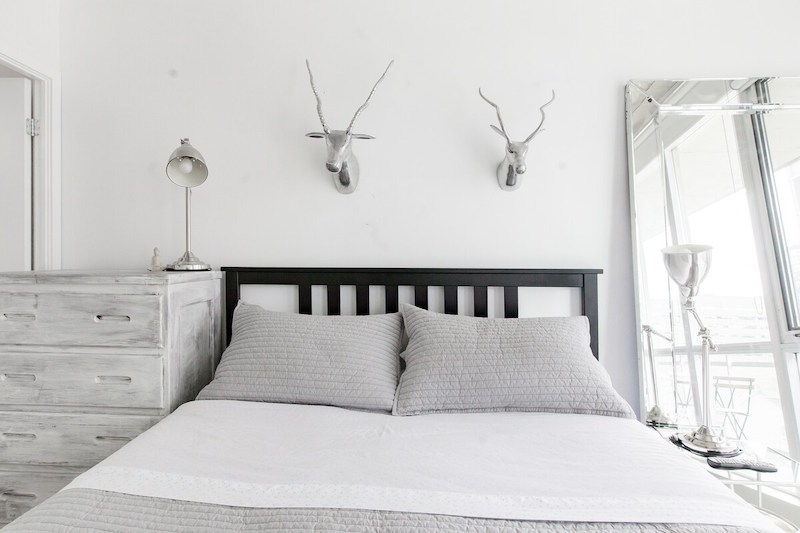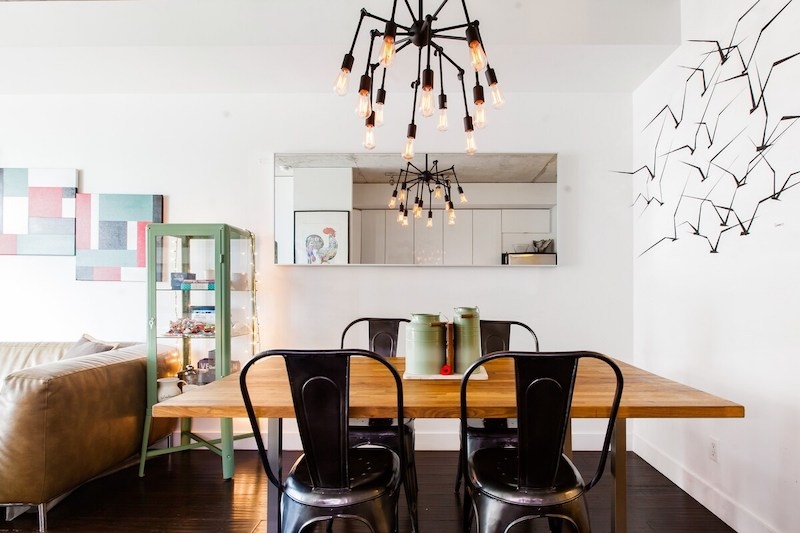 Listing name: Executive Loft in a Prime Downtown Location
Listing type: Entire condominium
Max. no. of guests: 2
No. of bedrooms: 1
Located in the historic Fashion District, this aesthetically pleasing modern loft gives you access to the best shopping, dining, and entertainment attractions in downtown Toronto. Furthermore, this Airbnb in Toronto is just a walk away from tourist attractions such as the CN Tower and the Rogers Centre. 
Sip your morning coffee on the patio as you plan the day's adventure. The living room, accented with a red egg chair and bathed in sunlight through floor-to-ceiling windows, is the perfect spot for relaxing with your significant other. Tastefully decorated in soft colours and neutrals, the grey bedroom will also help you wind down after a day of sightseeing.
7. This bright and cosy private room for solo travellers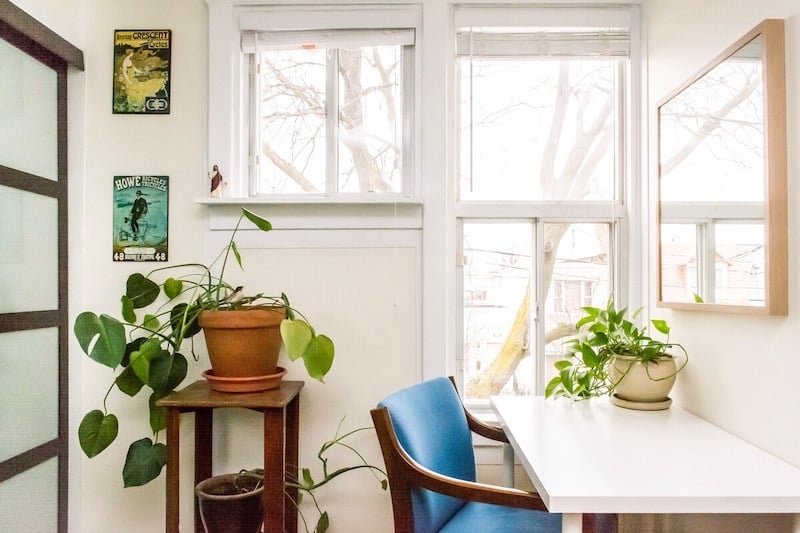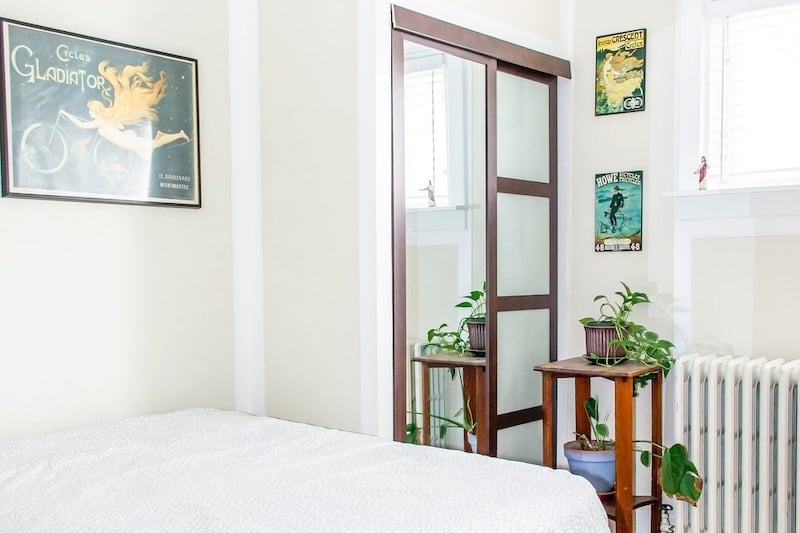 Listing name: Large bright private Bloordale room w/queen bed
Listing type: Private room in townhouse
Max. no. of guests: 2
No. of bedrooms: 1
If you like light and airy spaces, this large private room inside a classic Edwardian house in Bloordale is a top-notch place to stay.  It's in the heart of Little Portugal and is within walking distance of the coolest restaurants, pubs, galleries, shops, and parks. 
There's a large closet with a full-length mirror to store your luggage and clothes, as well as a wooden dresser with clean towels. Lots of windows let the light in, giving this space a warm and welcoming feel. Thanks to the queen bed and pillows made of organic cotton, you can also enjoy a restful sleep each night.
8. This quaint, plant-filled paradise for a fun trip with your BFFs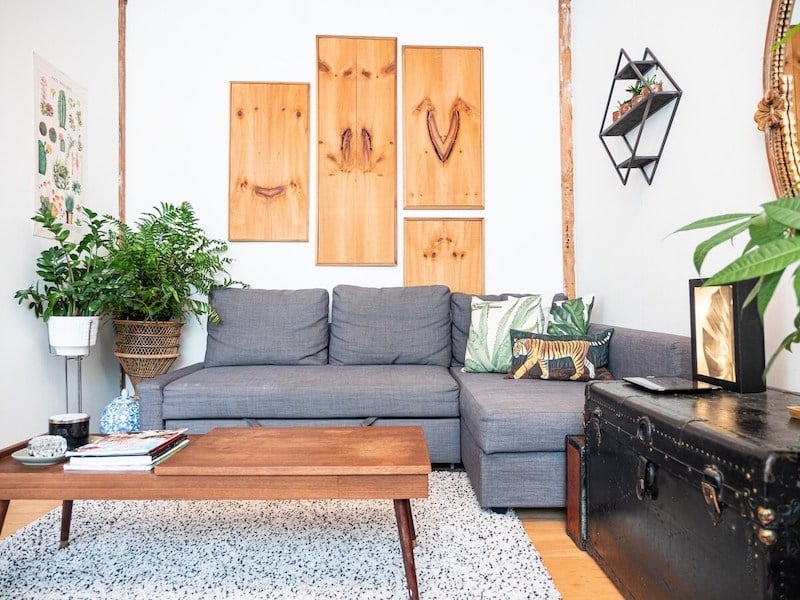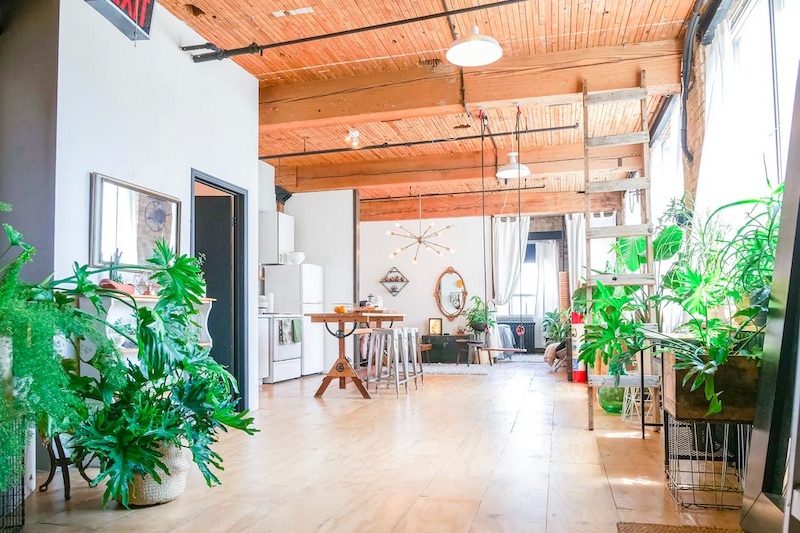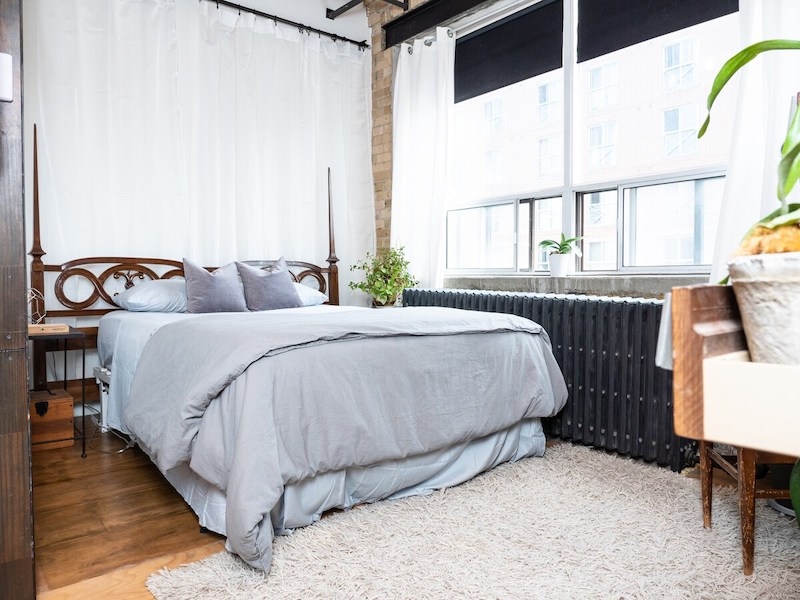 Listing name: Dream Loft!- Plant Paradise Gorgeous Sunny Studio
Listing type: Entire home
Max. no. of guests: 4
No. of bedrooms: 1
If this tropical boho loft isn't Instagram-worthy, we don't know what is. Wooden floors and ceilings, vintage chairs, and over 70 succulents and indoor plants adorn this home. Meanwhile, the indoor swing adds a sweet touch. Housed in a century-old building, this Airbnb in Toronto is an earthy, cosy space that is embellished with heirloom pieces, creating a suitable environment for vacationing with friends. It doesn't hurt that it's close to the Eaton Centre, St. Lawrence Market, and the Distillery District either.
9. This quirky basement apartment for exploring High Park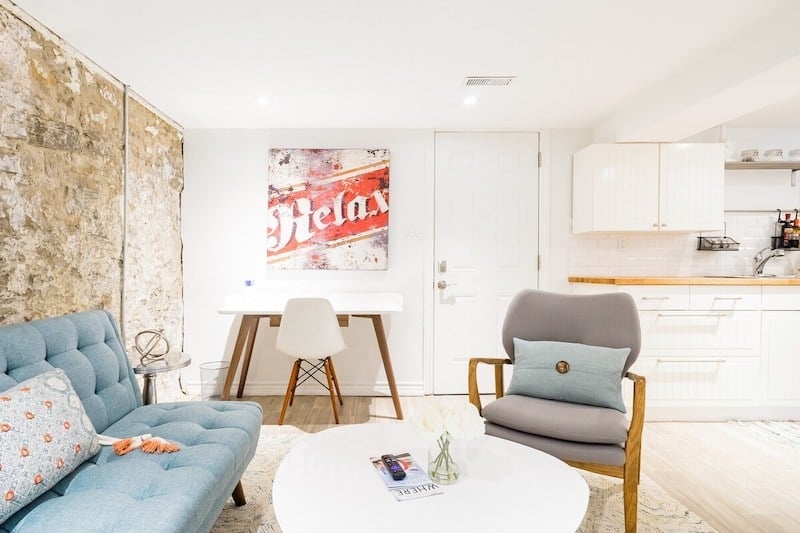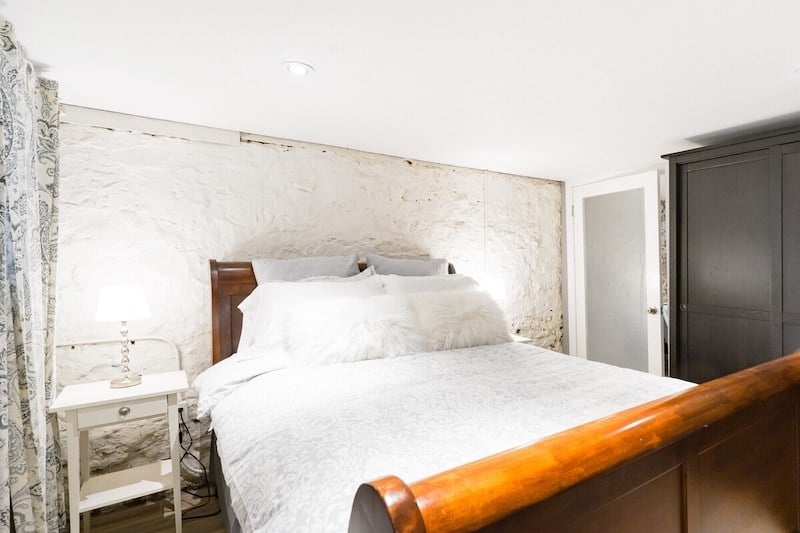 Listing name: Explore Sprawling High Park at a Rustic, Cozy Getaway
Listing type: Entire house
Max. no. of guests: 4
No. of bedrooms: 1
Feel like having a leisurely weekend in one of Toronto's biggest public parks? Stay in this inviting basement apartment and gain access to the green neighbourhood of High Park. With a whitewashed stone wall and a sky-blue sofa bed, this home expertly combines rustic touches with contemporary flair and pops of colour. 
The plush bed is perfect for sleeping in, while the bathtub is just what you need to de-stress. With simple but modern amenities, this home is a great base for exploring the winding streets of High Park, which are lined with trees and stately Victorian, Edwardian, and Tudor-style houses.
10. This chic home with an outdoor fireplace in The Junction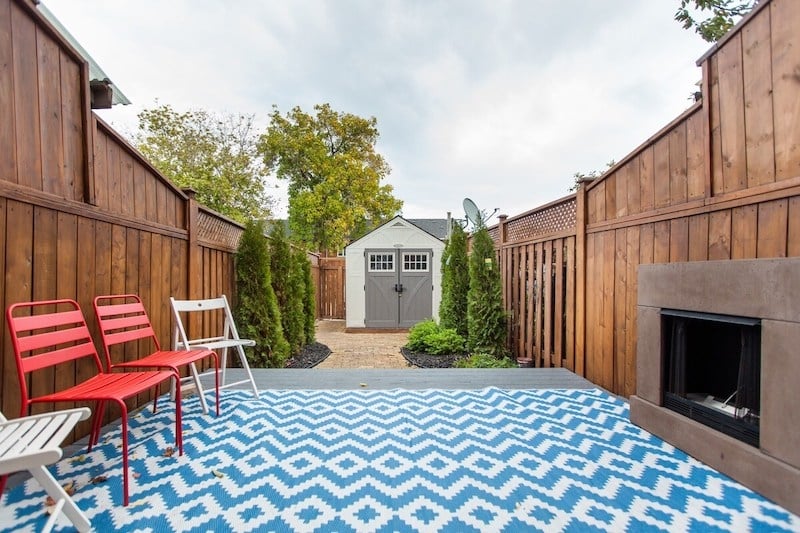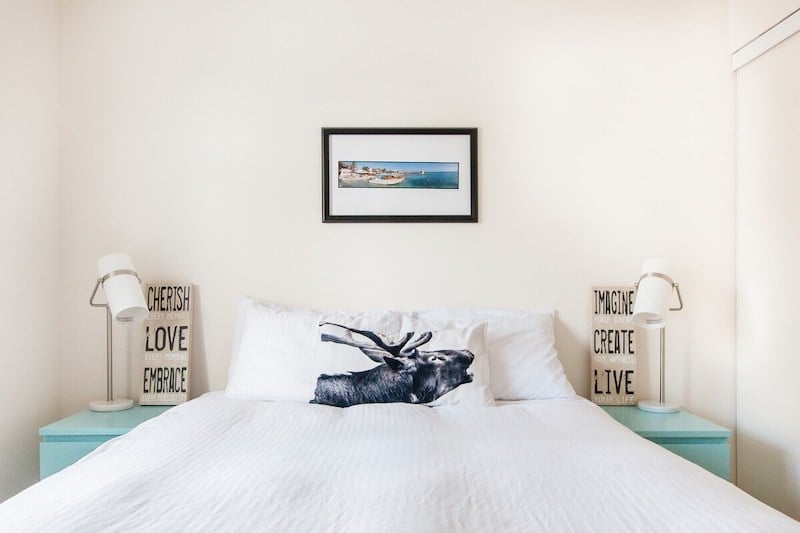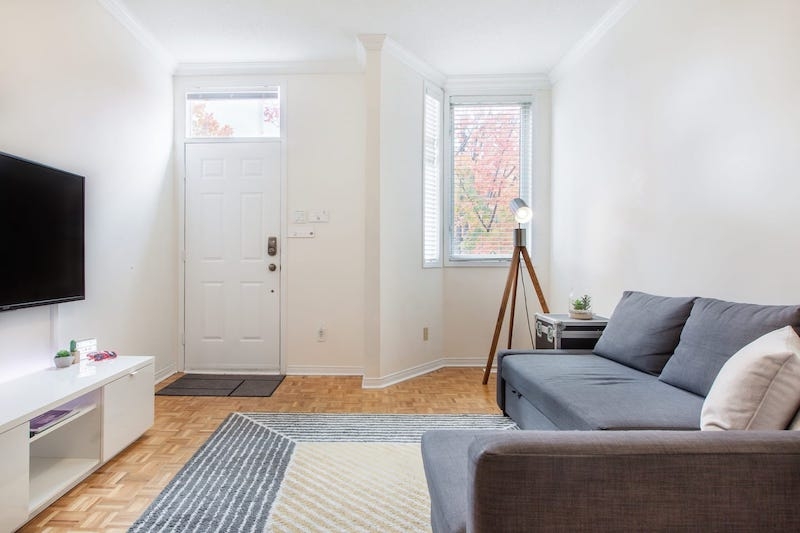 Listing name: Updated Townhouse with Outdoor Fireplace
Listing type: Entire townhouse
Max. no. of guests: 8
No. of bedrooms: 3
Exploring the 150-year-old district of The Junction lets you in on art galleries, restaurants, cafes, and shops selling eclectic clothing, antiques, and other treasures. To enjoy all of these, stay in this redesigned brick townhouse in one of Toronto's liveliest neighbourhoods.
With chic furnishings and décor, this Airbnb in Toronto is the ideal home for your family or group of friends. Lean back and chill on the grey couch as you listen to tunes from the portable record player. Or better yet, sip your beer while enjoying a peaceful evening in the backyard with an outdoor fireplace.
11. This large home with a private pool for a getaway with friends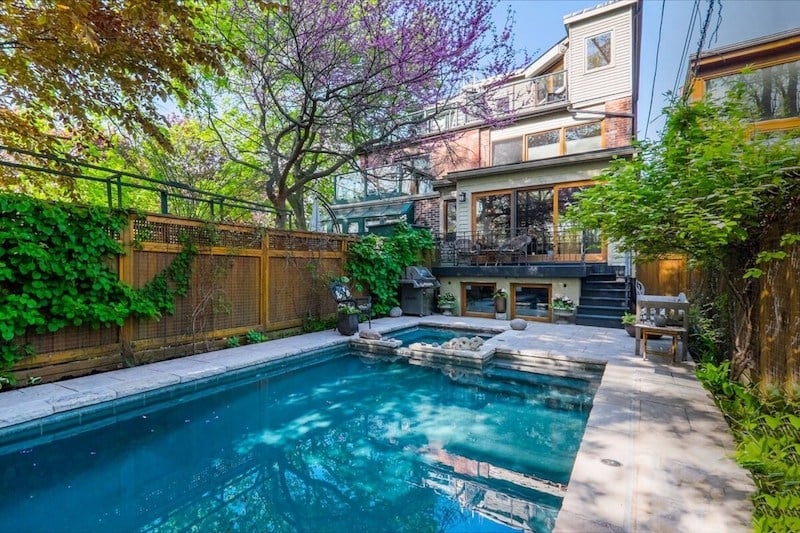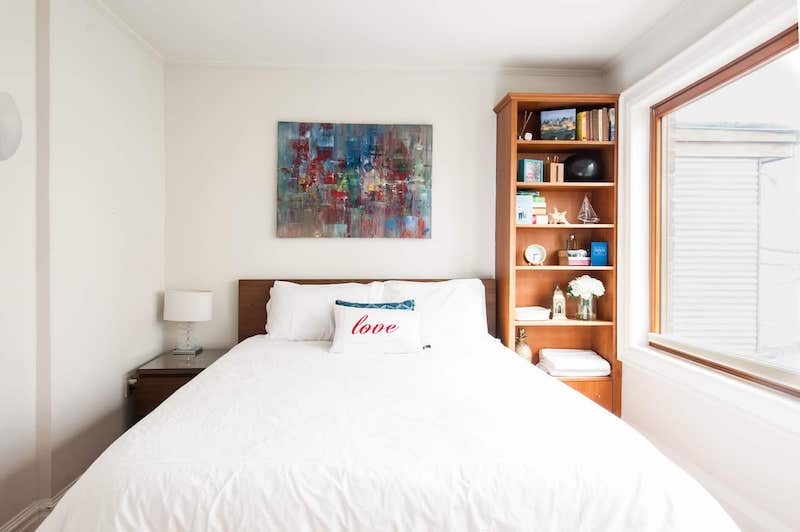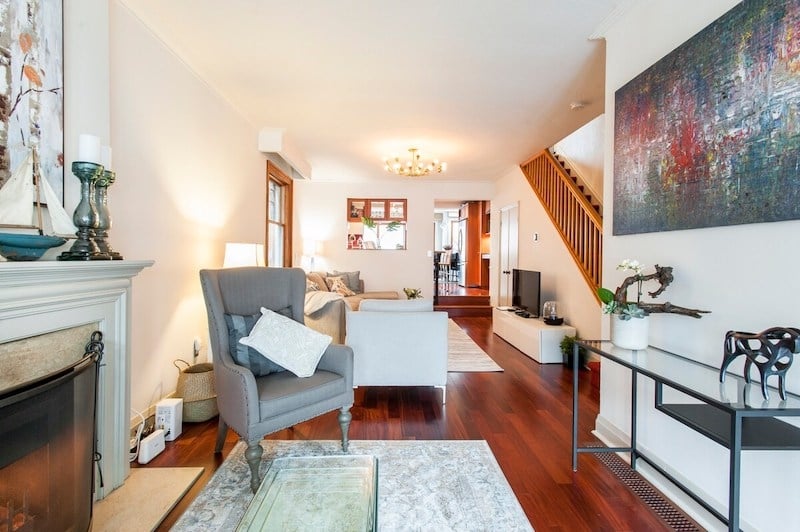 Listing name: Spectacular Home, on Beach, Year Round Open Private Pool
Listing type: Entire house
Max. no. of guests: 7
No. of bedrooms: 4
There's so much to love about this dreamy vacation house along The Beaches. It has four huge bedrooms with views of the park and beach; not to mention a spacious living room with a fireplace and Netflix for de-stressing. It also comes with a family room, a large dining room, and a fully equipped kitchen. But the best thing about this Airbnb in Toronto is that it has a private pool. Whether you feel like taking a dip in the beaches nearby or having a private pool party with your besties, the choice is totally up to you! 
12. This stylish contemporary home in a cool neighbourhood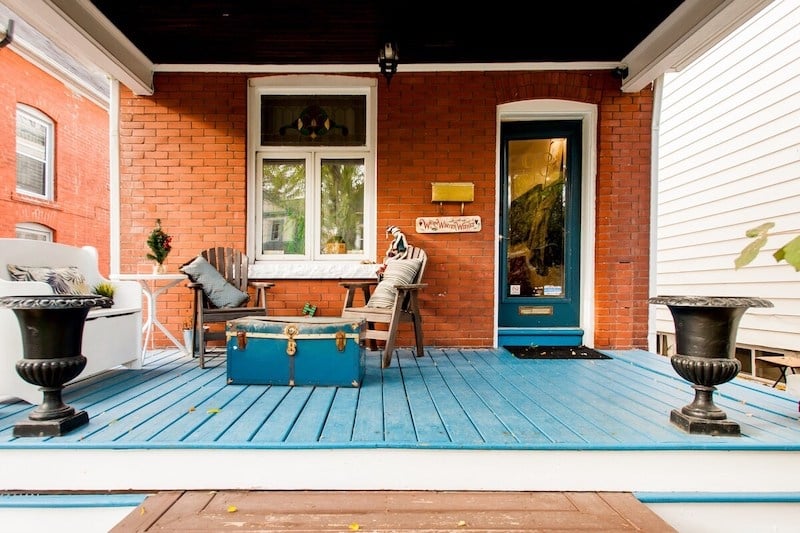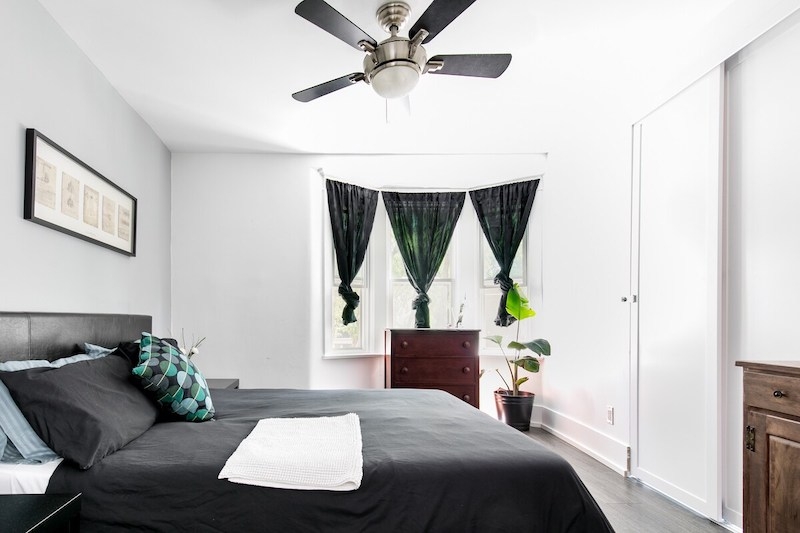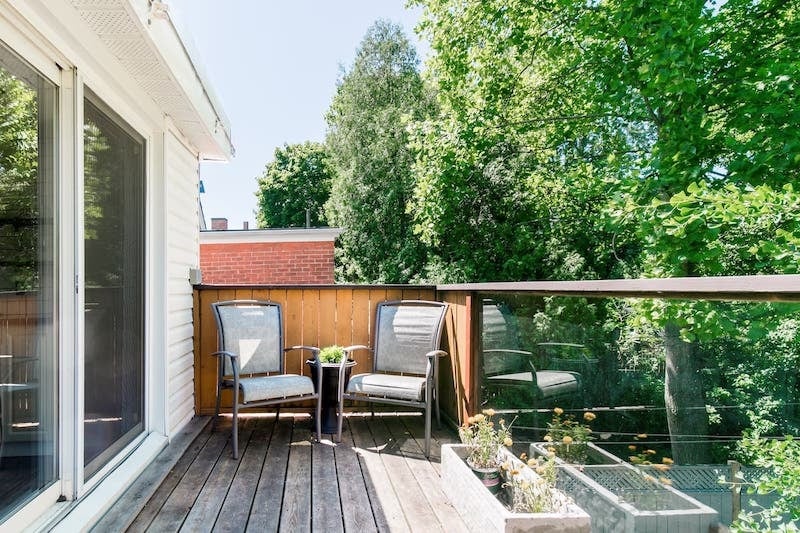 Listing name: Sun-Drenched Suite Close to Little India
Listing type: Entire apartment
Max. no. of guests: 5
No. of bedrooms: 1
For a pleasant stay and some Vitamin D, bookmark this welcoming, sun-filled apartment. You can bask in the natural light shining through the sliding glass doors and into the spacious kitchen. Or enjoy the open-plan living space, which features striking artwork, grey laminate flooring, brick tiles, and lovely period touches. The front and backyard patios are ideal for relaxation as well.
Situated in the Greenwood-Coxwell neighbourhood, this home is close to vibrant Little India, where the food itself is an experience. There, you will find amazing restaurants, cafes, textile shops, and art galleries to keep you occupied throughout the day.
13. This charming beach house with a gorgeous view of Lake Ontario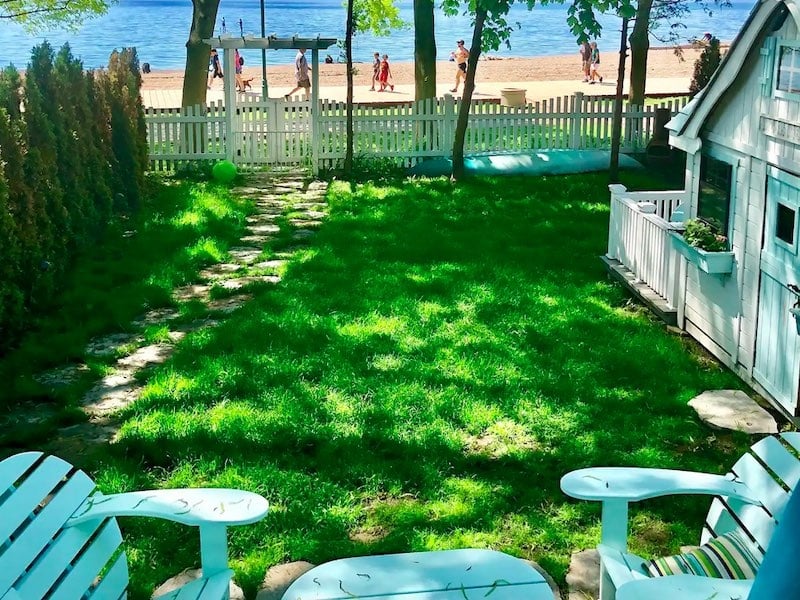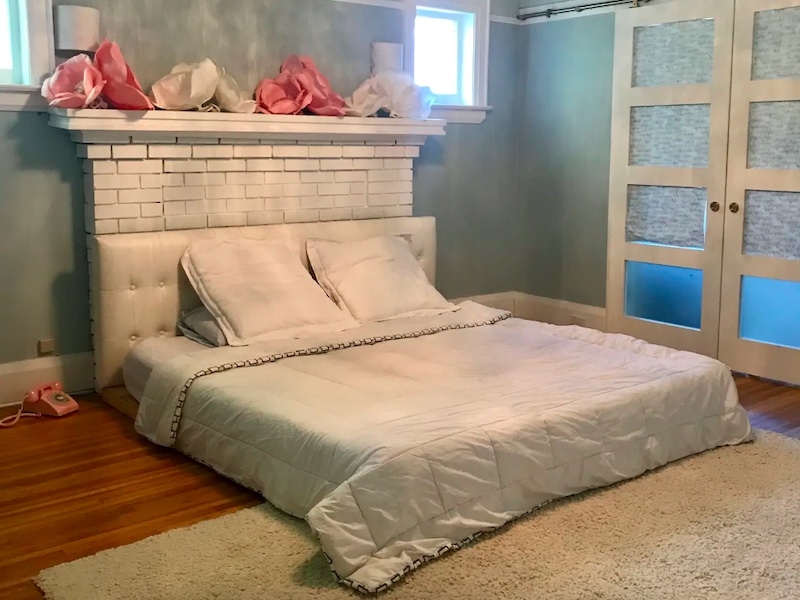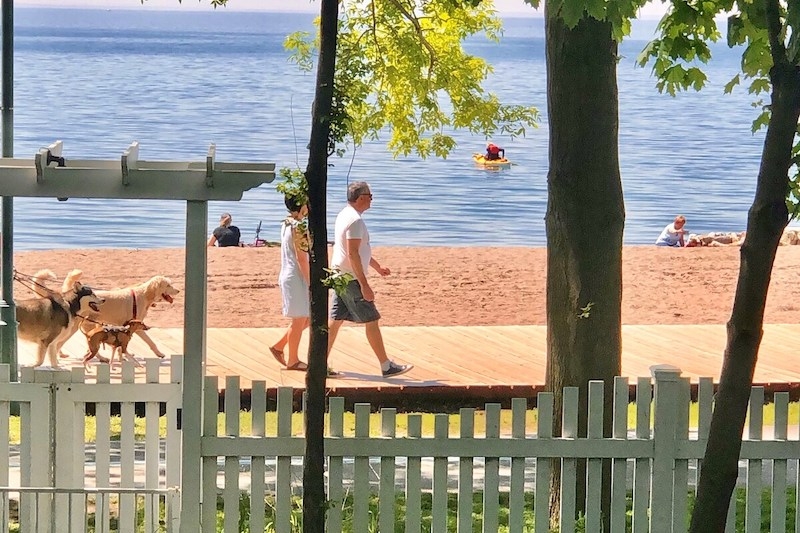 Listing name: Lakefront Beach House in the City
Listing type: Entire house
Max. no. of guests: 10
No. of bedrooms: 4 
If it's a carefree family vacation that you're after, then staying in this stunning lakefront beach house is a must. Offering unobstructed views of Lake Ontario, this beach house comes with four bedrooms, a nursery, two kitchens, a barbecue grill, and ample space for your group. 
Kids can have fun at the life-size two-storey playhouse, while adults can enjoy kayaking or paddle-boarding at the lake. Beach inflatables and beach chairs can also be used at your convenience. After beach bumming and strolling along Queen Street East, don't forget to catch the lovely sunset from the patio. Your family will surely thank you for it. 
Also read: 10 Places to Visit and Things To Do in Toronto On Your First Trip
Between the diverse culture and magnificent sights in Toronto, there's so much to savour in this Canadian megacity. We hope these breathtaking Airbnbs in Toronto help you choose your next home away from home. Happy bookmarking!