Tokyo is one of the most expensive cities in the world but for those of us who've stayed here for a while, we have our secrets! From grocery shopping to hunting for brand names at a bargain, this list is for you!
1. Shimokitazawa: For everything hipster
If your heart palpitates for vintage gear, you'll be gushing as you explore every corner of Shimokitazawa. The area, which exudes a chill and artsy vibe, is filled with shops that offer predominantly vintage finds. One famous stop would be Mode Off, where expensive fashion label items – think Ferragamo! – sell for under ¥3,000, with some pieces in mint condition selling for only ¥500.
While many shops here sell secondhand stuff, a few stores also offer items with price tags still attached. This is also the place to find LP records, shabby chic home items and one-of-a-kind handcrafted pieces. A day in "Shimo" would be time well spent – especially if you also get to enjoy the area's famous soup curries (Magic Spice and Nan Station are personal favourites!) in between shopping. And don't forget the hip cafés tucked away in Shimo's various nooks and crannies!
2. Treasure Factory: For hidden treasures
Treasure Factory outlets abound within the 23 wards of Tokyo and beyond, with branches ranging from those that sell only secondhand fashion goods to those that sell furniture and even home products. "T-Fac" regularly refreshes stock, and a weekly trip will still guarantee a new find.
It is the perfect place to find seasonal clothes because the shops offer great value for your money. Imagine finding the usually expensive Tsumori Chisato spring cardigans for under ¥1,000, and getting Lowrys Farm sweaters for about the same price. Also, if not for the problem of storage space, you could surely hoard Le Creuset stoneware pieces that sell here for only one-tenth of the standard retail price!
3. CouCou Jiyugaoka: For cute finds
You might know that Jiyugaoka is the place for everything posh and pricey, but you probably didn't know there's an affordable ¥300 haven in the area called CouCou.
While ¥100 shops like Daiso, Seria and Can☆Do – as well as ¥300 specialist 3Coins – all have cheap stuff, the items in CouCou are a cut above the rest. They even have home décor, baking supplies, wood and tin items and made-in-Japan dining ware that the other shops don't offer. So if you happen to be in Jiyugaoka to have coffee with a friend, enter this shop and it's almost certain you won't leave empty-handed!
4. Sofmap in Akihabara: For secondhand electronics
Right now I'm typing using a secondhand Macbook Air that would have cost me only ¥10,000 more if I'd bought in my home country, where the cost of living is a lot lower than it is in Japan. I got it from Sofmap, a very reliable shopping chain for secondhand electronic goods and gadgets in Akihabara.
Akihabara may be known for video games, anime, maid cafés and AKB48, but really, Akihabara's Sofmap is a shopping destination in itself. Each Sofmap branch has a huge variety of items, not to mention very honest salespeople who'll tell you upfront the upside and downside of every item you consider buying. Thanks to Japan's high standards for quality and customer service, secondhand shopping is generally quite safe, making Sofmap the place to be if you're up for techie-shopping sans the hefty price tag.
Of course, if you'd like to check out a few other shops—as well as a full list of Sofmap locations—take a look at the link below!
5. The streets of Isezakicho: For cheap finds
There's something about the old street of Isezakicho that makes it downright charming. The bonus is that it's also a good place for shopping for cheap finds. Block after block, you'll discover that the entire street has everything from secondhand clothing shops (like EcoWearMarket) to secondhand appliance shops, pre-loved luxury items and pre-owned books and gadgets.
Score deals like a large suitcase for ¥3,000, or an old yukata (summer kimono) for less than ¥2,000. Formal blazers sell for ¥500 in some shops, while some tops go for as low as ¥300. Some stalls also sell bicycles, or even pots and pans. The street also has the usual establishments that sell stuff that's already cheap, like Daiso, Uniqlo, GU and Don Quijote.
Should you tire from shopping, the street is also lined with interesting food shops like Temma Curry and cafés like Mameya, which features coffee from around the world. Although Isezakicho is actually south of Yokohama Station, just outside of Tokyo, it's only an easy 45-minute train ride from Tokyo Station.
6. Harajuku-Omotesando Alley: For souvenirs
If you think Omotesando is too pricey for casual shopping, try the back alleys, particularly the one leading to Harajuku, en route to the famous Sakuratei. If you sneak into the side street beside the Ralph Lauren flagship store, you'll discover an alley that may just have the items to match your budget. Expect cheap yukatas (lightweight kimono), Tokyo T-shirts, little trinkets and everything kawaii. You might even stumble upon shops that sell very cheap Anello bags and branded watches.
7. Gyomu Supermarket: For goods in bulk
Gyomu Supermarket (業務スーパー) is a shop for "business buyers", so expect items to be sold in big containers or in bulk. But this is exactly the reason why they can keep the prices very low. With several locations across Japan, Gyomu is the place to go for frozen items used in daily cooking, including mixed vegetables, fruits, bread and dumplings. They also have fresh meat, of course, like cheap steak cuts, where a good slab is the same price as your morning cup of coffee. The best part about this chain is that they have an extensive offering of imported items like Kilimanjaro coffee beans, Italian Pomodoro sauces and Thai spices. Gyomu even carries Halal items!
8. For food, household and imported goods: OK! Supermarket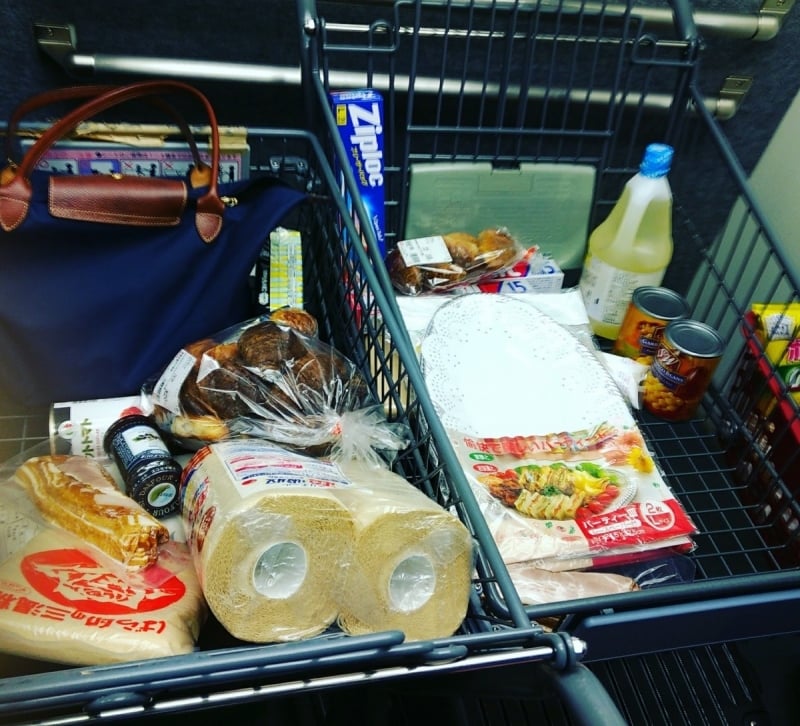 While this supermarket sells most anything you would expect from a supermarket, including anchovy paste and fish sauce that's badly needed for Asian cooking, the best buys in this supermarket would be the household items. Think pots, pans, storage boxes and bedding at prices that beat the competitors. OK! Supermarket also has a huge selection of drinks, Japanese and imported, that are perfect for gifting.
9. Jumble Store: For secondhand branded items
Pictured above is an incredible buy from secondhand shop Jumble Store. It's a handmade coat from Zara, originally priced at ¥13,000 (US$119.22), but sold for only ¥4,000 (US$36.68), with the original price tag still attached. Although this shop is labelled as a secondhand shop, with a little luck and patience, you could score brand new, out-of-season items. This shop carries pre-loved items, even luxury branded ones, from bags, belts, coats, shoes and dresses to anything a fashionista would want to buy. Another surprising brand found on a shopping expedition there is Missoni, of which a US$2,000 dress sold for only ¥10,000 (US$91.73)! Pro tip: go to the branches in upscale areas (such as Jiyugaoka) in order to find a better, premium selection.
10. Mitsui Outlet Park: For brand new branded items
Although this shopping haven is technically in Yokohama, it's only about an hour away from Tokyo Station. On top of being the place for a shopping spree, Mitsui Outlet Park boasts a great bayside view, spacious manicured walkways and food outlets. If you're a Seiko lover, that alone is enough reason for you to visit because this is an exclusive place to get them on sale. Not to mention the other premium Japanese brands on sale, with great discounts of 30-70%. There's United Arrows, Urban Research, Beams, Ships, Tomorrowland and Asics. If you're looking for the usual factory outlet favourites like Lacoste, Coach, Billabong and Columbia, Mitsui Outlet Park has them too. And if you're looking for home and kitchen goods, they even have Franc Franc and Zwilling.
---
This article was first published as a two-part series in All About Japan: Part 1 and Part 2. 
Related stories: