When traversing new lands, some travellers choose to "disconnect" – avoiding any disruptions to their holidays by taking the (admirably brave) step of abandoning their smartphones and laptops, and opting to rough it out with good ol' physical maps and travel books.
However, as much as we might hate to admit it, technology is omnipresent and becoming increasingly difficult to live without. While we may at times bemoan the overwhelming influence and impact technology has on our lives, it can be a lifesaver for travellers. The following devices, travel apps and online platforms make a convincing argument that technology is more a boon than a bane for globe-trotters.
Preparing for your trip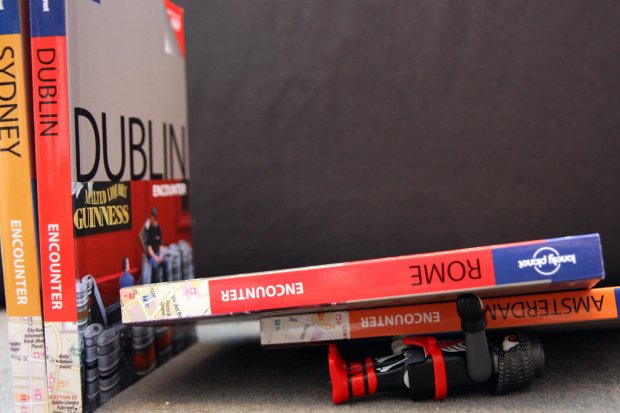 Image Credits: Rafael Peñaloza
1. Google Drive
Coordination can be a challenge when planning a group holiday. Fortunately, Google Drive can help avert any headaches (or potential scuffles). Create a document and share it will all your friends, so they can chip in to the travel itinerary. With Google Docs, everyone can work together at the same time and be up-to-date with the plan!
2. Tile

Image Credits: Tile
A last-minute packing frenzy can lead to heart-stopping "Where is my passport?!" moments. Spare your heart the agony by attaching Tile to your passport and other valuables. This plastic square is equipped with GPS that can be activated by the Tile app on your smartphones. Follow the directions and listen out for the sound emitted by the device, and you never have to worry about misplacing your travel essentials.
Surviving your trip: Travel Applications
3. Google Translate
Stumped by the menu at a local restaurant, or having trouble understanding the shopkeepers? With Google Translate, you can wipe those quizzical looks away. This easy-to-use and comprehensive app supports more than 60 languages. On top of the voice and text input methods, the app also contains optical character recognition (OCR) technology – users simply have to take a photo of the text they want to translate, and the app will do the rest. Say goodbye to language barriers!
4. XE Currency
For thrifty travellers and avid bargain-hunters, it is a must to compare local prices with the currency back home. This straightforward app enables you to do just that. Its user-friendly interface features over 180 currencies, saving you from the horror widely known as mental calculation (especially for the arithmetically-challenged).
5. Google Maps
Sometimes the best hidden holiday gems can be found off the beaten tracks. With Google Maps, you do not have to worry about finding your way around these off-the-map nooks and crannies. You can access cached versions of maps even without data or signal, rendering the app useful even inthe most remote of areas.
6. Viber
Being on the road for a long time can be hard, especially for those prone to homesickness. Viber allows you to hear the sweet sound of your friends' and families' voices for the low price of… zero dollars! You are even spared the hassle of logging in with a username and password, as the app simply syncs with the contacts in your phone.
7. Wi-Fi finder

Internet, o internet, wherefore art thou internet? Fret not, this app helps you search for both free and paid hotspots in over 550,000 locations in 144 countries. The hotspot directory can also be downloaded and saved, so you can access it later even when you are offline.
8. Travel Safe Pro
Minimise stress in times of crisis in foreign lands with this app, which contains lists of information on emergency services such as the police and embassy in various countries. The app also has the option of making calls directly, enabling you to save precious time. Accessible without internet connection, Travel Safe Pro certainly provides peace of mind for travellers.
Surviving your trip: Equipments and Other Inventions
9. World travel adaptor

If you want to be spared the fuss of figuring out which countries use which types of electric plugs, you definitely to get your hands on a world travel adaptor. Be sure to purchase one with additional USB ports and this handy must-have will fulfil the power needs of multiple devices at once.
10. Portable charger
It is never fun to be stuck with a dying phone or tablet, especially when you're on the road and power outlets are hard to come by. All you need is a trusty portable charger (remember to charge it!) and dead batteries are now a thing of the past.
11. Travel router
Every traveller loves free Wi-Fi hotspots, but these connections may not be the most stable or secure. A travel router creates a robust firewall that would provide increased protection for your gadgets. You can also share the connection with multiple devices, allowing easy access for your travel companions as well.
12. LifeStraw
When engaging in outdoor activities like camping and hiking, there is a real risk of dehydration. With LifeStraw, you do not have to lug around bottles and bottles of water through the forest. This lightweight water purification tool uses filtration technology to render contaminated water from rivers and lakes safe for human consumption. Not only can this invention save your holiday – it may also save your life.
13. Paytouch
One of the greatest worries while travelling is keeping your cash and credit cards safe. The Paytouch system offers a solution that requires nothing but your fingers. If you are short on cash and do not have your cards at hand, Paytouch terminals enable you to pay by identifying your fingerprints through its biometric sensors. Although it has only been launched in Spain so far, plans to expand to more countries worldwide could revolutionise payment methods for travelling and shopping in future.
Enjoying your trip
14. Foodspotting
Finding the best food places can prove challenging in a foreign land. If you find yourself in such a pickle (pun intended), simply download the Foodspotting app. This visual guide not only helps you find nearby restaurants based on your location or preferred dishes – you can also browse menus and make reservations.
15. E-books
What better way to kill time at the airport or on buses/trains than to lose yourself in a good book? With E-books, you can access thousands of titles without worrying about luggage space. From travel guides to novels, you can find yourself being transported to faraway lands even beyond your holiday destination.
16. Gogobot
 You may at times find yourself at a loss for things to see or do in unfamiliar territories. Gogobot contains filtering options that produce personalised recommendations based on your interests. Easy to navigate and covering a list of categories like entertainment and outdoors, you will hardly experience a dull moment on your trip.
17. Google Goggles
Not sure what that important-looking building or monument is? Google Goggles will fill you in if it recognises the photo you took, by churning out articles relevant to the object in focus. Apart from landmarks, artwork and even barcodes, the app can also translate photos of text in a foreign language.
Documenting your trip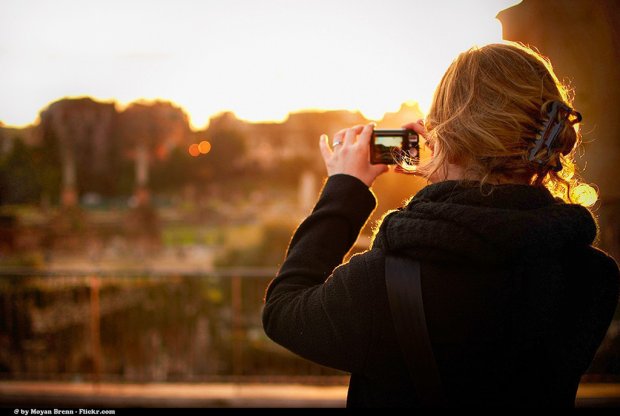 Image Credits: Moyan Brenn
18. Facebook
As one of the most popular global social media platforms, Facebook can serve as a point of contact with the locals or fellow jetsetters you have crossed paths with. Save your holiday memories and relive them anytime, while also maintaining these newly-formed friendships with much ease and convenience.
19. Tripcast
Creating and sharing memorable travelogues has never been easier with the Tripcast app. Collaborate with your travel mates on your travel photos, which will be organised according to your travel routes as you tag the photos on the map. Rest assured that only people you invite will have access to the albums, although you can also choose to share specific photos on Facebook or Instagram.
Armed with these handy tools, you're definitely ready to set off on your next travel adventure!