National Day is just around the corner. You know what that means – lots of Singapore-themed food to indulge in! After all, what better way to show your love for the country than revelling in the nation's favourite pastime – eating? Inspired by local dishes and flavours from salted egg yolk to ondeh ondeh and chicken rice, here is what you can try out this year:
1. Shiok-ah-ccino and assorted cakes and pies, Starbucks

Let's start with the Singapore-inspired menu from Starbucks that will have you exclaiming "so shiok!". Coloured in pastel pink, the new Pom Pink Pink Shiok-ah-ccino certainly looks too pretty to drink. Consisting of a coconut rose blended beverage layered over brown sugar jelly and topped with whipped cream and more coconut rose sauce, this refreshing thirst quencher is perfect on a hot day (aka every day am I right?).
Along with the Shiok-ah-ccino, Starbucks has also released an array of pies and cakes with a local twist. Those craving something savoury can try the "Mai Hum" Chicken Laksa Pie for spicy lemak goodness or the "Hiam Ah" Devil's Curry Pie which combines curry, egg, potato and chicken sausage in a flaky pie crust.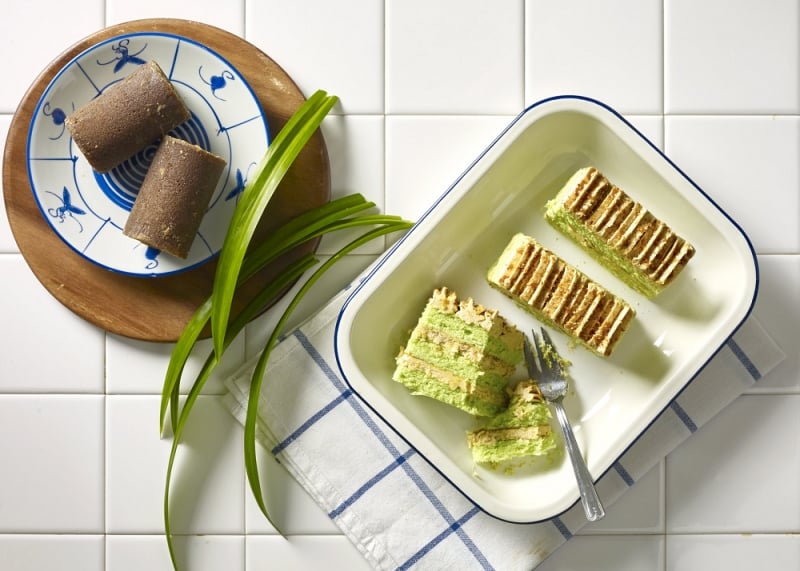 And of course, who can forget about the sweet treats? Skip your usual slice of New York Cheesecake and take your pick from a selection of delicious dreamy desserts that feature familiar flavours instead. Choose from the  "Sedap Lah" Pandan Gula Melaka Cake, "Orh Orh" Kit Kat Chocolate Cake and "Tok Kong" Nestum Cake. Whether you decide to dig into fragrant pandan sponge frosted with gula melaka or into cake filled with a creamy age-old favourite, Nestum, we guarantee that your sweet tooth will be satisfied.
2. Ondeh Ondeh Lava Cookie, Creamery Boutique Ice Creams Singapore
Sure we've all heard of the usual lava cakes but have you heard of… lava cookies? From 14 July to 8 August 2018, head down to get your hands on Creamery Boutique's National Day offering, the Ondeh Ondeh Lava Cookie!
Imagine a crumbly pandan cookie infused with gula melaka and coconut shavings, topped with a huge scoop of ice-cream of your choice. How awesome does that sound? Break into the cookie to reveal its glorious molten centre, oh and don't forget to get your cameras ready to capture the moment!
3. Chicken Rice Popcorn, The Kettle Gourmet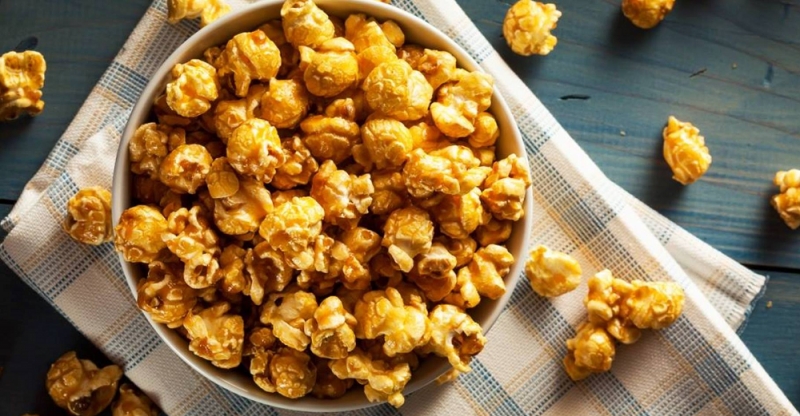 Home-grown business the Kettle Gourmet whips up mean renditions of the popular movie snack. Freshly baked popcorn is glazed with the goodness of local flavours, making it the ultimate comfort food for when you're feeling peckish. Besides Chicken Rice popcorn, you can also try other local flavours like Bak Kwa and Teh Tarik.
Order online here.
4. Hainanese Tendergrill Chicken and Double Rendang Beef burgers, Burger King
Question: What do you get when you cross a plate of chicken rice with a burger?
Burger King's answer: The Hainanese Tendergrill Chicken Burger.
Featuring a juicy chicken patty slathered with piquant ginger sauce and sandwiched between sesame-studded buns, this burger is definitely something worth trying for days you can't decide on what to have for lunch. Dip into their garlic chilli sauce for an extra oomph!
In addition to the Hainanese Tendergrill, the Double Rendang Beef Burger is also making a comeback this National Day. Enjoy flame-grilled beef patties and rich, spicy rendang gravy all in one bite. Sedap pe!
But wait, that's not all. Burger King has also launched a Teh Tarik Turnover, which is sort of like its usual taro pie – but with a sweet, delectable molten teh tarik filling instead. A dessert pie that will win your heart, hands down.
5. Chee Cheong Fun Ice-cream, Tom's Palette
If you are bored of the usual plain vanilla, chocolate and strawberry ice-creams, make a beeline for Tom's Palette, an ice creamery which is well-known for its outrageous ice-cream concoctions.
From Chiku sorbet to Vietnam Coffee, Parmesan and even Salted Egg Yolk-flavoured ice-cream, Tom's Palette is unapologetic for its creativity. This National Day, why not make a trip down to try out their latest flavour on offer – Chee Cheong Fun, which infuses an aromatic soy sauce and sesame seeds into a glutinous rice base. Don't knock it till you've tried it!
6. Nasi Lemak and Pulut Hitam Ice-cream, Cold Stone Creamery
While we are on the topic of ice-cream, ice-cream chain Cold Stone Creamery has also joined in the National Day festivities with their launch of Pulut Hitam and Nasi Lemak flavours.
If you're a fan of pulut hitam, you will definitely enjoy this frozen rendition. Relish in creamy coconut ice-cream studded with bits of black glutinous rice or if you are more adventurous – opt for a generous scoop of Nasi Lemak, which consists of coconut ice-cream topped with roasted peanuts, rice puffs, spicy ikan bilis and cucumber! For an extra dash of fancy, you can also choose to top-up for a plain or pandan waffle.
If you can't decide on which to pick, Cold Stone Creamery is offering a 1-for-1 promotion (Love It size) on these two flavours from 14 July to 31 August 2018.
7. SingaFour Pancakes, Mr Bean Singapore
Mr Bean is well loved for its soybean milk and tau huey (soy beancurd pudding) but this National day, their pancakes are the ones in the spotlight. Aptly named SingaFour, Mr Bean will release their wholemeal pancakes in four limited edition flavours weekly until 31 August 2018. So far, the Taro Paste and Curry Potato and Egg have made their appearance at all outlets. Stay tuned for the release of Oreo Cheese and Spicy Dried Shrimp!
8. Rose Milk Tea with White Pearl, Gong Cha
Gong Cha has released the ultimate National Day-themed bubble tea with its Rose Milk Tea with White Pearl. Like a posh, upgraded version of bandung, this beverage also comes with chewy white pearl jelly that adds an element of fun. Not forgetting that it is totally Instagram-worthy too… snap before you slurp!
9. Ha Ha Cheong Gai Chicken Burger and other assorted items, Mcdonald's

Unless you live under a rock, you've probably already heard about McDonald's latest National Day-inspired menu which features the Ha Ha Cheong Gai Burger and Ha Ha Cheong Gai Drumlets. For those who don't know, har cheong gai is prawn paste chicken in Cantonese and it is a popular zhi char classic. If you're not a fan, there is also the Breakfast Curry Burger which includes curry sauce (yum!) in the breakfast sandwich.  
Durian lovers will definitely love the D24 Durian McFlurry – which swirls vanilla soft serve and durian puree together for a rich, decadent dessert. And that's not all, too. McCafe is serving up their Kueh Salat Cake which consists of pandan mousse layers, sponge cake and sticky rice topped with a sprinkling of coconut flakes. How mouth-watering does that sound?
10. Salted Egg Chicken, KFC
Also based on a beloved zhi char favourite, salted egg chicken, KFC's rendition comes in the form of their latest release, the Goldspice Chicken. Sink your teeth into crispy, juicy fried chicken that has been marinated and dusted with a combination of salted egg, sweet basil and spicy curry leaves. Aromatic and absolutely addictive, one bite will leave you hankering for more! Seriously though, can anything ever go wrong with salted egg?
BONUS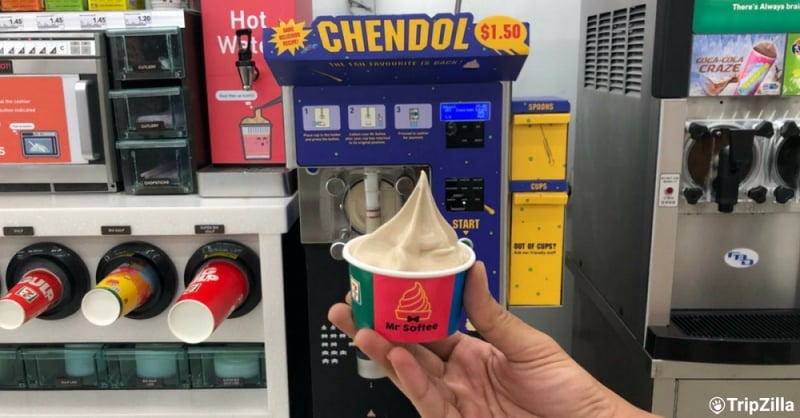 P/S: Have you heard that Chendol Mr Softee is back in select 7-11 stores? There's definitely no harm popping by the outlet near your place to see if it's one of the lucky few!
Now that you know what's on offer, it's time to go forth and makan! Enjoy!